Clever wardrobe storage ideas that will maximise your space
With help from our furniture expert, learn clever ways to maximise the storage space in your wardrobe, regardless of how big or small it may be.
Maximising your wardrobe space can be tricky, especially if it's small. Lack of storage for all your clothes, shoes and accessories not only results in a cluttered bedroom, but it can also leave you feeling stressed and overwhelmed. The good news is, there are lots of wardrobe storage ideas that can help you with organisation and tidiness, no matter how big or small your wardrobe may be.
With the help of Rebecca Snowden, Interior Style Advisor at Furniture And Choice, read on for space saving wardrobe ideas to store your clothes effectively. Then, using Rebecca's advice, take a look at our extensive collection of wardrobes, which will help enhance your bedroom into a relaxing and organised space.
Decide which clothes to hang or fold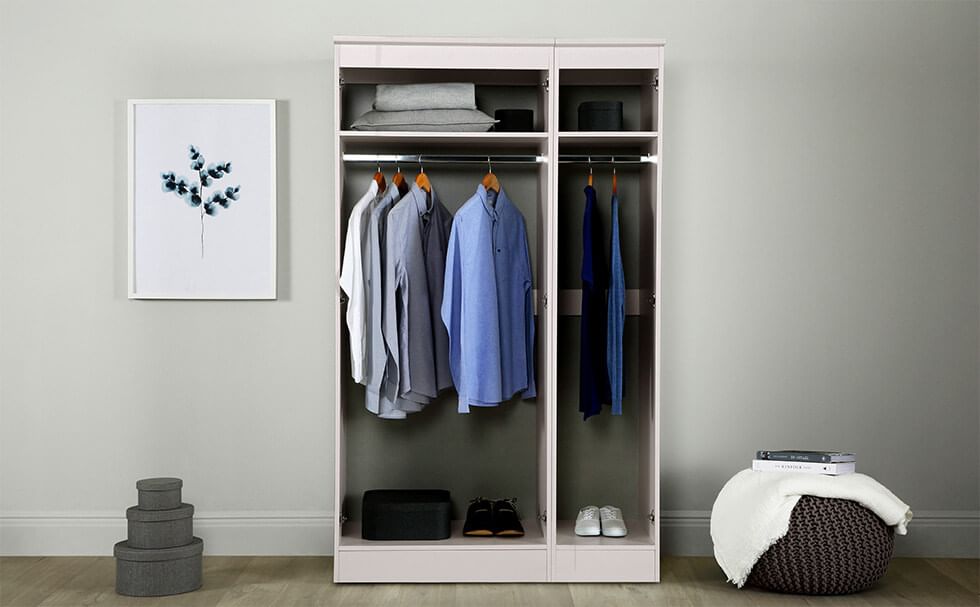 To maximise your wardrobe storage, first decide which clothes you'll hang or fold. "Hanging up your clothes is a great way to save space in your wardrobe," says Rebecca. "Items that wrinkle easily (such as dress pants and shirts, blouses, skirts and dresses) should be hung to maintain their shape."
And what about casual items like jeans? "If your wardrobe has space, it's a good idea to hang up jeans since they tend to be quite thick when folded," suggests Rebecca. "Hang them folded over a hanger." Meanwhile, t-shirts can either be folded or hung, though you should take care to use padded hangers to prevent distorting their shape.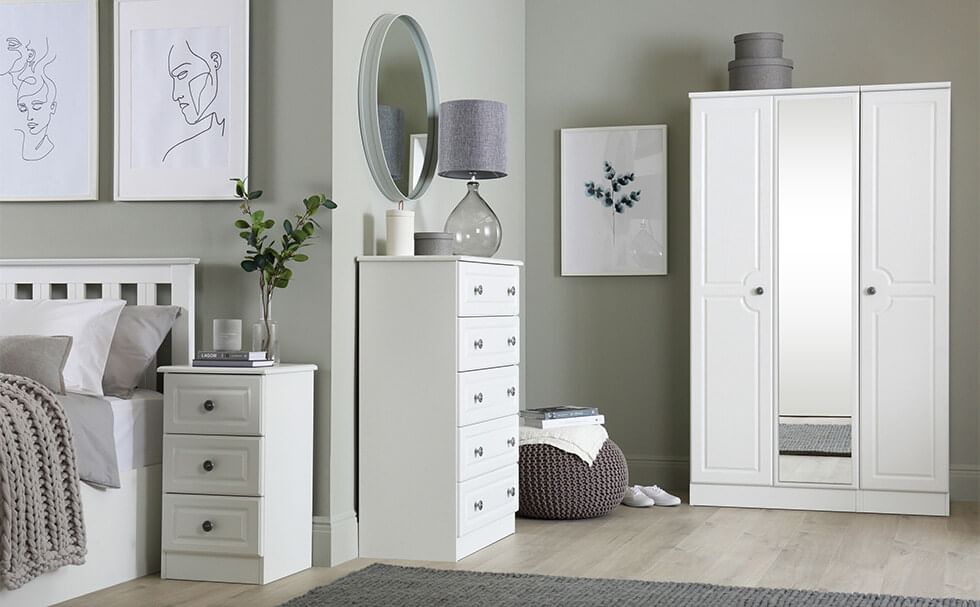 Always fold sweaters like wool knits and cosy cashmeres to avoid stretching them. The same goes for sportswear. If you have a large and spacious room, choose a bedroom furniture set that consists of a wardrobe, chest of drawers and bedside table for a cohesive look and plenty more storage.

Fold clothes the KonMari way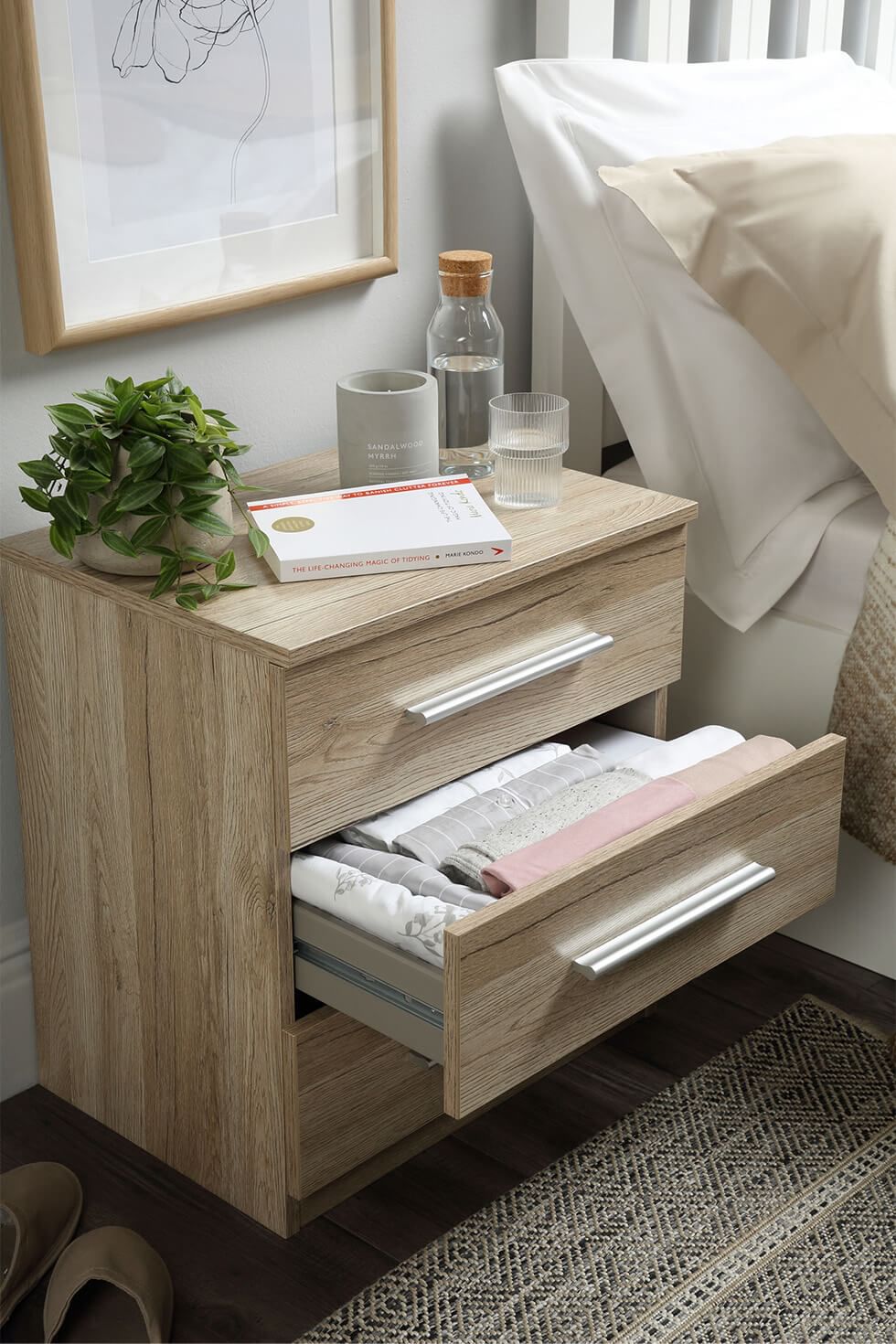 Developed by popular organising expert Marie Kondo, the KonMari method of folding clothes promises to tidy your wardrobe and give you more space. This wardrobe organisation idea is all about 'sparking joy' - to start, take out every item of clothing you own and only keep the ones you truly love. For clothing that can be kept in drawers, lay each item flat on a surface and fold it into thirds and then in half vertically and finally, in half horizontally. The aim is to end up with a rectangle that stands on its own.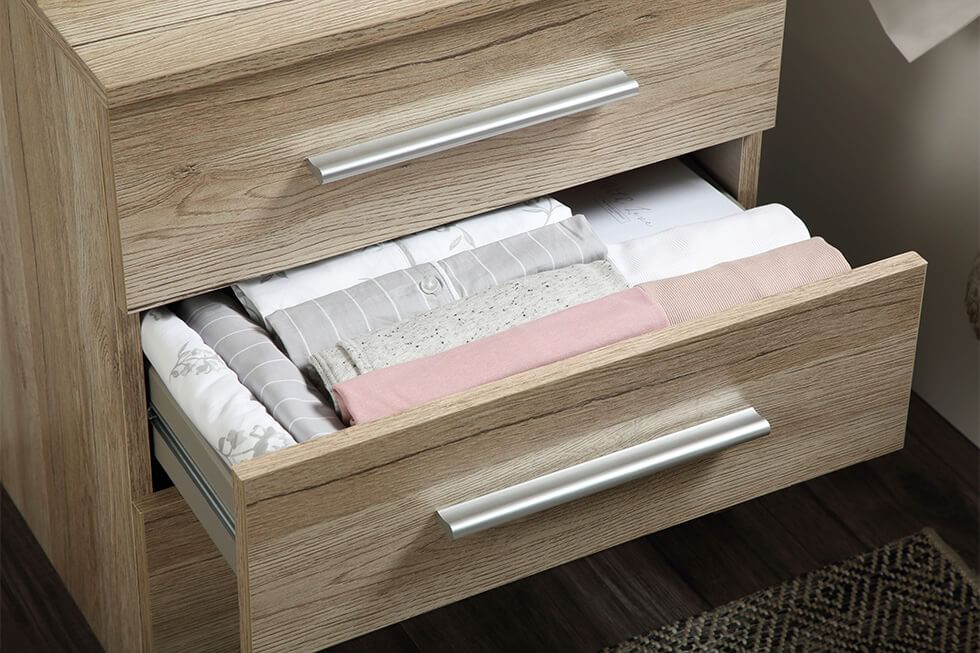 By storing your clothes this way, you'll be able to see every item you own, which can save you time when getting dressed. That means no more missing out on shirts simply because they're buried in your drawer and out of sight.
Choose a compact wardrobe system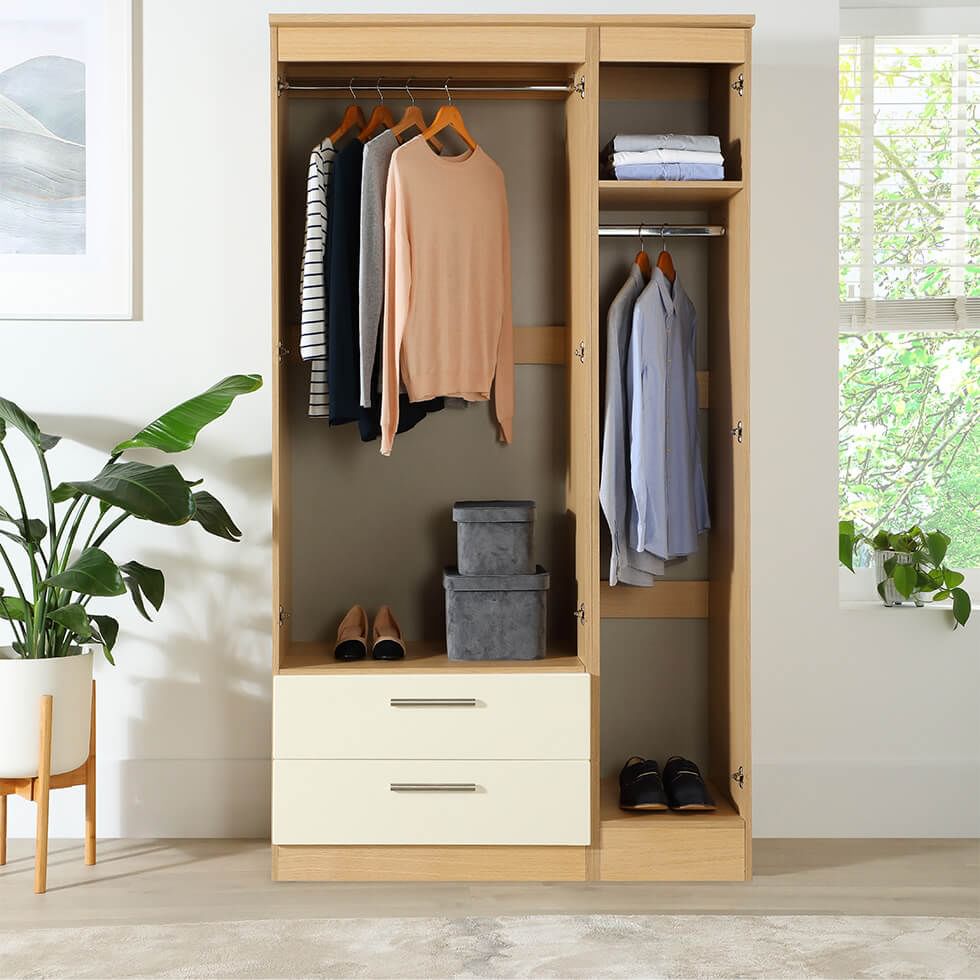 If you don't have the space for a set of bedroom furniture, consider a compact wardrobe system with built-in drawers, shelves and hanging rails of varying heights. This gives you more flexibility and storage choices compared to a wardrobe that only lets you hang your items. You'll also be able to add to your system gradually over time – for instance, by adding a portable garment rack if you find you have more clothes to hang.
Another space saving wardrobe solution is to adopt the 'one-in, one-out' rule, especially if you find your wardrobe keeps growing while your limited storage space stays the same. The basis of this rule is simple: each time you buy an item of clothing, you remove an item from your wardrobe before adding the new one in. This encourages a more mindful approach to shopping and helps reduce clutter.

Use double hanging rails
A wardrobe with double hanging rails might just be the fastest way to double your clothes storage. A clever wardrobe storage solution for both large and small rooms, utilising two hanging rails gives you better access to your clothes and is a chance to improve your organisation. For instance, you could dedicate one rail for your work attire and use the other for casual wear. A double rail system also helps reduce wrinkles and creases in your clothing that may form if they're hung too closely together on a single rod.
Store away your seasonal clothes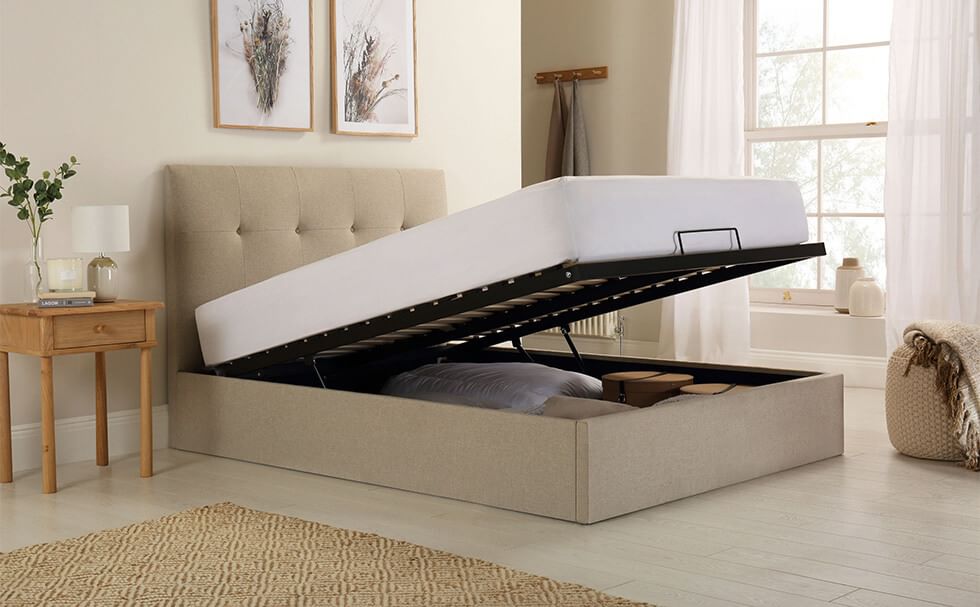 Storing your off-season clothes goes a long way in freeing up your wardrobe storage space. But if you've maxed out your closet and dresser, you might be wondering where else you can store your seasonal items. Look for furniture with hidden compartments such as an ottoman storage bed. This is an excellent solution for bedrooms that have limited space and helps keep things out of sight until you need to use them again.
Before you start packing your clothes, there are a few things to keep in mind. You should wash your items first as any kinds of stains will only get more stubborn if left unattended for months. Next, what should you hang or fold? Summer clothes like tees, shorts and sundresses can be folded, while formal wear, suits and winter coats should be hung on padded hangers and kept in garment bags. Fold your knits and sweaters, and store them in cloth storage containers. Vacuum-sealed bags are also a popular choice for bulky items.

Don't forget the floor space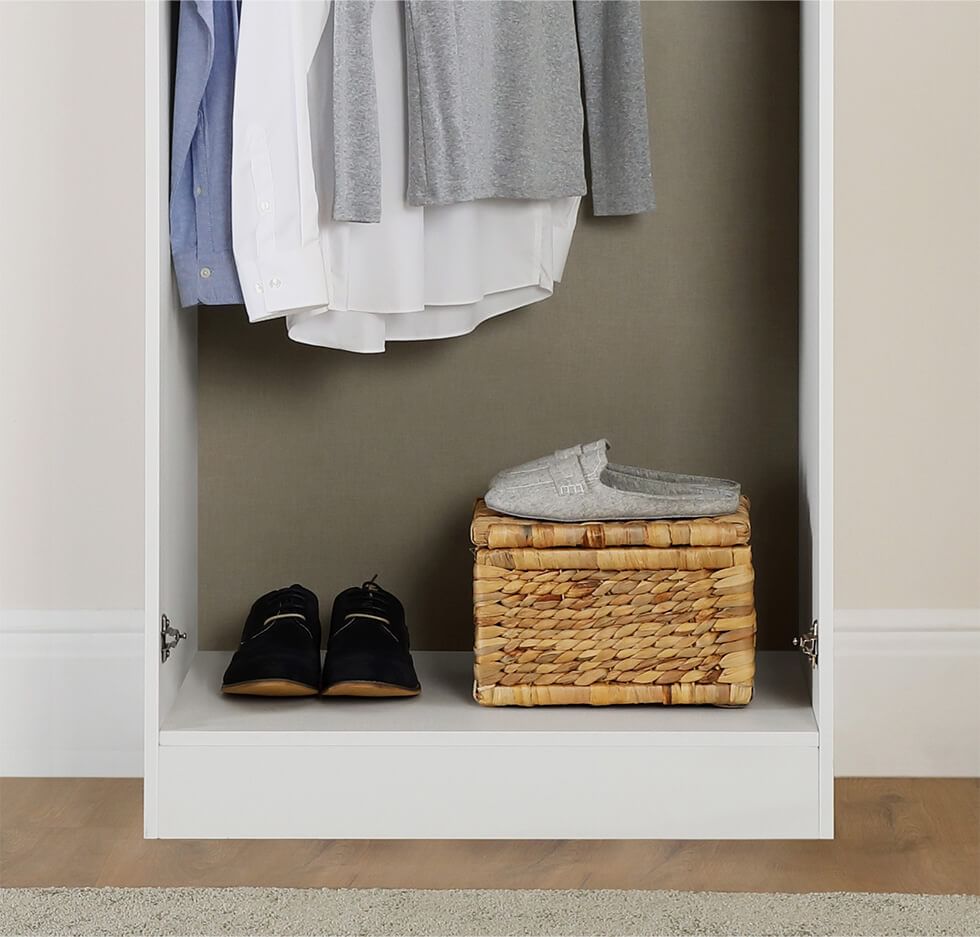 When you're trying to maximise your wardrobe space, look at how you're using its internal floor space. An area that's sometimes forgotten, this is a prime spot to sneak in some additional storage. Group your low-hanging clothes to one side of the rail to see how much floor space opens up. You can store a few pairs of shoes here or add storage baskets to keep shirts, scarves or other small items.
We hope you find these wardrobe storage ideas helpful. No matter what size your wardrobe may be and how many items you have, you can still create an organised space for all your clothes, shoes and accessories. Shop our wide range of stylish bedroom furniture sets today. All orders enjoy free delivery and free, easy returns all year round. For more tips on small space living, read our 8 clever ideas for small bedrooms.