10 yellow home decor ideas for spring
From sunshine hues to earthy tones, see our 10 tips to decorate the home with yellow this spring.
Bright and beautiful, a yellow interior invites the freshness of spring into the home.
Spring is in the air, and we want it to stay this way for a long time! Enter interior design and colour psychology - yellow is a great interior colour that can help evoke the freshness and liveliness of the season. Whether you prefer something light and contemporary or bold and glamorous, its wide range of golden hues are sure to provide.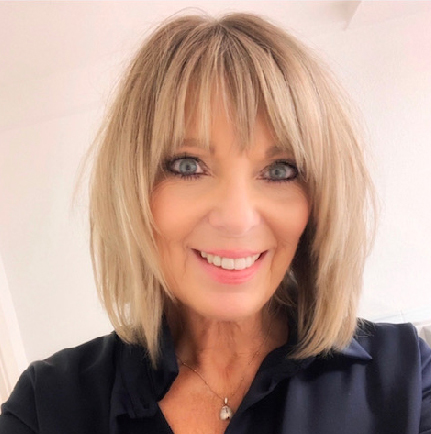 Joanne Hughes of @cloud_nine_interiors works with plenty of colours in her home, so we asked for some tips on decorating with yellow. Without further ado, here are 10 ways to introduce yellow into your home, from sweet, lemon yellow to earthy mustard or burnt ochre.
1. Experiment with small pops of yellow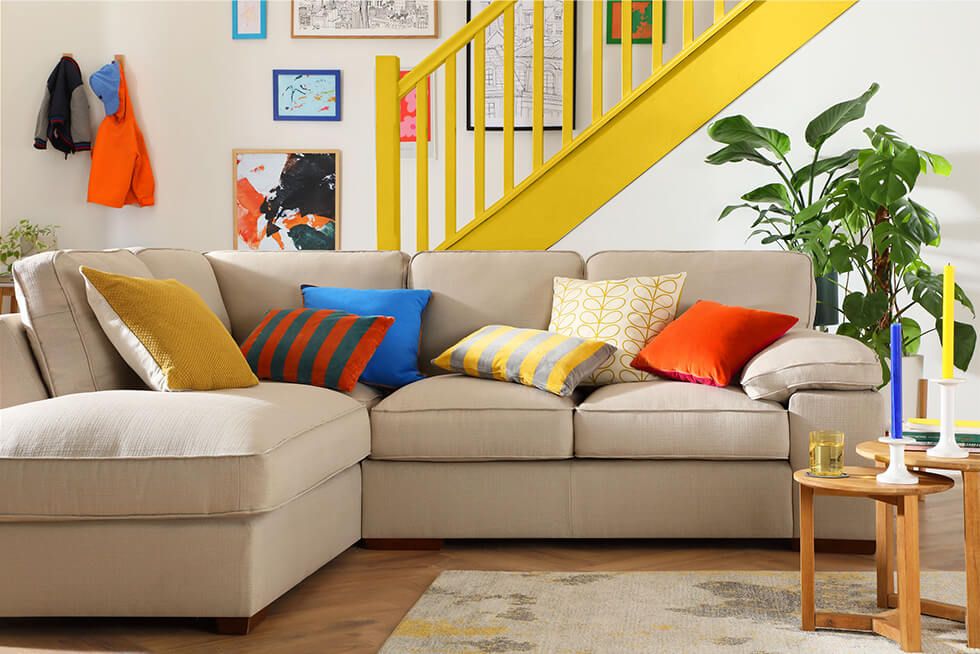 Whenever considering adding a new colour to your home, it's always a good idea to walk before you run. For instance, even a small canary yellow plant pot works to instantly light up a pastel hued room. Fresh yellow flowers require even less commitment, and are a nice natural touch for any space.
Joanne's tip: If you are new to using yellow in the home, start off small and get a feel for how it works for you. Less expensive accessories or soft furnishings such as cushions, vases and throws are a great place to begin.
2. Explore playful touches of yellow interior design
If you're feeling good about the sunny hue, the next step is to expand its presence in your home. Look for design features that can be accentuated with a splash of yellow paint, like a door archway, skirting board or even on the insides of cabinets. This works best when most of your walls are a fairly muted shade like white or a light pastel.
A nifty idea is to paint a golden yellow circle behind your bed to accentuate a headboard or act as one. The sunny motif goes well with wooden accents and live greenery to promote a feeling of the outdoors.
Joanne's tip: Vibrant, bright yellow can add a wow factor when used against the backdrop of a monochrome decor scheme and make a real style statement.
3. Move on to yellow furniture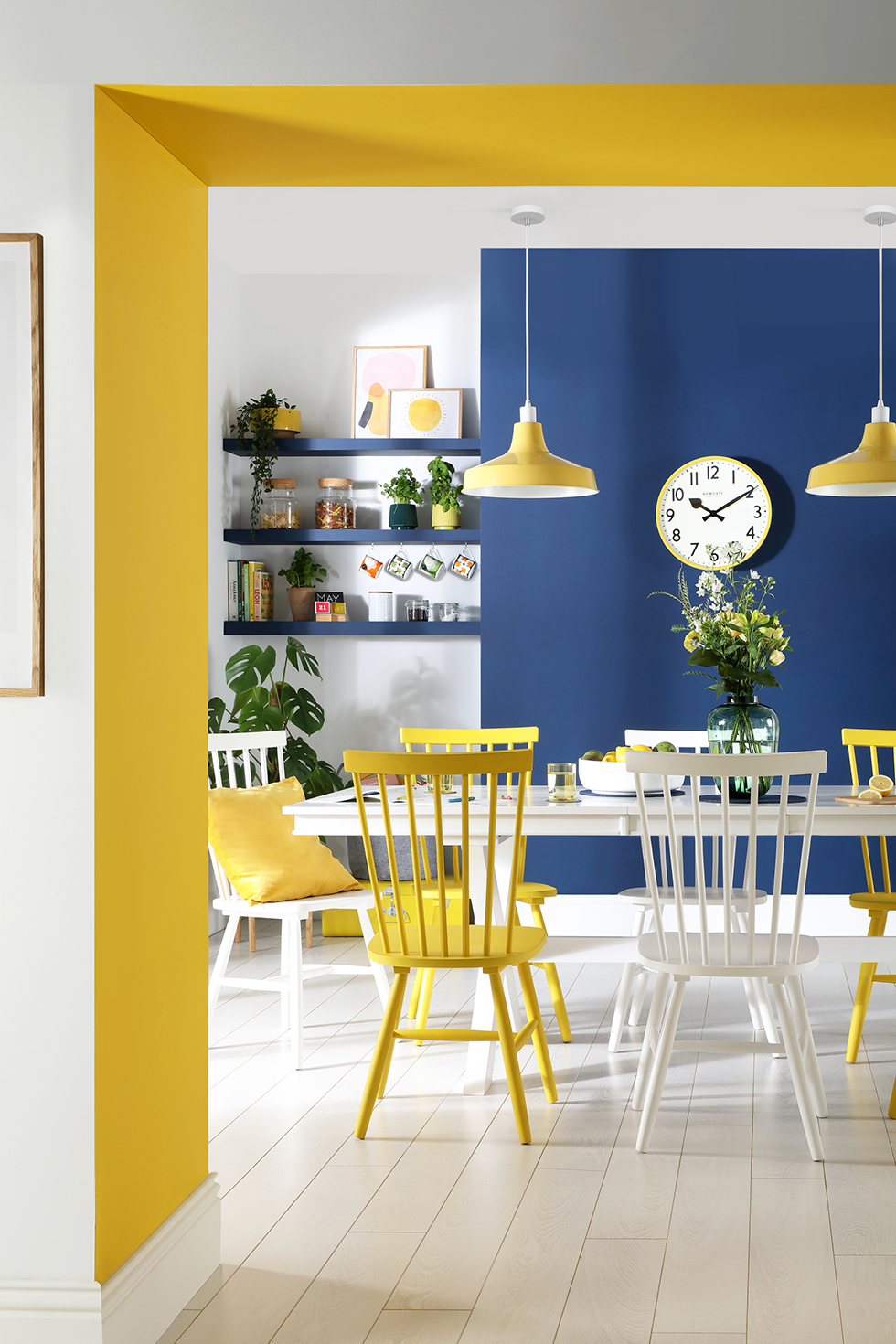 So far so good? Then bring it up a notch by investing in larger, longer staying accessories like furniture. Update a white wood dining set by giving a few chairs a coat of lemon yellow paint. White and yellow is a safe pairing to try for a fresh springtime feel - and it's the perfect time to take advantage of the mismatched dining chair trend! Ground the look with white wooden floorboards that also provide a textural warmth. Then, make the combo pop by using Pantone's colour of the year, Classic Blue, on a feature wall in the dining area.
4. Dedicate one area completely to yellow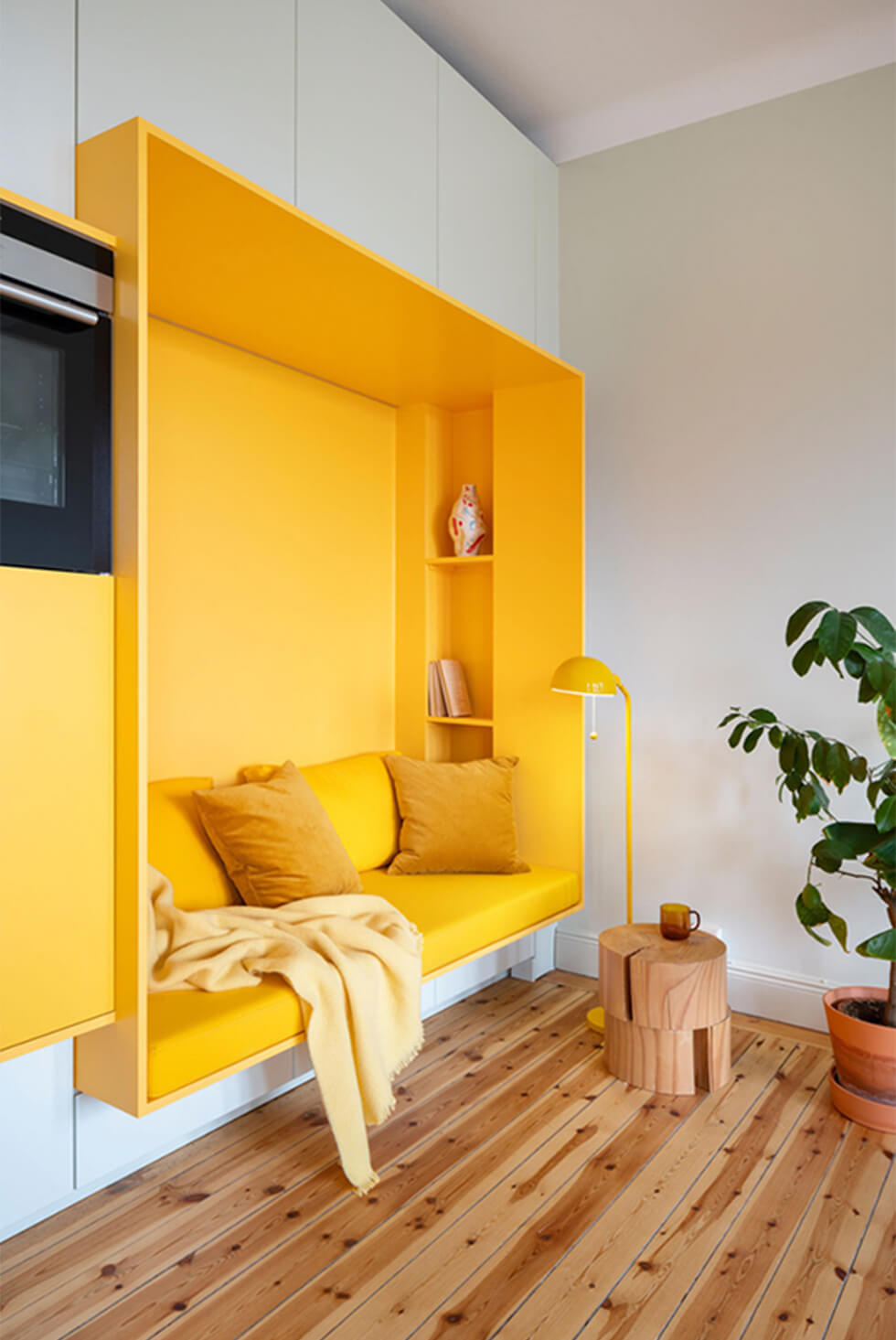 Celebrate your love for your new favourite colour in the home by decking out a corner entirely in its bright tones. A honey yellow reading area helps reflect light plus encourages creativity and imagination, perfect for delving into your next novel. The warm and inviting hue goes particularly well with oak tones to create a cosy, easygoing ambience. Add depth and texture with burnt ochre pillows, a banana yellow throw for snuggling and a plant or two for fresh air while you read.
Joanne's tip: Find the tone that most compliments your room's furniture or fittings - muted, earthy yellows like mustard and ochre have a brown undertone and so look great alongside natural materials such as bamboo and oak.
5. And some yellow patterned wallpaper, maybe?
Non-committal and good for spaces that are larger than a nook but smaller than a full room, yellow patterned wallpaper is a cheerful way to switch things up. Add a touch of tuscany yellow florals to an elegant bathroom, perhaps? Ground the busy pattern with sleek white countertops and minimal decor - a fail safe pairing. A large mirror helps brighten the space while amplifying the fresh design for maximum impact.
Or, create a fresh console moment with daffodil yellow and white striped wallpaper that's grounded by dark wood tones for a retro modern style.
6. Brighten a space with a yellow ceiling or light fixture
When in doubt of where else you could try out a yellow tone, look up. Stripes of butter yellow on ceiling beams instantly perk up a room for a lighthearted and airy feel. For a modern finish, keep to furniture and accessories with slim silhouettes and clean lines, preferably with sleek black legs.
Or, look for a yellow light fixture with a metallic finish that will brighten a hallway with both light and colour. The striking contrast of yellow up high against a white entryway makes the space seem taller while showing off your daring personality. Maintaining a fairly muted palette helps the yellow light make more of an impression as a feature colour.
Joanne's tip: Bright and bold shades of yellow are more uplifting and work well in kitchens or home offices. It can also be a great way to add brightness to a dark hallway.
7. Embrace a yellow wall
From a pale parchment yellow to a bold, earthy mustard, yellow is a versatile wall colour option that can work for most styles. Paint your way to a calm and gentle bedroom with a soothing parchment yellow, and complete the look with light wood furniture and equally muted colours like grey and ivory.
But if you love hanging plants and want an urban jungle kind of vibe, let mustard yellow's earthy undertones complement your greens and draw out their best side.
Joanne's tip: Consider the atmosphere you want to create when using yellow. Softer, muted tones are calming and relaxing; perfect for living rooms and bedrooms.
8. Mix yellow with blue or pink..
Yellow and blue is a combination that's been tried, tested and approved; but we particularly love this pairing of Classic Blue and mustard yellow. The two bold colours contrast each other perfectly to create depth and drama while imposing an instant 'wow' effect.
Another colour match to consider is pink, particularly pastel hues like salmon or flamingo pink. Mix in a darker shade like dijon yellow or strawberry pink for intensity and lushness.
Joanne's tip: Spring is the perfect time to give your home a refresh and the trend to partner up yellow and pink continues.

...or both.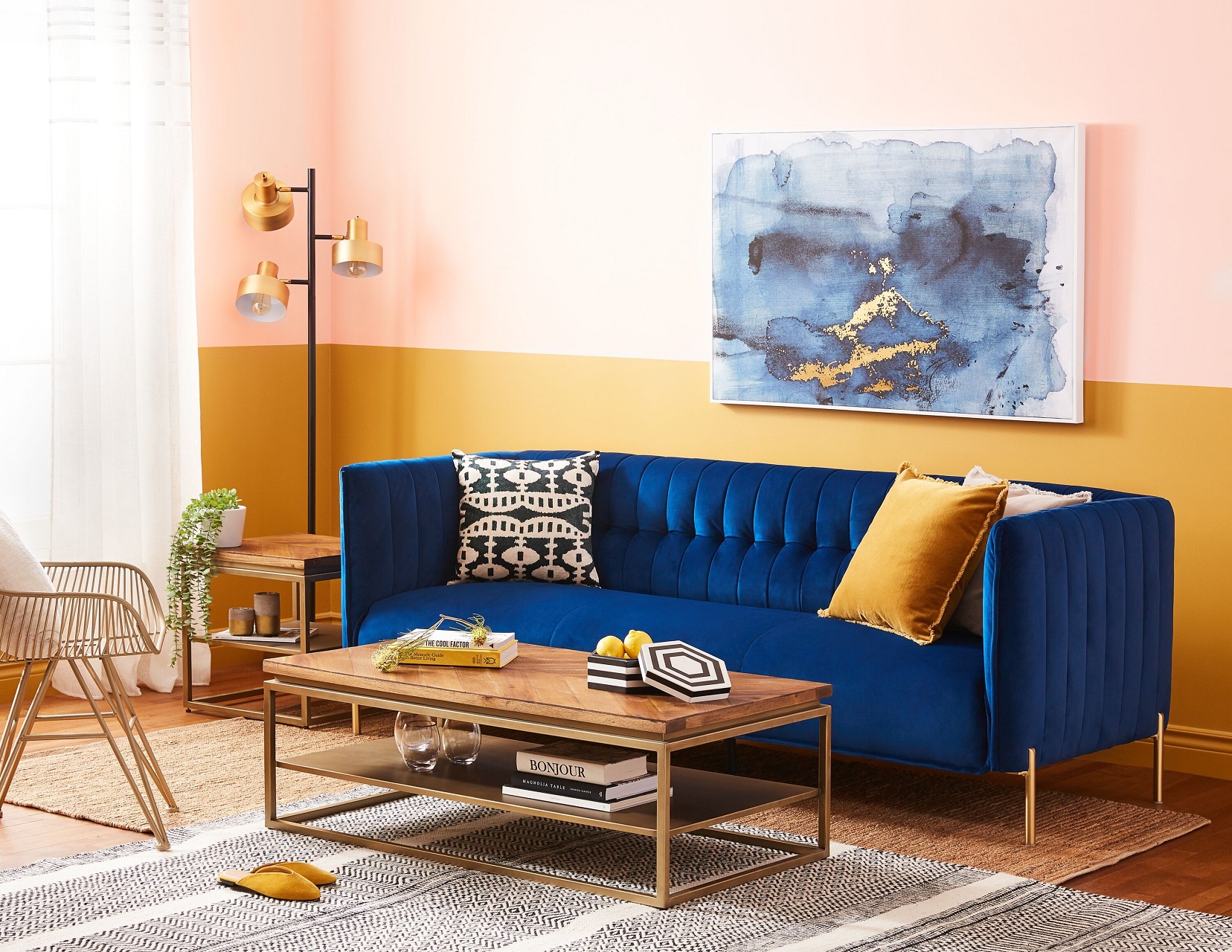 Or you could also mix the three colours to come up with a unique palette that's modern, trendy and undeniably stylish. It's easy to see why jewel tones result in stunning interiors. Little hints of brass add instant chic and luxe appeal.
9. Softer spaces can use yellow and grey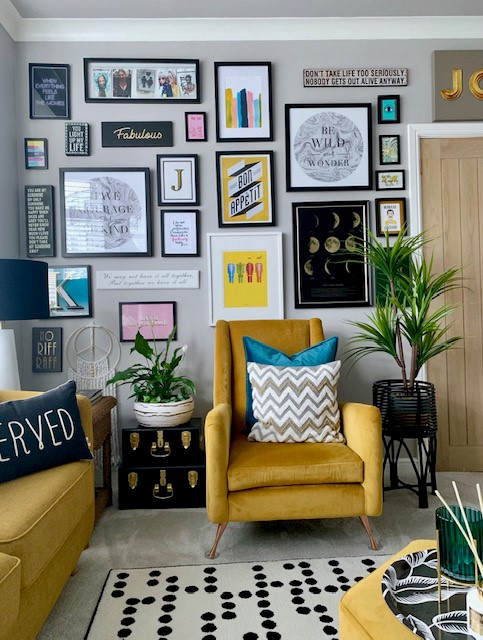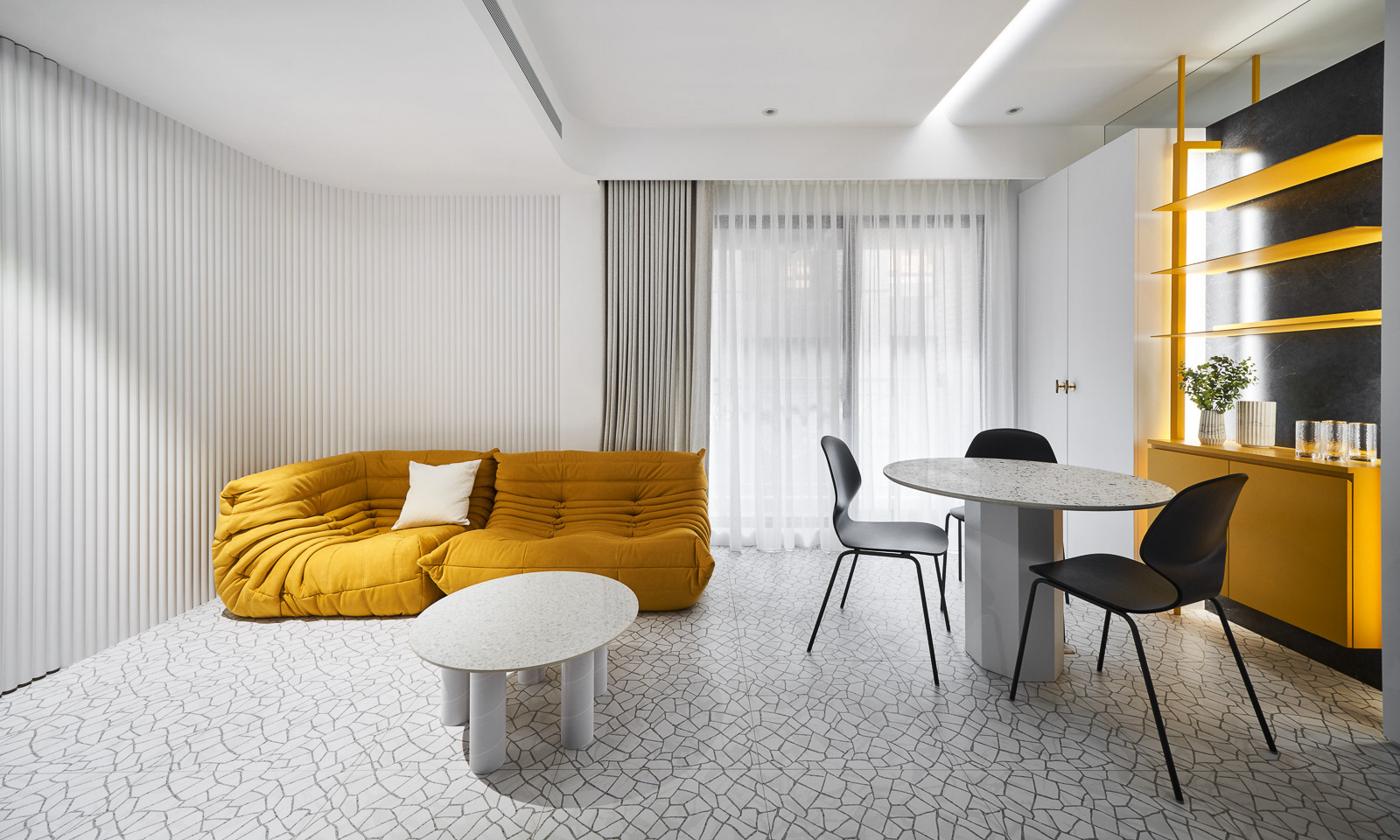 Comfortable and contemporary, yellow and grey is a power couple that just works, every time. Little pops of vibrant butterscotch yellow easily perk up a grey setting while bringing in warmth and personality.
Vary the yellow tone through different layers like in the form of a velvet sofa or hanging artwork. In a modern, minimalist setting, the warm undertones of yellow does wonders to balance a potentially cold grey setting.
Joanne's tip: Grey living rooms can be enhanced by bright, vibrant pops of yellow as an accent, which compliments the cool and calming tones, adding extra personality.
10. Like it, love it, yellow on yellow
Not for the faint of heart, a yellow on yellow interior makes a bold statement. As with all palettes that use the same colour abundantly, the trick is to have varying shades and a good mix of texture. Use darker tones to accentuate wall features, yellow flowers for a textural break and yellow patterned wallpaper for visual interest. Meanwhile, a little cheat is to add hints of gold - which is essentially a dark, metallic yellow!
Joanne's tip: Rich metallic golds can add a real sense of opulence and drama to dark interiors. Bringing in touches of gold in lighting, wall decor, and mirrors, for example, is effective in drawing in the eye and acts as a sharp contrast.
How do you feel now about adding yellow to your home? We hope this inspired you to give yellow a shot! Show us your ideas by tagging us on Instagram @furnitureandchoice.