4 easy ways a stunning marble table can change your space
We show you 4 ways that different marble tables - ranging from white, grey and black - can transform the look and feel of your dining room.
For clean, simple luxury, you can't go wrong with a marble table.
The polished finish and organic, tactile quality of marble are best played up in strong, modern silhouettes. And the right marble table can be an elegant (and quick!) game changer for the home. Read on to see 4 different ways a marble table can transform your space!
1. Cosy chic with a round marble table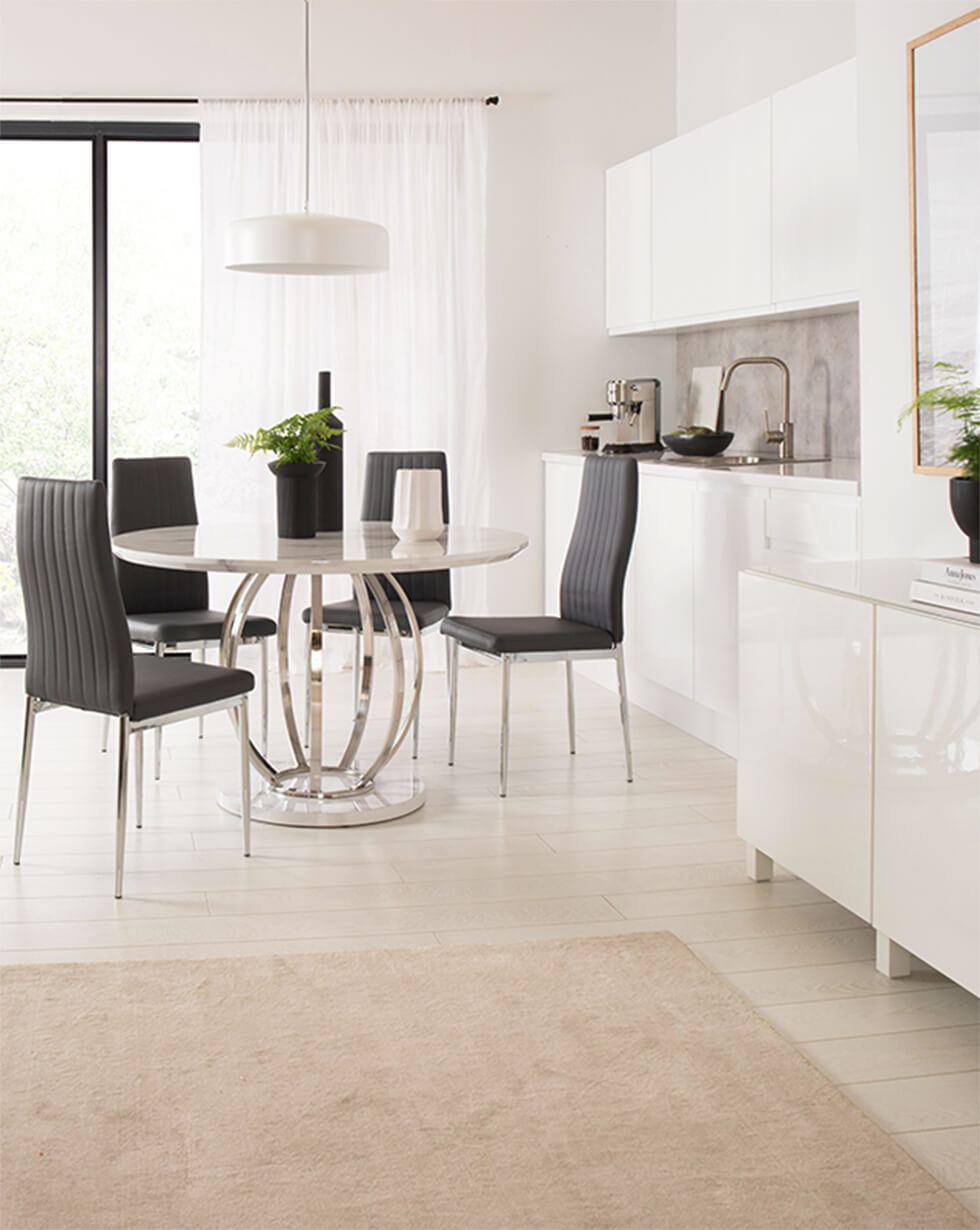 When working with a small room, every piece of furniture counts. A round marble table packs a style punch without occupying too much space. This makes it a charming choice for a compact dining room and open dining spaces.
Its glossy finish brightens up the room, while its shape allows it to fit easily into tight corners. A white table does this trick particularly well, and pairing it with dark chairs gives it a modern monochrome twist.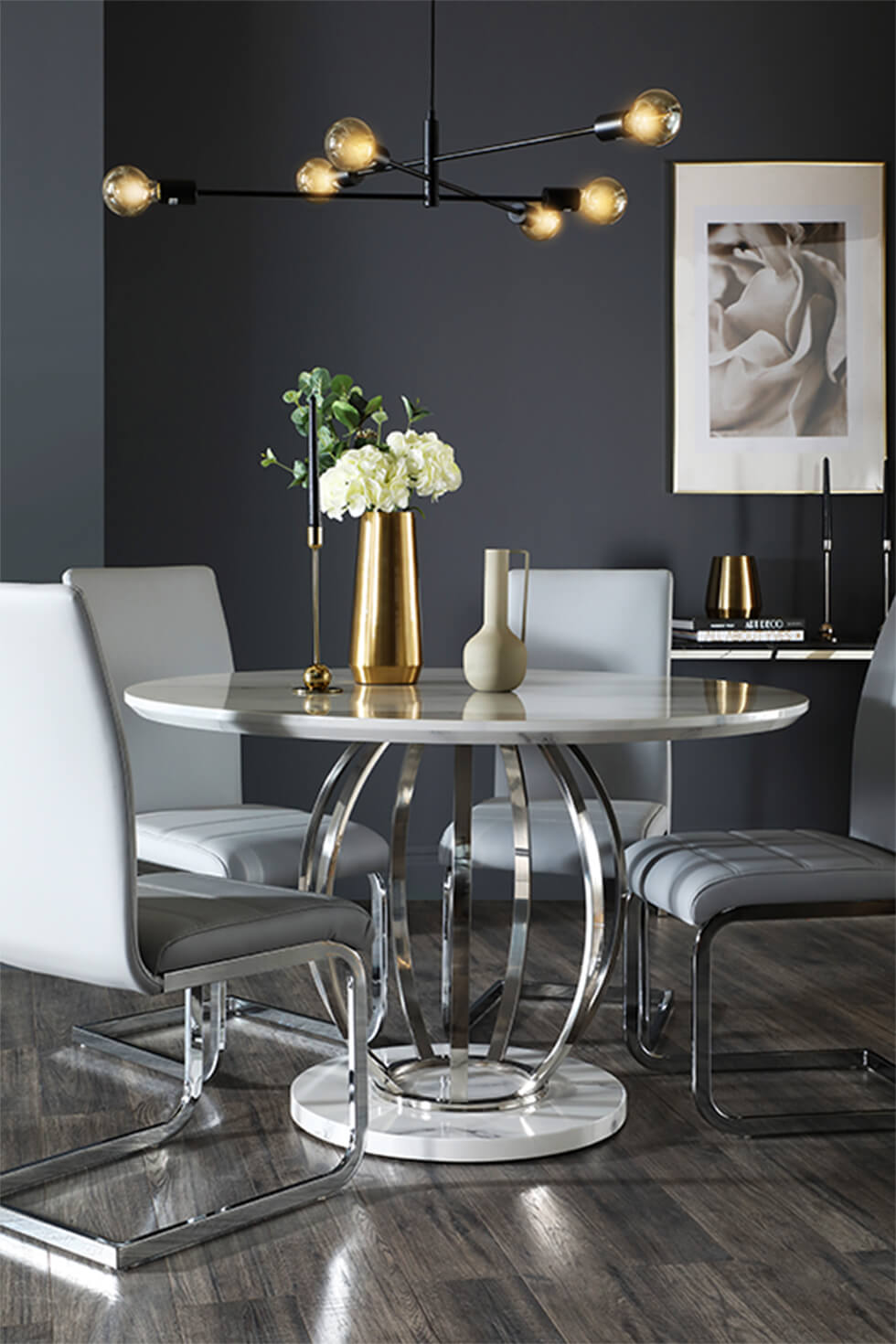 To create height and space in a smaller room, opt for cool statement lamps and taller centrepieces to draw the eye upward. And look for smart, comfortable chairs with a slim profile for a sleek feel that doesn't take up unnecessary space.
2. Classic sophistication with a large marble table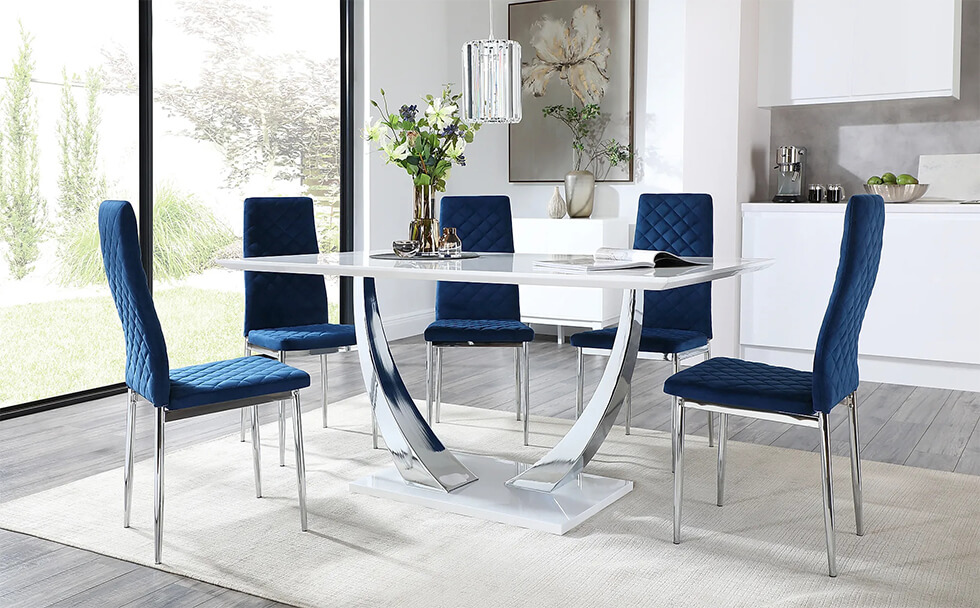 But if you have more space, a large marble table is a wonderful choice to create an expansive, welcoming dining room. Especially when it's built with strong, sharp lines and a modern finish!
Look for details that set the table apart and keep it fresh. For instance, chrome legs or pedestals have a striking, clean feel. And then pair it up with fabric chairs in jewel-toned velvet and linen. This creates a play on contrasts and softens up the room for a relaxed, elegant touch.
3. Bold and modern with a black marble table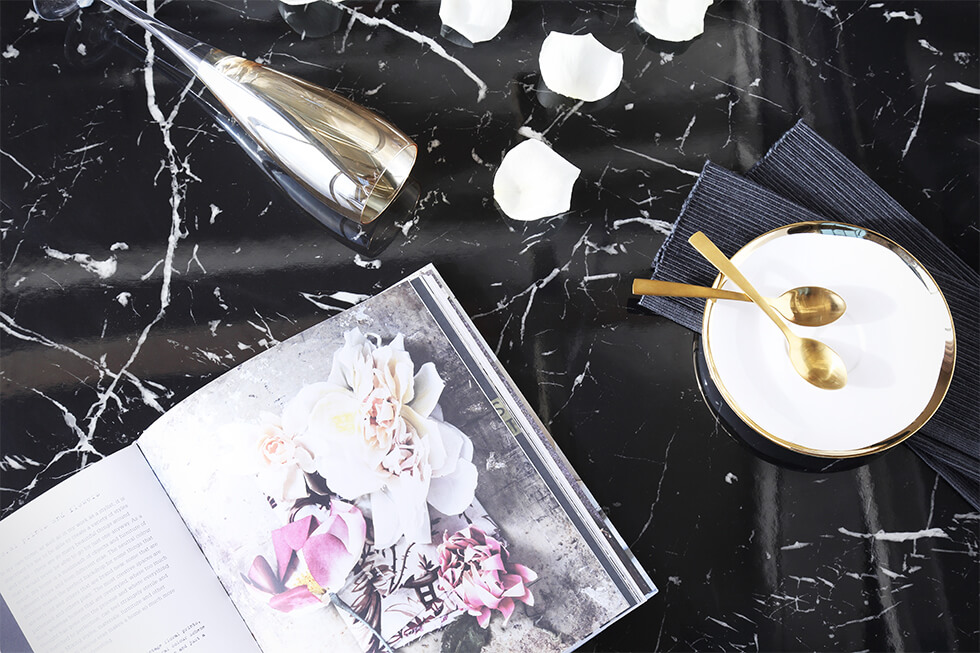 If you want to make a dramatic statement - a black marble table is the one for you. A high-impact option, this table will set the stage and steal the scene.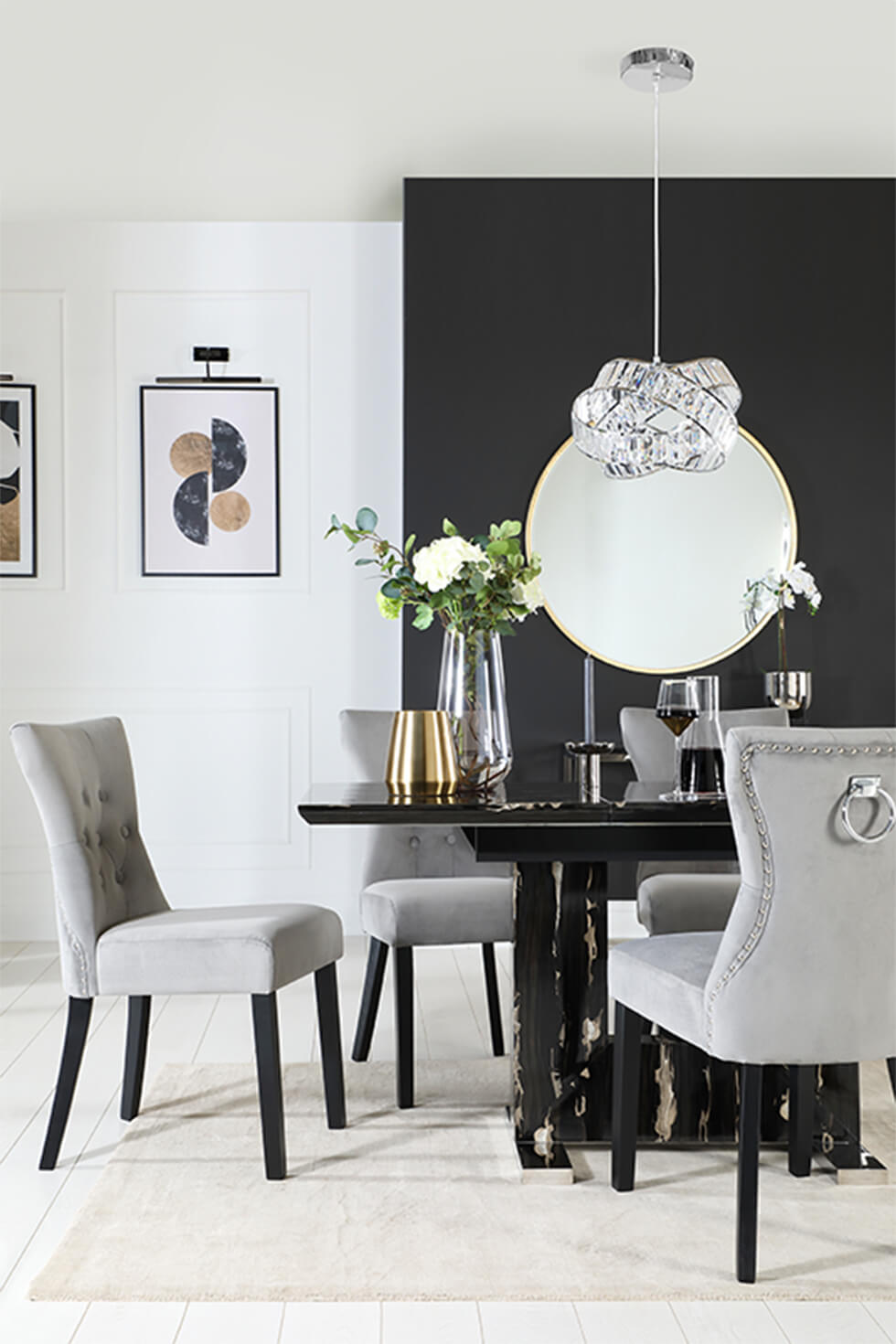 Create dimension and light by pairing black marble with gold and chrome accents, and lighter chairs. Grey or taupe chairs are a chic choice and offer gentle, stylish contrast. Complete the look with a sculptural pendant lamp for a luxurious, modern dining space.
4. Refined glamour with a grey marble table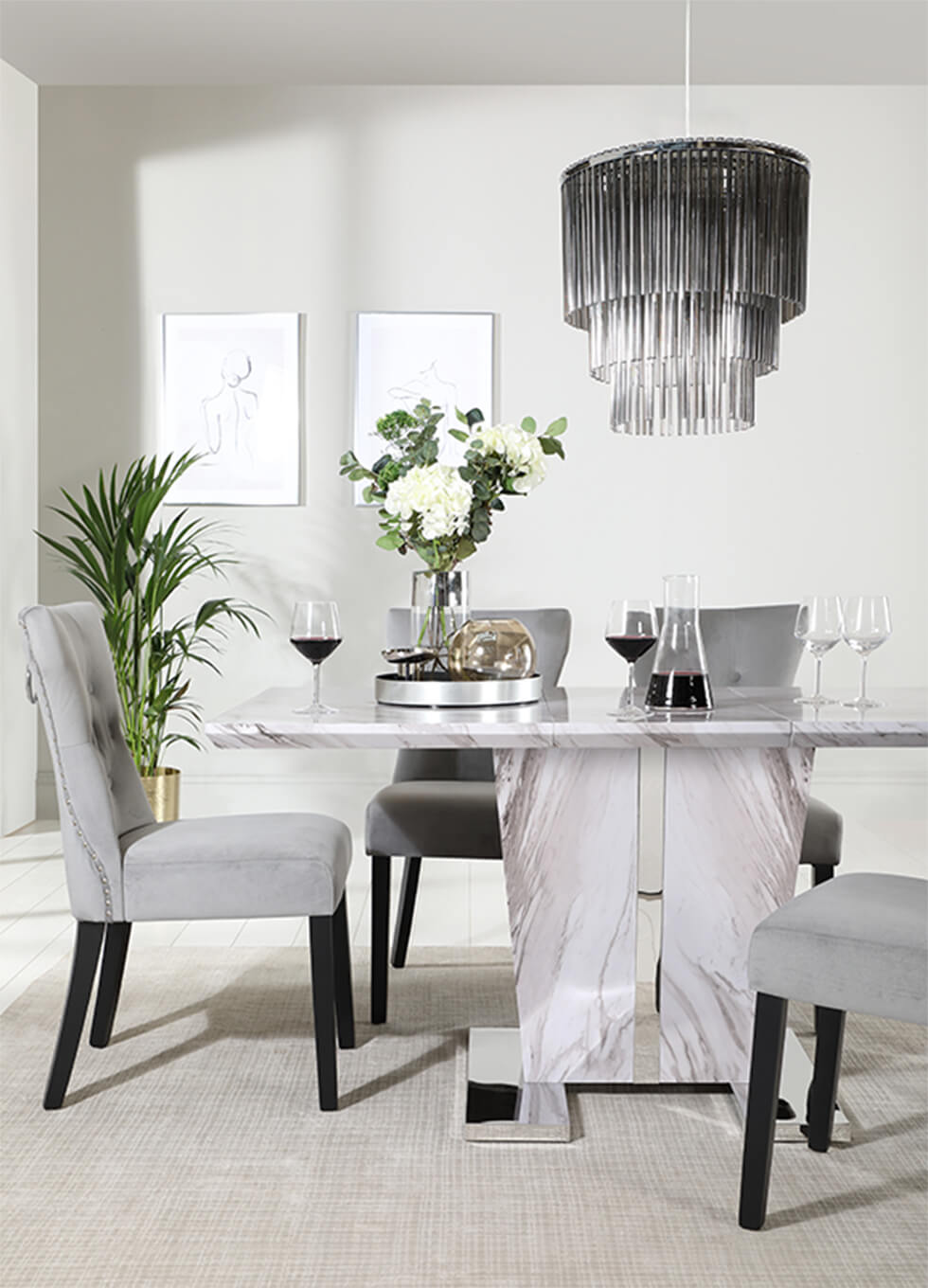 For a fresh take, grey marble has a refined, yet luxurious feel. While it pairs well with black and white, a grey marble dining table truly shines in a neutral, tonal space.
Opt for chairs and decor in grey hues, then dial up the glamour and personality with texture! Here, a bold fringe lamp and soft velvet chairs add a playful touch to a sophisticated dining room.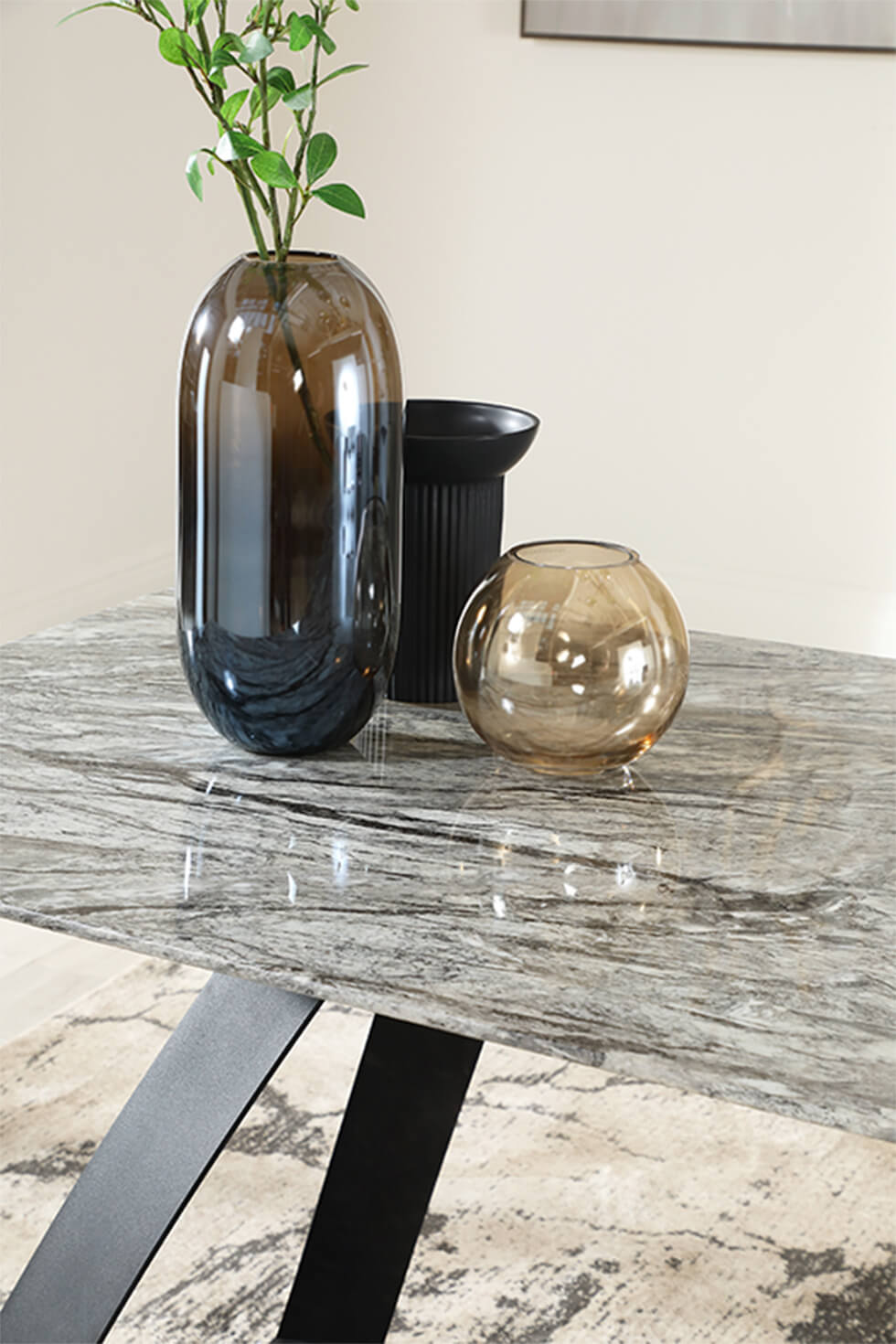 You can also play up the gloss with art and accessories with a reflective, translucent quality. Smoked glass vases and decor in gold and bronze add warmth, as well as effortless elegance.
Love grey dining rooms? We have 11 easy tips to help you get the look.