Homes We Love: How smart DIYs transformed this 1970s fixer-upper into a colourful home
DIY extraordinaire Amy uses colour, thrift finds, and creative upcycling in her bold, adventurous and fun home.
Shifting into a new place is a commonly stressful experience for most people, but Amy and her husband, Ric, also had the unfortunate luck of doing so during the first week of lockdown — which meant all of the moving were done on their own.
But not only did they succeed with two cats in tow, they've since transformed their 1970s fixer-upper in Stafford into a colourful home, layering plenty of style and personality — and doing it all on a limited budget.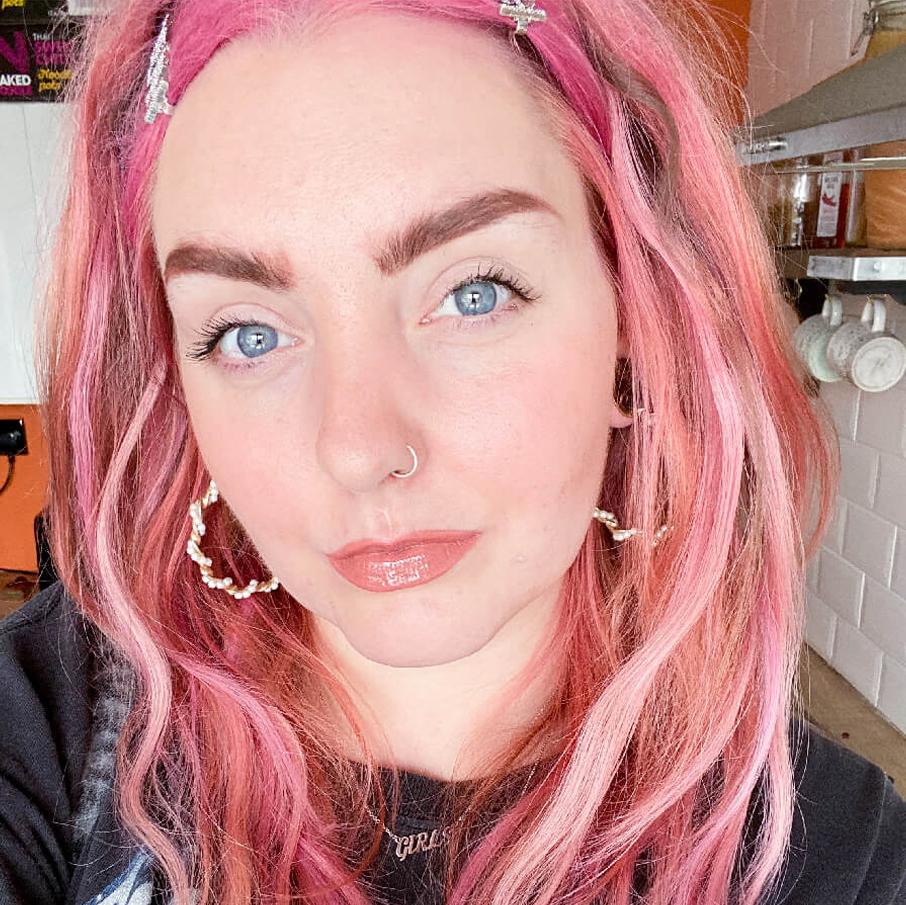 Keep up with their home updates at @eleven.on.the.marshes and read on for some brilliant DIY ideas, gallery wall tips, and all around inspiring interior transformations.
A fresh entrance hall that says hello!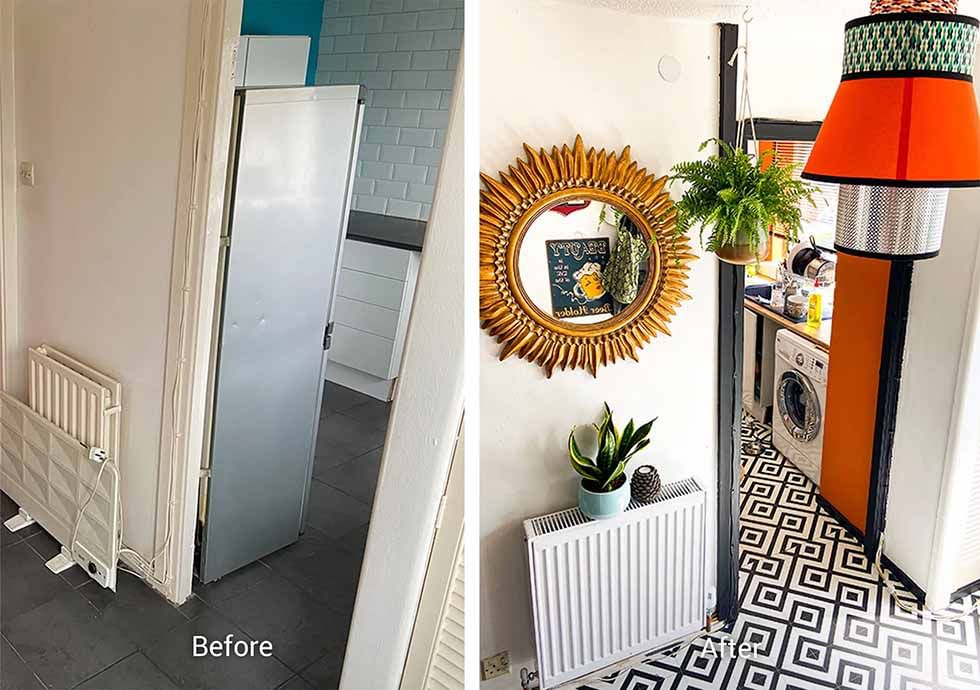 Starting off with one of Amy's proudest DIYs - the dramatic flooring change of their entrance leading into the kitchen is actually a geometric print vinyl that they stuck down themselves. Then, a lick of black paint on the doorframe tied the space together while giving it a modern update. For a dose of personality, she found a gorgeous second hand sunflower statement mirror for only £10 and splurged on a fun doormat.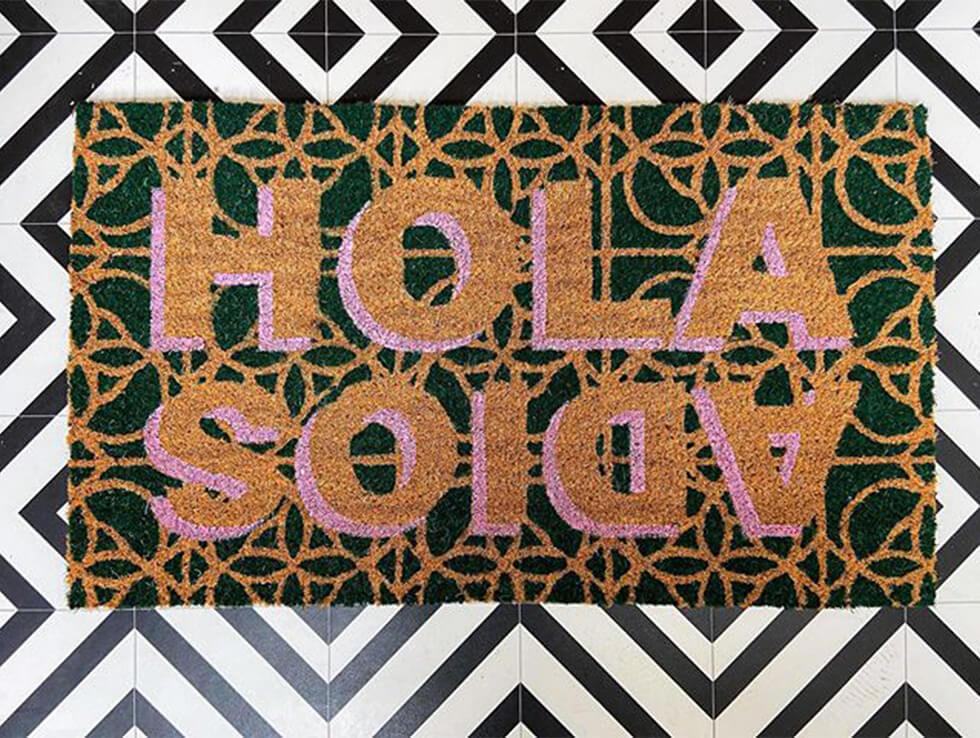 Kitchen possible: An orange wall and smart retouches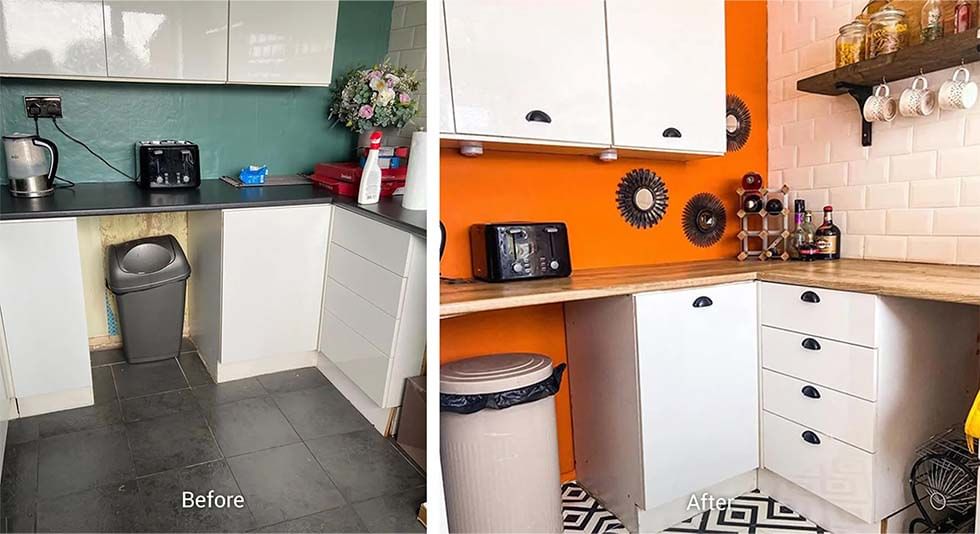 The cabinetry and countertops were still good, so Amy rolled up her DIY sleeves and gave them a style update. A wood effect vinyl wrap countertop, black shell handles off eBay, and a few under cabinet lights later -- and they looked almost new. There is a line between what can and should not be DIY-ed, however, like the wall shelf on the white tiled wall which they called in professional help for. "We would've been so mad at ourselves if we cracked all of them!"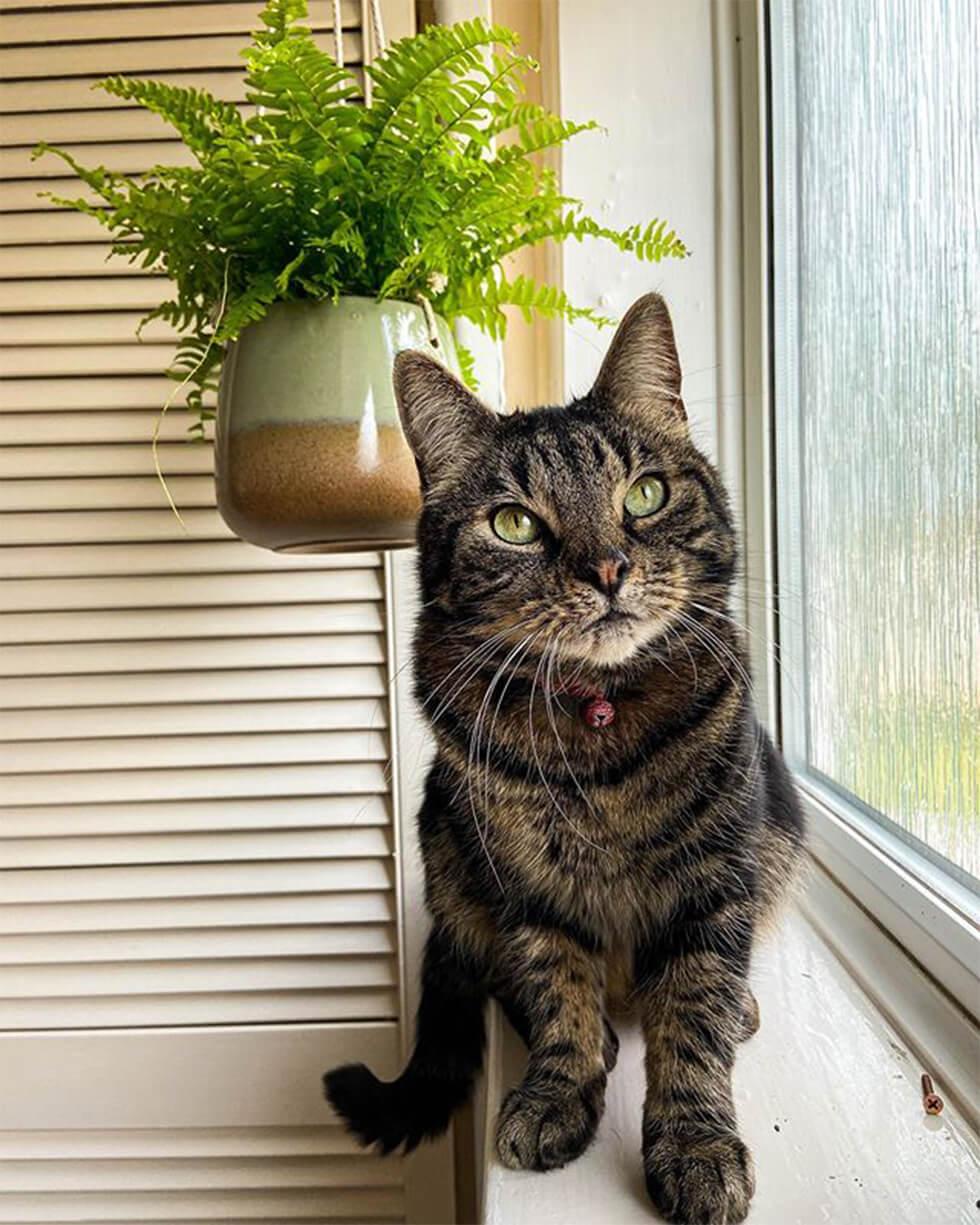 As for the striking orange wall, she confesses to choosing the colour on a whim (within a few hours), believe it or not. The kitchen has a large window that lets in a lot of sunlight and makes the orange glow, warming up the entire space splendidly. It also allows Amy to house most of her beautiful plants there.
Lounging in style: Blue walls and a fab sofa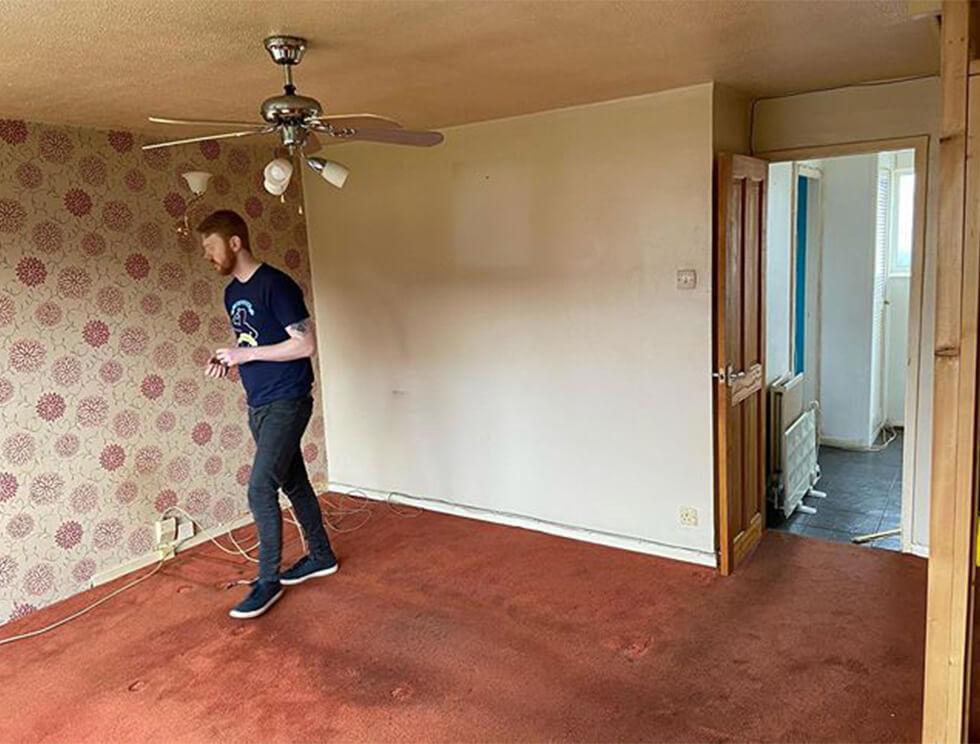 A bold blue coat of paint replaced the floral wallpaper in the lounge to completely brighten up the look of the space. Amy also swapped out old sconces for new light fixtures, laid down a grey rug, topped it off with a DIY coffee table, and brought in our Baltimore corner sofa.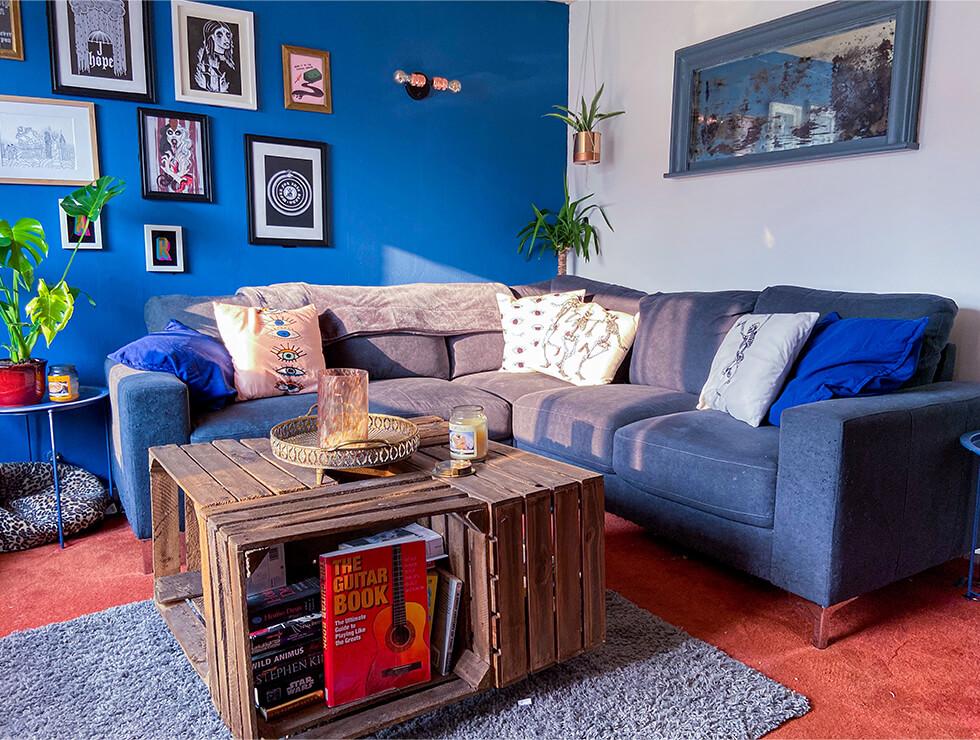 When asked about her thought process behind styling the sofa, she said, "It's simple really, I love bold statement accessories - the choice was always to have statement pillows with textured throws to give it an interesting feel. We get so many compliments on our sofa when people come to visit and they're always shocked at how affordable of a price it is, especially when they realise how comfy it is!"
It's an incredibly modern look but with the unique edge I look for in furniture - it looks amazing as a standalone piece but still commands attention when styled up with our mad furnishings.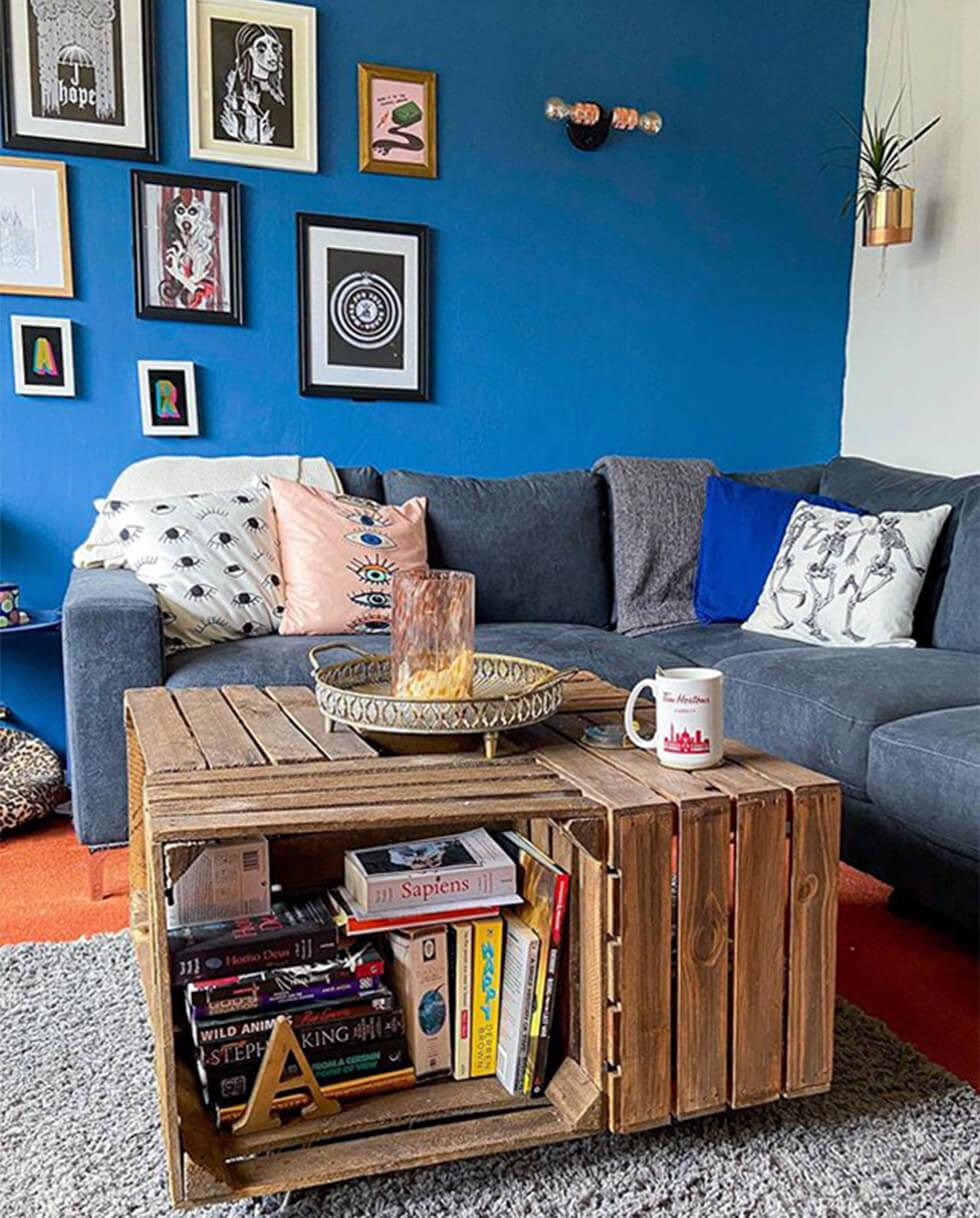 Each room wouldn't be complete without a smart DIY of some kind -- the one-of-a-kind coffee table is actually four apple crates stuck together with metal feet attached to them and stained a dark oak. Now they have sections to store different things like blankets, books, cat toys and other living room items.
Staircase crush: Black to basics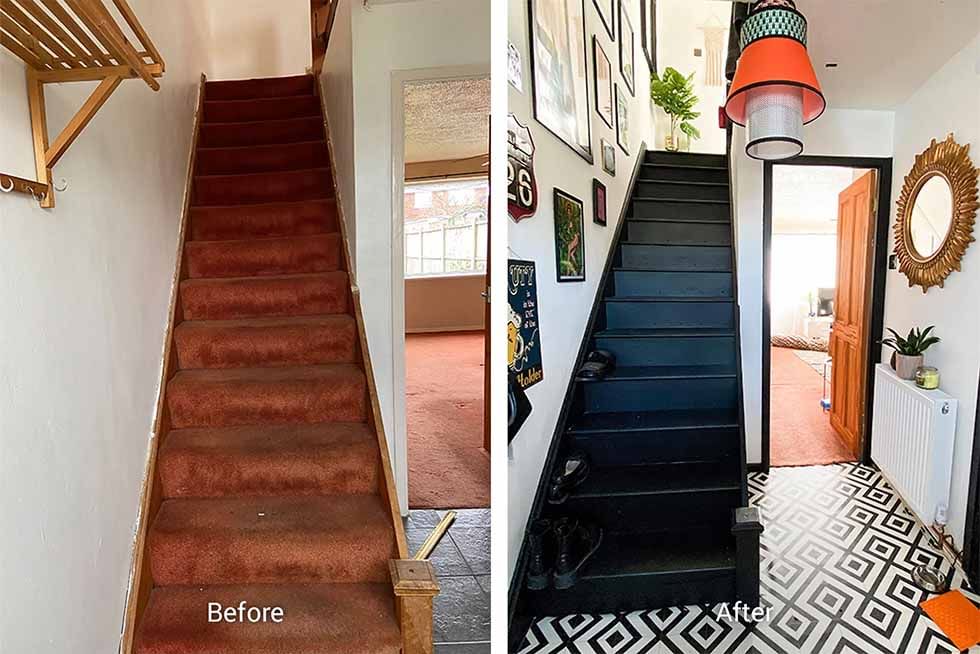 The former carpeted staircase revealed a wooden base beneath, which Amy painted black to match her entrance hall and door frames. And look how fresh and modern it's become! It's also the space where her amazing gallery wall is featured.
As you might've noticed, there are a lot of cool prints and artwork around this home, and some of them are from Amy's own print business, @peachfrownprints. So when it comes to creating a gallery wall, she's somewhat of an expert.
Her first bit of advice is to support small business or indie artists so they can keep on creating unique pieces. Then, to always lay your framed prints on the floor and take a picture to make sure you're getting the best placement before putting holes in the wall. But also,
Never be afraid of playing with frame shapes, sizes and colours. The right frame will make your art pop like you wouldn't believe!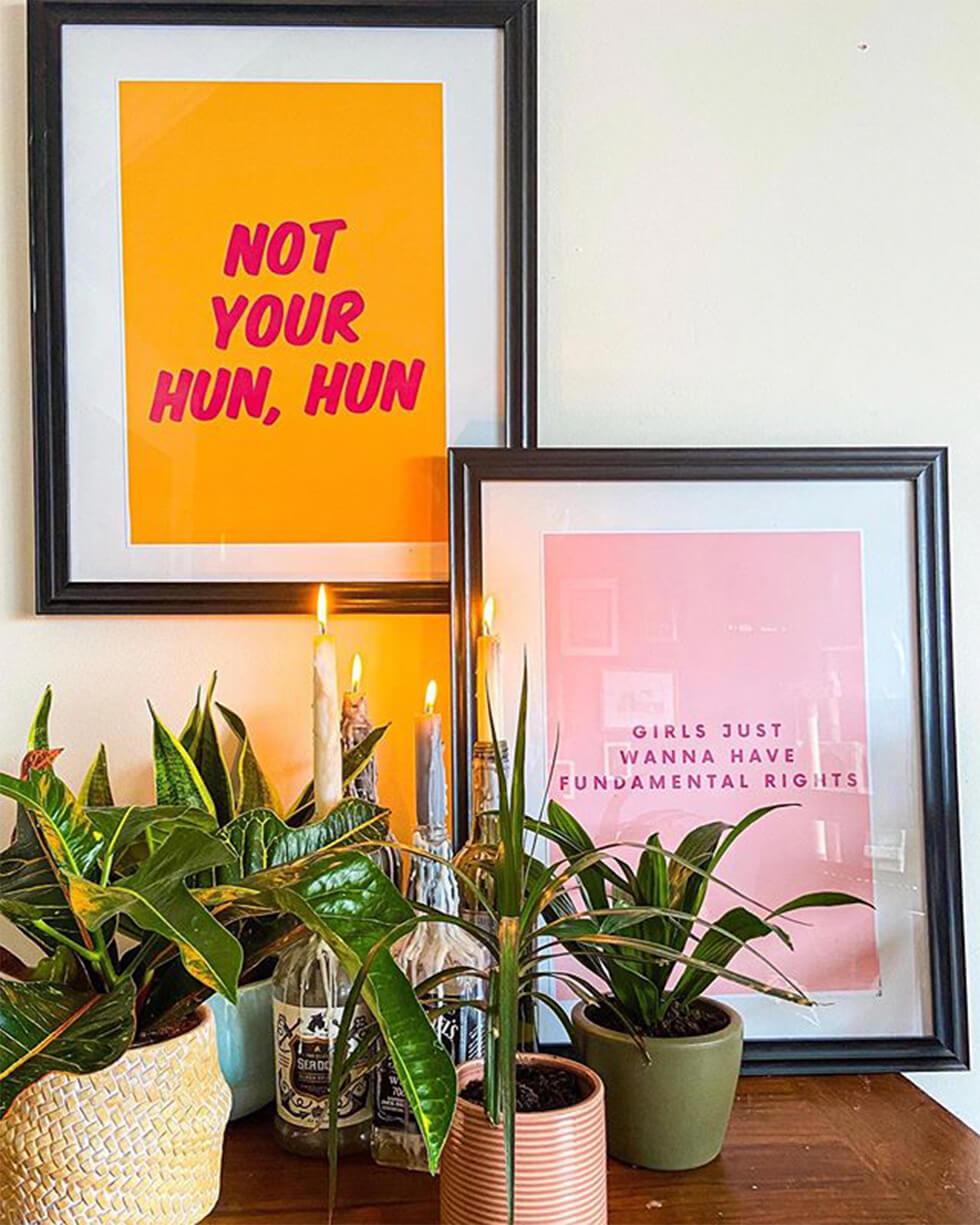 Another handy one is to try and keep the spacing between frames consistent, as it'll throw the entire balance off. "One thing I do like to say though is that there are no rules, absolutely none - art and prints are a form of expression, so you do whatever feels best for you!"
A dreamy pink bedroom with a groovy mural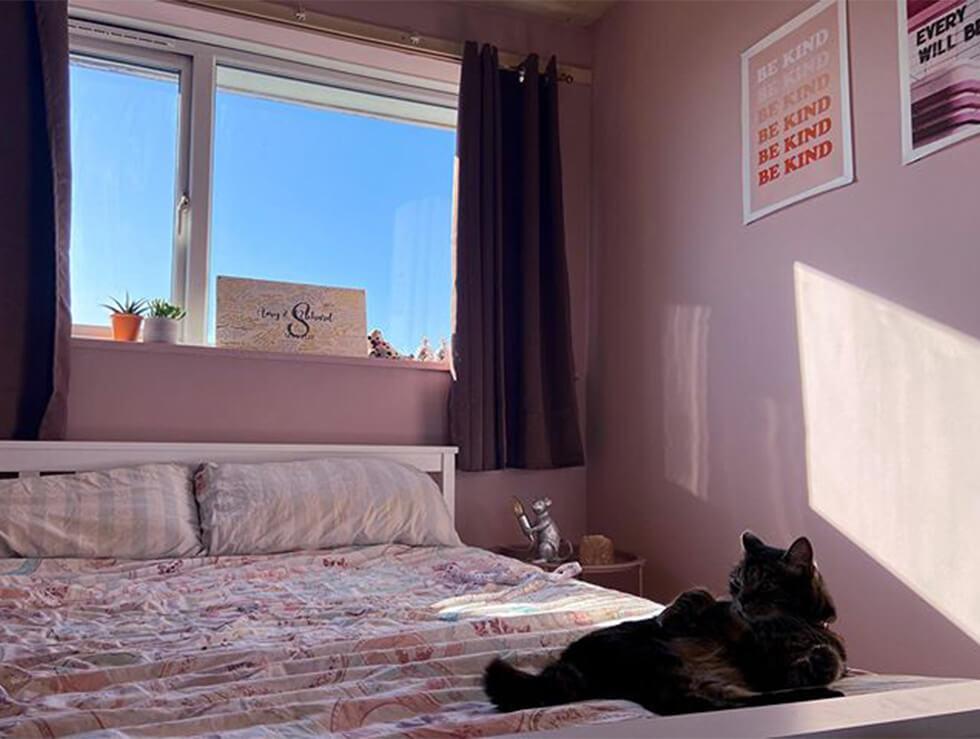 Amy loves her pink bedroom, but longed to add a little something to the walls. So she reached for the extra paint lying around and let her hands run free. Several hours of therapeutic painting later, and...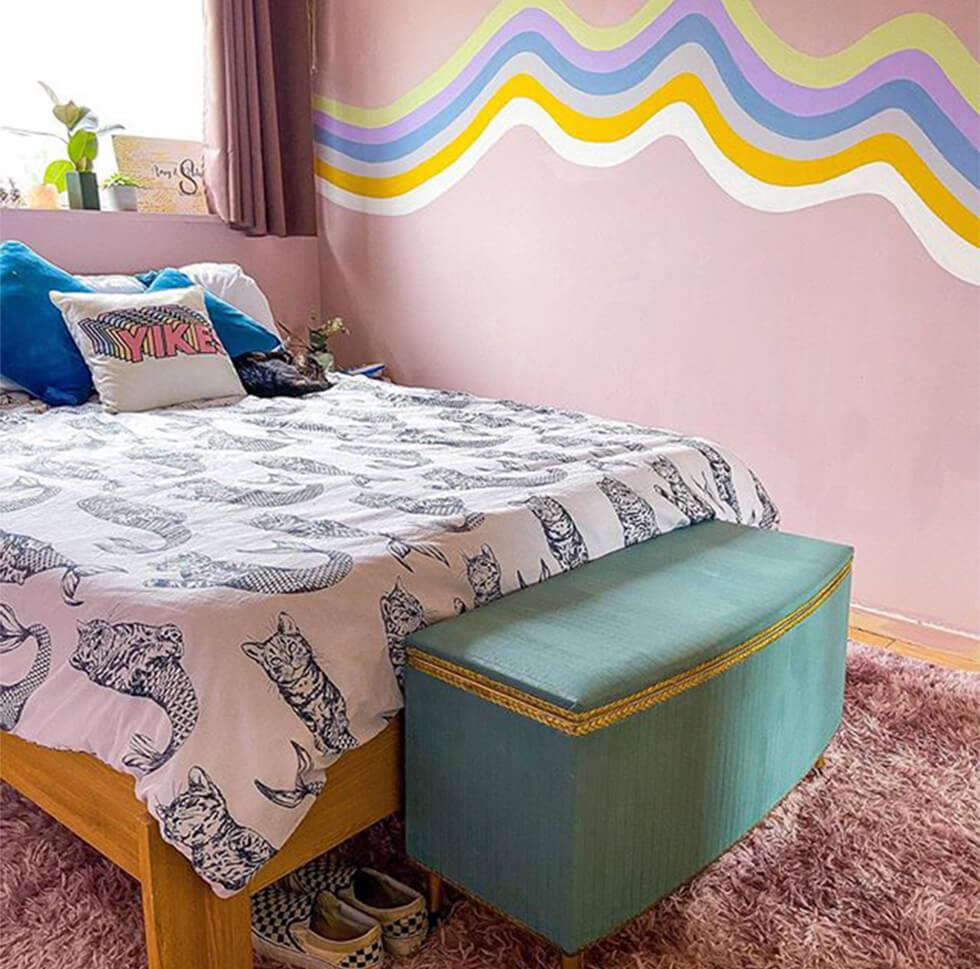 ...voila! A lovely piece of wall art in the bedroom. The smooth curves of the wave design are nice and soothing while adding just the right bit of pizzazz she was looking for. Paint is a great, cost-effective way to add colour to a room without taking up any floor space!
Handy tips from budget decorating to fixer-upper hunting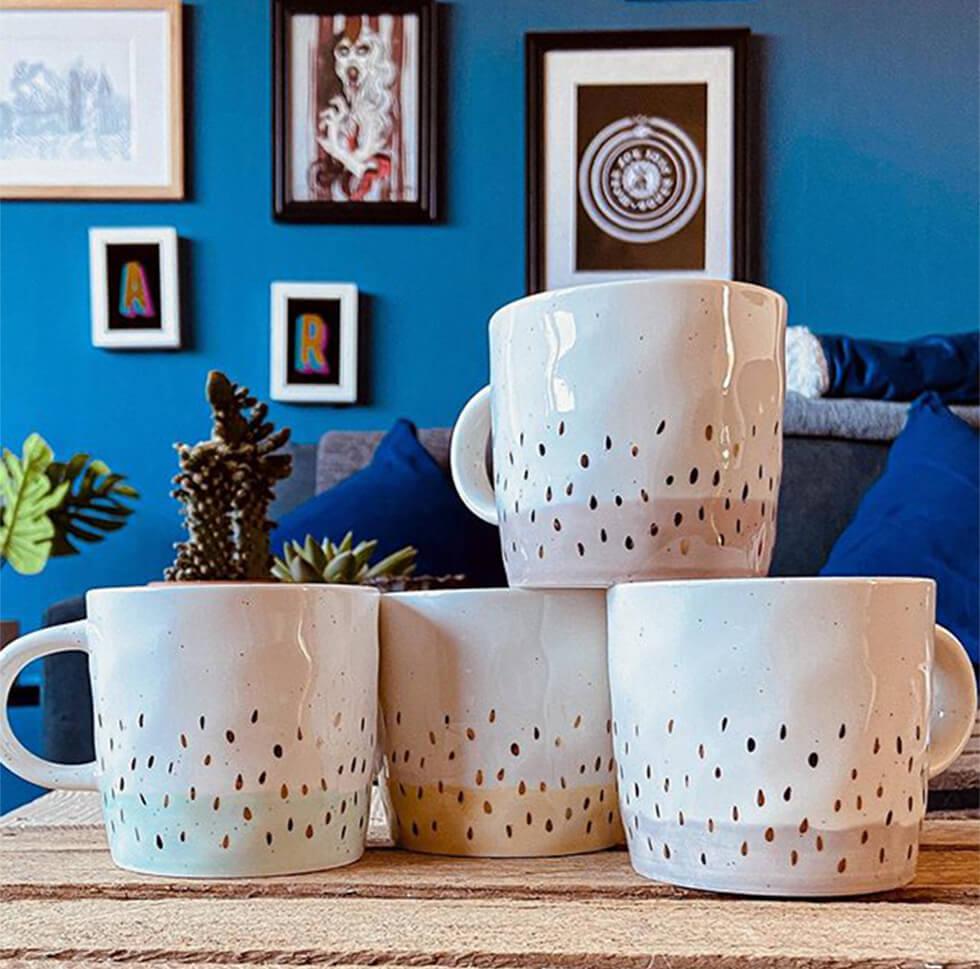 We asked Amy to share some tips and resources on where or how to save when decorating on a budget. "Facebook marketplace is my absolute jam. I've sourced the most incredible things on there, upcycling if needed which has saved £100's (literally no exaggeration), and some people even gave things away for free," she says. "Never be afraid to look in shops you normally wouldn't; don't underestimate a supermarket's home section!"
Upcycle, or update something you already own, as even a new coat of paint can totally transform how it looks and feels. "If you're working with paint brushes and trays over a couple of days, wrap them in cling film so they don't dry out. It keeps them moist so they're ready for your next painting sesh!"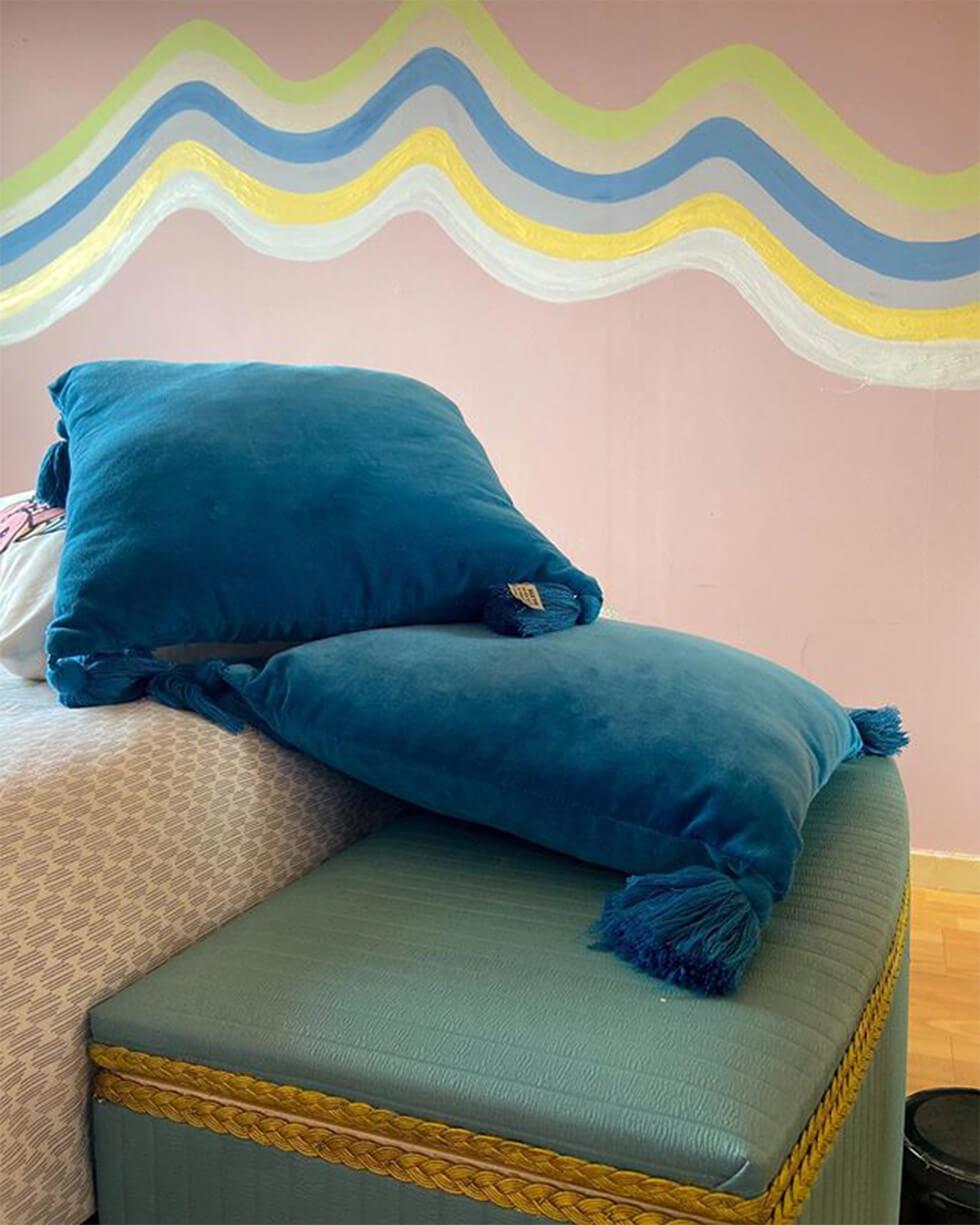 And when it comes to saving money on paint, she advises to buy home brand paints along with tester pots of colours and mix them to create your own unique paint colour. "It's saved me a lot of money on colours I struggled to find under a certain price."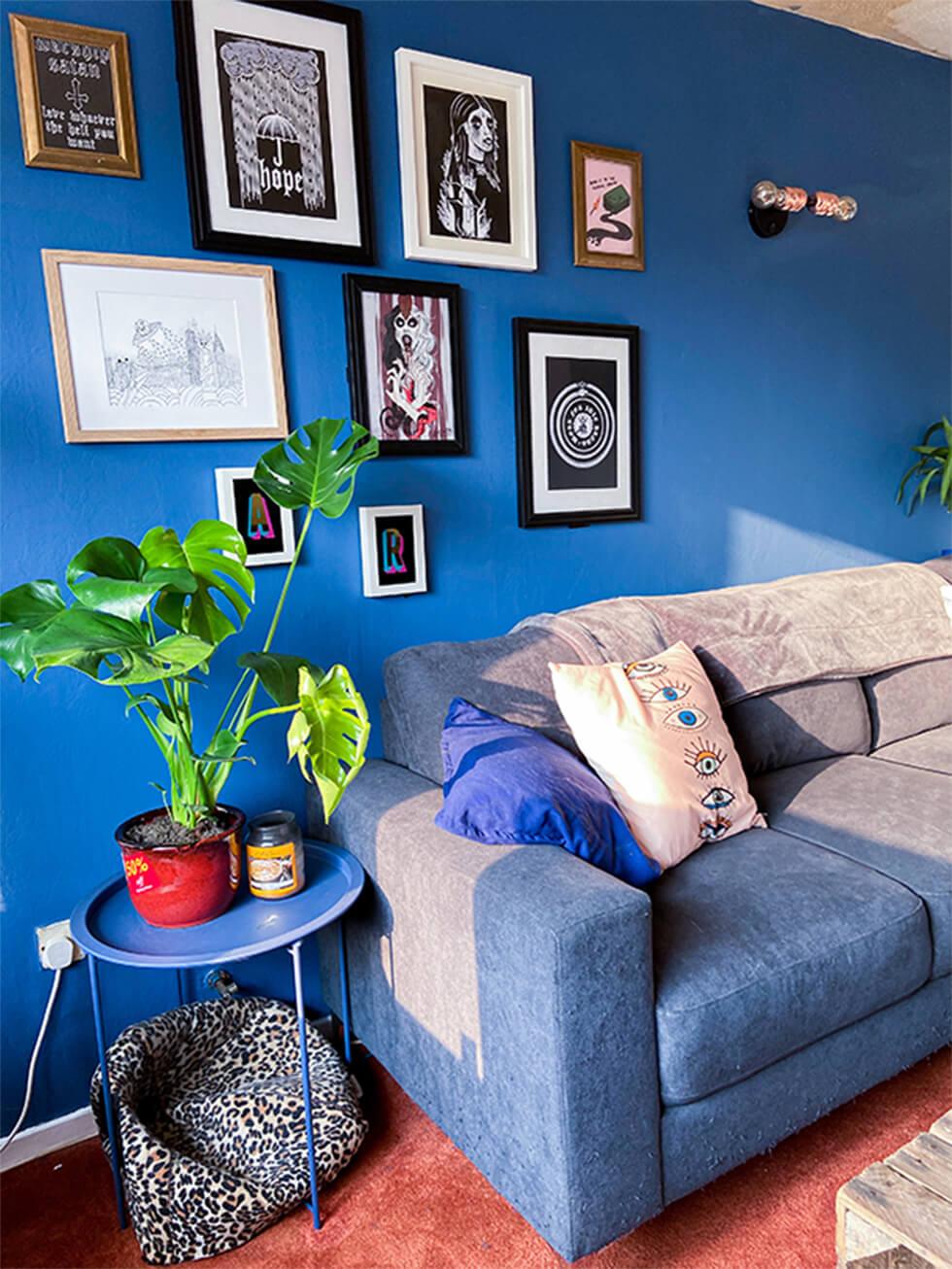 Quick tips from Amy for fixer-upper hunting:
Never write off a home when viewing it online, just make an appointment and go see it as they're wildly different in person
Don't be put off or intimidated by having to put work in, it is an incredibly rewarding experience
Focus on what the bricks and mortar offer, not the cosmetics that can be changed like the carpeting, for instance
Always ask about when the plumbing and electrics were updated as this will cost the most to fix
Photography by Amy Lambert-Snell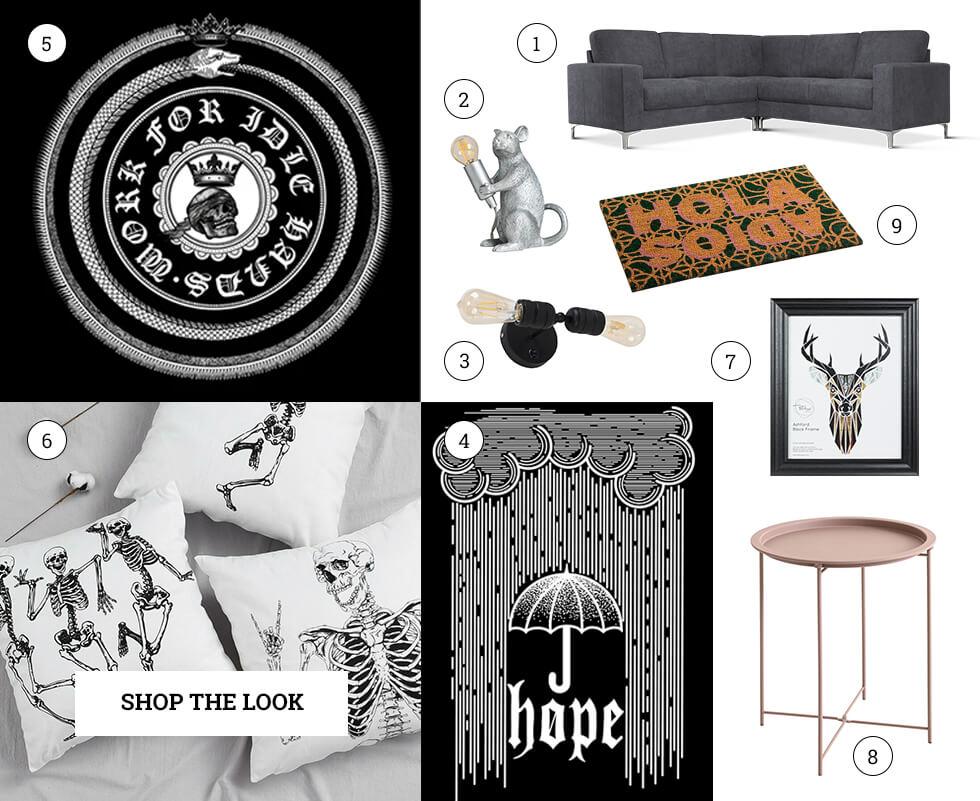 Shop The Look