Styling Elegant And Classic Neutral Décor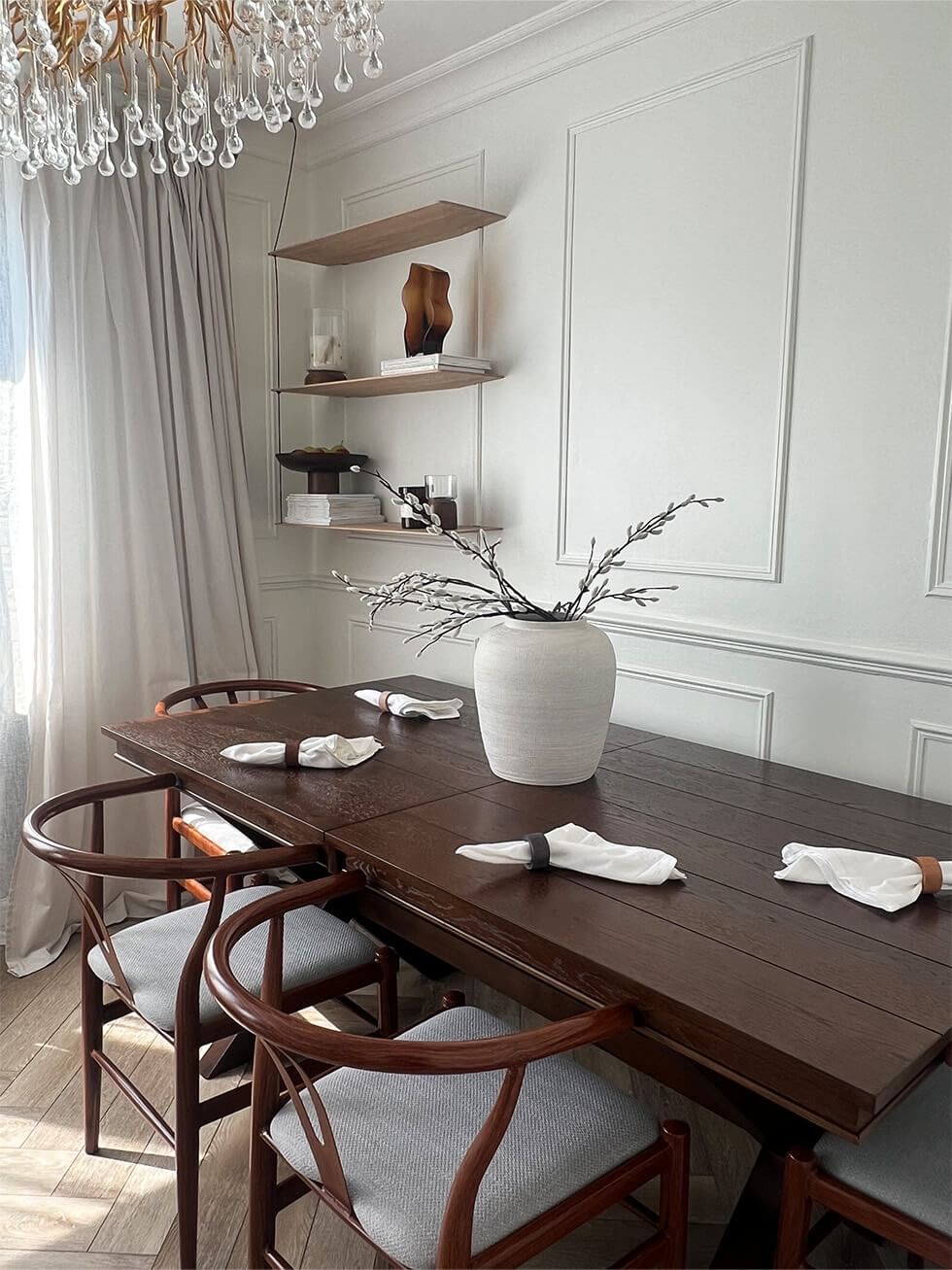 A fan of mixing classic and contemporary, Selina Akhtar's home is a study in how to decorate a sophisticated neutral space. Describing her decor style as 'elegant, simple and vintage', her chosen pieces, such as our Grange dining table, encapsulates her vibe.
"I love my Grange dining table as it adds that traditional vintage element I needed to complete my dining area look," she says. "I wanted a regal and traditional piece but I did not have a lot of space to play with. I love that my table is clean, minimalistic but screams opulence and grandeur."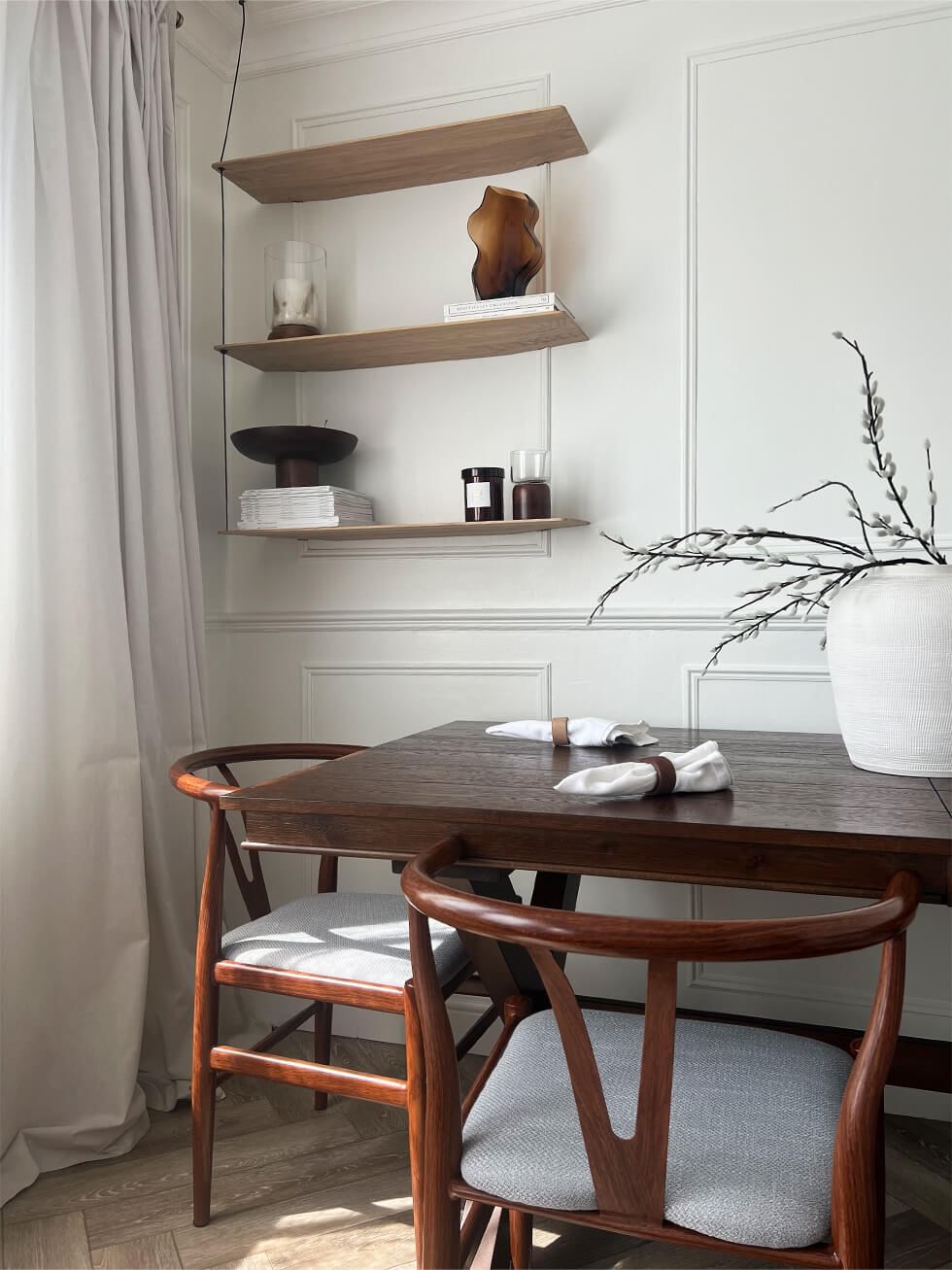 Selina goes on to explain, "If you're styling an open plan space, everything needs to marry so it doesn't seem like things have been thrown together." She does exactly that by complementing the Grange table with other elements such as the wall panelling and herringbone flooring.
Making Neutrals Stand Out With Rich Textures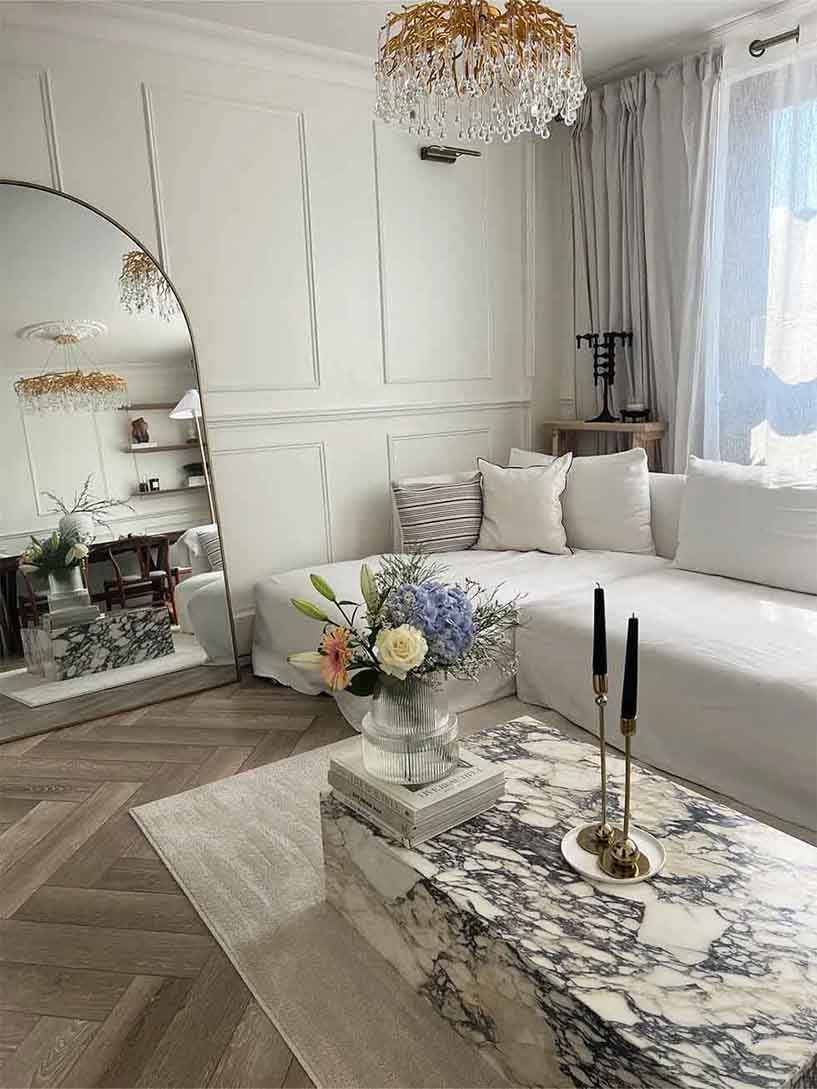 Selina's small lounge area also takes on the same aesthetic as her dining area featuring a stylish mix of different textures. "A neutral living room needs to reject its size and proportion," she says. "I always make a small space appear bigger with light colours and light reflective furnishings."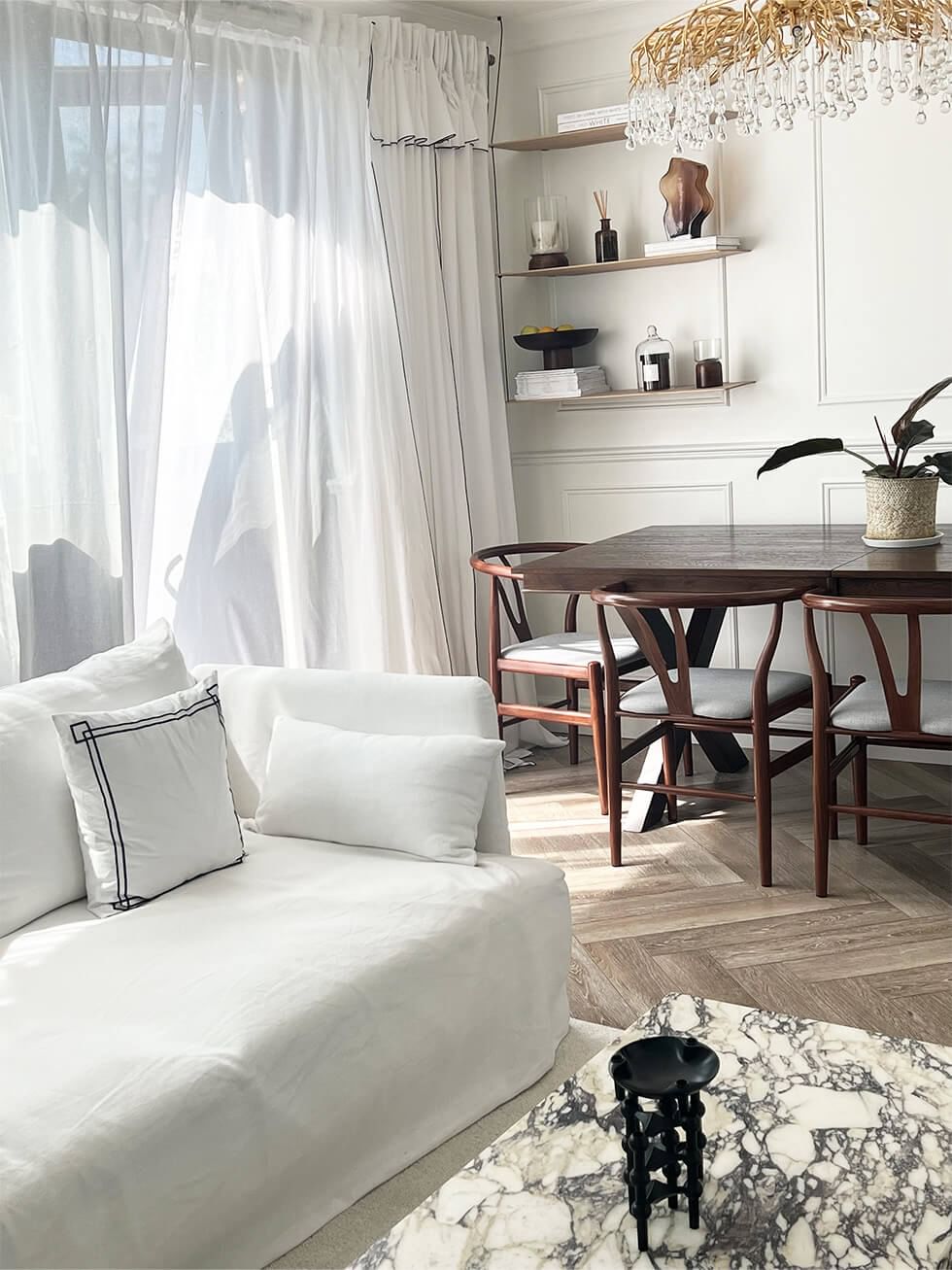 To contrast her white sofa, Selina chose a marble coffee table and a statement light fixture. "The juxtaposition of different elements can be made if you are smart with your colour and texture choices," she explains. "For example, I chose three primary colours for my main living area - white, dark wood and gold. The key is to have subtle pieces that match other details of the room and layer with accessories like cushions, throws, wall hangings and ornaments."
Bringing Soft Glamour With Luxe Layers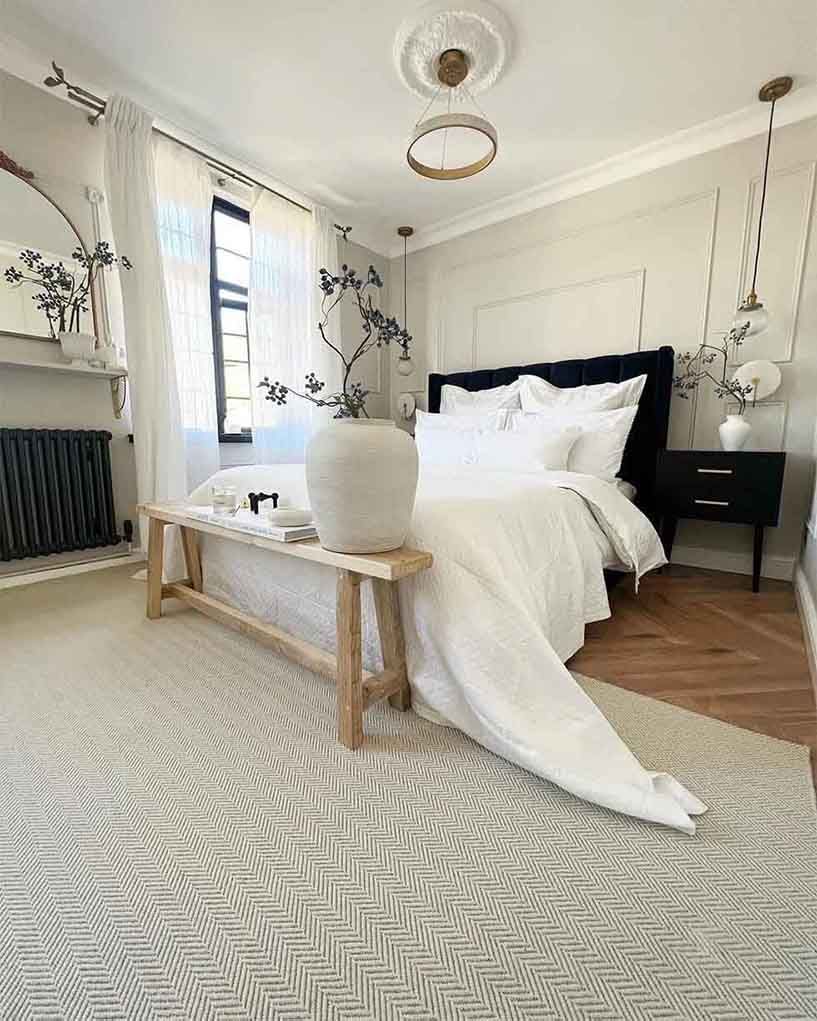 For her bedroom, Selina added a glamorous touch to her signature white palette with a statement velvet bed. "Bedrooms are your private areas and they need to feel personal and comfortable," she says. "I've kept the simple neutral theme but I've made it look high end and grand with panelling, gold fixtures and fittings and doing small things like adding ceiling roses."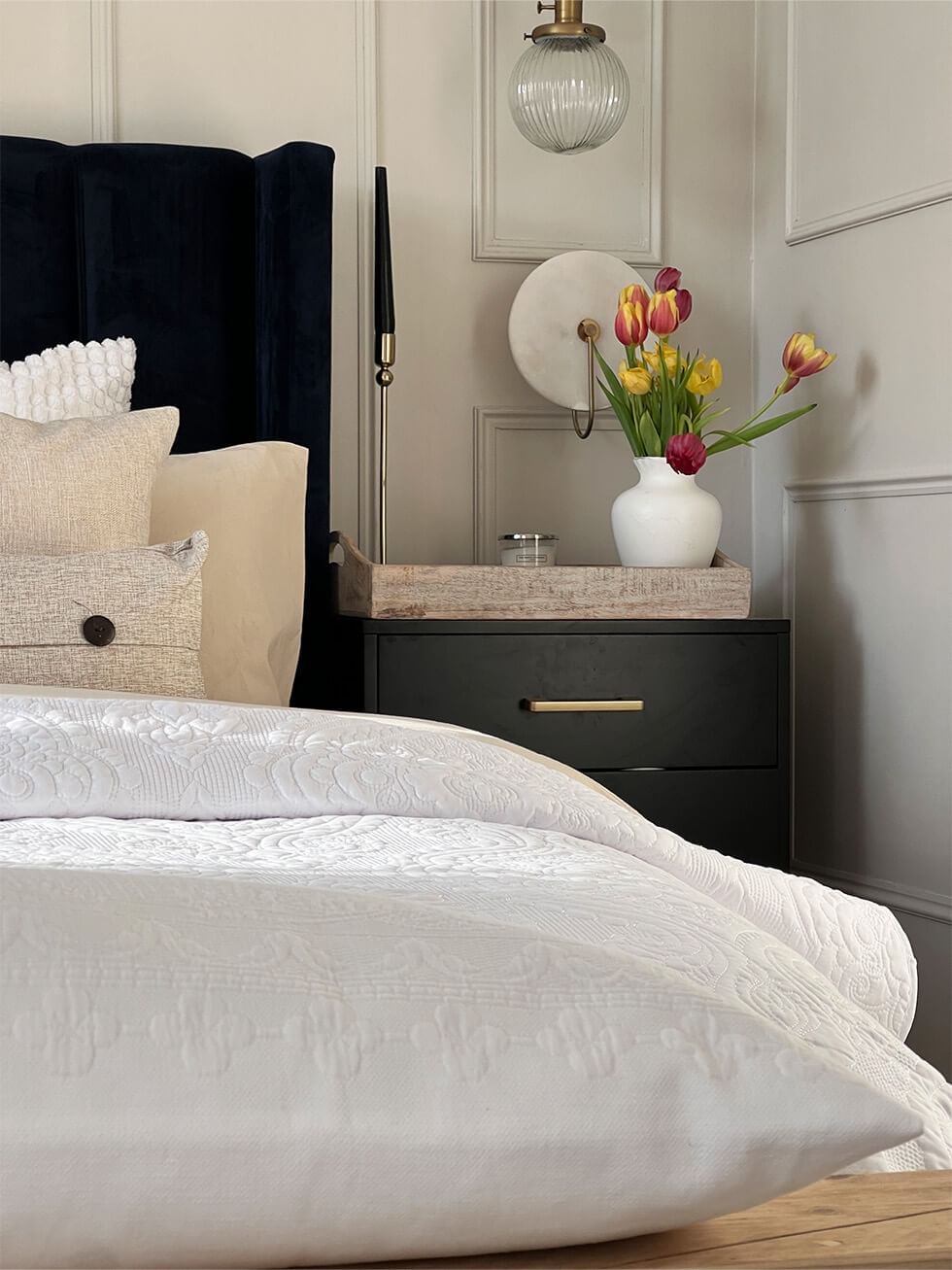 When it comes to decorating her bed, Selina's layers intricate details such as white bedding with embroidery, hotel style pillows and boudoir cushions. To capture the ambience of her bedroom, she also added mood lighting in various hues to set the mood.