Homes We Love: How feature walls dress up this chic neutral home in Scotland
We take a look inside Claire-Louise's chic neutral home to discover how fab feature walls transformed her spaces.
Following our delve into a charming Victorian home in Aberdeen, we now head to Ayrshire for a glimpse into a neutral home that's as inviting as it is stylish.
A legal assistant by day and decorating enthusiast in her spare time, Claire-Louise Colquhoun describes her interior style as 'modern, chic and cosy', as her Instagram, @clairelouise_col, clearly demonstrates.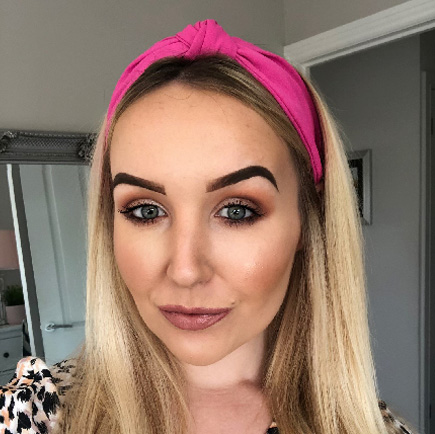 Claire-Louise Colquhoun
@clairelouise_col
Legal Assistant and home interior enthusiast
Her love for timeless neutrals and chic design extends to the walls, which were transformational to the overall space. Read on to see how styling feature walls just right turned her home into a warm, sophisticated and inviting space.
Making an open plan space feel bigger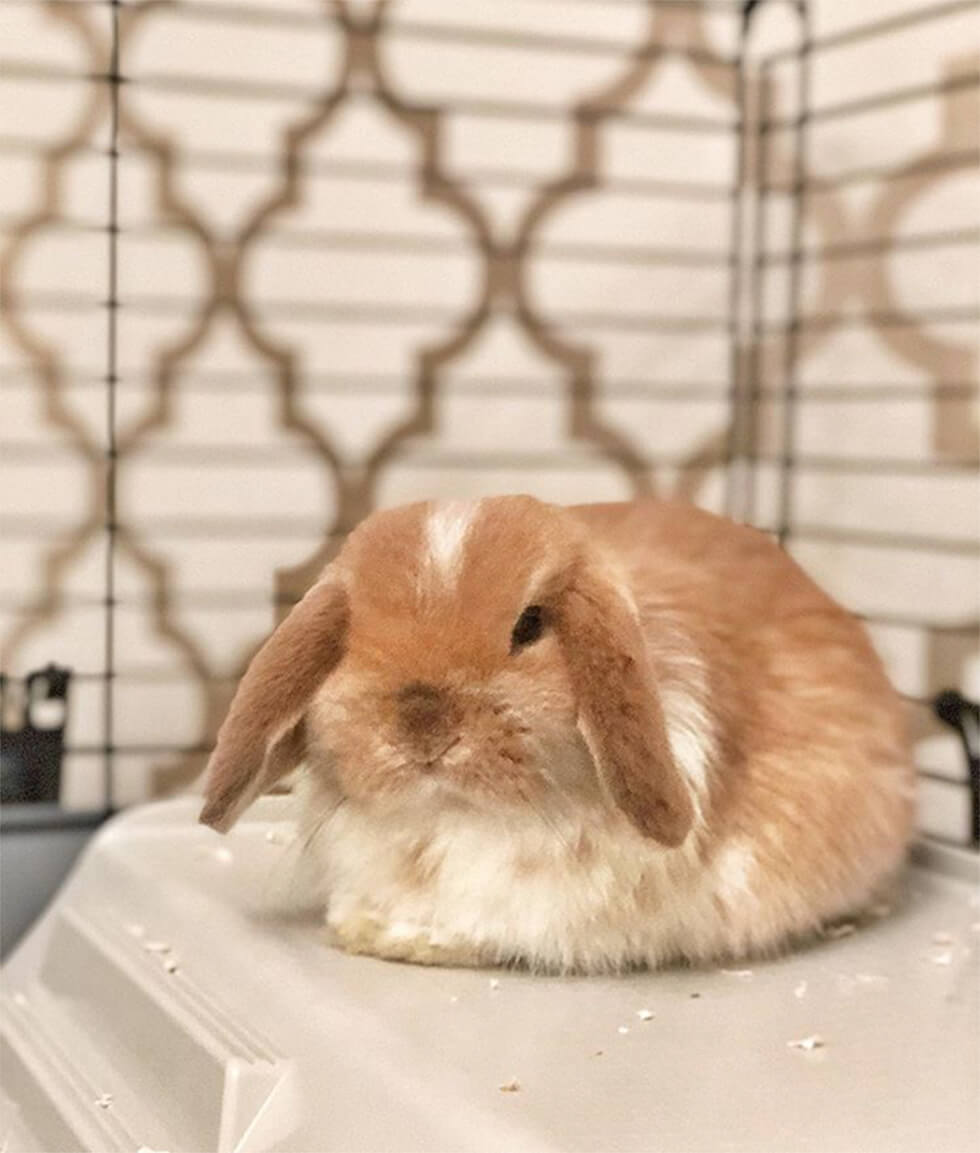 Claire lives with her partner, Darren, and Callie, an adorable Mini Lop bunny. And so their main living space functions as a dining room and pet zone besides also being where Claire catches up with episodes of Love Island on the TV. "Having an open plan space is good. If we had a bigger house I'd love an open plan kitchen too."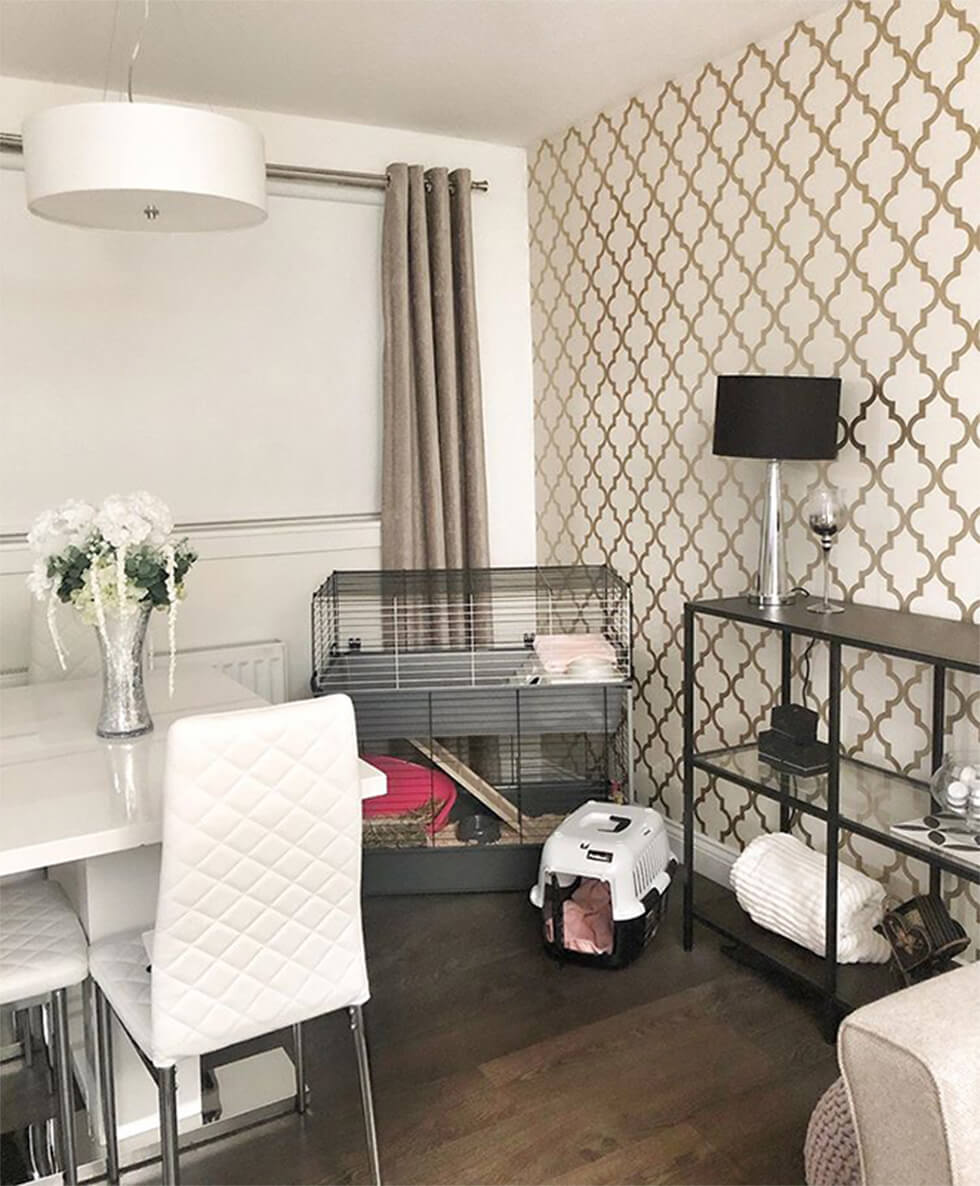 "In a multifunctional room like this, it's definitely important not to overcrowd the space; less is more. Start with a few key pieces of furniture and work around those." For instance, like dedicating a corner to Callie. "Think about where in the room to store a pet's belongings and make sure nothing around it will get damaged or dirty because of them."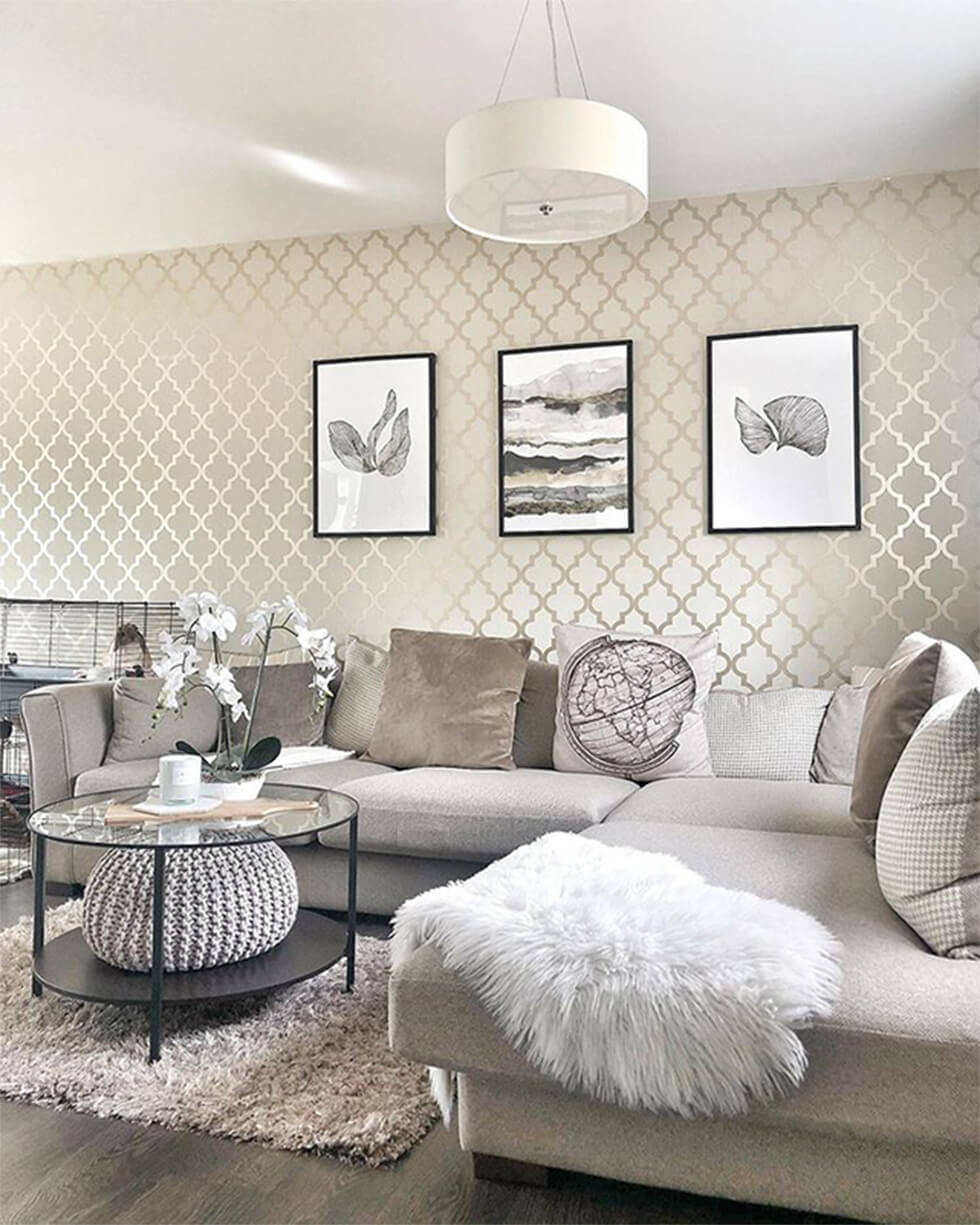 The largest wall in the room is adorned with a gorgeous cream and gold wallpaper, creating a soft and elegant vibe. The classic quatrefoil design brings a feminine touch and comes to life when its gold accents pick up light to evoke a stunning, almost ethereal quality in the space.
It's also slightly reflective, making the room feel larger and more airy - an ideal base for planning the furniture layout. "I like a bit of contrast, so my dining table is a rectangle and my coffee table is circular for example. It keeps the space interesting," she adds.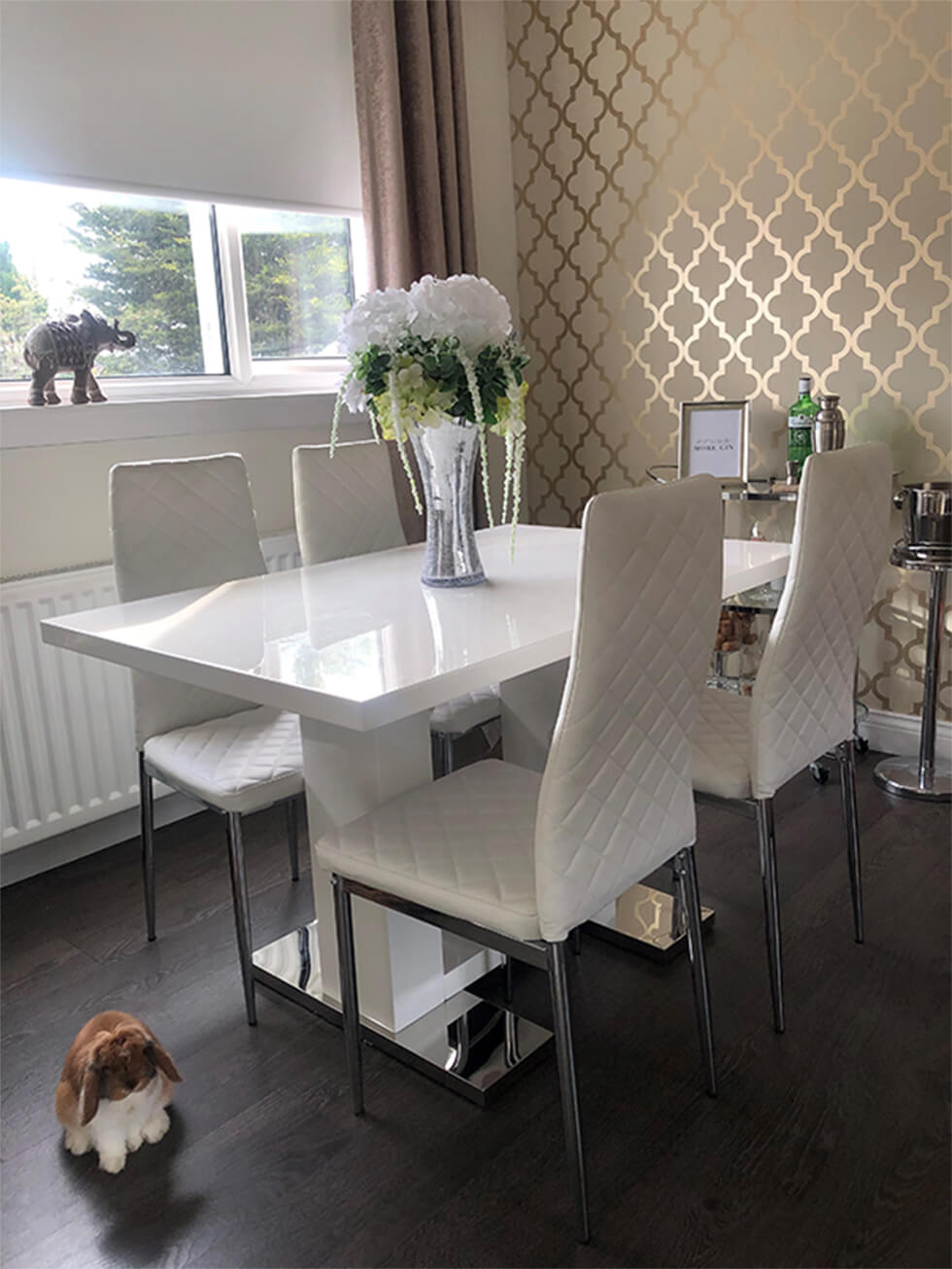 Claire chose our Joule dining table with Renzo chairs to complement the beautiful feature wall in her open plan space. "I loved the unique table legs and also the chairs it came with. The white leather chairs are quite simple yet effective because of their pattern." They add a touch of luxe with their elegant diamond stitch design, matching Claire's quatrefoil wallpaper splendidly.
Adding texture and colour in the kitchen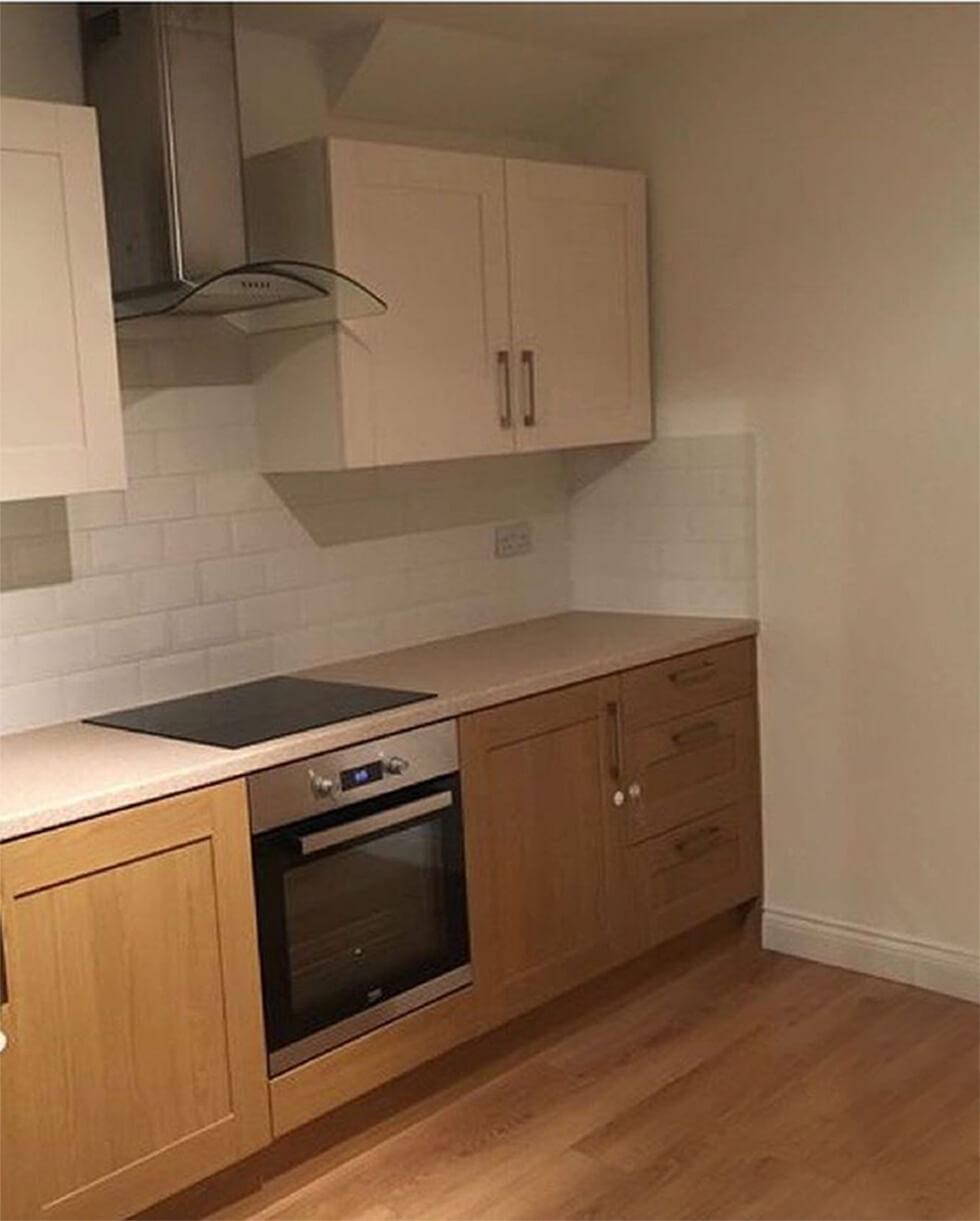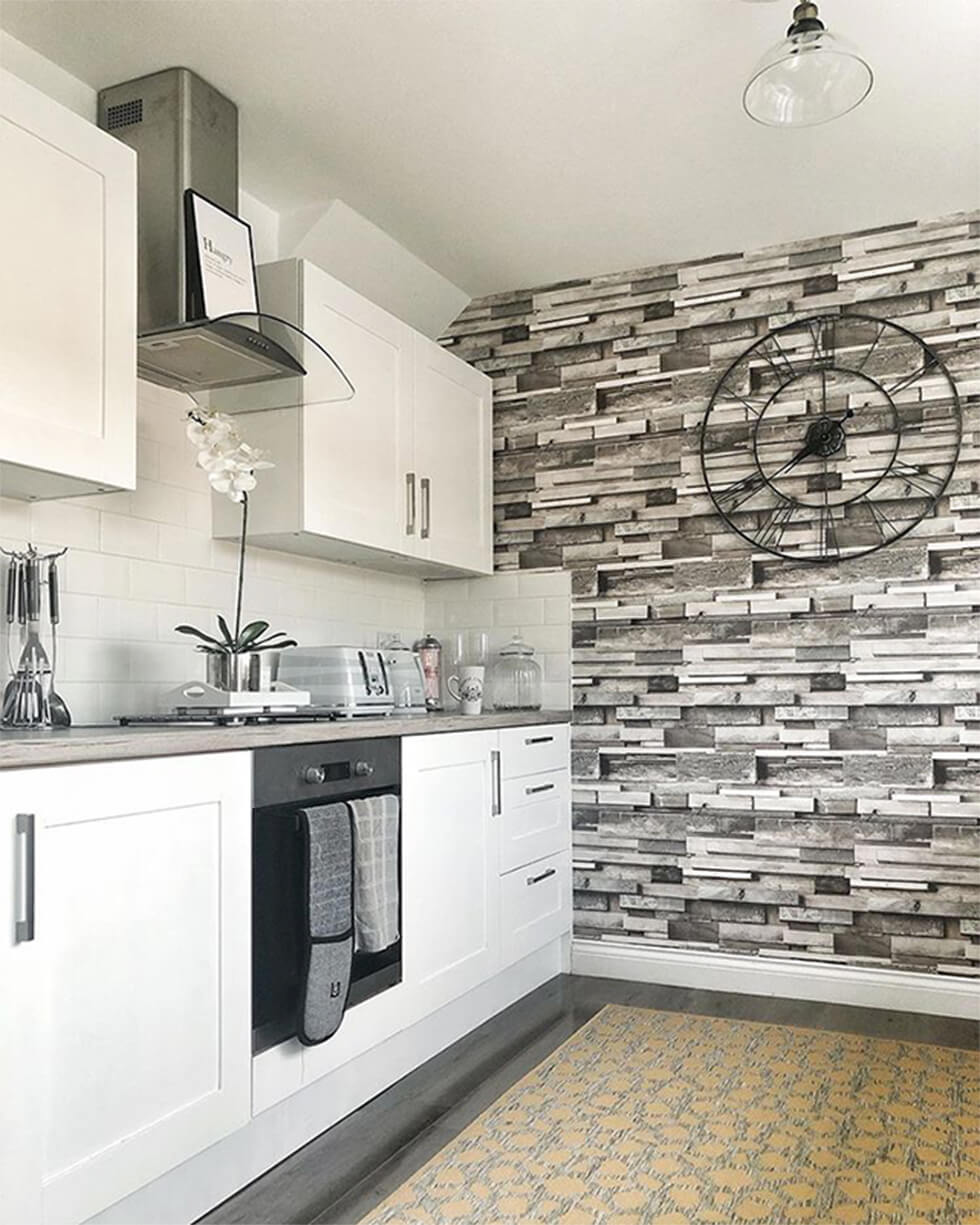 Her proudest DIY and favourite room is the now clean white and steel kitchen. "When we first moved in, the kitchen was very bland and boring. We gave it a complete makeover for around £200 and it looks like a brand new kitchen." Covering up the bare bit of wall where the subway tiles end proved to be a great decision, especially with her chosen tile effect wallpaper. The overall look is a blend of utility and sleek modernness, that jives with the home's aesthetic.
For added dimension, Claire topped off the feature wall with a retro styled roman numeral clock in a black iron finish. "I love the feature wall and the different colour tones in it," she says. To lighten up, she chose a floor rug with pops of yellow and a clear glass light fixture for maximum brightness.
As for her favourite wall colour paint...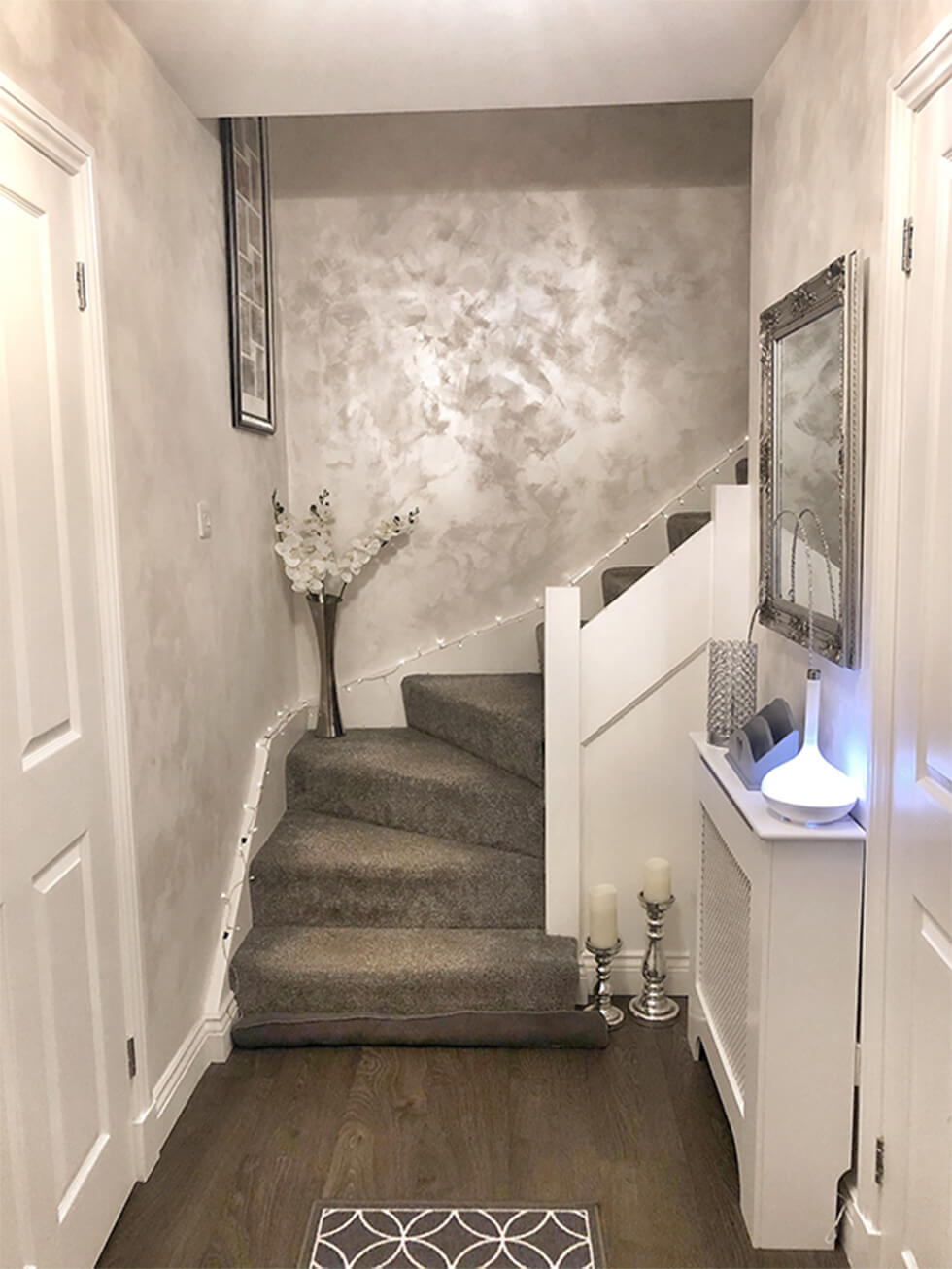 It would be a metallic silver paint called Crystal by Impera Italia. The shiny and reflective wall colour choice transformed her entire hall and stairway into glamourous feature walls that hold their own. "It's a neutral colour that is timeless yet it is such a statement paint choice at the same time."
And while a hallway typically doesn't enjoy as much attention as other spaces, she explains that her design philosophy is, "To create something exceptional, your mindset must be relentlessly focused on the smallest details," - quoting Giorgio Armani. Keeping the rest of the hallway's furnishing simple in white and silver, Claire's stairwell looks like it came from the pages of Vogue magazine.
Calm and cosy vibes in the bedroom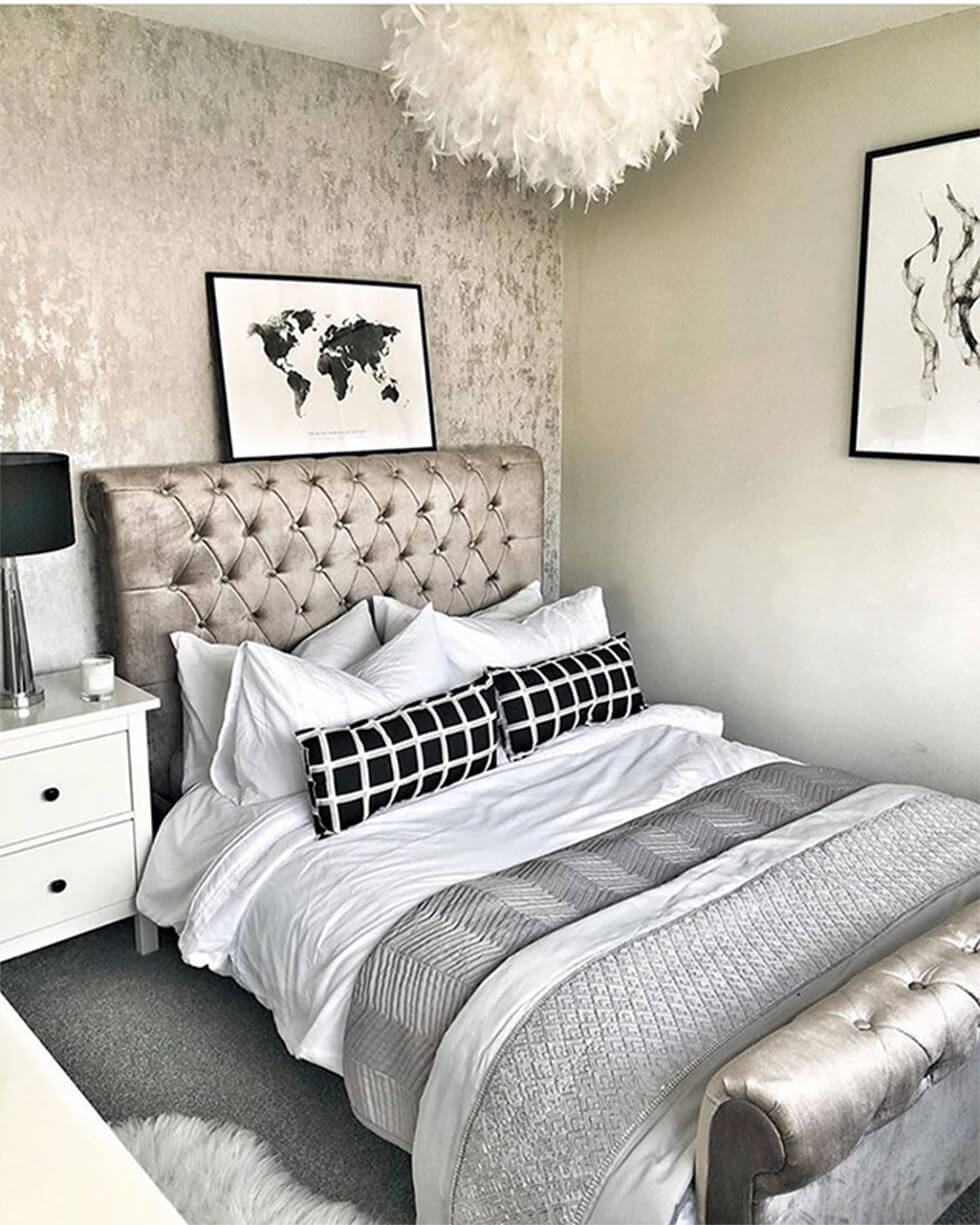 In the guest bedroom, her favourite wall colour is seen again - this time paired with a fabulous feather pendant light that creates a soft and sensual ambience. Allowing negative space to cut through the drama, she keeps decor simple with only two artworks and focuses on cosying up the bedding.
It's important to have negative space in your room as it makes for a better composition and allows for there to be a focal point or main feature.
While maintaining a decidedly modern style to match the rest of the house, the organic attributes of her silver wall and plume feather light are a mesmerising feature combo.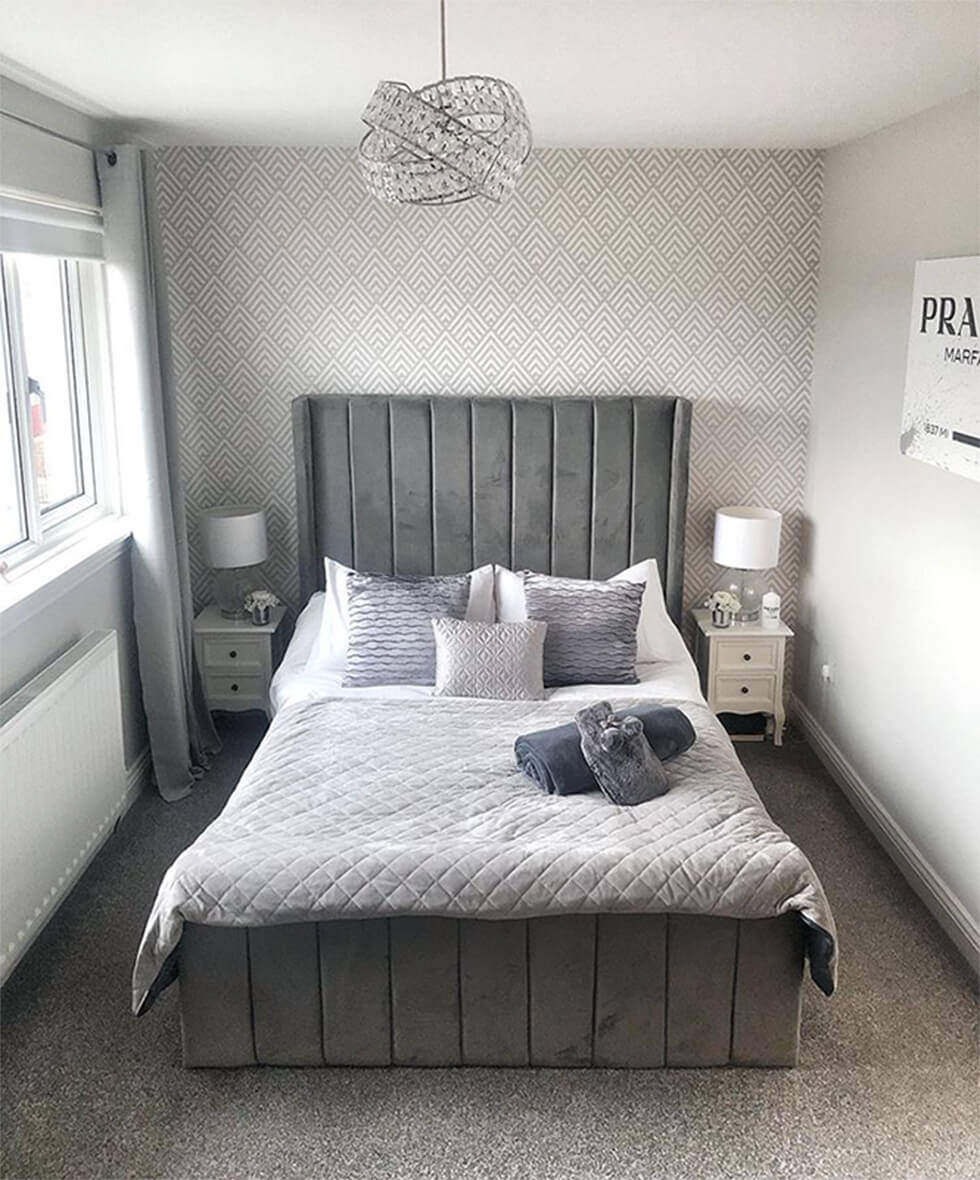 Her next fabulous wall is in the master bedroom. With soothing light grey painted walls and a gorgeous grey velvet headboard, Claire needed something that would tie the space together seamlessly while maintaining a comfortable mood.
If you want a warm, cosy feel like I do then opt for soft, raised textures as these convey warmth.
The room is filled with soft textures from her carpeted floor to multiple pillows and a weighted blanket in calm, monochrome grey tones. Then, a simple geometric wallpaper in a medium grey, shines the spotlight on her luxe velvet bed.
"Keep it feeling homely. Sometimes monochrome can come across quite cold so I think it's important not to lose the sense of homeliness. Get the balance right. I think sometimes it can be so easily done to go too heavy handed with the one colour and you lose the balance."
Photography by Claire-Louise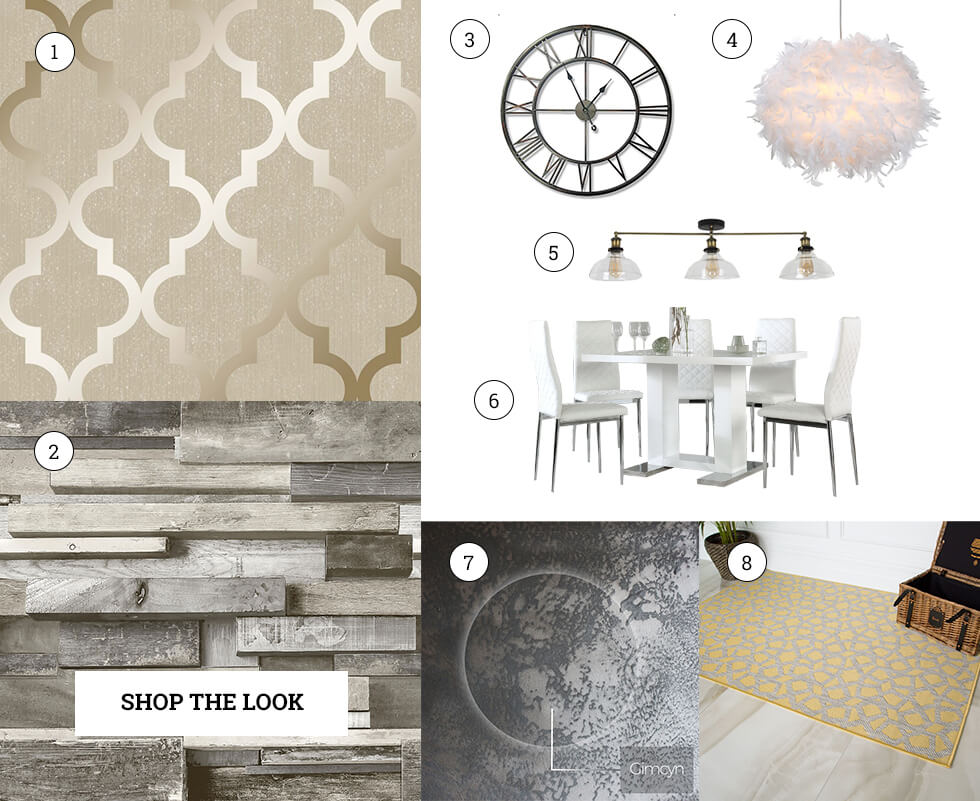 For more on Claire's home, check out her dreamy dressing room and glam details that make her home such a loved and enjoyed space.