What colours go with a black sofa?
With insights from our design expert, discover how pairing your black sofa with particular colour palettes can transform your living room.
Similar to a black dress in your closet, a black sofa is a stylish and adaptable choice for the living room. As a shade, black symbolises sophistication, power and elegance. And when it's your living room colour scheme of choice, it showcases these qualities with its commanding presence.
Black is a combination of all colours, giving it the flexibility to complement or contrast depending on your personal décor style. Use a black sofa to ground a white living room or pair it with light, earthy tones to jazz up a neutral space. You can also contrast it with a relaxing green or blue hue or as an anchor to bold jewel tones.
With the help of Rebecca Snowden, Interior Style Advisor at Furniture And Choice, read on to discover more black sofa living room styling tips and colour schemes. After you've read our black sofa decorating ideas, browse our range of stylish black leather sofas to get started.
1. Go minimalist with a black sofa and white walls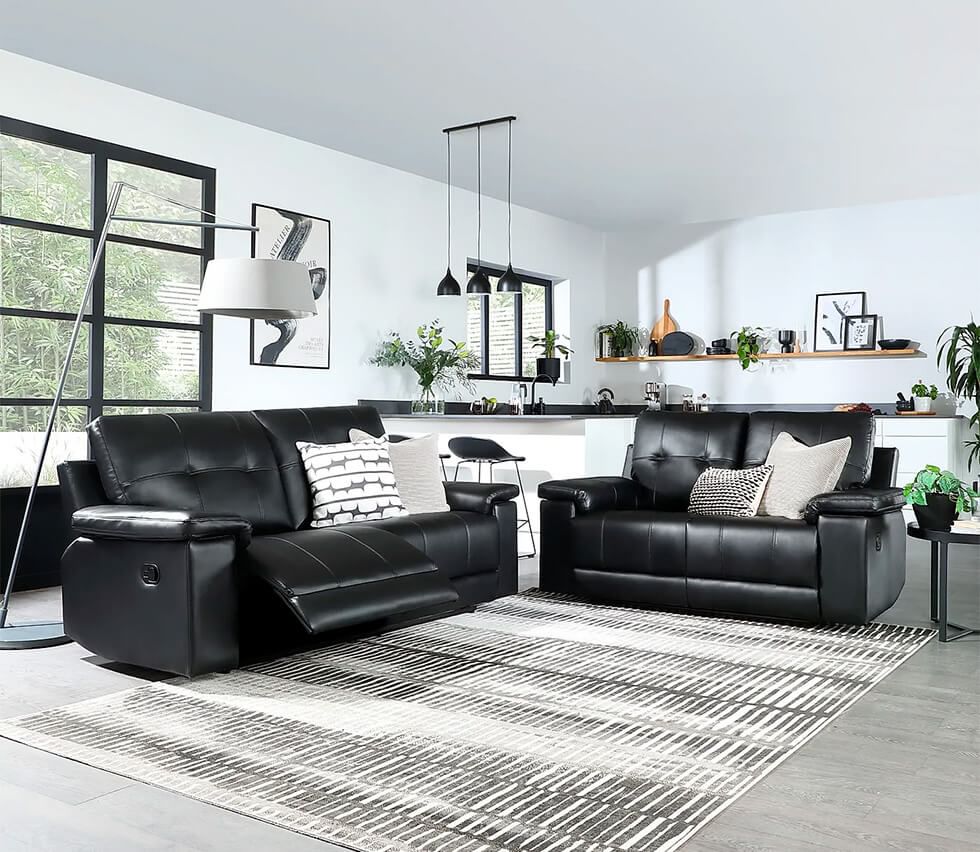 Create a minimalist look with a black sofa set and white walls. Since this style favours clean lines and a calming ambience, choose a recliner with a contemporary design that's perfect for putting your feet up after a long day.
"Use the sofa to ground the room or zone an open plan space," Rebecca says. "A black and white palette favours chic, unfussy style so decorate around the sofa with a mix of light and dark accessories such as cushions and artwork." If you're worried about your living room looking too stark, introduce a large rug to bring warmth and add depth to the space. Freshen up the living room with greenery which will also break up the black and white elements.

2. Pair a black sofa with an earthy, neutral palette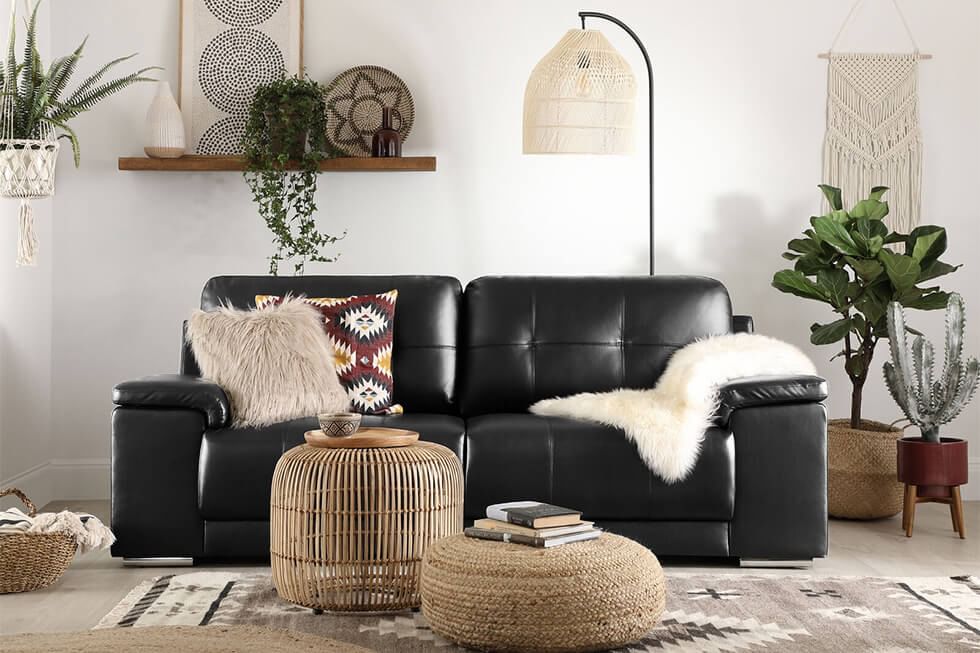 "Earthy neutral tones like beige or cream bring a calming vibe to any space," Rebecca says. "Contrast a black sofa's sharp, bold style with laidback neutral accessories." For example, anchor a modern boho living room with a black leather sofa. Soften the look with casual accessories in rattan, jute or cotton textures.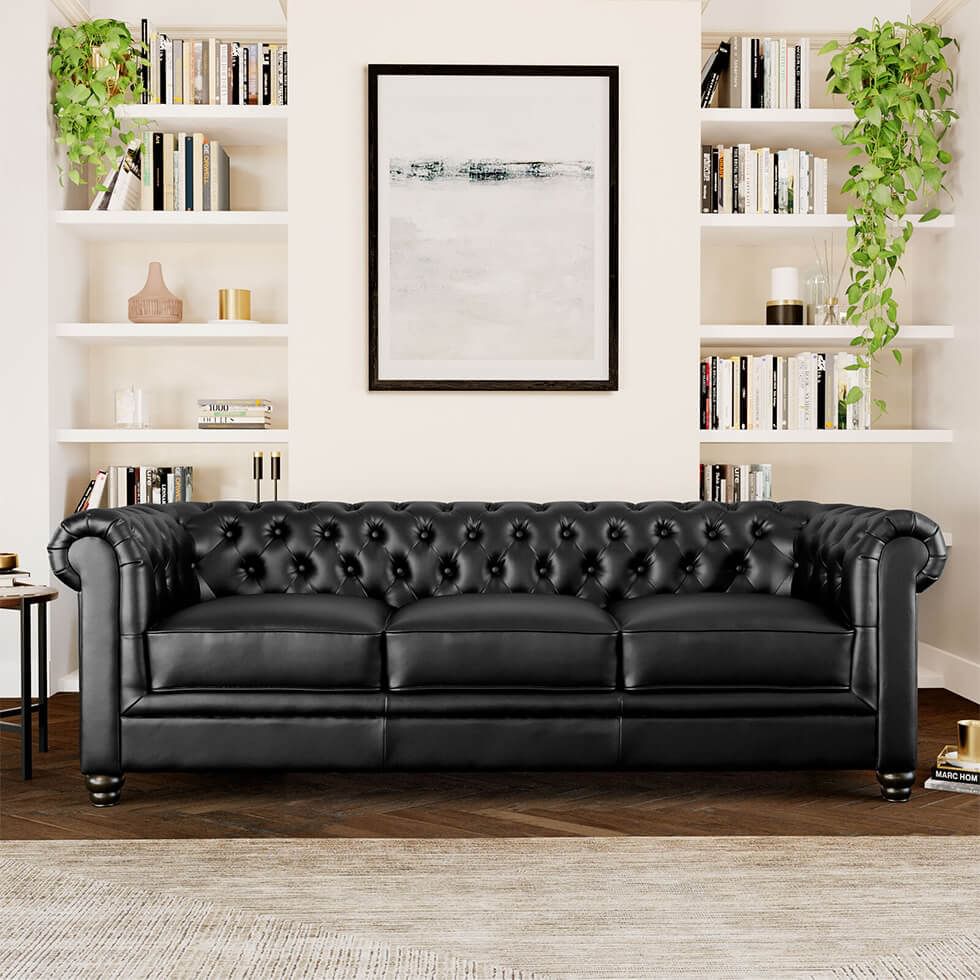 On the other side of the style spectrum, you can also use a black sofa to elevate a classic living room. Choose a charming black Chesterfield sofa to highlight the elegant details of the room such as an alcove or wall panelling. Keep the palette muted with beige walls or curtains for the sofa to stand out.
3. Contrast a black sofa with modern jewel tones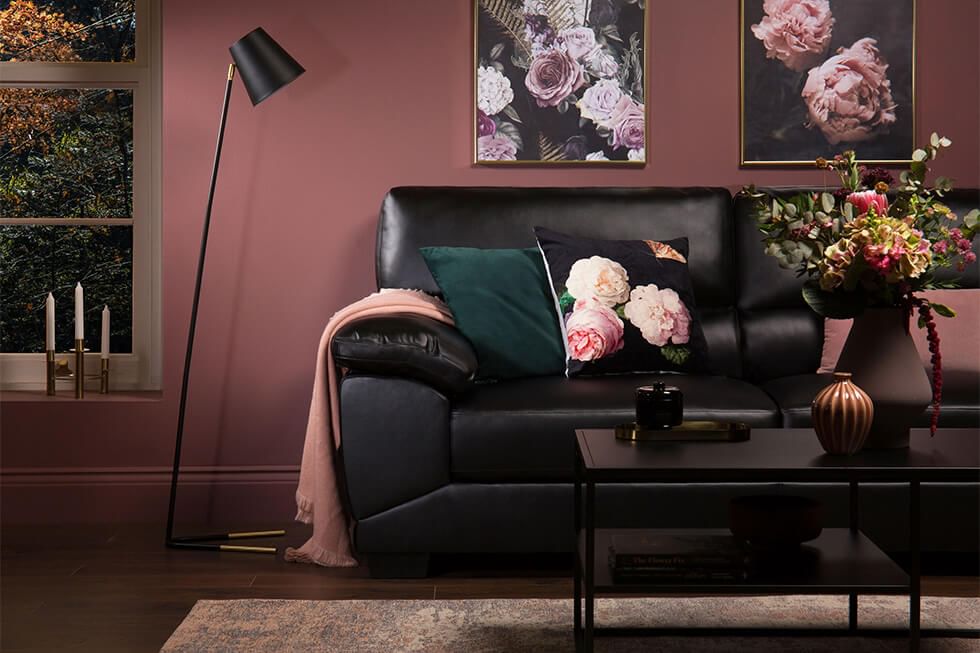 Another black sofa living room idea is to create a high-contrast look with modern jewel tones. Go all out with rich mauve walls for a warm, sophisticated feel. Add maximum impact with floral or jewel-tone cushions and printed artwork.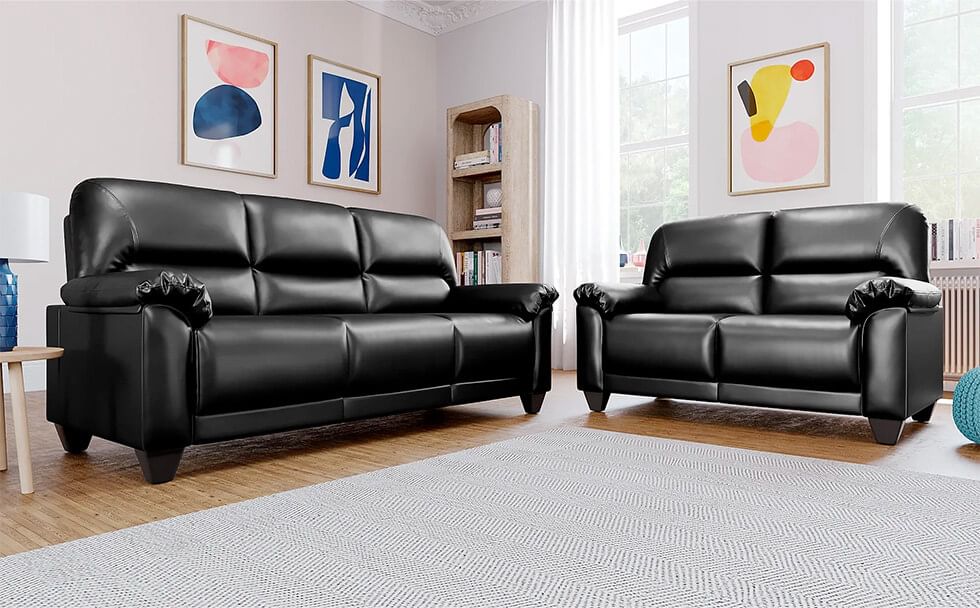 "If you prefer a softer approach, opt for light pink walls," Rebecca says. "It will add a light-hearted feel to the room even with a black sofa set as the centrepiece." Layer the darker shades of pink through your accessories, like abstract artwork featuring dusty pink or magenta designs.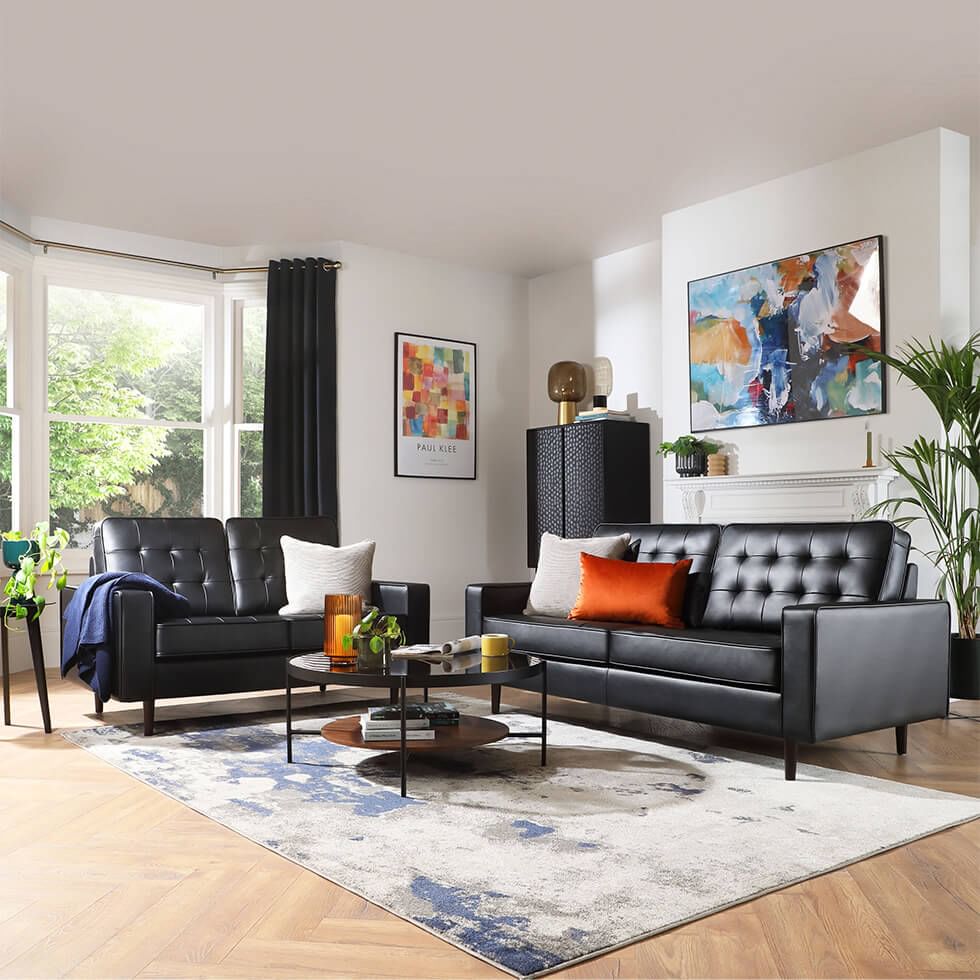 And, if you want to incorporate jewel tones in small pops that's okay too. Pick brightly coloured cushions, throws or vases that stand out against your sofa. Paint your walls a neutral colour for your abstract artwork to make maximum impact.

4. Relax with green tones and a black sofa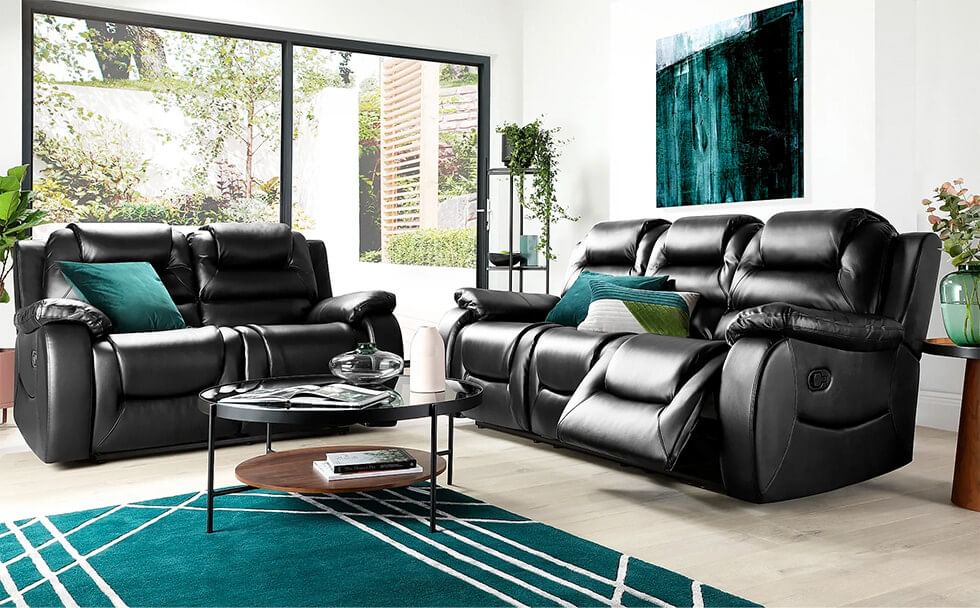 Create a calming contrast by pairing a black sofa with relaxing green hues. Kickstart the soothing vibes with an inviting recliner set. Opt for a shade like teal as an accent colour. "Teal's blue-green combination makes it an invigorating choice when paired with a black sofa," Rebecca explains. "Highlight its natural vibrance through calming accents like a stylish rug or abstract artwork." Complement the sofa with other black accents such as a coffee table or light wood tones to bring balance to the space.
5. Match a timeless black sofa with wood tones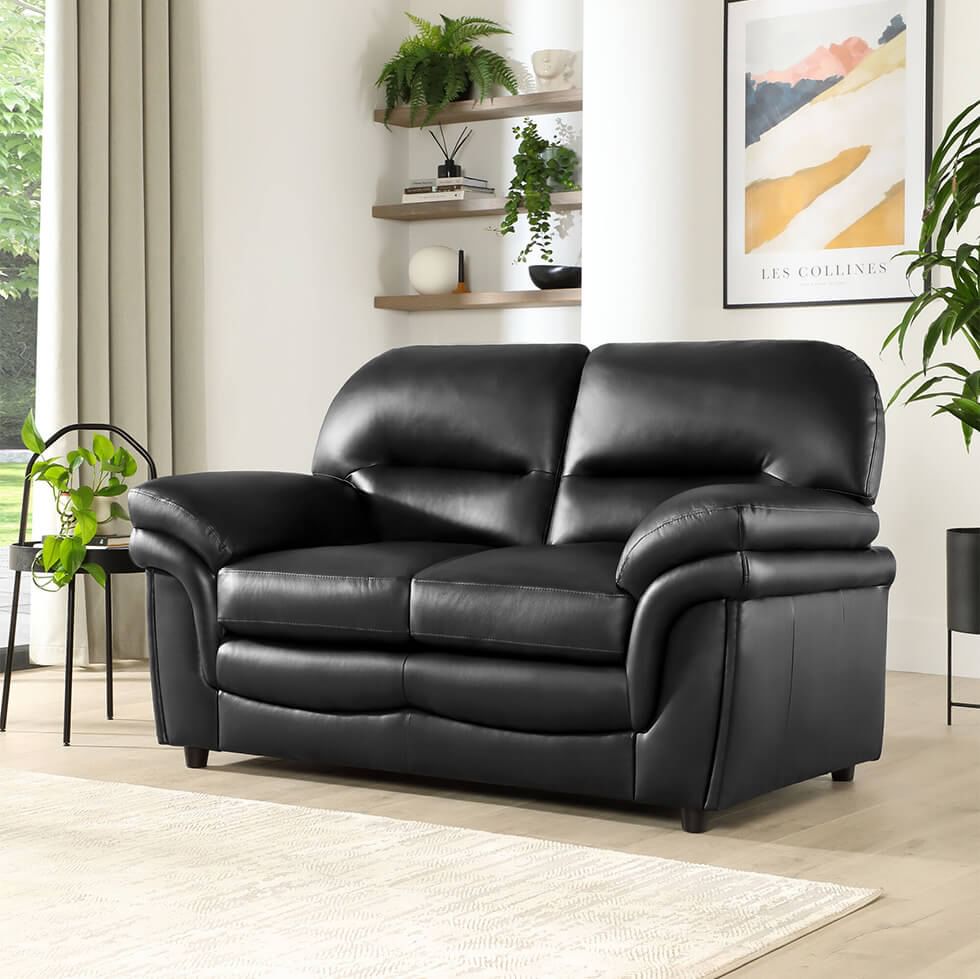 Complement a black sofa's timeless design with light wood tones. "Let the sofa's soft curves and comfy vibe be the focal point of the room," Rebecca says. "Use timber flooring and wooden shelves as a base for layering with natural textures." Keep the look understated by choosing a cotton rug in a light neutral hue. Liven up the space with indoor greenery to complete the look.

6. Make a statement with a black sofa and black walls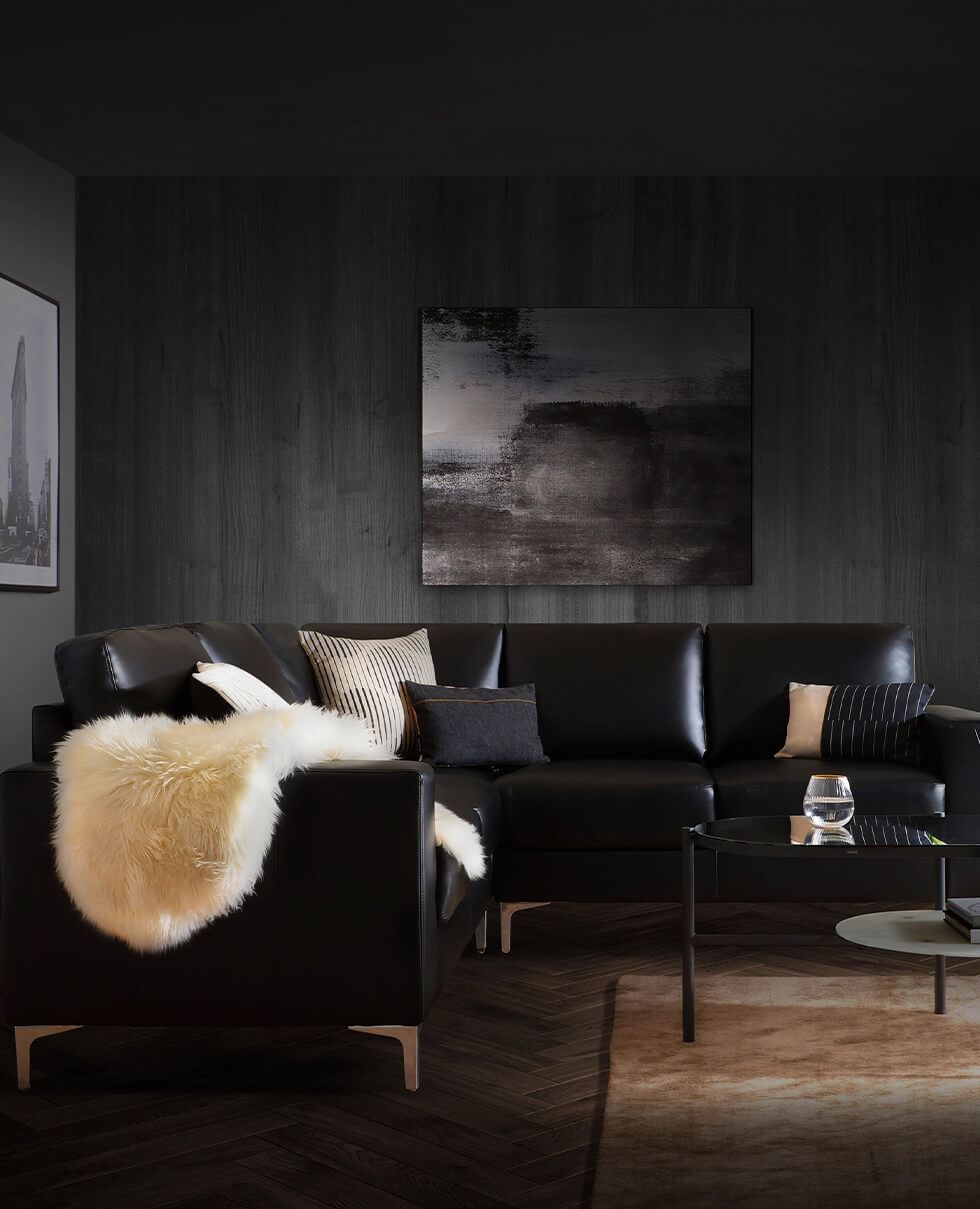 Considered avant-garde for some, pairing a black sofa with black walls makes for a striking statement. The key to making it seem less intimidating is to soften the look with different textures. "Set the scene with textured wallpaper and a black leather sofa," Rebecca says. "For added comfort and style, accessorise with a cosy throw or two." Look for other ways to bring different textures into the mix such as a black metal coffee table or fabric rug.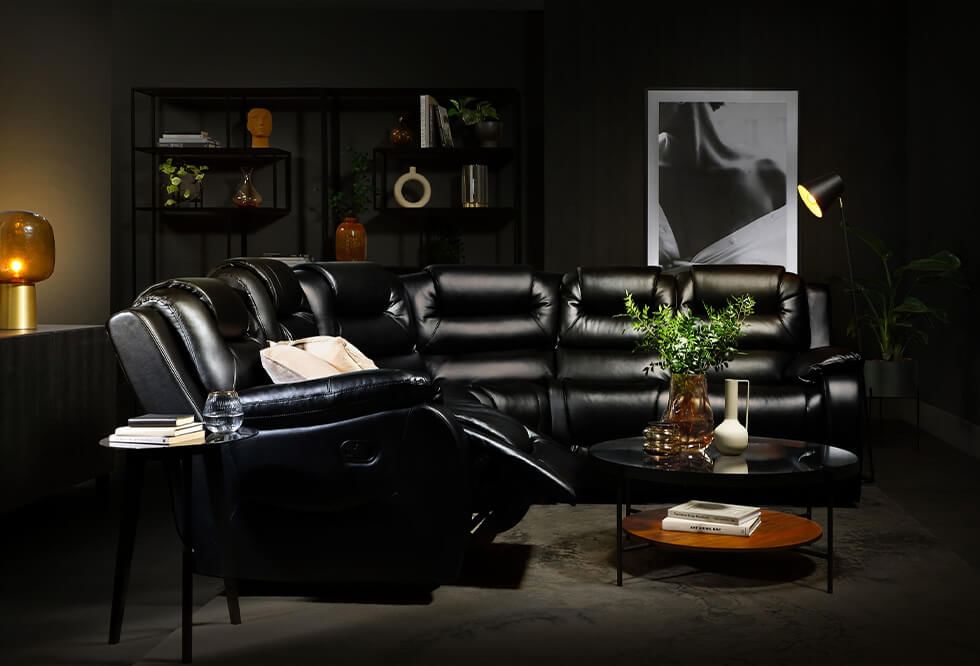 "If you think this look is too dark for a living room, you can recreate this for your TV room or home cinema with the help of a cosy recliner," Rebecca suggests. "It's the perfect colour palette for watching a movie." Pick out a recliner that's big enough for the whole family. Opt for black out curtains if your room is near a window. Install ambient lighting which is easy to switch on and off. The accessories also shouldn't be too over the top as to not draw away attention from the screen. Stick to simple silhouettes for a coffee table or vases.
Black is an incredibly versatile pick for your home thanks to its modern and grounding feel. Now that you have black sofa living room ideas, discover more ways to incorporate black into your home. If you're looking for bold and modern dining room inspiration, check out our black dining sets. View our range of black bedroom furniture to bring a distinctive touch to your bedroom. Besides what colours go with a black sofa, browse our grey sofa or brown leather sofa guides.