8 easy ideas to style a chic country living room
Looking to recreate that homely country cottage feeling? We have quick ideas to style a chic country living room, including tips for furniture and colours.
Fresh air, a slower pace of life, welcoming style - there's lots to love about country decor, and the best part of it is that you don't have to live in the countryside to bring elements of it right into your living room.
This fresh airy look is obviously right at home in a large, high-ceilinged space, or when decorating a cottage by the woods or the sea, but if you want to translate the look and feel to a smaller urban home, there are many tricks that can work to replicate it. Here are some of our favourites!
1. Highlight the room's original architecture - or manufacture what you can.

If you have an older home, keep a lookout for its original architecture and heritage, such as moldings, a fireplace (!), and wooden floors or ceiling beams.
After that, design around those elements - exposed bricks, shiplap panels and wood beams immediately give texture and context to your room, and a strong sense of place. Pair it up with organic materials such as leather sofas, wicker and wooden tables for a rustic, tactile feel.
2. Go large with your furniture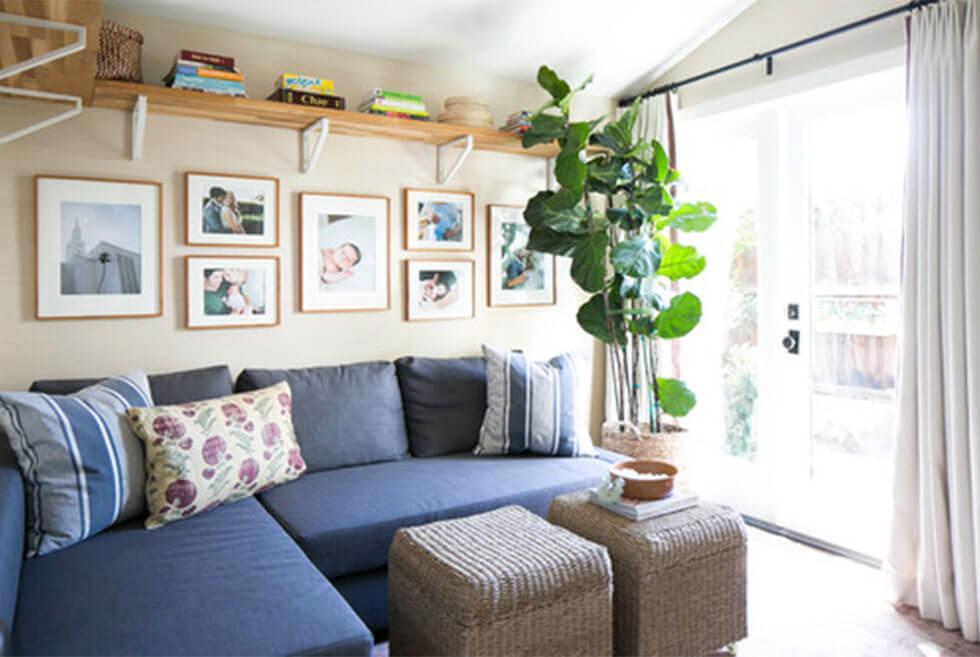 A large, comfy centrepiece for guests and family to relax can immediately create a welcoming space, no matter the size of your room. The key thing here, whether it's a plush, roomy sofa or a solid coffee table, is to look for unfussy pieces - the room should look touchable and lived-in, not overly precious.
3. Above all, prioritise comfort.
And on that note, comfort is always important in a living room, but a country living room is all about a sense of openness and familiarity.
When choosing your sofas and rugs, look for fabrics that are soft to the touch, such as linen, cotton and even velvet, and then dress it up! Comfy cushions, knits and throws immediately bump up the cosy factor.
4. Bring in as much warmth and light as possible

If possible, design your living room with large, high windows to allow as much light into the room as you can. This also creates a sense of space and height, but colour can go a long way too.
Neutral backdrops work wonderfully, especially white and cream, and you can layer different tones and textures to achieve a stylish, cosy look. However, for a change of pace, generous amounts of light, buttery yellow, used strategically, can also replicate the feel of a sunny day.
5. Mix prints and colours for an eclectic, lived-in look.

Traditional country style has often been based around a very simple, tonal look, but for the maximalists among us, fear not. Including different colours and prints can liven it up, while still staying true to the essential, easy feel of country living.
Sticking to a neutral wall palette allows you to include other colours, fabrics and prints without it being overwhelming, especially if there's still some negative space included in the mix, such as using a printed rug while keeping your sofa or table plain. Having a theme to tie everything together will also help!
6. Include pops of modernity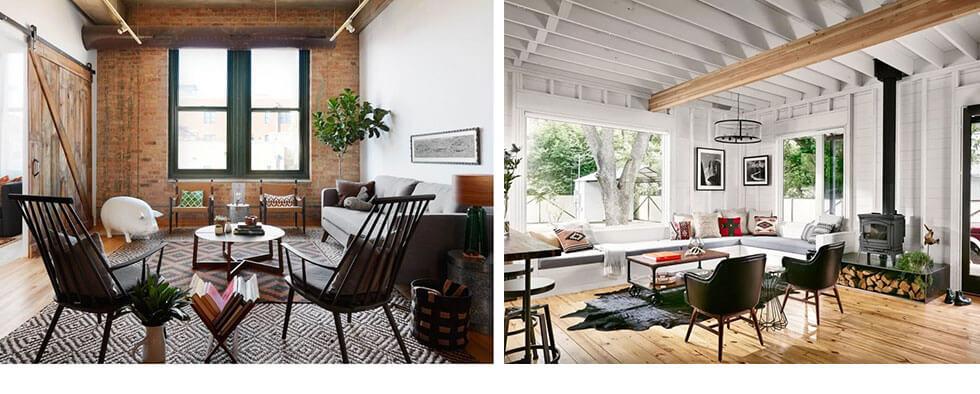 Play with contrasts for a modern, chic look - the clean lines of industrial style and mid century modern elements work really well with the classic country aesthetic.
For example, clean dark chairs, a minimalist sofa and grey tones can look especially striking against warm wood furniture, and also serve as an elegant update in the living room.
7. Collect and display what you love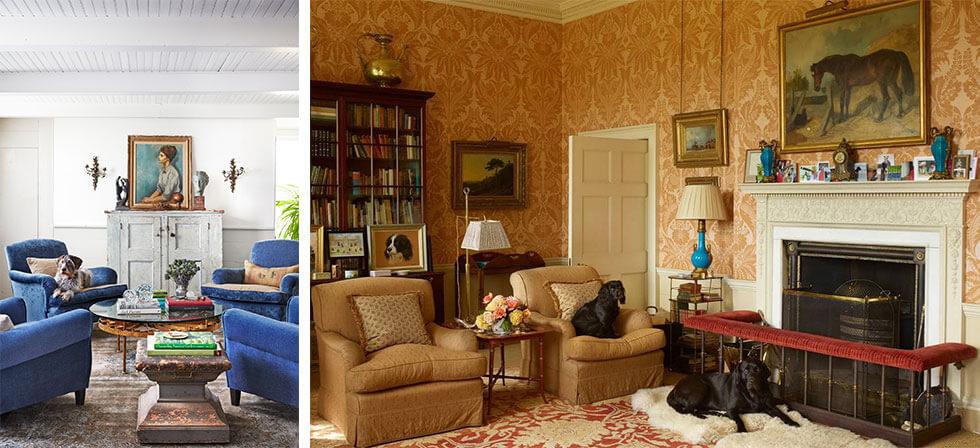 Country style is about heritage and a sense of permanence, and working with actual heirlooms and antiques will give the room an authenticity that can't be manufactured.
To achieve this, patience is incredibly important - keep an eye out for antique pieces and tchotchkes at flea markets and online. And of course, looking through what you might already have in your home will help too. Don't worry about clutter; this look is best when there's a natural order to the display and the furniture, since it's been collected over time.
8. Bring the outdoors in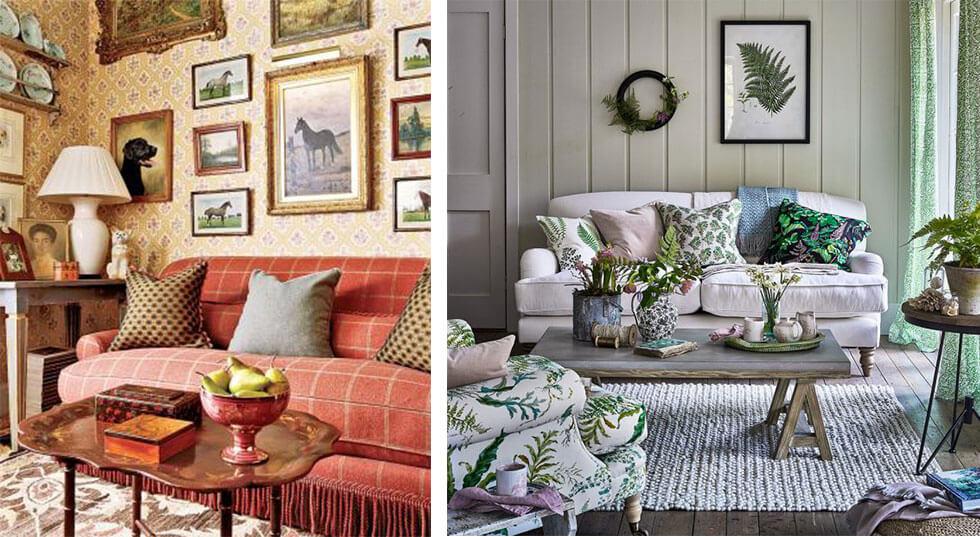 Taking inspiration from nature is a wonderful way to create a theme in a country-style living room. An animal motif is a quintessential part of a rustic home, especially as part of a feature gallery wall. Having a mix of styles and eras for the art will keep it looking eclectic and modern, as opposed to old-fashioned.
Beautiful botanical prints and art is a great way to update the look and feel of floral curtains and upholstery, while creating a fresh, light space.