The 10 best corner sofas of 2024
Explore the best corner sofas to have in 2024 for style and comfort with expert advice from our interior stylist.
Corner sofas that are in style for 2024 are spacious, comfy, and big on texture. Think oversized sofas with deep cushions and luxurious upholstery like plush fabric or soft leather. It's a sofa that can transform your living room into a cosy sanctuary, a sofa that can let you stretch out and put your feet up.
Our best corner sofas of 2024 come in a variety of designs, timeless colours, and lush upholstery. To help you find the right one for your living room, we spoke to Rebecca Snowden, our Interior Style Advisor at Furniture And Choice.
"When shopping for a corner sofa, it's important to consider the sofa's size and how it will fit into your home," says Rebecca. "For smaller layouts, a compact style sofa with raised legs will give off a clean, airy feel and for larger homes or open plan designs, a corner sofa with sleek lines will help zone your spaces."
If you want a sofa that has ample space to fit everyone at the same time, a corner sofa is a must-have. Whether you're looking for a modern piece or a classic design, you can have your pick from our top corner sofas of 2024.
1. Sleek senza l-shape sofa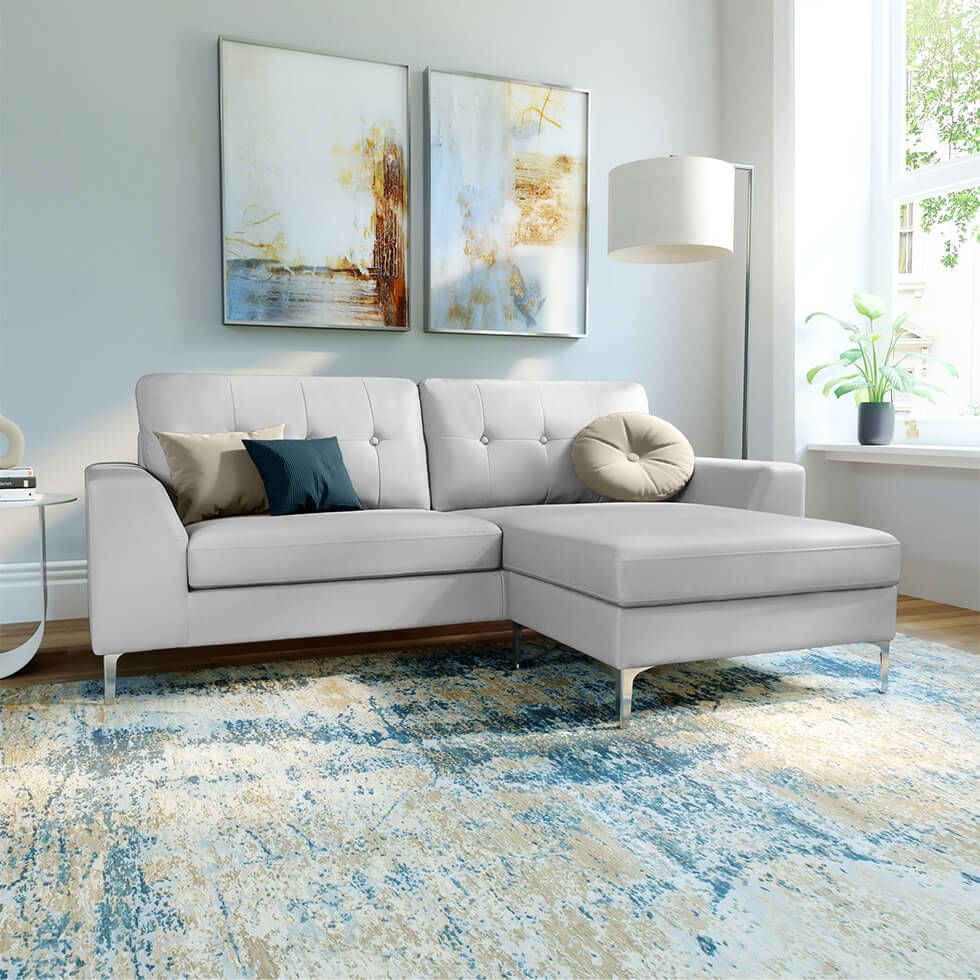 "Our customers love the Senza L-Shape Sofa for its spacious seats and sleek look," says Rebecca. "This modern sofa with stylish chrome feet and comfy cushions is perfect for stretching out." With an interchangeable chaise, you can switch up the look of your living room whenever you like. The Senza comes in soft plush fabric or premium leather upholstery in colours such as light grey, dark grey, or black.

2. Smart bailey l-shape sofa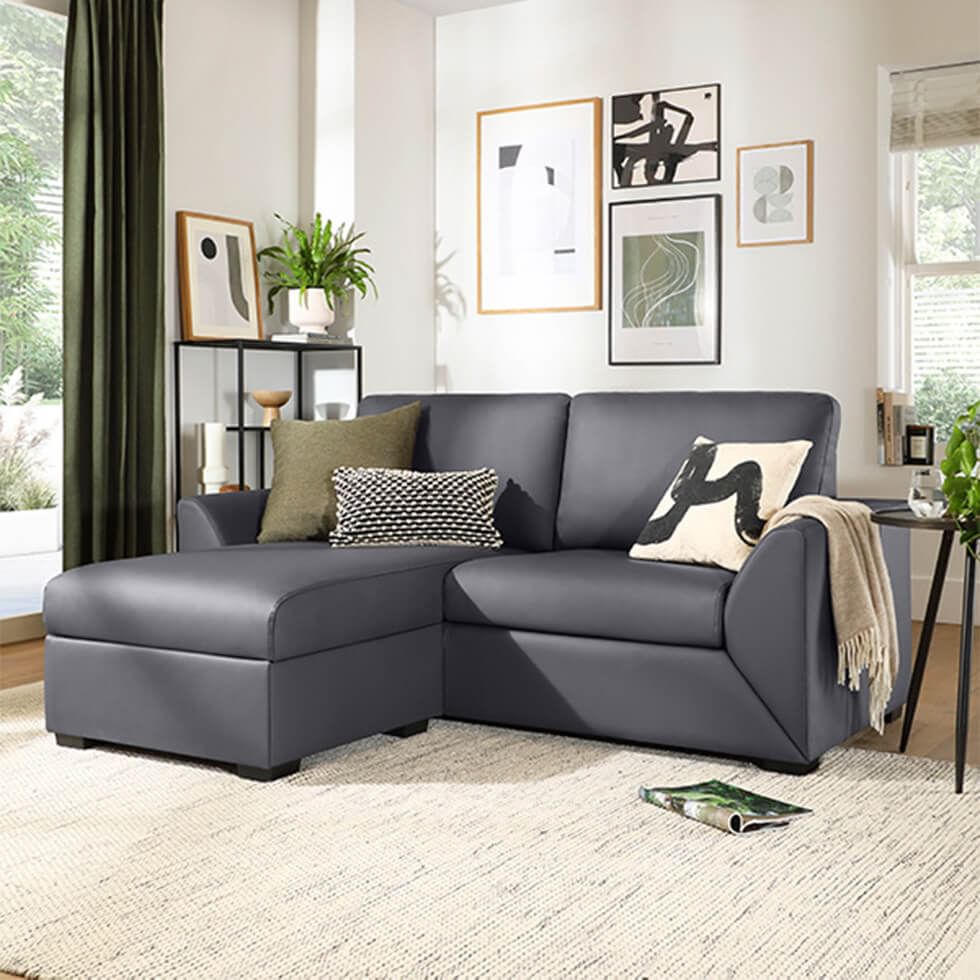 "If you're looking for a sofa that combines comfort and style, the Bailey Sofa is your ideal choice," says Rebecca. "Featuring a wide, comfy chaise and modern lines, the Bailey is great for relaxing and brings a contemporary feel to your home." It also features an interchangeable chaise and pocket sprung seats for a comfortable, supportive sit. This minimalistic sofa is available in a range of neutral colours to match your interior.

3. Classic Hampton Chesterfield Corner Sofa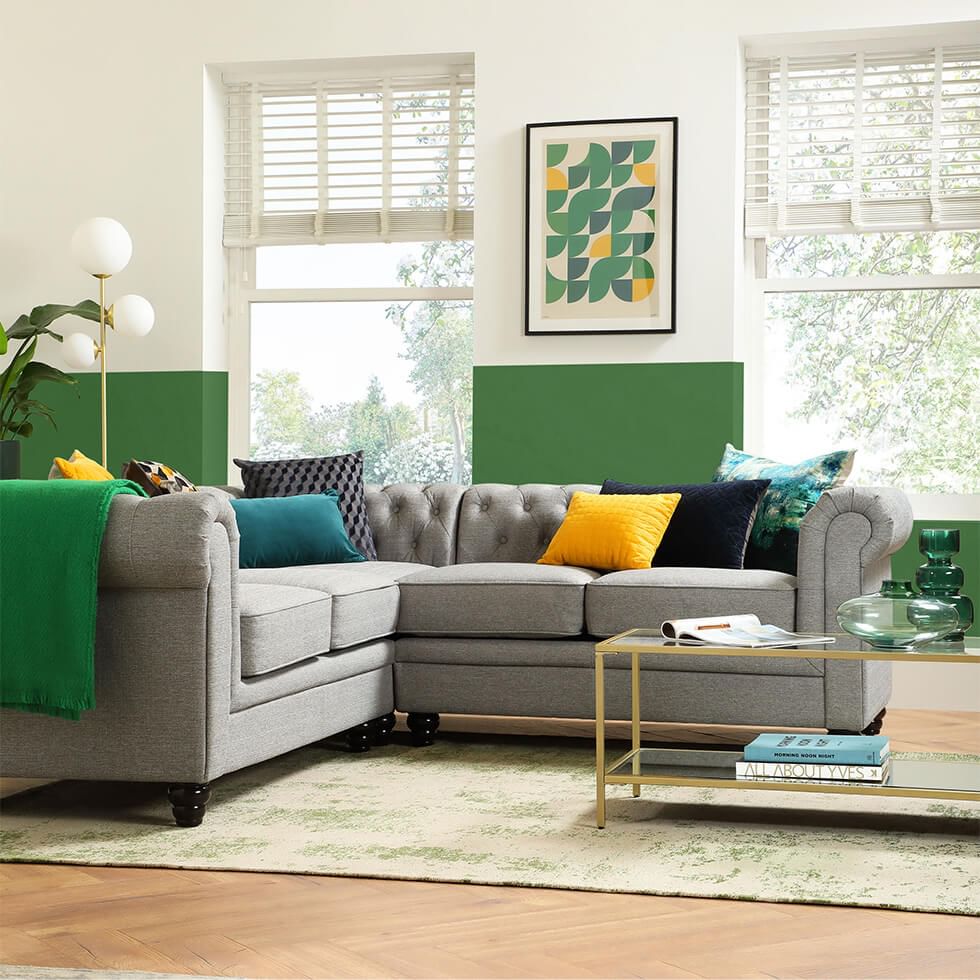 "Our bestselling Hampton Sofa is the best corner sofa for a smart, polished look," says Rebecca. "Beautifully crafted, its classic Chesterfield design features elegant scroll arms and a deep buttoned backrest. And its chic, light grey fabric upholstery matches most contemporary decorating styles." Our customers are also happy with the Hampton's pocket sprung seat cushions which retain their shape and firmness. Available in a range of timeless neutral colours in velvet, fabric, plush fabric, and leather.

4. Timeless Hampton Chesterfield L-Shape Sofa
"If you're looking for a traditional Chesterfield leather sofa, the Hampton-L Shape Sofa might be the best corner sofa for your living room," says Rebecca. "This brown leather sofa features an antique finish for a handsome, polished look that will elevate any space." In reviews, customers say they're impressed with the quality of the soft upholstery and pocket sprung seats that give you the same level of comfort and support each time you sit down.

5. Comfy Sorrento Recliner Corner Sofa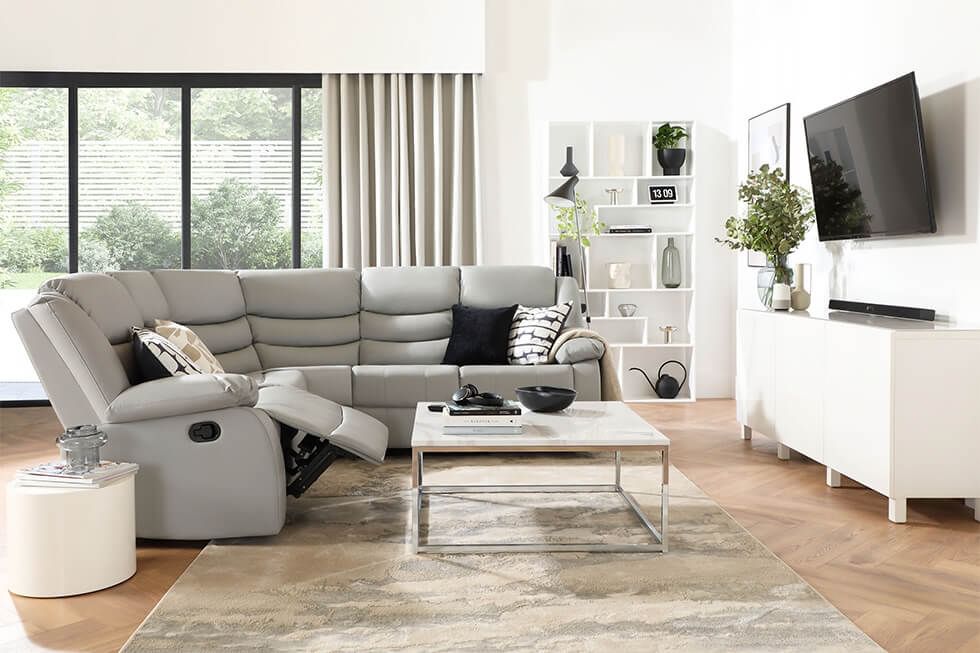 "The Sorrento Recliner Corner Sofa is one of our most comfortable corner sofas," says Rebecca. "It features not one, but two recliners – one on each end. And with comfy upholstery, padded armrests and supportive back cushions for the ultimate in relaxation. Perfect for movie nights or to simply kick back and unwind." Available in leather upholstery for a luxe look, and a variety of fabrics for cosiness.

6. Modern baltimore l-shape sofa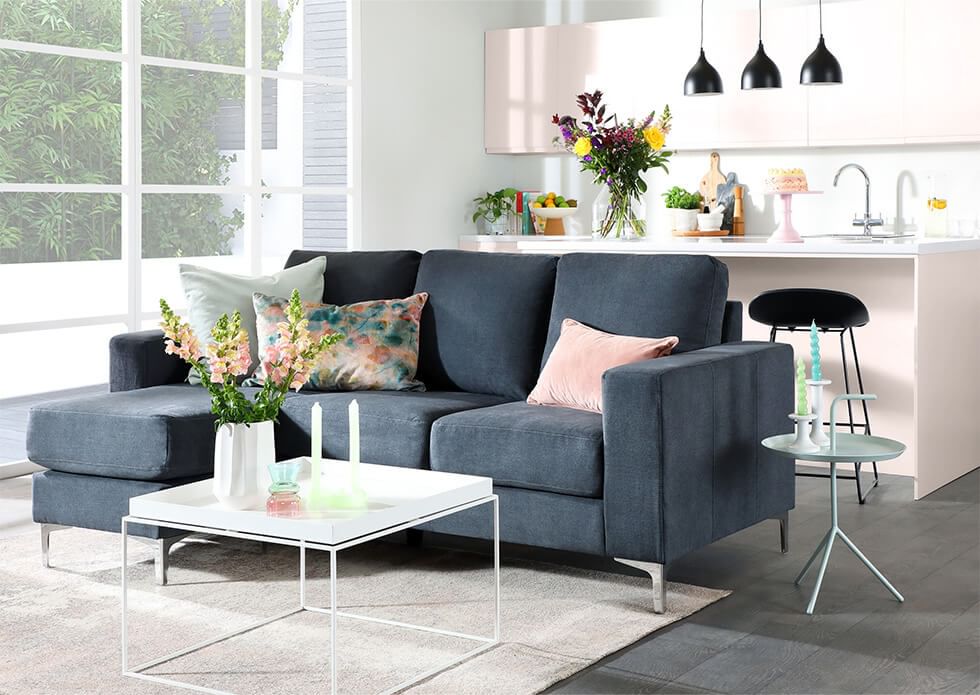 "The Baltimore L-Shape Sofa is popular among our customers for its size, shape, style and comfort," says Rebecca. "It's the best corner sofa for a small living room, and looks fantastic while being comfy and easy to clean." The seat cushions are firm yet comfortable and stay perfectly in shape without any plumping. And with a chaise that you can position on either side of the sofa, it fits in easily with most living room layouts. This sleek sofa is available in plush fabric or leather upholstery.

7. Stylish baltimore corner sofa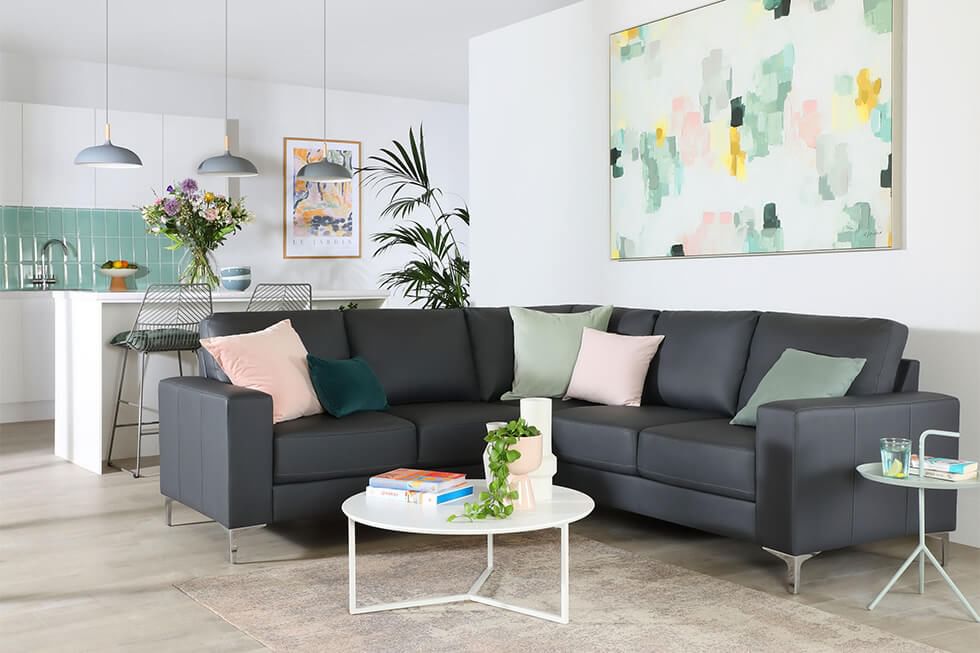 "For the best leather corner sofa in a chic and modern style, look no further than our Baltimore Grey Leather Corner Sofa," says Rebecca. "Our customers love how it adds a designer look to their living room, with its clean, minimalist design and slim, chrome legs." And it feels soft and comfy too - with deep seats, plump cushions and soft upholstery. The Baltimore is available in white, ivory, black or light grey leather, as well as plush fabric upholstery. Choose from a variety of sizes to suit your home – it comes as an armchair, 2 seater, 3 seater as well as corner options.

8. Chic Harlow L-Shape Sofa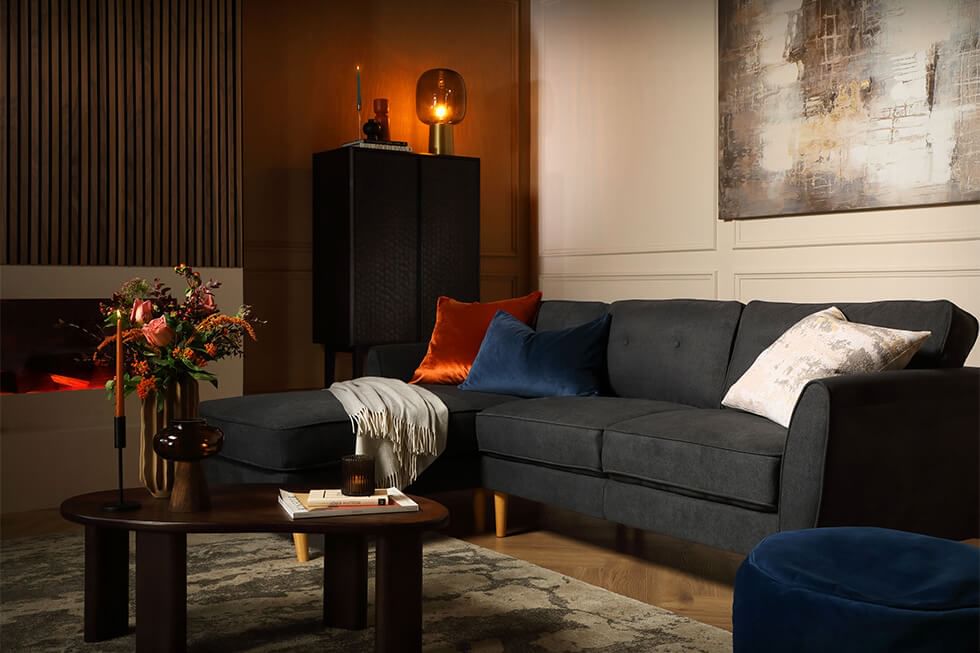 "The stylish Harlow L-Shape Sofa brings a clean, modern look to your living room," comments Rebecca. "In slate grey fabric, it works wonderfully as a base to contrast with bold colours." This Scandi style sofa features smart button-back detailing and tapered solid hardwood legs, and comes in a range of muted neutrals. With pocket sprung seats that hold their shape, the Harlow looks good through the seasons. Choose from velvet, plush fabric or leather upholstery.

9. Spacious harlow corner sofa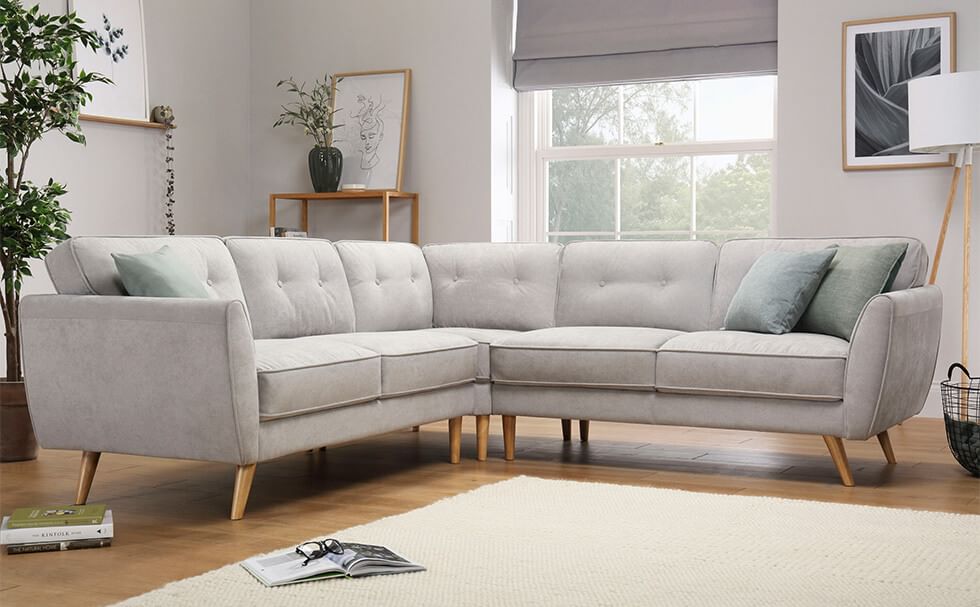 "The Scandi-inspired Harlow Corner Sofa is stylish and timeless," says Rebecca. "With foam and fibre back cushions, you can relax in absolute comfort." Our customers love the smart yet casual shape of the sofa and how soft the plush fabric feels. Choose the Harlow in a light grey colour to add a laid back, lived-in vibe to your home. This spacious corner sofa is also available in dark grey as well as a velvet finish for that subtle luxurious look.

10. Cool Kansas Corner Sofa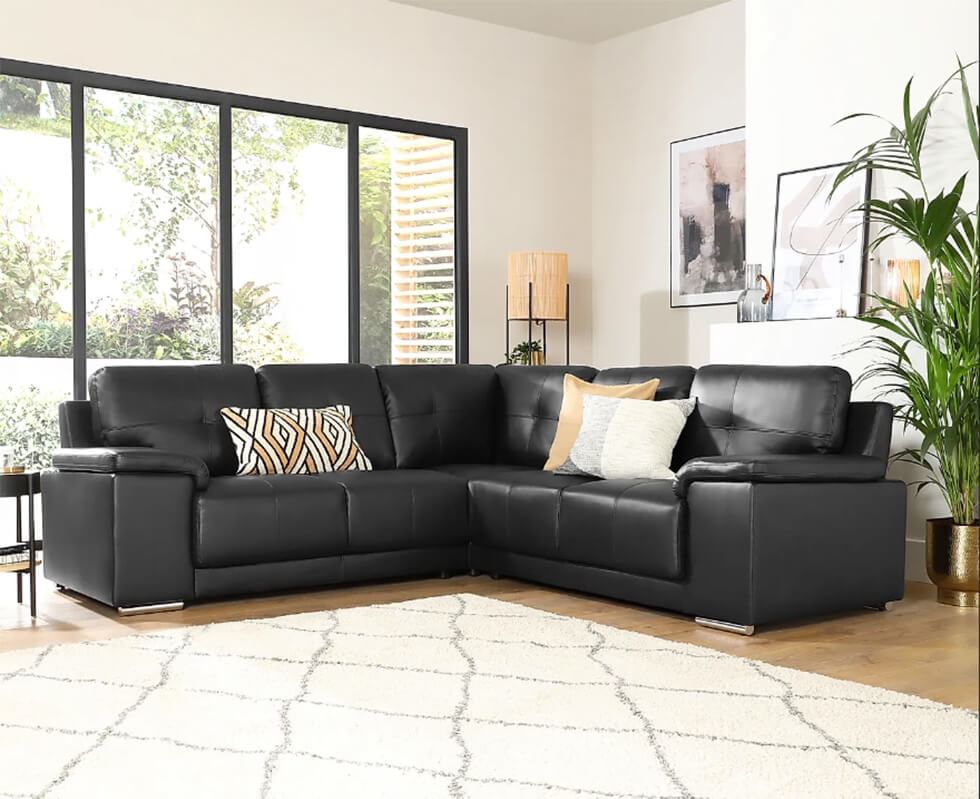 Modern, comfy, and durable, our black Kansas Sofa ticks all the right boxes. "This high-quality faux leather corner sofa looks and feels like real leather, without the maintenance," says Rebecca. "Our customers with kids and pets are happy that it's durable and easy to clean." This black sofa is also available in other timeless neutrals like grey, white, and ivory. With its clean and stylish shape, it will fit perfectly in a contemporary home.

Corner sofas are an excellent choice if you're looking for a couch that stands out, saves space and lets you lounge in comfort. The best corner sofas also provide more seating than traditional designs. Shop our stylish and comfy corner sofas today, with free delivery and free returns on all orders. In-stock sofas are ready to ship within 3-5 working days. Read our Sofa Guide for more buying advice, or to get inspired see ideas for styling a corner sofa.