Skip the red décor: 5 ways to style a dazzling blue Christmas this year
Choose a different colour for Christmas this year, and decorate with elegant, classic blue as your theme for a fresh look.
It's that time of year when the tree goes up, stockings are hung, and fairy lights twinkle. And it's also when red and green dominate the Christmas landscape - which is why it can be incredibly refreshing to think outside the box and choose a different colour for your home this festive season!
Working with a specific colour will give a cohesive intentional feel to your theme and décor, and truly make it your own. A lovely shade for this is Pantone's Colour of the Year 2020, Classic Blue, which packs a style punch but also has traditional, elegant roots - perfect for this season. Read on for 5 ways we're excited to use this shade of blue this Christmas!
1. Make a statement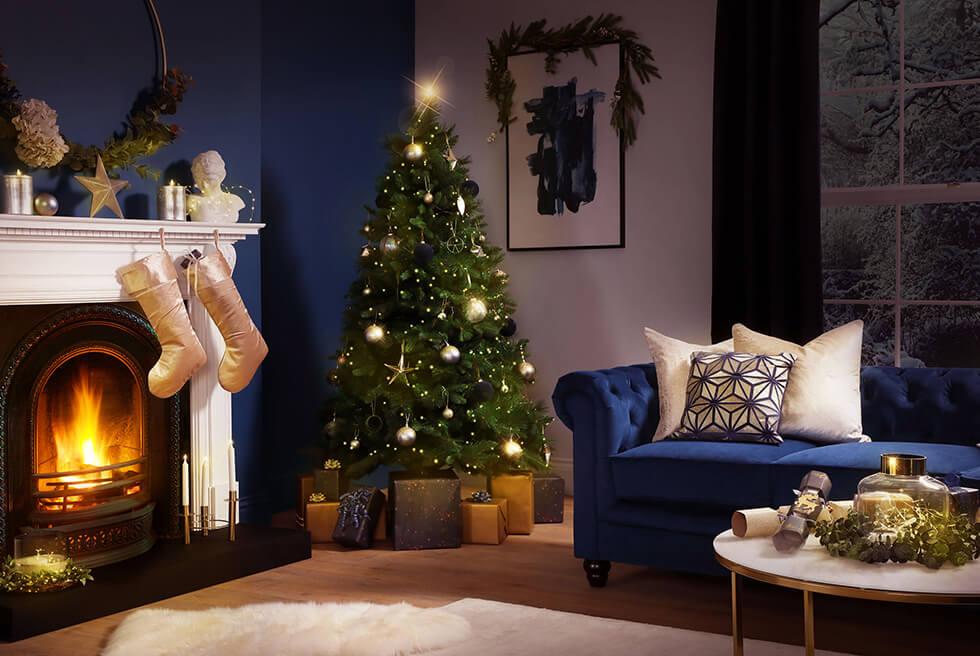 Use the colour as an anchor in your room - either with a feature wall, which is a quick, impermanent transformation to any room, or choosing furniture in this shade, which is a bigger commitment.
But if you've been looking for a way to update your living room, a rich velvet sofa or armchair in blue would do the trick, and be thoroughly appropriate for the season. With some small shifts, such as switching from heavy textiles to linen throws and cushions, it would also transition well into spring and summer.
2. Consider colour pairings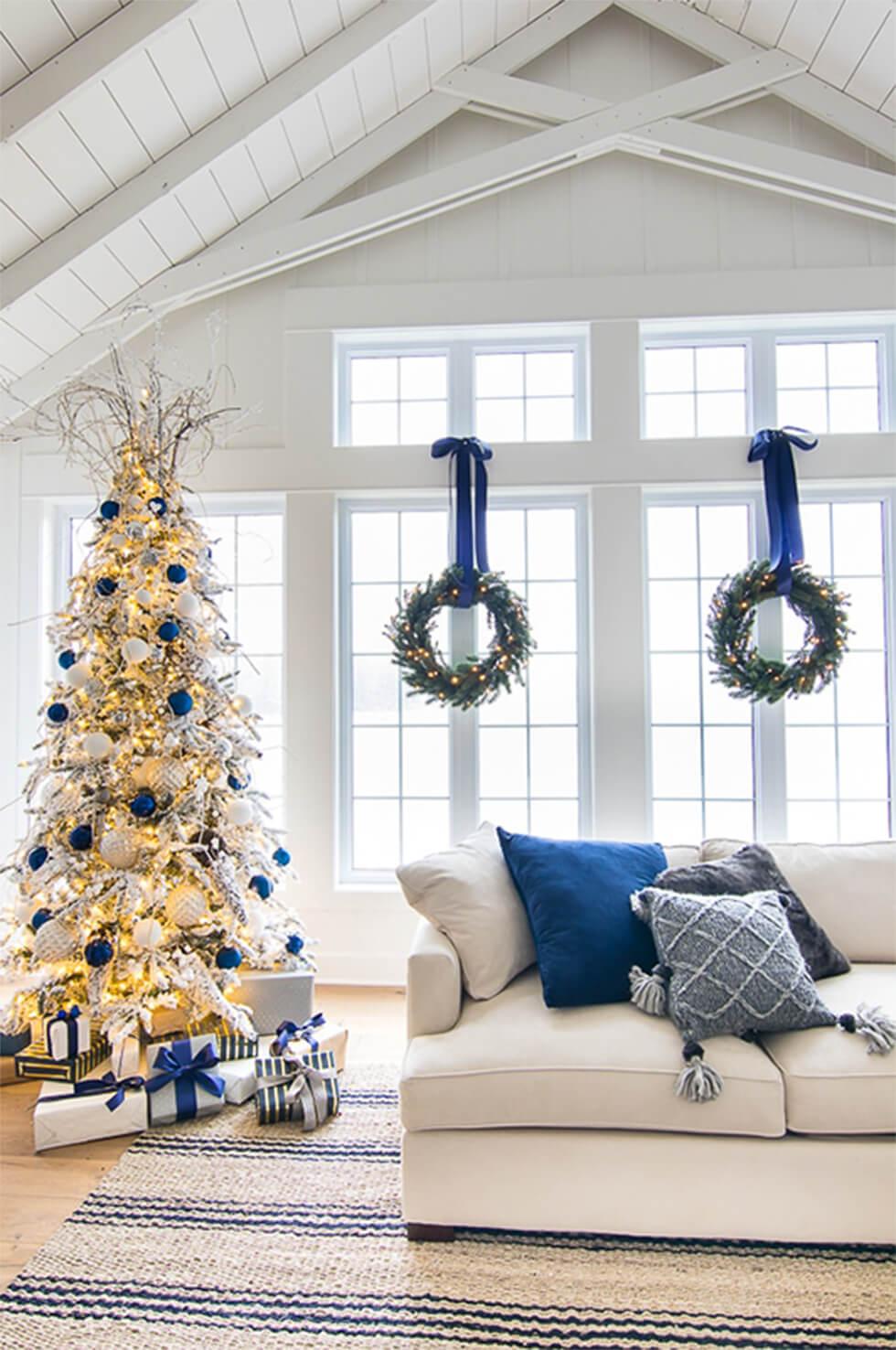 Pairing blue and white is a classic look, and with good reason - it offers a clean, cosy feel, especially when layered with different textures. A good trick here is to play with contrast.
For instance, solid and patterned blue cushions against a cream sofa add a welcoming, sophisticated touch. And decorating with blue and white ribbons, lights, and tinsel, can also tie it all together, while creating dimension and festive cheer.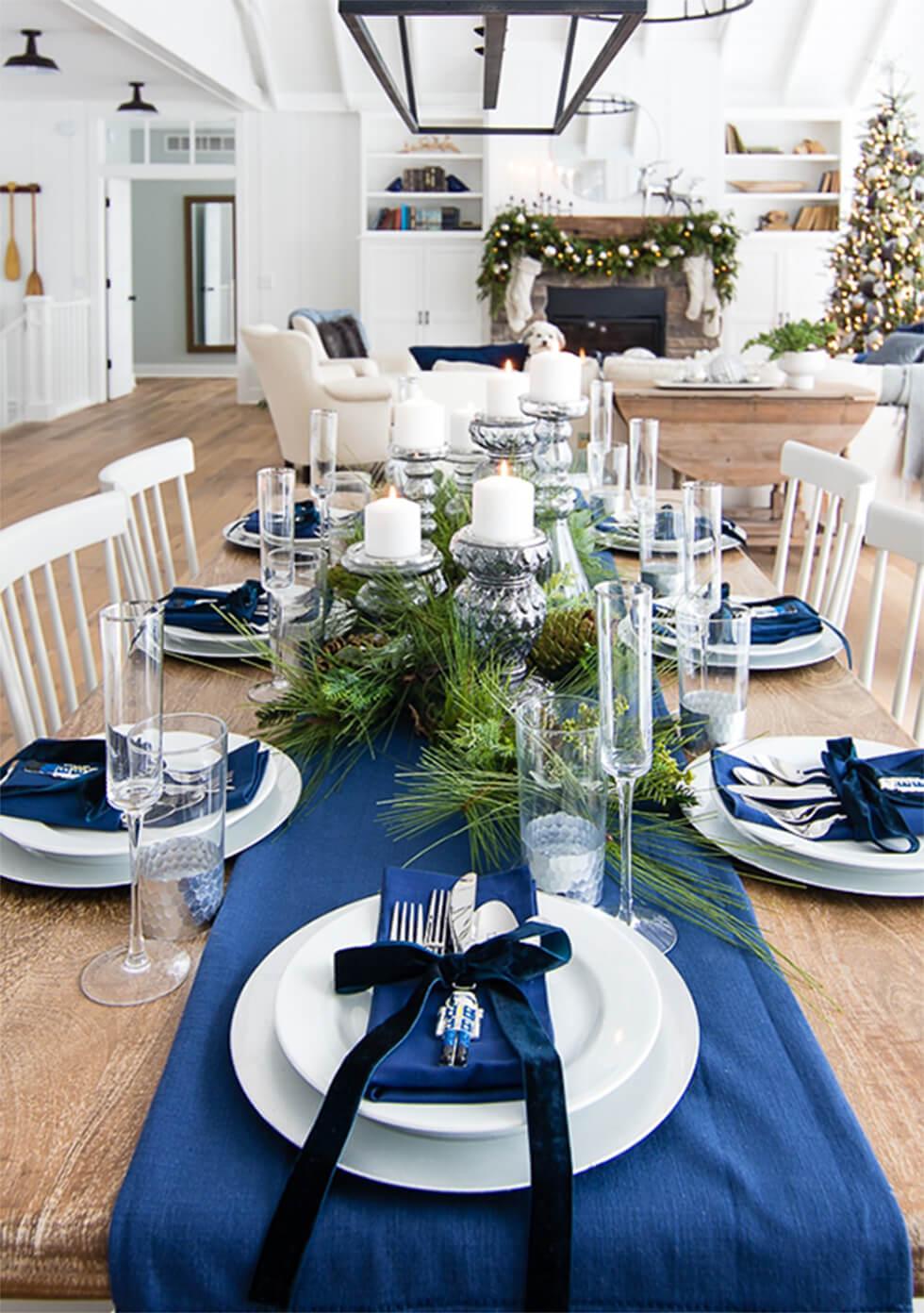 Wooden tones and blue also match beautifully, for a rustic, welcoming look with a modern touch. As we can see in this simple dining room set, this can easily be achieved with tasteful table runners and napkins.
3. Pile on the texture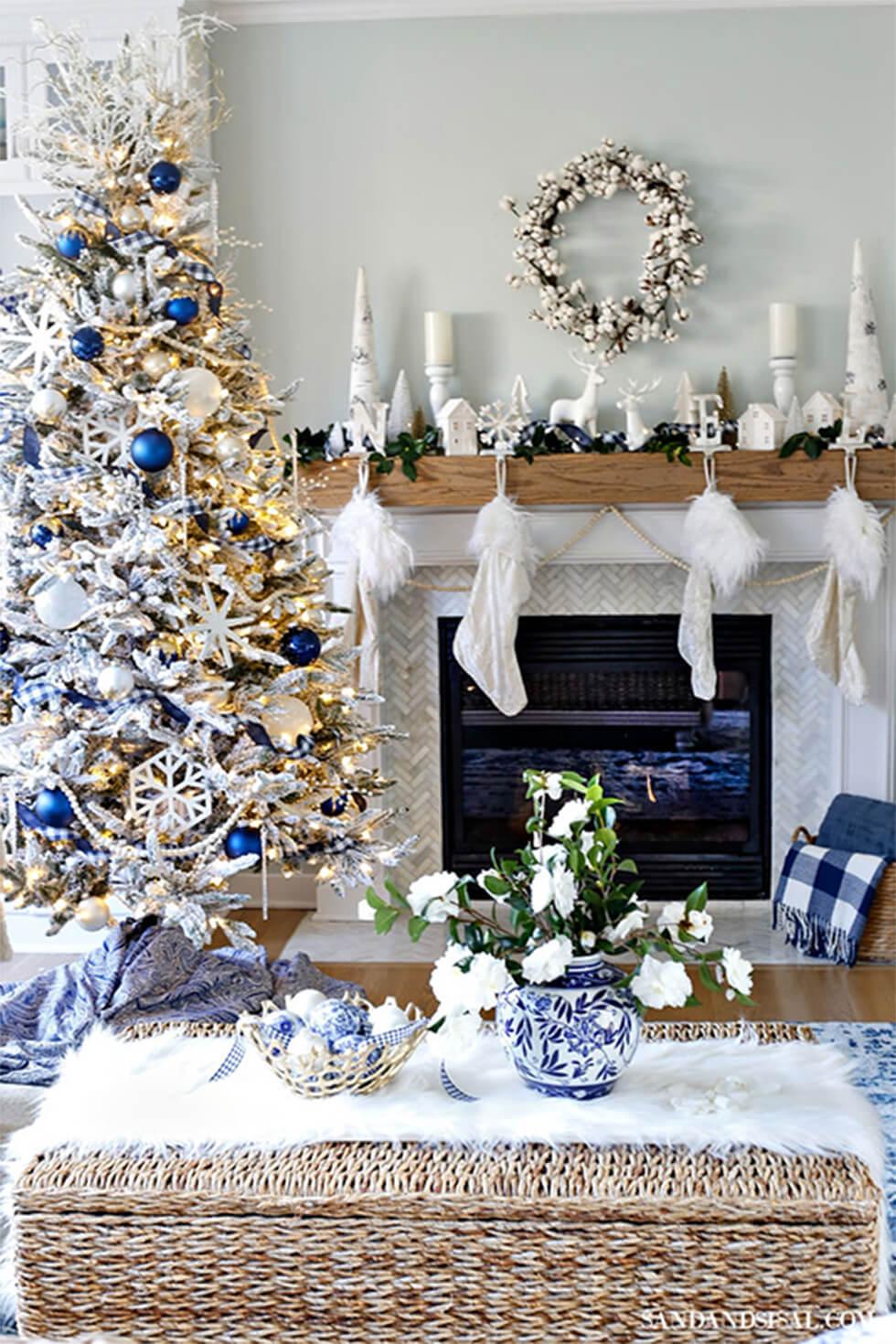 Christmas is a perfect time to go all out with your décor, so have fun and experiment!
One great way to use blue in your Christmas theme is by adding it into different textures, shapes and finishes to the room. Blue plaid is a fun nod to the season and brings extra cosiness, which is especially welcome when it's chilly out.
And if you're colour shy, this is a great opportunity to start layering pops of blue in smaller doses. To get in the festive spirit, look out for items that add some shine or visual interest, like baubles, vases and stockings.
4. Glam it up with gold and silver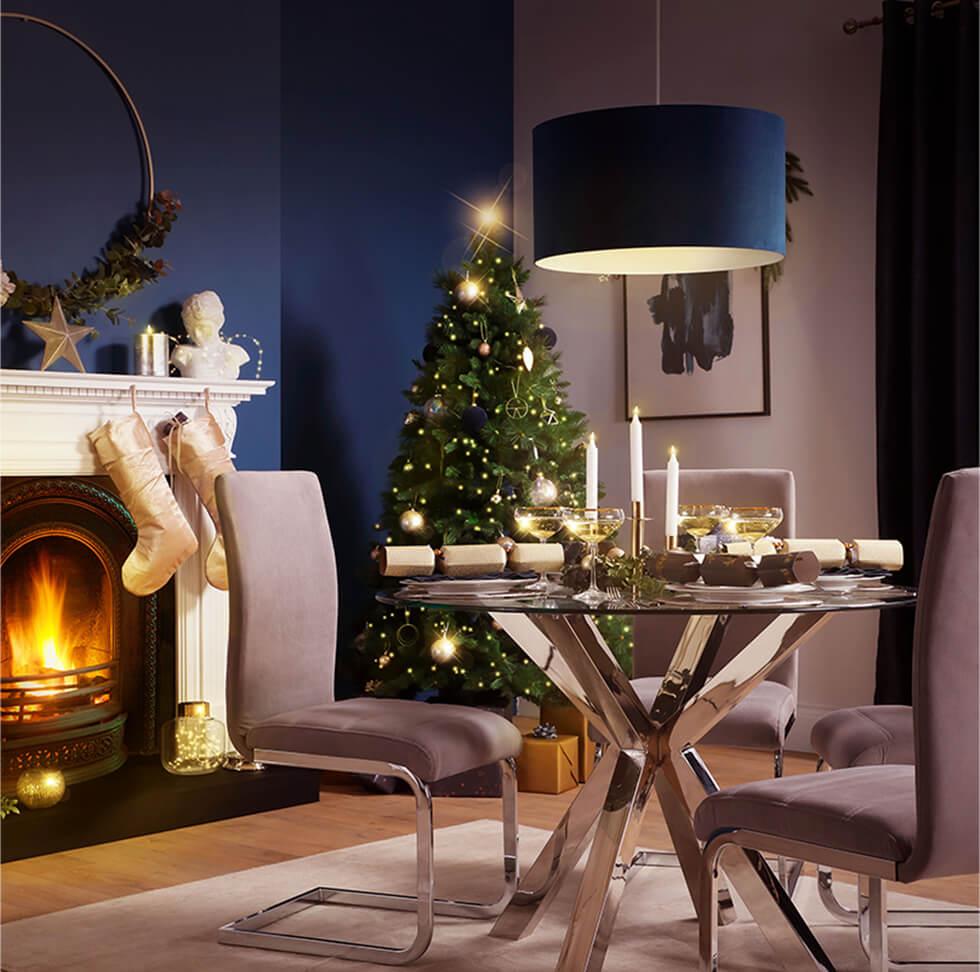 And of course - what's Christmas without a little dazzle?
Classic Blue is a wonderful, neutral palette for metallic accents - it's understated enough to help keep things elegant, while bold enough to not be overshadowed. Gold and silver tones immediately evoke festive cheer, and this shade's moody quality allows these finishes to shine bright.
This can take the form of a centrepiece like a sculptural silver table, or more subtle additions, like velvet stockings and gold candlestick holders.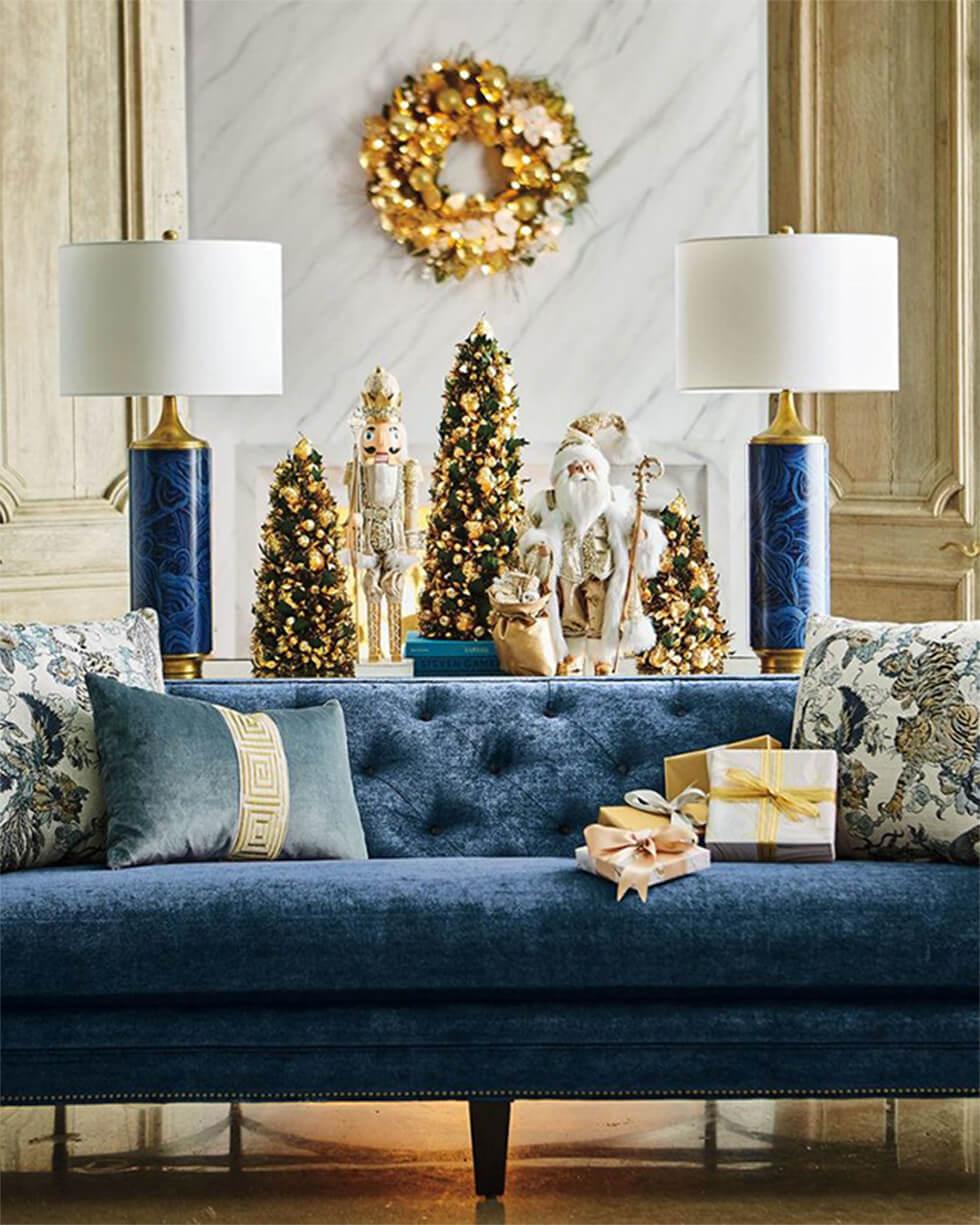 You can also be quite liberal with your use of gold and silver (as we mentioned - it's holiday season!), and thread it through the home. Gold and blue offer a rich, sophisticated look, so play it up with larger décor such as lamps, figurines and wreaths to really make a statement.
Check out these blue Christmas décor ideas for more sparkly inspiration.
5. Personalise with DIY décor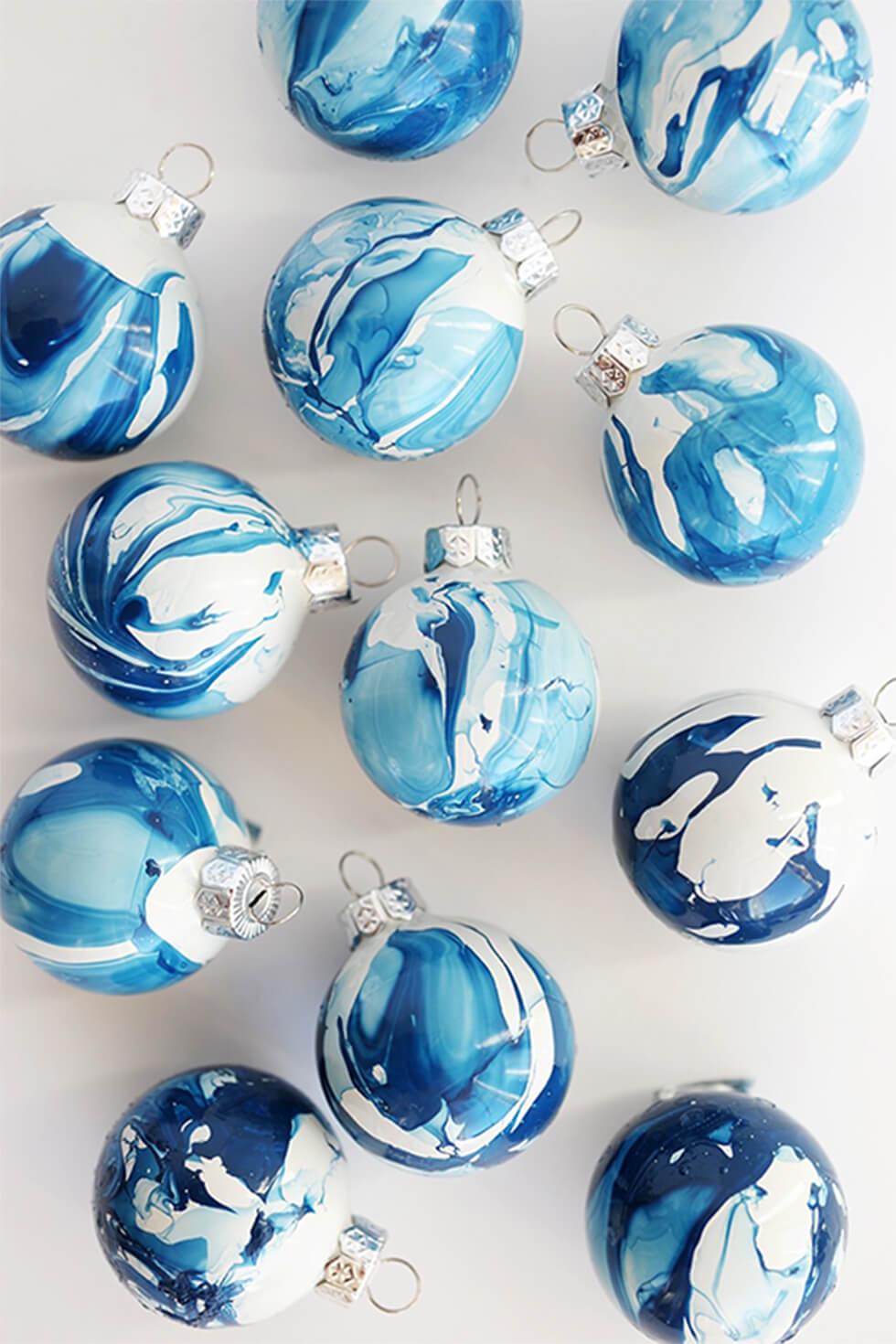 Part of the joy of choosing a specific colour for Christmas decorations is being able to customise for a thoroughly unique look, which is where DIY comes in. While there are lots of projects to choose from, we wanted to focus on some hallmarks of the season, starting with the tree.
Making your own blue and white marbled tree ornaments can be a fun way to spend an afternoon, and would look absolutely spectacular hung up, or even displayed in a bowl.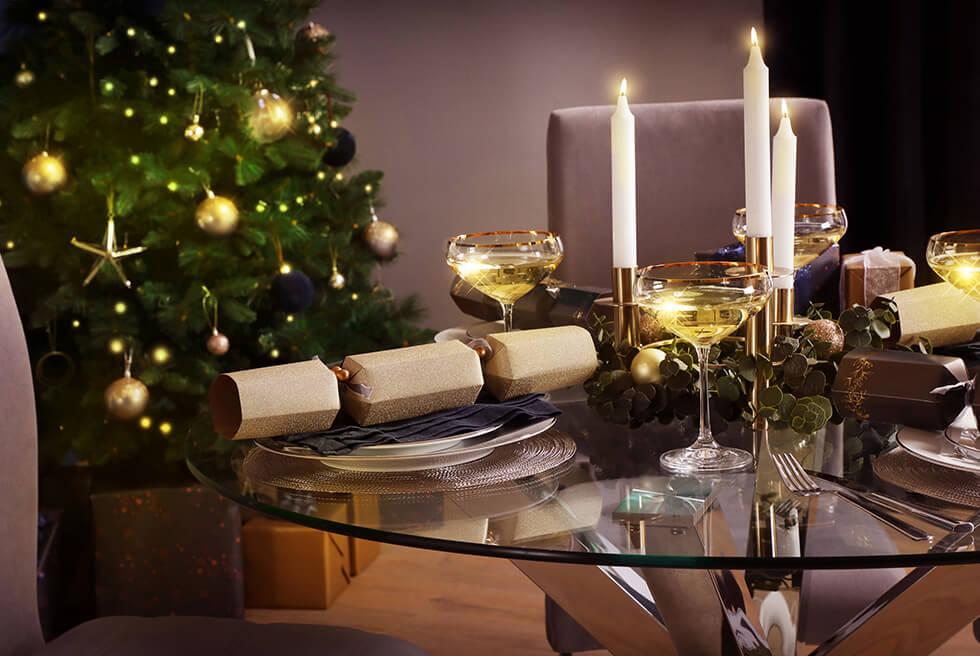 And for a Christmas classic with an eco-friendly twist, making your own crackers is incredibly simple and quick - and fun for the whole family too.
All you need are craft supplies, toilet roll tubes, ribbon, and leftover wrapping or brown paper. As a bonus, you can personalise the fillers with funny messages and treats - check out our easy DIY Christmas crackers to make your own.