What is a Chesterfield sofa: The ultimate guide
Do you know why it's called a Chesterfield sofa? Get the answer to this question and more with our expert-authored guide to Chesterfield settees.
Classic and luxurious, the Chesterfield sofa is just as well loved today as when it was first introduced in the 1700s. This iconic British design is instantly recognisable anywhere in the world, and has since evolved from traditional leather to contemporary styles. But you might be wondering - why is it called a Chesterfield sofa and what are the key features that make up a Chesterfield sofa design? Plus, with its high arms and button-tufted back, are Chesterfield settees comfortable?
With the help of Rebecca Snowden, Interior Style Advisor at Furniture And Choice, read on to get the answers to these questions and learn more about the origins of the Chesterfield sofa.
Why is it called a Chesterfield sofa?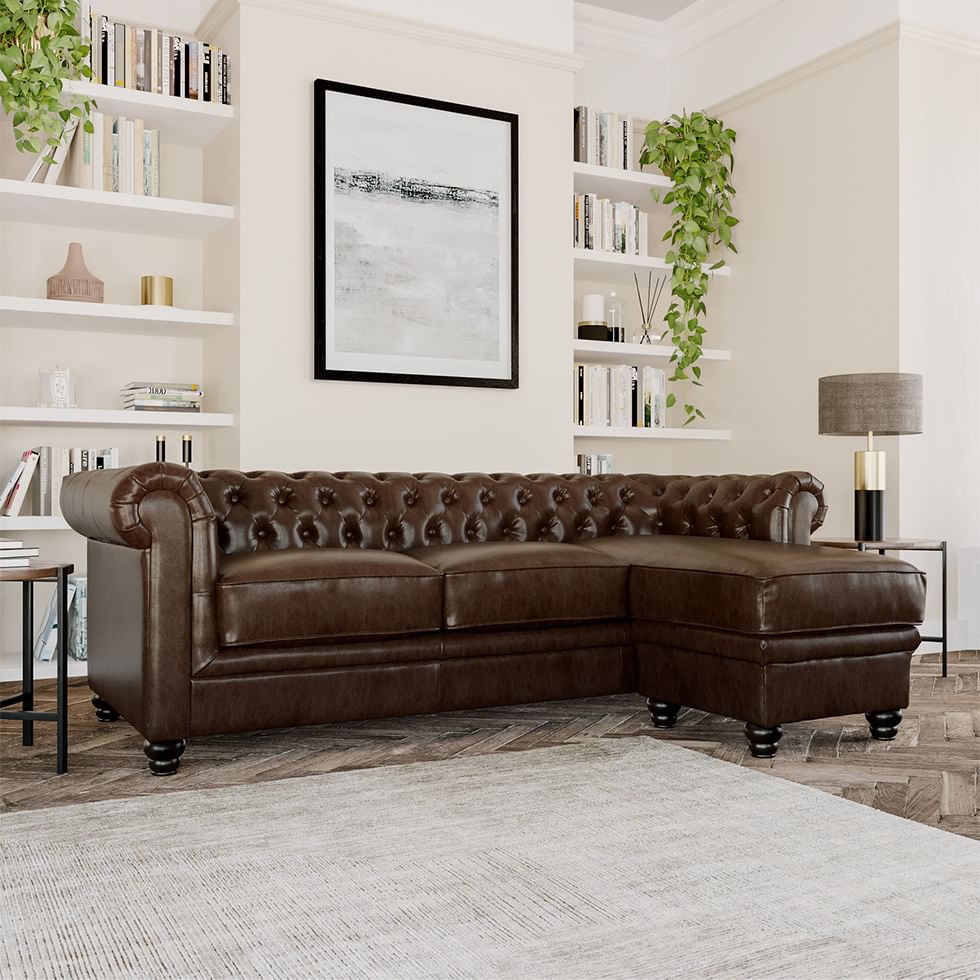 "The Chesterfield sofa is believed to have been named after the 4th Earl of Chesterfield, Lord Philip Stanhope, who was a prominent statesman and diplomat in the 18th century," says Rebecca.
According to Encyclopædia Britannica, he admired French culture and taste, and was on familiar terms with French philosopher and writer Voltaire. "It's rumoured that Lord Stanhope commissioned the sofa to be designed so that his guests (usually gentlemen) could sit without wrinkling their suits. The sofa later made its way into the homes of upper-class society and became a symbol of luxury and sophistication."

What is the history of Chesterfield sofas?
Having been around for nearly 300 years, the history of Chesterfield sofas has been illustrious - from gracing the rooms of aristocrats and royals to exclusive hotels, restaurants and clubs. It's also been documented in historical photographs dating back to the 1860s of Queen Victoria's drawing room in Balmoral Castle, where she had a set of tartan-covered Chesterfield sofas as centrepieces. Chesterfield sofas in the 19th century were padded with horsehair, known for being a tough, durable material.
What is a Chesterfield sofa design?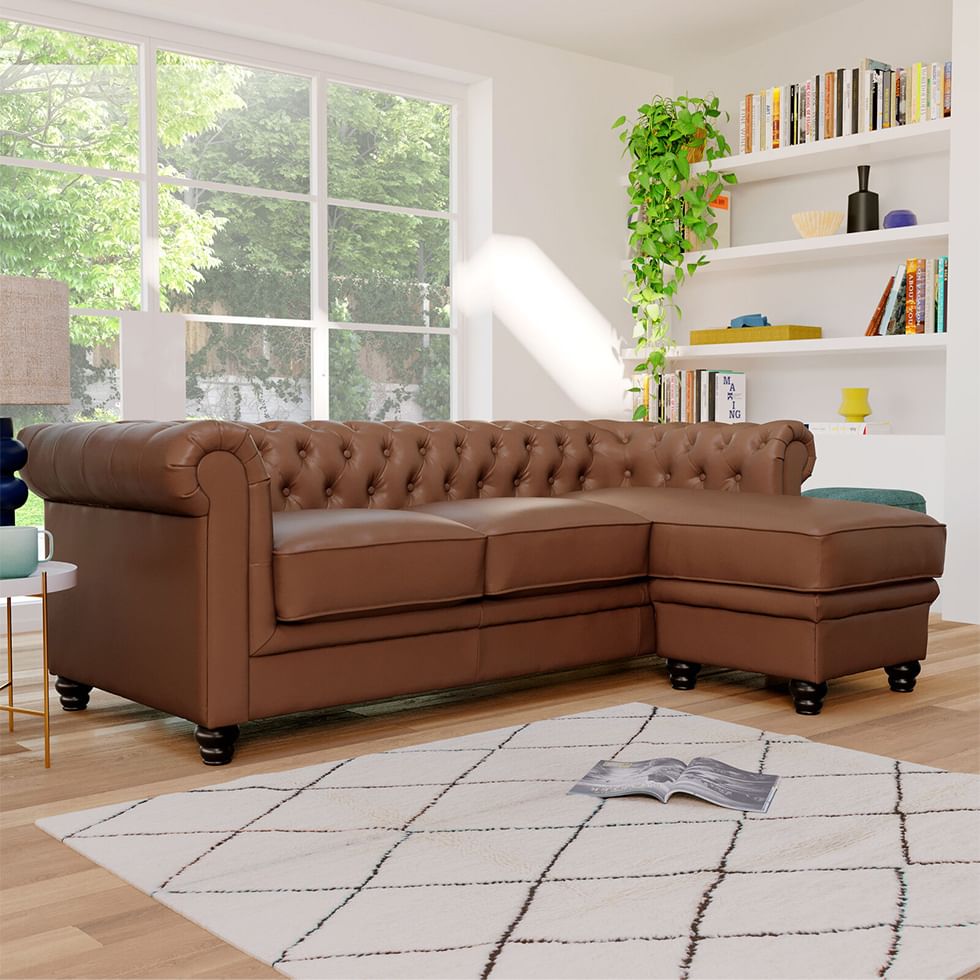 A Chesterfield sofa has a few notable features that make up its distinctive design. It's most recognisable for its rolled arms, low back and button-tufted upholstery. "Traditionally, Chesterfield sofas came in dark brown or black leather, but contemporary models now come in a variety of colours and upholstery to suit your style," says Rebecca. "These range from elegant velvet and comfy fabric to buttery soft faux leather as a vegan, cruelty-free alternative."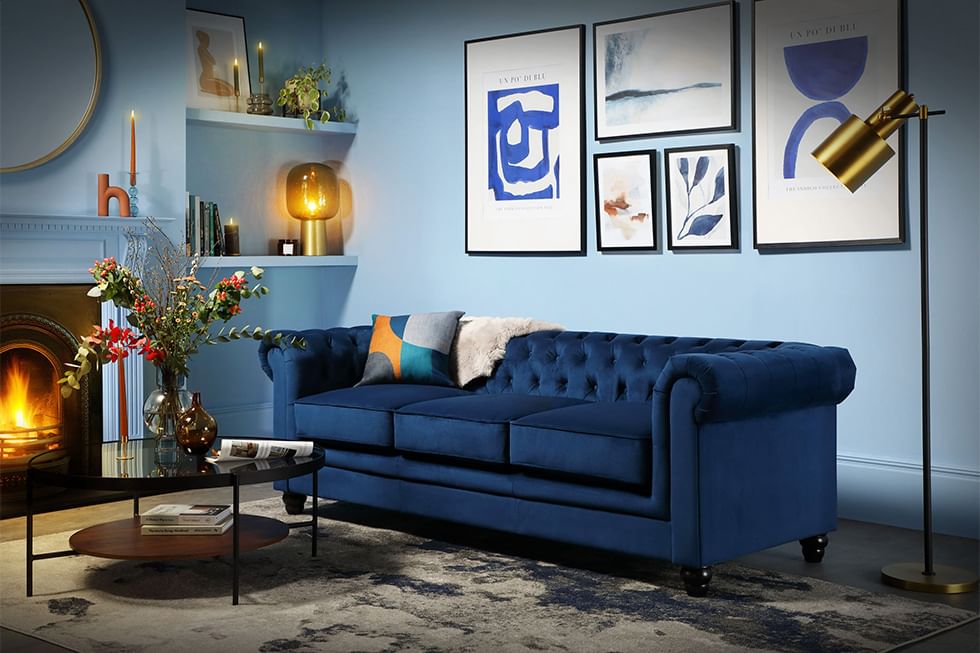 As for colours, you have a host of options. There are contemporary neutrals like grey and ivory alongside classic brown and black. After a bold pop of colour? Chesterfield sofas also come in trendy hues like blue, which looks especially chic in velvet.

Are Chesterfield sofas comfortable?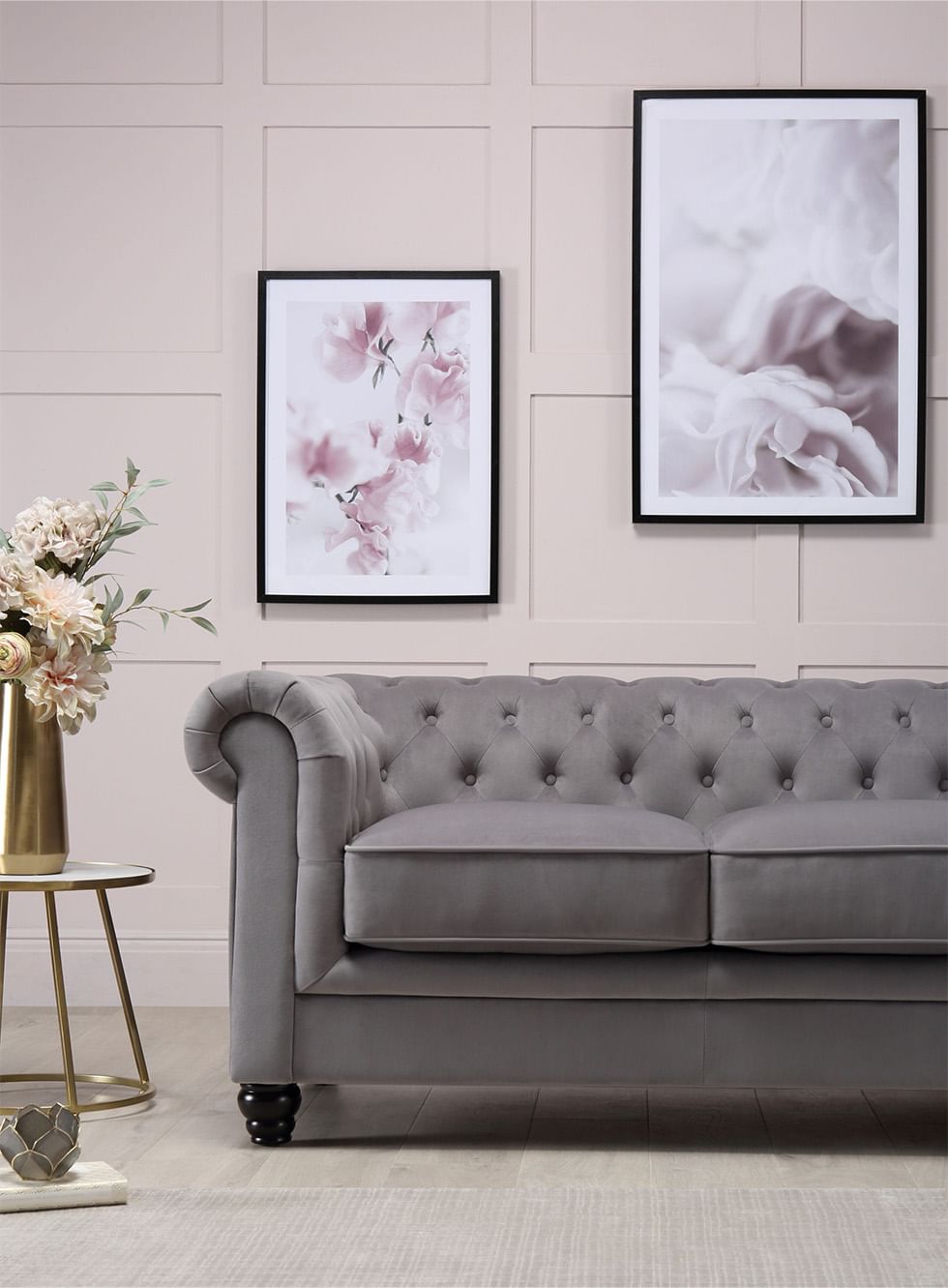 Chesterfield sofas are generally comfortable, although the level of comfort can vary, depending on a few things. For example, pocket sprung seat cushions on a Chesterfield sofa can feel more supportive and comfortable as they retain their shape and firmness every time you sit down. By contrast, fibre-filled seats tend to sag if you don't regularly plump them.
The quality of upholstery makes a difference too. Premium faux leather upholstery that feels super soft, thick and comfy will feel more comfortable on your Chesterfield sofa than lower grade materials. Velvet is a comfortable option as well, especially if you're after that plush feeling. And there's also comfy fabric upholstery if you prefer a more relaxed look.
What can you pair with a Chesterfield sofa?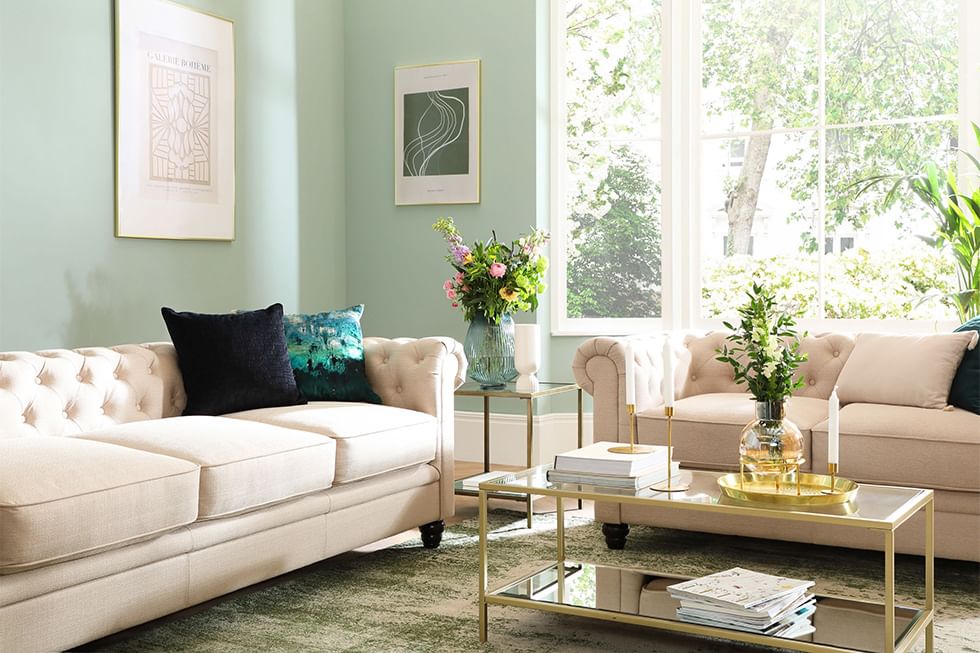 When thinking of what to pair with a Chesterfield sofa, the right accent pieces can transform your room into a stylish and inviting space. "Start with a coffee table – a modern design with a slim profile works well to balance a Chesterfield sofa's larger silhouette. Add a side table or two next to your Chesterfield settee as a spot to display large vases or lamps," says Rebecca. "To draw the eyes around the room, display artwork above your Chesterfield couch. Bring in an area rug to add softness and texture, as well as to define the area around your Chesterfield sofa."

The best ways to dress a Chesterfield settee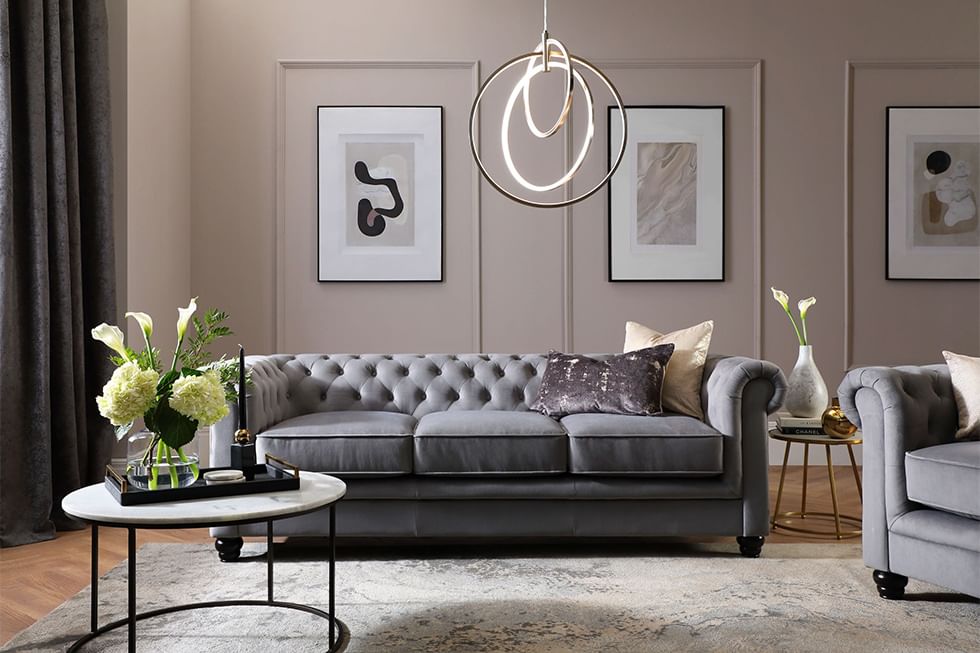 Cushions and throws are quick, easy and inexpensive ways to dress a Chesterfield sofa. "For an elegant set up, choose neutral coloured cushions in greys or soft beige," suggests Rebecca. "Go for velvet or silk for a luxurious feel."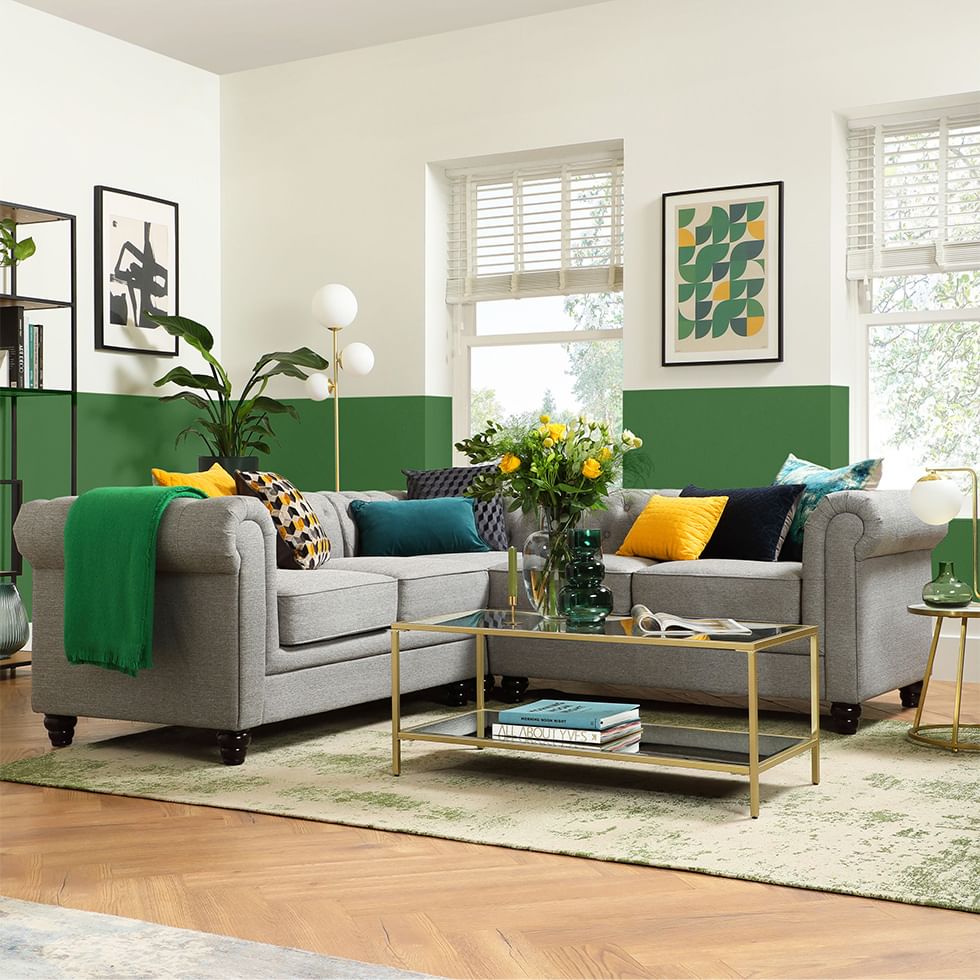 "Cushion covers are easy to swap out whenever you want to refresh your living room. For spring and summer, dress up your Chesterfield sofa with colour for a bright, vibrant update. Layer a mix of sunny yellow and forest green cushions, plus a cosy green throw, to give it a fresh contemporary look," says Rebecca.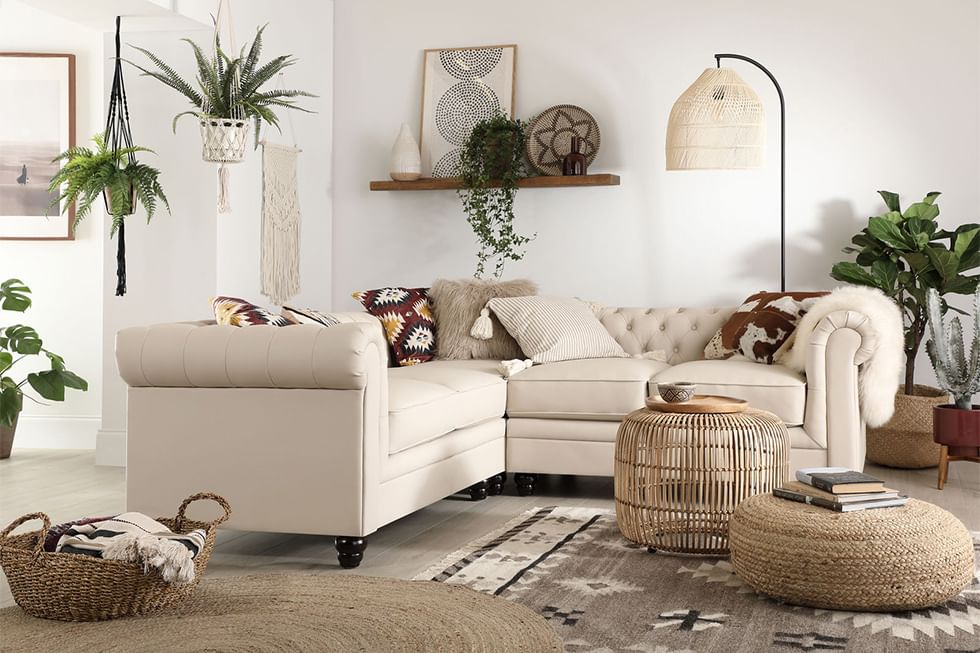 And if your style is more bohemian? The Chesterfield sofa's classic design works beautifully to ground an eclectic look. On an ivory Chesterfield settee, add cushions in cream and warm earth tones, with a few patterns mixed in to break up the solid colours. Accessories in natural materials and fresh greenery will also give your comfy Chesterfield sofa a more casual, lived-in vibe. For more decorating ideas, check out these 8 ways to style the Chesterfield sofa.
With its classic and unique design, Chesterfield sofas have been a popular choice for generations and their enduring appeal will continue well into the future. A symbol of sophistication, their distinctive button-tufted upholstery and rolled arms bring timeless elegance to any room.
Shop our Hampton collection to find the best Chesterfield sofa for your style, with fast, free delivery and easy, free returns on all orders. All our in-stock items are ready to ship within 3-5 working days. Browse our Sofa Guide for helpful buying advice. If you're interested in other sofa styles, discover these 13 types of sofas.