What colours go with a grey sofa?
Explore how a grey sofa can take centre stage in your living room. Our designers share the best colours to pair together and reimagine your living room.
A grey sofa's enduring popularity is down to its versatility and timeless appeal. From sophisticated light greys to warm slate shades, there are plenty of grey sofa living room ideas for every home.
To get started, consider what type of undertone or shade of grey your sofa is in. This will then help you decide what colours best go with a grey sofa. It's also important to consider the size of your living room and the style you want to decorate with.
For example, if your sofa has a light undertone, it might be best to pair it with another light wall colour scheme like light blue or green for an open, spacious feel. Meanwhile, warmer greys create a calm, cosy feel when styled with darker tones.
A grey sofa's adaptable nature allows it to be the foundation for a variety of interior styles. From sleek, minimalist interiors to a bright, eclectic living room, there are so many options on how to style a grey sofa.
With the help of Rebecca Snowden, Interior Style Advisor at Furniture And Choice read on to discover more grey sofa styling tips and living room colour ideas.
1. Match a modern grey sofa with minimalist white walls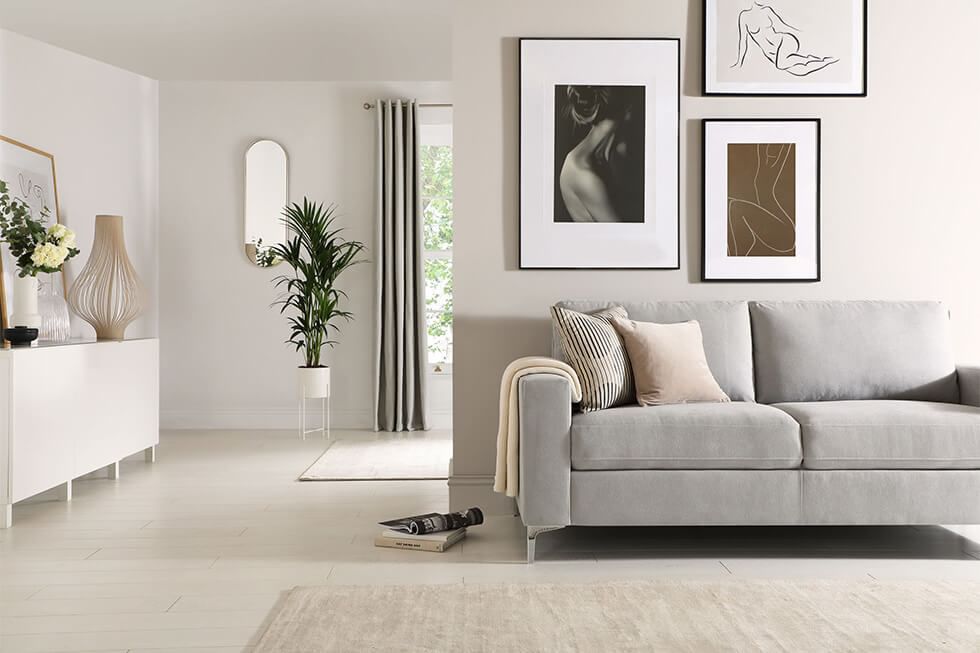 Keep it simple and lean into grey's quiet, serene feel with a minimalist white living room. This look works beautifully with white walls, anchored by a clean, sharply tailored grey sofa.
"White walls create a spacious, airy vibe when paired with a grey sofa in the living room," says Rebecca Snowden, Interior Style Advisor at Furniture And Choice. "Contrast soft accessories throughout the living room such as throw cushions or a fabric rug against abstract artwork."
2. Soften black with a contemporary grey sofa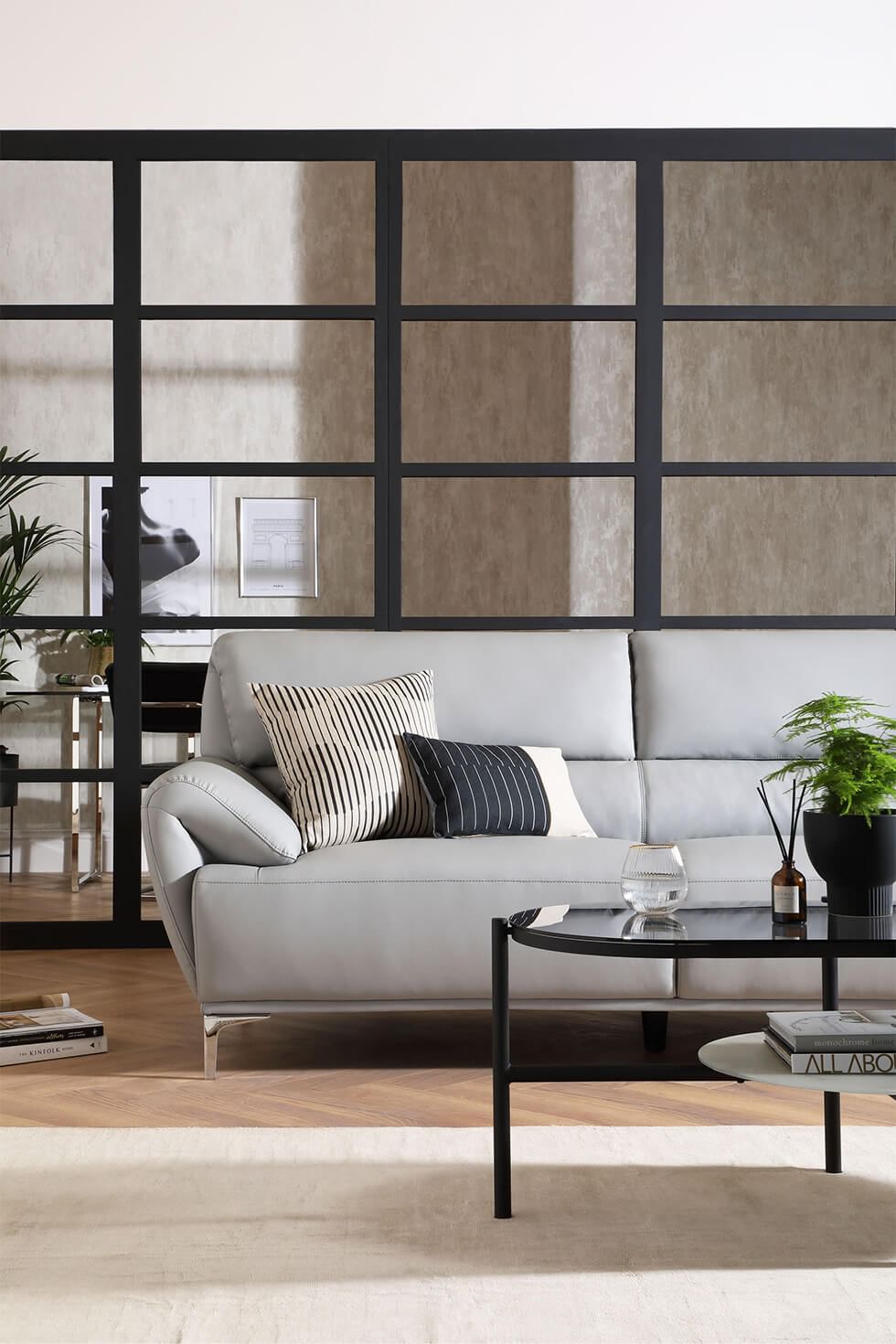 A grey sofa is also a chic, versatile choice if you want to introduce black into the living room.
"Black can often be an intimidating colour to work with so it makes sense to soften your space with a sophisticated grey sofa with a sleek profile," Rebecca says. "This will allow you to draw attention to the black elements of the room such as crittall door features or an industrial cool coffee table."
3. Layer a grey sofa with neutral tones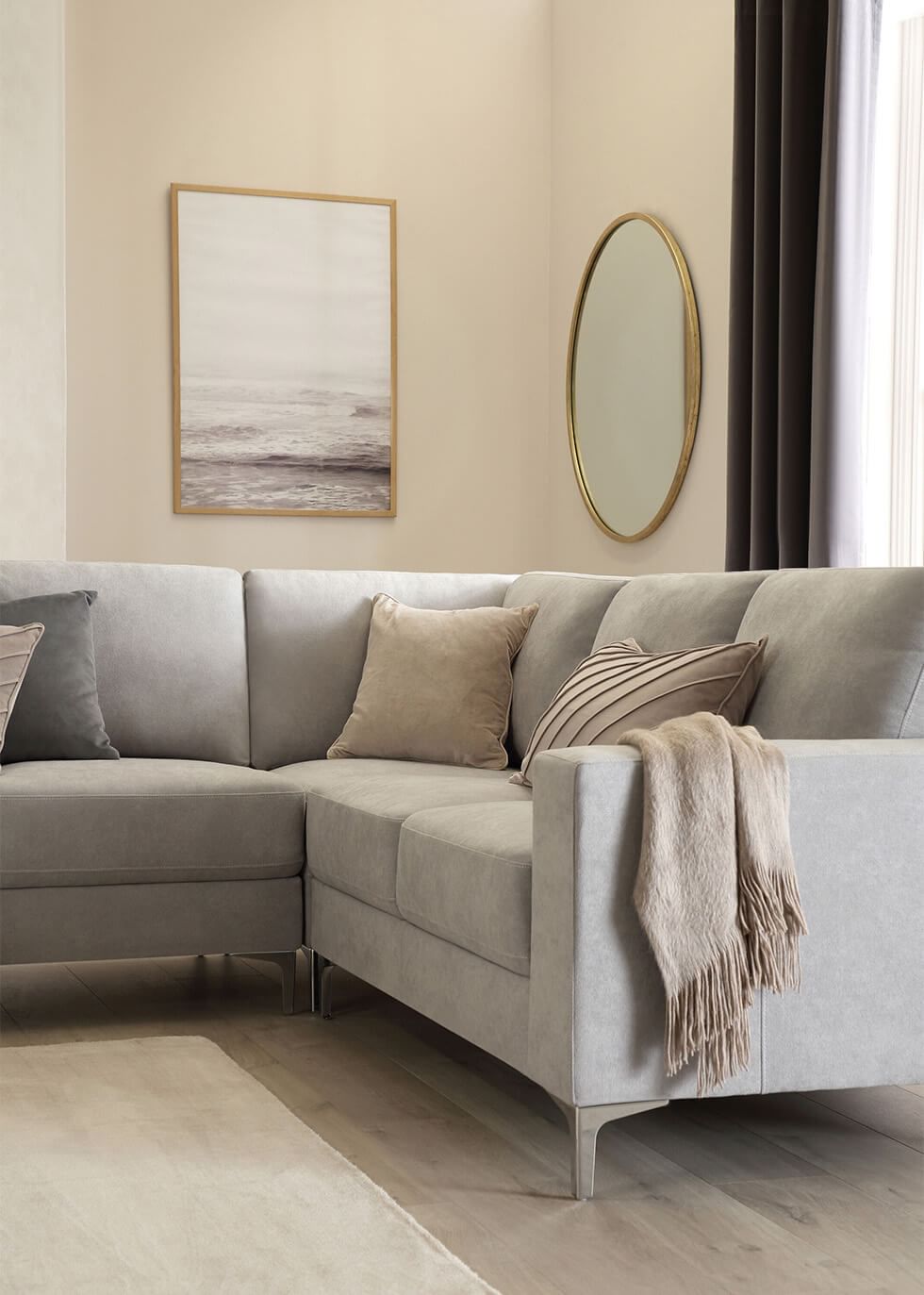 For unfussy sophistication, pair a grey sofa with neutrals such as beige, taupe or sepia.
"To ensure the room doesn't look too flat or one-dimensional, choose neutral shades and layer in different textures," Rebecca advises. "For example, a plush grey sofa with cool undertones matches well with slightly darker cushions for a cosy, layered look."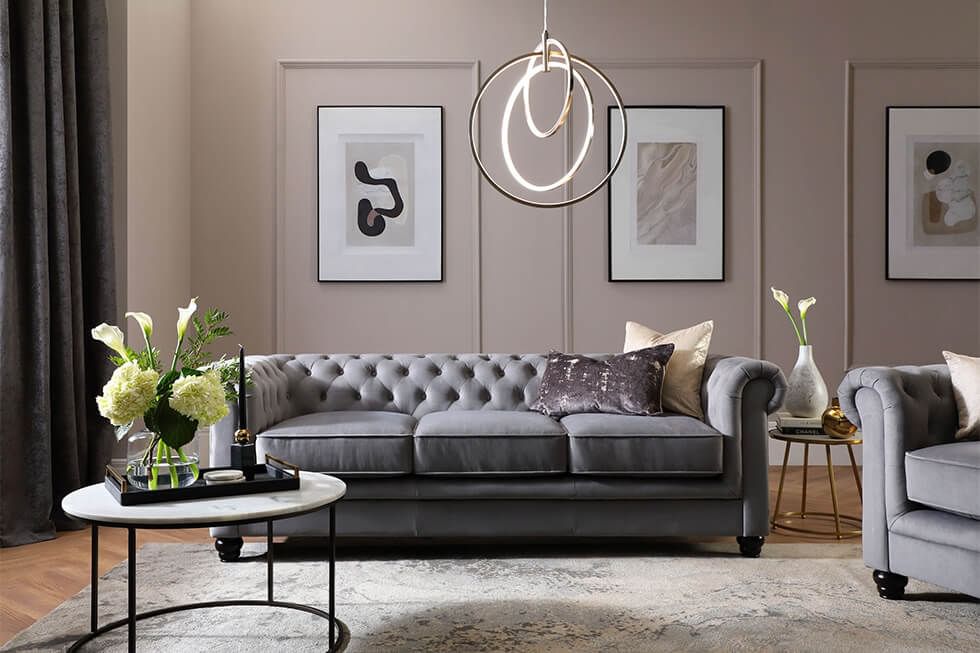 You can also bring a glamorous touch to a neutral living room colour scheme and a grey sofa. Go for a velvet Chesterfield sofa with its traditionally luxe details and dark neutral cushions to highlight the elegant space.
Complete the look with metallic finishes such as a contemporary coffee table and vase for a sophisticated feel, and top it off with fresh flowers for that little extra touch of indulgence.
4. Make a grey sofa more inviting with pink tones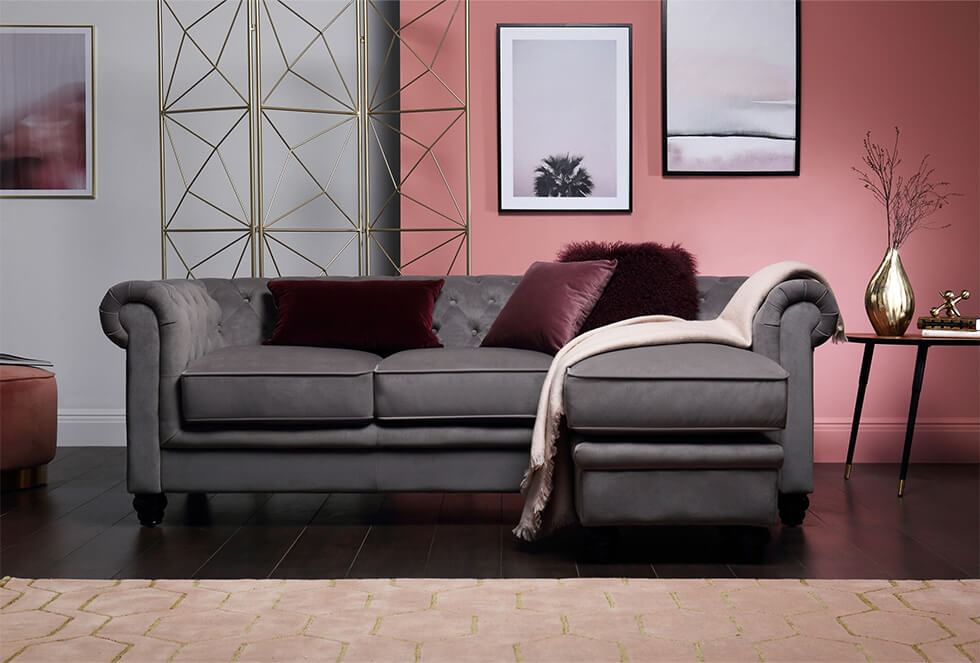 Inject a cosy vibe in the living room with a dark grey sofa and feature wall with pink tones. "Warmer colours such as dusky pink help make the room feel more inviting," Rebecca says. "It's also a good pick if you want to create a zone in your living room if it's an open plan space."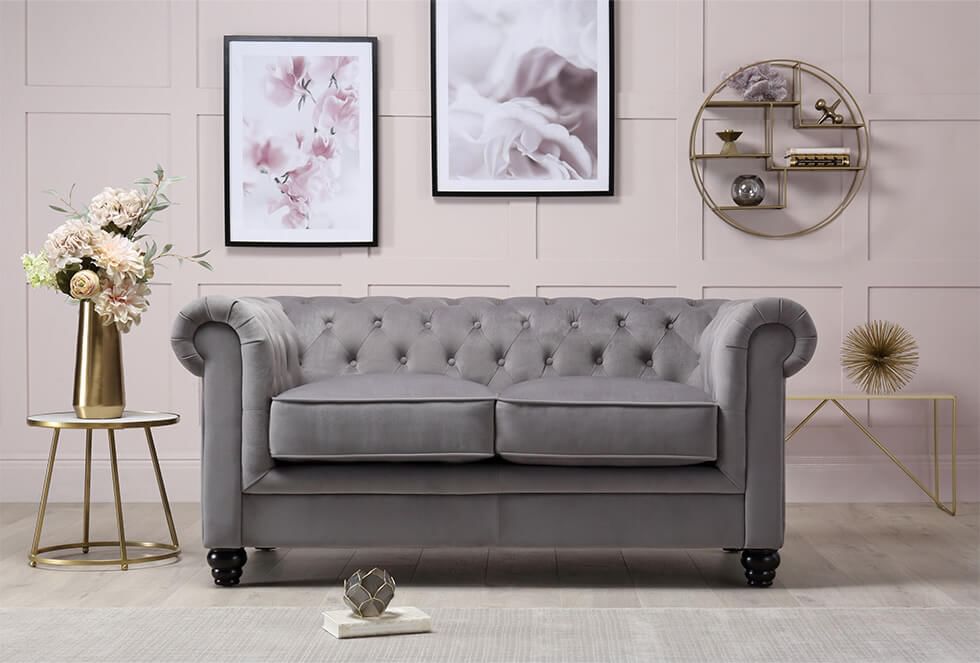 Another grey sofa styling tip would be to highlight its elegance with blush pink walls. "Warm blush pink tones and floral motifs bring a touch of femininity and create a base for luxe metallic accents such as smaller furniture or decor pieces," Rebecca says. "Round off the look with a faux fur rug for an extra bit of glamour."
5. Lighten up a grey sofa with sage green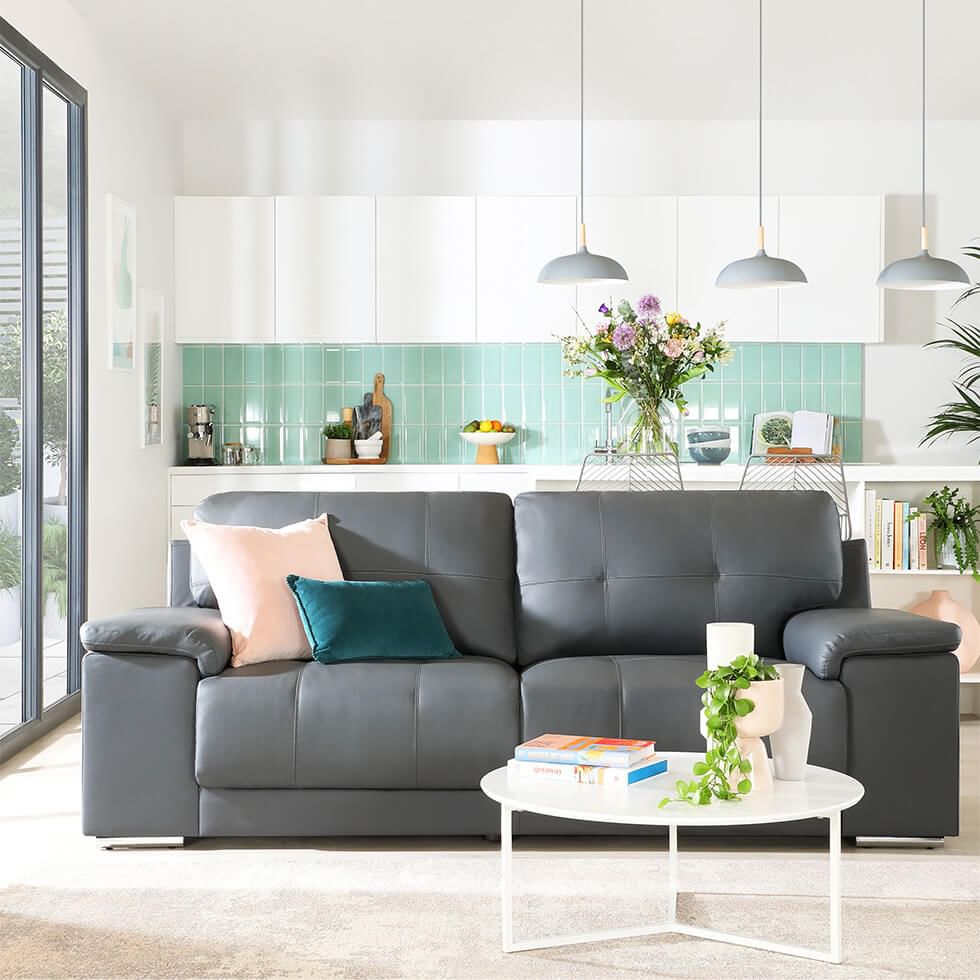 Another grey sofa living room tip would be to pair it with colours with a cool undertone for a light and spacious feel. Choose a grey sofa with a clean, modern design to complement the relaxed feel of the living room.
"Opt for light cool colours to open up your living room such as sage green," Rebecca advises. "Take advantage of any natural light streaming in as this will make your living room feel even airier."
6. Give a grey sofa a playful twist with yellow accents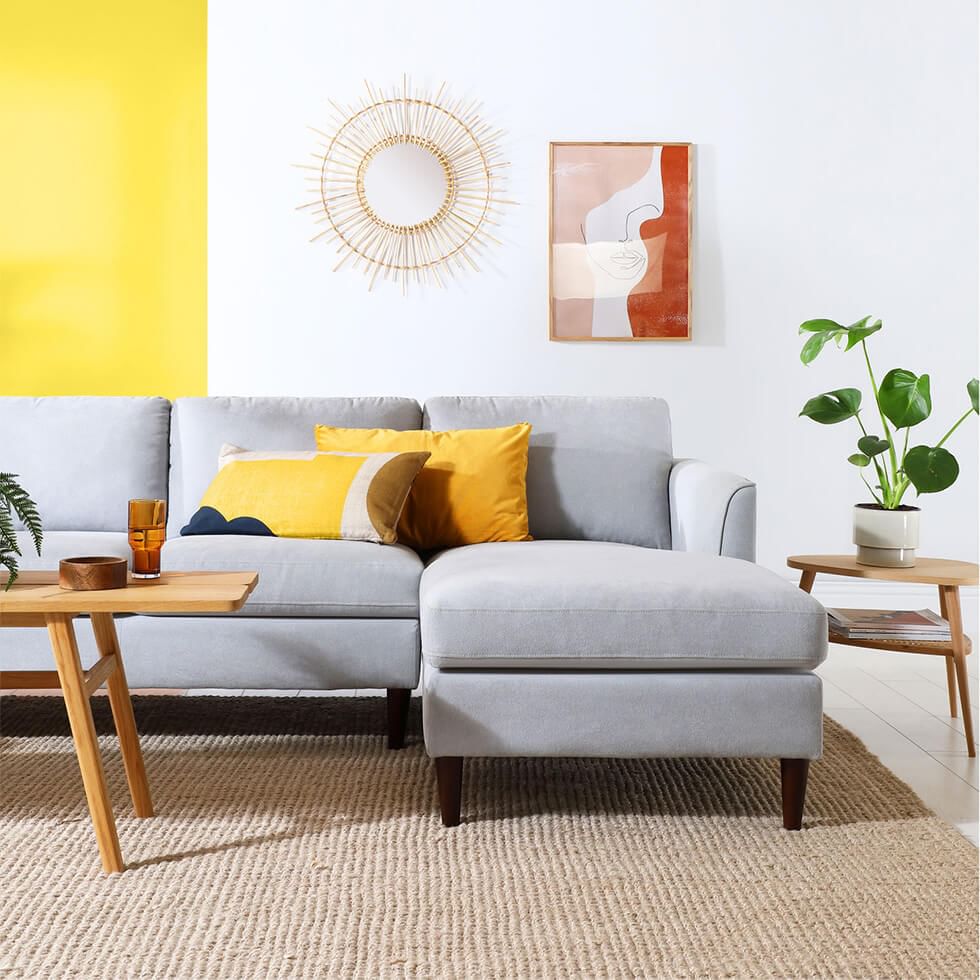 Combine soothing grey and zingy yellow together for a pop of mid-century style. "Anchor the room with a light grey sofa then introduce yellow accents through a feature wall, cushions or artwork," Rebecca advises. "The bright pops of sunshine instantly make the living room feel bigger and brighter." Complement the grey sofa with wooden or rattan side pieces or a jute rug for added texture.
7. Go dark and moody with green walls and a grey sofa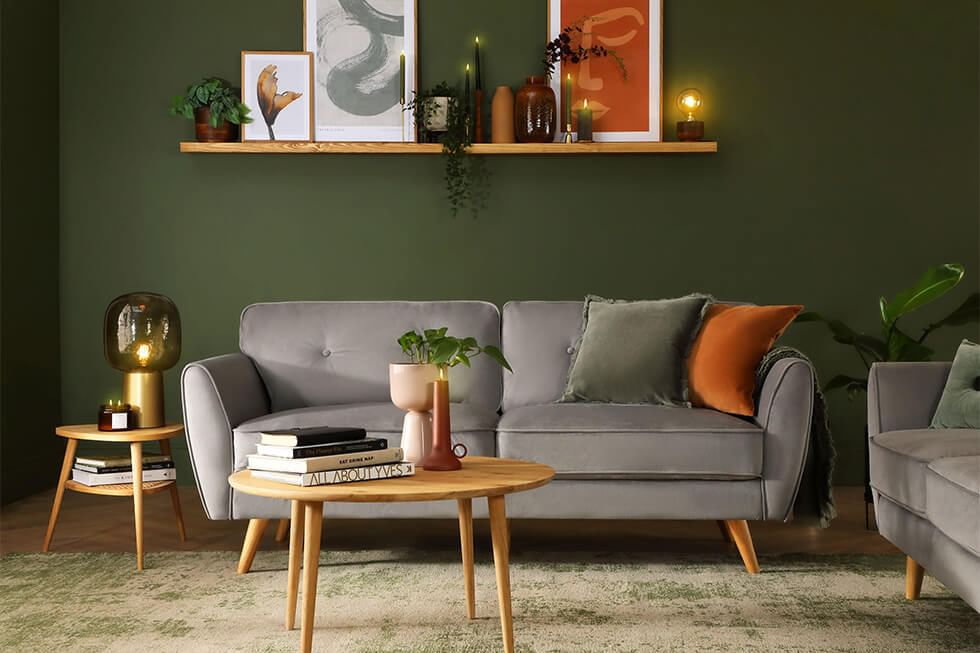 "While they might have a reputation for being just a tad gloomy, dark colours can actually add some drama and polish," Rebecca says. "They can also make your space look cosy and inviting, and in some cases, even make small rooms feel larger."
Here, a grey sofa is a perfect choice for dark green walls. And if you're worried that the space feels too dark, brighten up a grey couch and green walls with light wooden accessories and a cosy rug.
8. Contrast a grey sofa with a tropical backdrop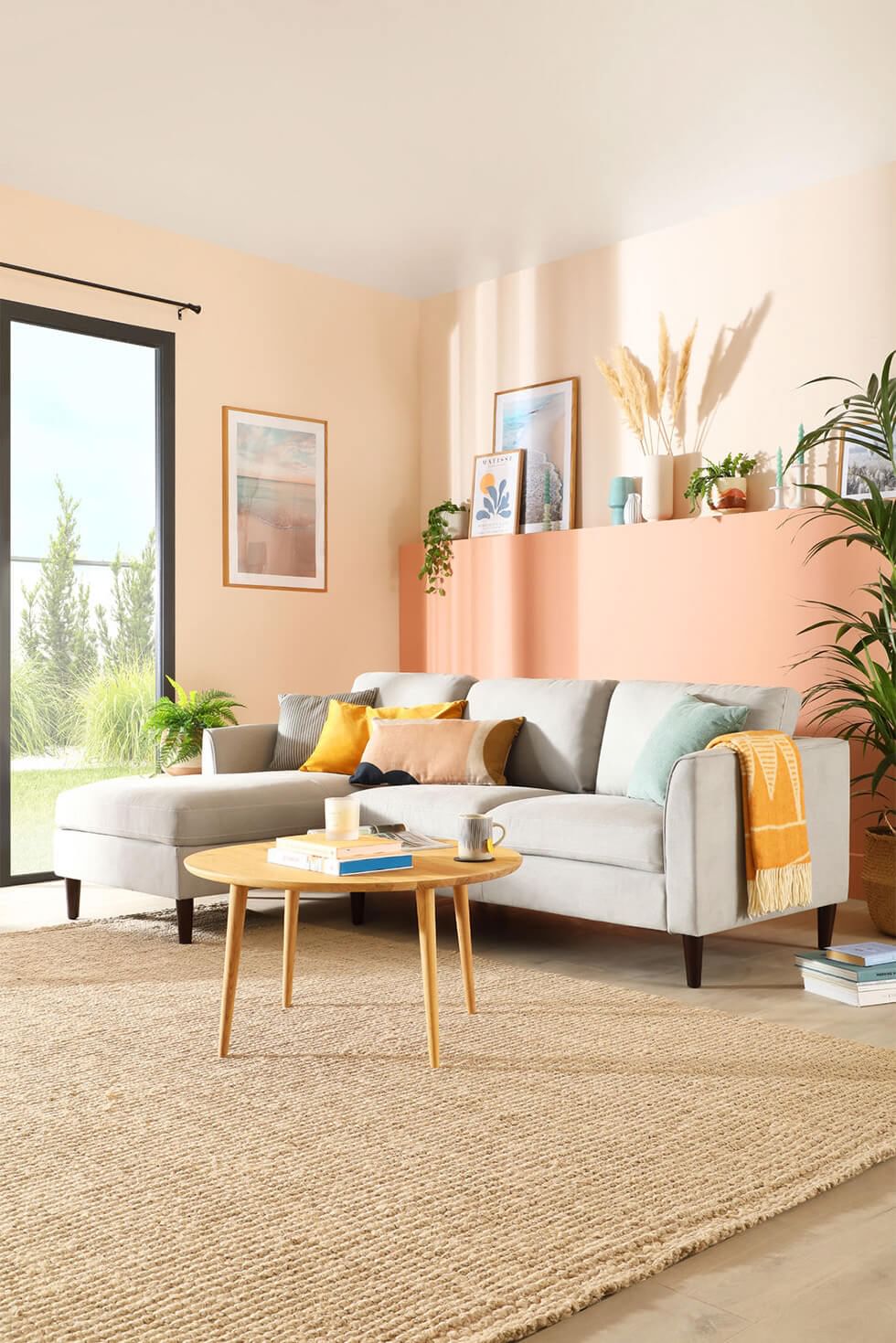 Take inspiration from dreamy Palm Springs style and create a feeling of being by the beach. "Use peach walls to bring out a laidback, tropical feel while grounding the room with a modern light grey sofa," Rebecca suggests. "Matching these colours in the living room with a grey sofa creates a relaxing contrast."
Mix light wood and jute accents with indoor plants like palm or pampas grass to complete the relaxing beach holiday feel.
9. Style a grey sofa with a colourful gallery wall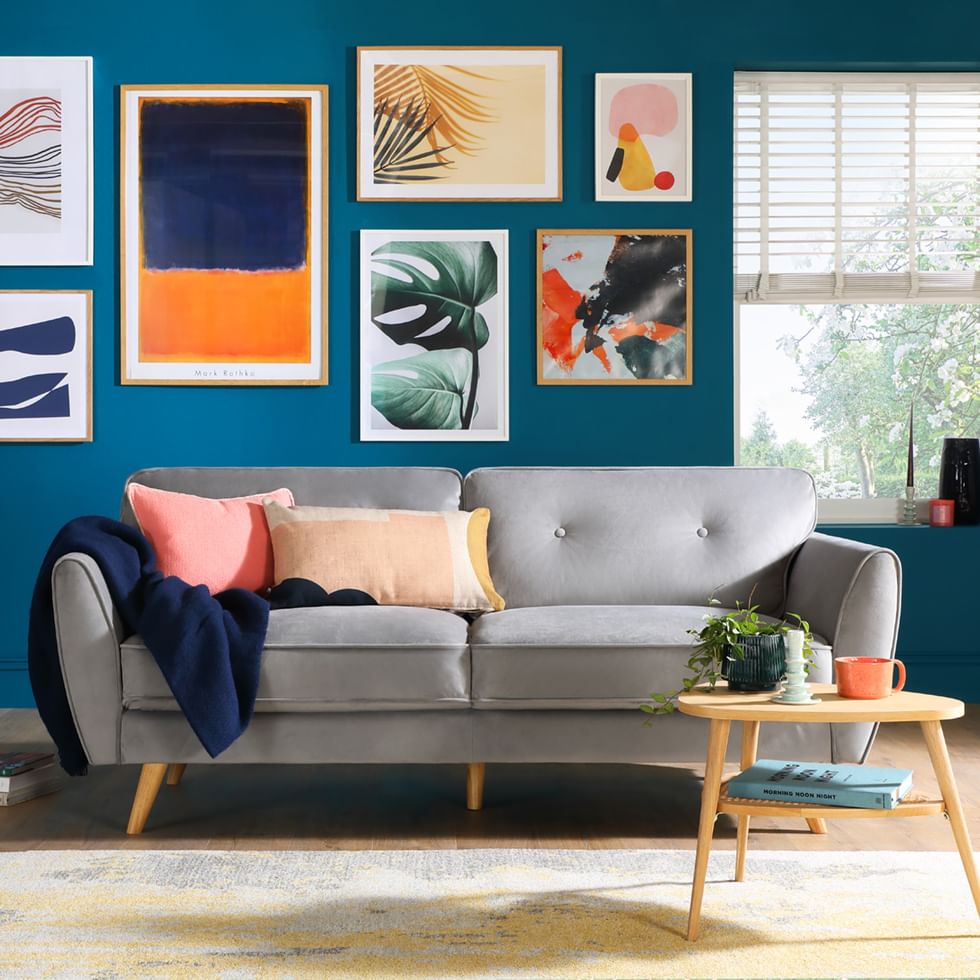 If you love colour and want to make the most of it, make full use of grey's understated quality and style a grey sofa in a bright, colourful living room.
"A grey sofa in this living room works as a neutral anchor in a busy space with lots of vibrant shades and prints giving the room a lived-in, comfortable feel. Look for a sofa that has a strong, simple silhouette so that it doesn't compete with all the other elements in the room."
Thanks to its versatility and timeless qualities, grey is a stylish pick for the dining room and bedroom too. Discover our wide range of grey dining sets and grey beds. Besides what colours go with a grey sofa, browse our living room guides on how to style a corner sofa or Chesterfield sofa styling tips.