A Greek staycation: How to bring Grecian beauty into the home
10 easy steps to create your own Greek staycation at home.
With its white sandy beaches, crystal waters and beautiful architecture, Greece is probably one of the most Instagrammable countries in the world. It's perhaps no surprise then, that when we looked into demand among UK holidaymakers this year, we found that Greece took the top spot for the country people most want to visit.
However, with so many question marks remaining over international travel, this holiday hotspot may still be unreachable for many this year.
For those planning on staying on home soil, but still want to bring that Grecian elegance and holiday feeling into the home, our interior style advisor, Rebecca Snowden, shares her go-to tips:
1. Start with a white base and blue accents
If you've been to Greece, the first thing that draws your attention is the use of white and blue accents – whitewashed houses, often coupled up with blue windows that exude a sense of serenity. Blue backsplash is also another great material to keep an eye out for.
The visual delight of this colour palette adds the traditional Greek look to any home, whether that's the colour scheme used throughout your whole kitchen décor, or simply with accessories like vases or artwork. For any tiled areas, such as kitchens and bathrooms, incorporating light blue ceramic tiles will bring a burst of colour and immediately evoke feelings of being in Greece.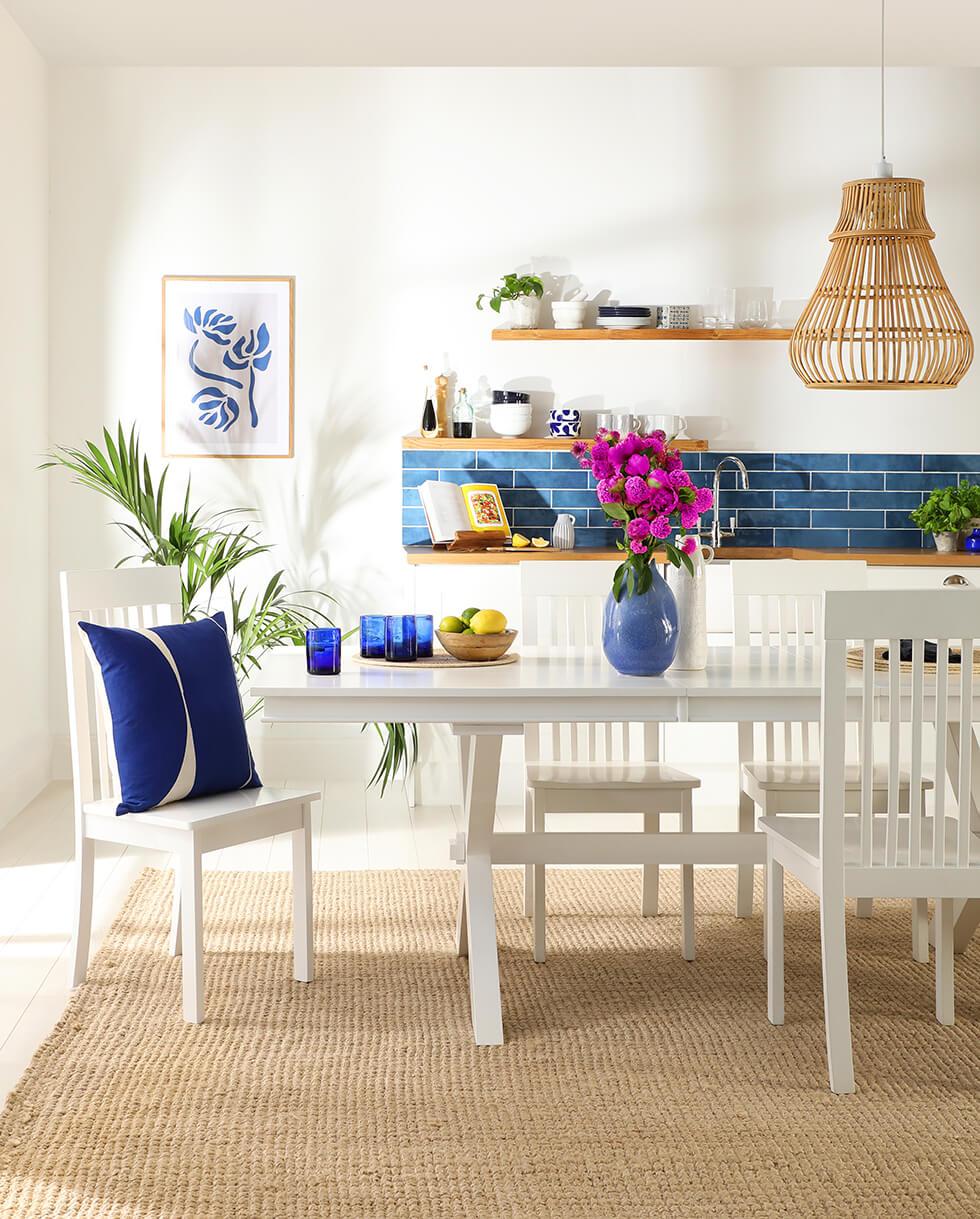 2. Let in plenty of sunlight
The minimalist approach is prevalent in various interior design trends, but embracing the less is more approach, combined with bursts of colour and plenty of natural light, will give you a room that is reminiscent of a Greek villa.
An instant way to achieve this style is by hanging white curtains, using white throughout your décor and letting plenty of sunlight into the space. The white reflects the sunlight, which creates a bright and airy space while also protecting your home from getting too warm, which was the goal of the Greeks when building their homes.
3. Add warmth with natural materials
Another must-have for a Grecian inspired space is the use of natural materials.
For instance, a rattan lampshade has a natural palette and is suitable to be paired with vivacious or modern home decor. Jute rugs will also add new life into your home. Raw and natural, eco-friendly products such as these can transform any space into a Greek haven.
In the kitchen, ceramic tableware and vases paired with tans, reds and light greens exude a sense of simplicity and freshness.
4. Add colour and freshness with plants
When you think of Greece, you may be imagining colourful flowers like bougainvilleas, which are commonly found outside Greek homes. Therefore, it's worth adding some colourful foliage to your plants wish list for a full dose of Greek garden inspiration.
What's more, fresh leafy green plants are an attractive feature that are reminiscent of a traditional Greek home. Finally, incorporating bright citrus fruits like lemons or oranges will radiate a sense of vibrancy and optimism.
5. Bring in scents that are reminiscent of a Greek holiday
Without a doubt, scents have the ability to bring back memories. Think the musky smell of oregano and basil, the feeling when you light a soy candle and essential oils, the smell of a morning Greek coffee, the tranquillity of the sea, and beauty of jasmine and honeysuckle. These aromas are the scents of Greece, a place of abundance, simplicity and tradition. Using scents that trigger memories of Greece will transform your home into a Grecian haven and go a long way towards replicating the real thing.
So, how else can we recreate that holiday feeling from the comfort of our own home? Helen Jane Campbell is a life and business coach for creatives. Here she explains some ways to switch off from day-to-day life, indulge a little and create that holiday feeling at home:
6. Switch off
"To create that holiday feeling, firstly we have to make space and time for ourselves. Book the time off, set up your 'out of office' reply and don't even be tempted to look at your emails or work until you're due back. Clean and tidy the space you want to relax in and make it as cosy as possible. If you love hotel-style fluffy dressing gowns and white sheets, why not recreate that at home?"
7. Consider your senses
"Think about your senses. Delicious tastes and aromas can put us in holiday mode, so consider room scents, food and sounds too. If I burn incense, play relaxing music and eat fresh fruit I know it helps me to relax – and this will be different for everyone, so choose scents, flavours and sounds that help you personally feel calm and happy."
8. Make time for adventure
"Holidays can mean adventure as well as relaxation. You might want to learn a new skill or practice one you love. Make it easy for yourself by getting any materials you might need ready, whether that's grabbing some fresh drawing pens, dusting off your guitar or retrieving the pasta-maker from the back of the cupboard."
9. Incorporate your favourite parts of a holiday
"Reading, napping, lie-ins... incorporate your favourite parts of a holiday into your staycation. Give yourself permission to relax and stock up on books you can get lost in. "Writing a journal of future plans can be fun too if that doesn't stress you out. I love to journal in cafés on holiday and at home in my local area.
"Pampering is a key part of holidays for a lot of us: consider booking a treatment at a local salon or a relaxing class such as meditation or yoga, if you enjoy those activities."
10. Become a tourist again
"Finally, explore locally as if you were a tourist. Looking at your locality through fresh eyes can be fun and rewarding, and you never know what you might discover – an art gallery, a microbrewery perhaps. And if you can allow yourself to totally commit to slowing down, you'll be ready to return to your busy life refreshed and inspired afterwards.
Helen adds: "Taking time and space to wind down and recharge your batteries looks different for everyone. Explore different ways of winding down and then create the staycation that nourishes you personally as well as your loved ones. Don't be afraid to take some time alone too if that's what works for you and is a possibility. Wellbeing isn't about what you can post on social media, it doesn't need to be expensive either, the key is to commit to prioritising yourself and switching off fully, without unwanted interruptions."
To shop our Grecian inspired look, visit our site.
Shop The Look