How to style modern sofas in 5 elegant ways
Modern sofas are luxurious yet simple, and the colour you choose can make a big difference - learn more about 5 different ways to style modern sofas.
Sofas are a big, important investment for the home. And it's crucial that they not only look good when you buy them, but that they stay fresh through different seasons and looks.
Which is why modern sofas, designed for quiet luxury, are a clever option. Built on simple shapes, smart details and sharp tailoring, they easily transition through the years, staying elegant throughout.
That said, colour can make all the difference! Here, we have 5 different ways to style modern sofas, all depending on which shade you prefer.
1. Enjoy the versatility of white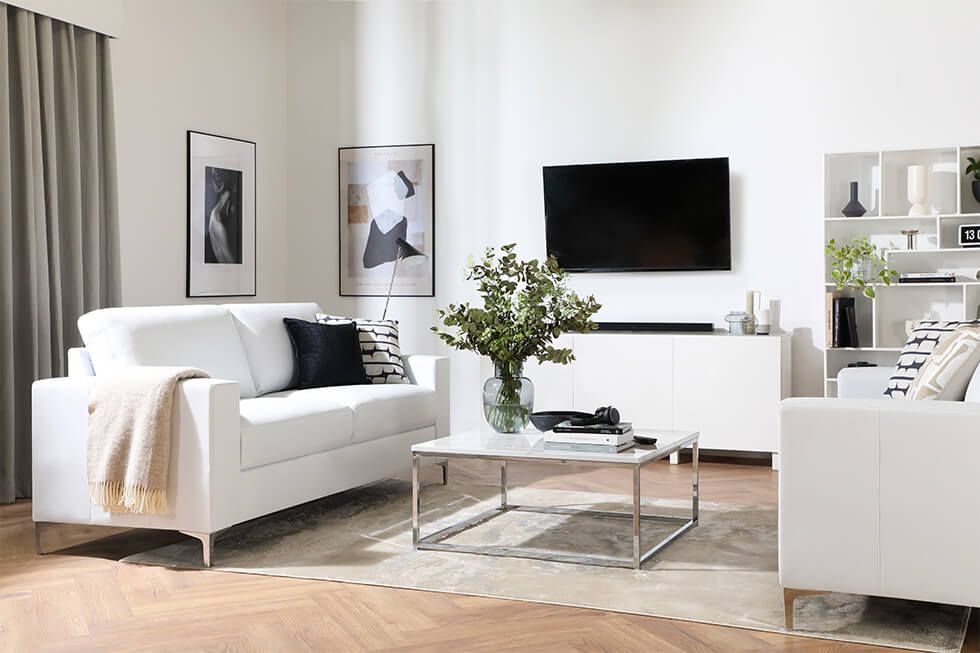 For a sharp look - white sofas have an immediate wow factor. They're a strong centrepiece for a living room with a distinct look and feel.
Against dark walls, they stand out and offer contrast and drama. Especially when paired with pops of decor in white or primary colours! You can also add dashes of metallic accents for more charm. And in lighter rooms, they work really well as an anchor for a sophisticated, tonal approach.
Their versatility goes beyond that too. In smaller rooms, white sofas can create a sense of space and light. And in larger living areas, they can also accentuate an expansive, airy feel.
2. Embrace simplicity with light grey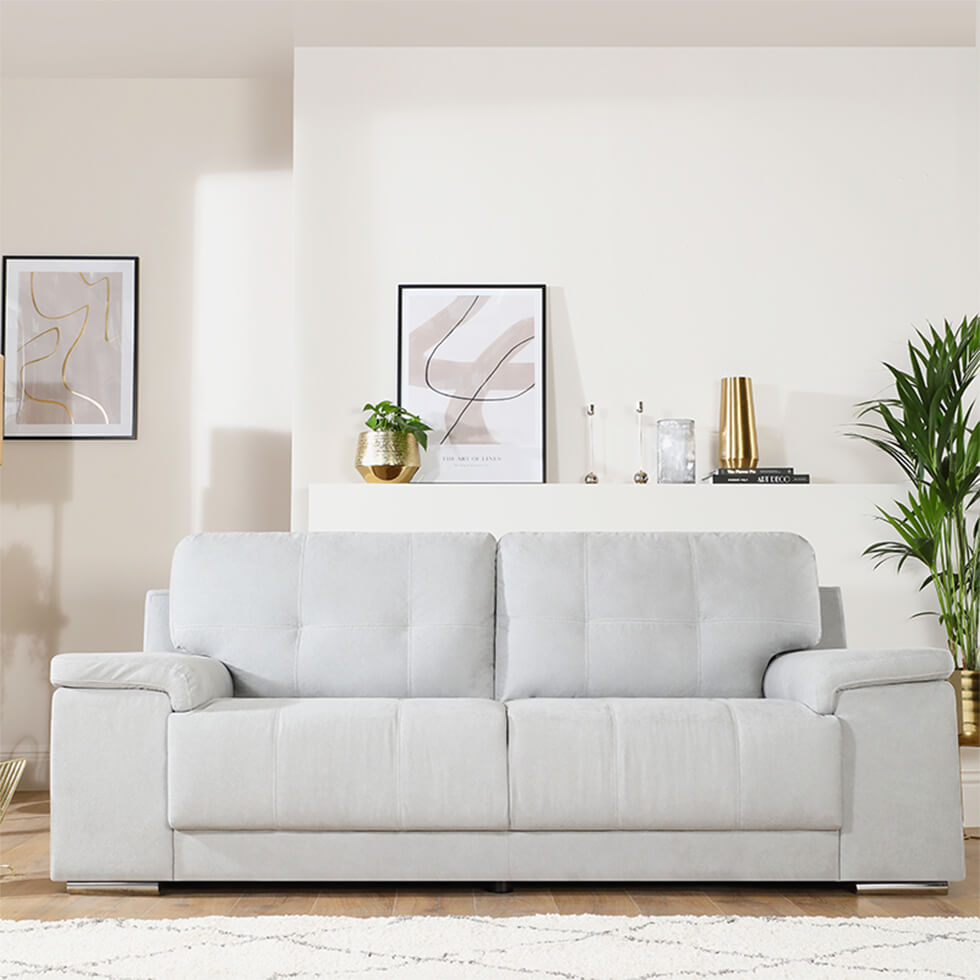 For a softer look, light grey sofas are a chic, neutral base to build on. Without being as stark as white, this shade gives the same clean effect. Opt for textured fabrics such as velvet and linen to create a cosy feel that also has a modern twist. And look for clever details such as tufted cushions and modern metal legs for added style.
Complement the sleek build of these sofas with soft touches such as fuzzy throw pillows and woven rugs, and add some shine and dimension with brass decor.
3. Get cosy with dark grey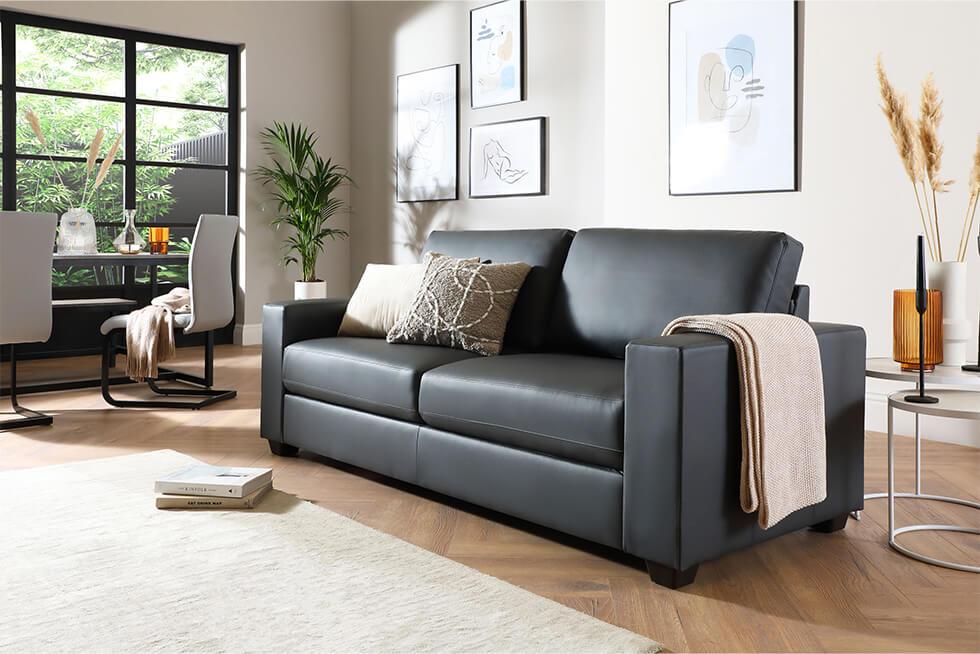 Dark grey sofas have the same neutral feel as their lighter counterparts, but give more weight and contrast to the room. They have a sense of gravitas without being staid.
All of which makes a dark grey sofa a smart, versatile choice that will stay timeless, even as trends shift . This shade also has a relaxing, soothing quality. So play that up with natural accents, such as fresh greenery and ceramic vases, for a serene, comfortable living space.
4. Opt for easy elegance with black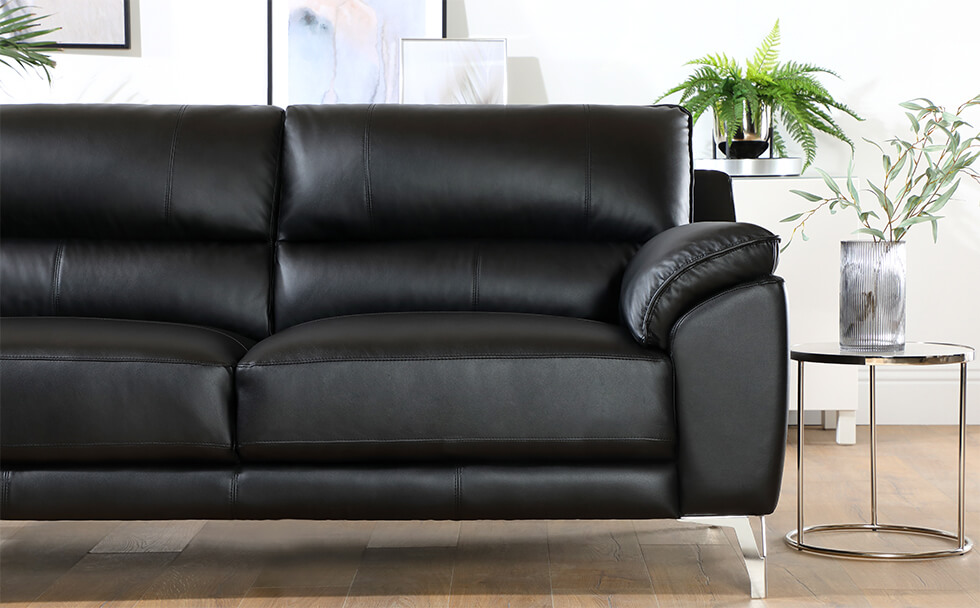 Of course, nothing says modern style and drama quite like black. It's an all-time favourite, and for good reason. A sleek black leather sofa gives immediate oomph and polish to the living room, and pairing it with a chrome coffee or side table creates an ultra-modern feel.
Complete the room with curated framed art and photographs for an elegant, effortlessly cool look.
5. Go bold with red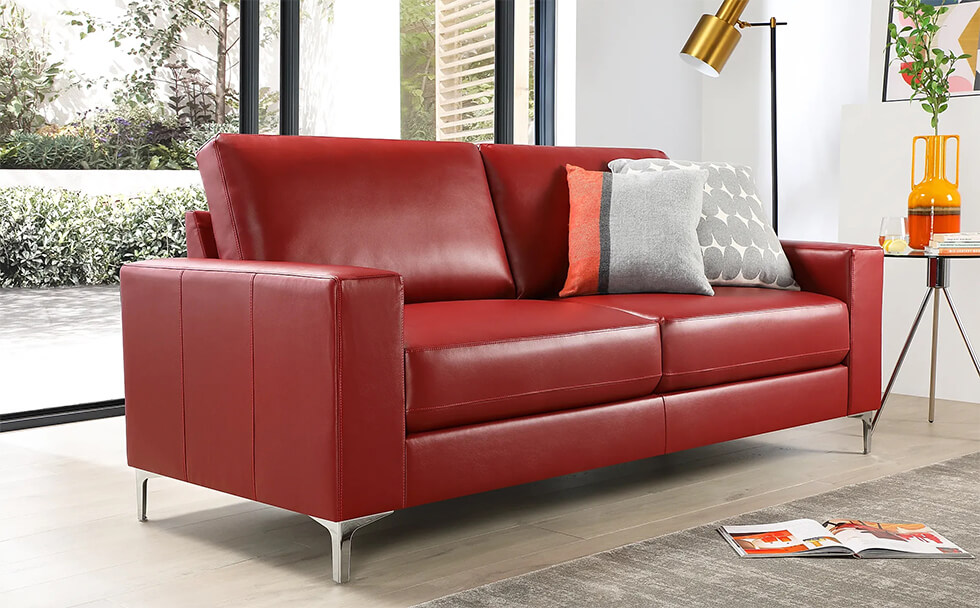 If you love colour, a bold red sofa is a great choice. It's a statement-maker that immediately adds warmth and personality to the living room. With a shade this rich, it's important that it doesn't overwhelm your space. So look for a sofa that has a strong, simple silhouette and a modern feel to ensure it doesn't feel fussy.
Include accents of red and warm tones in your decor to create a theme. Think small vases, even gold lamps! And keep everything else neutral - here, grey is a wonderful counterpoint. When used in cushions, on the rug and even on the walls, this shade can create gentle balance and contrast.
Inspired to look for a new sofa? Check out our wide range of sofas to find one that suits your style.