8 smart ways to get more kitchen storage
Need more kitchen space? Check out these genius tips to organise and store like a pro!
Cooking a meal is like creating a work of art, and the space where the magic happens is really important. Even if a kitchen is not large enough to your liking, little tricks here and there can help transform it into a comfortable, functional space. From using magnetic strips to hacking office supplies, check out these 8 smart ways to get more kitchen storage.
1. Get a good gauge of your space needs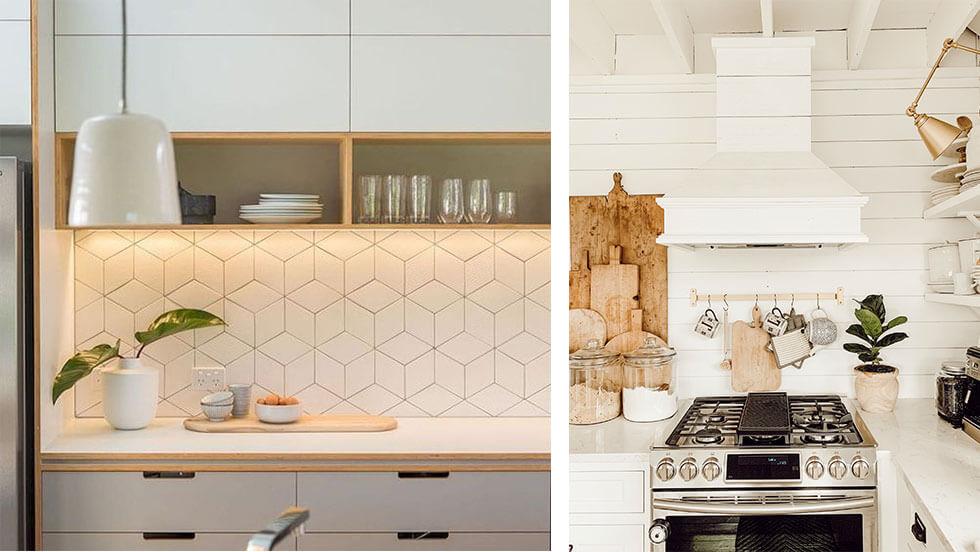 Working in a small space is no fun, especially when there are just too many things all over the countertop. Give your kitchen a good declutter to help gauge the amount of storage space you really need. Items can be grouped by category, like having all baking tools and supplies in one place, to give you a better idea. This is also an opportune moment to go ahead and give your kitchen a deep clean.
2. Use floating shelves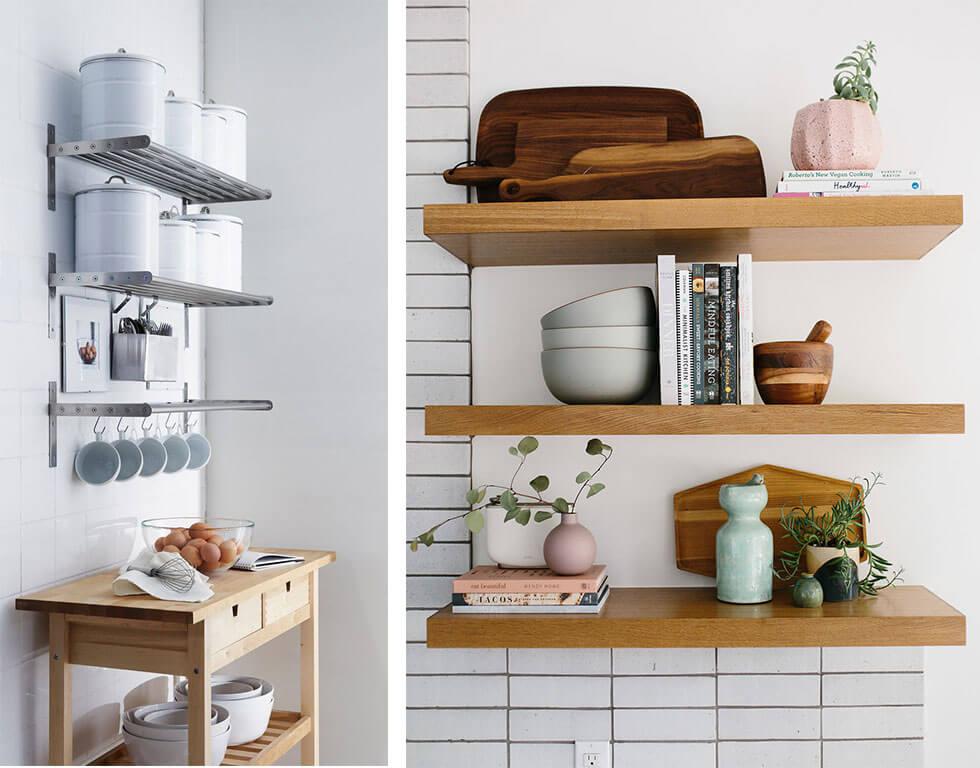 Floating shelves provide additional storage without making the space feel cramped or stuffy. Its open concept makes it easy to see all you have at a glance, so go ahead and display prettier items or cookbooks. Any available wall space can be a base for a floating shelf, even right above the sink. Just remember to install them properly and not exceed their maximum weight capacity!
3. Mount wall hooks on cabinet doors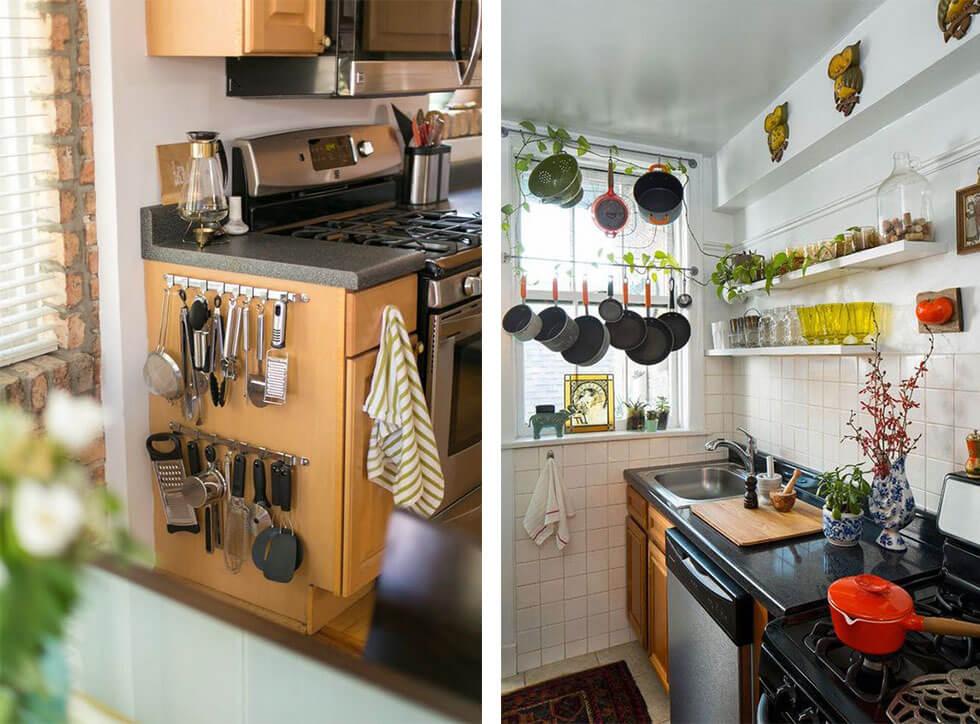 Hooks are so versatile, they might just become your new kitchen sidekick. Look for places that can accommodate wall hooks, like the inside of cabinet doors or a sunny window. Individual utensils with keyholes can also hang freely from dedicated hooks, as can pots and pans that don't fit into cabinets.
4. Use a storage trolley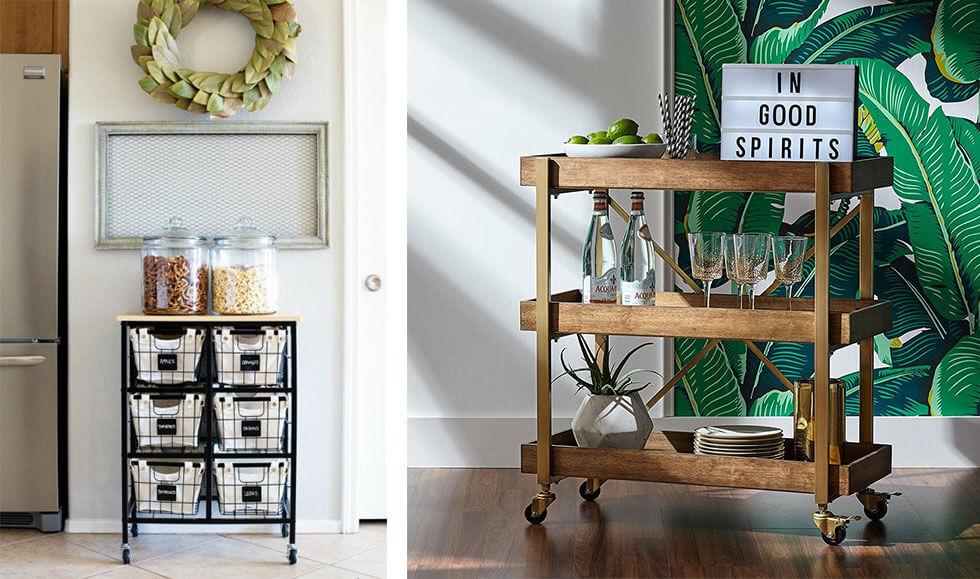 A storage trolley can help to temporarily wheel things out of the way for additional working space in the kitchen. If you love entertaining, it could also function as a bar cart, tea trolley or mobile table for snacks. Spruce it up with some metallic spray paint and little decorative touches to get a fabulous, practical kitchen storage on wheels.
5. Downsize appliances to suit your needs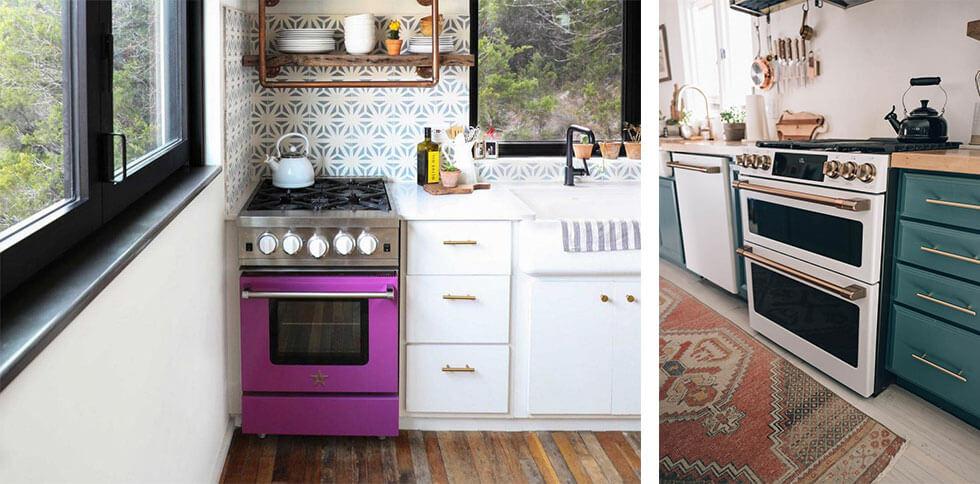 Slim-line refrigerators, lower load washers, and compact ovens were made for small kitchens. Consider what's a priority based on your routine. For instance, if you love baking, it might be best to keep your full-sized oven and see if other appliances like a dishwasher can be downsized.
This is a good time to really look at how you use the kitchen. Is it solely for food preparation, or does it function as an eating space too? Go ahead and rearrange if necessary, so everything makes more sense to you.
6. Make use of magnets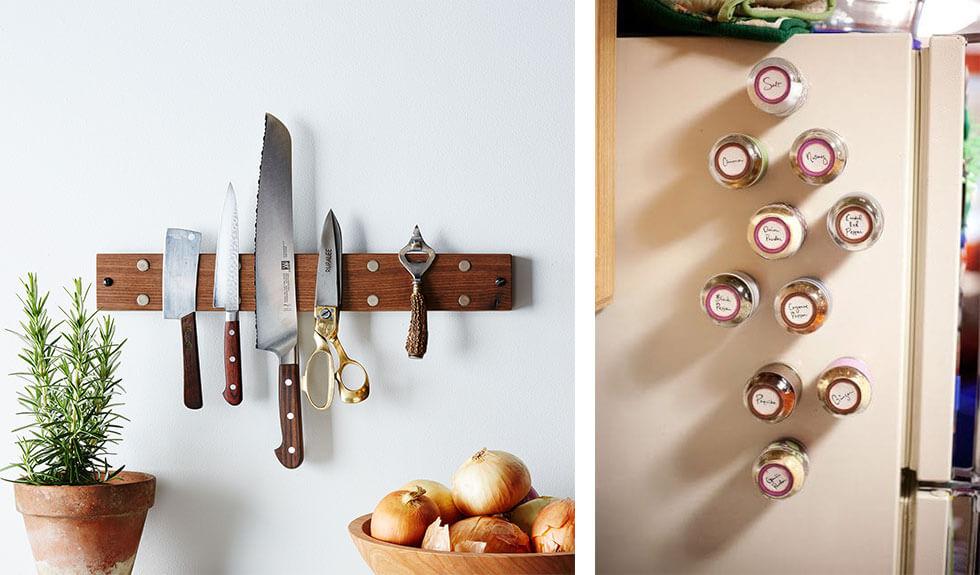 Who knew that little magnets could save a kitchen so much space? A handsome wooden block with a built-in magnetic strip is a stunning way to store knives and metal tools neatly. Another hack is to get magnetic spice jars (easy to DIY, too)! Super cute and easily accessible, you'll wonder why you never thought of this before. Scoot over, vacation magnets!
7. Create working surfaces where there are none

Expand countertop space by converting a top drawer to a pull out work surface. Alternatively, check out stove covers that can be used as a preparation area before you begin cooking. If you enjoy getting crafty with wood, here's a nifty DIY stove cover idea to check out.
8. Hack office supplies for pro-level kitchen organisation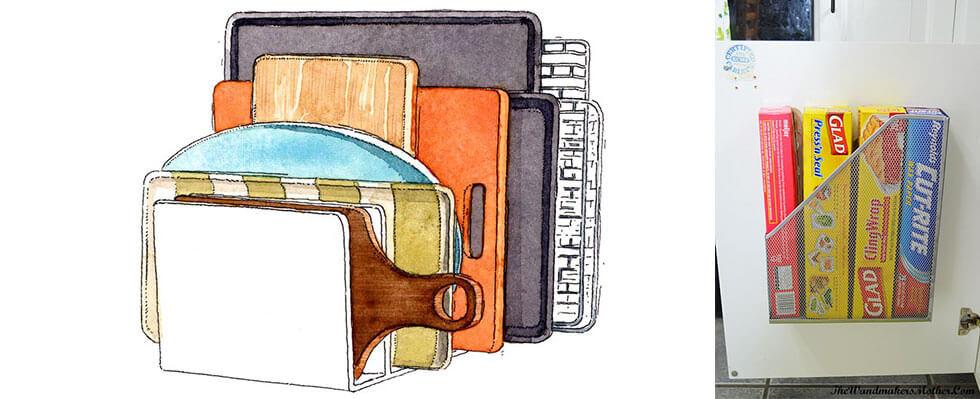 Use file organisers for pot covers, chopping boards, and baking trays so they stand upright neatly and are easy to grab. If you have a deep drawer, the same can be done for plates. Magazine holders are also great to attached onto cupboard doors for organising things like foil rolls and baking paper.