8 chic ways to decorate with yellow
From bright pops of citrus to deep, earthy mustard, discover 8 different ways to decorate with yellow at home.
Inject some cheer into the home with yellow - a zesty, energising colour that easily brightens up any space. This happy and versatile shade can easily be incorporated into most interior styles, bringing optimism and fresh appeal to its surroundings.
Whether it's a bright, sunny yellow or a deep, earthy mustard, slipping this warm colour into the home will surely add a zing to your interiors. Read on for our 8 favourite ways to decorate with yellow at home.
1. Make a statement in the living room with a yellow and grey feature wall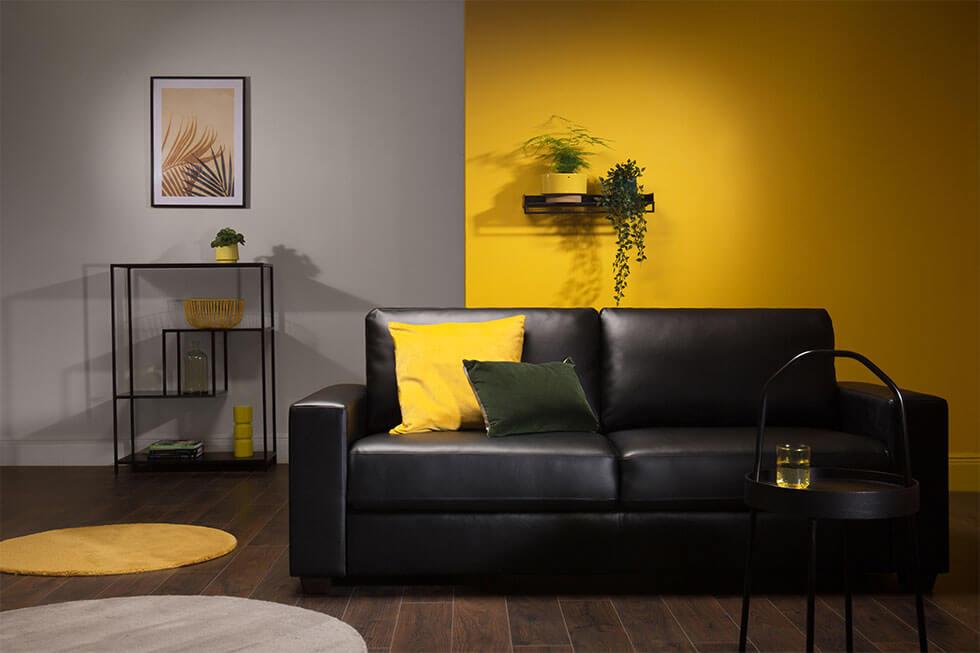 Create a bold visual statement in the living room with colour blocked yellow and grey walls. Yellow provides a sunny burst to the room while grey's warm, neutral tone adds a calming, sophisticated presence to the space, giving it a healthy dose of colour especially in colder months.
This is a daring look to recreate, so it's best to keep the rest of the décor minimal with a focus on clean lines and simple design - strong modern pieces like a contemporary black leather sofa and sleek metal shelves will fit right in. Colour block in small doses with yellow plant pots, vases, rugs and cushions to further highlight the yellow theme.

2. Boost your creativity with bright pops of yellow in the home office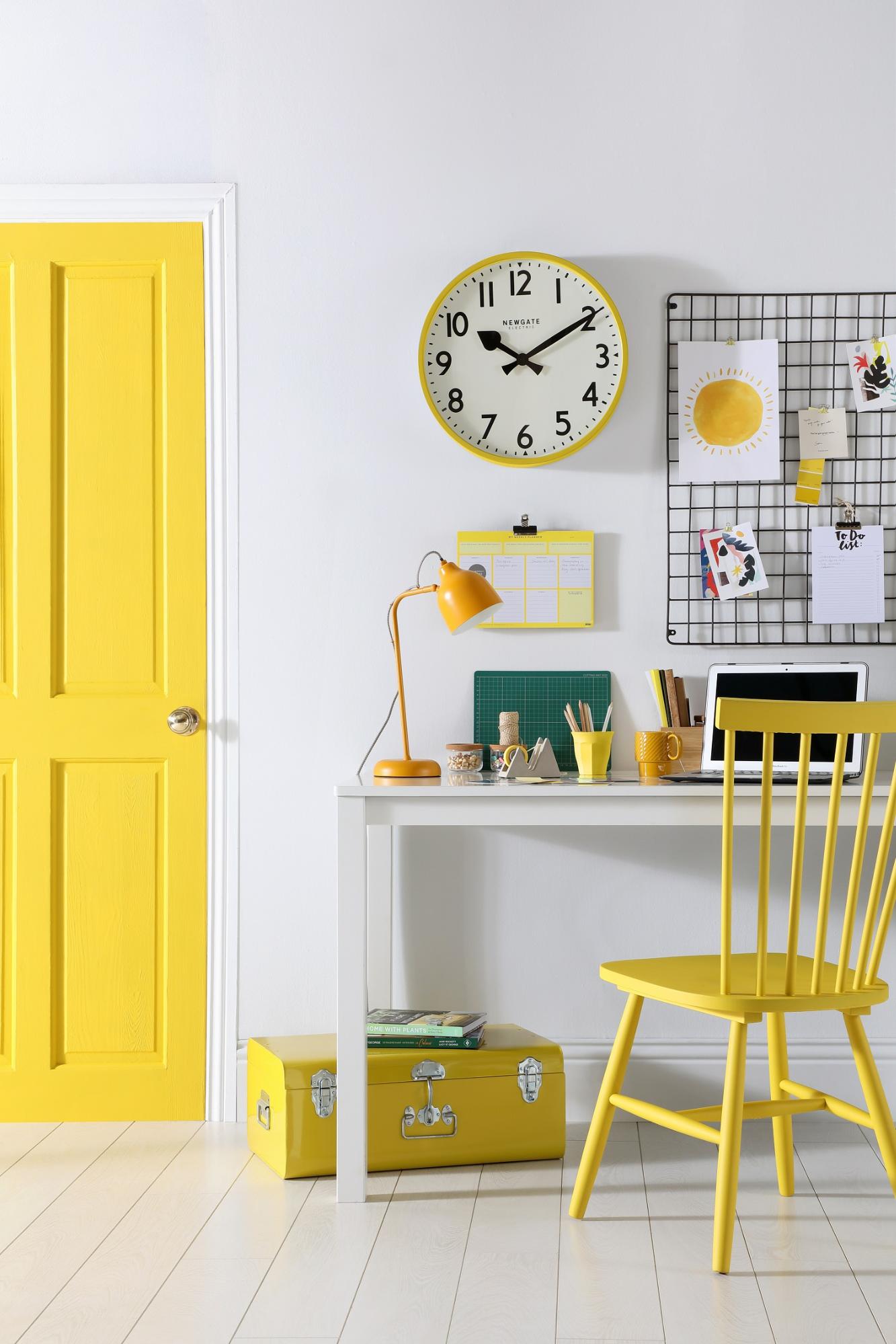 For a more subtle approach that doesn't entail painting the walls, look at incorporating pops of yellow in other parts of the home. As a colour that inspires creativity, what better way to get your creative juices flowing other than with this happy hue in your home office?
A wooden chair in a zesty yellow hue such as canary or citrus can instantly make your study feel more energised and dynamic. As a look that doesn't require a major overhaul to the room, add in other yellow accessories like a vase or artwork to tie the whole room together.
3. Paint a trendy yellow arch in your kitchen-diner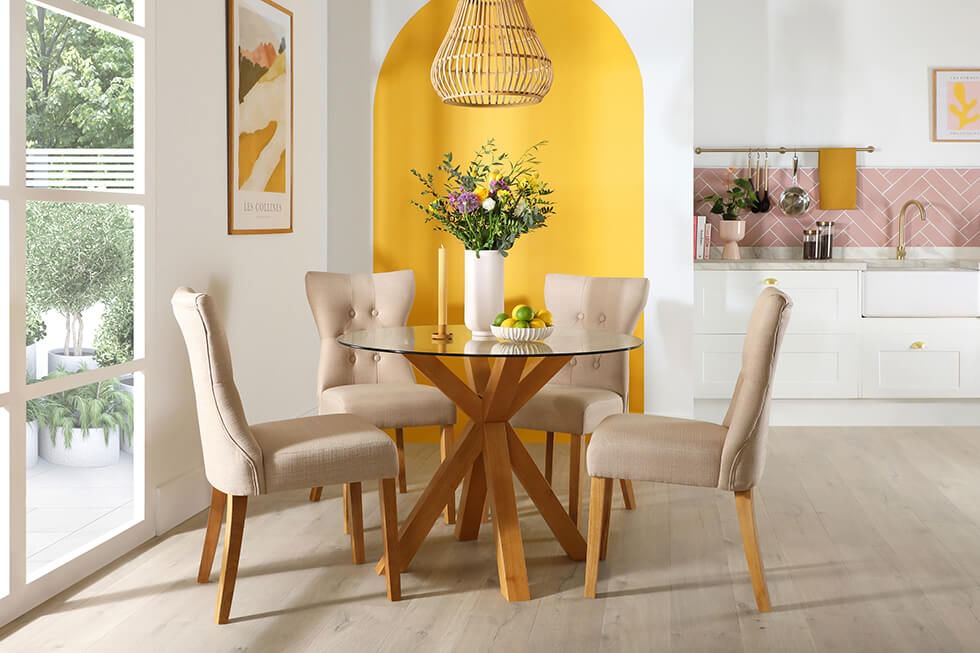 As a robust colour that instantly commands attention, yellow is a fantastic colour choice for a feature wall in your dining room. Introduce a painted arch to a blank wall to beautifully frame your dining set. Keep the overall palette light and neutral, with an oak dining table and elegant fabric chairs for warmth. Add a touch of contrast with coloured tiles in the kitchen - here, we used Chatham Rose Brick Tiles by Walls and Floors for sweet, summery vibes. Complete the look with natural elements like a rattan pendant light and flowers for a fresh, cosy feel. For more ideas, read our tips on how to style a painted arch.

4. Colour block with yellow in the kitchen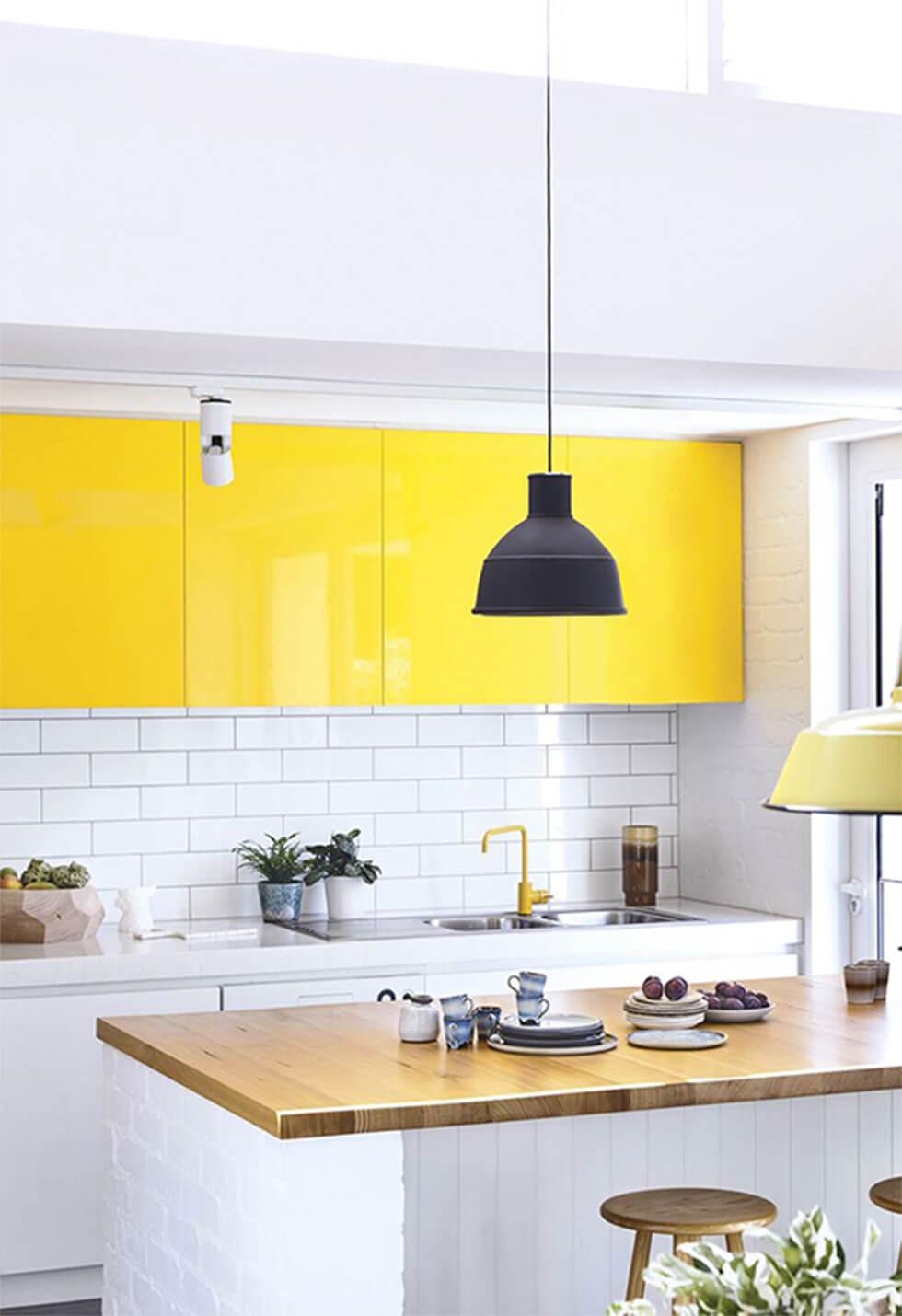 Yellow is the colour of communication so why not slip it into a place where people naturally gravitate towards, such as the kitchen?
Colour blocking your cabinets in a vibrant sunny yellow instantly perks up the space with a chic, modern touch. This colour is all about having fun, so take it one step further with a pastel yellow pendant lamp and a yellow painted tap. Balance it out with neutral elements like wooden countertops, white tiling and oak benches.
5. Slip it in as an accent colour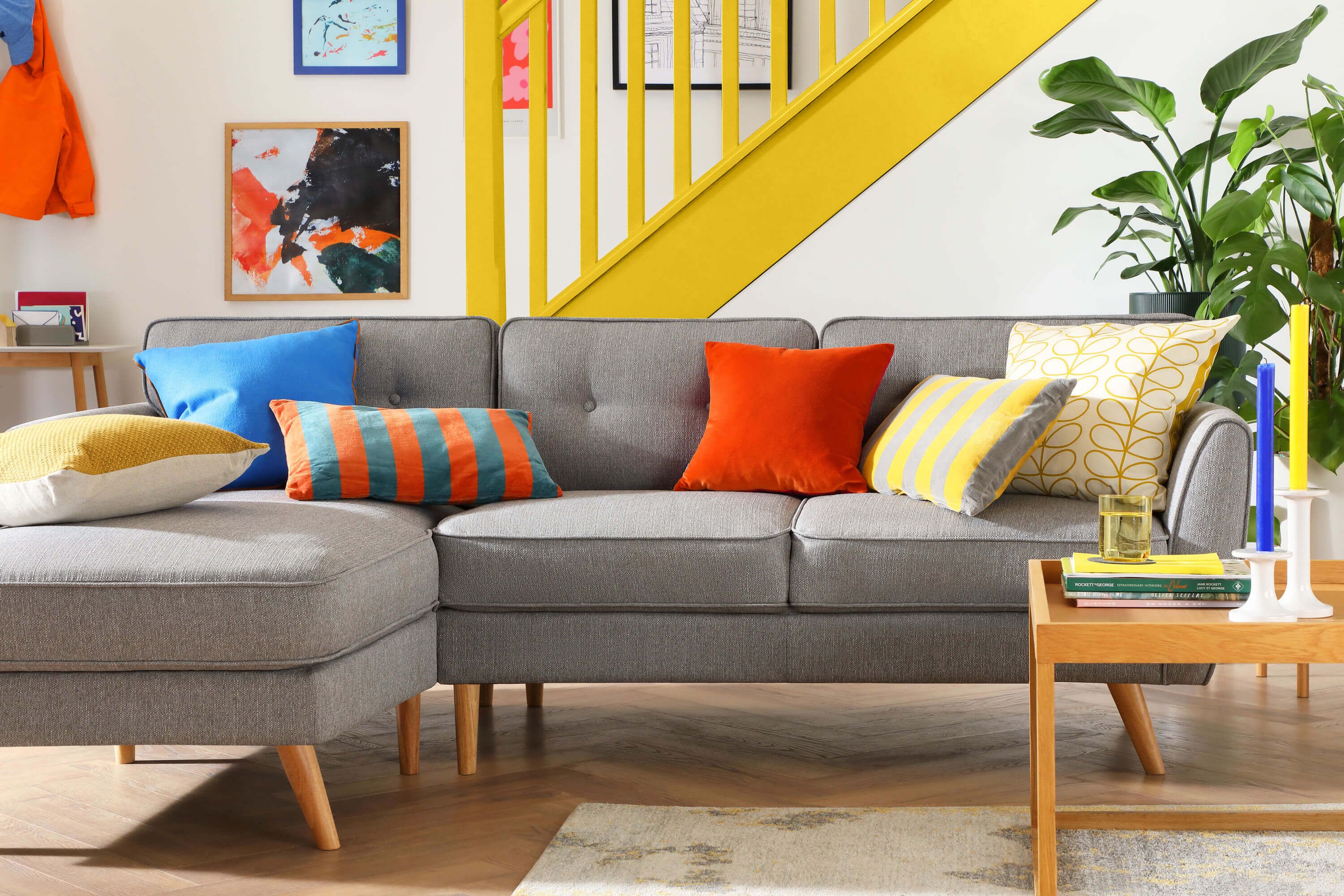 If bright yellow is a colour that sings to you, there's no reason why you can't use it throughout your home as an accent colour.
Here, a sunny yellow staircase adds a burst of vibrance to a neutral living room, complemented with smaller yellow accessories like cushions and candles. A chic grey sofa and oak accents help to balance out the look.

6. Mix in turmeric with neutrals in the bedroom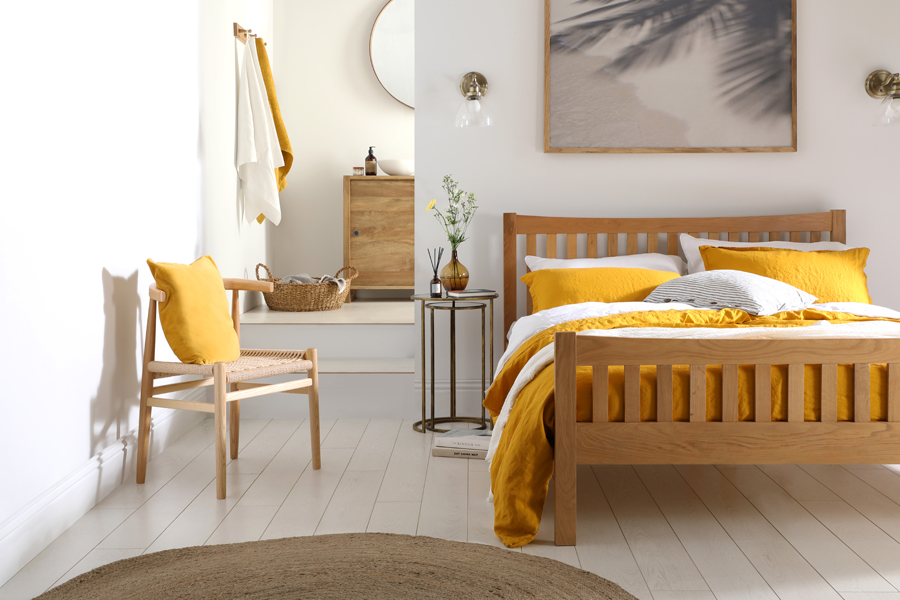 On the other hand, yellow can sometimes be too overpowering and lively for a place of rest. That may be true for bright yellow walls, but using deep and moody shades like mustard and turmeric in the right amount can work beautifully to set the scene for relaxing.
A soft velvet headboard in a deep turmeric shade adds warmth to liven up a neutral bedroom, yet keeps the space feeling idyllic and soothing. Accent with patterned ochre cushions and keep the rest of the room neutral (think creamy whites and matte blacks) for a modern, sophisticated look.
7. Say it with yellow artwork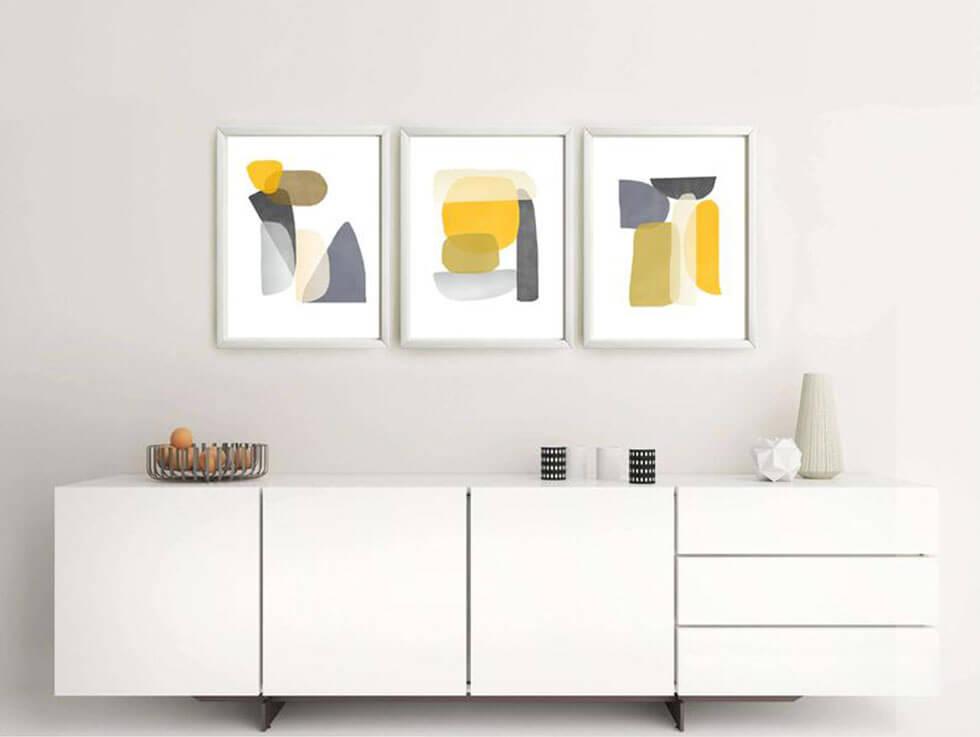 Another creative way to infuse colour into the home is through artwork. A neutral coloured living room is instantly elevated with these eye-catching yellow prints, creating a more lively and energetic space.
When it comes to selecting artwork, the trick is to opt for a versatile print so that if you're thinking of redecorating in the future, you could easily hang it elsewhere, like in your bedroom or home office.
8. Match yellow decor with metallic lighting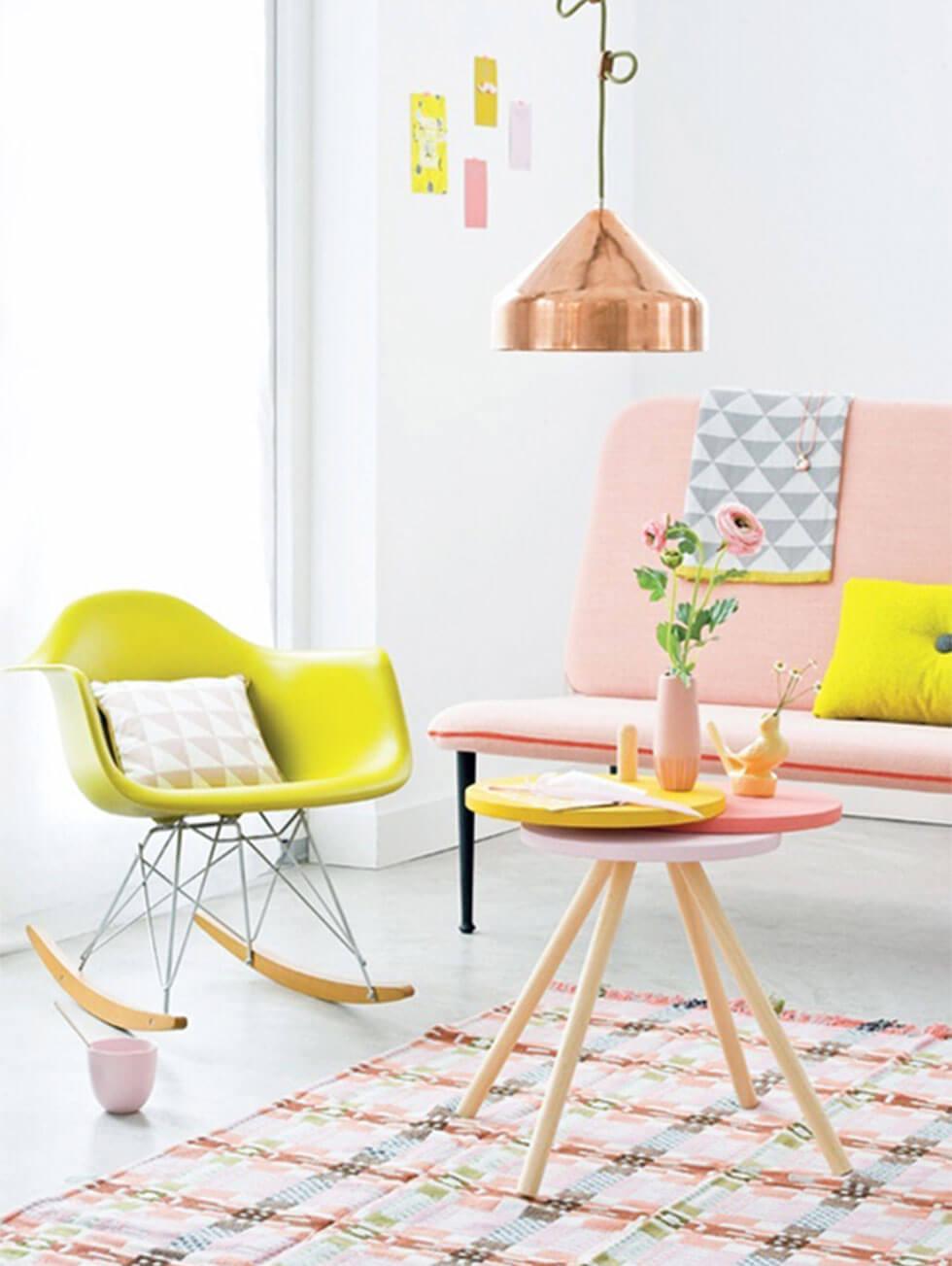 For a punchy, lighthearted statement, pair metallics and yellow in the living room. A copper pendant light makes a sophisticated choice when matched with yellow furniture, such as this modern rocking chair which oozes Scandinavian chic.
When going for a playful look like this that mixes sherbet colours and bright yellows, look for minimalist pieces that highlight clean lines, and let in plenty of natural light.
What colour furniture goes well with yellow walls?