5 ideas to style a modern dining room
Bold artwork, statement pieces and a style to let your personality shine - these modern dining room ideas will help you create a look that's eternally chic.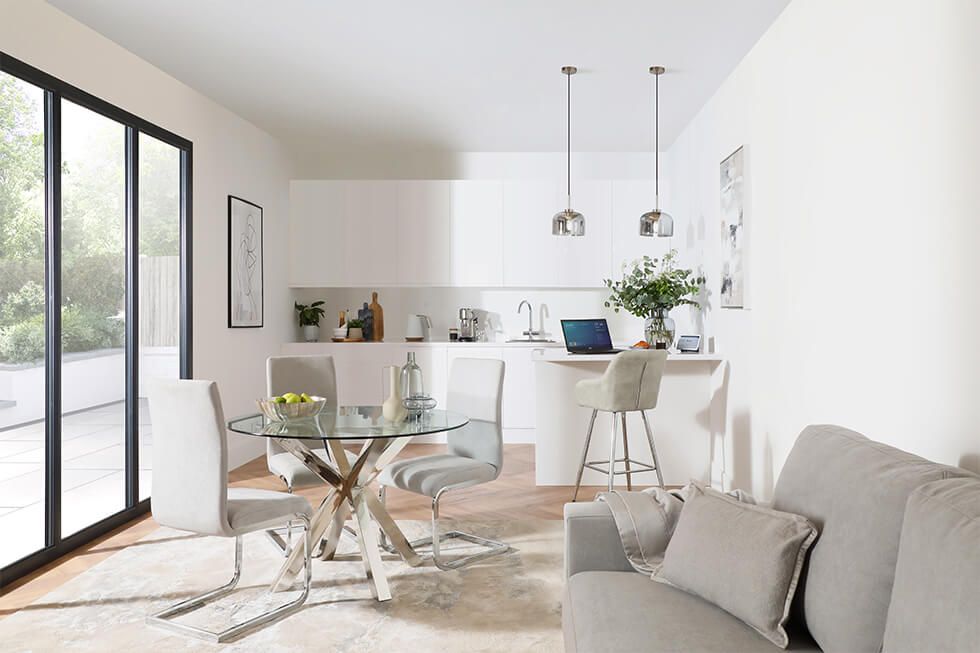 The first rule of styling a modern dining space? Throw the rule book out the window!
Fresh, bold, and surprisingly timeless, going for a modern feel with the dining space is a perfect opportunity to showcase your personality and play with different looks, colour, and decor. There are so many ways to interpret and lean into this aesthetic, going beyond the dining set itself - from the ceiling all the way down to the rugs.
With that in mind, here are our best tips for styling a contemporary dining space, and going beyond the trends.
1. Stun with bold lighting
As promised, we'll be starting with the ceiling, because when it comes to a modern dining room, lighting is key.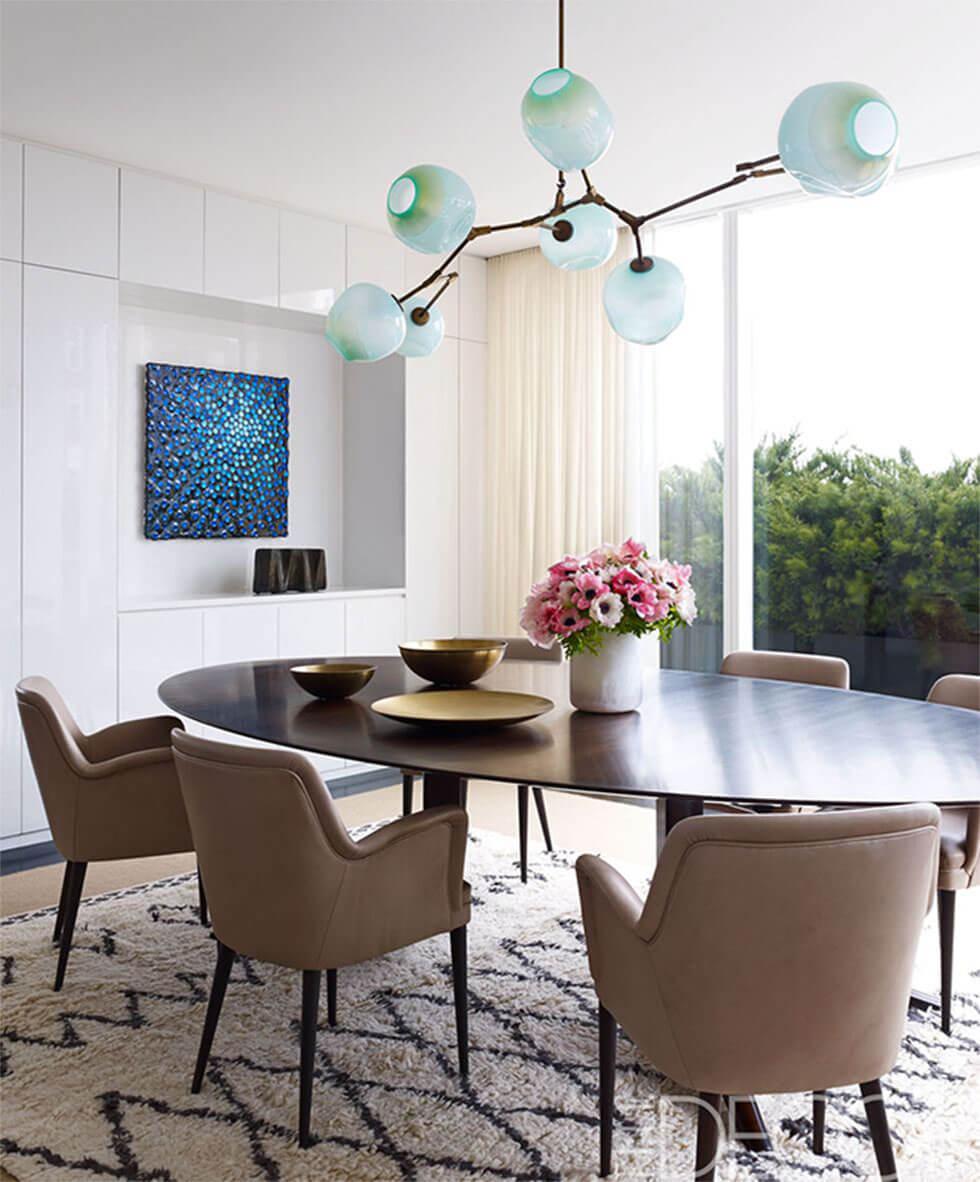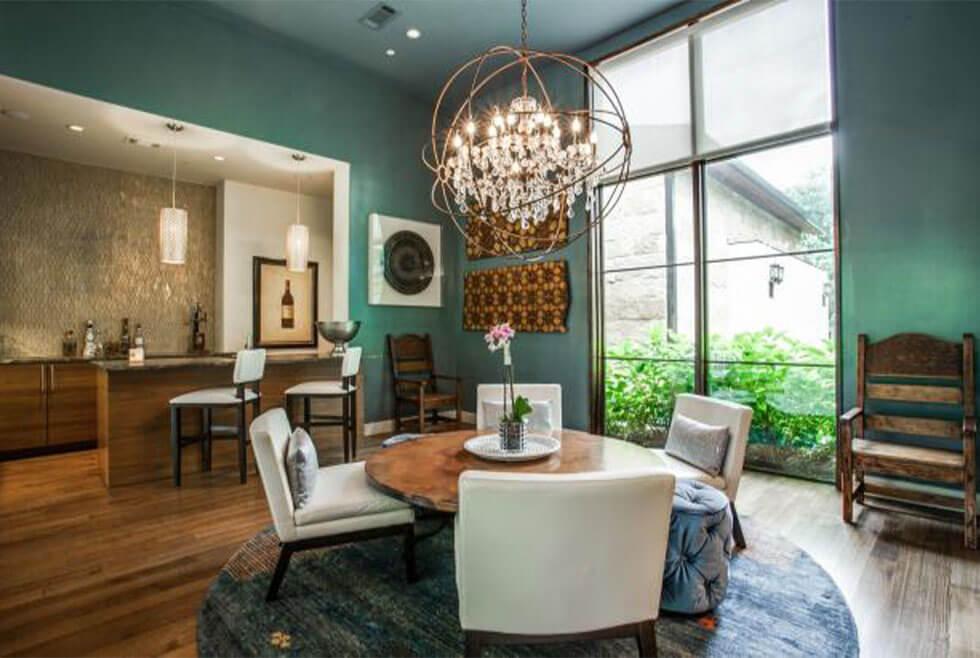 Going for a centrepiece, such as a chandelier or sculptural pendant lamp, gives focus to your dining room, draws the eye upward and brings attention to the dining room set as well.
Whether you opt for a geometric starburst chandelier, or modernist, bubble-inspired lamps, lighting is a quick way to create a bit (or a lot) of drama in your dining room.
2. Feature walls: geometry and artwork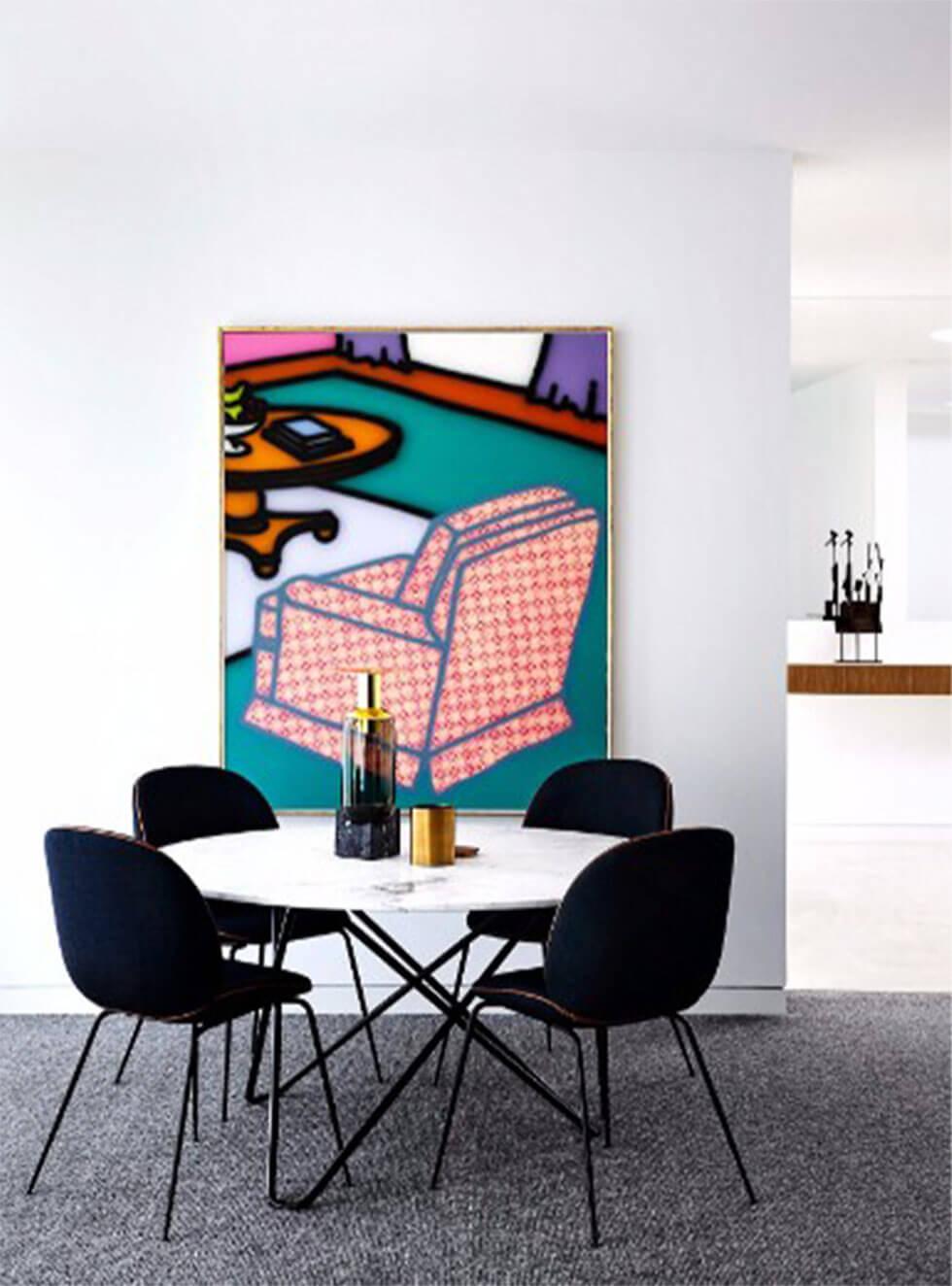 However, what you have up on your walls matter too. Dining rooms often get short shrift when it comes to art in the home, with a lot of focus going to the living room, hallways and bedrooms. But a modern dining space is the perfect place to put up some art - especially if it's going to be a conversation starter.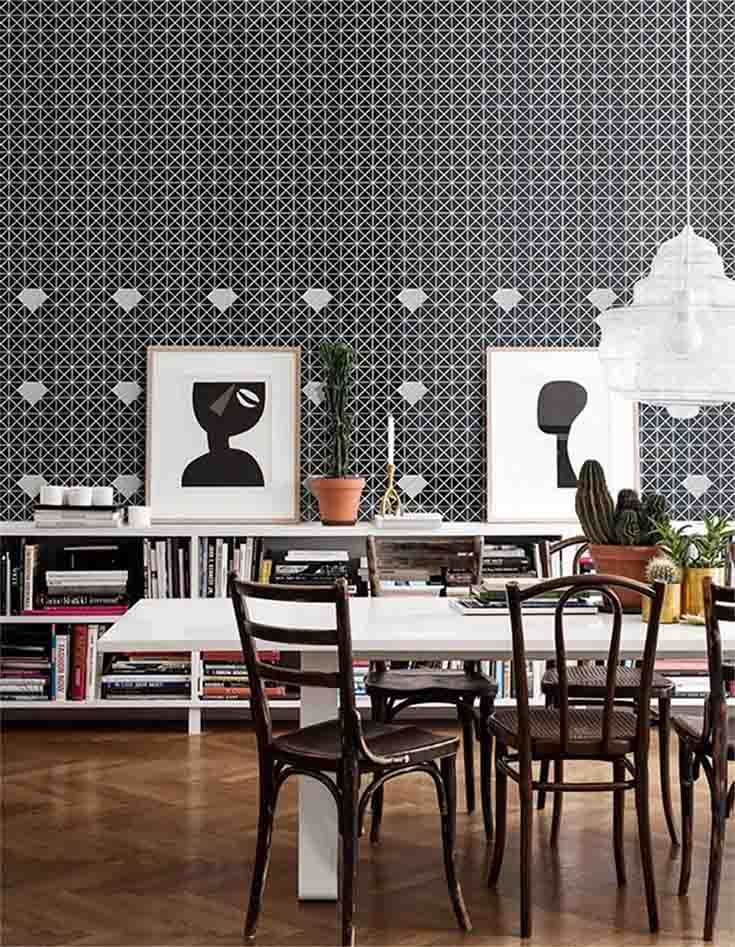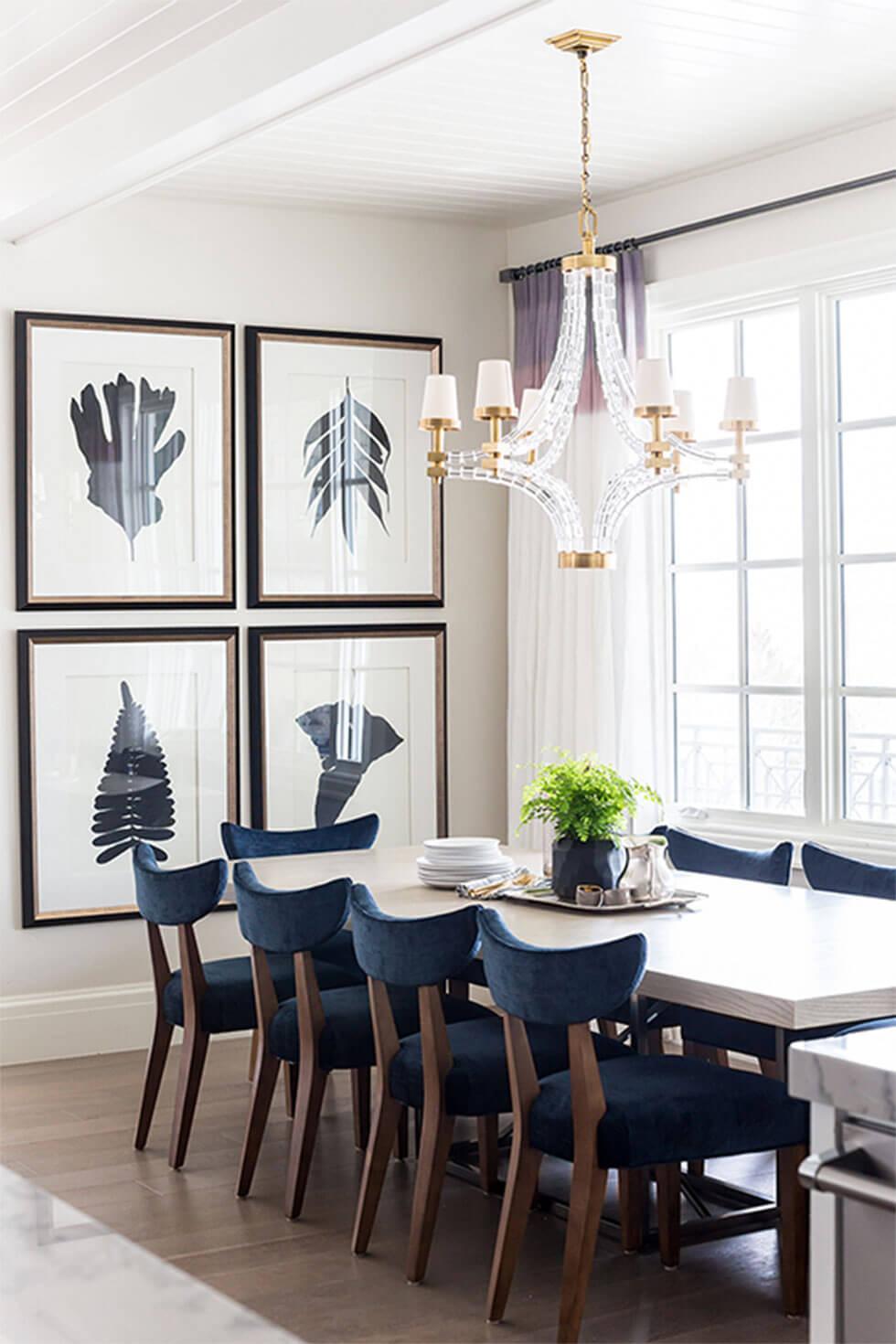 There are a few approaches to take: a large, colourful artwork hung on a wall would have the same effect as a feature wall, while a gallery wall approach can give a sense of elegance and variety. But if you're not interested in hanging anything up, using tiles or paint to create a geometric feature wall can give a current twist on an Art-Deco inspired look.
3. Experiment with rugs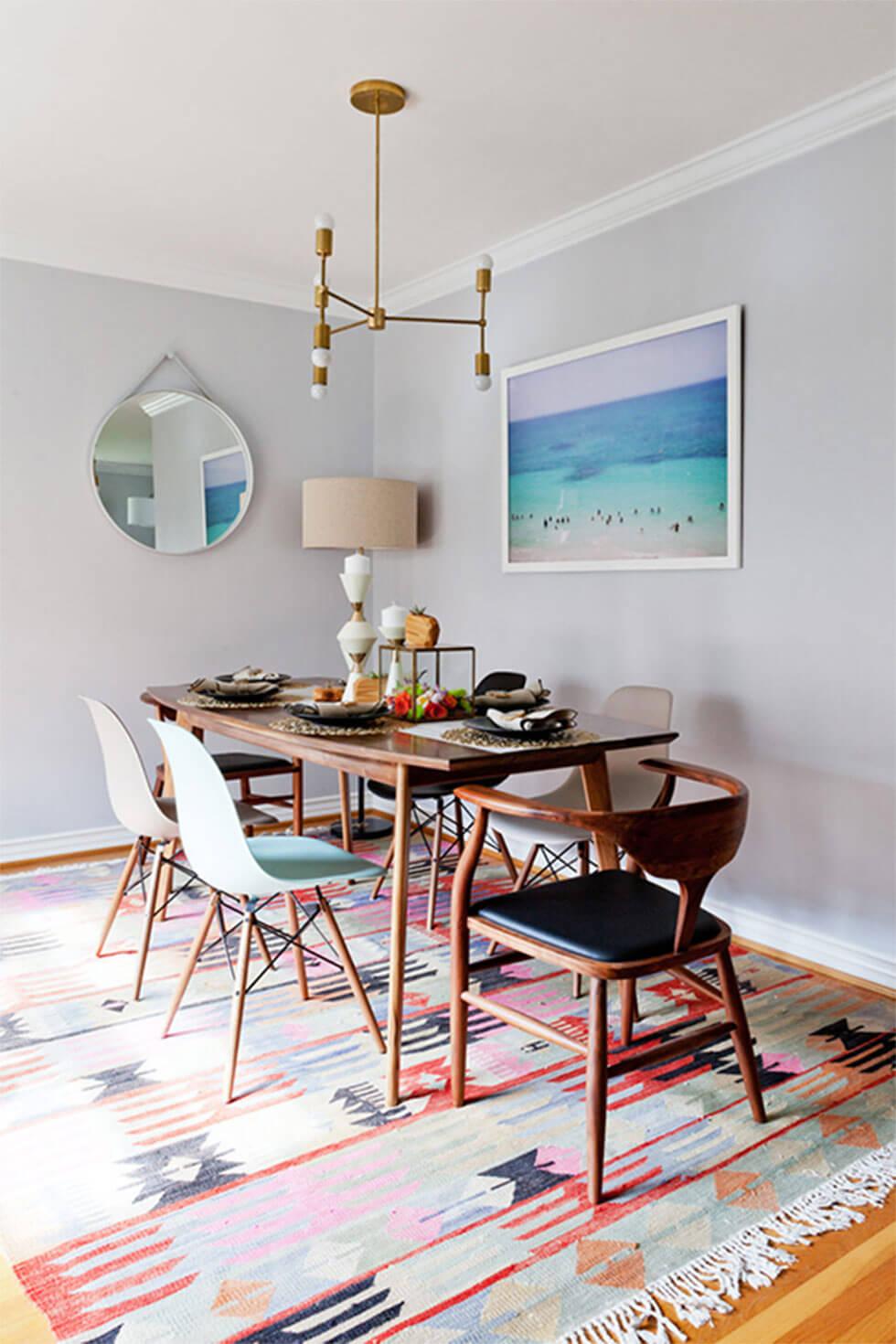 Balance out the glitz, colour and eye-catching details of your ceiling and walls with a cosy rug. This has the dual effect of warming up your space and adding texture, which can be important to soften the edges of a clean, contemporary dining room.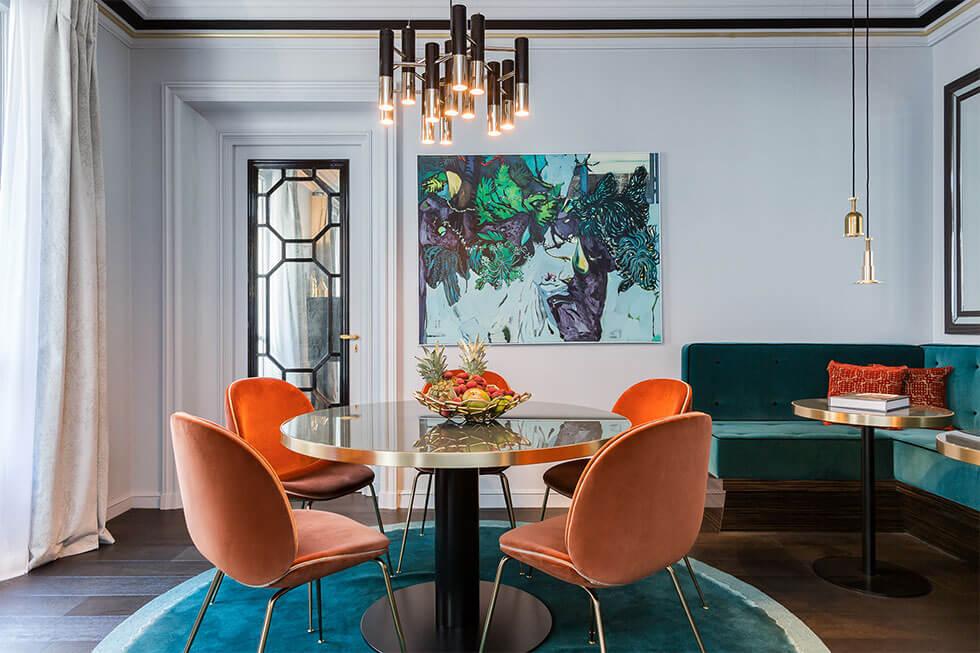 So, for instance, if the rest of the room is relatively simple, you could opt for a rug with a stronger pattern, adding a pop of print while anchoring the room. On the other hand, if you have a vibrant room with plenty of colour, lean into it with a richly hued rug for a lovely contrast.
4. Soften it up with pink and gold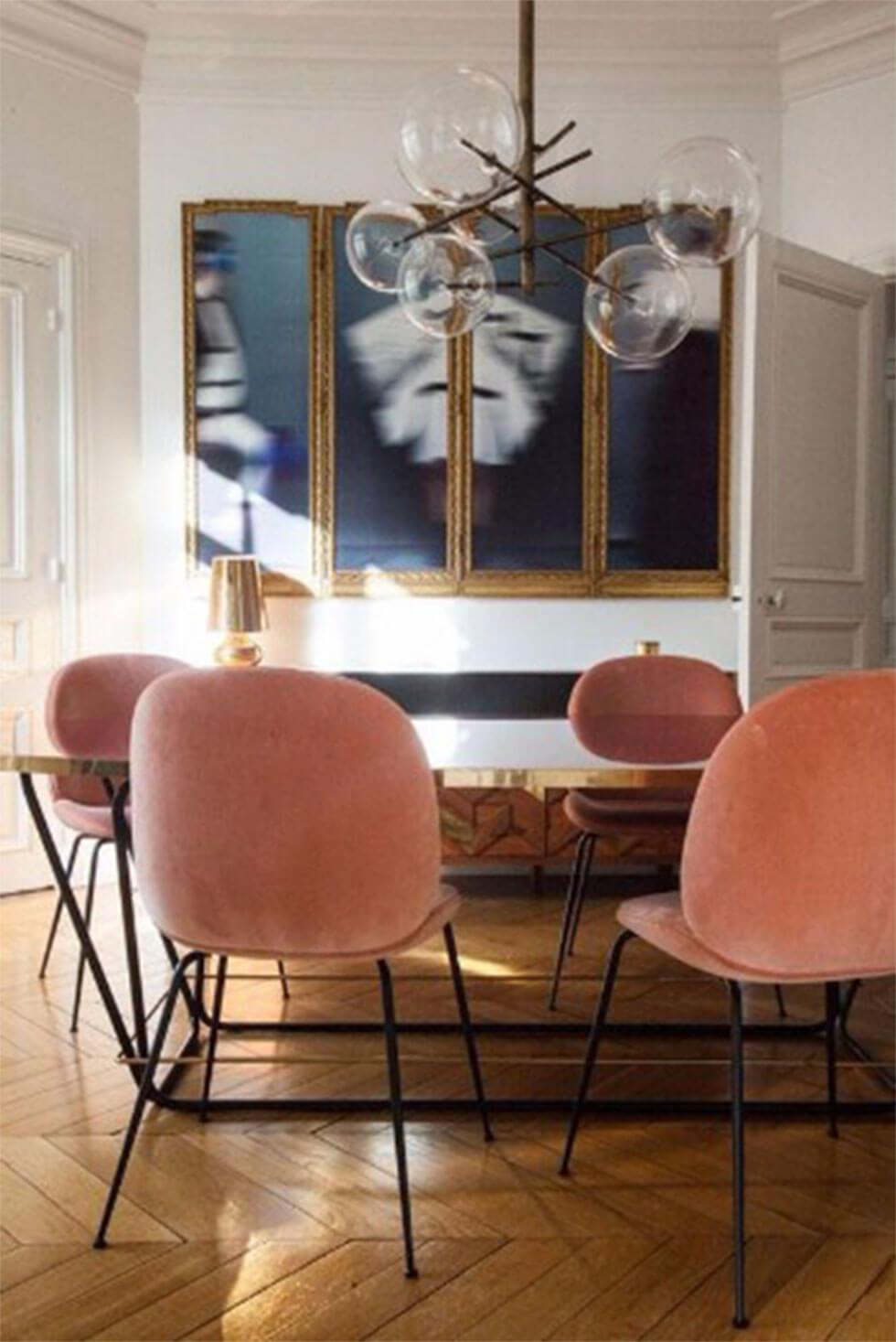 And now we come to colours - from its heyday in the Art Deco era, gold has never really gone out of style when it comes to evoking a sense of modern luxury. But for a 21st century update, soften up this bold shade with warm pink.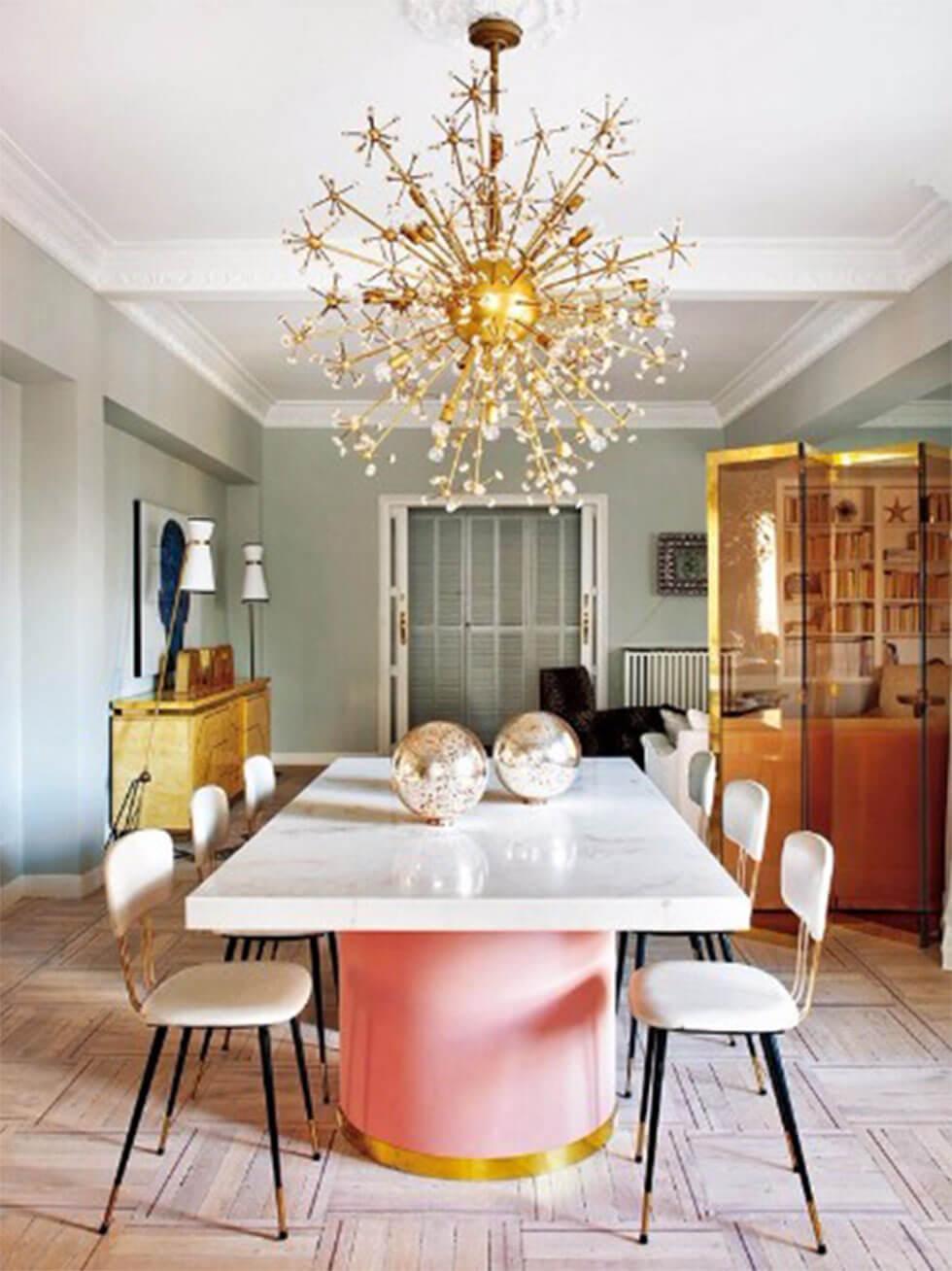 Coral immediately gives a sunny, poppy vibe to a glossy dining space and plays beautifully against gold - but millennial pink is also a lovely, calmer option for dining room furniture that's plush, inviting, and effortlessly Instagrammable.
5. Lean into the drama
However, maybe you're in the mood for some verve and drama - and if that's the case, lean into it and go all out!
Shine on with chrome and gold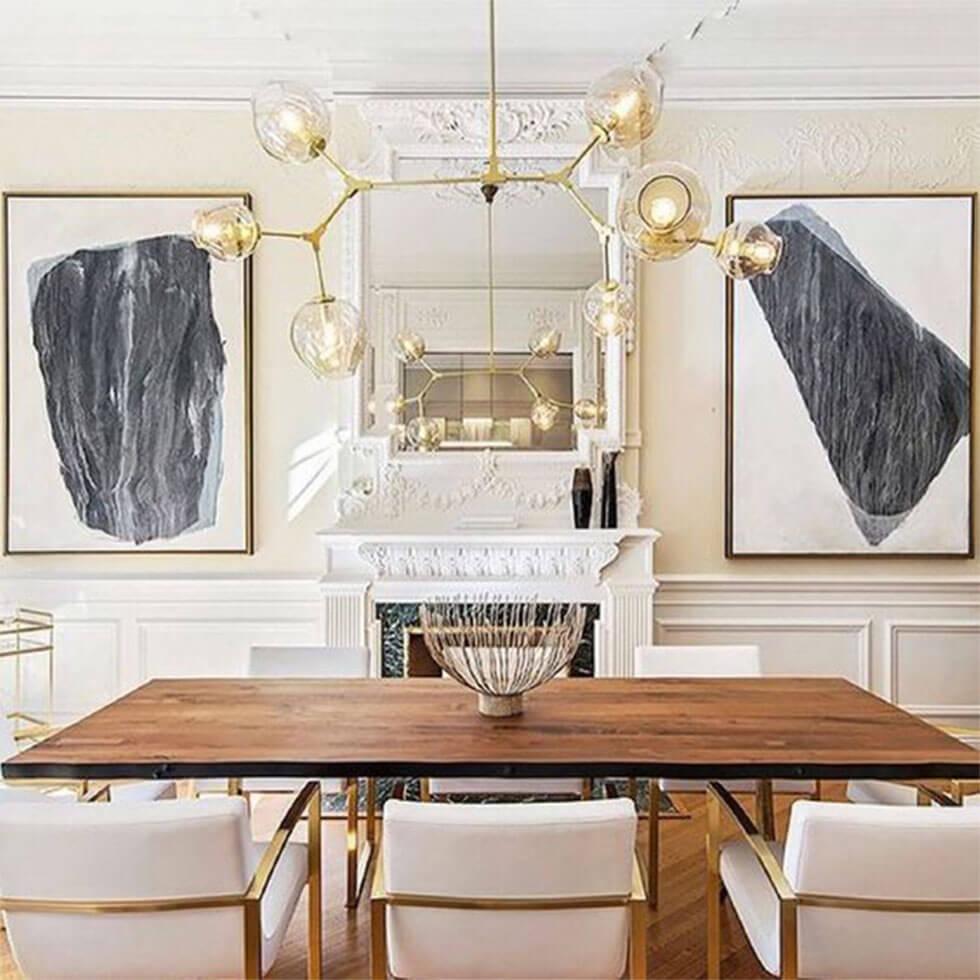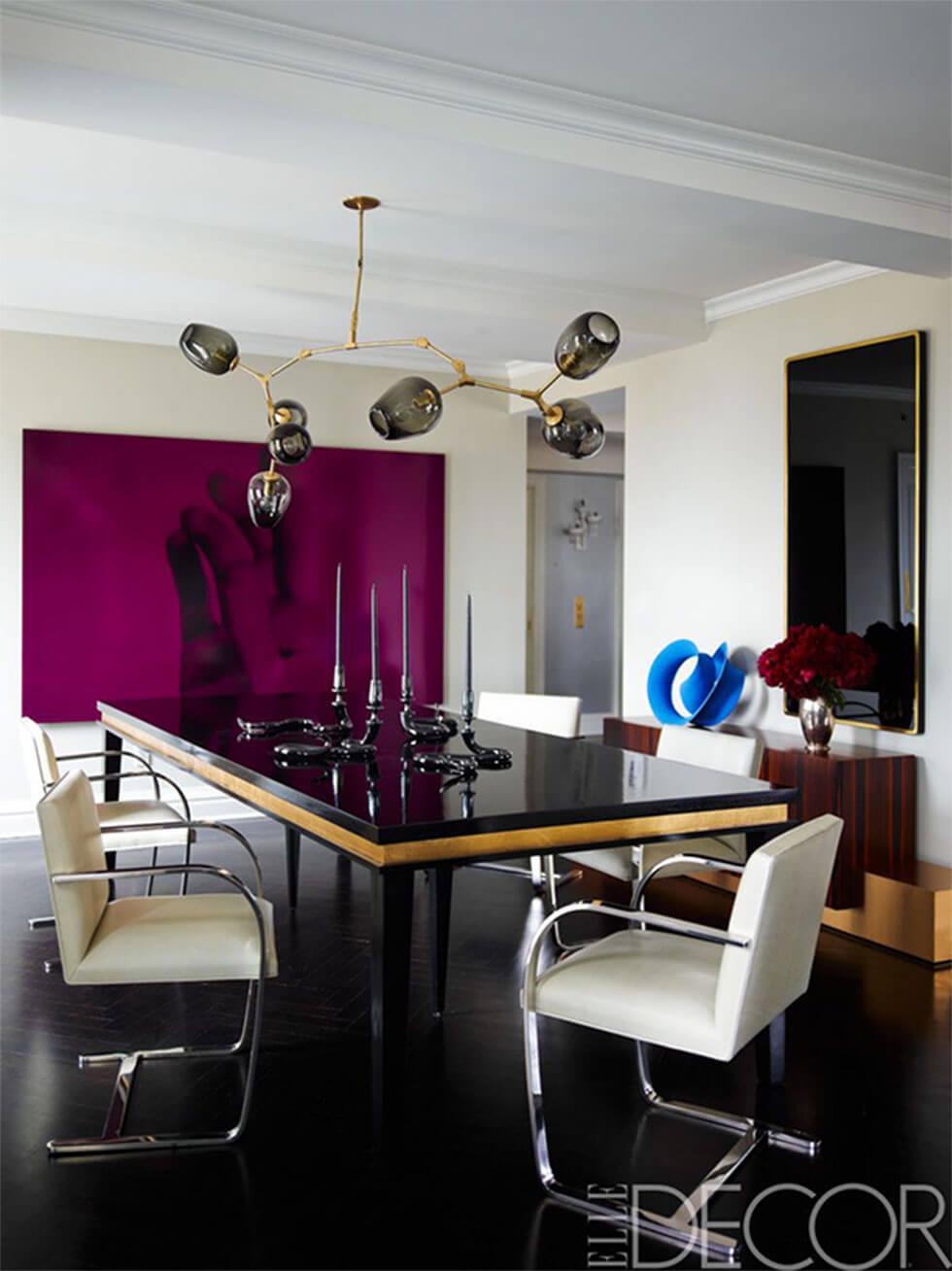 An all-gold modern dining room can look surprisingly lived-in and cosy, when paired with warm neutrals, such as a wooden dining set, white accents and art.
For a cooler approach while keeping the shine, chrome chairs (and tables) match up well with black tones for a thoroughly sophisticated, futuristic effect.
Go elegant with moody blues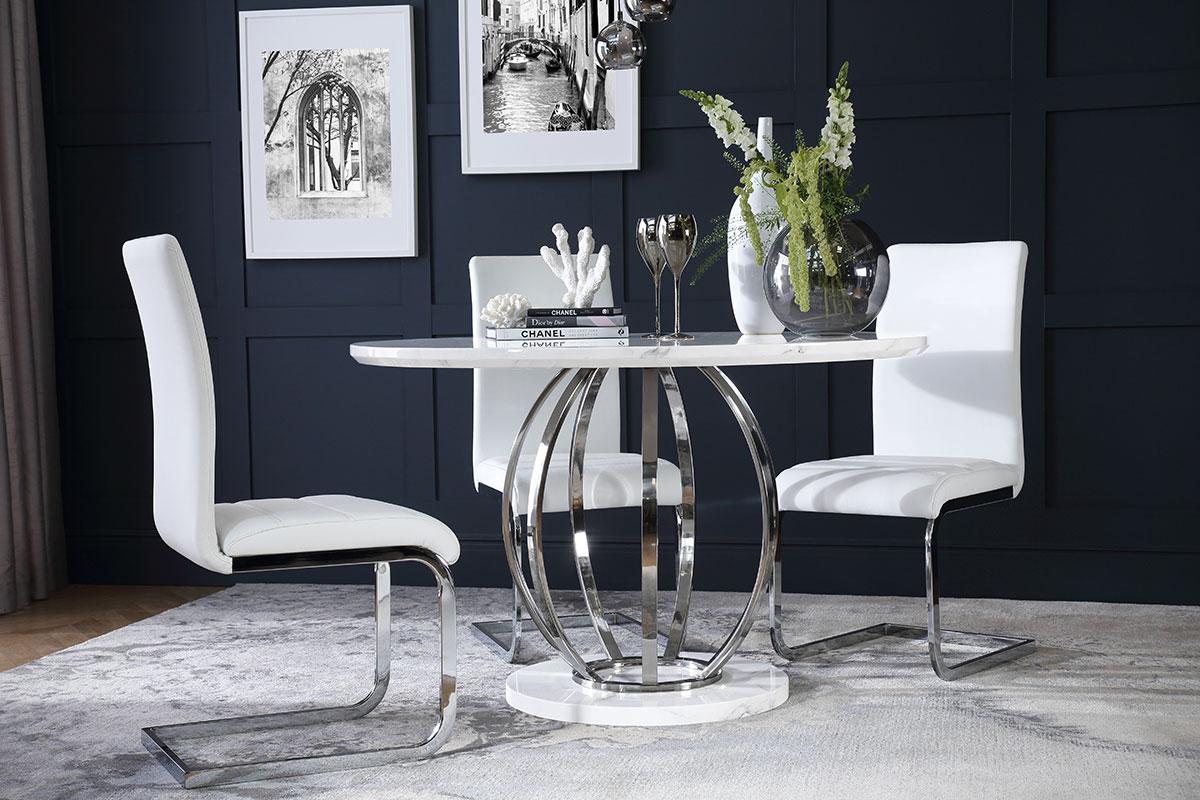 Grounding and calming, while still making a strong style statement, dark blue is a great colour to use in a modern dining room. Having this colour as an anchor for your space allows plenty of experimentation, especially since it matches so many colours so well.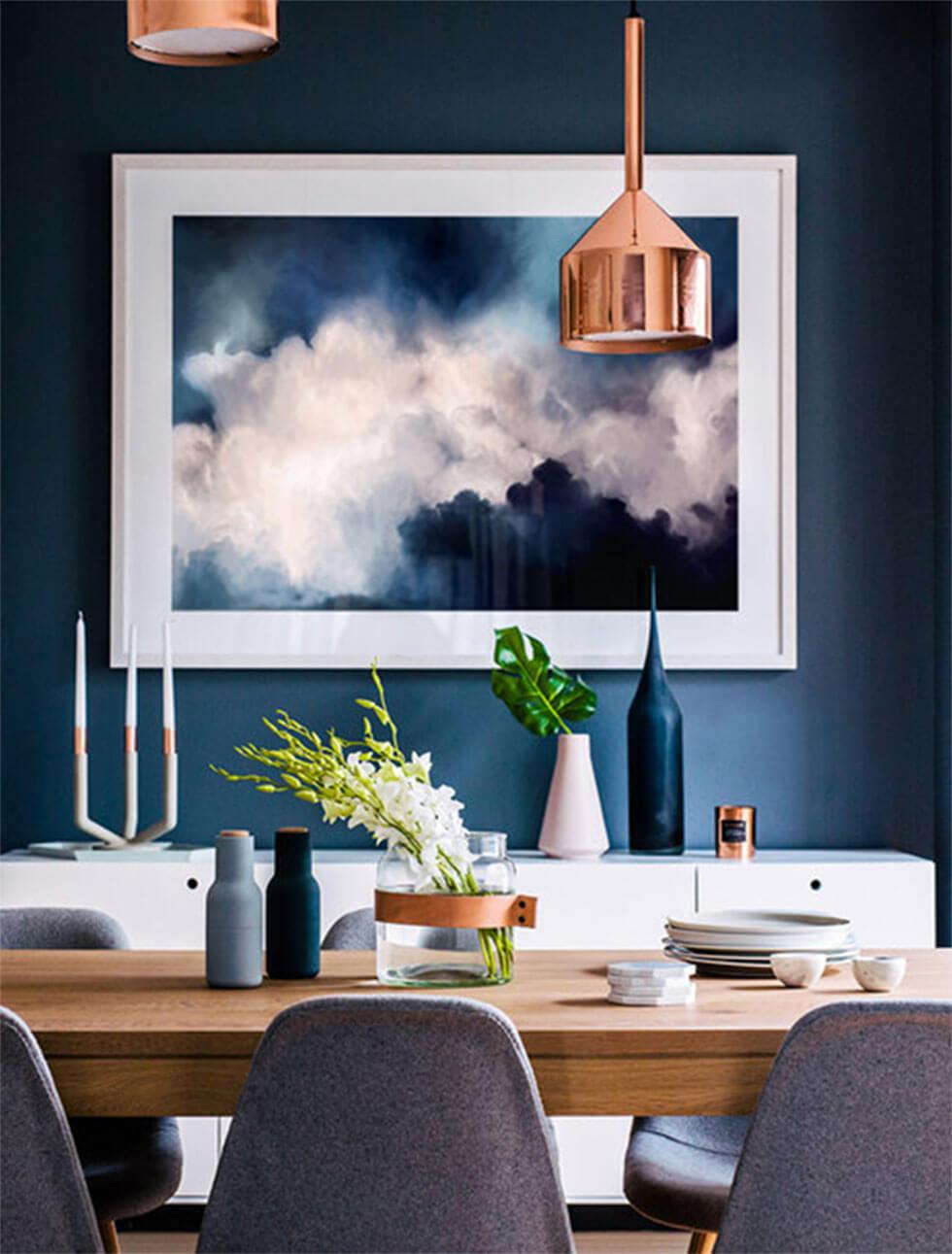 Whether it's a bold, brass lamp, a white dining set, or a beautifully organic, textured wall hanging, a dark blue wall offers a rich backdrop for it all, without being as intense as black, or as stark as white.
Ready to start styling your contemporary dining space? Browse our range of modern dining sets here.