6 ways to introduce industrial style to the modern home
Industrial décor celebrates the modern warehouse look. Find out how to get this style with these simple tips.
With its bold and contemporary edge, industrial décor is a go-to style for anyone who favours clean, statement design with a no-nonsense character. Here are a few simple ways to bring an industrial touch to your home.
What is industrial décor?
Industrial décor takes its style cues from old factories, warehouses and other industrial spaces which were converted into residential flats in (mostly) urban areas. Characterised by bare brick walls, exposed pipes, raw finishes and reclaimed materials, this is a design that allows you to highlight architectural details of your space. And even with its fuss-free accents, it's a décor trend that leaves plenty of room to experiment and add your own personal touch.
1. Maximise your space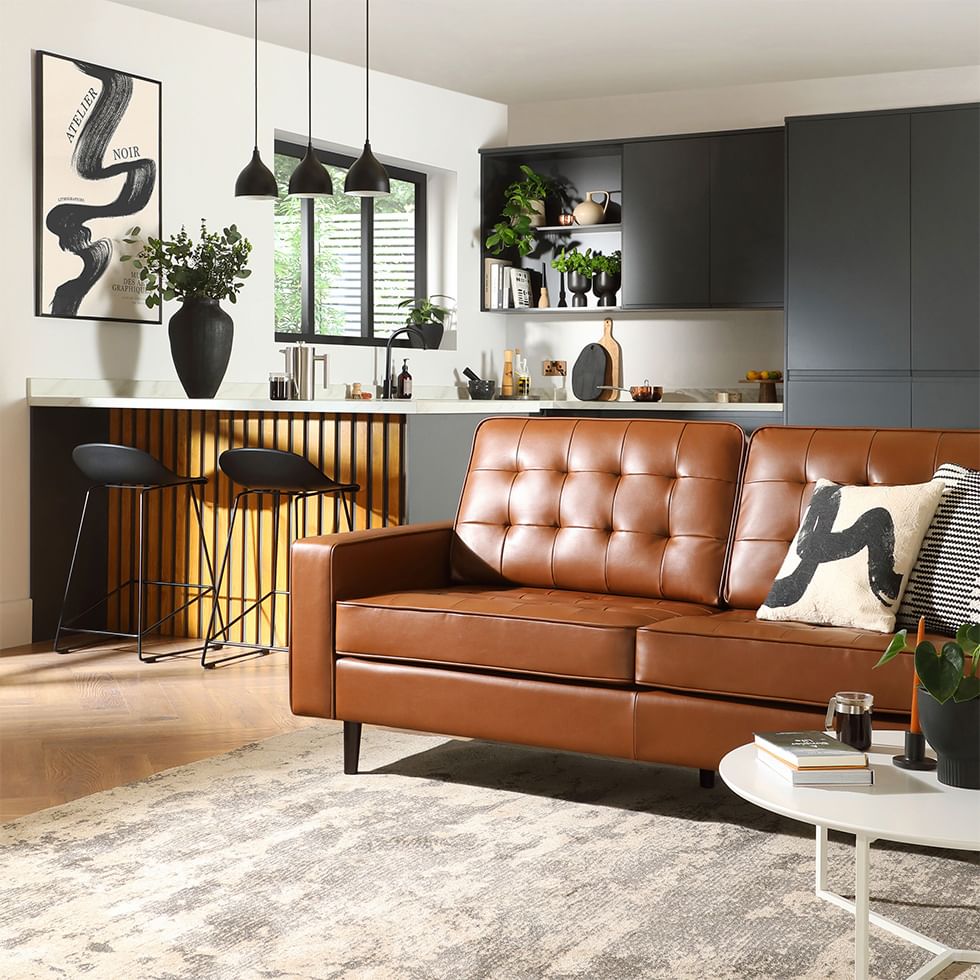 When getting started, it's important to pay attention to the building features of your space. What materials have been used to create your home? Whether it's concrete, wood, stone or glass, these details are what make your space unique and can be easily highlighted with an industrial touch.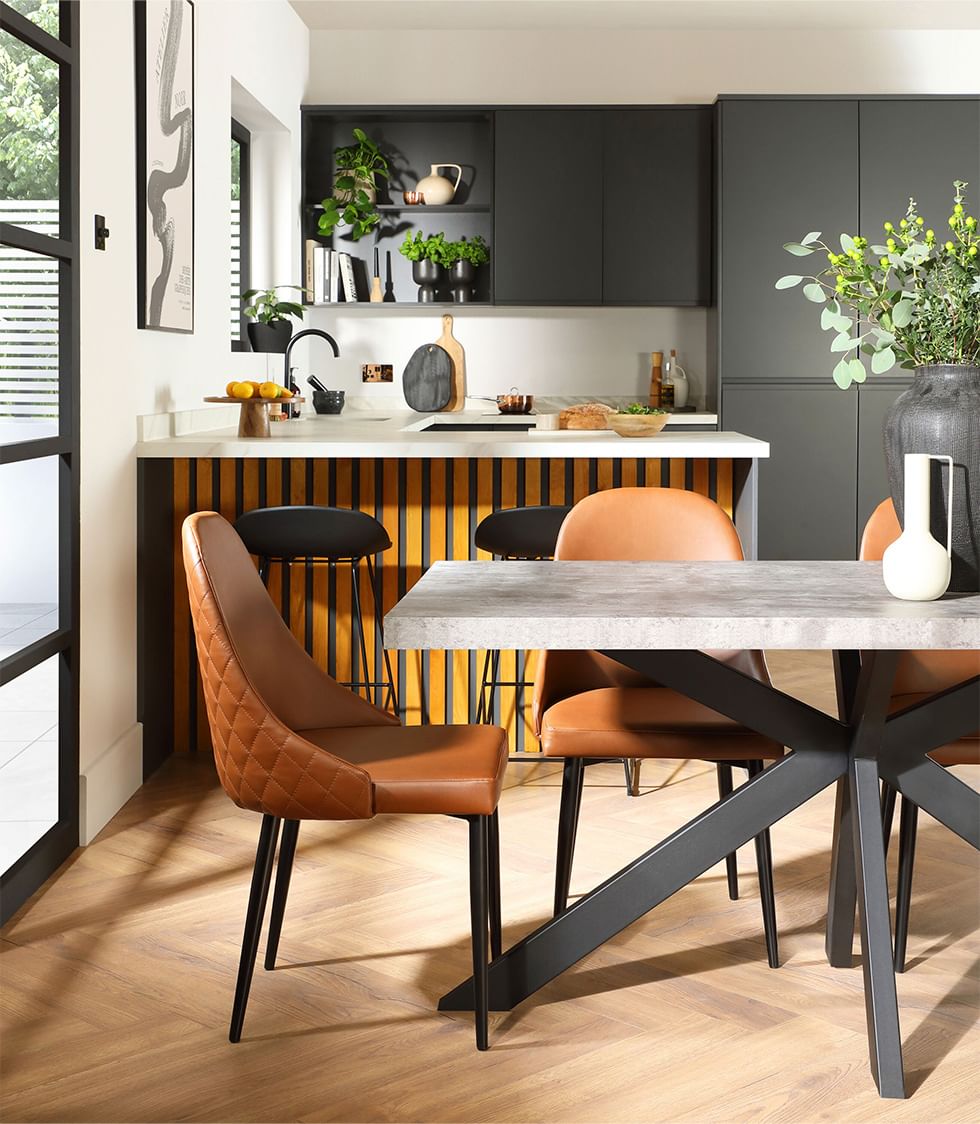 Make these features a part of the décor instead of covering them up. An open-plan layout is a great way to emphasise this while giving the room a raw, functional appeal. The stripped-back effect will create a bold, yet simple statement with space to style around.

2. Choose a neutral palette

Since industrial décor focuses a lot on the original materials of the home, it's best to keep it neutral when picking a colour palette.
Black, white or grey are classic picks while earthy accents such as brown, beige or cream shades help soften or complement the overall look. For example, experiment with earthy accents in the bedroom or add some extra white tiles for a striking effect in the bathroom. Whichever route you go for, it's a versatile way to layer and add depth to your space.
3. Mix wood and metal elements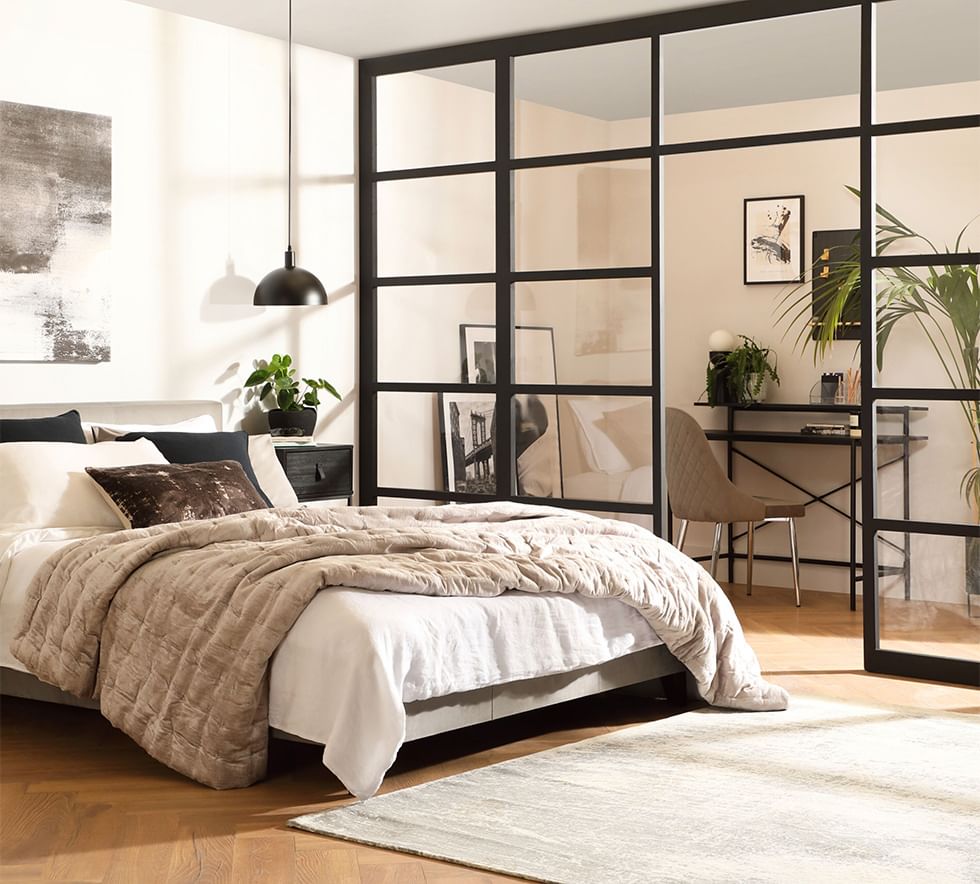 Mixing wood and metal creates a stark, yet sophisticated effect that's synonymous with industrial style. For instance, if you're lucky to have beautiful hardwood flooring, why not show it off by matching them with black crittall windows for a bright and modern touch? It's these contrasts between the two materials that form the basic industrial look.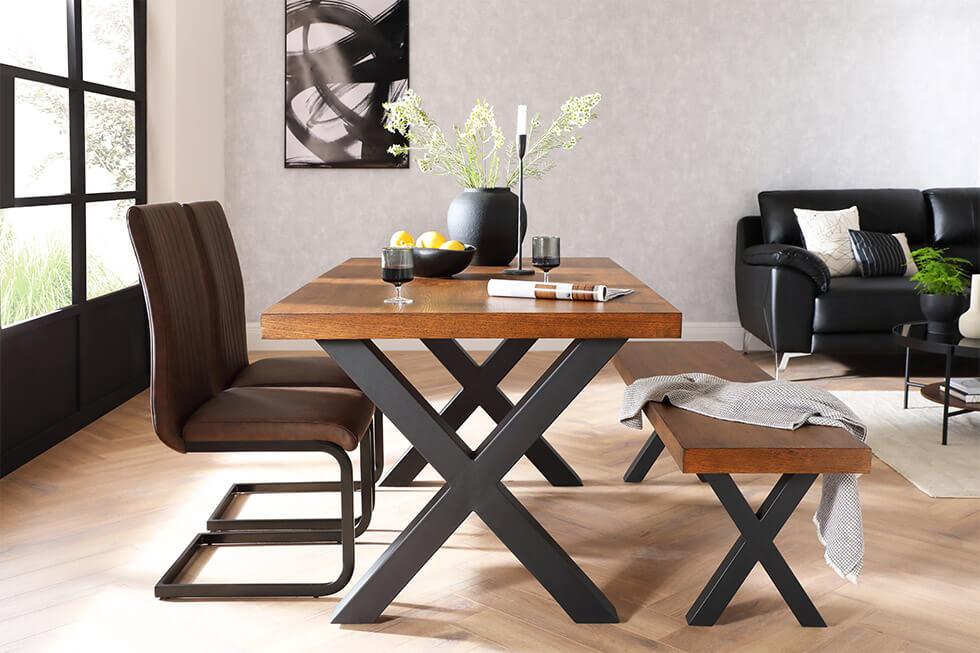 Keep these materials in mind when you're looking for furniture too. A wood and metal dining set is a stylish and easy way to add an industrial influence into your home with its practical yet edgy design. And, when it comes to metals, combining different types such as iron, copper or steel in the same space adds interest and character. So don't be afraid of having to stick to just one type or finish.

4. Stick to sleek, simple silhouettes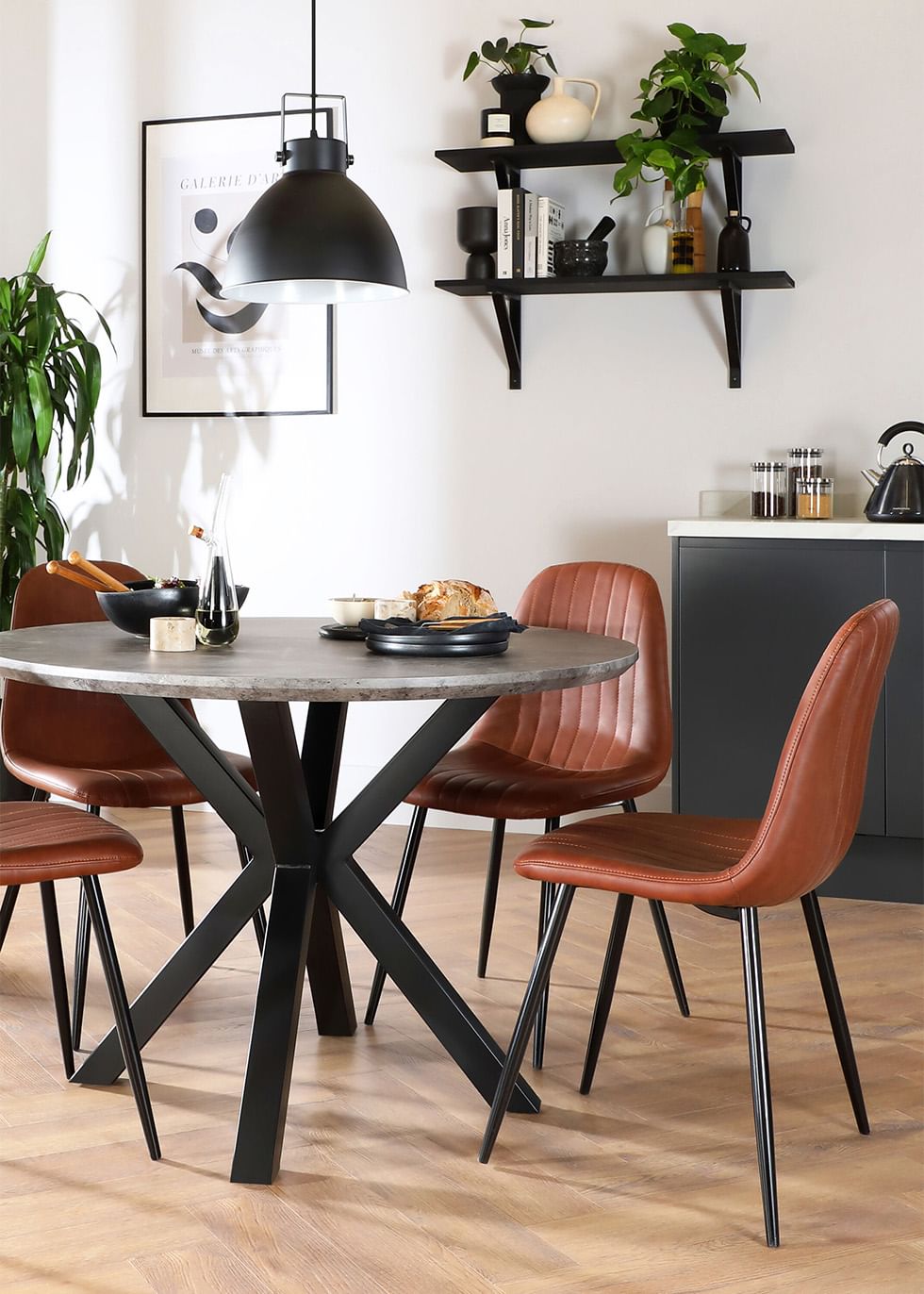 Even though industrial décor is known for its no-frills style, it can still have a classy feel. This is because it focuses on sleek, simple shapes or lines that create a cohesive look.
Play around with this by concentrating on its sharp finishes and curated appeal. For instance, a concrete and metal dining table with chic leather chairs have a minimal silhouette that feels right at home in a contemporary space.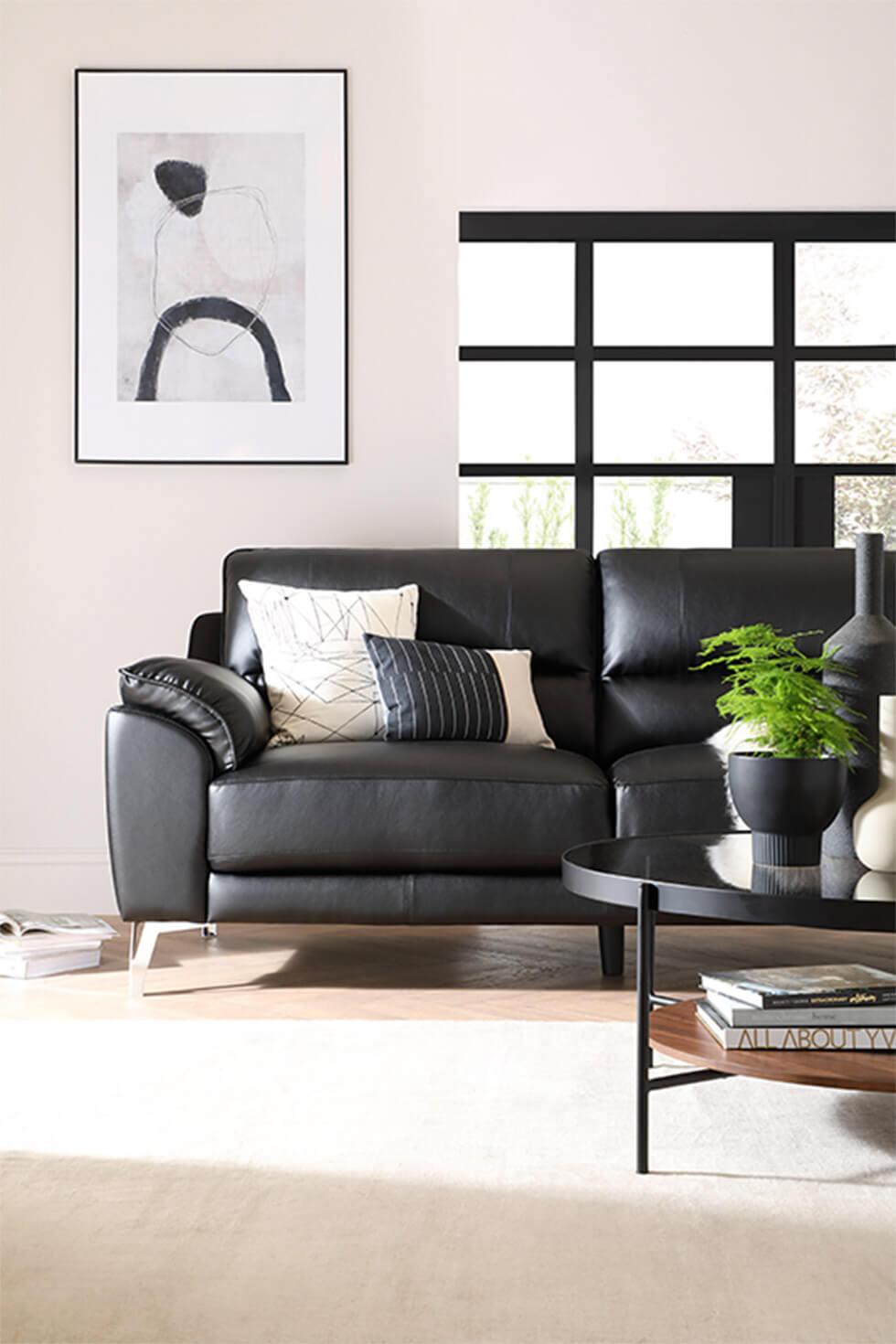 And if you want to relax these accents, choose furnishings with soft, organic curves such as a leather sofa which has a modern look but adds a hint of cosiness to the living room.
5. Accessorise thoughtfully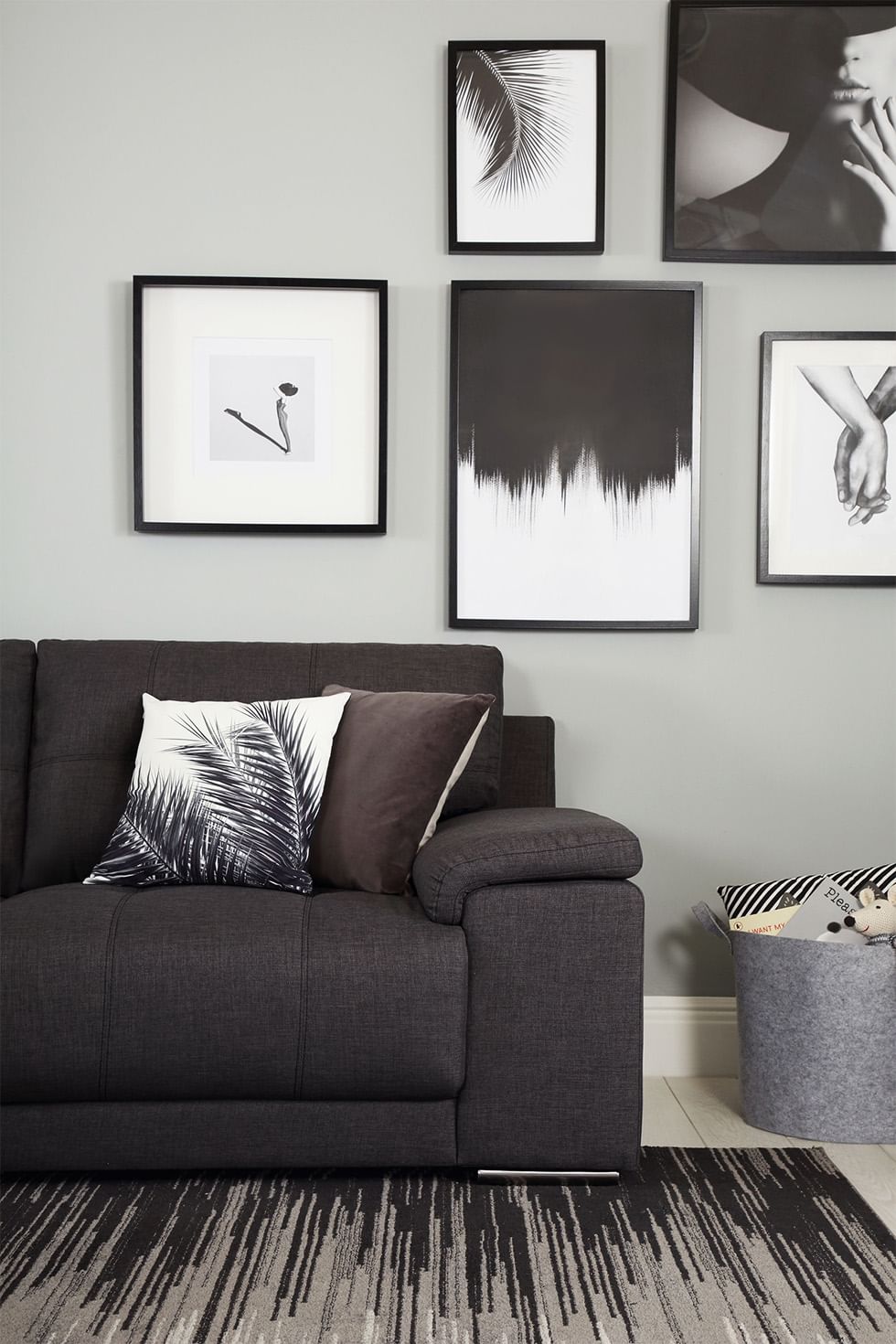 Accessorising in an industrial space is a good opportunity to play with colour and texture.
Wall art is a personal way to bring character to your space by displaying what is unique to you. Make it a point to showcase a gallery wall or wall hanging which creates a focal point or works as a fun conversation-starter when you're having guests over.
Meanwhile, if you want to give the room an elegant touch, accessorise with rugs. Woven, distressed or jute rugs fit right into the natural vibe of the room by giving it a relaxed look.

6. Lighten up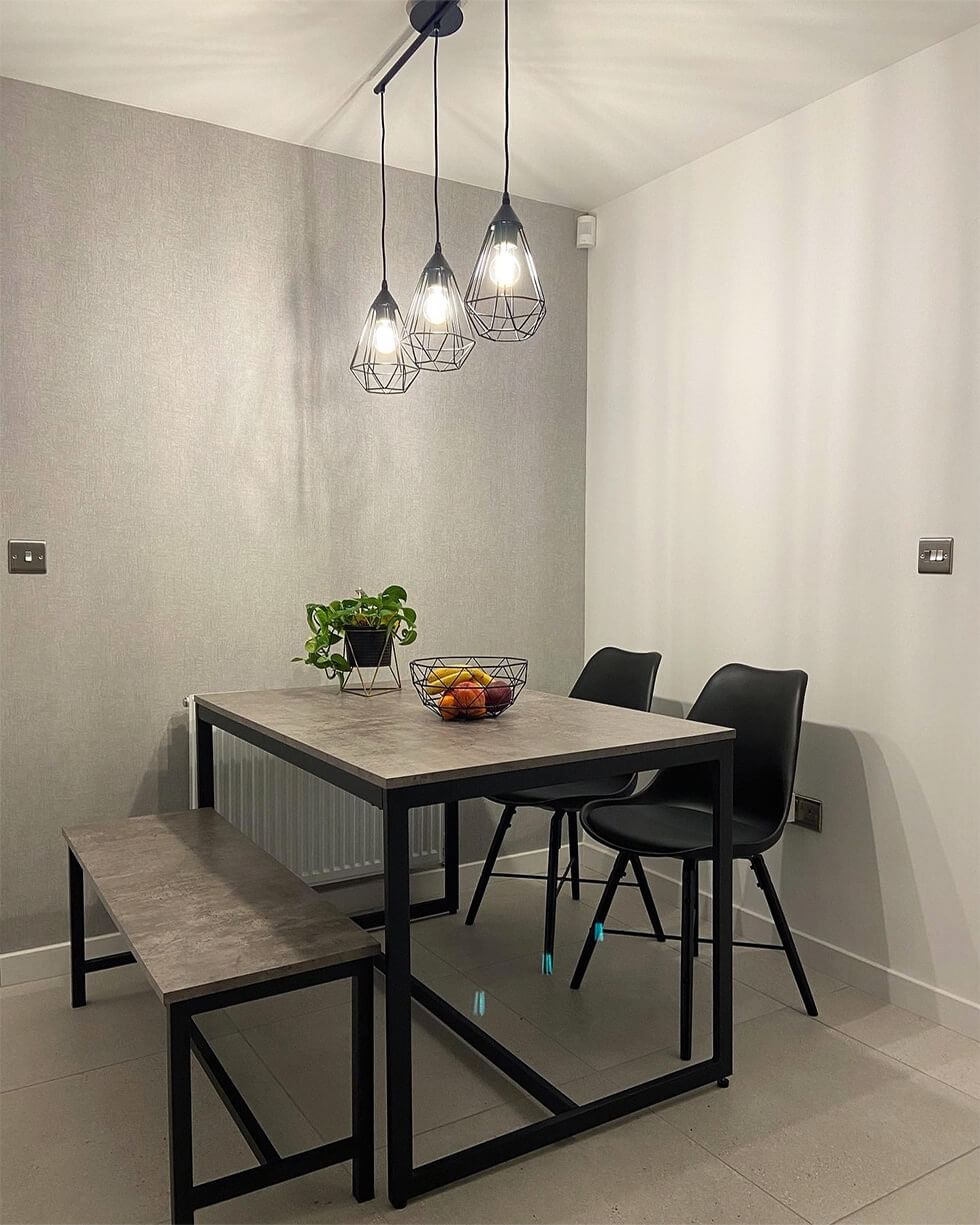 Just like the rest of the décor, industrial lighting is slick and practical. Picking pendant lighting as the general light in key areas such as the dining room allows us to see more of the space easily.
And for that vintage touch, why not decorate with reclaimed lighting? These upcycled light fixtures will be right at home with their metallic accents and updated look.