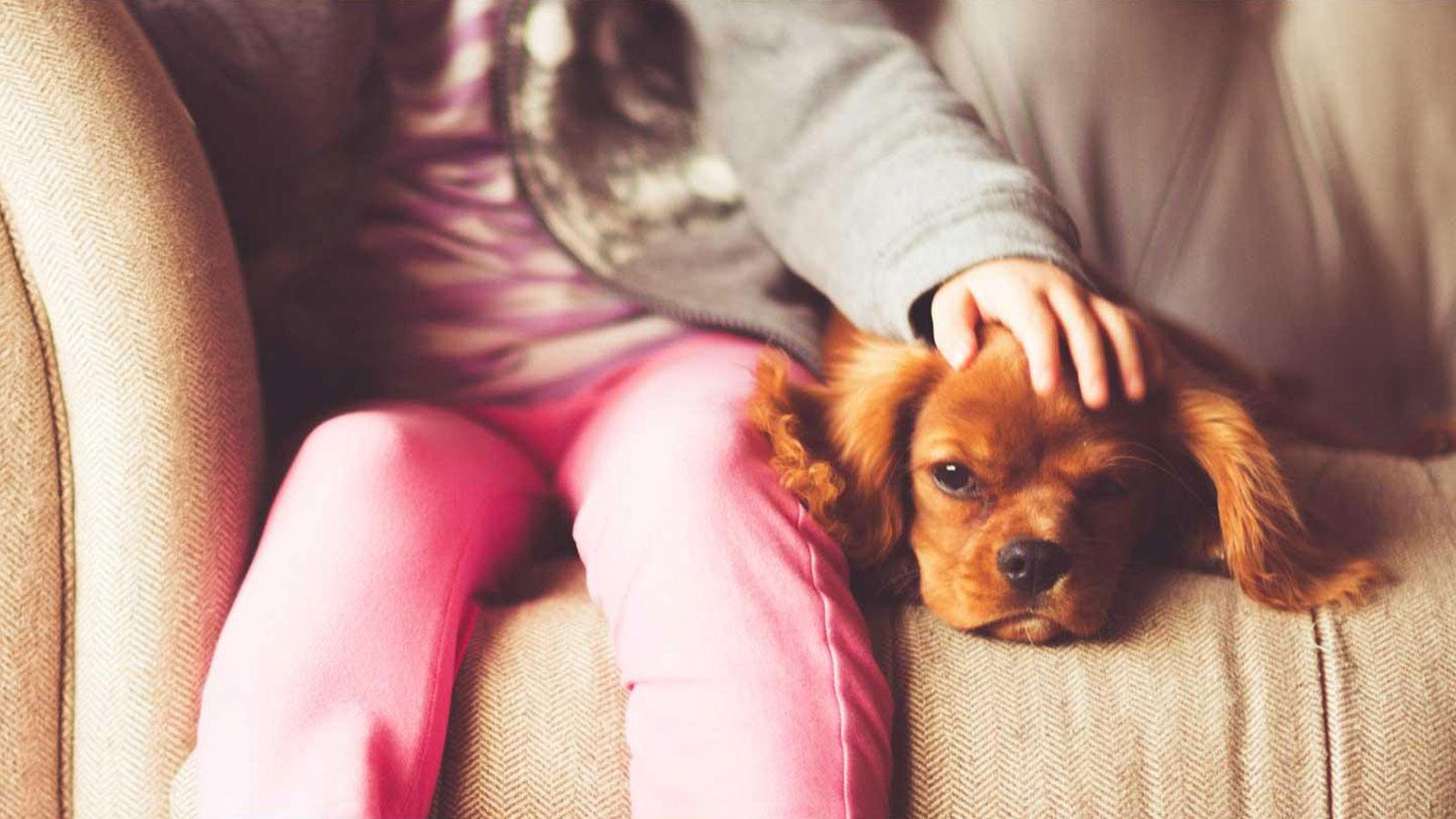 Buying a sofa can be challenging - especially if you're not sure what you're looking for. From picking out a suitable design to ensuring that it fits your space, there's a lot to consider when it comes to selecting one of your home's most integral pieces of furniture.
Our guide covers everything you need to know about buying a sofa, so relax, put your feet up and read away!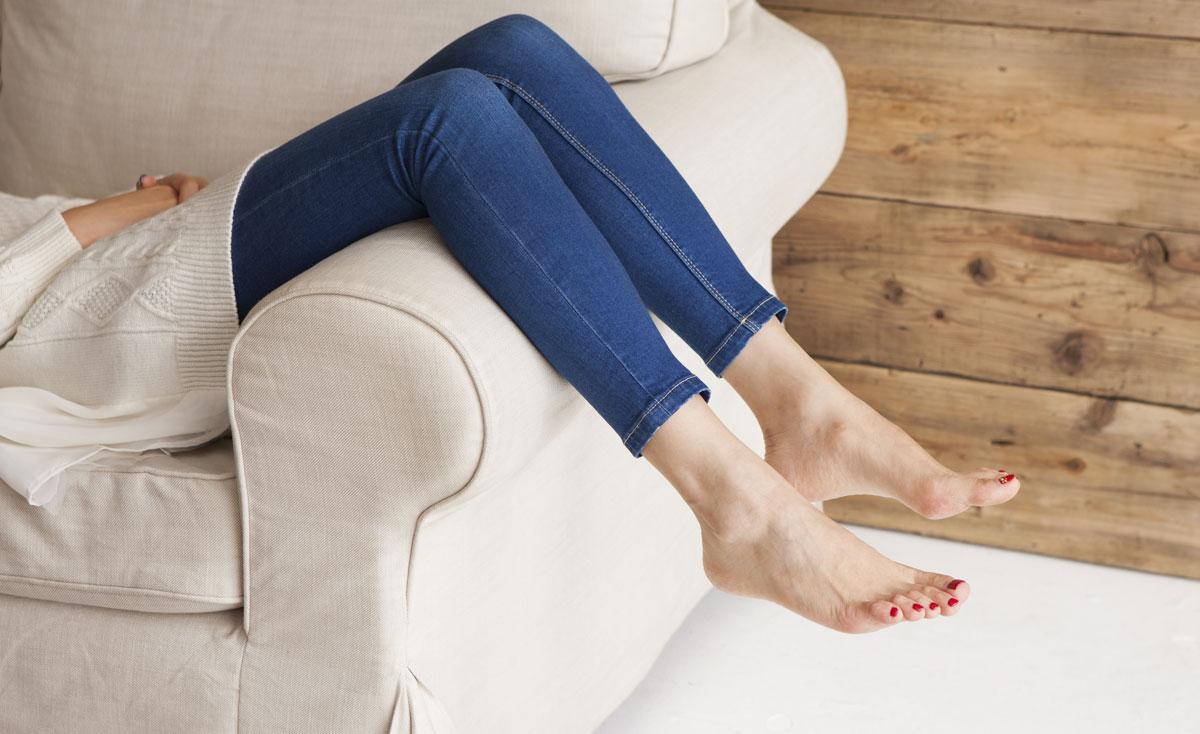 How to choose a sofa: Five key questions
There're plenty of factors to consider on the subject of sofa buying, so the easiest way to start is to consider the criteria below:
1. Are you building your room around your sofa, or are you hoping to fit it into existing decor?
If so, consider the style and colour choice. Be sensitive to the lighting and the general ambience of the room, and when in doubt, keep it classic - trends come and go, but a timeless sofa will see you through many periods of redecoration.
2. What kind of use will the sofa likely be subjected to?
Does it need to withstand excitable children, or be durable enough to live in a home full of pets? If yes, consider a very durable fabric and higher-density sofa cushions in order to get as much life out of your sofa as possible.
3. Do you suffer from back pain or any allergies?
Foam-filled cushions are available in different densities and will offer a firm level of support for those who suffer from back aches. But if allergies are a problem, opt for leather finishes or tightly woven fabric upholstery that are easier to clean.
4. Will it fit?
It's important to know the space your sofa will be working with and the other elements you need to fit alongside it. Follow our measuring guidelines before you take the plunge to figure out which size and configuration works best for you.
5. How much do you want to spend?
Whatever the price it's not always easy to see at first glance, or even first sit, whether your desired sofa is a great deal or a one season wonder. This is especially true if you're shopping online.
A good way to draw up a budget for big ticket items like these is to do plenty of research, understand the descriptions and ask the right questions. And if you're buying online, always remember to check independent reviews, pay particular attention to delivery and customer service and trust your instinct.
Different sofa types
2 seater sofas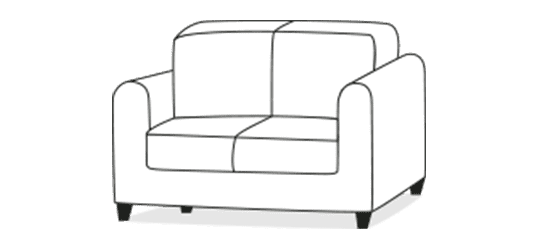 A popular choice for smaller homes, or as part of a larger suite, 2 seater sofas are ideal for providing the same level of comfort as a larger sofa on a smaller scale. These can be purchased as stand-alone furniture pieces to be styled separately, or as part of a suite typically including a 3 seater sofa and armchair.
3 seater sofas
This is the go-to option when buying a sofa, and often the main seating element within a living room, which can be both multi-purpose and chic when styled right. Most 3 seater sofas still make use of two large base cushions and a padded back which can feature additional removable cushions, or a single padded non-removable part. They also offer enough seating space for three adults - though you will find that some styles are more generous with their sizing than others!
The standard measurements say that a 3 seater should be around 84" (or just over two metres) wide, but this doesn't account for cushion plump or style variations. 3 seaters can be the main element of a traditional suite, or they can be mixed and matched with other existing furniture in the living room.
4 seater sofas
For larger families, keen entertainers or for those that simply have a more generous space to fill, a four-seater sofa can offer both the space and the comfort for four people. Depending on the style of the sofa, you might be able to fit more people on the sofa too.
4 seater sofas are designed with different features to cater to different tastes and lifestyles. Some may make use of many cushions, giving each seat individual padding, while other styles feature reclining mechanisms, a padded seat that spans the length of the sofa and varying arm rests - all of which alter how many people could feasibly sit on the sofa. All these factors affect the size of a 4 seater sofa too, so as such even approximate measurements tend to fluctuate from manufacturer to manufacturer.
Expert tip
Checking the home for proper access is particularly important when buying a 4-seater. In addition to measuring the space where you want to put it, don't forget to check if it can fit through the doors before finalising your purchase. See our measuring advice for more info.
Corner sofas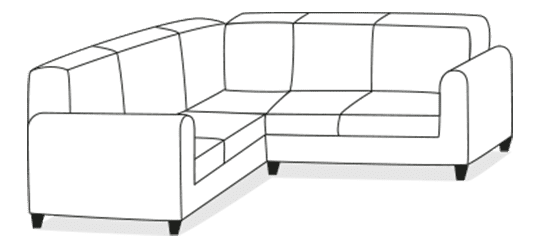 Corner sofas are perfect for maximising space, or serving as a subtle divider between areas like the dining room and living area in smaller homes.
Coming in a variety of sizes (but usually no smaller than a 3-seater) and styles, corner sofas also come in reclining options, and as sofa beds and even ottoman alternatives. If space is limited at home, consider one with a chaise longue for extra seats and legroom.
The positioning of the sofa chaise indicates if it's a right hand facing sectional (RHF), or a left hand facing design (LHF). If you're facing a centrepiece with a right chaise, it's an RHF corner sofa. LHF sectionals are designed to have the chaise on the left. This will affect how the corner sofa fits in your space, along with the positioning of other furniture and décor around it.
These sofas' bulkier frame may obstruct the doorway and other elements in the room, so measure the corner sofa carefully, or consider rearranging the space to accommodate your new purchase.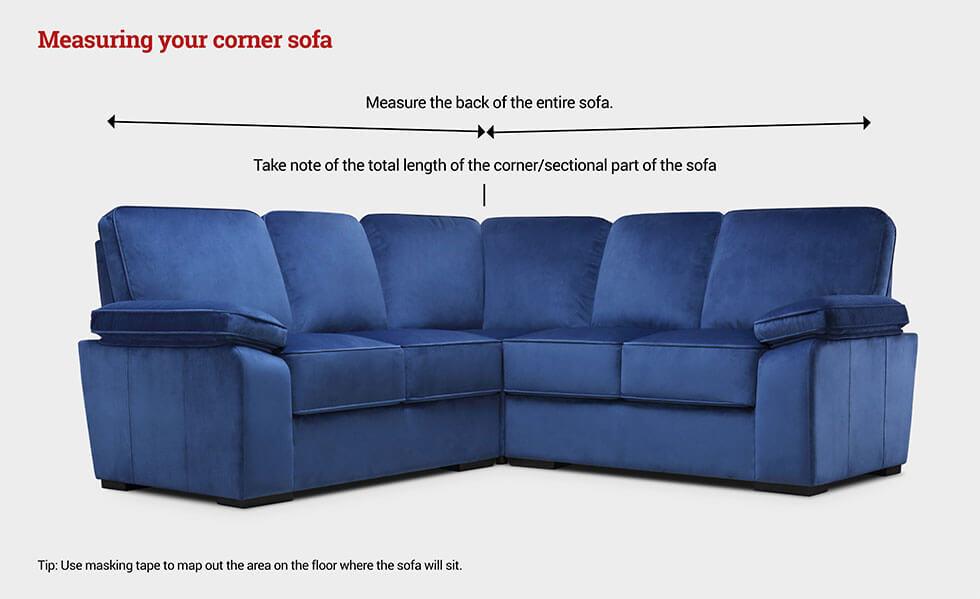 Determine how much space you'll need for a corner sofa:
Measure the length, width and height of the room, and where the sofa will be. Take note of the height of the window sill if your sofa will be next to the window.
Measure hallways and doorframes where the sofa will be carried through when it arrives.
Armchairs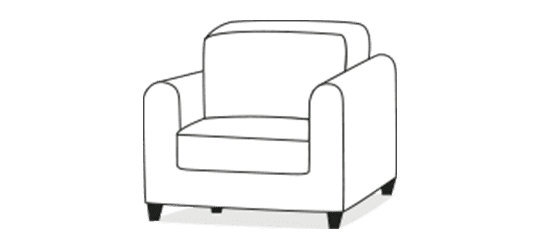 Armchairs can simply be a finishing touch to complement the rest of your matching furniture, or they can be brought into the room to as a feature piece that makes a strong statement while staying true to the existing interior theme.
An armchair can be static or feature a reclining mechanism, usually elevating the feet and gently lowering the upper body to provide a position that's comfortably in between sitting and lying down.
Loveseats and snugs
Smaller than a 2 seater but bigger than your typical armchair, loveseats or snugs (a more modern name for the loveseat) offer a cosy seating solution - whether you're trying to fit a smaller suite into a space, or you've got a gap by a bookshelf that's just crying out for an accompanying seat. These sofas are big enough for one to sit in with their legs up too, or for two that don't mind sitting close together.
Recliners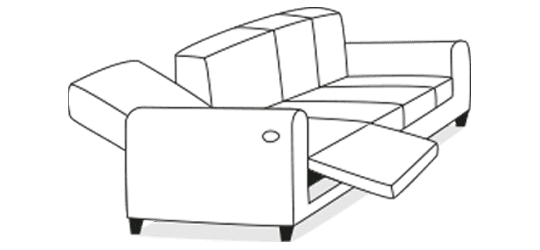 Embrace the practicality of an armchair or sofa by choosing one that allows you to lean back to the angle of your choice. Typically, reclining seats have three stances - a regular seated position, footrest-raised with a slight back recline, and a full recline where the body is supported just above a total lying down position.
It's also important to take into account the space in which you'll be putting your recliner sofa or chair. The footrest and upper recline functionality changes the amount of floor space you have in a room when it's being fully used, so taking measurements - which you can read more about below - becomes essential here.
Expert tip
Also: recliner chairs (thanks to their metal frames) are heavy, which can make moving them difficult thanks to their metal frames. As they're not easily shifted, planning ahead is a must.
There are many different types of recliners, including manual and electrical options, as well as others that have lots of added benefits.
One notable example is a motion reclining sofa which allows users to recline to their desired level and is usually powered by a motor. The motion reclining sofa provides more positions than a standard, manual recliner. However, it can be costly to repair and is heavier than its manual counterpart.
In addition to electrically-powered reclining chairs, you can also find powered chairs that have other perks. Massage chairs are growing in popularity, and can provide the user with a kneading experience that's designed to relax the muscles. Some of these include heat elements as well, for extra therapeutic benefits.
It's important to note that rocking chairs fall into this category too. This timeless classic is a proven sleep-inducing tactic that has benefits for babies, children and adults alike. The rocking motion is most commonly caused from placing the seat part of the chair onto two large curves which can be gently leveraged to create the required gentle motion.
You'll also find some mechanically enhanced armchairs that contain powered cool boxes within the arm rests, and speakers within the headrests. Some modern chairs are even designed specifically for video game players, combining a selection of these components with various controls and features to enhance the gameplay experience.
Recliners are often tricky to place in the home due to their size. Determine how much space you'll need by measuring the recliner's full reclining length (from top to footrest) and its width from one armrest to the other. Also, be sure to measure the width and length of the area where you intend to place your recliner.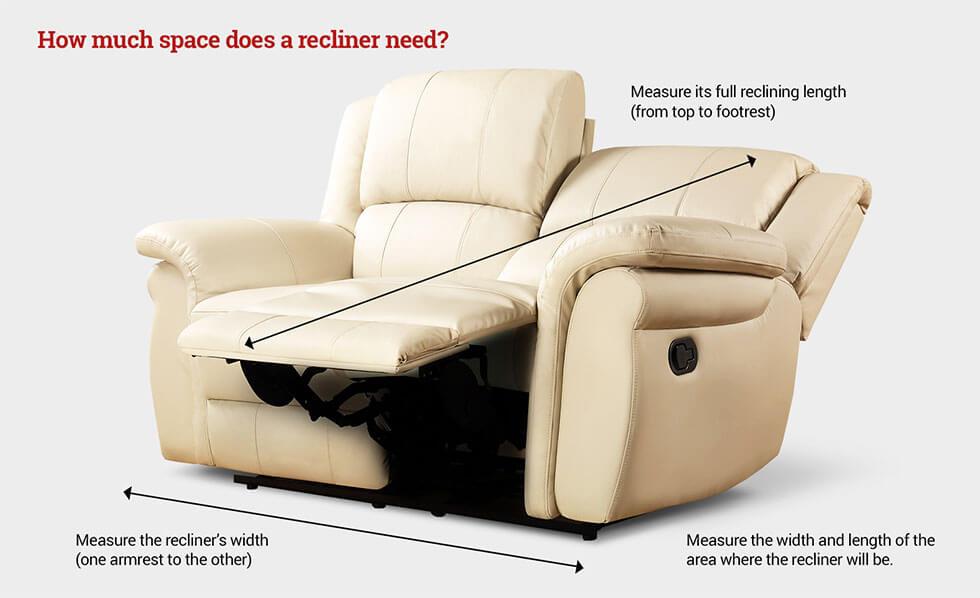 Sofa beds
Shopping for a sofa bed can be particularly tricky - it needs to multitask as a seating and sleeping arrangement while keeping with the aesthetic of your living room.
What's more, there are several types of mechanisms to look out for.
Two-fold sofa beds are the most common, where the cushions can be removed and a mattress and supports are pulled out from within the base of the sofa.
Fold-away style sofa beds are a cheaper alternative, where the mattress is a simple affair that folds away as the seat of the sofa when not in use - removing the metal or wooden supports, placing the mattress directly on the floor.
Mattresses on sofa beds vary widely between styles. Thicker mattresses won't be able to fold away in the same way that lighter, thinner foam mattresses can - and this is something you need to take a look at in the specification of a product before purchasing.
Expert tip
The typical thickness for a sofa bed mattress is relatively thin, around four to five inches. So it's worth remembering that most sofa bed mattresses are not designed to be used every day.
If you or a guest are likely to be sleeping on one for an extended amount of time, consider taking a look at a fold-away bed. This will be able to support a proper mattress, and will generally be more comfortable for the sleeper as well as prevent unnecessary wear on your sofa bed mattress.
Measuring
The most common question when it comes to buying a sofa is: will it fit?
The first step is to compare the measurements of the sofa with the space to fill. Corner sofas can potentially be larger than they appear, and recliners will need to be a certain distance from the wall to facilitate that recline.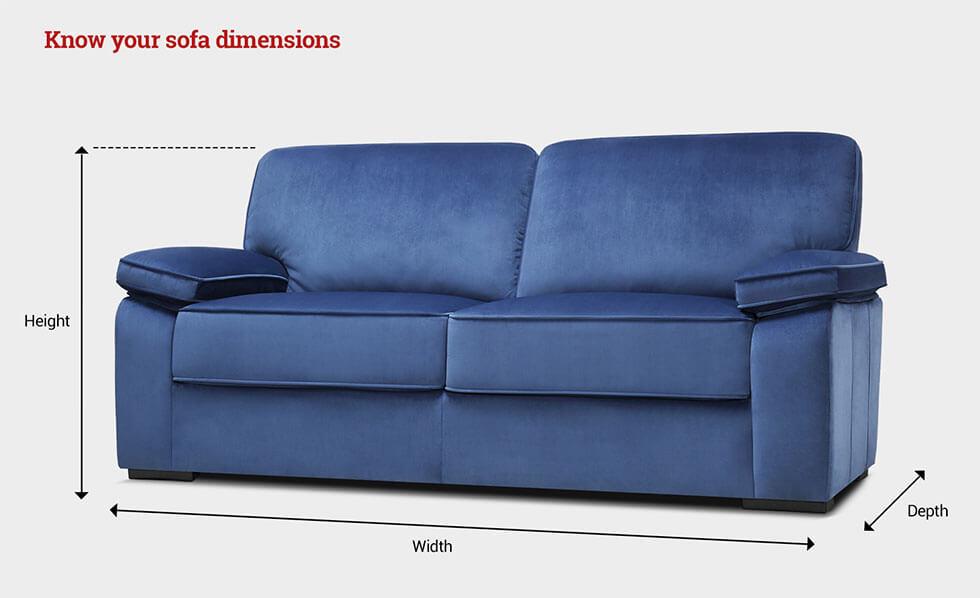 It's also worth considering the practicality of your sofa placement. Are you going to be able to clean under and around the sofa, and is it in a place that obstructs the rest of the room?
Ensuring it can fit in your home
Once you've ensured your sofa will physically fit where you want it, it's important to consider these points:
Will it fit through the door frames?
Are there any obstacles like stair bannisters to consider?
Is there enough room for the delivery men to manoeuvre the sofa?
To assess whether that'll be an issue, look out for the minimum access width on the product description of your sofa before purchasing. This will indicate how wide the hallways and entrances need to be - an element that needs extra consideration when anything bigger than a 2 seater sofa is involved.
Next, you need to assess the length of the item you're bringing into the home. If there's any right angles or obstacles that need to be negotiated, ensure that the sofa can be carried on its end, vertically, while still having height clearance.
For flat complexes, the ideal solution would be if the building has a service area. Failing that, assess whether your lift can fit the furniture (both in size and weight) or measure the corridors and stairwells in the same way you would your home. If in doubt, contact the store's customer support before purchasing.
Delivery logistics
When booking the delivery of your sofa, it's essential that you familiarise yourself with the process. Find out who will be delivering the sofa, and whether they'll carry it to your door, or if there are any restrictions that might make them falter. This could include only carrying the sofa for a certain distance or amount of time, and dealing with obstructions like stairs.
Expert tip
Clearing the room prior to delivery will help speed up the moving process when your furniture arrives. Ensure coats, children's toys and pets are all out of the way ahead of time for an efficient delivery.
For information on Furniture Choice deliveries, please take a look here.
Sofa Sizes
Though some industry standards do exist, it's important to remember that each manufacturer and retailer have their own standard dimensions that they adhere to, and even then, varying styles mean that sizes will differ from one sofa to the next.
Width and depth
The depth of a sofa can vary anywhere between 75cm to over 1m (with deeper sofas understood as being more comfortable) and the length can be anything from under 2m to over 3m. Take note of the sizes to ensure the sofa fits where you want to, and compare the size to other sofa product descriptions too - this can help give you an idea of how the sofa fits into the rest of the market in terms of size, as well as ensuring that it is actually around the size that you want.
You should also ensure that the sofa depth is around the comfortable 40" mark. Many consider this as the optimum depth to allow sitting normally, or curling up with your feet under you.
In the case of armchairs, sofa beds, reclining chairs, and corner sofas, it's essential that you look at the individual product descriptions for accurate information. In cases where the item changes shape (recliners and sofa beds, for example) be sure to get measurements for the piece in both/all states.
Back support
For any kind of back support, you need to ensure that the sofa has a reasonably high back, and ideally, has cushions designed to support your muscles and spine in its natural seated position. Most sofa backs are between 75cm and 1m tall, which should provide enough height for most - but be sure to look at the style of the cushions if lumbar or upper back support is a main selling feature for you. Some manufacturers offer dedicated orthopaedic seating, but most users will find the supplied cushions more than enough for their comfort levels.
A seat with an angled back helps take some of the weight off of your upper body and back, whereas an angled seat that tips forward helps to reduce tension on your muscles when sitting and during the transition to standing.
Materials and Upholstery
Though of course it's important to select a sofa that fits in with the aesthetics of your home, it's also crucial that you take into account the materials it's made of when you make your purchase. The better the materials, the longer the sofa should last you - it's as simple as that.
Sofa frames
Typical sofas are constructed from various kinds of timber - unless you've opted for a metal-framed sofa bed. Kiln-dried hardwoods like maple, pine, oak and birch are frequently cited as the sturdiest of sofa frames, and are considered to be the best for sofa-making by many manufacturers - but unsurprisingly this comes at a cost.
Other options for frame materials include engineered woods like plywood. Plywood is made by combining thick pieces of wood, and subjected to large amounts of pressure. As this technique has developed over the years, many manufacturers now feel that high-quality plywood can be just as good as traditional kiln-dried hardwoods.
As with anything made from wood, always check to see if the wood used is from a sustainable source, and has been treated for insects and moisture.
Joinery
When it comes to the joinery within the sofa frame, there are a couple of things to keep an eye out for. Screws, glues, brackets and dowels are all signs that the frame itself has been constructed properly. If you're in doubt, the best thing to do is to quiz the retailer on the manufacturing process. Ensure the seller can tell you what's inside the sofa, and the levels of quality control the sofa will have gone through before arriving in store.
Upholstery
The upholstery of a sofa is what gives it a finished look. From built-in padding to the inclusion of fabrics or leathers, ensuring the upholstery of a sofa is up to scratch is of vital importance.
The first thing to examine is the stitching. Ensure that any joins are straight, the fabric is close fitting to the frame (but not drawn over it too tightly) and be wary if staples are used. While these can provide a strong finish, the use of staples in upholstery are more commonly used by people to reupholster sofas on their own.
Fabric sofas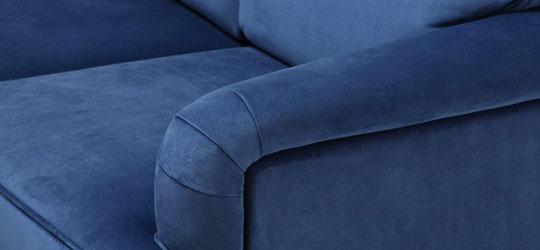 Fabric sofas are brilliant for those that crave a little individuality in their living space thanks to the incredibly wide amount of patterns, colours and styles available in the market.
From chenille to wool or linen blends and trusty cotton, fabric sofas are definitely not a one-size-fits-all option. As such, it's vital that you don't get carried away in the cosmetic elements of a sofa, and instead think about the durability of the fabric, and what you need your sofa to be able to withstand. Take the possibility of wear and tear into account, and opt for colours that will likely wash better - paler tones are less noticeable as they fade.
Expert tip
You could also consider a microfiber upholstered sofa. Taking the appearance of a coloured suede, microfiber looks authentic, but makes cleaning up much easier - ideal for stylish families.
Leather sofas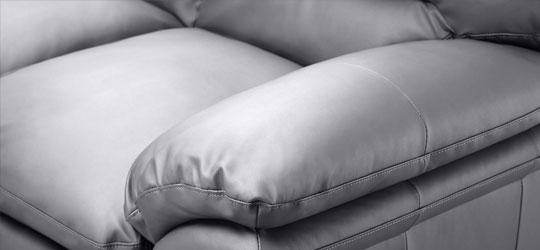 In short, there are a vast amount of leather finishes available to choose from, but most are easily divided into three categories: aniline leather, pigmented leather and semi-aniline leather.
Aniline leather is the most natural-looking leather, but is more vulnerable to stains. It is the purest kind of leather, as no pigments are used in the tanning process - this means you'll be able to see the true character of the leather. As well as giving a more natural look, aniline leather is also hardwearing. Only the best hides are used to produce this leather, which is why this unprotected material can be costly.
Pigmented (or, protected) leather has a polymer coating which increases durability, but reduces the authentic leather appearance.
Semi-aniline lives in between those two categories.
It's worth nothing that all leathers come with their own distinctive texture. No two leathers are ever the same, and the best leather (which comes from the top of the animal) will typically be home to the most defects.
Environmental factors have an impact on the appearance of the material, taking elements like cleanliness, insect effects and habitat safety into account - these can all leave marks upon the leather. However, these are often removed during leather correction processes. Here, the leather can be pigmented, bleached, dyed, embossed or given colour additives to create the perfect tone. These complex processes are why leather sofas are more costly than their fabric counterparts, but the finished piece is far more durable.
Expert tip
All leather sofa types have their own benefits. Nothing is ever entirely stain resistant, but you're more likely able to wipe spills off of a bonded leather sofa than an aniline one. Whereas if you have pets, aniline is a great option as it'll be more resistant to scratches. In short, it's essential to select a sofa that best fits into your lifestyle to ensure longevity.
A cost-effective way of bringing leather furniture into the home is by making the most of split leather sofas. Found more so on the back and sides of a sofa, split leather makes use of too-thick hides that are cut in half. The top half is called grain, and the bottom half becomes suede or split leather. In split leather sofas, the cheaper leather cut is embossed with a leather grain and used where wear and tear isn't most likely to occur.
Bonded leather could also provide that sought-after leather look for less money. Though you shouldn't think of bonded leather as artificial leather; it is still manufactured, while real leather is not. Bonded leather takes the scraps and literally bonds them together with a glue. The finished product is still very durable, but can cost a fraction of what a real leather equivalent would. Bonded leather is also environmentally friendly, as it makes use of materials that would otherwise go to waste.
PVC (PU) sofas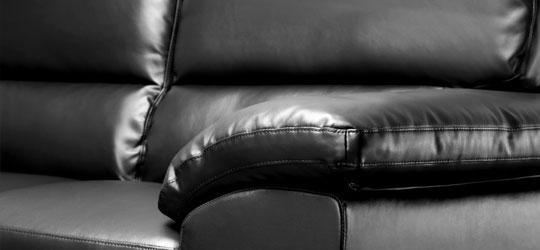 A type of vinyl, PU sofas comprise of a plastic resin that's made to imitate leather. Though these fake leather (or match) sofas are easy to clean and more affordable than real leather, they aren't as durable. However, if you are looking to bring a leather-look into your home at a budget, a PU sofa could be a valid option.
Expert tip
Whether you've opted for a microfiber sofa or a PVC (PU) leather look sofa, these materials all comprise of polyester. Not only does polyester stand up well to day-to-day use, it's also less likely to be damaged by the sun and holds its shape better too.
Microfiber sofas are entirely made from polyester, whereas others make use of polyester as part of their structure - but to whatever degree it's used, the fibres within it are designed to provide the fabric with extra resilience and durability.
Cushions
Whether they're the large variety that serves at the base of the sofa or the smaller, attractive ones on the seat, cushions are integral to the overall comfort and appearance of a sofa.
Firmness
Each sofa's product description should indicate the kind of filling used, and whether the feel is soft, medium or hard, so it's a good point to learn the composition and the density of the cushion to understand the kind of comfort you'll be investing in. Most will be labelled soft, medium or hard, in a similar way to a mattress.
Fillings
Feather fillings are used less frequently these days, as new advances in sofa fillings are more cost effective and manageable. Feather-filled cushions require attention every day, and have a similar look to fibre-filled sofas. Traditionally, feathers, horse hair, coconut fibre and duck down have all been used, but these fillings are now rarely seen in the market.
Foam is frequently used by manufacturers as it is more supportive, and offers a tailored look when finished. High-resilience foam is ideal, as this will compact (and subsequently lose volume) much slower than standard foam. However, this can be prevented to a certain degree with frequent turns of the foam-filled cushions. Natural latex foam is another cushion filling - but due to its lack of fire-retardant properties, it has become less popular.
Fibre fillings are great if you want a sofa that looks altogether softer and cosier. With these kind of cushions, they easily adapt to your body shape, but can also be quickly plumped up whenever required.
Though more commonly found in mattresses - pocket sprung cushions are making a more frequent appearance on sofas. Individual springs within the cushion make it a viable option for larger sofas as well as smaller ones, and can be medium or firm depending on how tightly wound the springs are.
Sofa care
A little time and effort goes a long way in extending the lifespan of your sofa at home. Here are some tips below to get started:
How to care for a fabric sofa
Some styles come with removable covers that allow for easier maintenance - this is ideal if you've children and pets to clean up after. You'll also be able to use some spot cleaners in the same way as you would a carpet, though be sure to check the instructions on the individual product before use.
If in doubt, baby wipes are an excellent way to remove spills or stains. These are gentle enough to not cause any damage, and can still help remove a stain or mark. White wine vinegar is also favoured, but there's a risk of getting the fabric - and the filling - too wet, and will also need plenty of fresh air in order to allow the vinegar to dry completely.
Expert tip
Aside from stains and general wear and tear, the best way to preserve the fabric upholstery on your sofa is to avoid sitting on the arms, and regularly turn the cushions so that it ages consistently.
How to care for a leather sofa
When it comes to cleaning leather sofas, it's important that you only use products that are specifically designed for that use. Using other household cleaning products could damage your leather over time, along with vigorous scrubbing that could leave marks across the upholstery.
Frequent cleans are important when it comes to leather. Leather wipes are perfect for cleaning up everyday messes, but be sure to check the instructions to ensure that your leather sofa is compatible with the wipes being used.
Another thing to note is to avoid using leather wipes on bonded leather. Leather care kits are also worth investing in for the times when you want to give the sofa a deeper clean - find more information about cleaning leather sofas on our dedicated guide.
Fake leather, or PVC care
Cleaning fake leather (often called PVC or PU) is slightly less particular than real leather, but the main principle is the same - you can't use any abrasive chemicals or you will permanently mark your sofa. Warm soapy water should be enough to remove most stains, and you should not use leather wipes on bonded leather. Be sure to thoroughly dry your sofa after cleaning to avoid water marks.
Cushion care
Like most fabric sofas, most cushion cases are removable. This means that, following the manufacturer's instructions, you can machine wash these and have them as good as new in no time.
If the cases aren't removable, gently rub at any stains with warm soapy water, taking care to not over-saturate the cushions, or approach with carpet cleaners and give it a good scrub.
Reupholstering
If your sofa fabric is worn out but the internal parts of the sofa are intact and still good for use, you could consider getting your sofa reupholstered. Many opt to pay a dedicated service to do this tricky job for them, but there are many methods and DIY tutorials if you're happy to give it a go yourself. Martha Stewart and Pinterest are both home to some great tips, written guides and videos. Along with the fabric, you could also try repairing springs and replacing cushions on your own.
How long should a sofa last
The general lifespan of your sofa is very much dictated by the amount of money you invest in the furniture itself. High quality materials will typically last much longer than their cheaper counterparts. However, after a fair bit of wear and tear, you could expect to see any of the following problems occur:
Saggy middle
Cracked leather
Thinned material
Bowed wooden frame
Pet or child damage
Stains
When you start to notice one or more of these problems, it might be time to invest in a new sofa to keep your room looking as fresh and as tidy as possible.
If you've more than one armchair but notice that one gets much more frequent use than the other, don't be afraid to swap them around. This ensures that they both get an equal amount of use, and they'll look fresher for longer.
How to dispose of an old sofa
When you do decide to update your furniture, it's important that you dispose of your old pieces appropriately. If they're still serviceable, consider donating the sofa to a dedicated up-cycling charity.
If it's entirely out of use, you could arrange a pick-up from your local council for a small fee, or take it to your local recycling centre yourself. Take a look at which services are available nearest you by using our recycling tool.
Now that you're all set, browse our wide range of sofas to find one that suits your style.