Homes We Love: A cosy Scandi-inspired home makeover on a budget
Sacha Mooney brings her love of stylish, relaxing interiors to life while renovating in lockdown.
2020 presented a series of unique challenges from staying home for long periods to being unable to move about freely. For first-time homeowners Sacha Mooney and partner Daniel, it was the pressure of having to move in one week before lockdown.
Getting hold of some items for renovation proved to be difficult at first, however, the lockdown also served as a blessing in disguise by giving them more time to fix up their Lincolnshire home. Read on to find out how they transformed their space into a cosy Scandi-inspired home.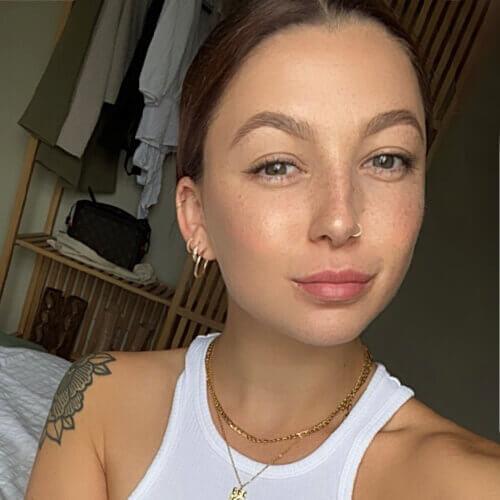 Introducing a dark Scandi palette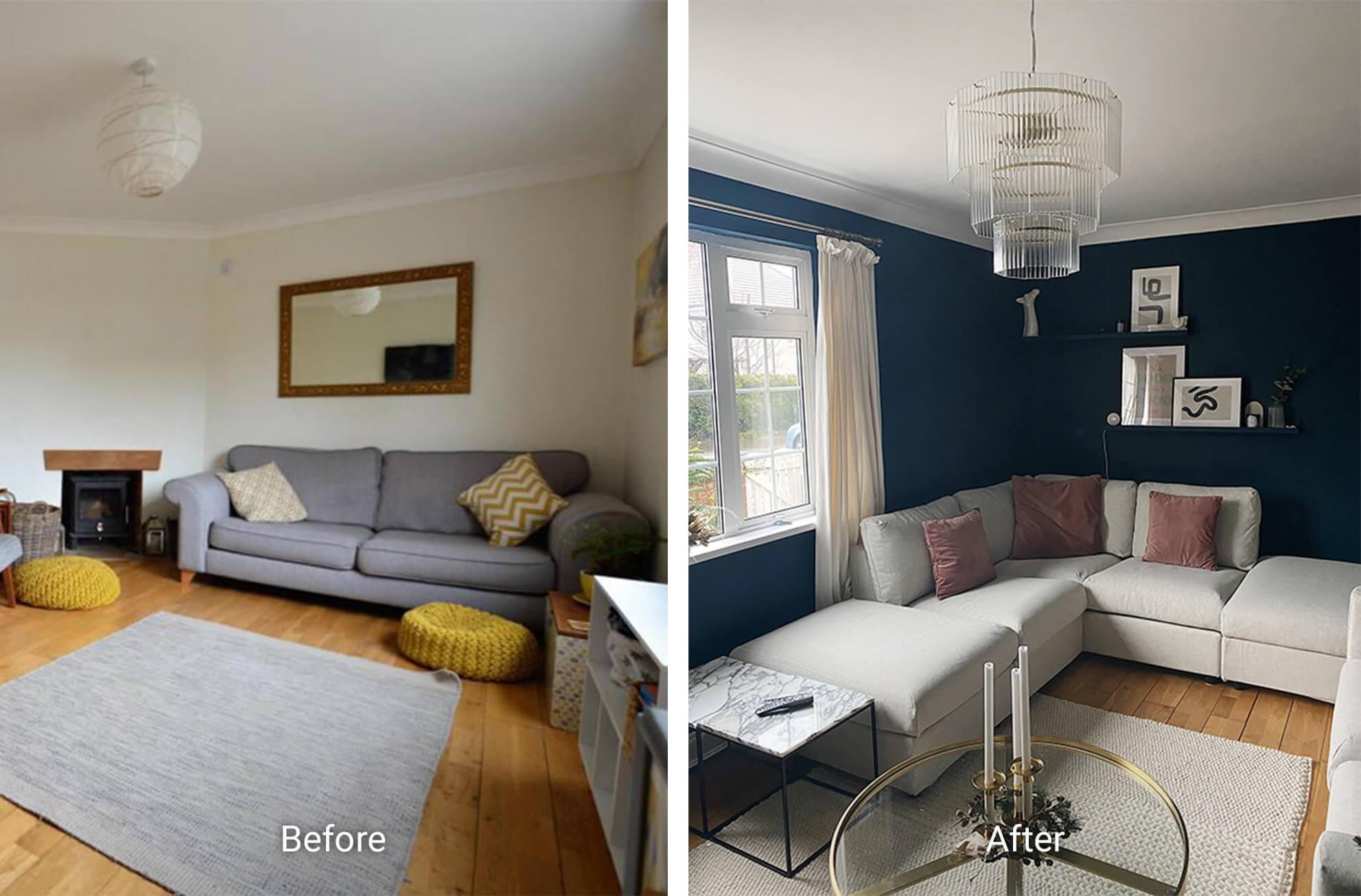 Sacha has always liked the light and minimalist aesthetic of Scandinavian style, however, she felt that their home did not fit it for the most part. Starting with a base of darker colours, she maintained a Scandi feel by introducing lighter elements through soft furnishings and wooden textures.
"I love looking at clean white or cream interiors, but it just isn't me. I wanted to make sure our house had colour and character."
Opting for dark blue walls in the living room, she focused on brightening up the rest of the space. "We broke it up visually by focusing on furniture with clean lines and soft edges such as our new sofa which helped give the space a bit of dimension."
Bringing calm and cosy to the bedroom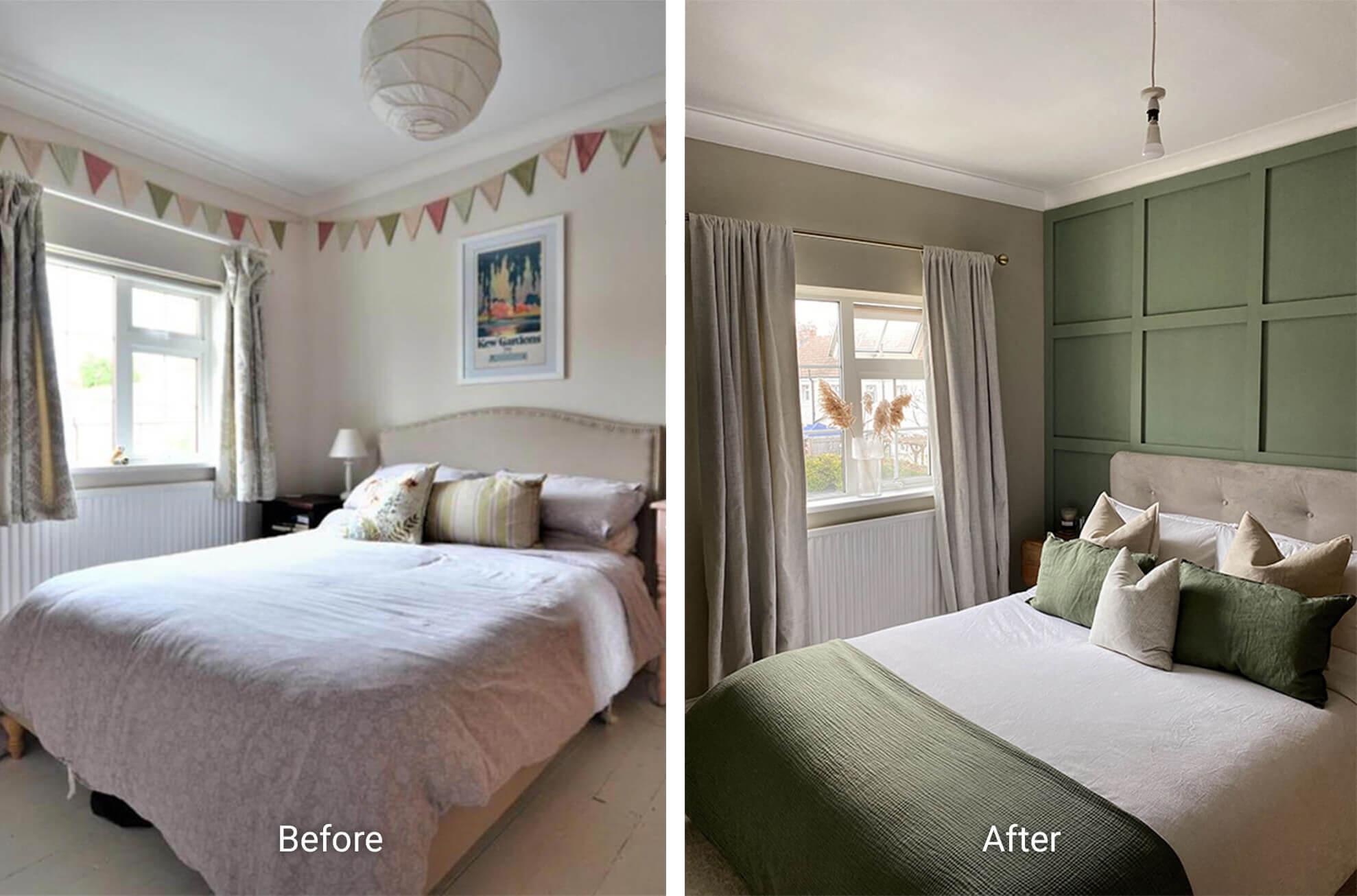 Meanwhile, in the bedroom, Sacha focused on creating a tranquil space.
"I wanted it to feel really calm and cosy as a space where I could go to relax. I picked colours that made me feel serene and when it came to choosing a bed I needed something that would fit with that too."
"I also didn't want any harsh shapes or styles and Furniture And Choice's Pemberton bed was just perfect. The colour fit perfectly with the vibe of the room and the soft rounded edges of the headboard kept it from looking too clumpy and bold."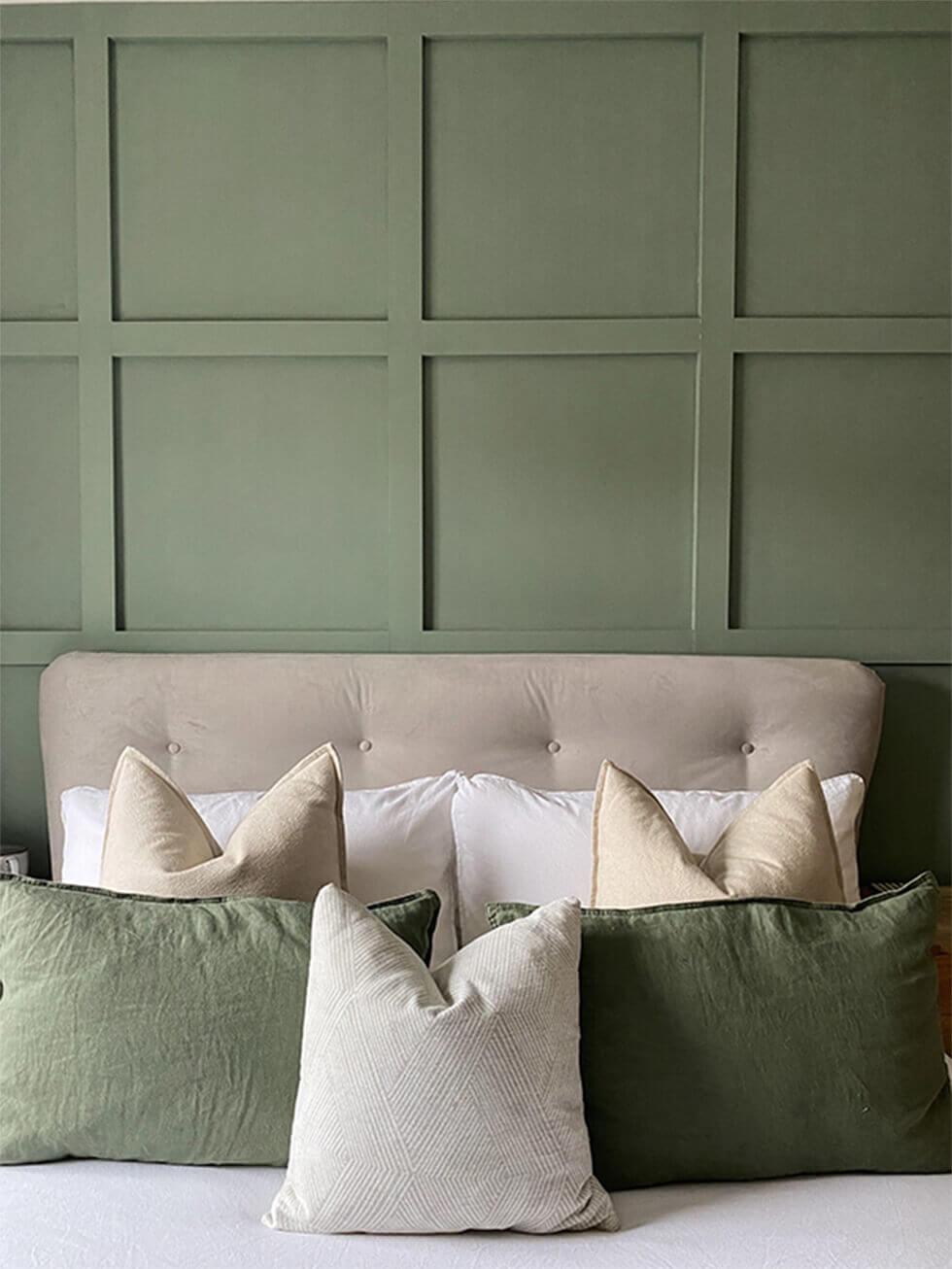 Alongside the earthy green shade on the walls, she also added an extra wall panelling feature to the bedroom. This was to keep the space from feeling cluttered while also adding a bit of character and a point of interest.
Inspired by Pinterest, she set out to recreate the look but found it challenging to tackle the DIY on her own. Sacha reflects on this saying, "I would have loved to have done it myself, but I hadn't found my DIY feet at this point with this being an old house - the walls are pretty wonky, so I think it was a tricky job. I'm actually glad I didn't do it myself!"
When bright and airy meets the heart of the home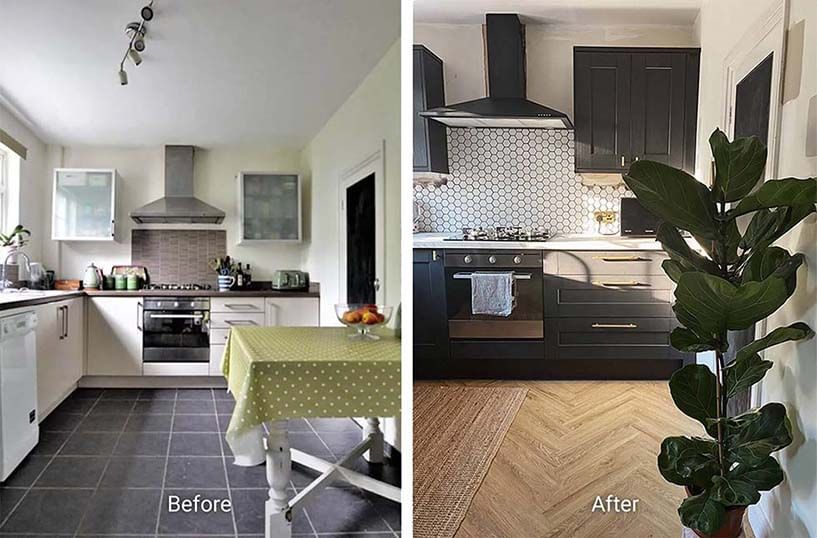 One of the biggest transformations in her home has been the kitchen. Although it's still a work in progress, she has successfully created a comforting, communal space with lots of natural lighting.
"It's my favourite room as it's the one we've put the most time, thought and work into," she declares. "I absolutely hated the original kitchen and I couldn't bear to spend any time in it, so I planned to have my dream kitchen and seeing it come to life has been wonderful."
A major change is the contrast between the dark units against the white tiles which create a stark yet stylish statement. To balance out the look, she added some Nordic-inspired wooden elements such as flooring, shelves and bar stools for an airy feel.
A stylish bathroom fix-up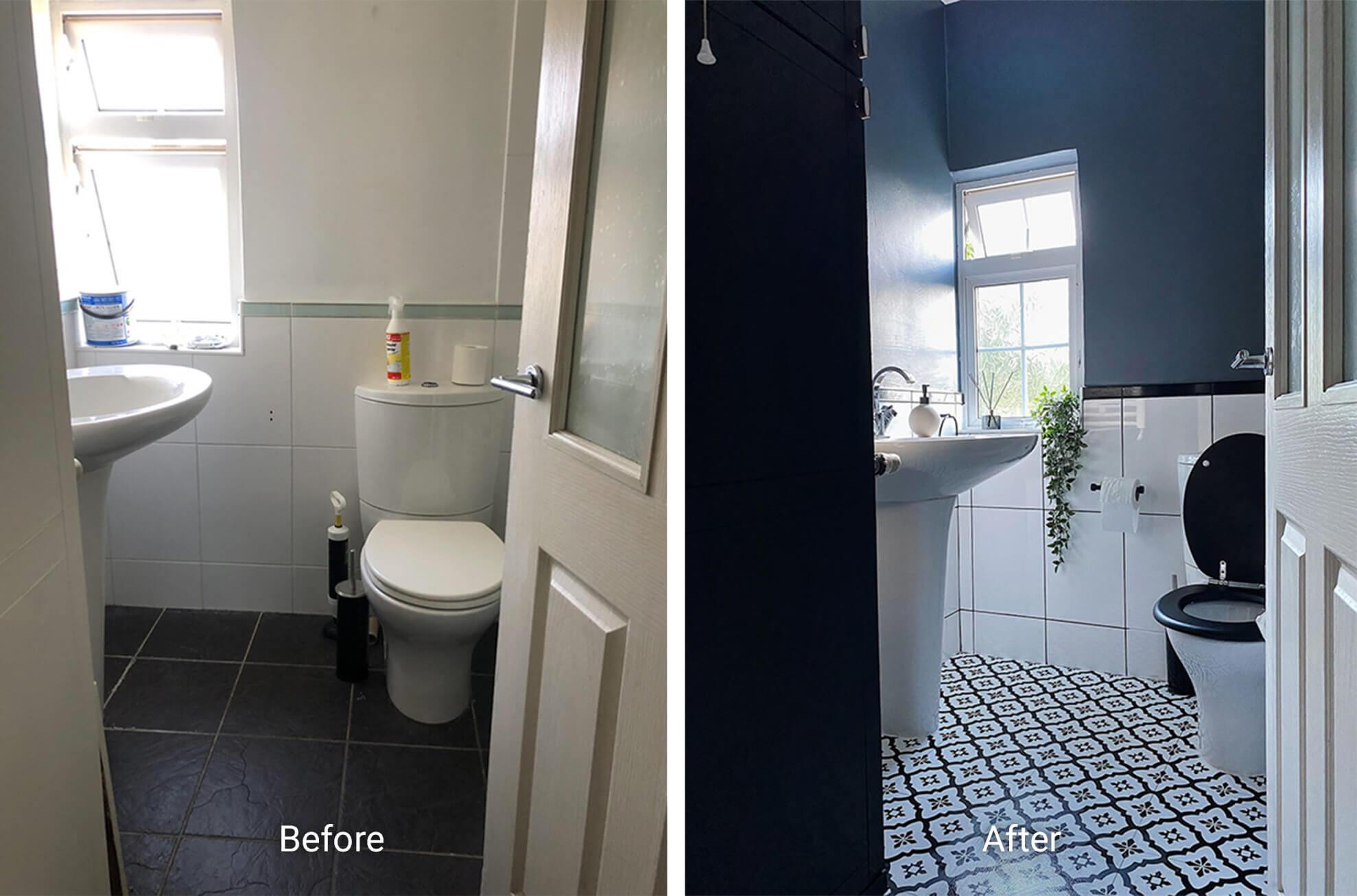 Another home update with a big impact is the bathroom which she managed to fix up on a budget.
The first thing Sacha did was place self-adhesive vinyl floor tiles over the original slate-style tiles which took over five hours for her to do because of the awkward floor layout. She then painted some of the tiles that were blue and the grout black. For a finishing touch, the walls are now a cool grey, adding depth to the space and bringing a dark Scandi feel.
"And the whole thing cost us less than £250!" Sacha declares proudly.
Keeping it comfy for Arnie the dog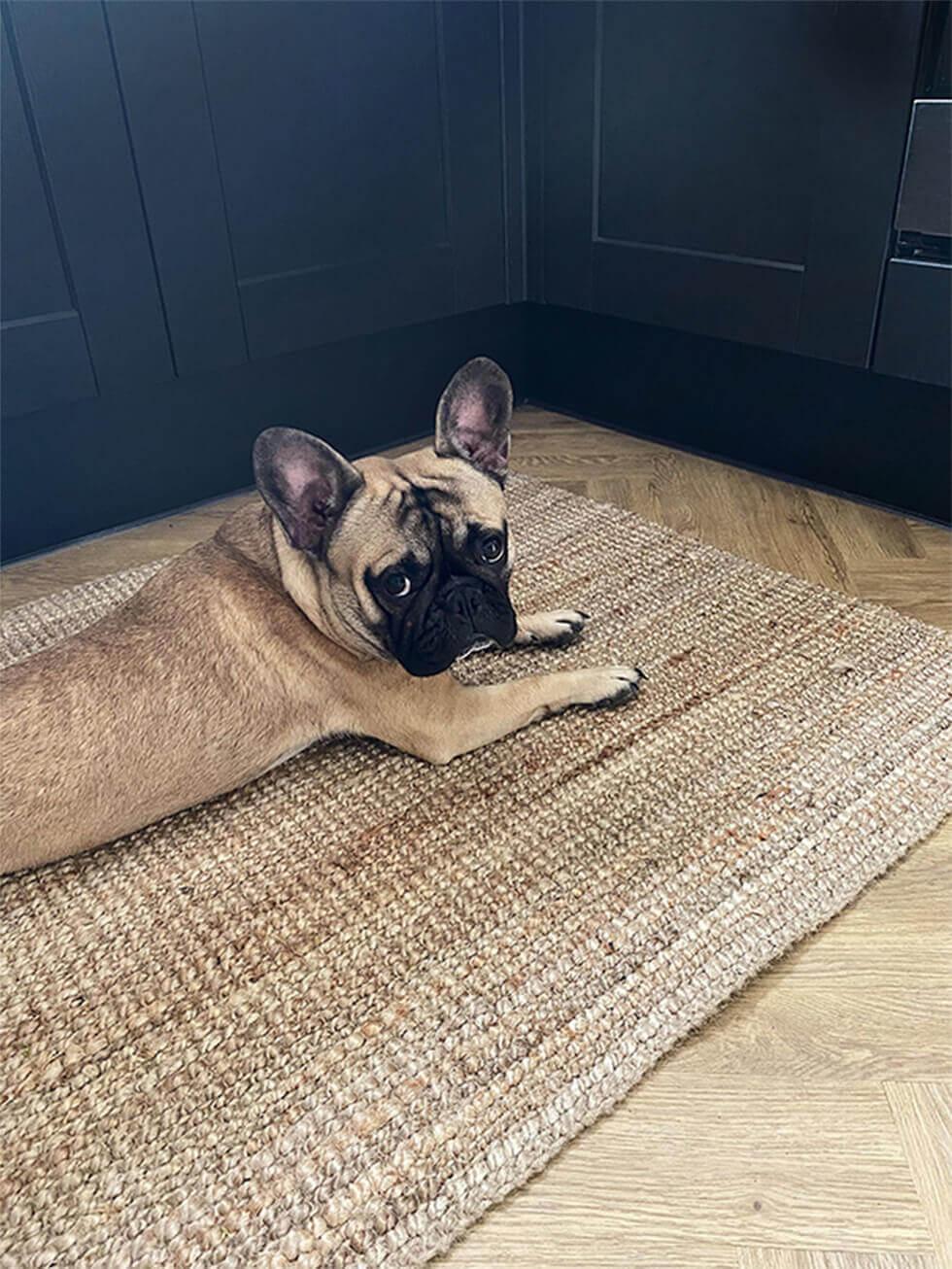 Aside from giving their home a personal touch, it was also essential to make it pet-proof for their adorable French bulldog, Arnie. Often found lounging at the end of their bed in the morning, he switches to the kitchen rug in the afternoon if the sun comes streaming in.
"We have a stair gate to stop him from going upstairs unsupervised and we generally don't allow him to roam freely about the house not because we don't trust him, but more so he doesn't hurt himself."
"He's allowed on the sofa but only on one part where we put down a blanket for him to lay on. Luckily the sofas have removable covers so we can wash those if he ever does manage to get his muddy paws on them. I make sure to wipe his paws after a walk too. If anything, the house is less dog proof and he is more house proof!"
Handy tips for decorating on a budget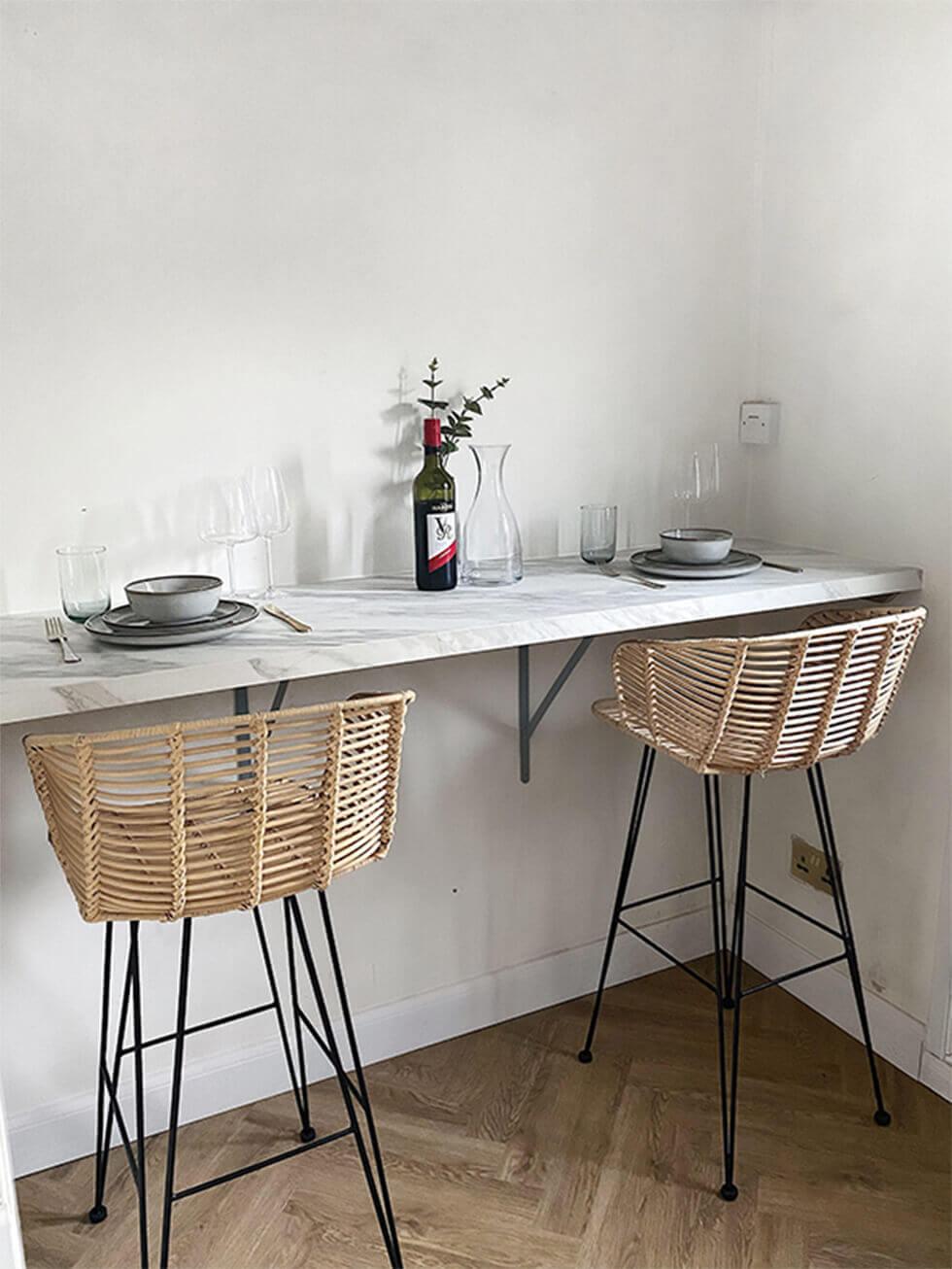 Their home is still a work in progress, with Sacha and Daniel currently building an outhouse in their garden that will be converted into Daniel's office. He's presently using their spare room which will be their next project, though they're still undecided on whether to turn it into a snug room or an office for Sacha.
Having spent the last few months fixing up her home, here are a few tips Sacha's learnt along the way:
Take your time! Don't rush for the sake of getting things done, as silly mistakes and rash decisions might be made
Get creative - don't be afraid to try a bold colour or use some wacky wallpaper because chances are you will actually love it
Don't let social media make you feel bad about being on a budget. You'll be surprised how many budget DIYs there are online that you can do yourself