How to style a luxe and cosy Christmas at home
Add instant glamour to your Christmas home decor with our 6 style tips.
This Christmas, embrace the mood of indulgence and lavishness - in your interior design. As temperatures fall and layering up seems like a good idea, there's no better time to lounge around amongst comfortable, sensuous materials like velvet and wool. They also help establish an air of elegance and luxury, which is our interior goal for the season.
Read on for more ideas on how to dress up the home for a glamorous Christmas!
1. Style your staircase for christmas
Skip the traditional palette of green and red this Christmas and dress up a staircase with stylish neutrals and luxe metallics. If your staircase has wall panelling, paint it grey for a cool, sophisticated feature wall effect.
Next, bring in seasonal touches through fresh greenery such as pine or eucalyptus. For an Instagram-worthy look, decorate the staircase with paper honeycomb balls in a variety of neutral tones. Mix and match different sizes with gold stars to bring an extra layer of sophistication. Top it off with gold or silver decorations such as modern wreaths or sparkly baubles.
2. Reach for rich sensuous textures
Elevate your layering game by reaching for sumptuous, sensuous fabrics like lush velvet, snuggly wool, and oh-so-fluffy faux fur. While a game-changing move would be to switch to a magnificent velvet sofa, there are smaller, less committal ways to incorporate these materials your home.
For instance, plop on a few forest green velvet pillows and drape a woolly blanket over your sofa. If you like how they look and feel, add a white faux fur rug or a cashmere throw to the mix. And voila, you'll have an incredibly cosy living room that'll make you want to stay in all season.
3. Lighting and ambience go hand in hand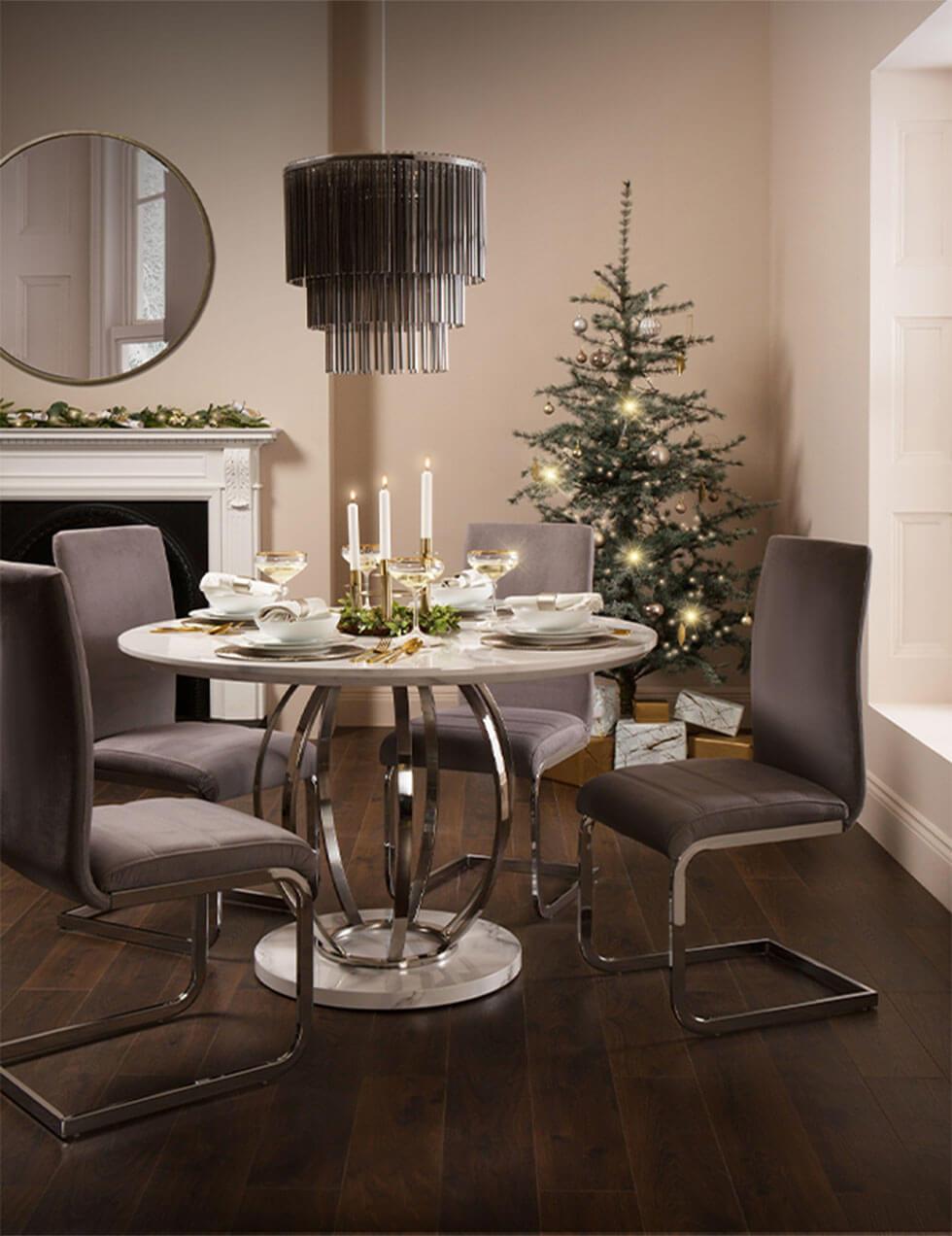 Lighting is key in creating a cosy ambience that still remains functional. A chandelier makes for a bright and lovely feature above the dining table, while stringing fairy lights throughout the home instantly evokes magical winter wonderland vibes. For additional illumination, pick out a stylish floor lamp as it can provide ambient or task lighting, as well as draw attention to a special feature of the room.
Candles are easy additions that deliver so much more than they cost. Even the happiest people in the world (the Danes) attribute lighting candles as an integral part of hygge, and a party should always aim to have that deliciously warm, homely quality. When serving dinner, stick to unscented candles to avoid overwhelming the senses.
4. Show off opulent surfaces like marble and brass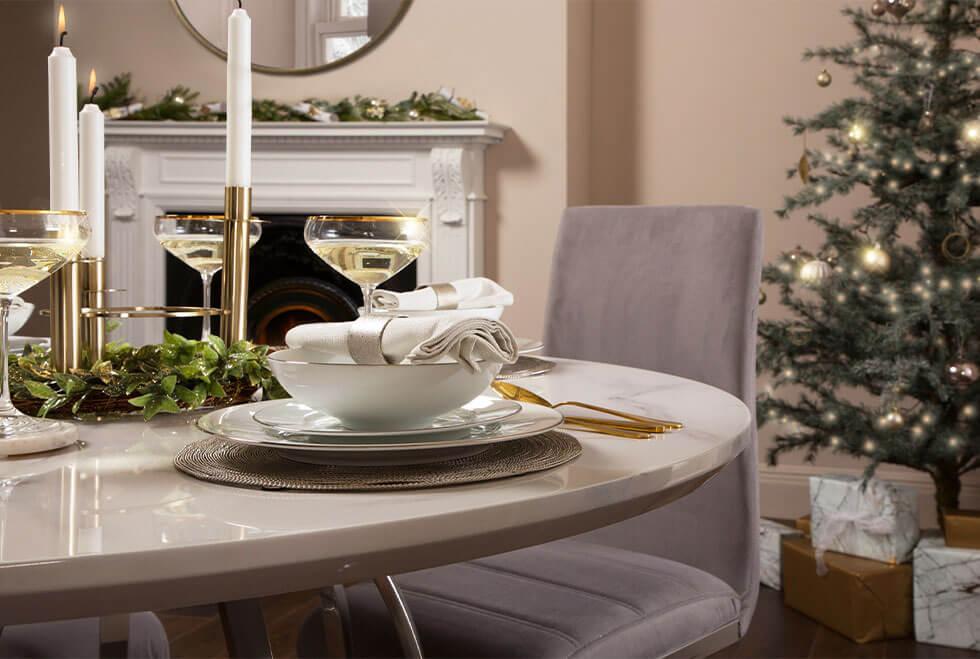 In all the excitement of decking the home for Christmas, don't forget to dress up the dining table too. An opulent white marble table is a fine choice come dinner party time, bringing with it a layer of luxury and brightness that will never go out of style. Smaller homes may want to consider a round table with a central pedestal to free up leg room when gathering over festive meals.
To complement the marble's sheen, display dinnerware and accessories that feature a rustic brass finish. Their slight earthiness adds depth while the metallic coating reflects twinkling Christmas lights for a sparkling, magical effect.
5. A bar cart is always fun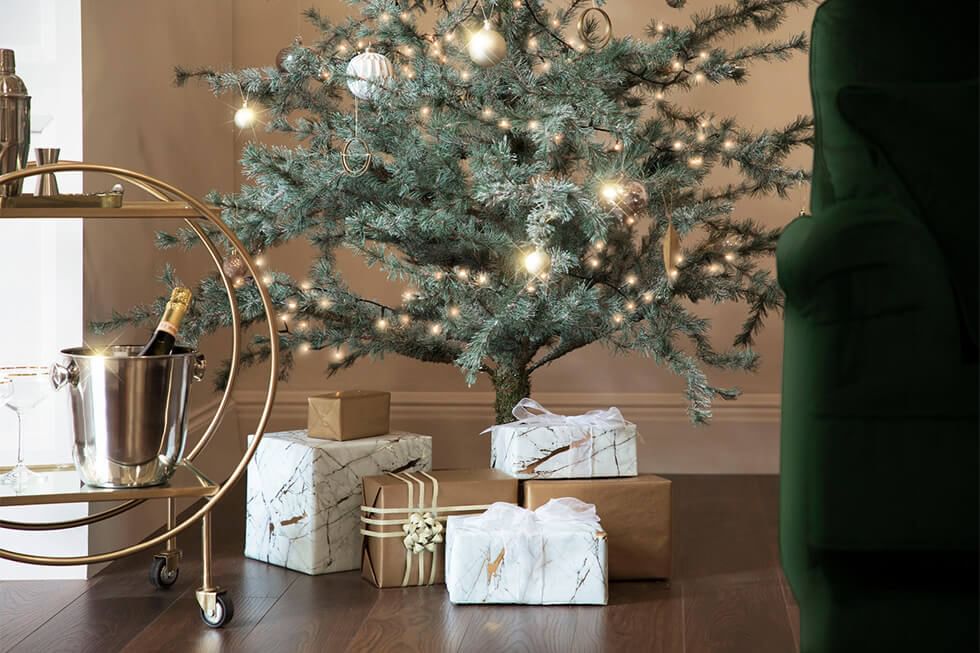 Prepare the mulled wine, eggnog or Champagne and serve them via a handy bar cart, why don't you? A brass finished cart is classy and versatile enough to be used in any season! If you have more of a cocktail crowd going on, it's the perfect way to present a DIY cocktail counter too.
Display garnishes like mint leaves, fresh berries, and orange twists in glasses and include little tongs so guests can customise their drinks. And when the party moves into the dining room? Just roll the drinks that way.
6. Personalised place settings for a memorable party
Personalisation is the pinnacle of luxury; and the devil is in the details. Wow your guests with customised place settings that make beautiful additions to your dining table. Try your hand at making your own Christmas crackers or elegant marbled baubles that you can use for your table setting or as a tree ornament.
While you're at it, you can also try your hand at making a hanging branch centrepiece for a full on festive statement at the dining table.
We hope you have a blast preparing for the holidays, and Merry Christmas in advance!