Understanding colour psychology and how to use calming colours at home
Start off the new year with a calm refuge at home, and find out the role colour can play in styling a spa-like space.
The beauty of a new year is that it offers a fresh start, and what better way to do that than in a mindful, quiet setting?
Zoning your home and creating different moods is key to getting it right, and choosing the right colours can help to effectively carve out those spaces… which is why it all starts with understanding colour psychology.
What is colour psychology?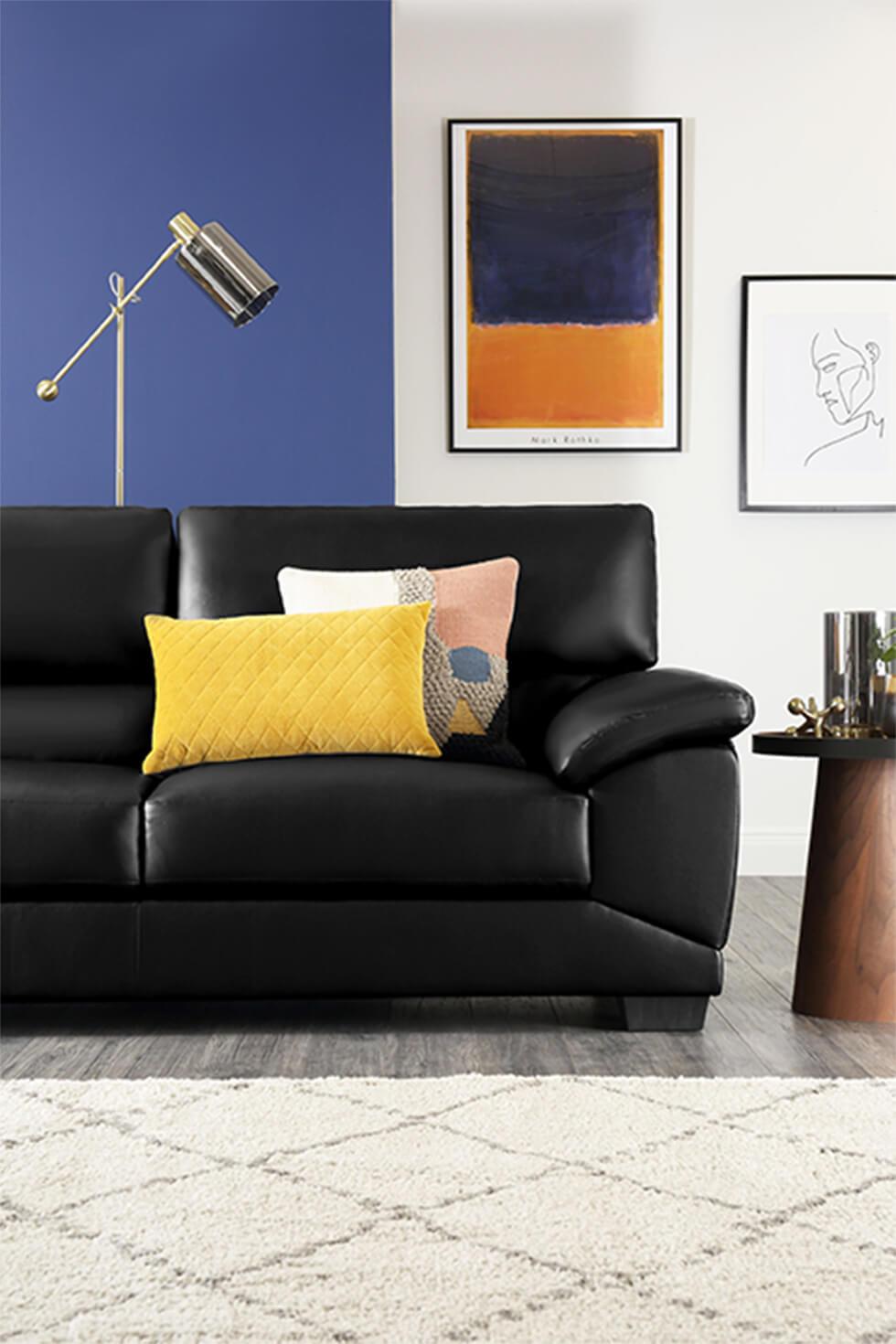 In some ways, colour psychology is intuitive - many of us have strong preferences about the colours we like, and specific emotional associations with different shades. Colour psychology just takes that a step further and studies the emotions associated with different hues, and how to use it purposefully and cleverly.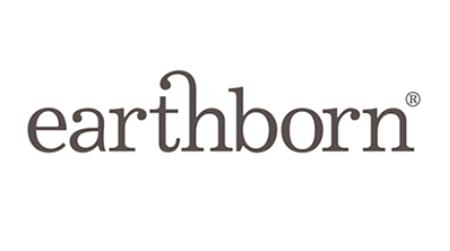 To find out more, we spoke with Emily Morgan, Colour Expert at Earthborn Paints, which formulates paints that are better for the environment and healthier to live with - they take care to select eco-friendly ingredients free from harmful emissions, and create colours with complex, flattering undertones.
At Earthborn we believe that colour has the potential to not only improve our environment, but also our sense of wellbeing.
"So first and foremost, we always advise our customers to pick a colour they love, and would be happy to see on the walls of their home."
"But it also helps to know a bit more about how different colours can make us feel. And then consider the feeling you want to evoke in your room, whether that's cosy and inviting, or bright, fresh and airy. Then test your chosen colours in your room, and see how the light subtly alters the shade."
Energetic, zingy shades (think red and yellow) tend to be more stimulating, so they work well for places where people gather, such as the living room. Meanwhile, colours with ties to nature, like blue, green and brown, tend to be more relaxing and grounded - perfect for styling a tranquil home for the year ahead.
To get you started on a fresh note, here are 4 calming colour palettes to consider when creating a spa-like, serene home.
1. Enjoy the calm of blue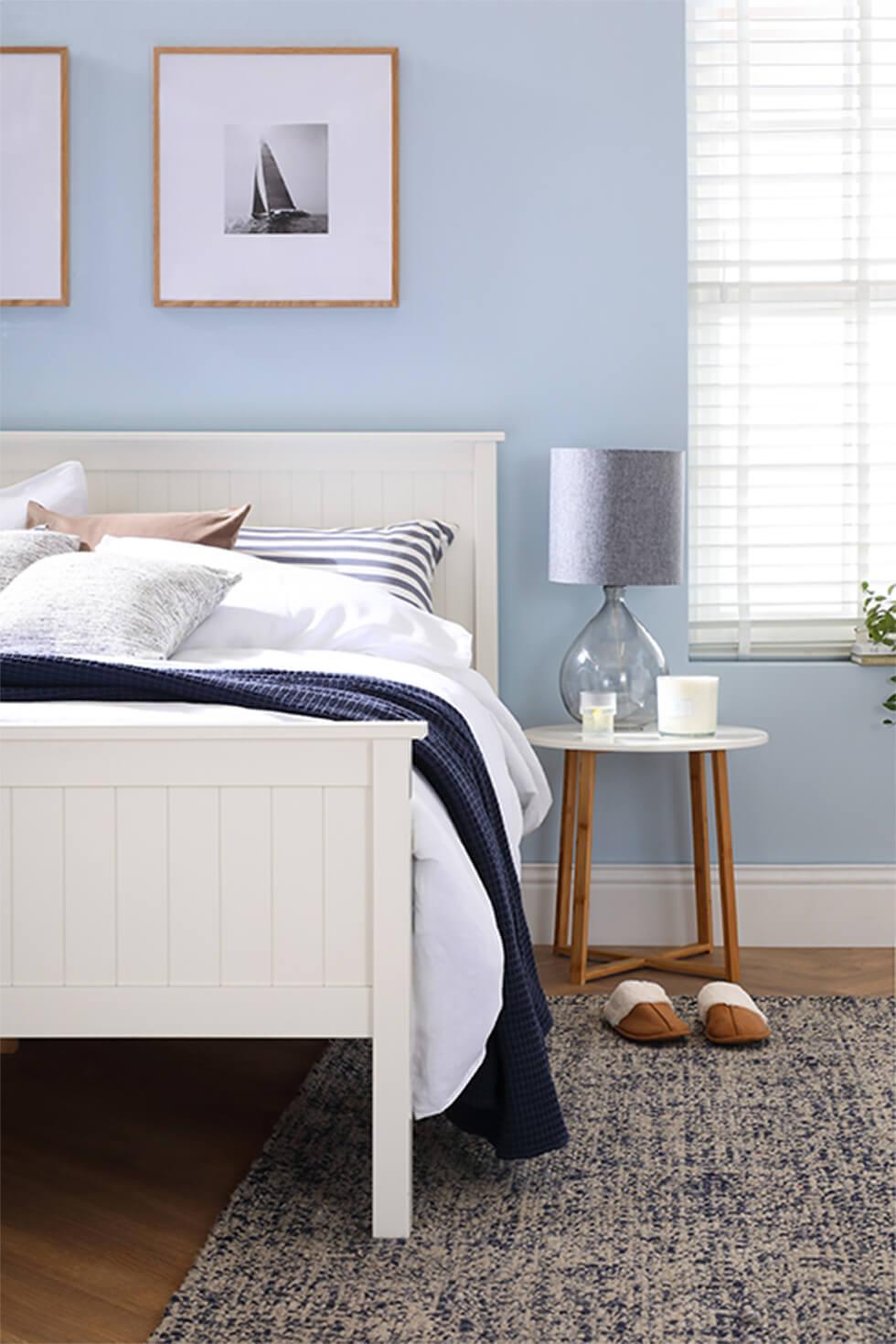 Of all the colours, blue is most often associated with calm and peacefulness - and research has even suggested that it can lower blood pressure and help you relax.
Different shades of blue do evoke different emotions: light blue is a soothing, cooling tone and can help create a serene, quiet feeling in the home. This makes it most suited for a sanctuary like the bedroom, especially if you add cosy touches, such as scented diffusers and cosy slippers.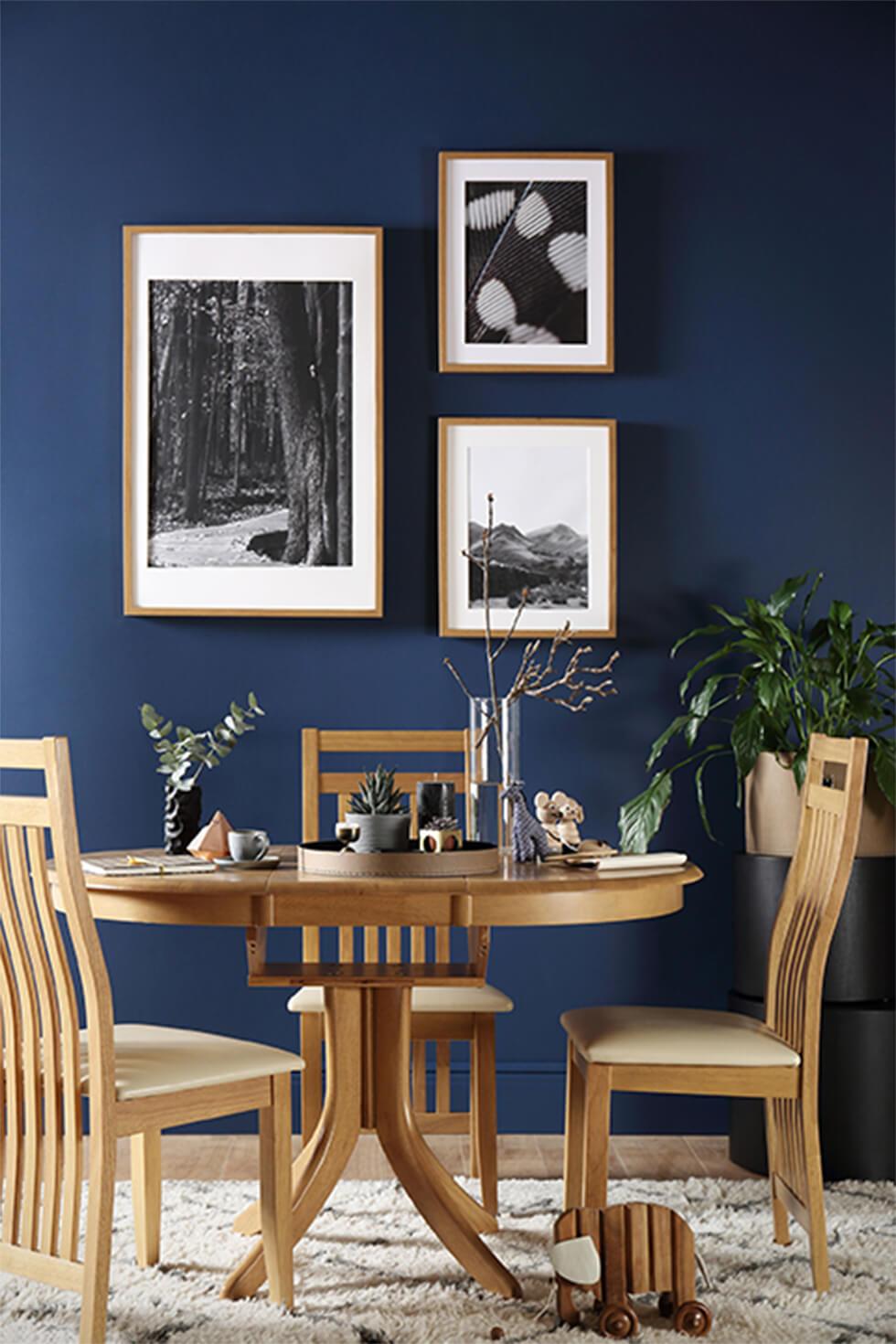 Meanwhile, dark blue is associated with confidence and trust. So tones like navy blue can immediately provide a sense of security and a grounding quality to your space. This makes it an apt choice for relaxing spaces, but also for rooms where you'd like to be able to think calmly - such as a dining space that's also doing double duty as a home office perhaps.
2. Embrace nature with green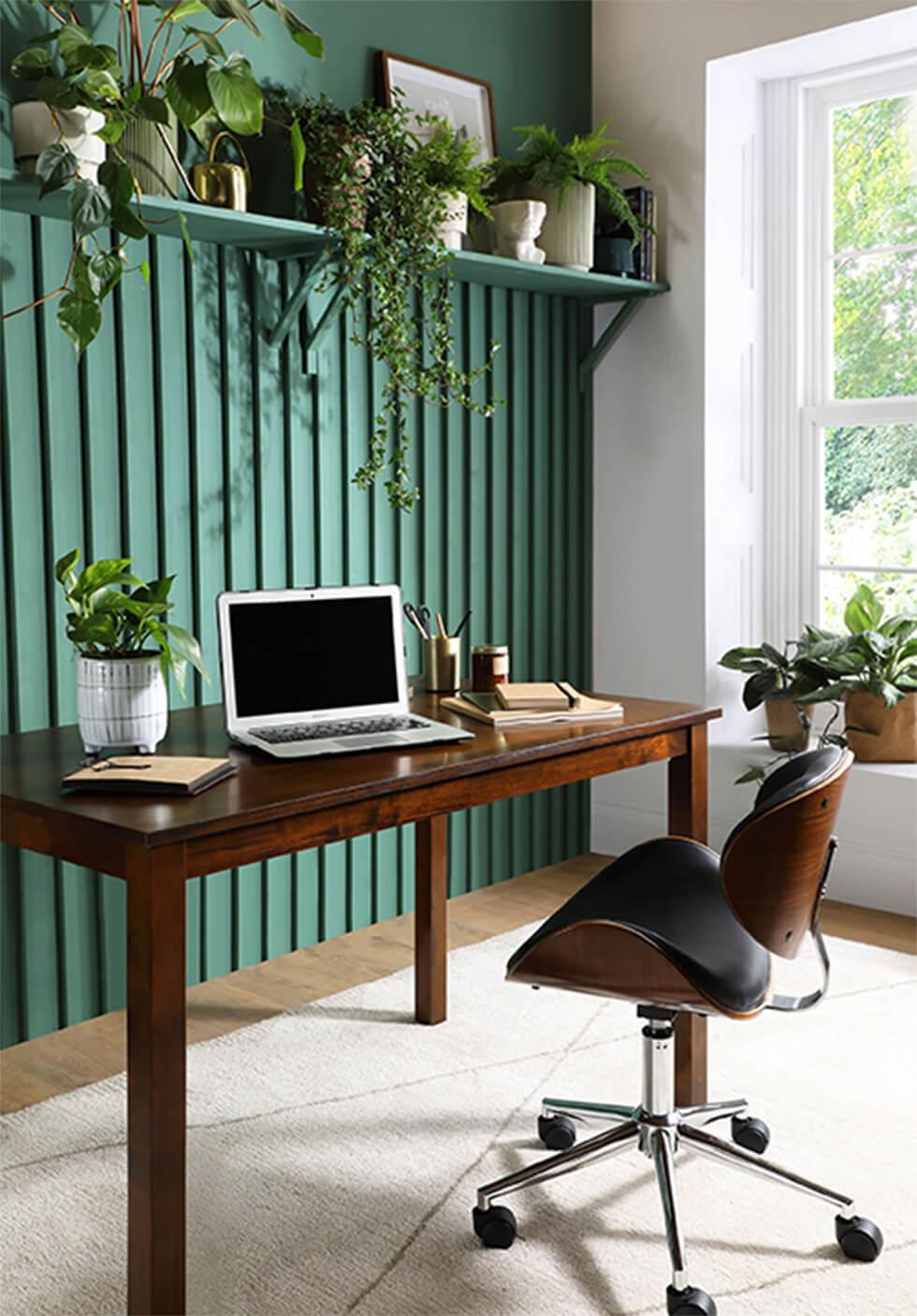 A colour that evokes grassy fields, rolling hills, and quiet forests, green is often associated with nature, balance and growth. These qualities make it a deeply restorative, refreshing shade in the home.
While it's calming, green also has a gently energising quality, making it an ideal choice for work spaces. Paint a feature wall green, and designate it as a working nook for a space that will encourage focus and imagination.
As a bonus: along with blue, green has been shown to be among the most restful for the eyes - so important when we all face many hours in front of the screen.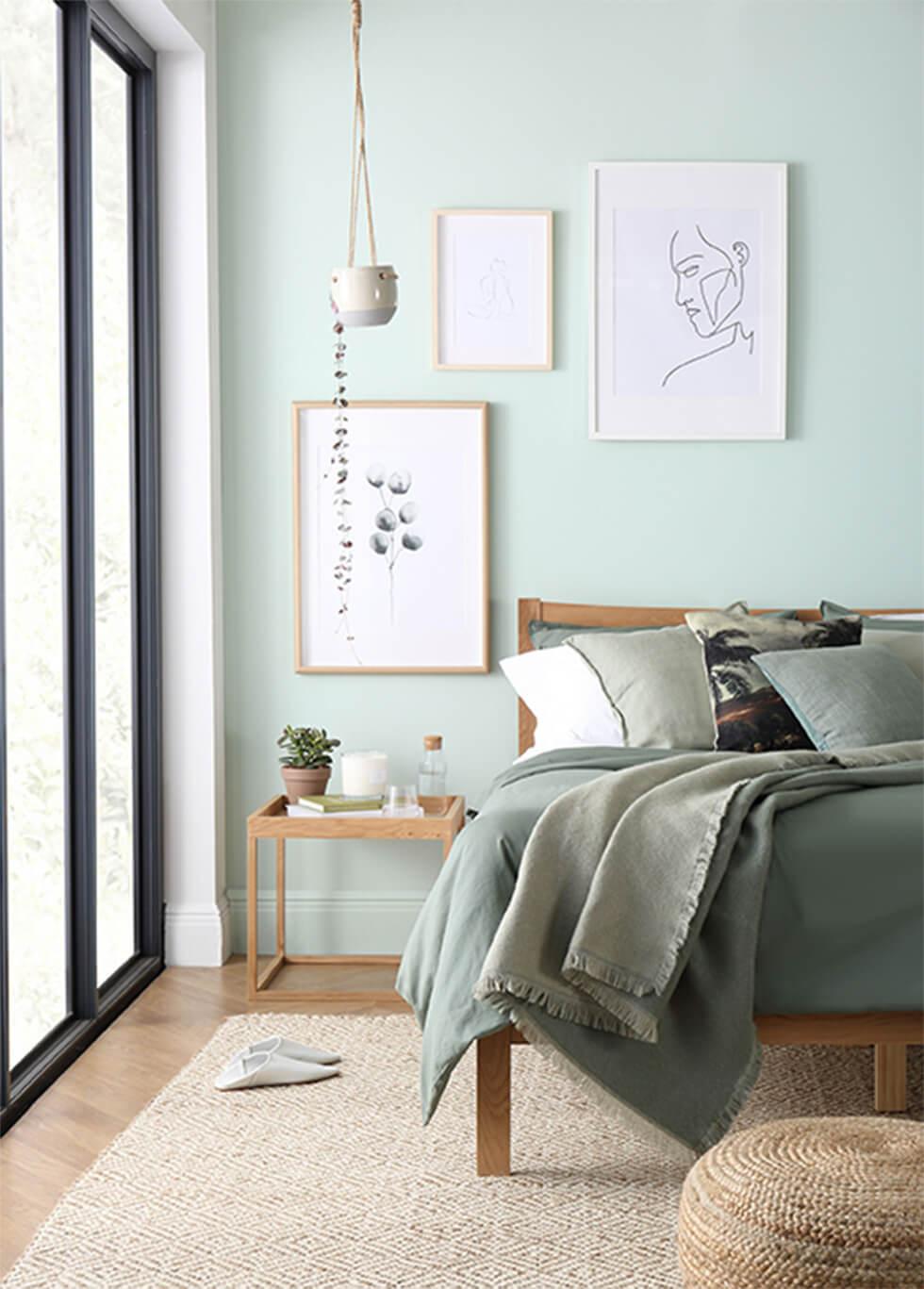 You can also indulge in green's more relaxing qualities by looking for muted, lighter shades with grey undertones, such as sage. This is a perfect shade for a spa-like bedroom, as it creates a tranquil feel.
3. Keep calm and carry on with neutrals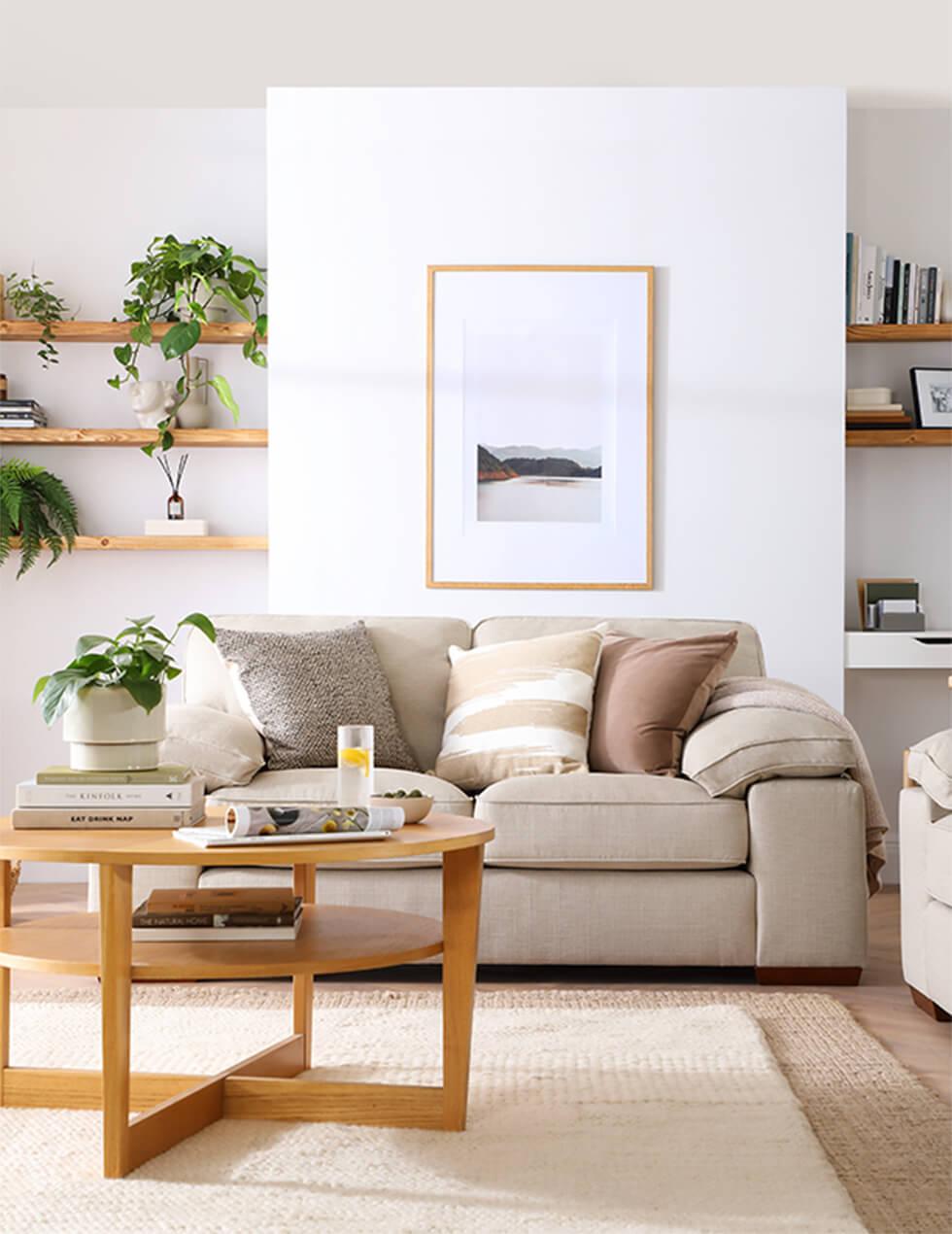 Reassuring, versatile and composed, neutrals are a surefire choice for a serene space.
White, grey, and brown can all provide a sense of ease and warmth in the home, setting an inviting scene. The fact that these colours all easily pair with one another (and with most other shades, in fact), make them quietly chic, confident choices.
Bringing in as much natural light as you can is a key component when it comes to styling an airy, relaxed space. Light neutrals such as cream, dove grey, and taupe can really maximise this and give a sense of brightness to the home.
4. Include natural tones and textures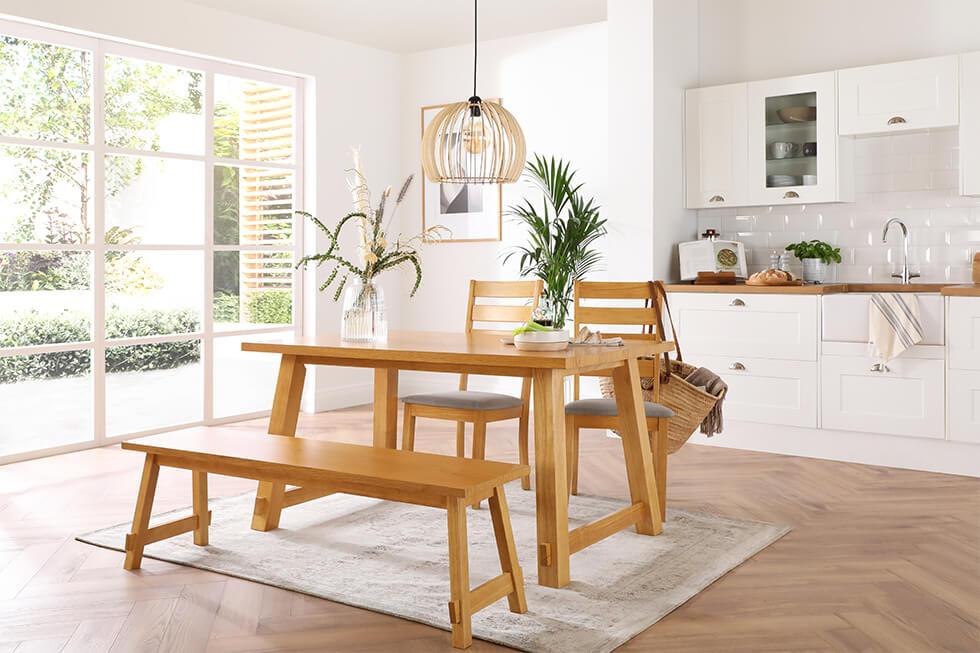 Finally, don't overlook the importance of natural tones such as wooden textures and woven textiles. Their organic, tactile quality can help make a room feel more welcoming and warm. A woven area rug is a cosy and functional example - it can help with visual zoning in an open plan space while bringing a comforting feel.
A touch of greenery goes a long way too. Lush shades of various greens set a refreshing scene for the eyes and bring a light and airy feeling to a space. For a calming ambience and added bonus, choose plants that purify the air.