10 of the best design ideas for a small kitchen with big impact
Small kitchens are a reality of modern homes, but that doesn't mean you can't go big on style - check out these 10 great design ideas for small kitchens.
When imagining the kitchen of your dreams, a few ideas come to mind: it'd probably be spacious, with lots of natural light and counter space, and gleaming top of the line appliances. And while some of that is achievable, in reality, many of us are working with kitchens that are a fair bit smaller than we'd like.
But sometimes less really can be more, and with clever planning and strategising, designing a small kitchen can be a fun, satisfying challenge, resulting in a space that excels in both form and function.
Here are 10 of our best tips and ideas for small kitchen design!
1. Make use of every inch of space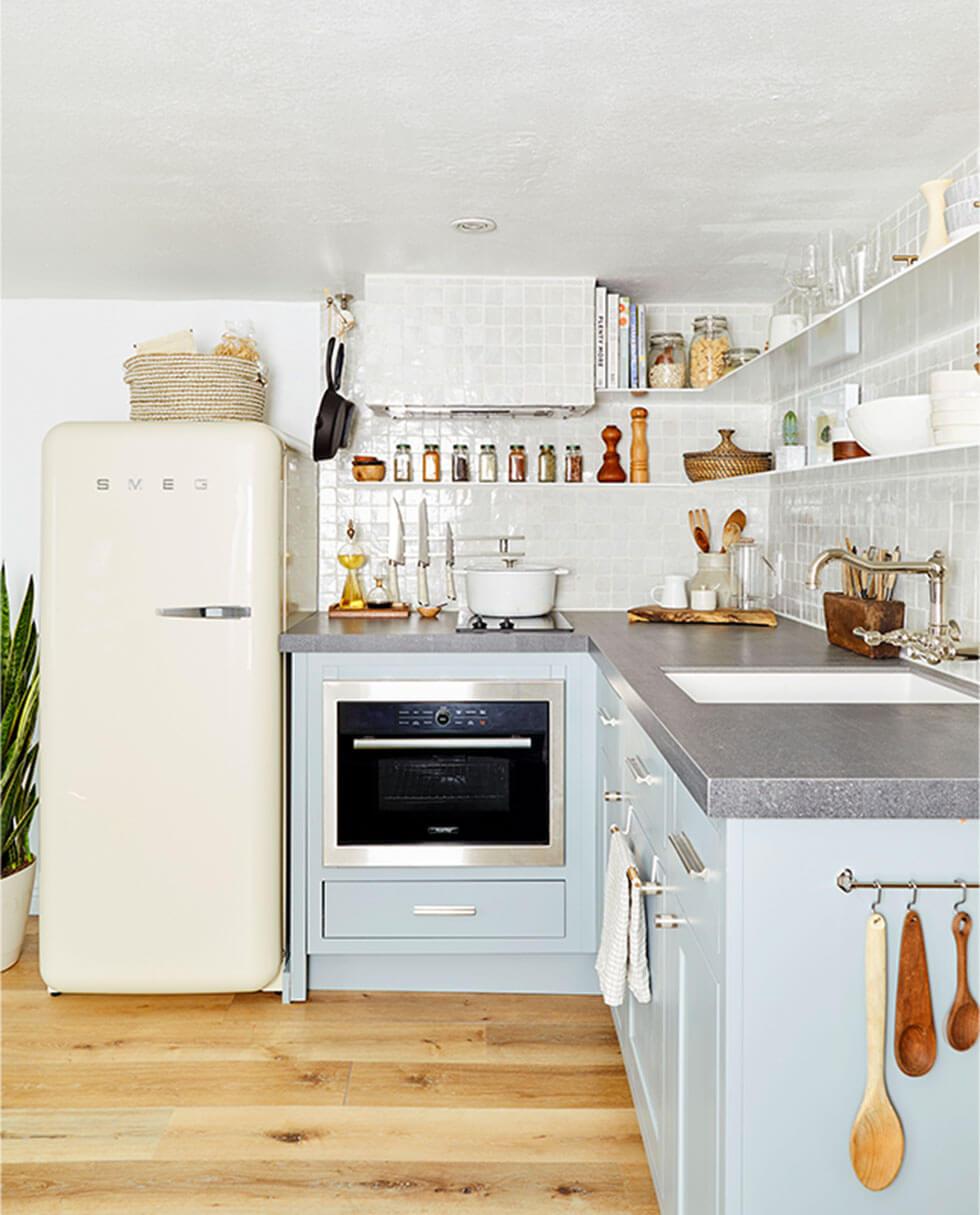 When planning your small kitchen, it's all about being honest about the space you actually have. Take note of the specific shape you're working with (whether it's a galley kitchen, or horseshoe, etc) and the challenges it might present.
The important takeaway is that with clever planning, small kitchens have lots of potential. Think of where your appliances need to go (for instance, you might want to keep your stove near a window, and place your oven below a counter), and how much storage you'll need and go from there. That way you can ensure that your small kitchen is efficient and truly meets your needs.
There should be a functional use for all your space, so maximise it with storage and purposeful decoration. The space above fridges and countertops can be used to house spice racks, pans, and hanging racks for frequently used utensils like spoons and spatulas.
2. Keep it streamlined and minimal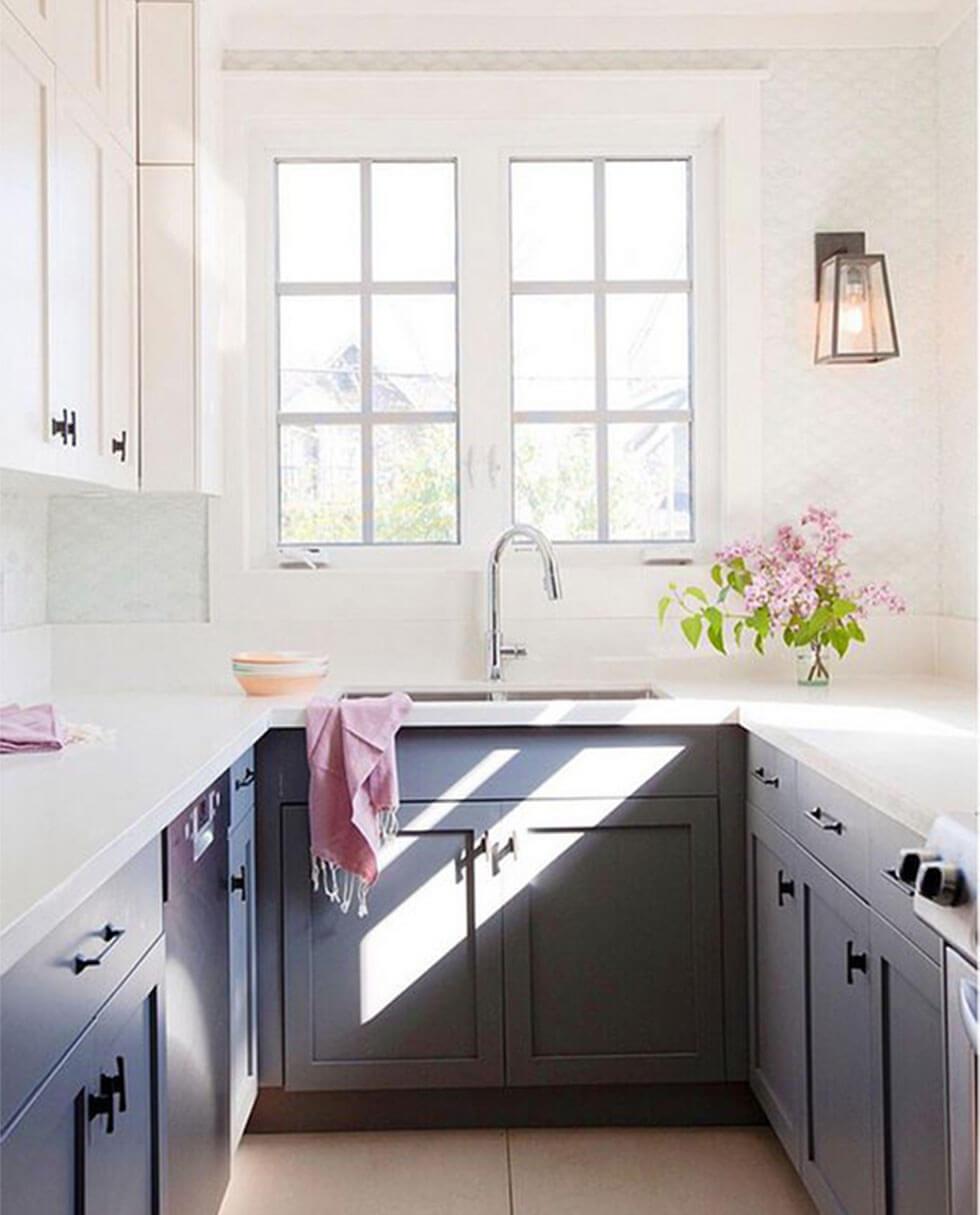 A small space can easily accumulate clutter, and worse still - it shows! So being strict about what appliances and utensils are kept on the countertop is crucial. By keeping your kitchen counters clear, you're maximising your usable kitchen space.
With limited room, this is not a kitchen and dining area that can accommodate two of everything, so think of what you're actually going to use. And -- in line with minimalist living at home -- perhaps practise a 'one in, one out' policy, only buying a new item when something else has worn out. As far as possible, surfaces of tables and kitchen islands should also be kept free of clutter for a calming, well-organised feel.
3. Maximise storage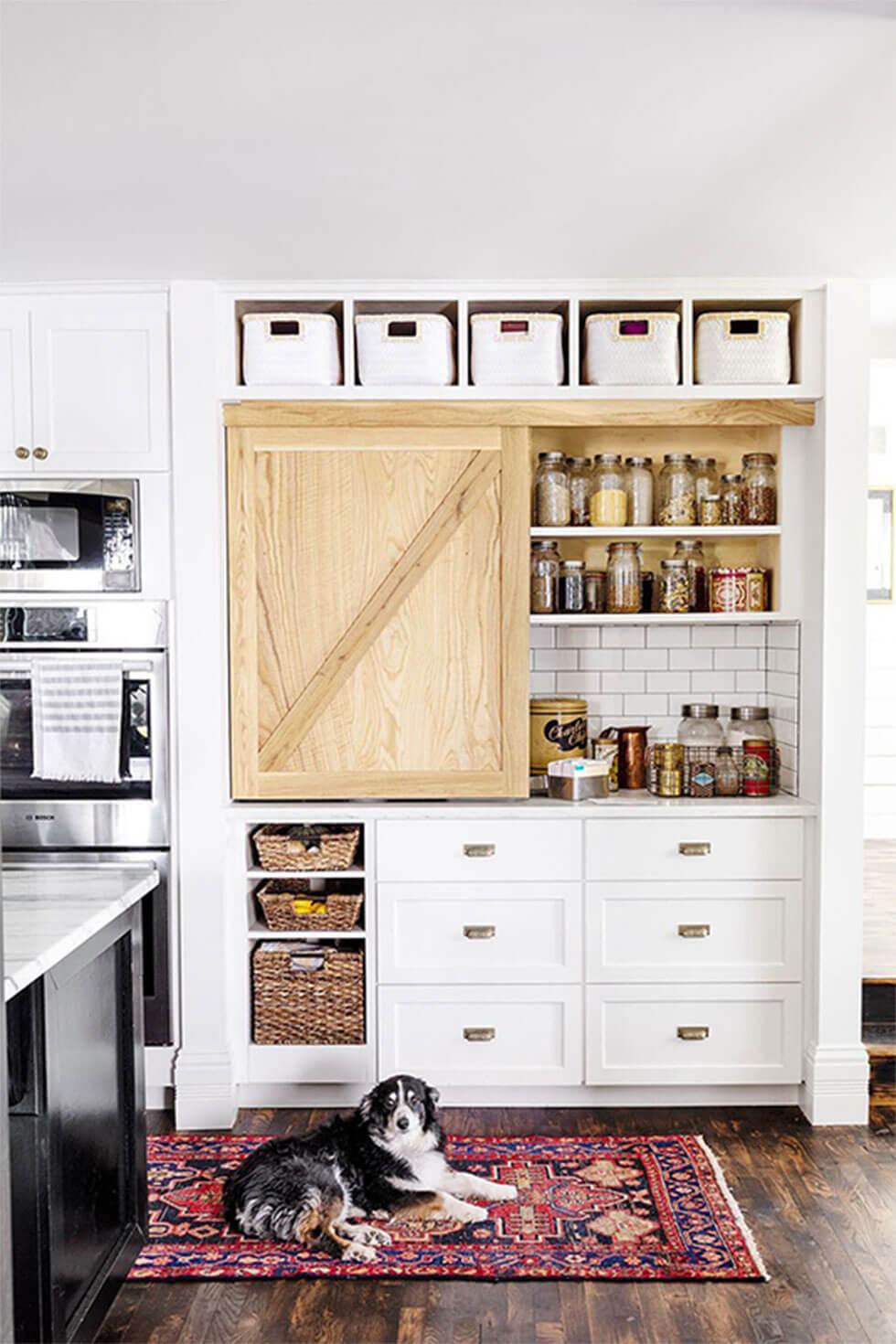 After curation, the next step is storing it all. Which is where ingenuity comes into play - it's all about maximising storage.
There are lots of ways to do this: built-in cabinets and drawers offer lots of storage both below and above kitchen counters, and keep everything within easy reach. And aside from building these into walls, kitchen islands with shelves and cupboards can also do double duty here.
Other interesting ways to get more kitchen storage might include having a pull-out pantry, to take advantage of narrow spaces. Rolling kitchen carts also take up very little room, and can be moved around, while offering a good solution for often-used items. If you have a small galley kitchen - opt for shelves to keep it from looking cramped and confined.
But it's not all work and no play: have some fun with this! Painting the insides of cabinets a bright colour can be a sweet touch, and you can also create a functional feature wall or centrepiece by hanging up pots and pans, which will also save drawer space.
4. Opt for an extending dining table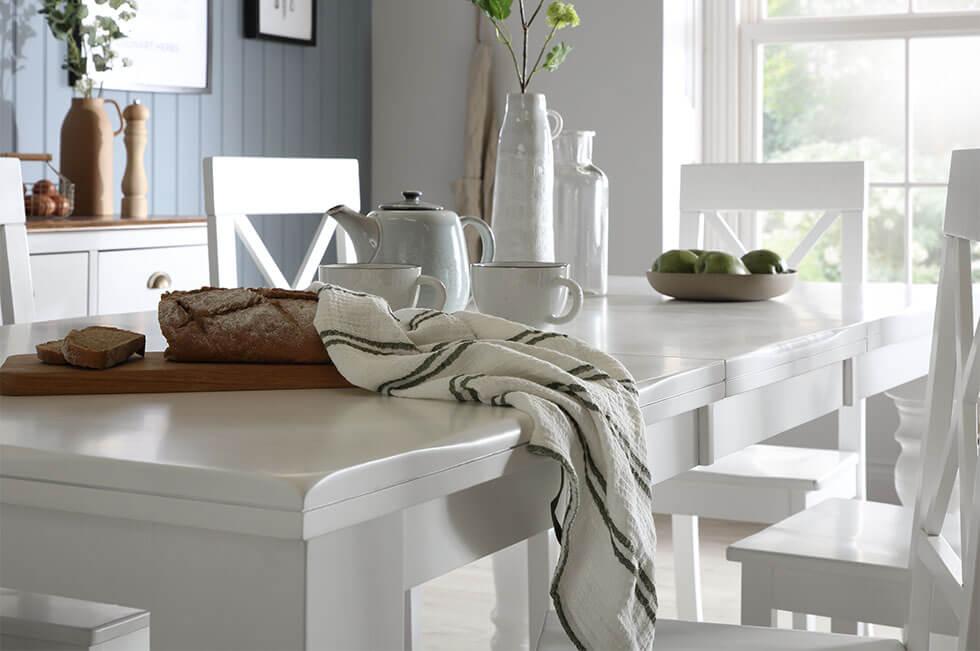 Speaking of smart solutions, a big decision here is choosing the right dining table. For a small kitchen and dining space, an extending dining table is an efficient, stylish option since it easily folds down to take up less room on a day-to-day basis, and has the space to accommodate more guests when you need it.
Since your kitchen table will likely be a multitasker, doubling up as a counter and prep space, look for a centrepiece that is made of durable materials, for a smart investment that'll last.
5. Look for clever lighting solution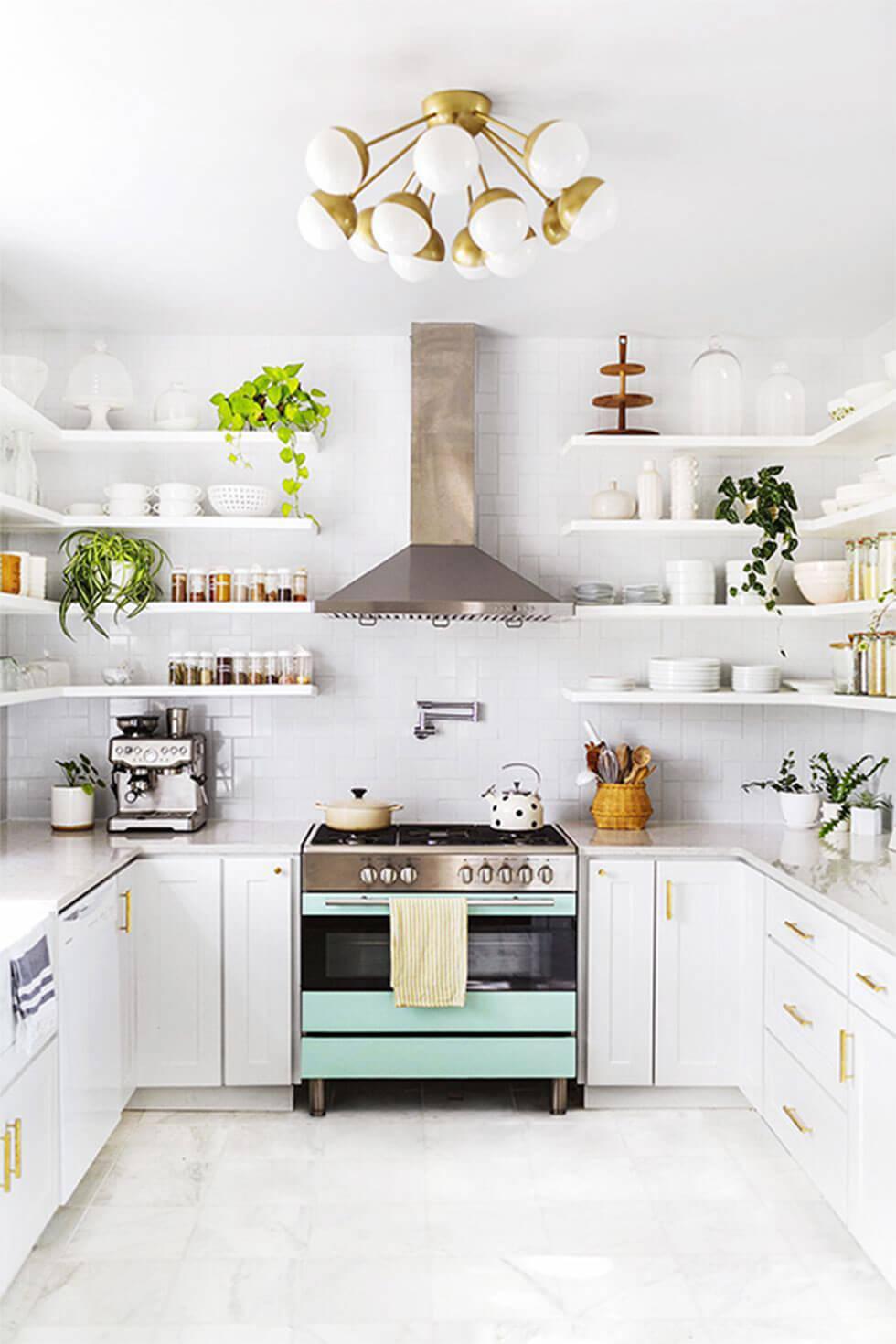 First of all, try to get as much natural light in as possible (even if it might involve knocking down some walls). If you love to cook, you'll be spending a lot of time here, so it's a worthwhile investment for your happiness.
Secondly, with a small space, you can really afford to go all out with statement lighting. Chandeliers or pendant lamps instantly pull focus and add a touch of luxury. They can also make the room feel larger than it actually is.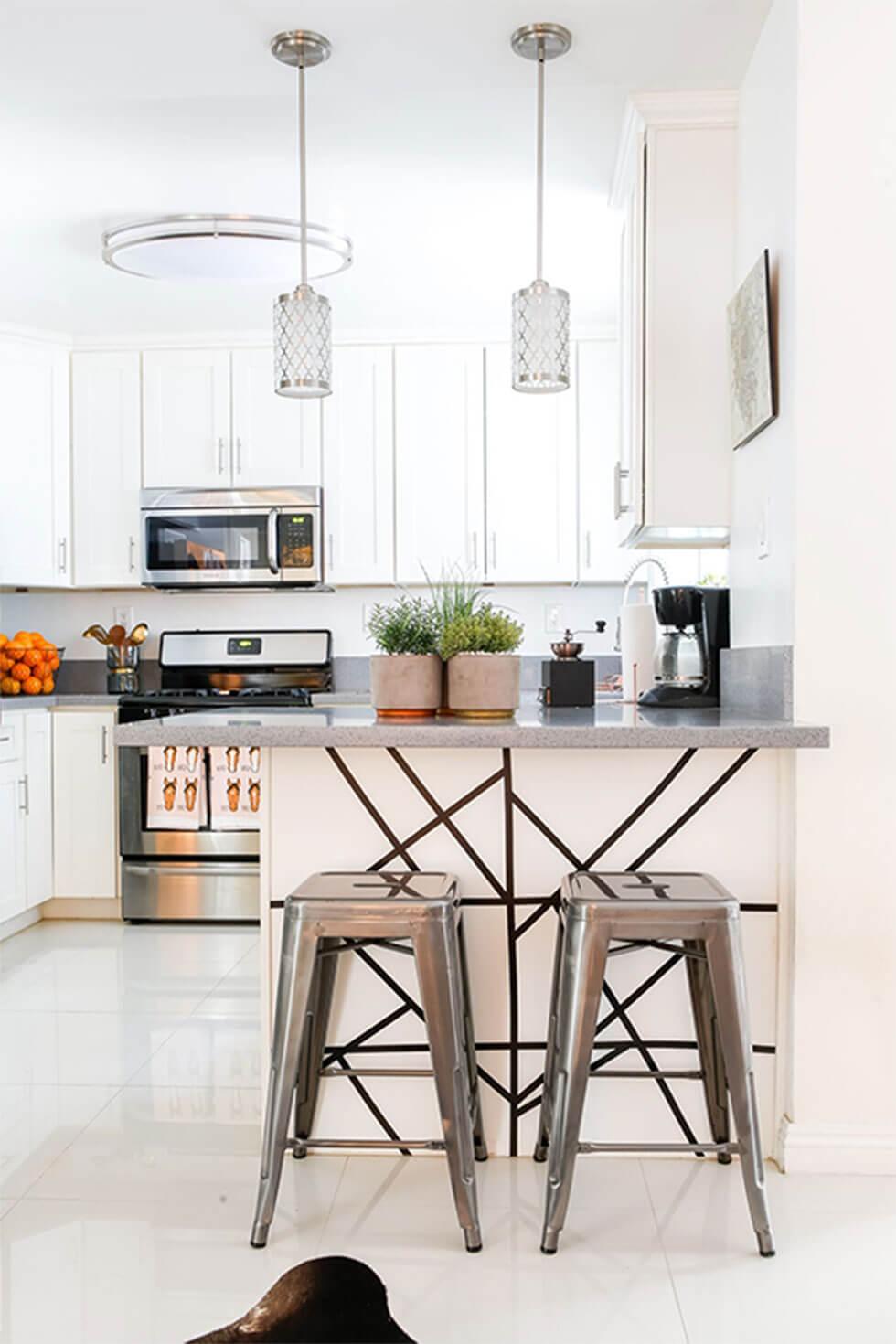 On the other hand, spotlighting for specific spots in the kitchen is always a good idea, whether it's something you want to highlight, such as the dining table and breakfast island, or on countertops where you're planning to prepare food and need more light.
6. Look out for luxe detailing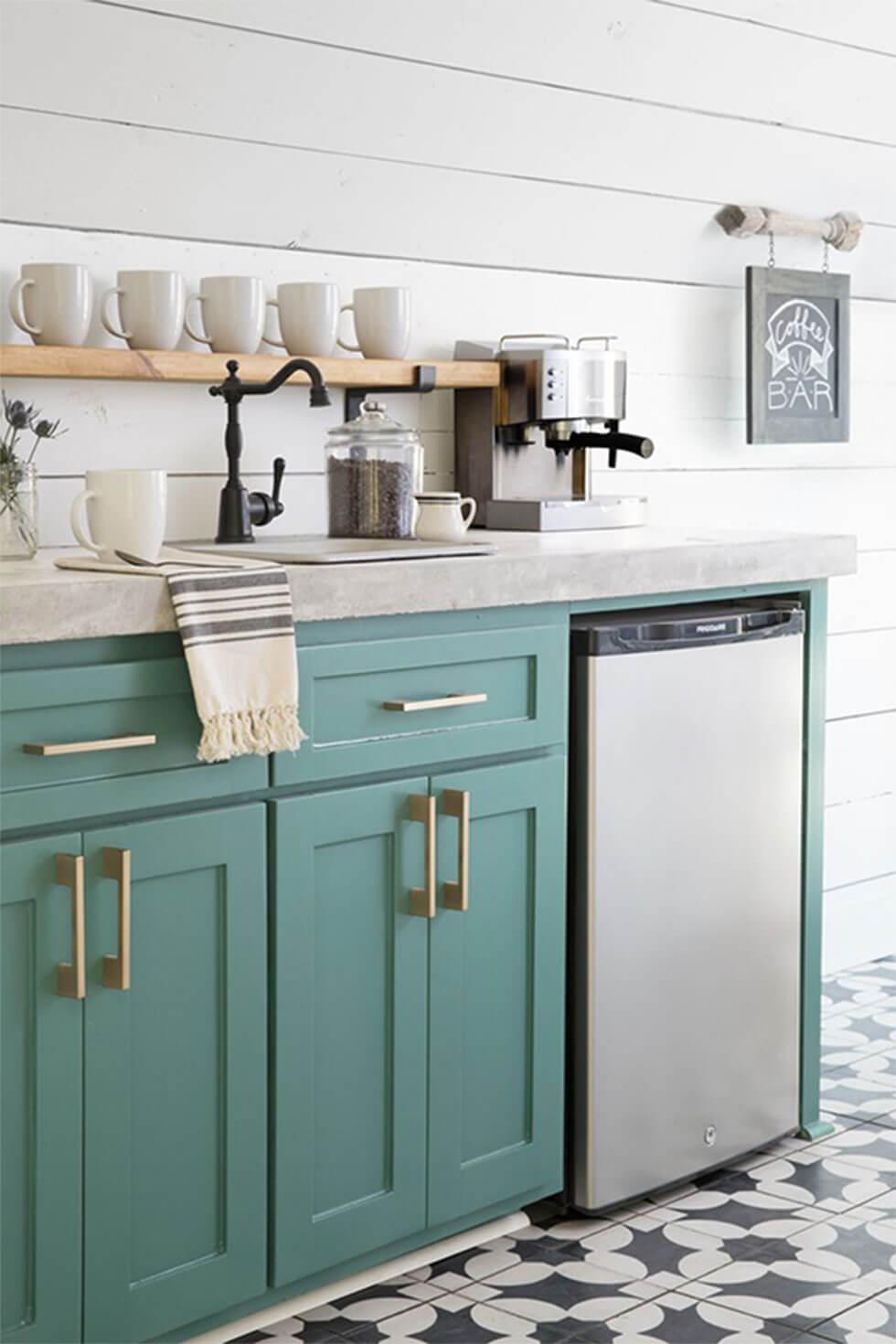 Now just because the space is small, that doesn't mean it can't still feel luxurious and sophisticated. In fact, it's more important than ever to introduce little details and touches that feel just ever so slightly decadent.
It's all in the details here. Rich colours, whether it's jewel tones or saturated hues, add a lot of character, while beautiful tiles and metallic accents can also jazz up your space. There are cost-saving ways to get this look, such as stick-on decals for the floor and painting your own gold handles, so it won't require you to break the bank, especially if introduced step by step.
7. Go reflective or high gloss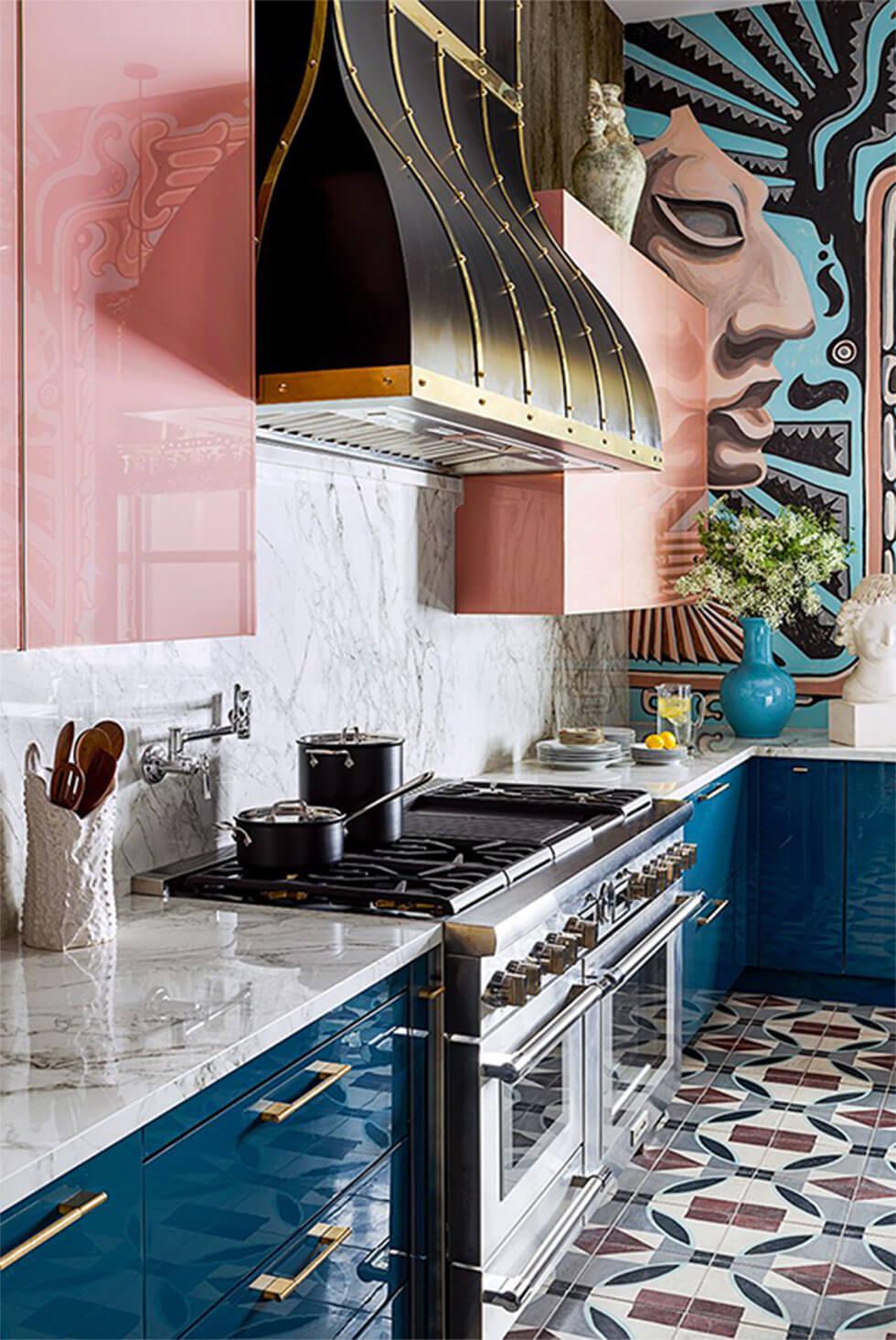 A classic trick, opting for high gloss and mirrored surfaces can make a small kitchen feel much larger than it is, since these finishes reflect light.
White and chrome are perennial choices, but they're not the only options. Colours such as deep blue and red, or even yellow and pink, are unusual, fun choices that liven up the kitchen and still do the job of creating a sense of light and spaciousness.
8. Embrace extremes: choose white and neutral or dark and moody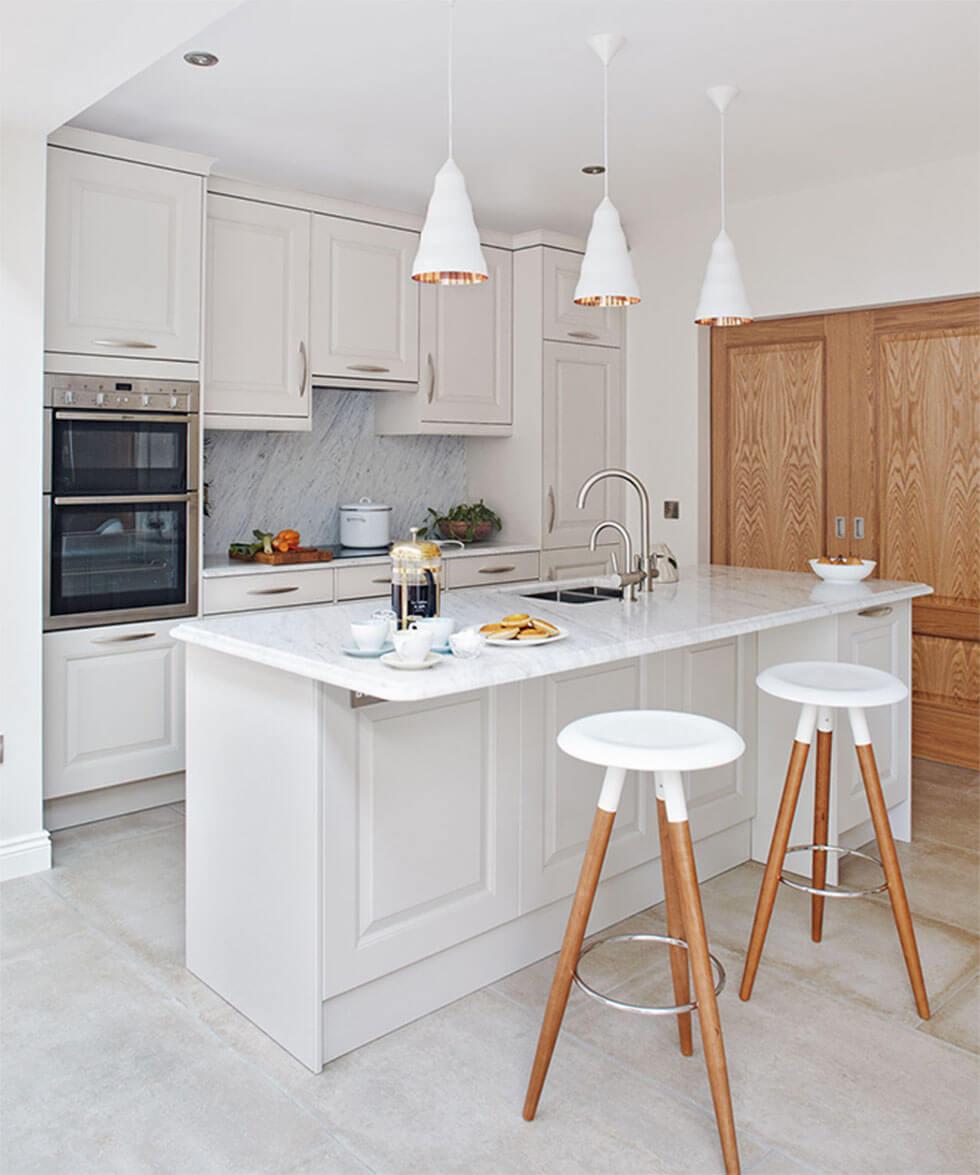 Then of course, there's the question of what the best colour is for a small kitchen, and which colour will make it look bigger. Oddly enough, the answer lies at the extreme ends of the spectrum!
As with gloss and mirrors, white reflects light and will make everything look more spacious and airy. Cream tones and gold detailing can be a lovely, warm pairing here, and for a clean minimalist take, keep everything simple and minimal, with pops of colour or metallic accents for personality and verve.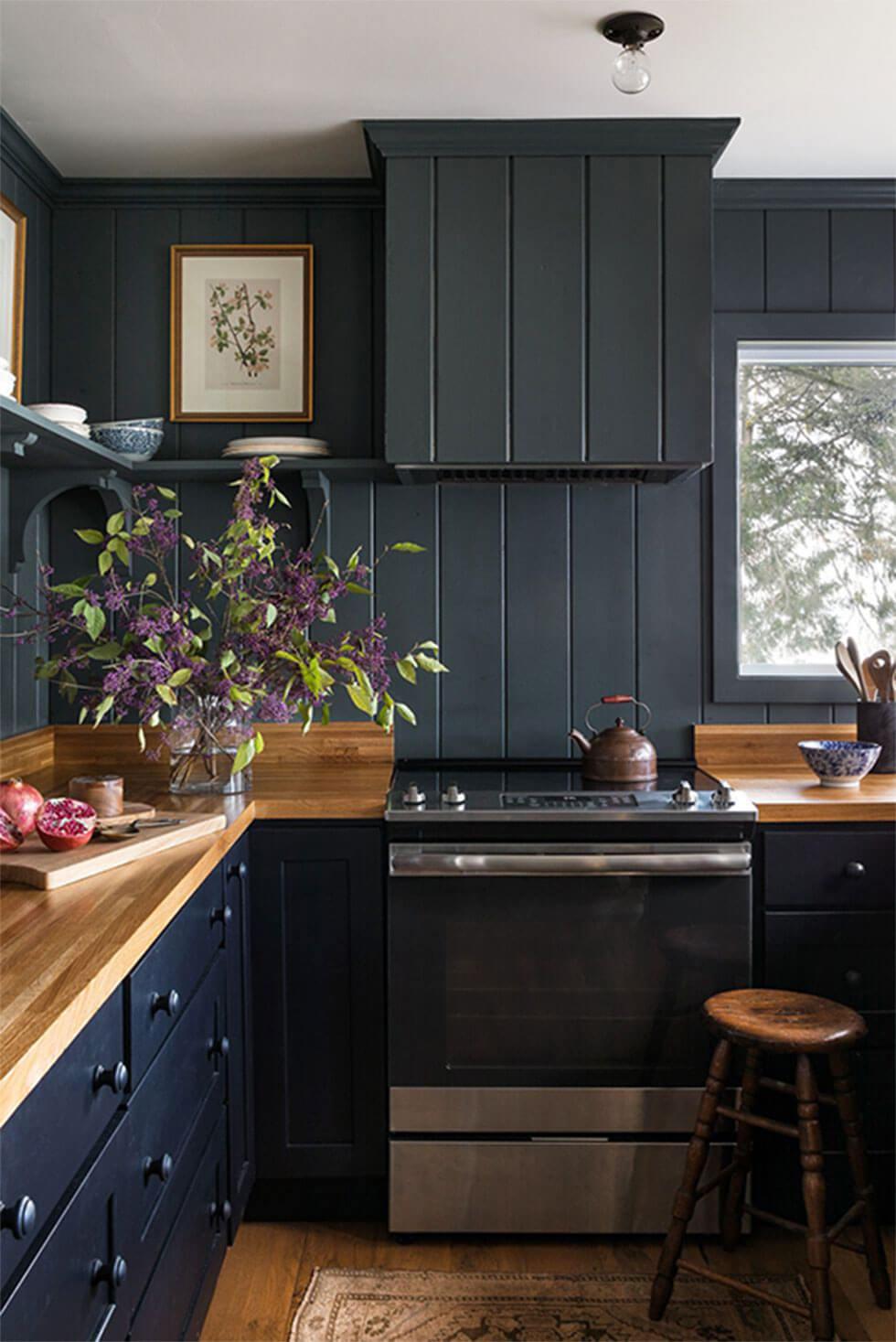 On the other hand, going for dark tones can create a clean monochrome look, as well as a sense of calm. Moody colours are also a great way to play with dimension - for instance, a dark wall at the end of a room can elongate your space, while contrasting black, dark blue or grey floors and cabinets with a white ceiling can pull the eye upwards, creating a sense of height in a small kitchen.
9. Play with accent colours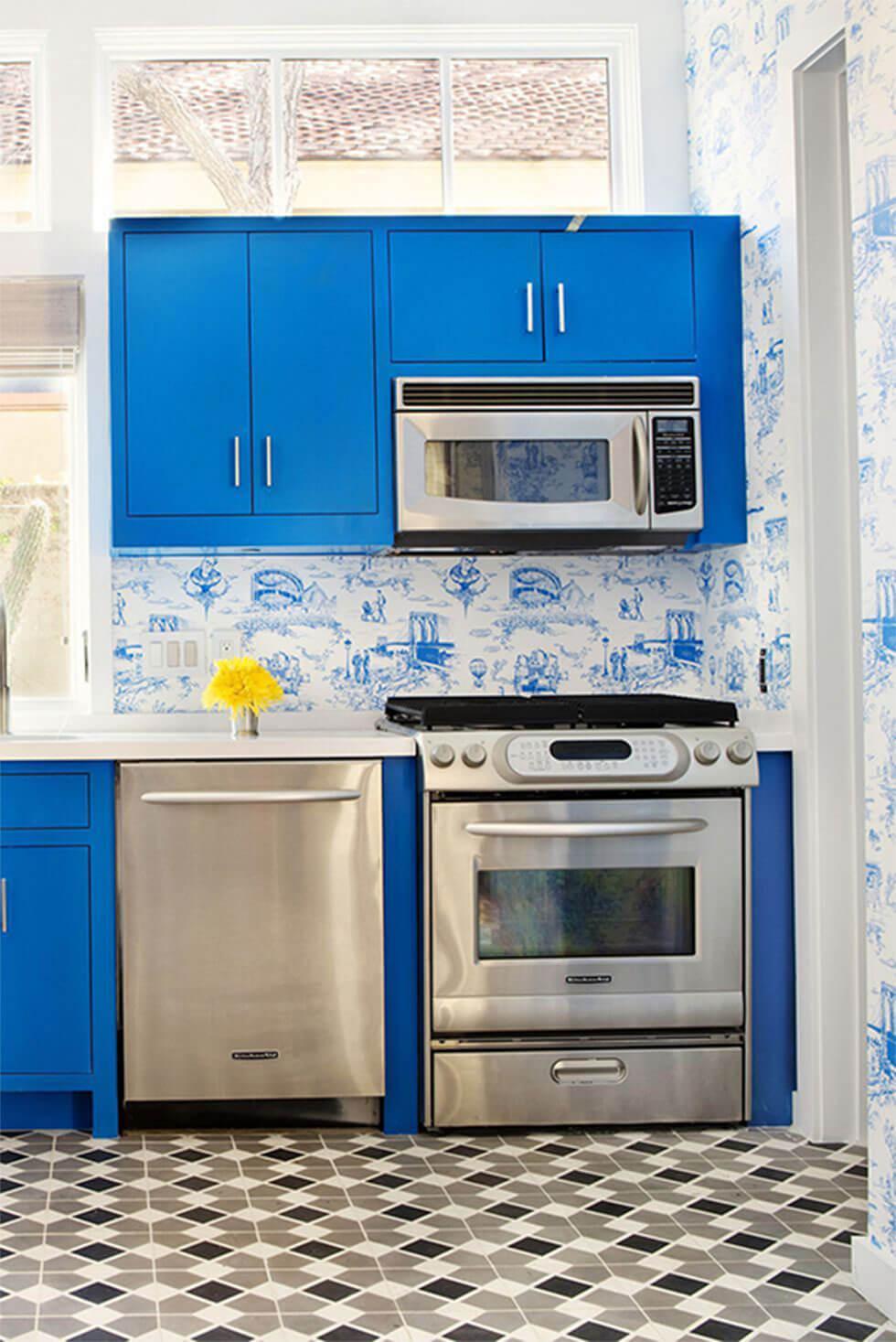 With that said, bright colours have a role to play too - they can add pops of fun and whimsy, and are a welcome distraction, especially if there are odd corners and spots in your kitchen.
They're best used as accent shades to draw focus to specific spots in the kitchen, and can work in splashes on the walls, furniture or even appliances. For instance, this shade of blue pulls attention upwards, and is a playful, yet elegant choice. Vivid tones such as red, yellow, green and pink are all beautiful options for this look.
10. Consider contrasting textures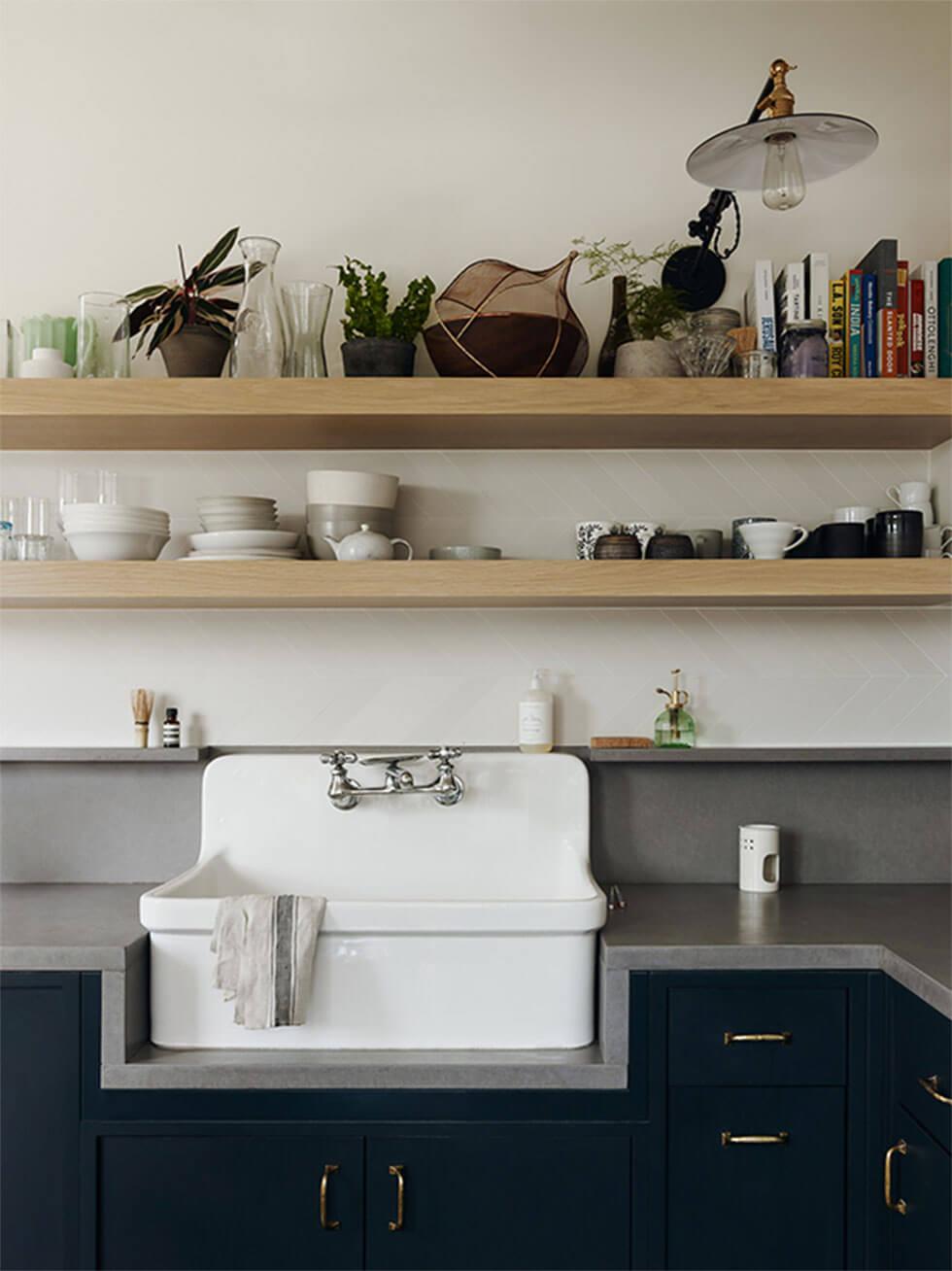 Lastly, playing with different finishes in one space can create lots of visual interest and style, making the most of a smaller space. It's all about juxtaposition - for instance, warm wooden shelves contrasted against a grey countertop offers a play on country style and a more industrial look.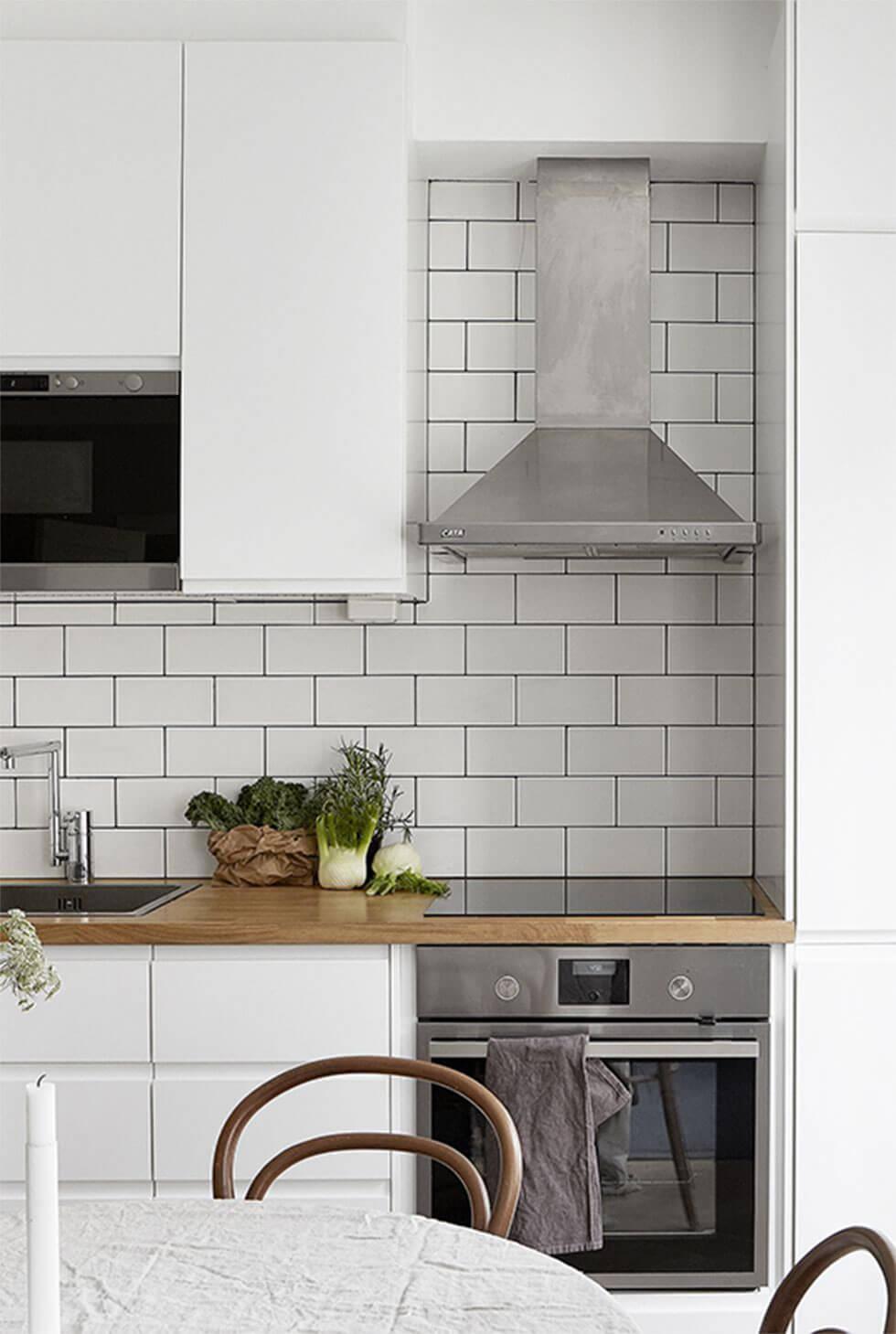 But you can also work with many varying textures, especially if you're working with a relatively small colour palette. Here, the high gloss cabinets, wooden counter and chairs and subway tiles come together for a chic, functional space that has classic appeal. And as a bonus tip: subway tiles laid horizontally can make your kitchen feel wider!