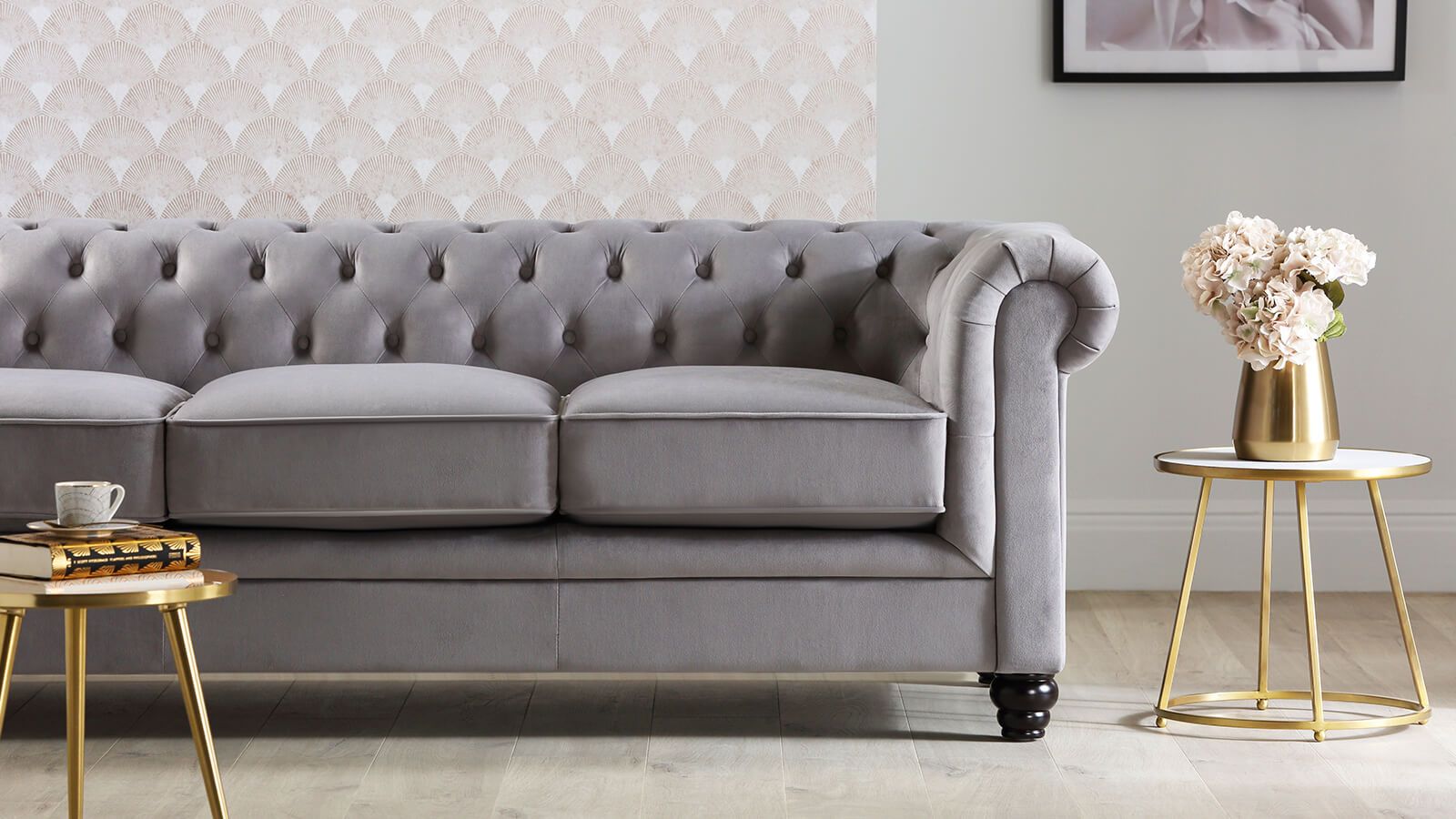 Why choose velvet furniture?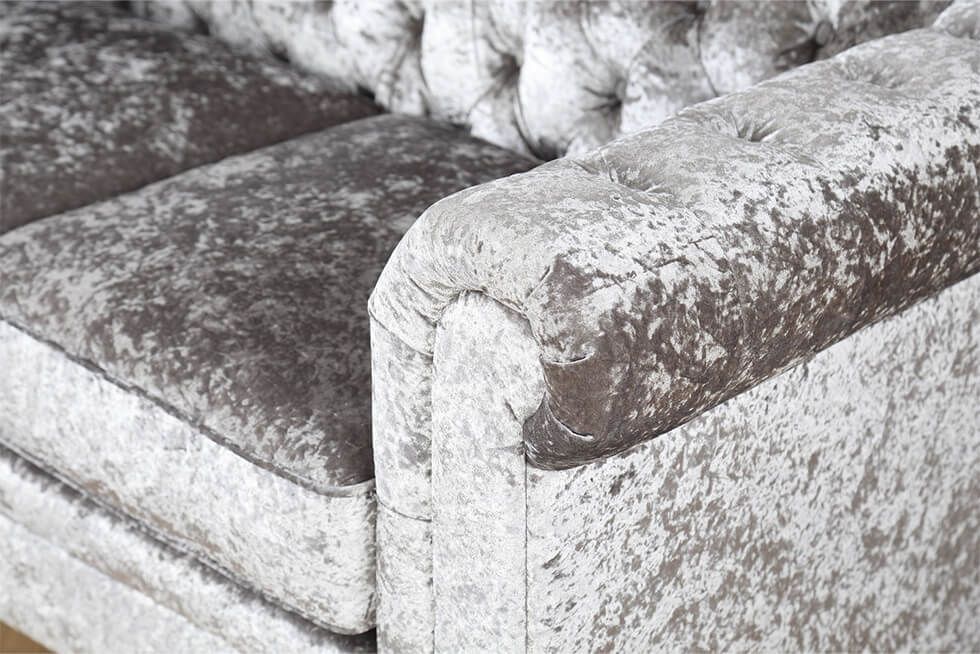 Velvet instantly uplifts the home with its vibrant and shimmery texture, creating a strong sense of luxury and elegance. It's a multi-dimensional fabric that perfectly suits bold colours and soft neutrals by giving it its own sophisticated designer touch. Despite its high maintenance image, it's actually easy to care for, and with a proper cleaning routine, velvet will continue to look fresh and new for a long time.
How to style a velvet sofa
Pair a royal blue velvet sofa with bold walls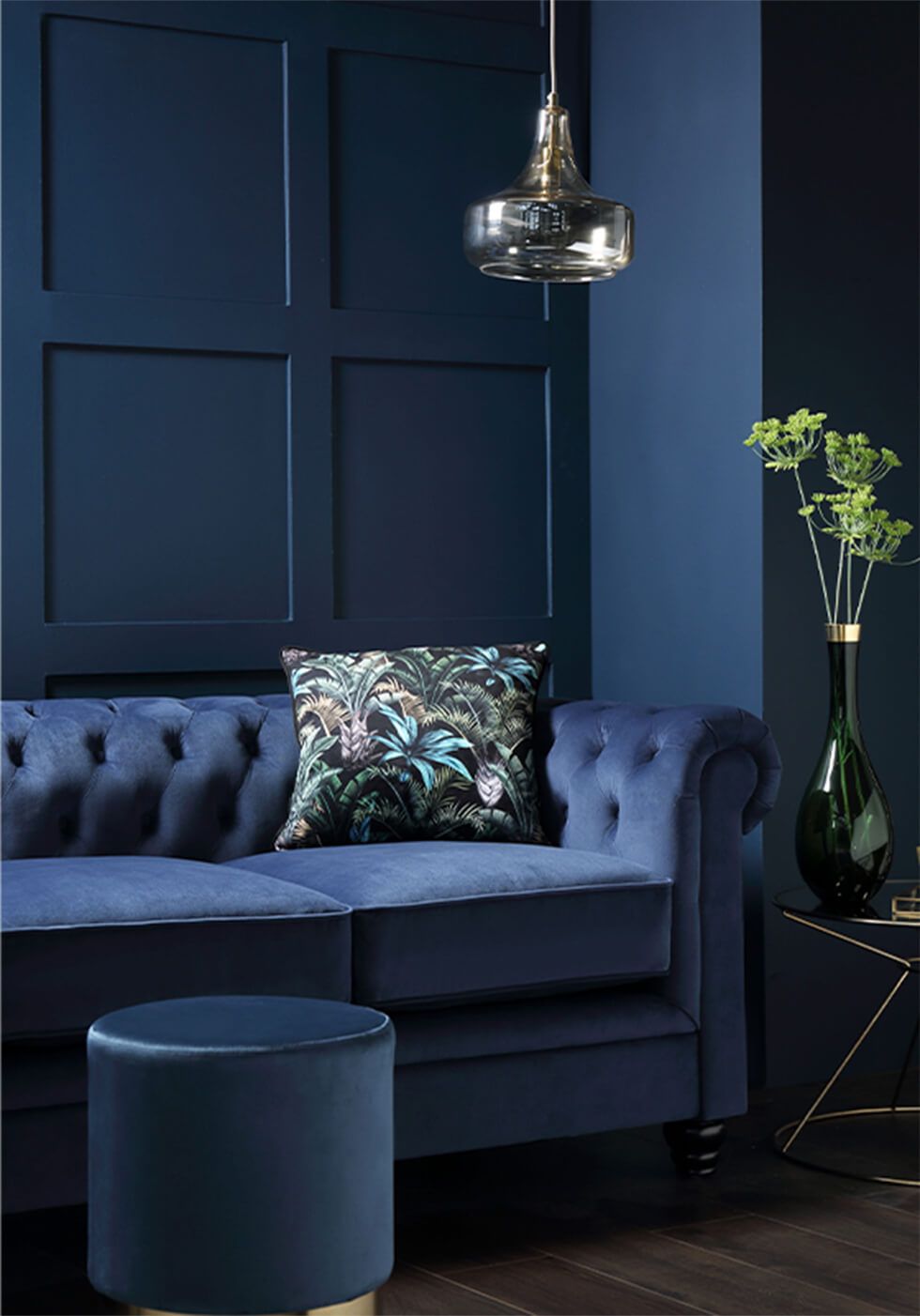 Match a royal blue velvet sofa with dark blue walls to create a bold monochrome effect. When styling with a single colour, play with different textures to achieve a richer feel - for example, layer velvet with silk for a rich, sumptuous look that stands out alongside chic wall panelling.
Channel understated luxury with grey velvet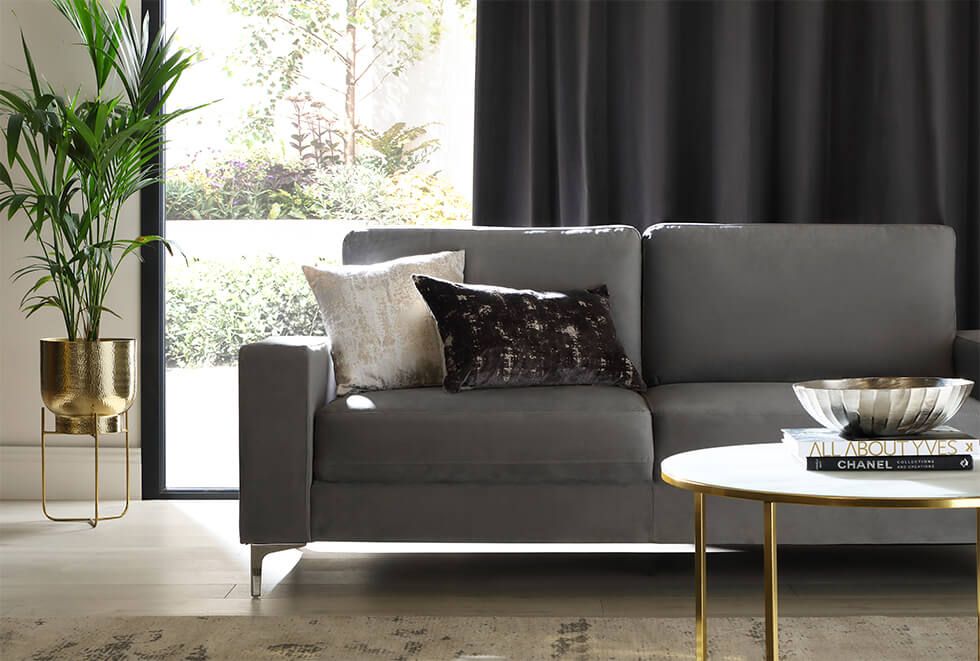 Pair a grey velvet sofa with metallic accents to give the room a sophisticated yet understated feel. Use gold to warm up the space or add chrome and silver accents for a sleek, modern touch. You could also mix both of them together in small doses to create a chic, high-end look.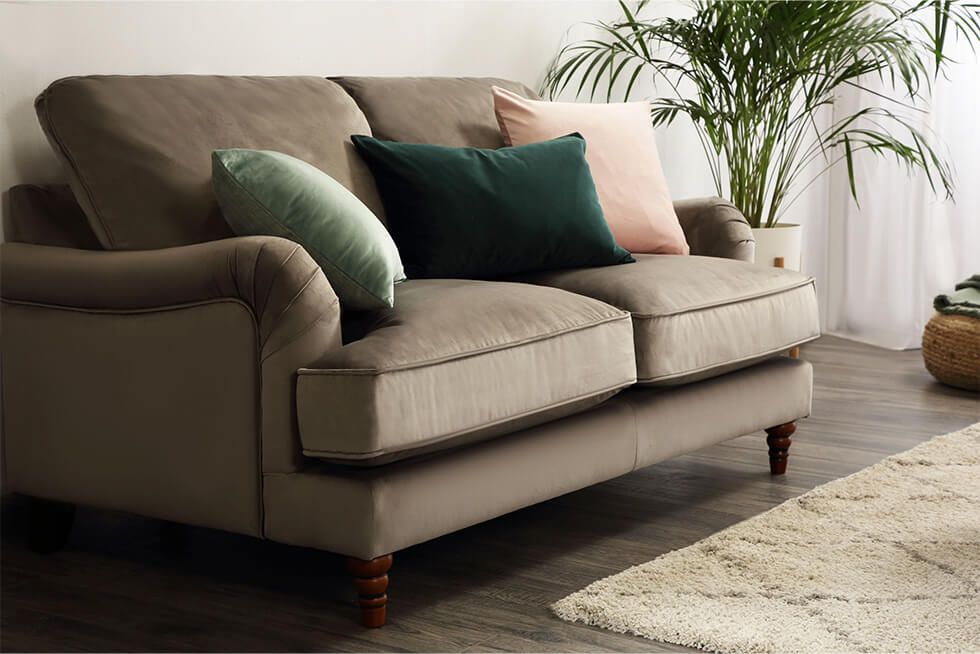 Another instant way to introduce this understated look is to layer with velvet cushions to bring out the sofa's lush sheen. Choose cushions in different colours for extra impact.
Get dramatic with crushed velvet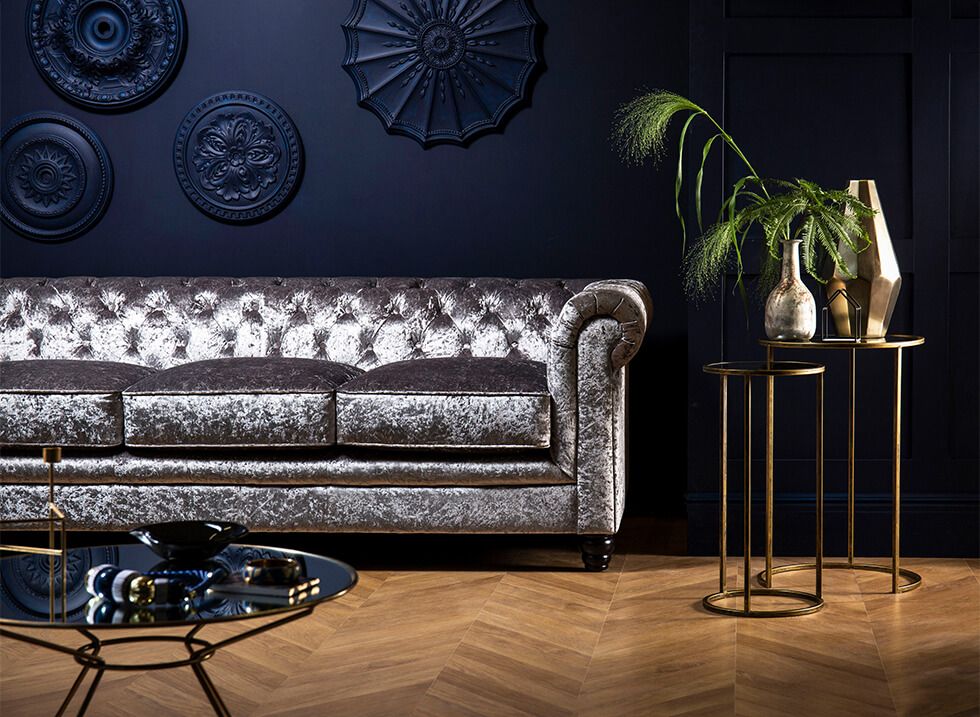 For all-out glamour, choose a crushed velvet sofa as the centrepiece of the room. Its striking appearance (which is created by pressing down the fabric when wet) instantly becomes the focal point of the room so it's best to decorate with sleek and chic accessories to complement the look.
Giving the Chesterfield a modern velvet touch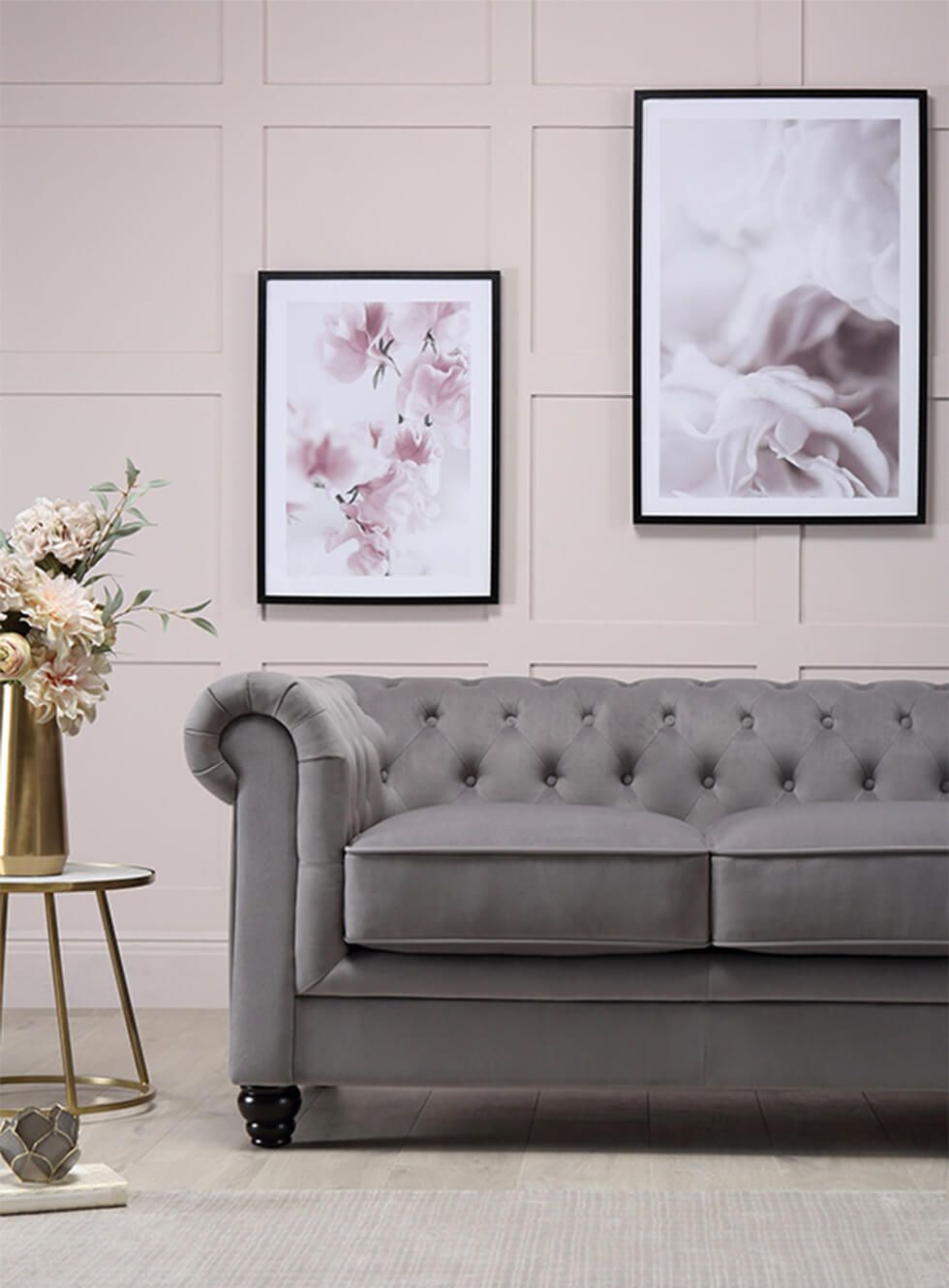 Pick a grey velvet sofa in a traditional Chesterfield design if you want to introduce a classic style in a modern setting. As Chesterfield sofas traditionally come in leather, velvet adds a soft twist and gives the room a polished feel. Round off the look with contemporary artwork and gold accents for an extra dose of glamour.
Anchor a colourful living room with a velvet sofa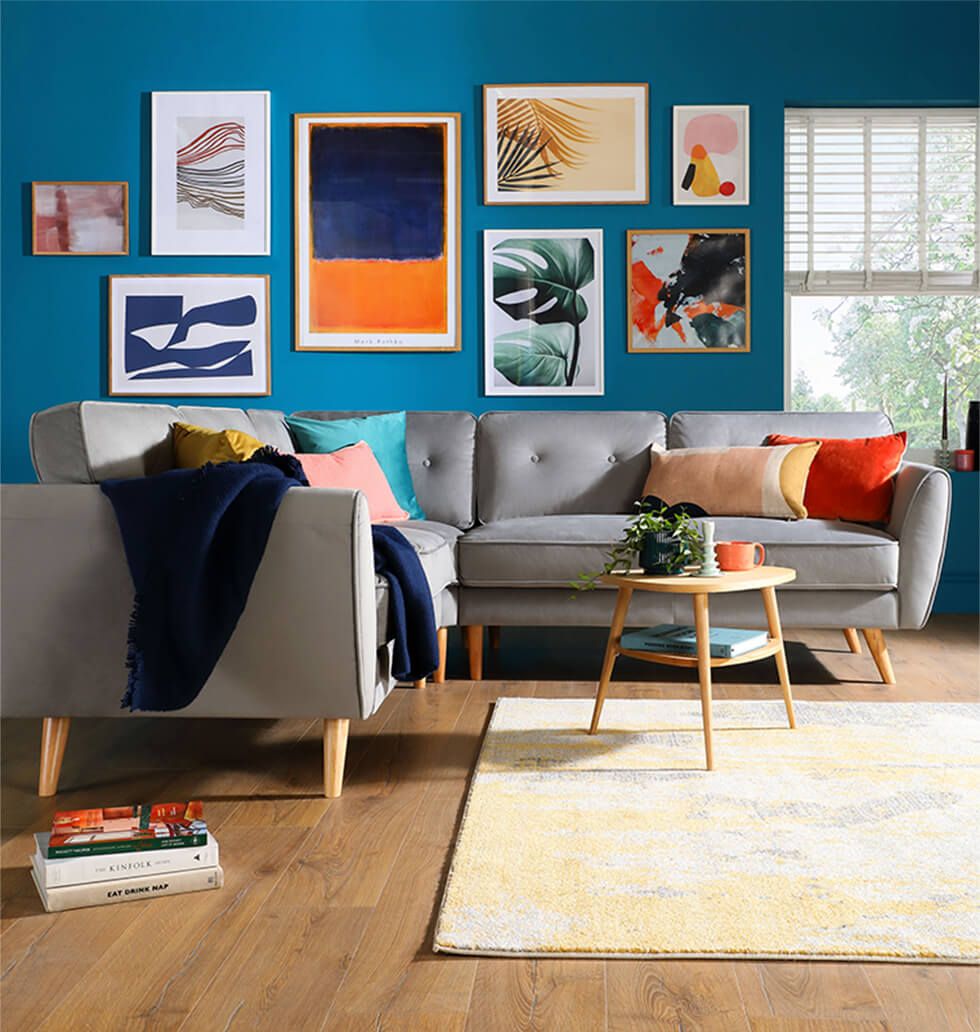 Choose a velvet sofa with a clean design and calming neutral shade as a grounding centrepiece in a colourful living room. In this room, a feature wall is the main attraction and the sofa serves as a base to anchor the room, letting the colours pop without overwhelming the space.
Go minimalist with a velvet armchair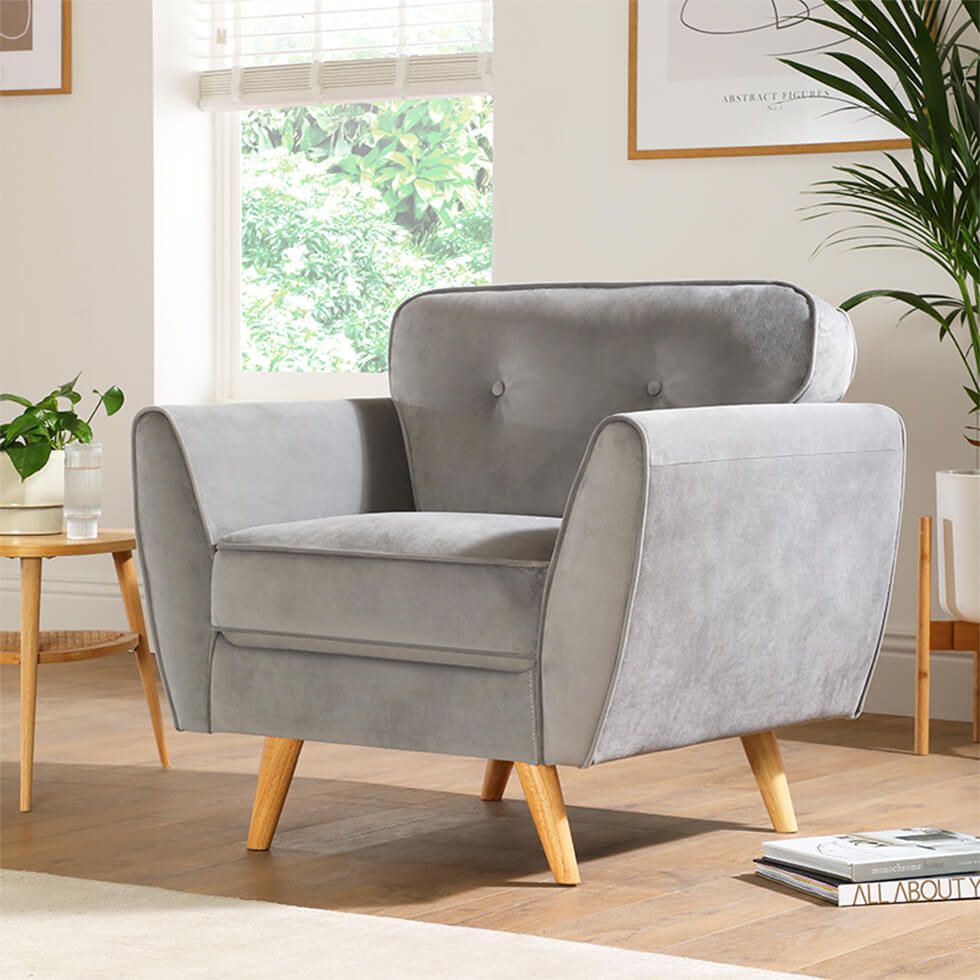 Velvet may not be the first thing that comes to mind when minimalist decor is mentioned but it fits right in when matched with the right shape and aesthetic. Pick an armchair with a sleek, contemporary shape and keep the rest of the room simple to let the curves of the armchair stand out.
Velvet sofas make truly stylish centrepieces, don't they? Check out our wide range of sofas to find one that suits your home!
How to care for velvet furniture
Basic Care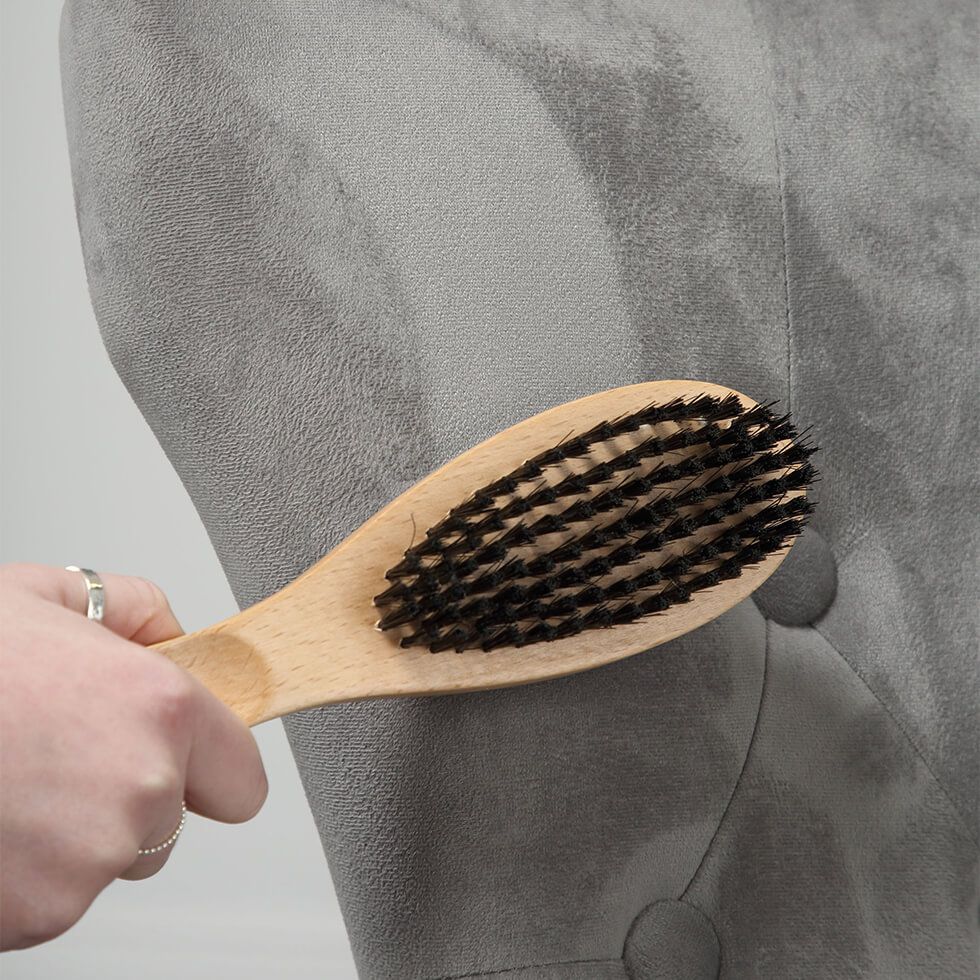 Avoid direct sunlight as it may cause the fabric to fade.
Use a soft double-sided brush to help keep dirt at bay. Use the flat side of the brush to remove lint, dirt and pet hair.
If the velvet is starting to lose its sheen, brush against the pile to restore its appearance.
If your sofa or cushion has removable covers, remove them and gently steam in the opposite direction of the pile.
Spills and Stains
Invest in a good quality stain remover to avoid damaging the fabric.
Tackle wet stains with a damp towel or a dry absorbent cloth.
For dry stains, testing basic cleaning products such as soap and water on a hidden spot first to ensure it doesn't ruin the fabric.
Mix soap and water to create a foamy solution then use a soft cloth and lightly blot the stain with the suds. Let the fabric air-dry.