17 awesome ways to recreate Monica's apartment
From the purple walls to the French posters, let us show you how to inject a bit of Friends style into your home.
It is without a doubt one of the most iconic living rooms in the world. Who hasn't watched an episode of Friends and longed to have an apartment just like Monica's? From the purple walls to the French posters, let us show you how to inject a bit of Friends style into your home.
1. Deck out a wooden floor with a large rug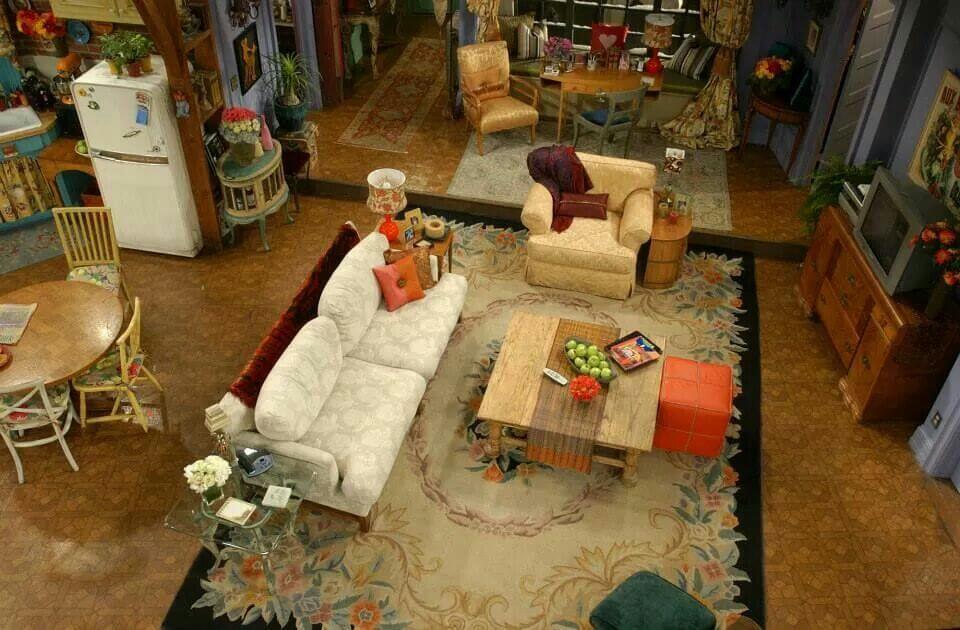 Pick out a lovely large rug to decorate a wooden floor for a homely touch. If working with an open plan space, rugs are handy to divide the space into different functional sections, too. For instance, Monica's rug separates her dining and living spaces effectively. Choose a rug with colourful, floral designs in a muted tone to achieve a 70s look like hers.
2. Mix up the living room seating options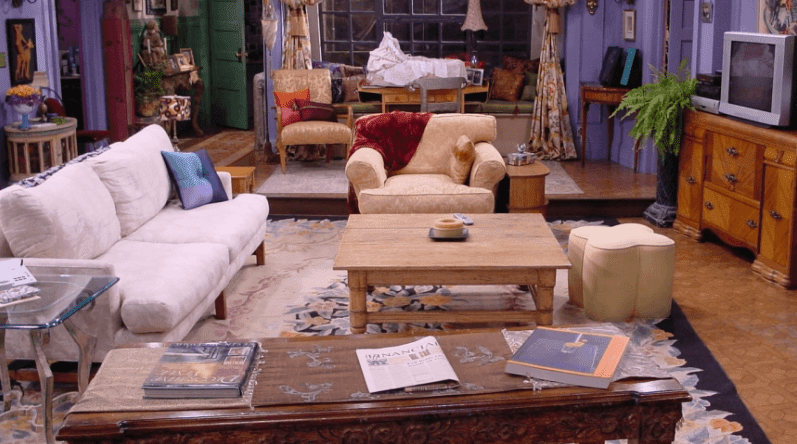 Monica's armchairs don't match her sofa in style, colour or pattern but they're still similar enough that you don't immediately notice. Mix and match to recreate this casual style. Learn from Monica - an ottoman is perfect for extra guests and doesn't take up a lot of space.
3. Keep your sofa a neutral colour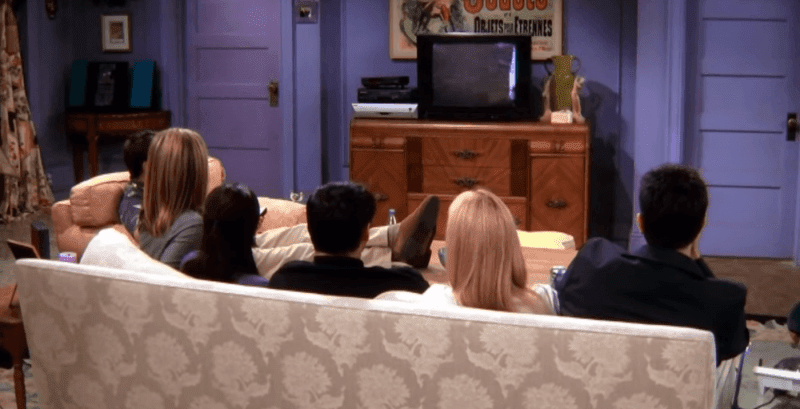 Make sure that your sofa and chairs don't compete with the walls or other accessories. The key to achieving Monica's apartment style is not to have any one stand out piece, but to bring everything together. Avoid making the space look too busy by keeping it simple if opting for patterned fabric.
4. Place rugs, cushions and throws everywhere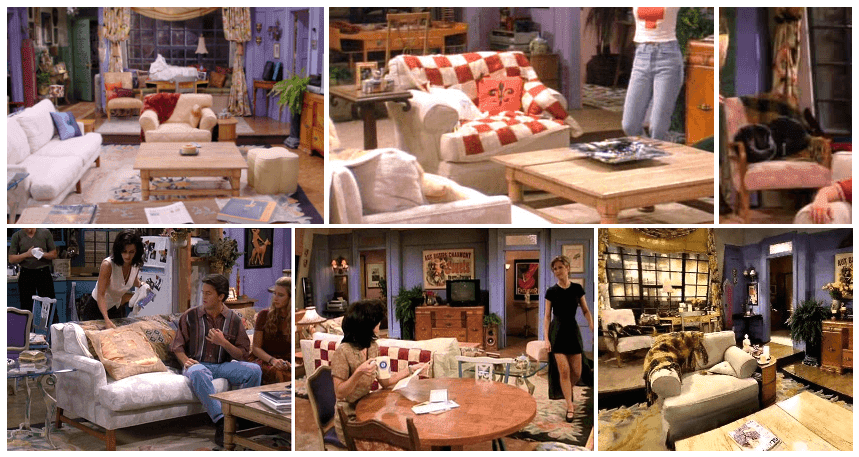 Having a neutral sofa means you can change the style of throws and cushions at any time. The more you add, the cosier and more homely the place will start to feel.
5. Display plants and flowers abundantly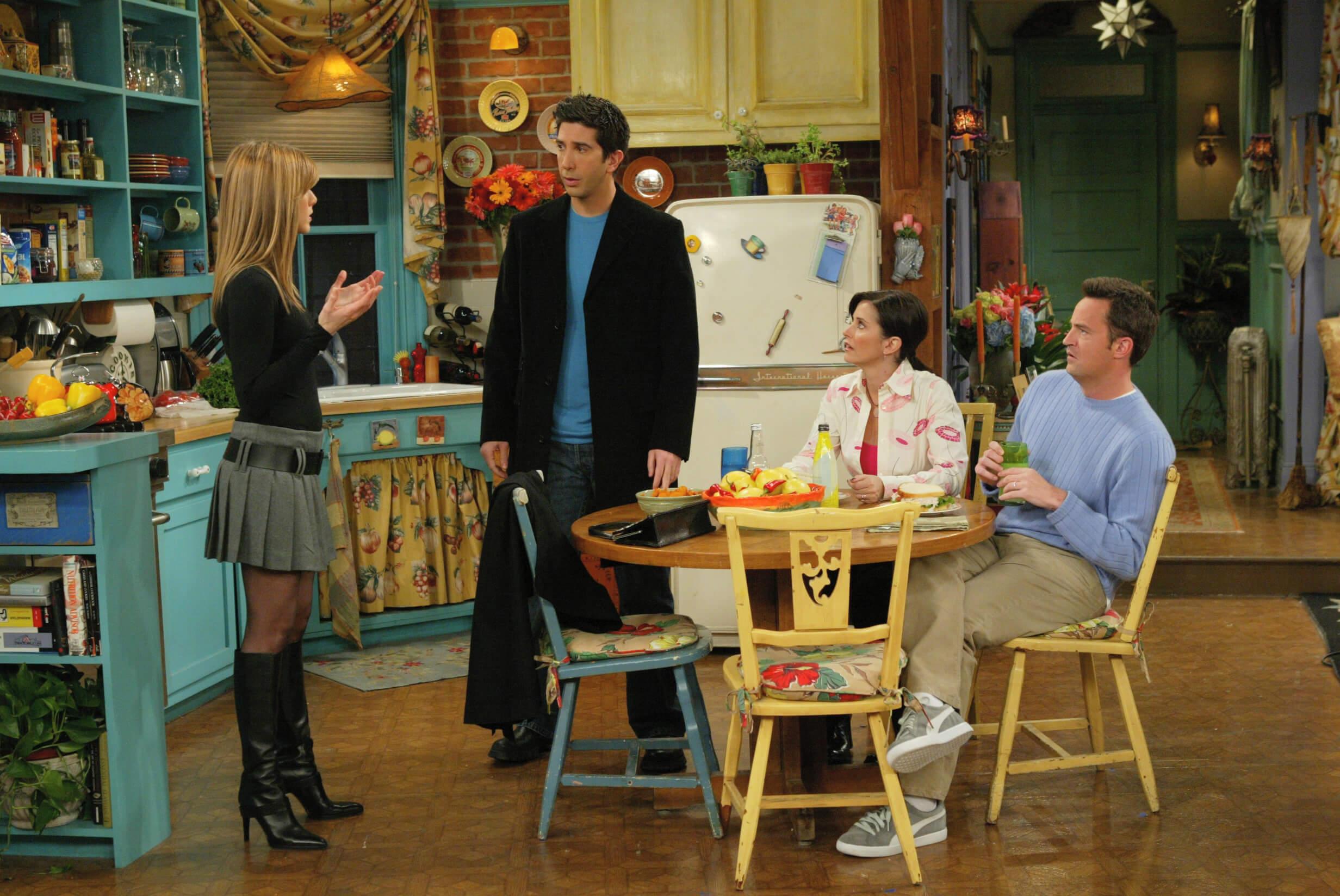 Monica has leafy ferns and flowers by the TV, on the console and even atop her speaker. The same goes for the kitchen: there are little planters sitting atop the fridge, while the beam next to it features a vase of fresh flowers. At one point, there was even a chili plant in the kitchen window. Take a leaf out of her book and take a look at our guide to indoor gardening when choosing your plants.
6. Light up with lamps and sconces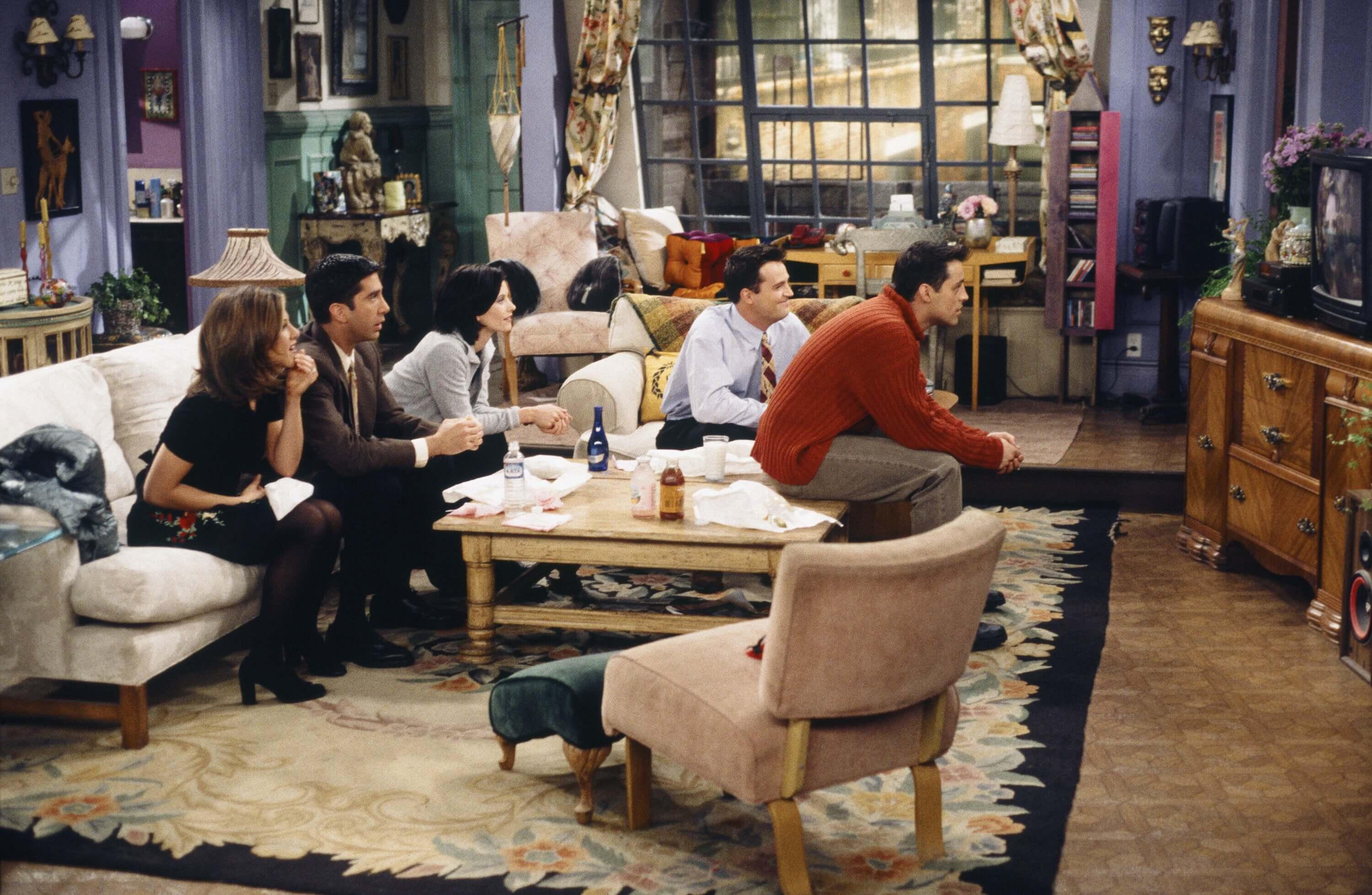 Rather than ceiling lights, opting for table lamps and sconces (wall lights) is the way to go here. The Friends apartment has a lot of vintage pieces so try your local used furniture stores or charity shops for the same feel when picking out lamp shades.
7. Use both curtains and blinds together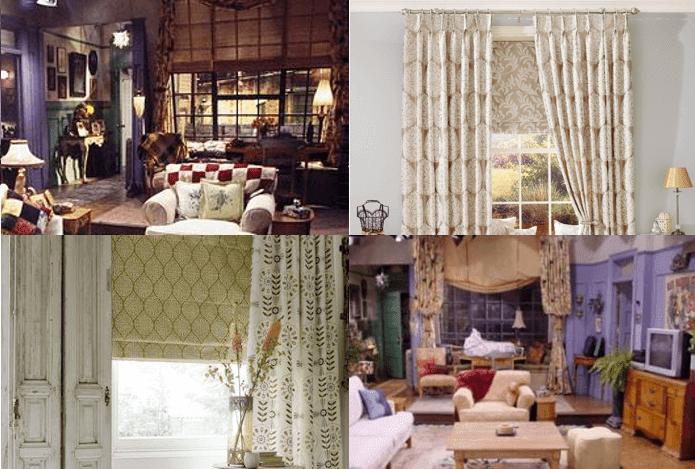 All of Monica's windows have both curtains and blinds. This can achieve a really polished look! Go for a vintage style if you've done the same with your lamps.
8. Mix and match coffee tables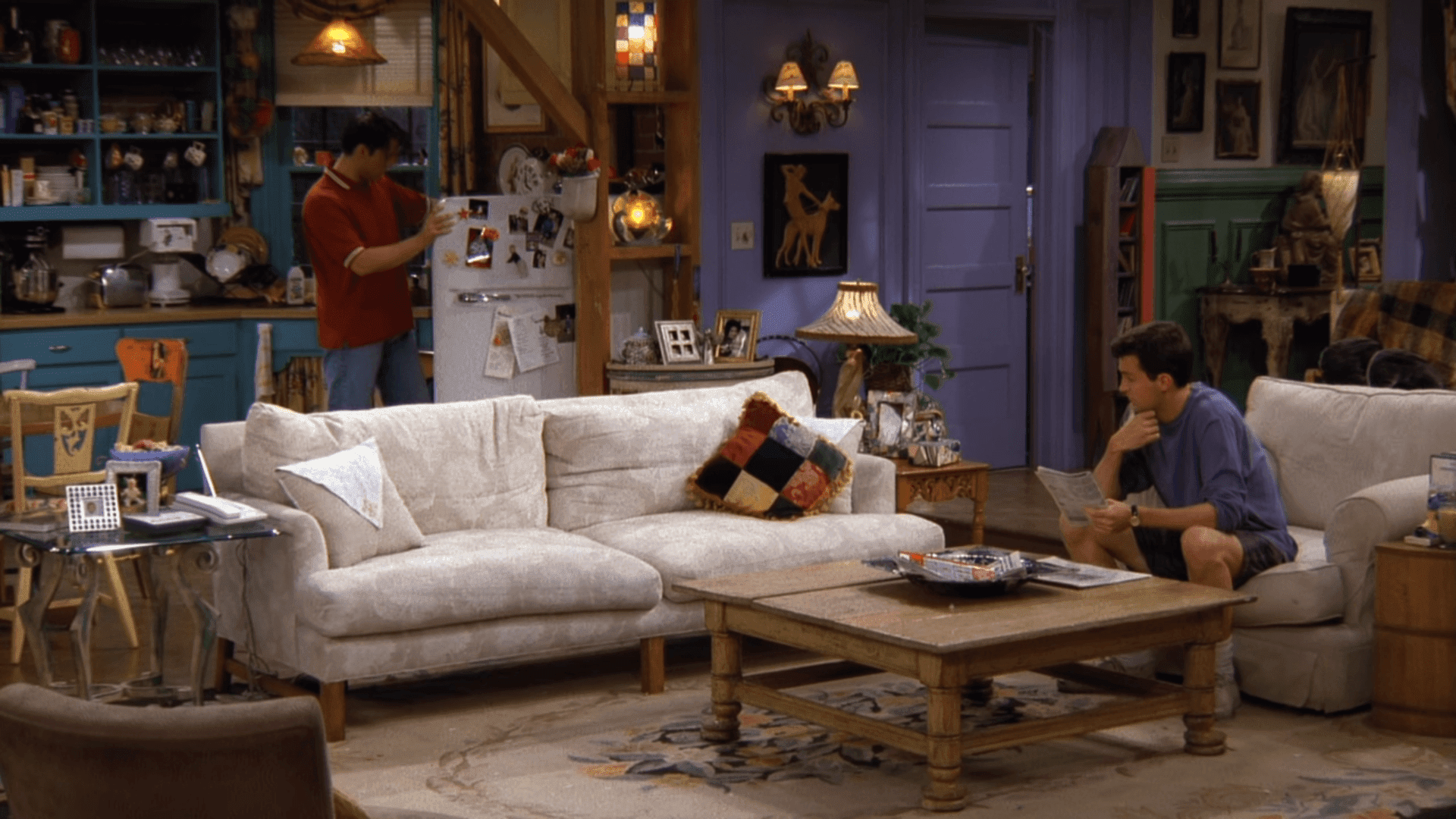 Not everyone has the space for all of the occasional tables that Monica has but if you do, be sure to choose antique or antique-looking side tables to fit in with her style. Choose wooden, glass, painted or all three! It doesn't matter, you get free rein here, as long as it has that worn, chic vibe.
9. Show off exposed beams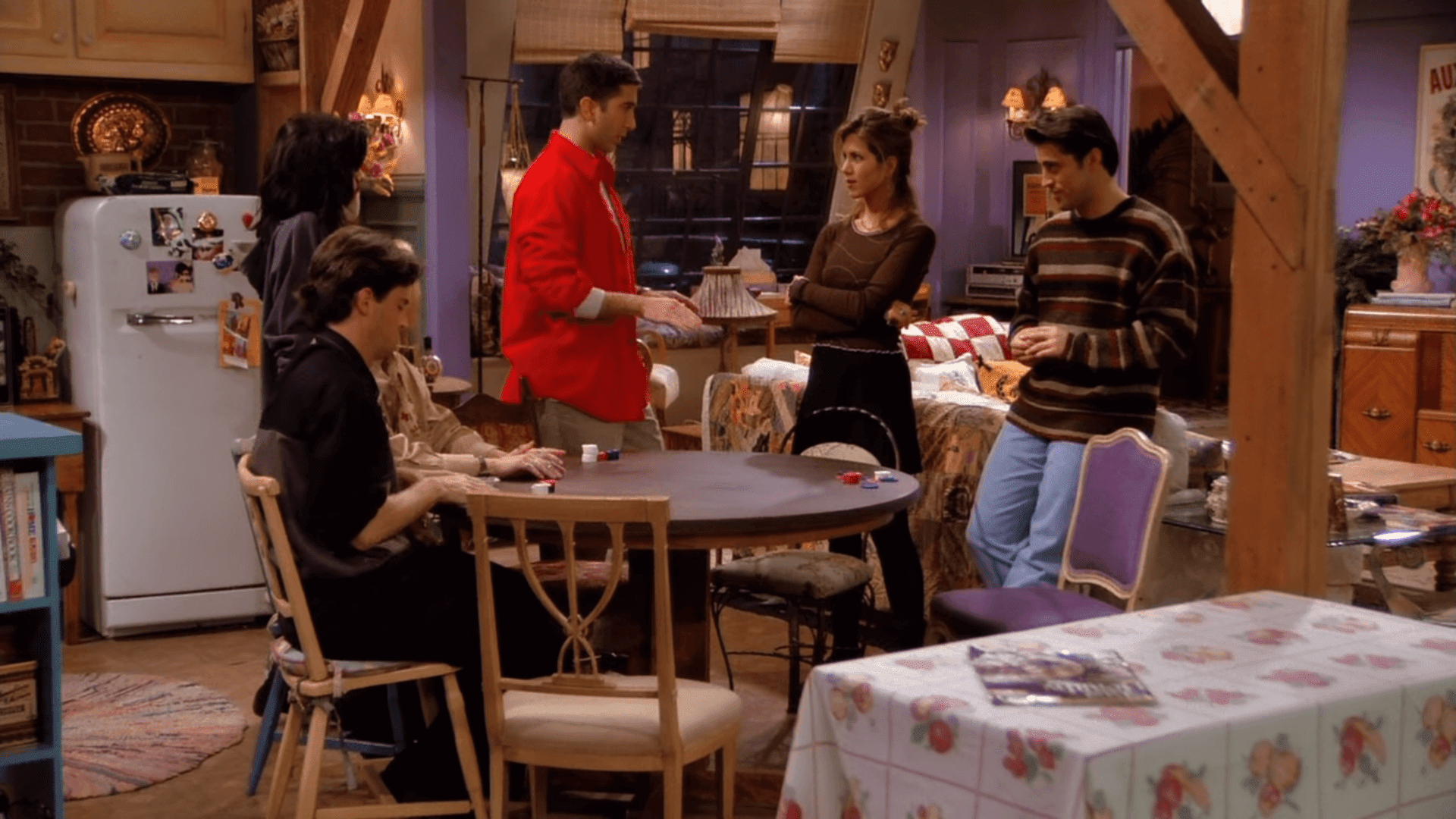 An easy nod to the series, show off your exposed beams like Monica does. If you have none, there are plenty of guides online to help you build fake beams. Then, stain them a rich brown for extra rustic vibes.
10. "Has it always been purple?"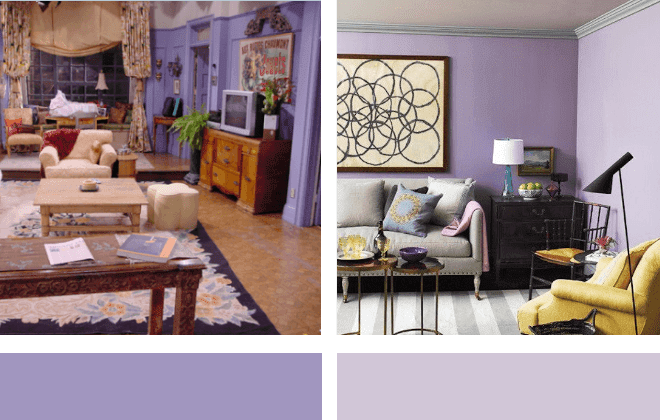 And the answer is, yes! Painting the walls purple is the quickest way to achieve an instant Friends feel. You don't have to choose the exact same shade; try a brighter hue if your space isn't as light.
11. Hang French art on the wall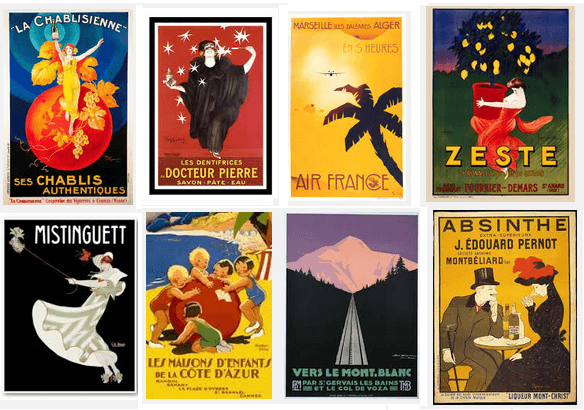 Monica's apartment features vintage French posters all over - above the television, and in both hers and Rachel's bedrooms. Add your own spin to this design element by choosing vintage French posters that you love to achieve the same effect.
12. Don't be afraid to decorate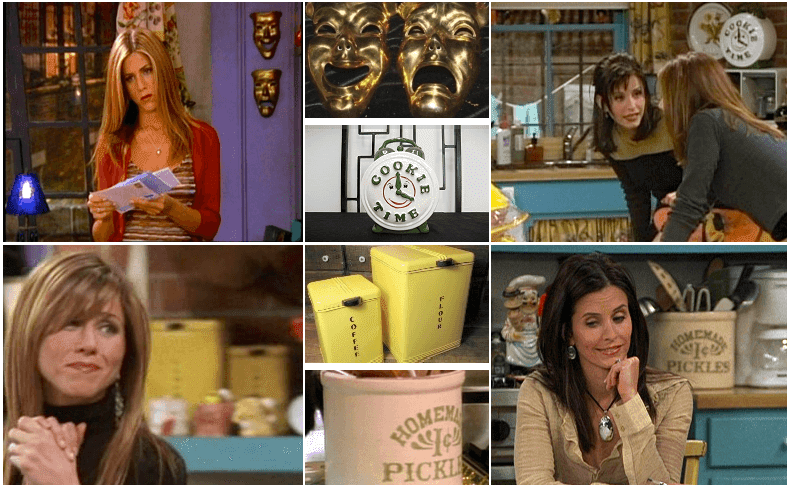 When choosing accessories for the home, zoom into Monica's for inspiration. Keep an eye out on eBay and Etsy for Friends inspired pieces, or pick out your own. In the kitchen, consider hanging plates on the wall or even the side of the cabinets if you have the space.
13. Choose turquoise for the kitchen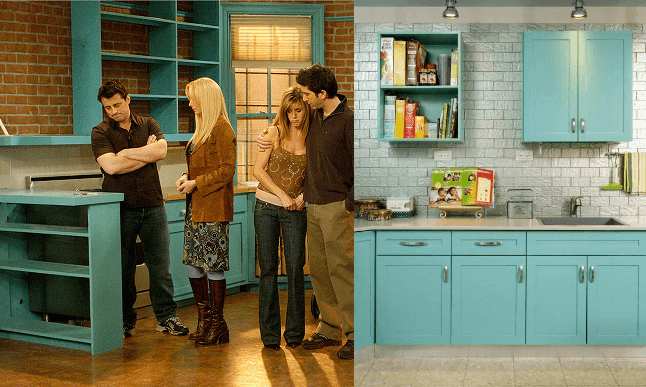 Monica's kitchen features a beautiful brown brick wall, fitted with bright turquoise shelves and cabinets. If you don't have an exposed brick wall, use brick wallpaper to achieve the same effect. Best completed with bright flowers, pots, and kitchen accessories.
14. Use mismatched chairs with a round wooden table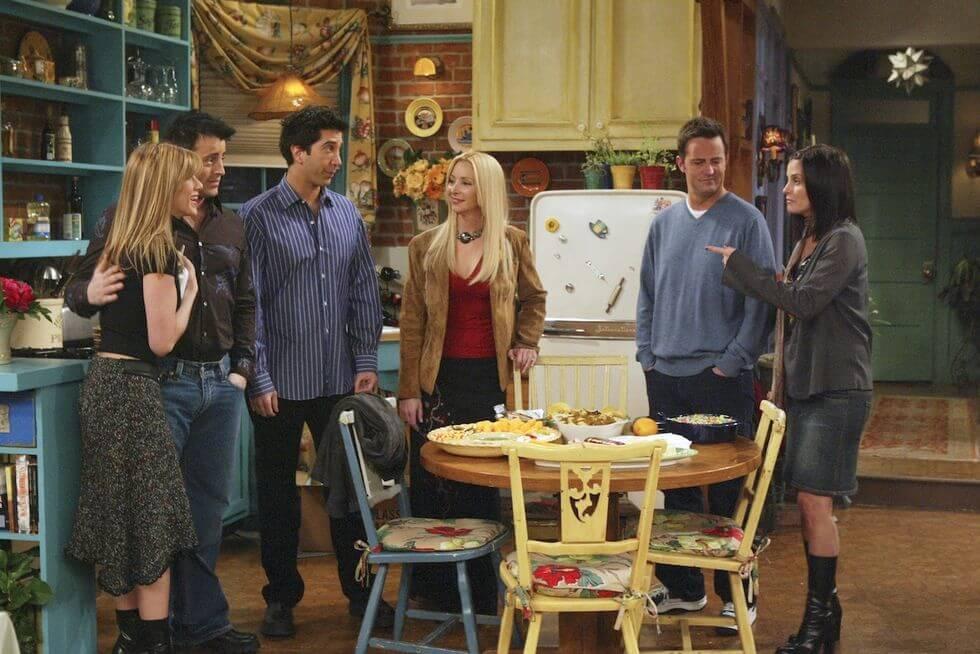 Get your hands on a wooden table, then pair it with a set of mismatched chairs to achieve this shabby chic look. Painting current chairs in different colours is an option, too. Add seat pads with floral patterned cushions and make sure any tea towels you have on display are floral.
15. Hang a gold frame in place of a picture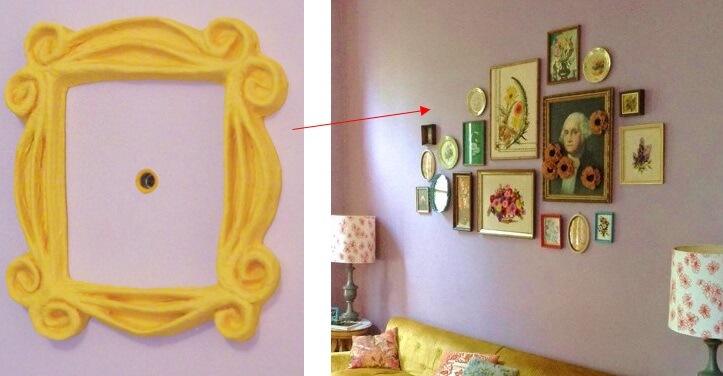 Ah, the iconic gold frame at the peephole. Adding a gold frame to a gallery wall works too, while paying homage to this series. Leave it empty or put a photo of your own gang inside for an extra personal touch.
16. Paint window frames black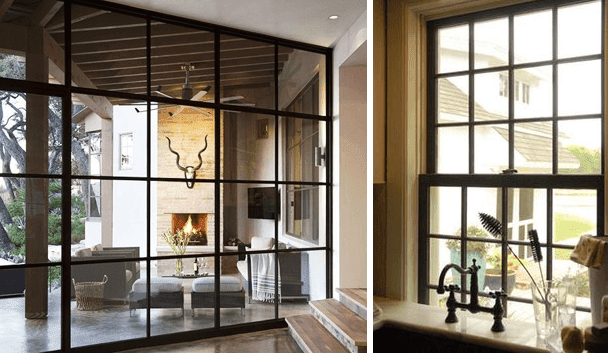 Big or small, painting your window frames black achieves a wonderful New York apartment feel, even if you don't have a balcony overlooking Manhattan behind it! Plus, black frames exude a modern, almost industrial vibe that's bold and eye-catching.
17. Take inspiration from the expert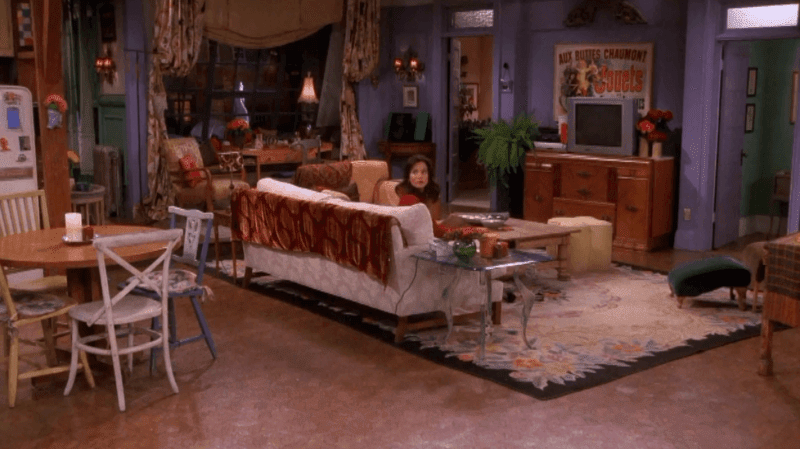 If in doubt, think "Eclectic taste with a flea market, whimsical, and anything-goes style." That's how Greg Grande, the set designer who created the Friends apartment, describes its style.