Homes We Love: A glamorous monochrome home
Find out how graphic designer Joanne pulls together a monochrome, minimal, and elegant home.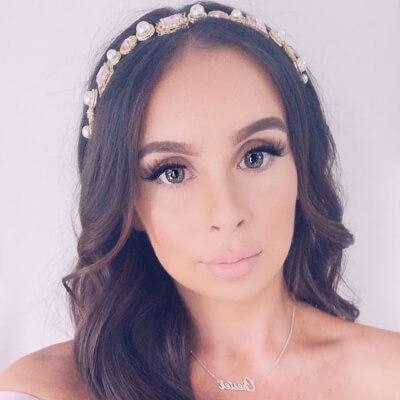 Start with a vision board and a clean slate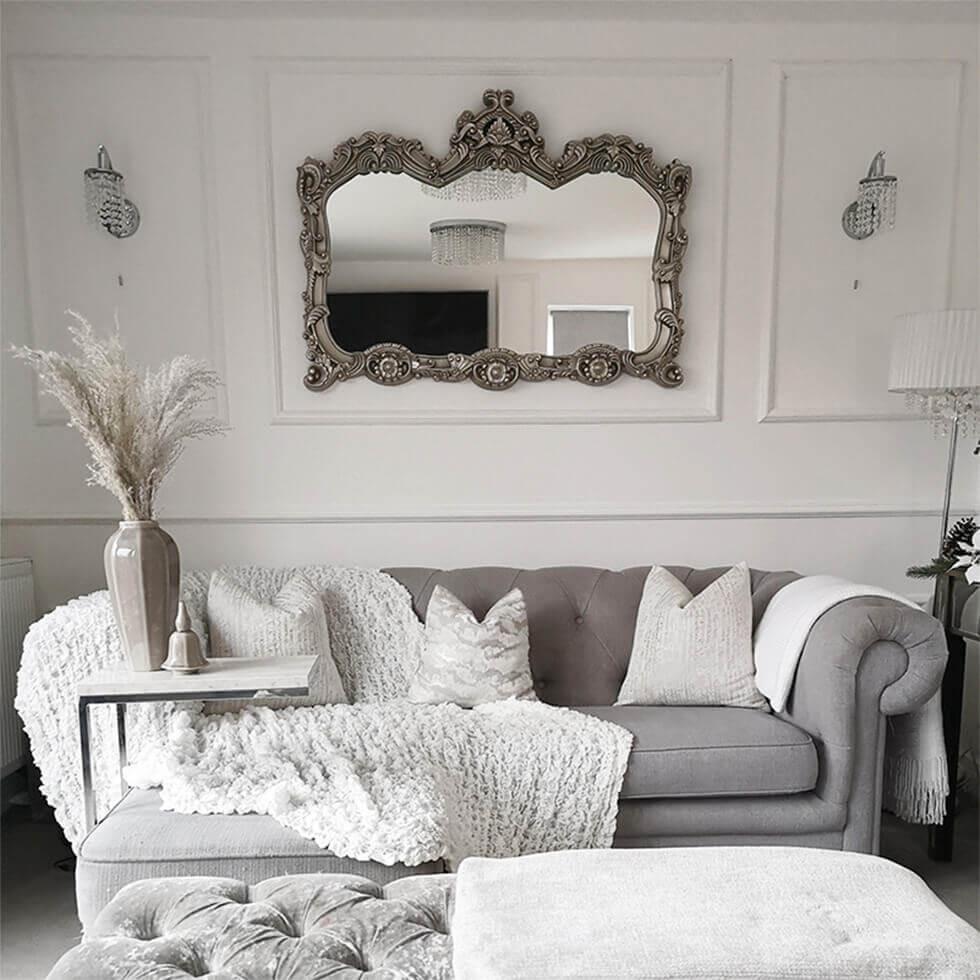 For Joanne, she always starts every room with a fresh coat of white paint just to set the tone, before building from there and bringing in larger pieces of furniture.
While keeping the overall look simple, she also enjoys adding decorative accessories - like an ornate mirror and a statement vase - and shares her best tips on how to accessorise well. "I'm forever moving things around! But I like things in 3s, and keeping things symmetrical," Joanne shares. "I also have a Pinterest board for each room in the house as I'm always saving photos for inspiration."
Statement DIYs without breaking the bank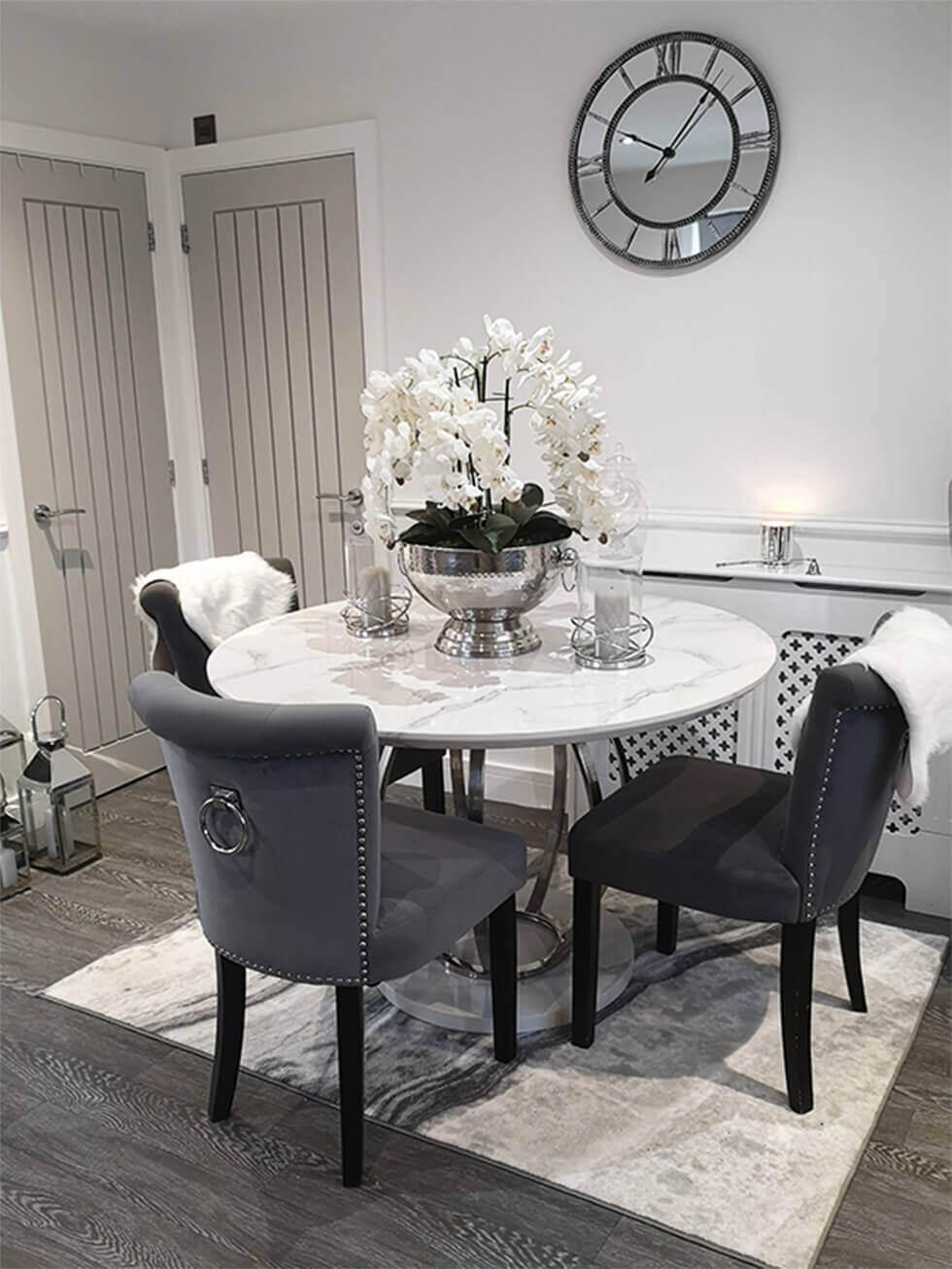 Joanne's minimal, clean approach means that when she opts for a centrepiece, it really pops! One great example is the faux orchid centrepiece in her dining room, which she actually made herself, and is one of her favourite DIYs.
"I love doing anything creative and on a budget."
"I was looking for something similar, but they all cost over £200 - I made mine for around £60! All the bits for it came from Amazon and Ebay," she explained. And as for how she got that uniform, crisp white shade: "I love using spray paint - sometimes you buy an item that says it's white, but then it arrives and it's actually cream. So I always keep a can of white spray paint in the house."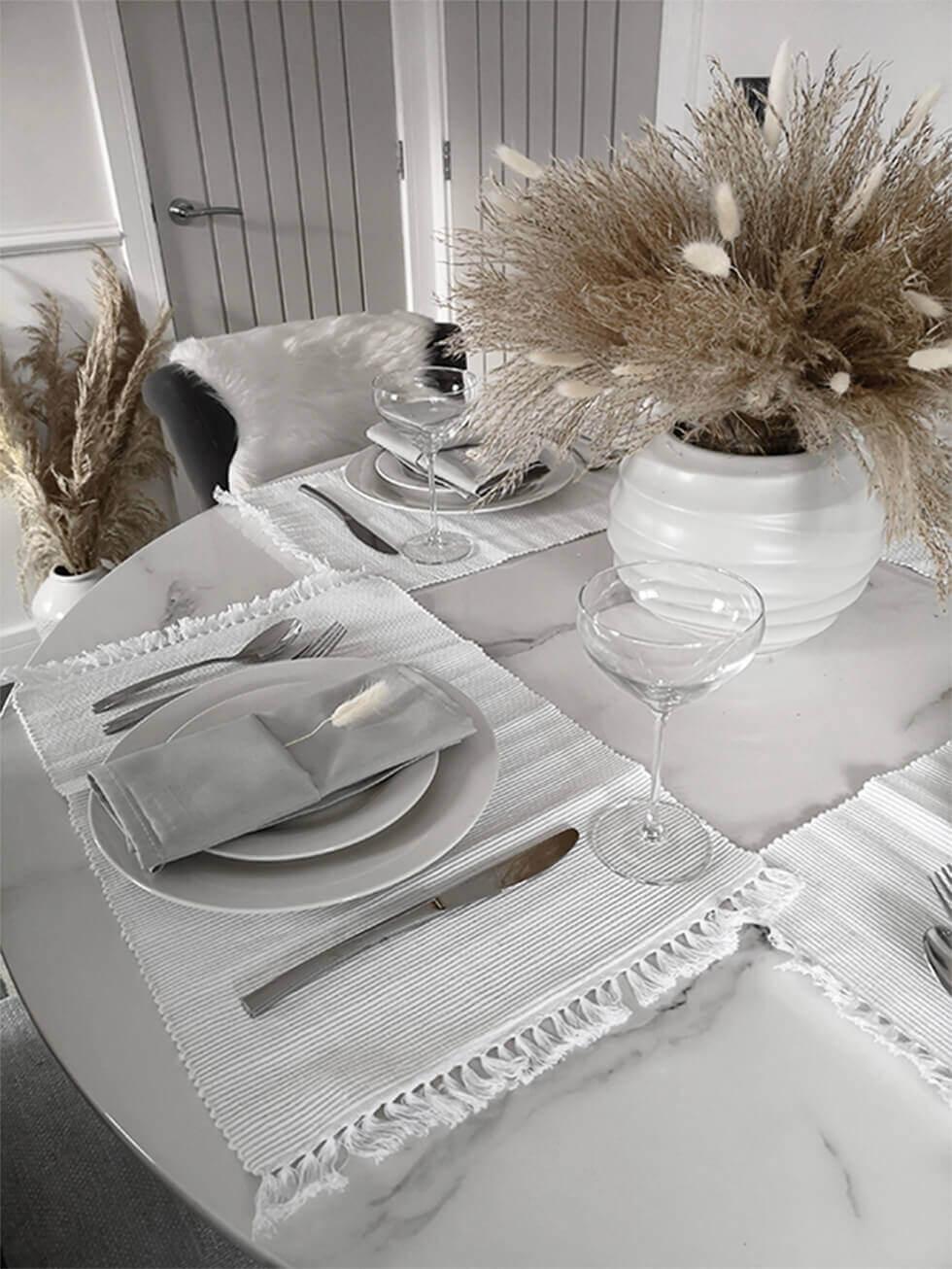 With so many cool tones, Joanne was also looking for a way to add warm neutral accents - and was inspired by pampas grass (and a lucky family connection).
"It's quite expensive to buy - but my nana and granddad's neighbour has a pampas grass plant in her garden, and she kindly let me have some stems," she says. Joanne then dried the stems herself, and now has lovely pampas grass bouquets in pretty much every room, and all for free too!
Working with the space you have without compromising on style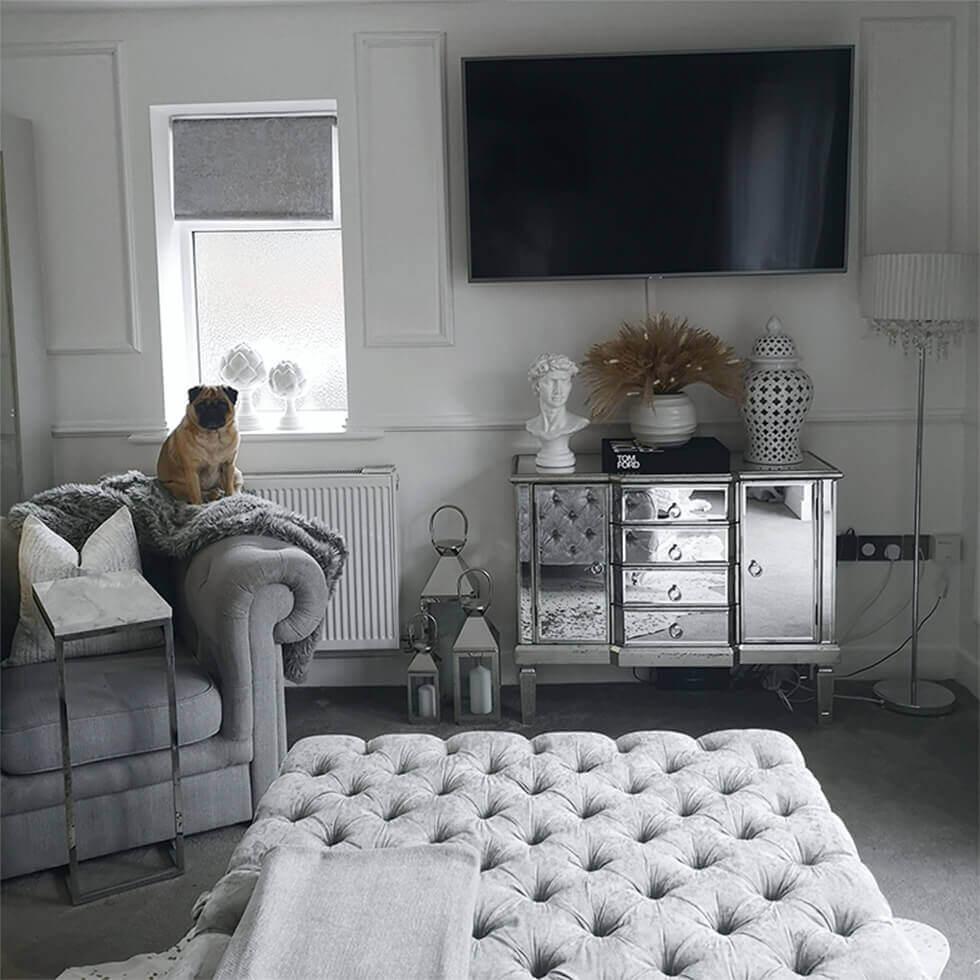 Since Joanne's home was a new build, she treated it as a blank canvas to create her own focal points that would suit the style she was going for - clean and glam.
"The house didn't come with a fireplace, so I used my mirrored sideboard as a focal point in the living room, before working the rest of the furniture around it," she explains. She also played with feature walls to create definition and polish.
"Wall panelling is my new obsession… I want it in every room!"
"We panelled the kids' bedroom and the living room ourselves during the first lockdown. There are so many YouTube tutorials you can follow and you save on labour costs this way. And it's so easy to do it yourself with the right tools."
An open plan dining room that brings joy
We asked Joanne which room in her home brings the most joy, and she immediately picked the open plan living and dining area downstairs, because it's where the family spends the most time together - and there's lots of room for her 3 year old son Chester to run around and play.
And here's where she brought in our Savoy table to complete the look. "I always dreamed of having a marble dining table, and when I saw this one, I fell in love with the statement chrome base and glossy marble top," she remembers. "It's so affordable, and the perfect size for the space we have."
As an extra detail and for more visual definition in an open plan space, Joanne also painted the doors grey. "I used Ammonite by Farrow and Ball to add some contrast to the white walls and I love how they came out."
A stylish and cute shared children's bedroom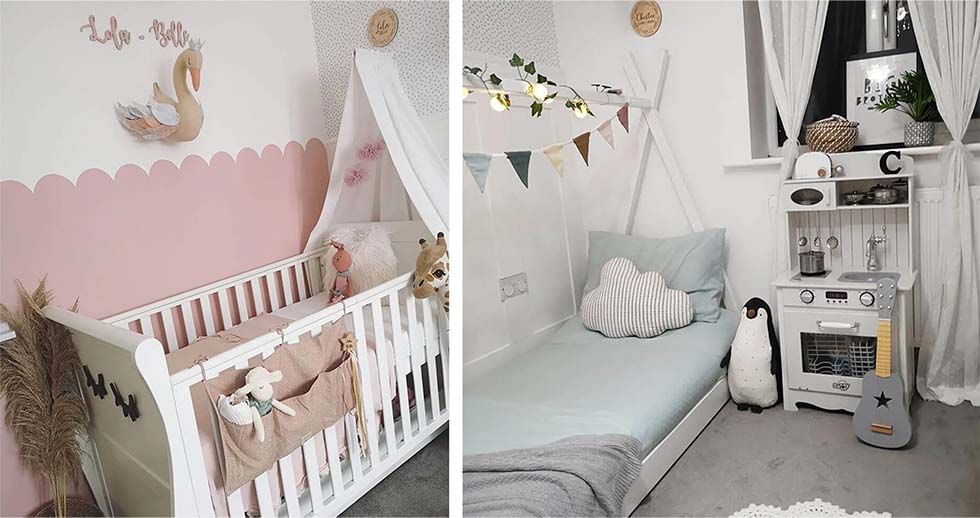 While the grey and white theme of the home extends - just a little - to the children's shared bedroom, Joanne wanted to make sure that both her daughter Lola-Belle, and her son Chester would have sides of the room that felt entirely their own. And here's where colour comes in!
"I added pink on Lola-Belle's side and turquoise on Chester's, and started small, adding colour using fabrics and accessories first. For Lola-Belle's feature wall, I chose a dusky pink and scalloped edges to make it more girly."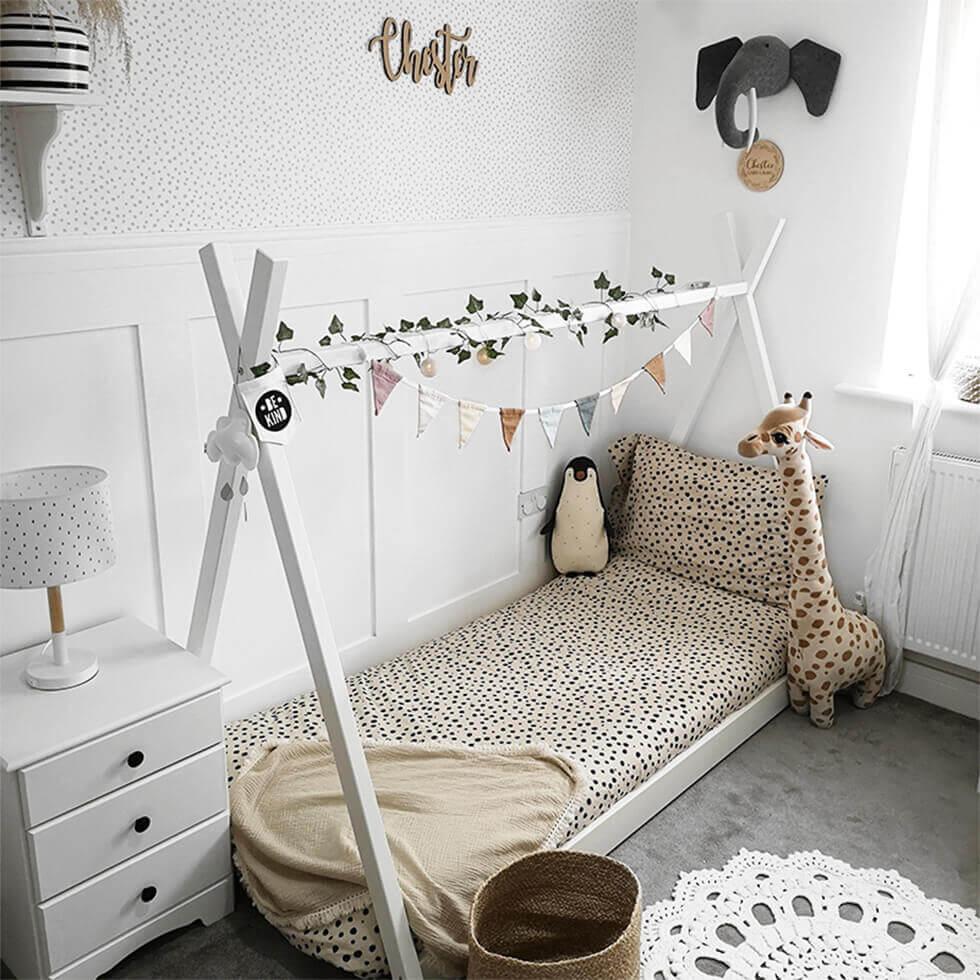 To make it all work, Joanne suggests looking at this single space as if you're decorating 2 separate rooms. "Then use accessories to make them match - you could do this with ornaments, cushions, even toys!"
And sharing a bedroom with Pixie the pug!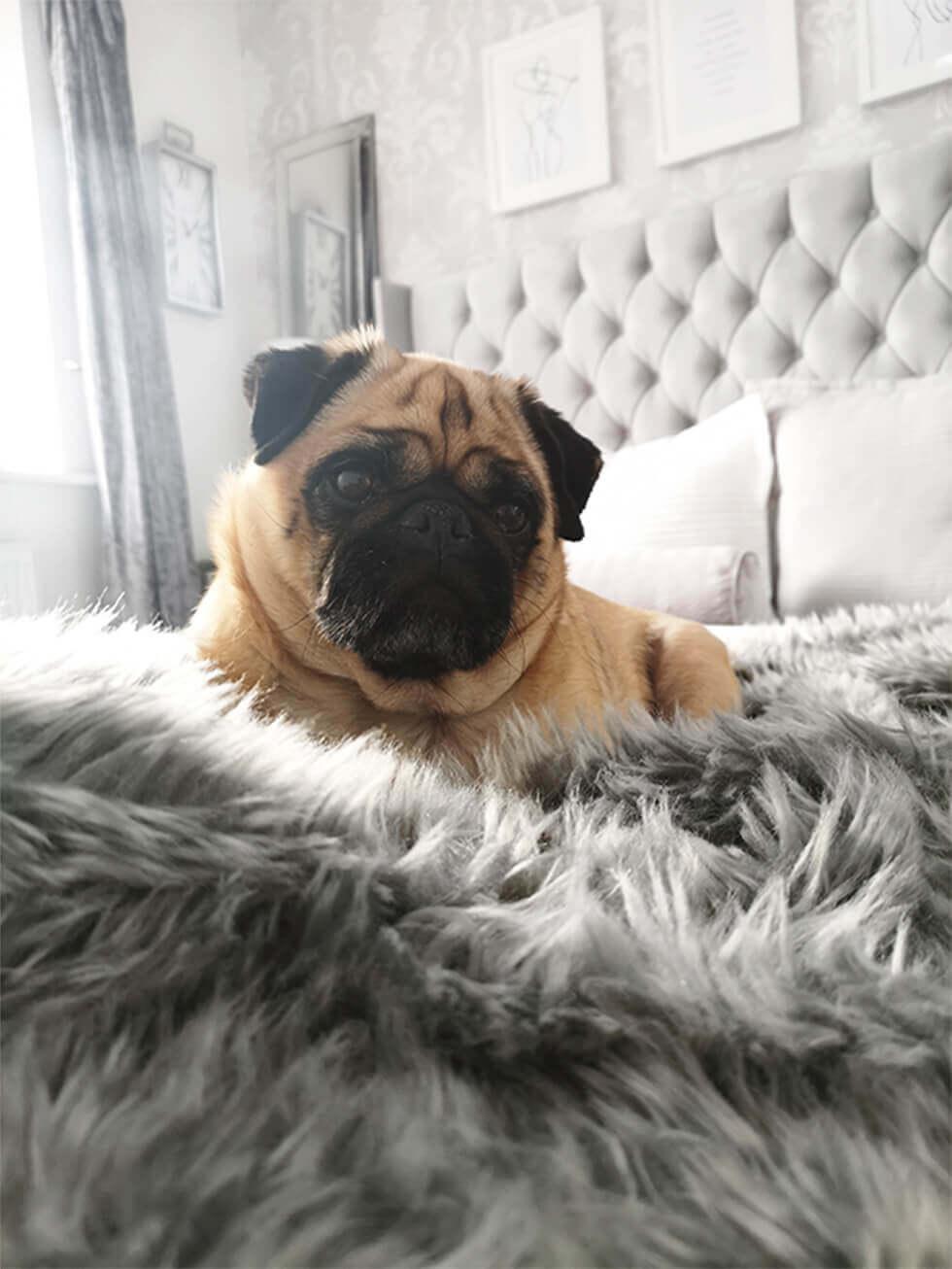 Pet lovers know that living with a furry friend can be an absolute delight, but also a fair bit of work. While Pixie the pug has a dog bed, she usually makes her way into the master bedroom at night.
"She's definitely a lady of leisure," laughs Joanne. "She hates going out in the rain and getting her paws wet, and loves a fur throw. I have to hoover every day because she malts badly, and I always try to keep on top of housework." While her house looks absolutely spotless on her feed, Joanne also says that it isn't always perfect, giving a glimpse behind the scenes. "Don't let Instagram fool you - it's impossible to have a tidy home 24/7 with children and pets."
Top tips for getting a gorgeous monochrome grey aesthetic
Finally, we asked Joanne for the main areas to focus on when trying to nail the perfect monochrome look:
Keep your walls neutral and add accents using artwork, photographs, and mirrors
Use fabrics to add texture
Add interest with decorative accessories, sticking to neutral colours
Use different tones of grey to add dimension
Don't be afraid to mix neutral tones like grey and beige, or silver and gold, as long as it's kept consistent within the room, it will all tie in
Photography by Joanne Welsh
Shop The Look