Colour Report: Living Coral
Get to know more about Pantone's Colour for 2019 and how to style it at home.
If you're all about living colourfully and embracing positivity in 2019, you're in luck. The future's looking bright (and chic) with Pantone's new It colour, Living Coral taking the reins from last year's mysterious shade, Ultra Violet.
This punchy, cheerful hue mixes peach and blush with warm orange undertones, drawing inspiration from nature and vibrant coral reefs. According to Pantone, it represents an innate need for optimism and joyful pursuits, while encouraging authentic and immersive experiences that enable connection and intimacy. This peachy shade makes a more striking statement than Millennial Pink (the go-to colour for the past few years), but its soothing, inviting qualities make it a highly versatile, adaptable shade for the home.
So sit back with your Pantone mug of choice and browse through our visual guide on working with Living Coral, from colour matching to introducing pops of coral to your space.
One: Pair it with natural shades and airy brights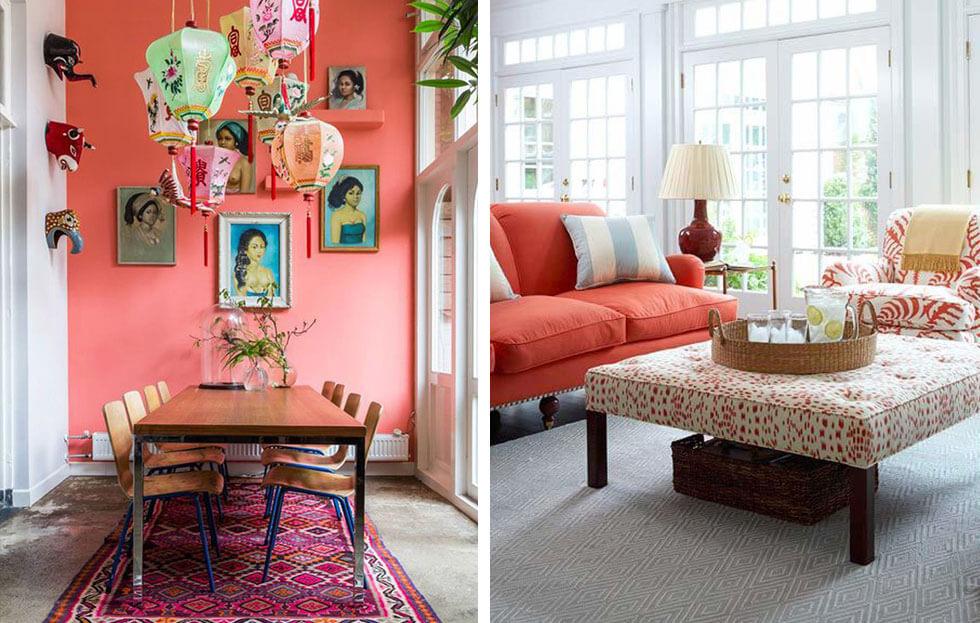 Striking a balance between feminine and masculine shades, Living Coral is a great choice for experimenting with colour at home. For a truly airy, summery vibe, pairing Living Coral with white and neutral tones allows it to really take the spotlight, injecting a playful dose of personality to a room.
This colour's energising qualities work beautifully in bright spaces that get a lot of natural sunlight, bringing out its natural orange undertone for a warm, welcoming feel. This makes it easy to incorporate in the living and dining room, or any other spaces in the home where you want to encourage conversation, or creativity - like the home office, for instance!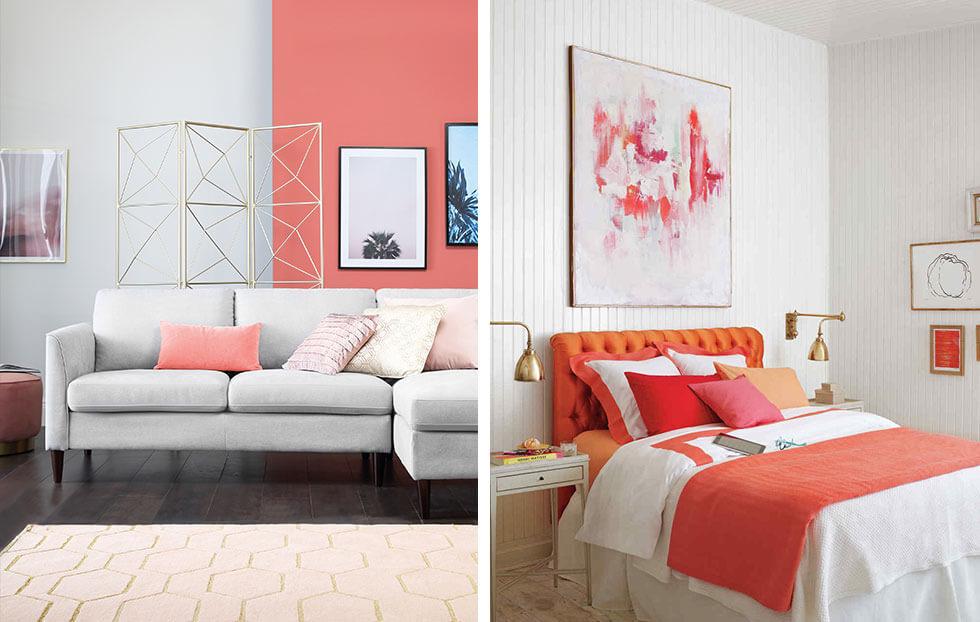 Living Coral works well in both large and small amounts - it looks good as a wall colour and as a statement sofa, but it also works in smaller pieces, such as cushions, throws, or rugs. These cosy additions work particularly well in the bedroom or living room where you can add other embellishments, such as metallic accents and contrasting textures, to create a stylish space.
Two: Styling it with cooler tones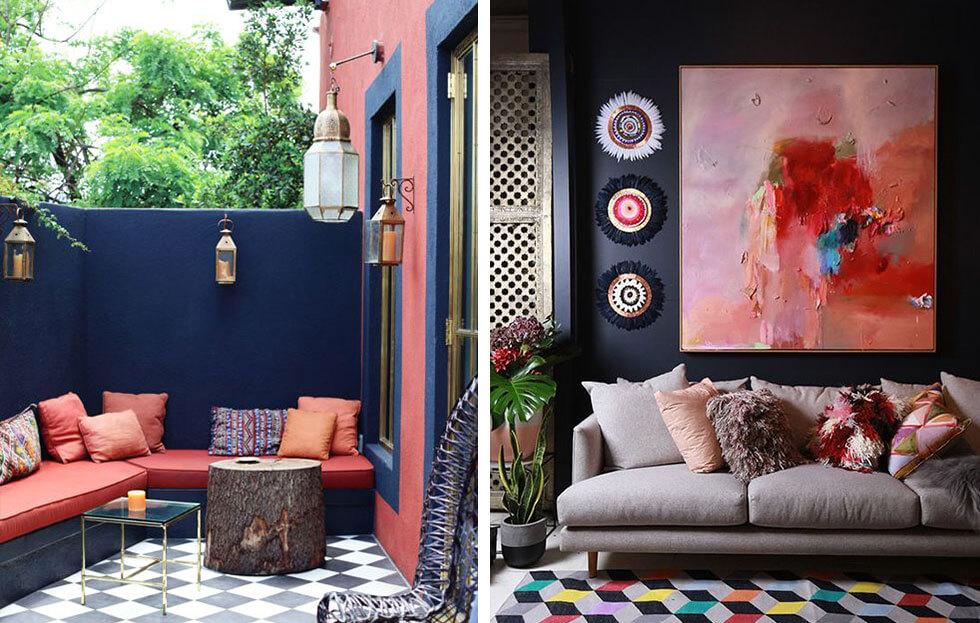 Living Coral's versatility truly comes into its own when styled with cooler shades, introducing a bold, eye-catching contrast. This adventurous approach enlivens darker colours with a dose of coral's bright, fun personality, making it ideal for jazzing up the home during the colder, gloomier months.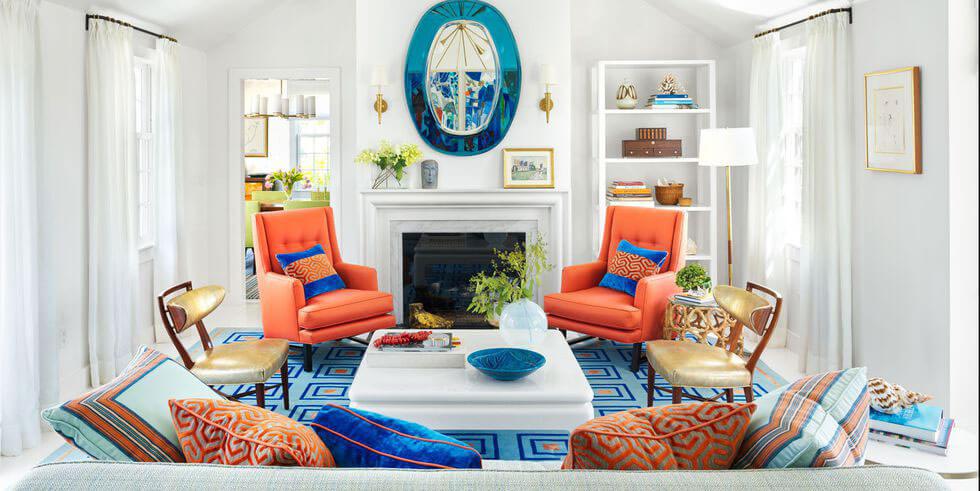 Hues like dark greys and jewel tones are perfect canvases for this sunny shade to pop against, but for a fresh take on complementary colour pairings, opt for a blue and coral match-up. Style them in lighter spaces for a lively, chromatic feel, or go all out with a statement wall and a rustic coffee table.
When playing with contrast, accessories are key. Patterns and pillows can go a long way towards adding little boosts of colour and fun - not forgetting of course how art and decoration on the walls can also create visual interest. This is a great way to introduce fresh colours such as Living Coral to your existing space, in an effortless yet thoughtful fashion.
Three: Match it with warmer hues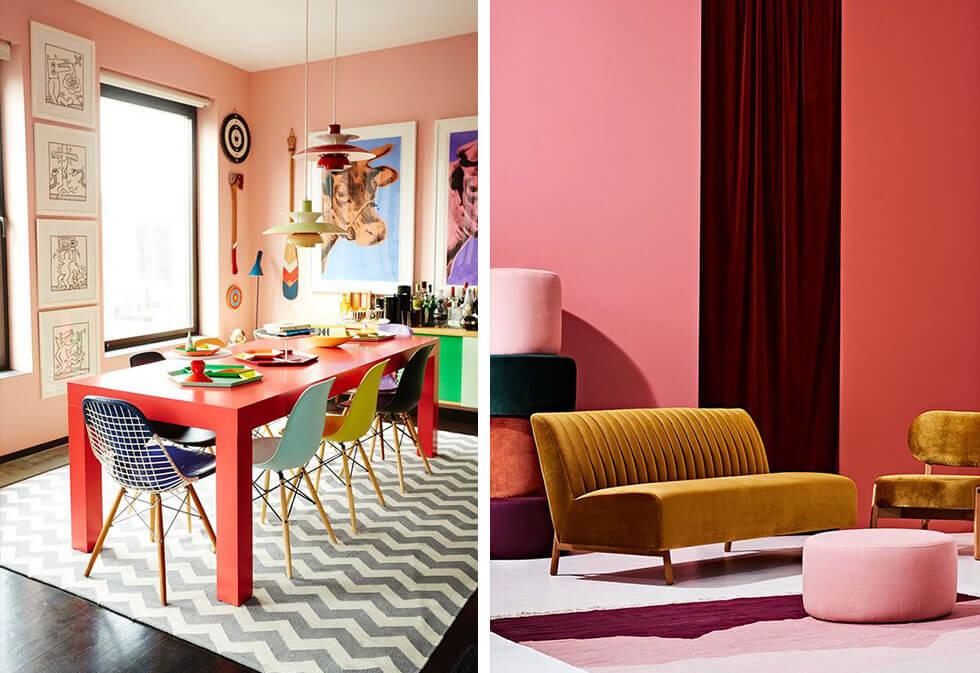 Living Coral's sociable, confident side comes into focus when in bold, retro spaces - creating a vintage mood and look that still stays playful. Paired with its cousins, salmon pink and terracotta, it creates a lovely, sun kissed effect that's warm and inviting, ideal for living spaces as well as the dining area. It also plays well with yellow and brown, for a deliciously 70s inspired look.
Living Coral easily balances out other primary shades (or pastels!) to summery perfection, and adds a final flourish to a warm, elegant interior of jewel tones and blush hues. This colour can be adapted for a modern Art Deco aesthetic, or amped up for an unapologetic Miami Vice-inspired look.
Bonus round: Living Coral and colour blocking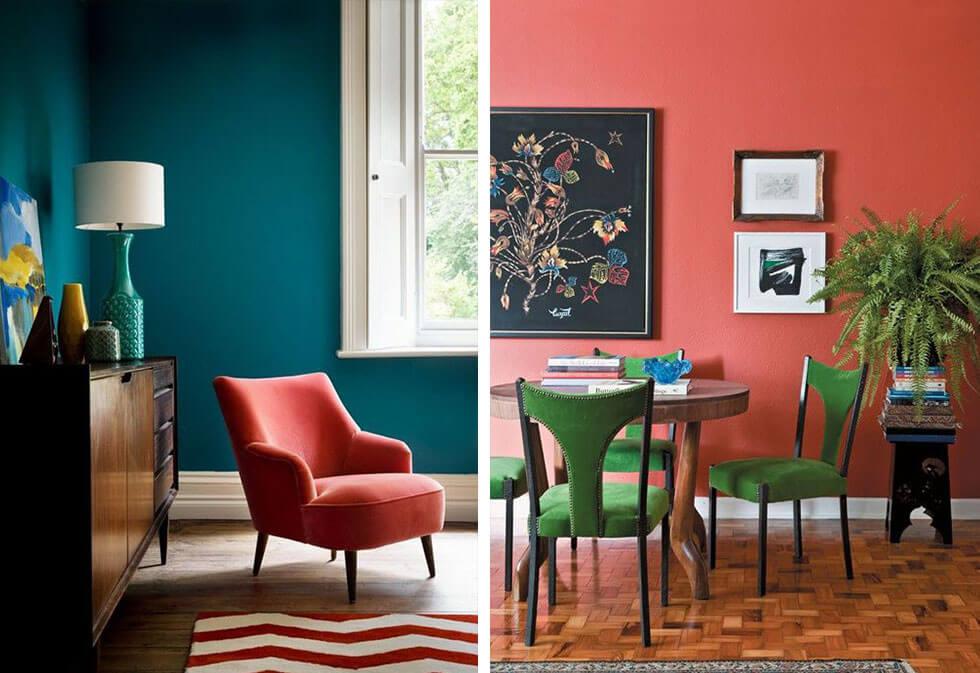 For true colour devotees, Living Coral is a great choice if you are thinking of introducing colour blocking to your home. A playful trend that's highly customisable, colour blocking emphasises different shades with the help of sleek curves and minimalist lines.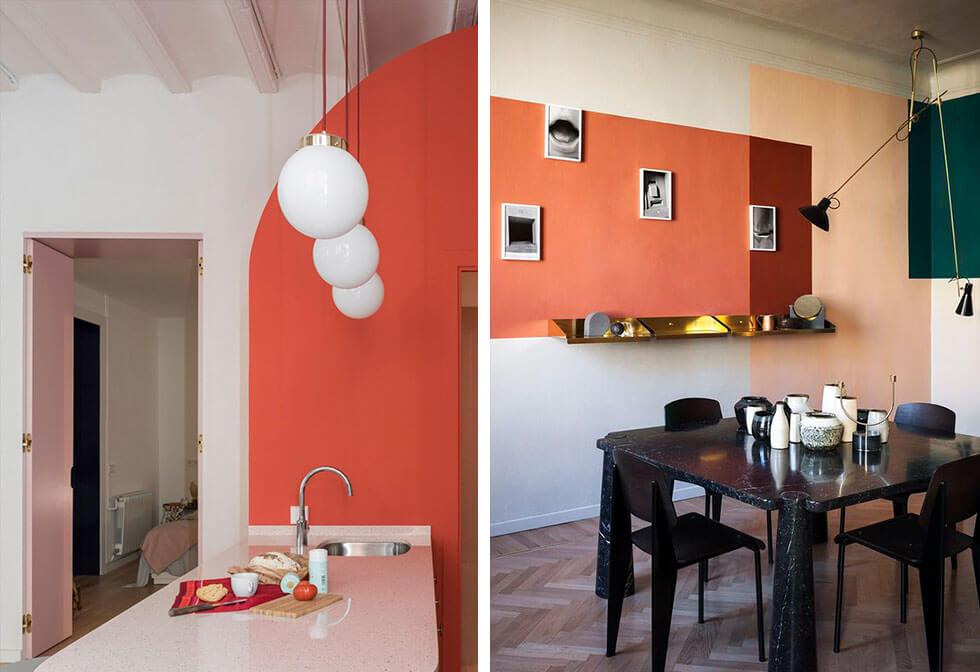 Take the plunge and mix Living Coral with darker tones such as green, blue or grey for a bold, unique approach. Living Coral's breezy, welcoming vibe matches nicely with green, making it an an ideal colour pairing for spring and summer. If you prefer a more muted approach, pairing this shade with brown or cream tones gives it a chic, earthy appeal that still makes a statement.
An expressive colour that's bursting with joy and optimism, Living Coral is truly a versatile colour at heart. Whether you choose to sprinkle it around the home through artsy accents or leave a lasting impression with a feature wall or furniture, it's all about hitting your own sweet spot with this shade.