Homes We Love: Cheerful colour blocking
Discover how our customer Francesca uses colour to bring joy to her home.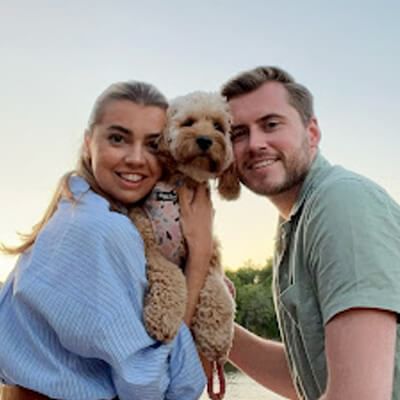 Creating a cheerful living room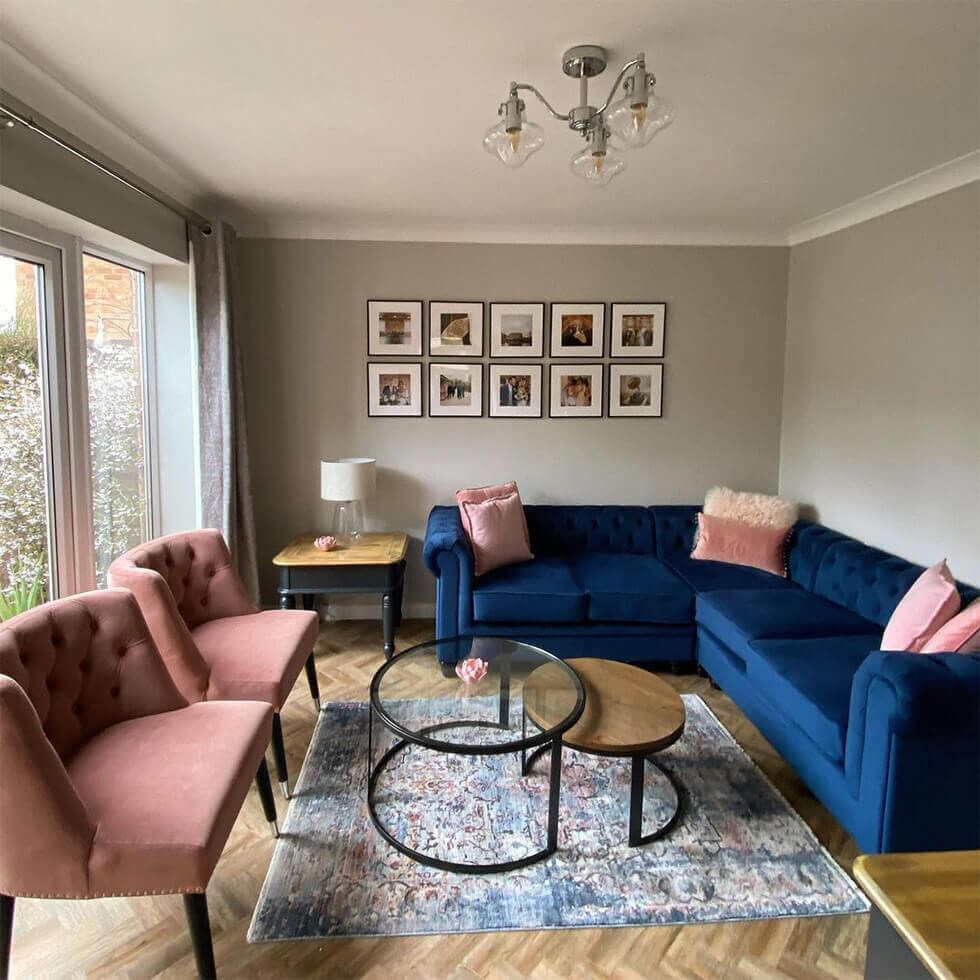 When moving into their new home, Francesca Venus Beechey and her husband Jacob Beechey decided to take a leap with a new colour palette. "Our old house was very grey, with grey walls and white accessories, and that was as colourful as it got," she explains.
"In this new house, we want to express ourselves more with the colours we love - we still have neutral walls but with more colourful furniture and accessories. I think colour blocking makes the space feel happier!"
"In this new house we want to express ourselves more with the colours we love"
One of the ways they did this was with Furniture And Choice's blue velvet Hampton sofa in their back living room. "We were looking for a statement piece to fill the corner of the room so a Chesterfield style is perfect for this," she says. "We had already ordered our blue kitchen island and so we thought we could get a blue sofa to match."
Unwinding with neutrals in the front lounge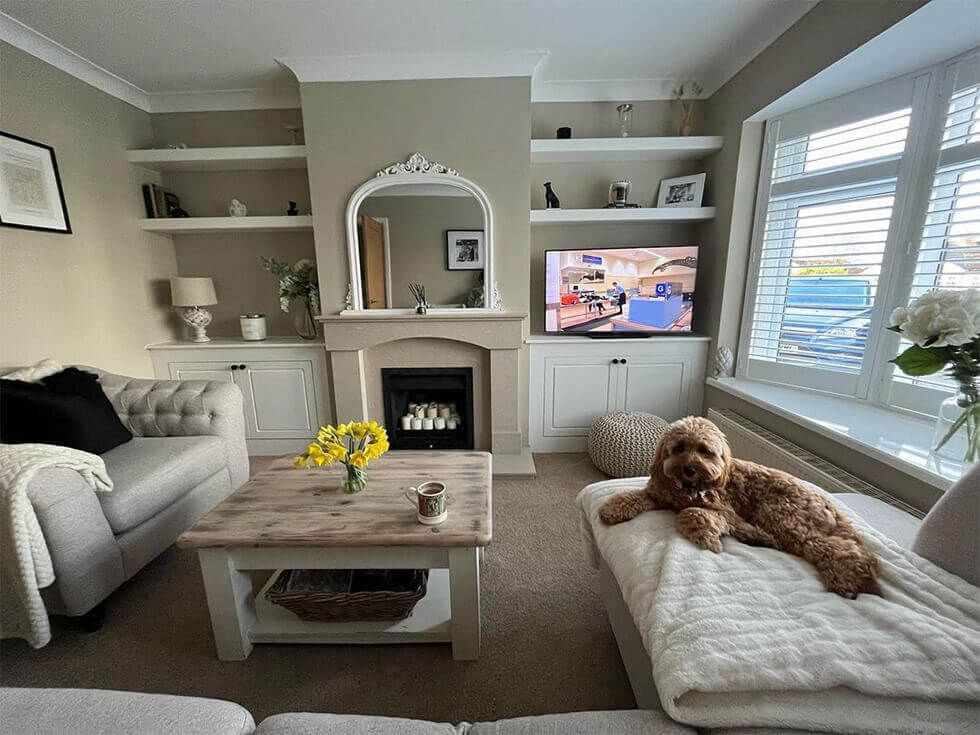 While her back room is bold and colourful, Francesca wanted a neutral palette for their front lounge. "Our lounge is our calm room while our back living room is more to hang out with friends and have a drink," she says. "We sit here in the evenings when it's just us and properly chill out."
Featuring a cosy fireplace and alcove, her front lounge is a study in layering neutrals with a beige sofa and armchair alongside a wooden coffee table. "I wanted to have a separate room where I could shut the door from the rest of the house and just relax," she explains. "Choosing neutral décor with pops of black creates a really calming vibe."
Contrasting wood and blue accents in the kitchen-diner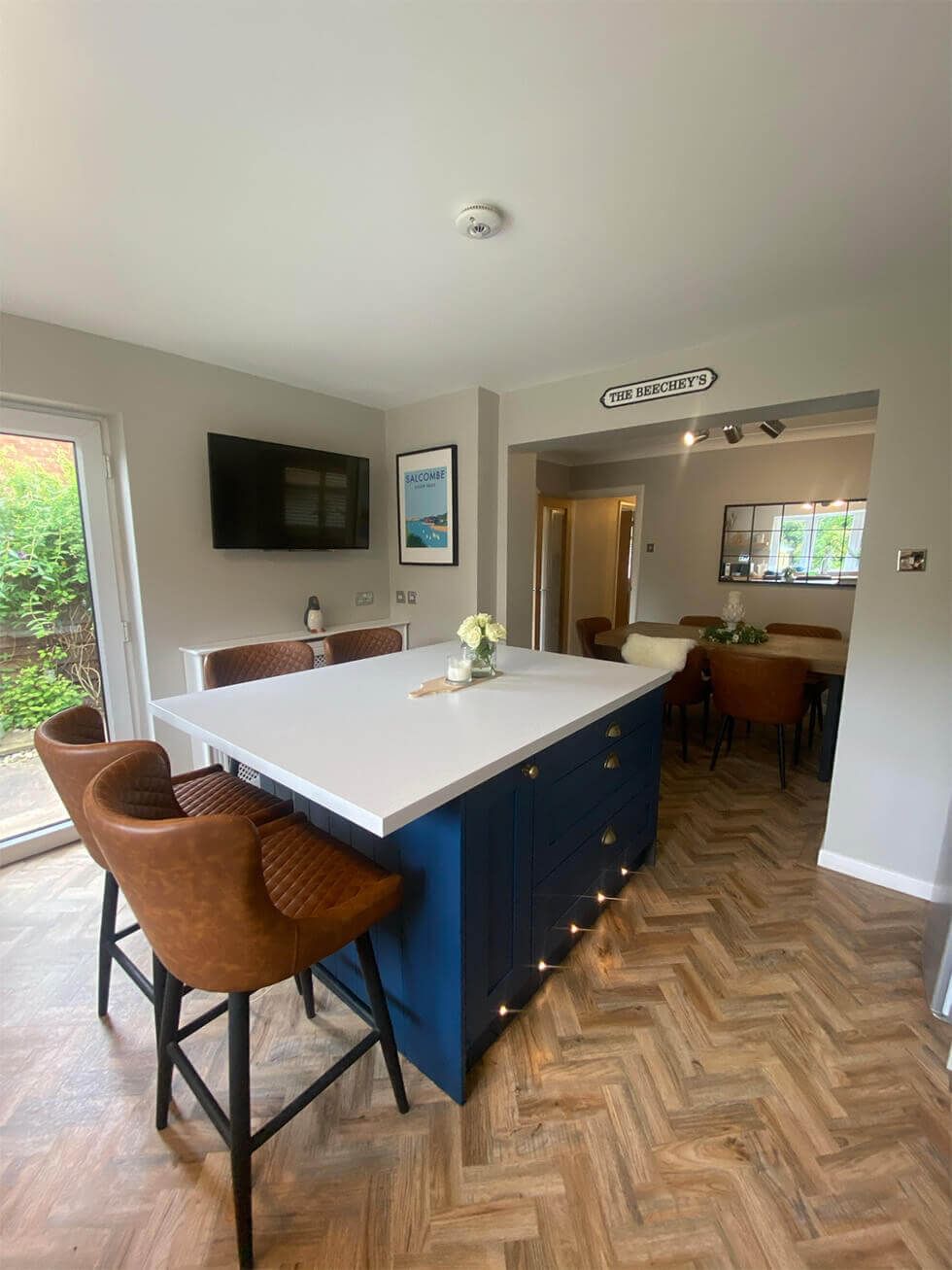 For her kitchen-diner, Francesca chose a dark blue island to break up the wooden and neutral colour scheme. "We kept seeing bold islands in the kitchen shops and on Pinterest and really liked the idea of having a neutral kitchen with a coloured island. Our kitchen cupboards are grey and the blue really works with that. We now have blue accessories and even saucepans to match!"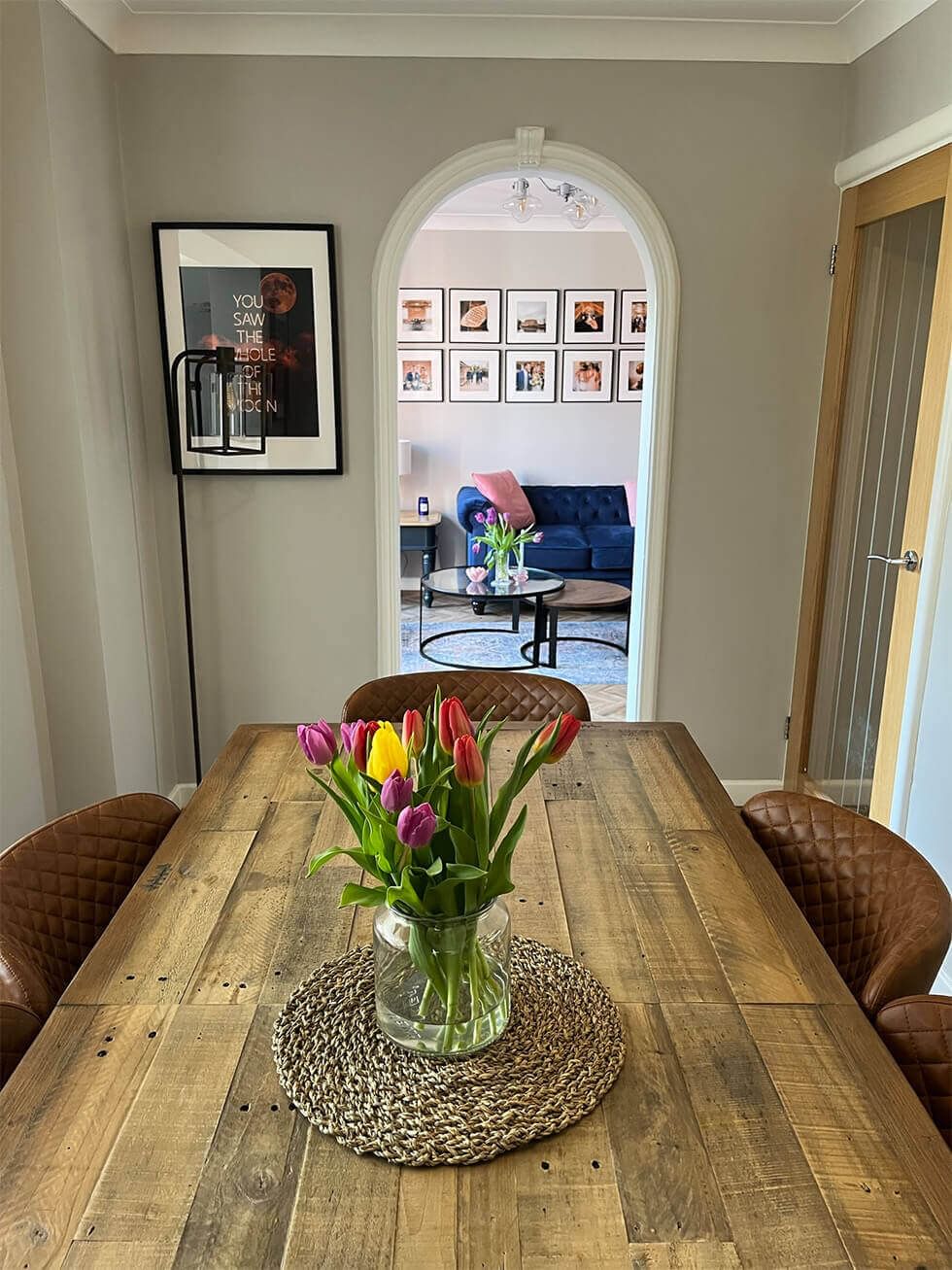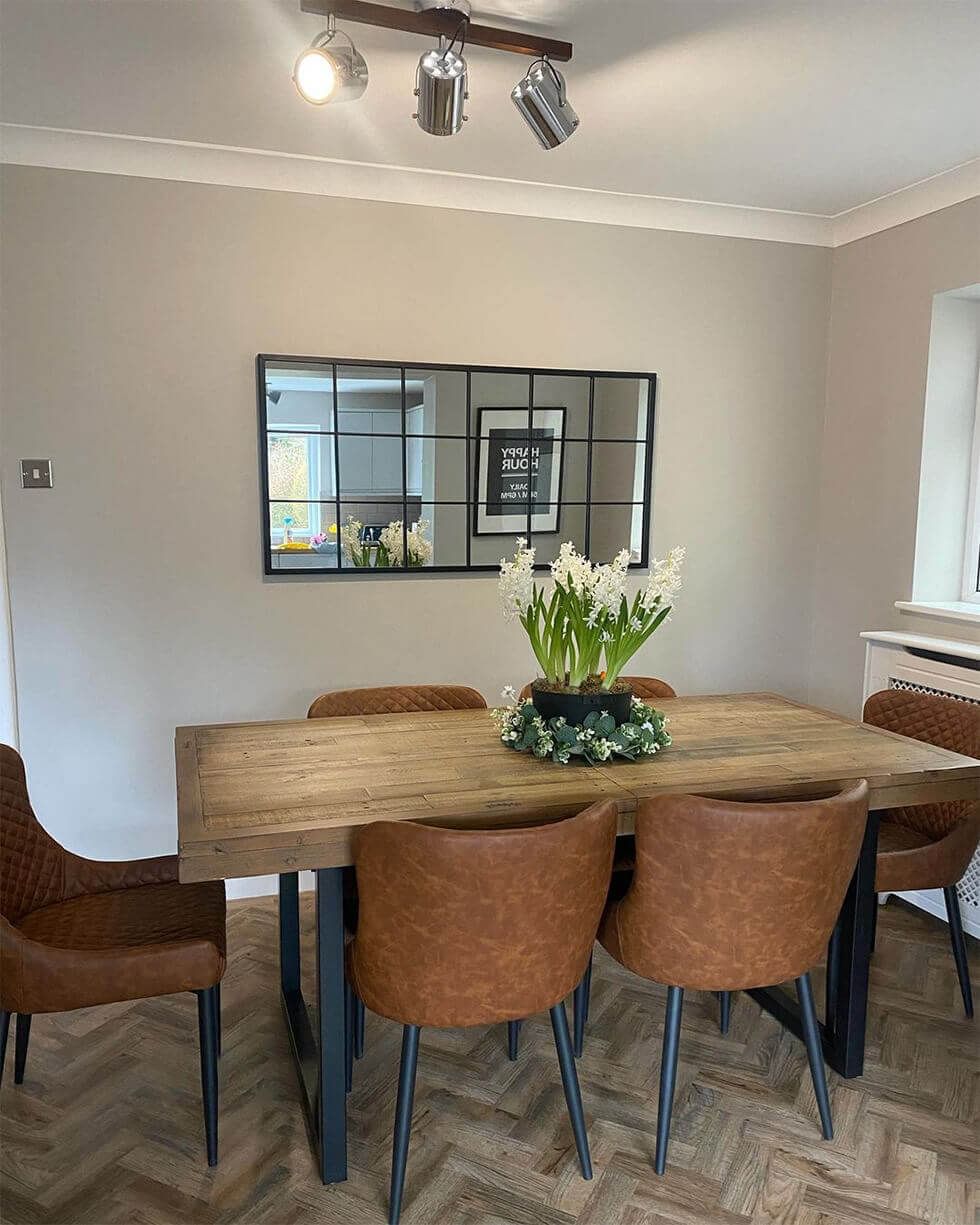 Her dining area takes on a more contemporary industrial style with a wooden dining table and chic leather dining chairs. "We stumbled across our dining table made from reclaimed wood - we love that it has so much character! The table legs are a more modern black industrial style which then set us off trying to tie the room together with this look. We found an industrial style floor lamp, black mirror and black photo frames throughout our house."
Bringing the 'zoo loo' to life with animal wallpaper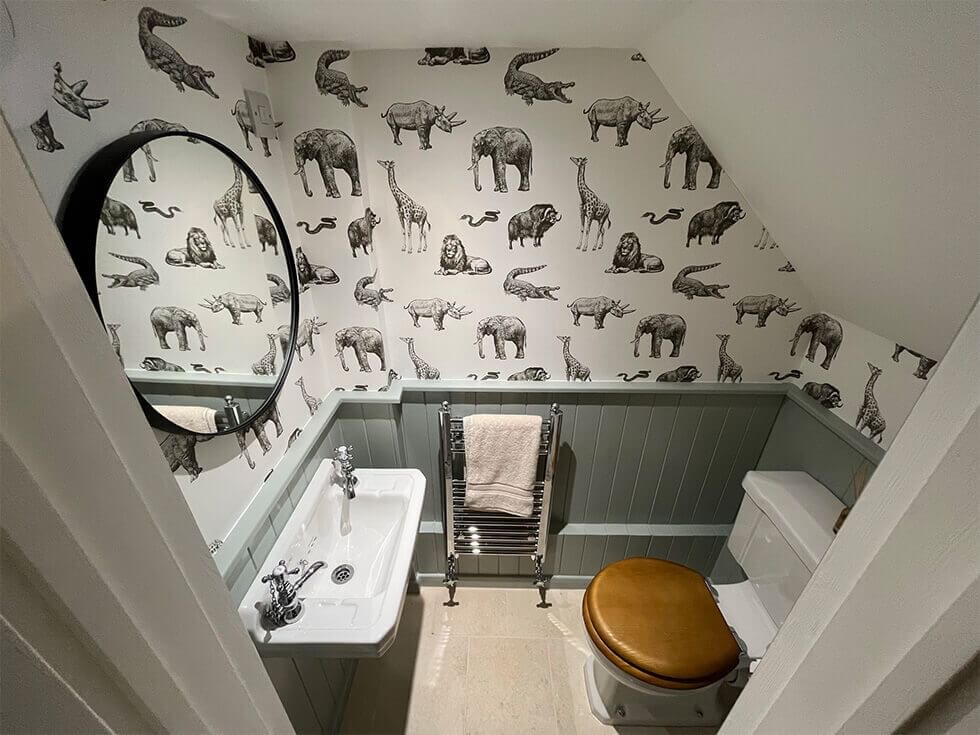 Another standout space in the home is her quirky guest bathroom. Dubbed the 'zoo loo', the walls are covered with a grey and white patterned wallpaper featuring safari animals. To complete the look, they decorated the bathroom with a round black mirror and cosy grey wall panelling. "It's a super fun space and everyone who goes in there comments on it - my step mum wants to remake it in her new house!"
Layering neutrals and pink accents in the bedroom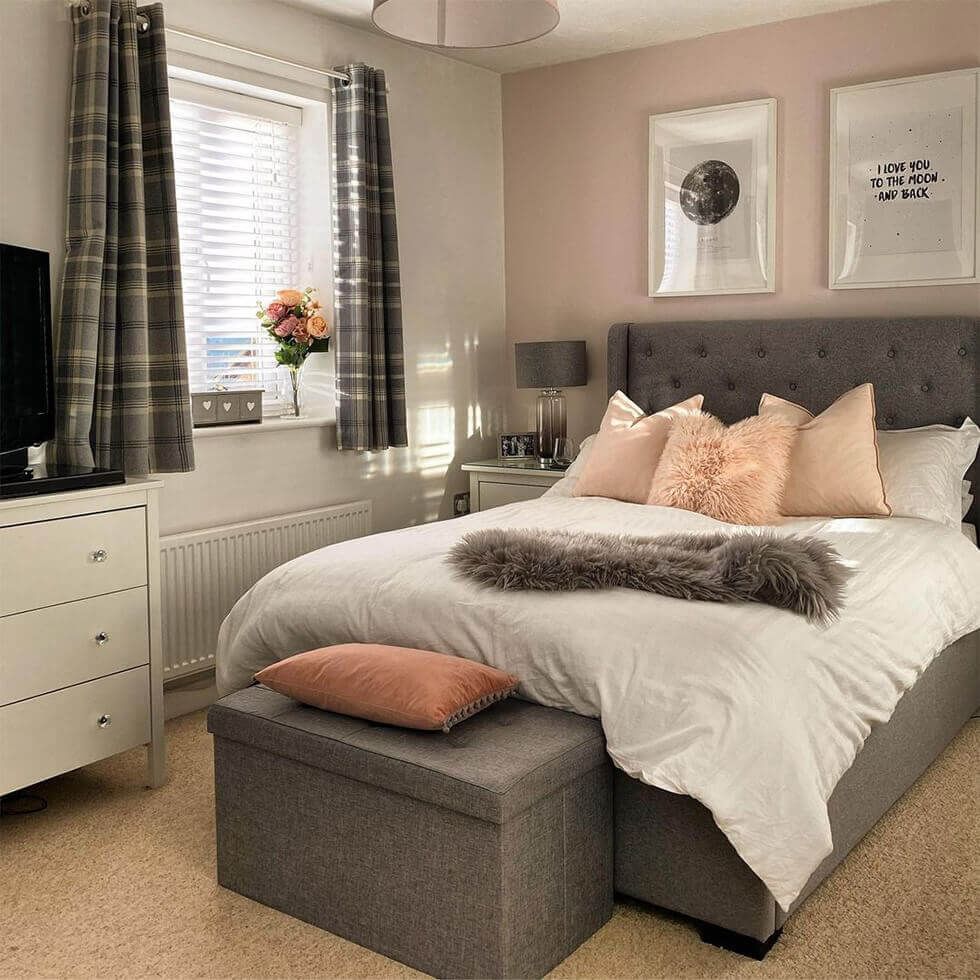 Meanwhile, Francesca's bedroom highlights that you can't go wrong with layering cosy neutrals with light pops of colour. "Adding different textures or accessories throughout the room will make it feel homely," she says. "You can swap cushions or throws in different colours if you fancy a change." And for that extra snug feeling, she sets the mood with elegant side lamps and candles.
Choosing a dark green palette for a relaxing study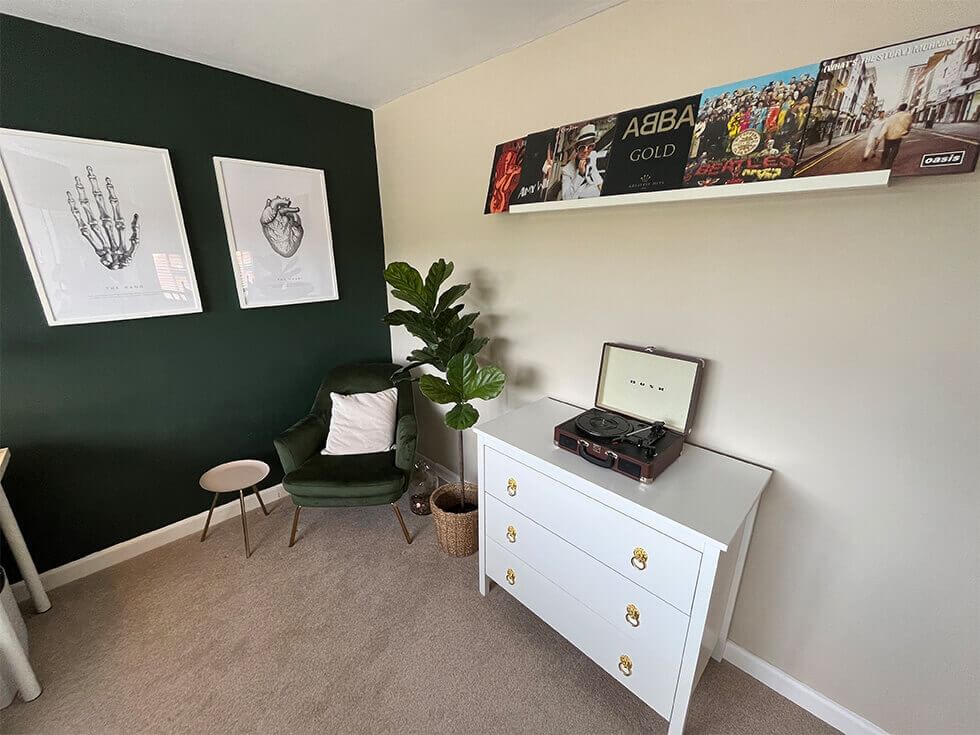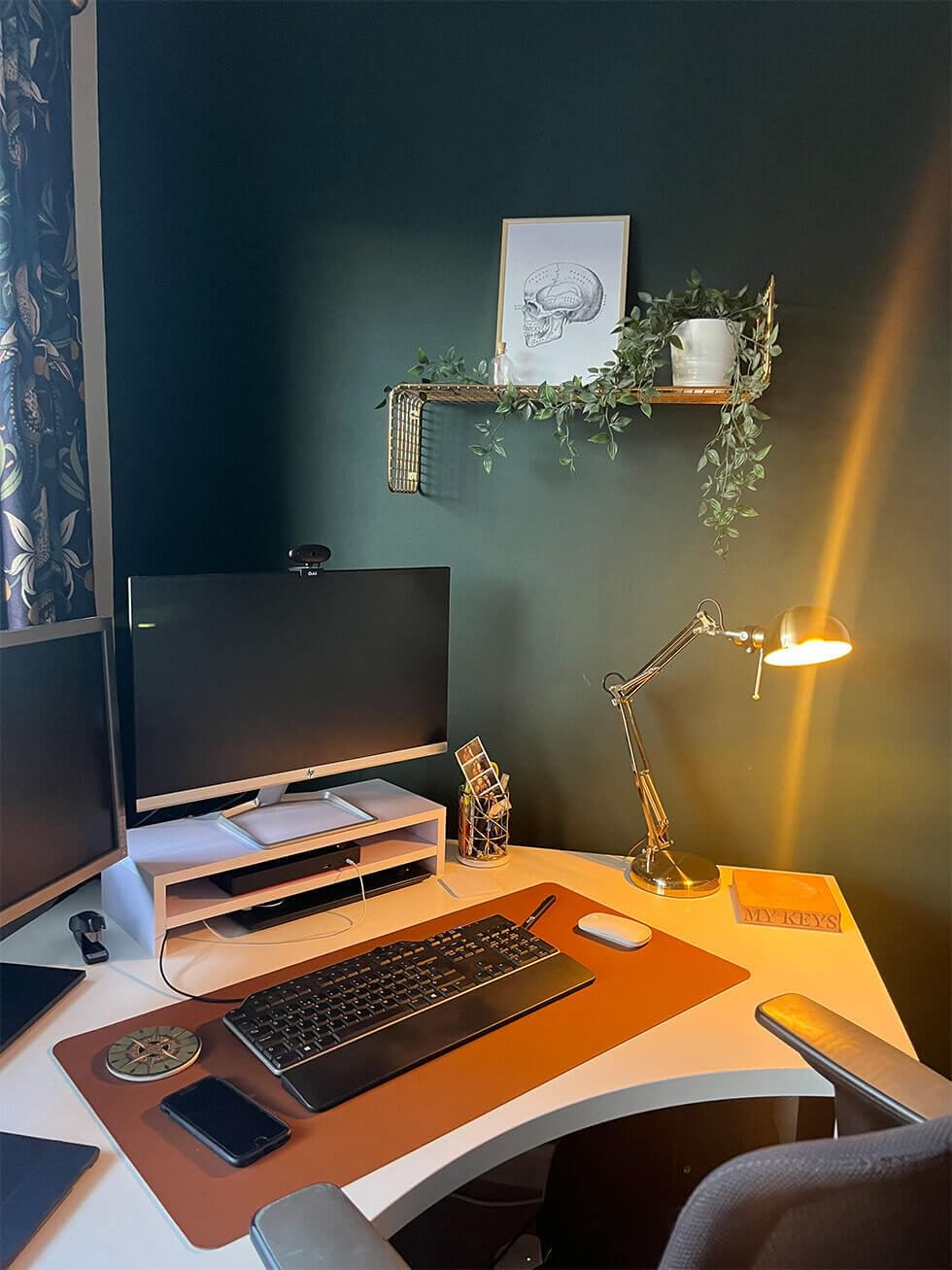 Since Jacob works from home, the home office is another area of focus. With its dark green walls, Francesca describes the room as "a calm space - but not too calming for you to fall asleep."
Besides the standard workspace décor, the study is also where Jacob displays his impressive vinyl collection. "A lot of people will see what's in the background during team calls - he's always getting asked about the vinyls!" Francesca says. Her advice for creating a stylish and comfy home office? "Fill it with things that you love and you will love spending time here."
Shop The Look