9 ways to style green in your home for 2020
Green will be a hit in 2020. Read our 9 tips on how to style the home with green in different shades and colour combinations
As a digital generation, our need to reconnect with nature is greater than ever. While going on a daily walk or weekly hike might not be feasible, inviting the outside in, is.
And we're not just talking plants and trees, but even the colour green itself can make a difference in the interest of our wellbeing.
In 2020, expect to see hues of green everywhere in the design realm. From a soothing sage green to an energising apple green, the lively colour is set to make waves, whether in the living, dining, bath, or bedroom. For inspiration, here are 9 ways you can style the rejuvenating colour in your home.
Start small, or at least in a smaller space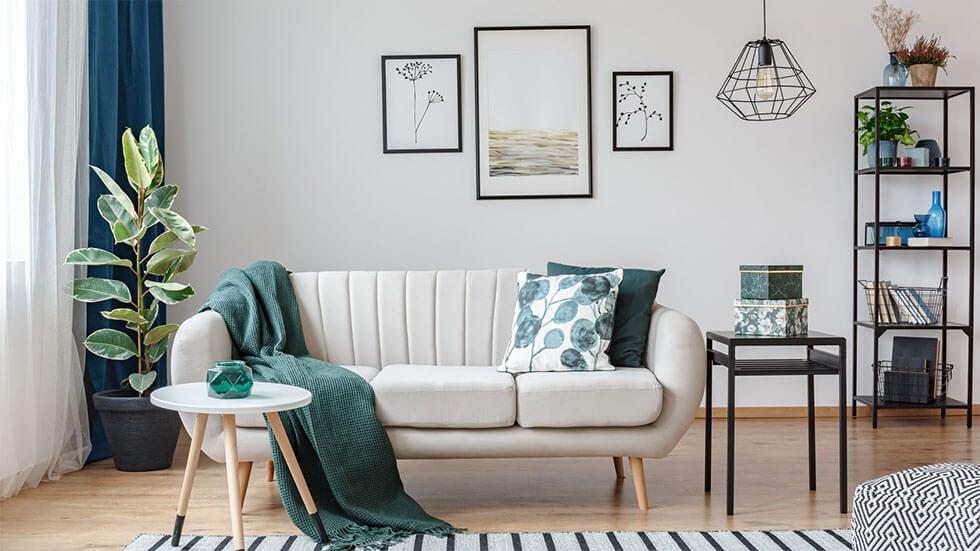 Taking on a new colour for the home can be nerve-wrecking, despite extensive research and swatch testing. A practical way to experiment is to start small with accessories like pillows with green motifs, throws and rugs. If all feels good, move on to more expensive and permanent pieces like a standing lamp, artwork or even a green velvet sofa.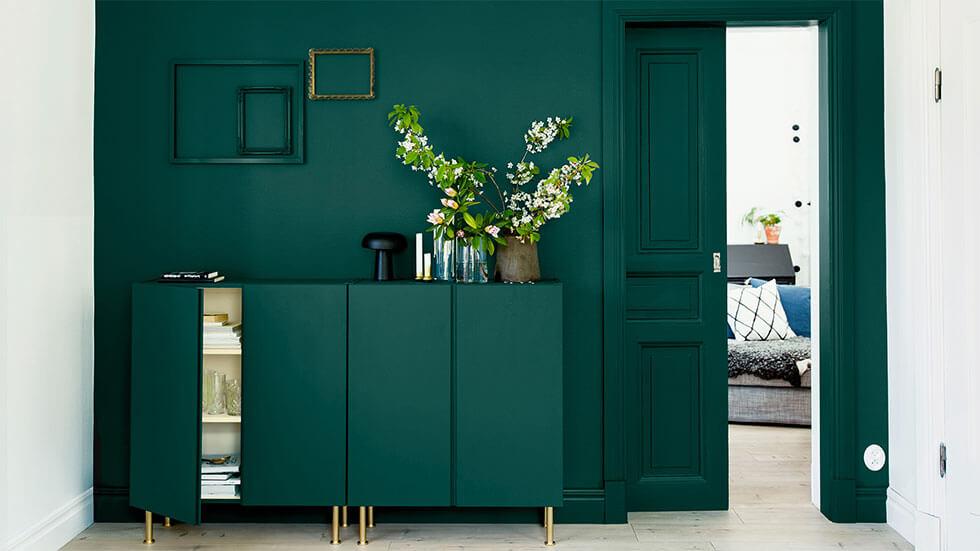 As you gain confidence in the colour, it's only natural to want to display it more. The next step is to test your chosen green in a small space like a hallway nook. It's the perfect spot to update for maximum returns so you're greeted by a fresh, lively colour as soon as you get home. A deep emerald green is an elegant choice, especially when finished with brass trimmings for some glamour.
Make a statement with a green velvet sofa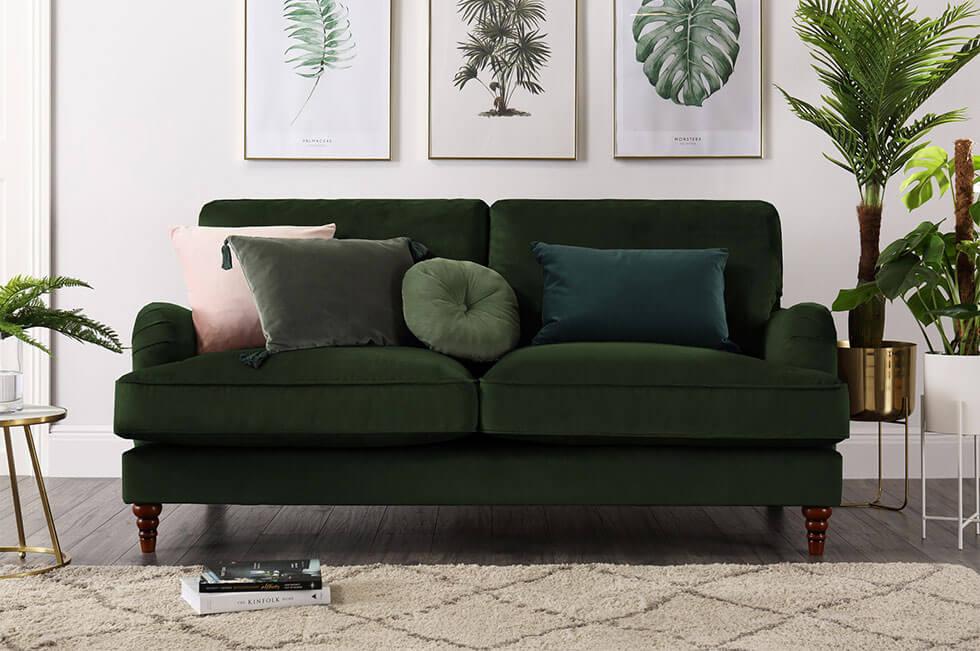 Bold and beautiful, invest in a charming green velvet sofa that's sure to be a talking point of the home. The sumptuous material enhances the richness of an emerald green and adds depth to a space. Style with brass finished planters or side tables for a lavish look, or matching dark wood furniture for something classic and cosy.
Layer with green pillows in different tones to bring out the lush emerald colour of the sofa. Or, create a jewel tone palette with morganite pink, ruby red and sapphire blue instead.
Paint the walls green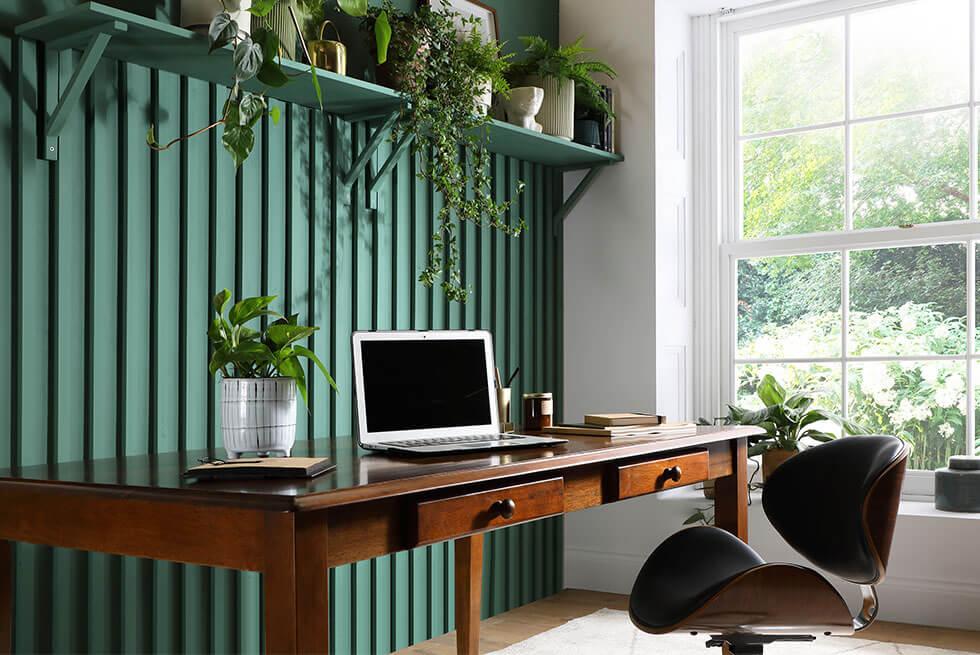 When designing a home office, green is an ideal wall colour choice as it helps soothe tired eyes. Paint select walls green for interest and to benefit from the colour's therapeutic effects. Earthborn is an eco-friendly paint brand we love, and their Hobby Green - a bold woodland green - helps bring the outdoors in. Match with dark wood furniture for a classy, perennial look.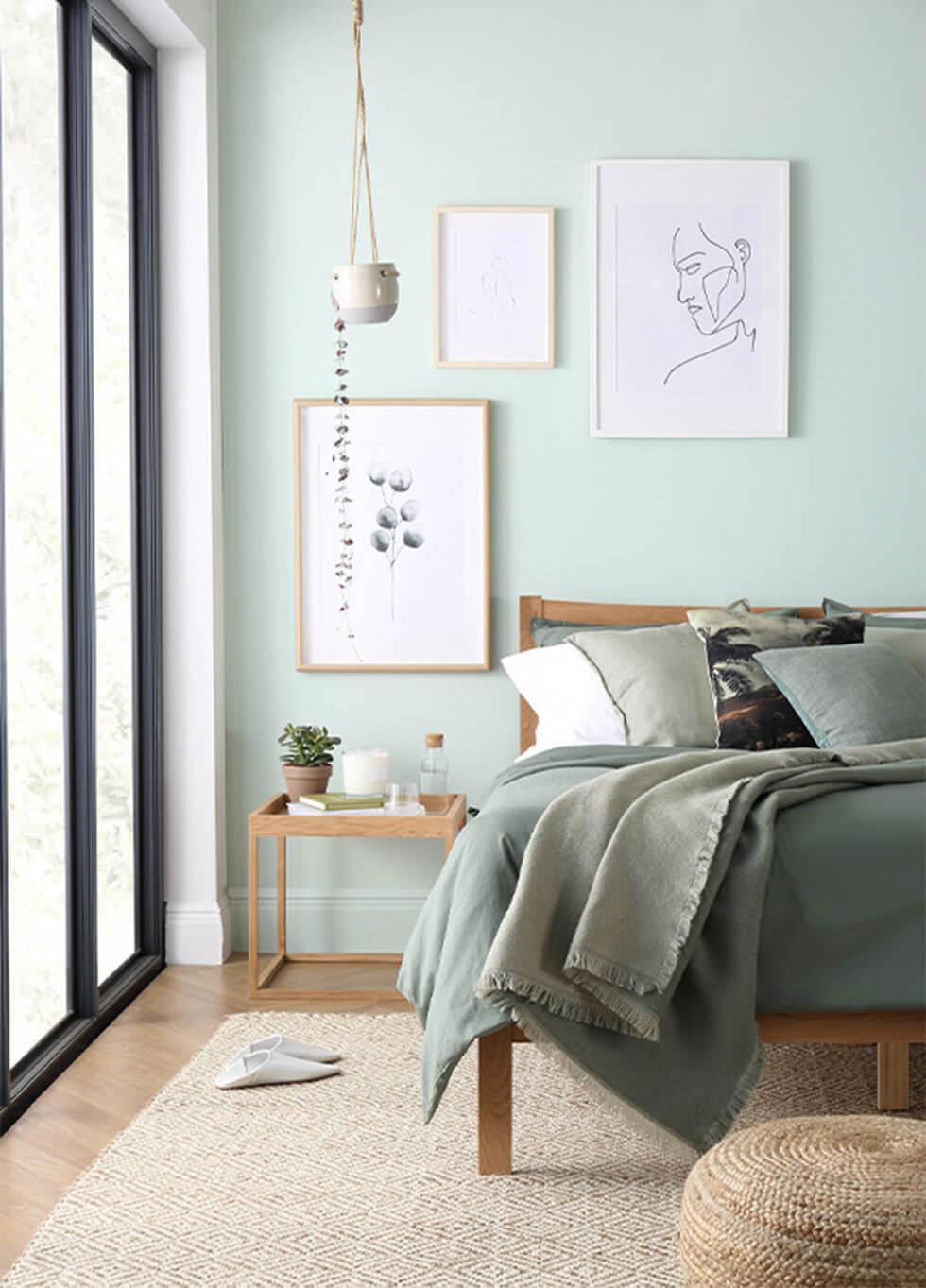 In the bedroom, a pretty sage green wall creates a calm and airy atmosphere. The lighthearted, uplifting colour is harmonious and encourages relaxation. Keep the room's theme as natural as possible, with an oak bed and light wood furnishings. Hanging plants and a jute ottoman are perfect accessories that are as pretty as they are practical.
Add natural greenery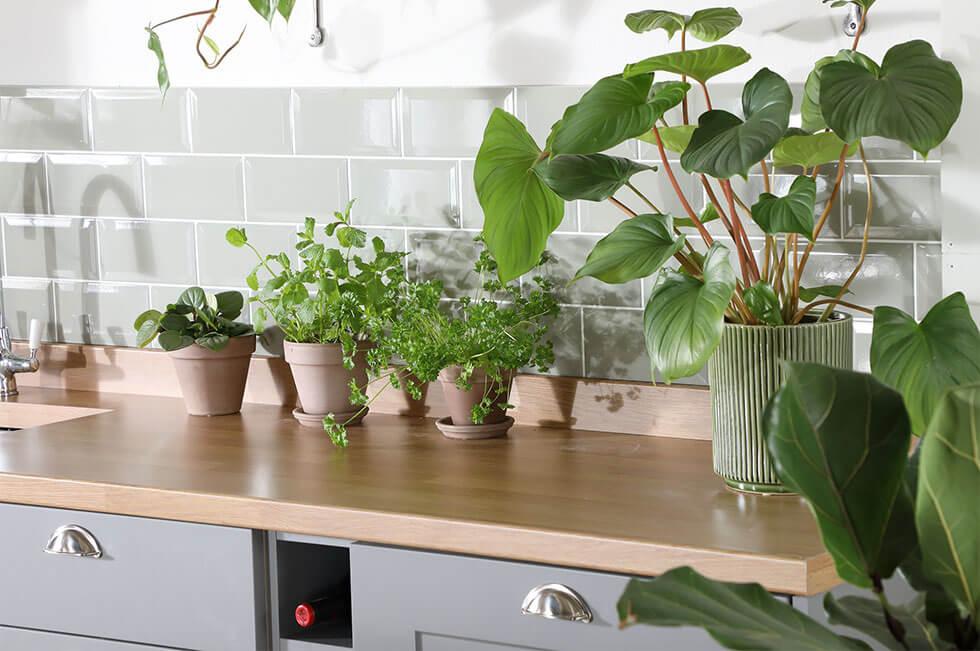 The most literal and natural way of adding green to the home is through leafy green plants. Their benefits are manifold, besides being home decor that will never go out of style. Take a pick from varieties that clean the air, bear fruit or evoke a tropical vacation ambience.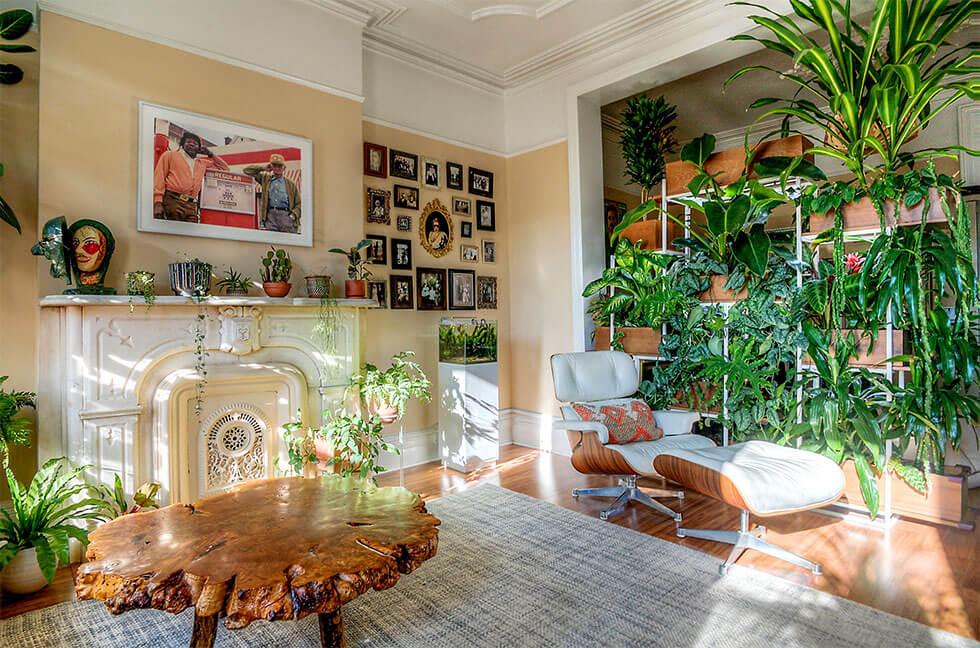 Leafy, trailing plants inject a little wildness for an urban jungle feel while demure succulents are adorable and easy to manage. Plants are quick additions to the home that make a big impact on our wellbeing - a big focus for 2020. Natural furnishing works best; furniture made of wood, clay planters and linen rugs are some examples."
A playful pair: neo mint green and Living Coral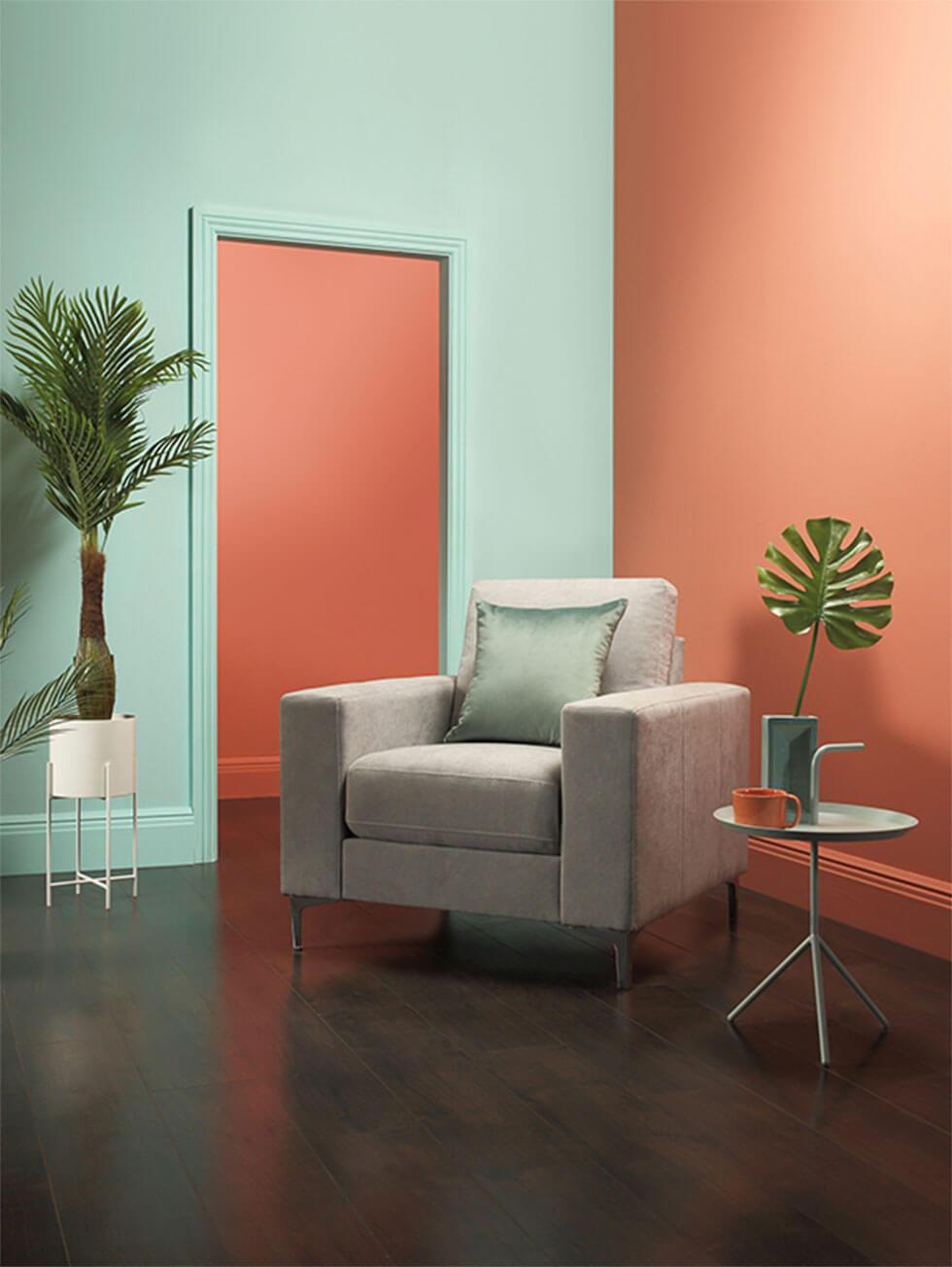 Set to steal the limelight in 2020, we're looking at neo mint (or mint green) for a modern take on green. The bright hue is exciting and fun, and can be easily paired with an equally playful colour like 2019's Pantone colour of the year - Living Coral.
Ground the room with clean, neutral furniture like a grey armchair to really let the wall colours shine. The combination instantly evokes a modern tropical vibe when styled with monstera leaves and palm trees. Now all that's missing is that fresh coconut in your hand.
Moving on to green and pink...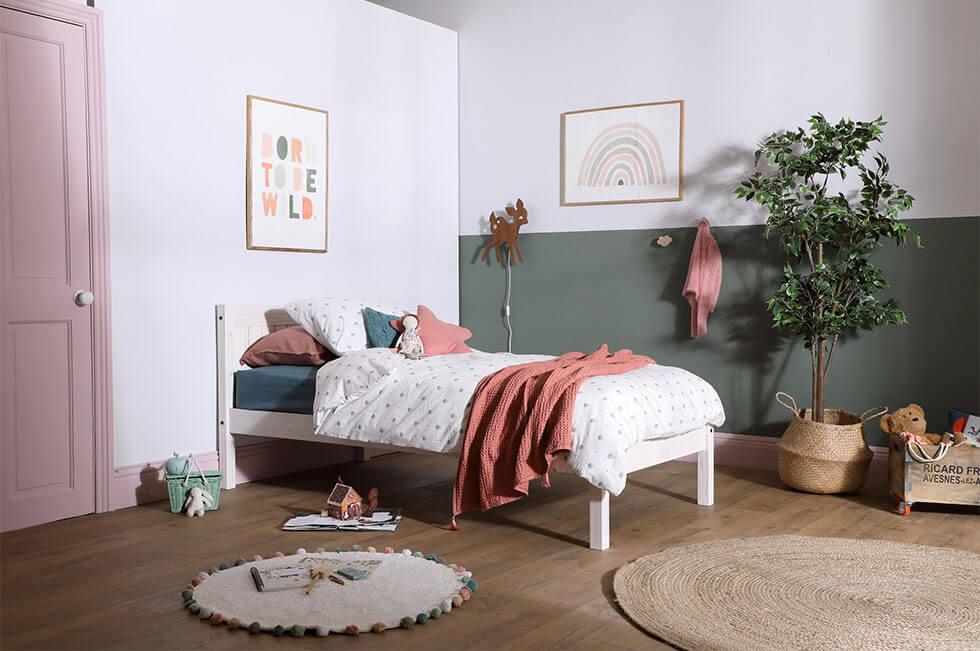 Another colour combo we're predicting to see a lot of in the year ahead, is green and pink. Wellness haven meets sweet blush tones to create a serene and beautiful space. This bedroom is a calm, creative and modern fun space for children with a nod to nature and wellbeing. Complete the look and feel with a few potted plants, playful textures like a waffle throw, and a pom pom rug in pink and green. Select a light wood floor and furnishings to maintain a light and airy atmosphere.
A retro-modern 'traffic light' palette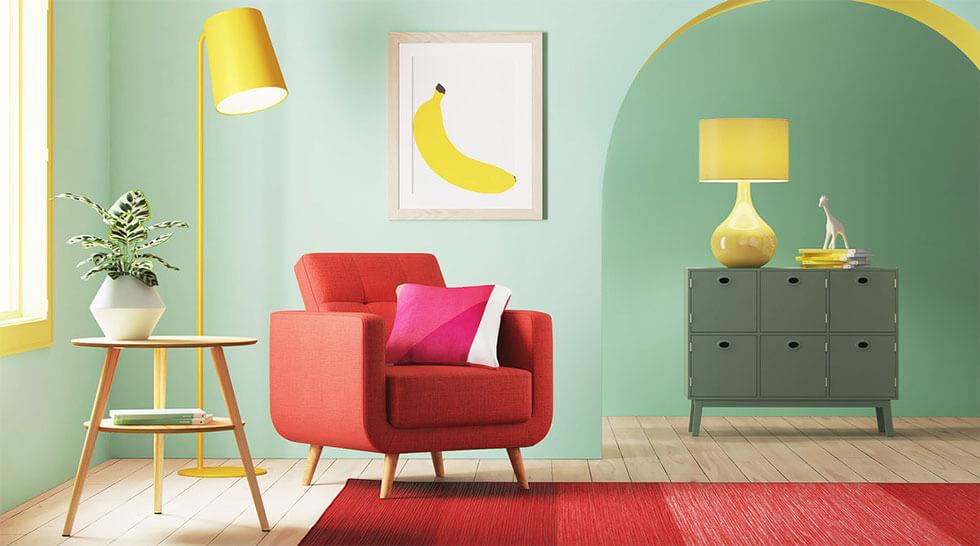 We're loving this neo mint, yellow and red space! The unique mix of these contemporary 'traffic light' colours perfectly illustrates the 60-30-10 colour rule. Notice how the curve of the arched green doorway is enhanced by a sliver of lemon yellow, mirrored in the slender standing lamp and artwork on the wall.
Furniture silhouettes are kept sleek with clean lines so as to not distract from the technique of colour design at play. The yellow and green flow harmoniously from end to end, punctuated only by the burst of fiery red for dramatic effect - all in all, a lovely retro-modern approach to styling the perennial tone of mint ice cream.
A green Scandi space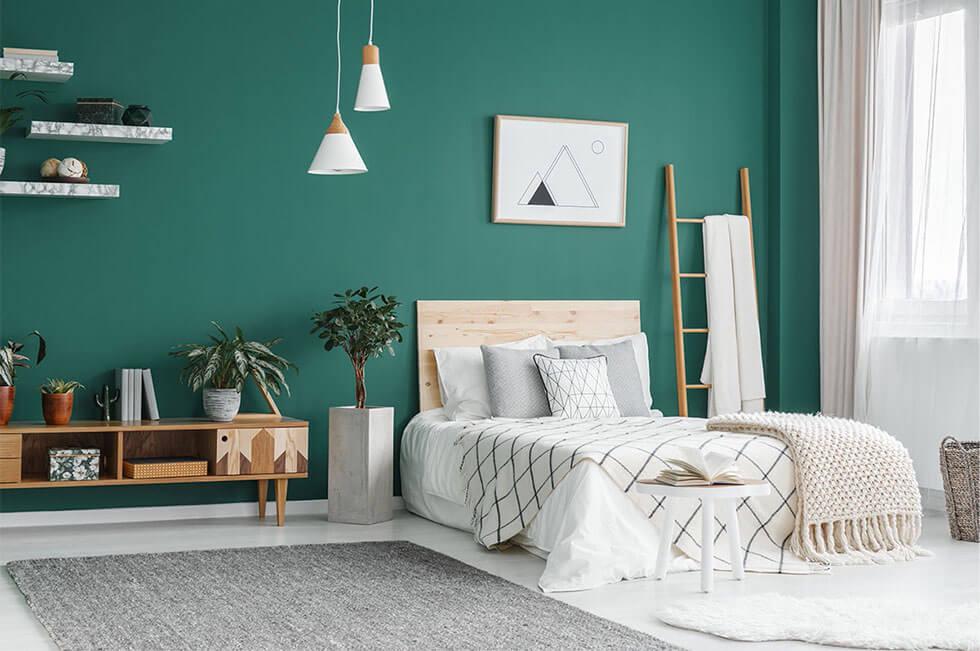 Begin 2020 with a contemporary take on Scandinavian design with a splash of green. A forest green wall sets a relaxing tone, complemented beautifully by Nordic elements of light wood, plants and light neutral tones. Use light grey, ivory, and white abundantly for a calm mood and spacious feeling. Add natural elements and textures such as a comfy wool throw, faux fur rug, and ceramic planters to continue the organic theme.
What about a green and grey kitchen?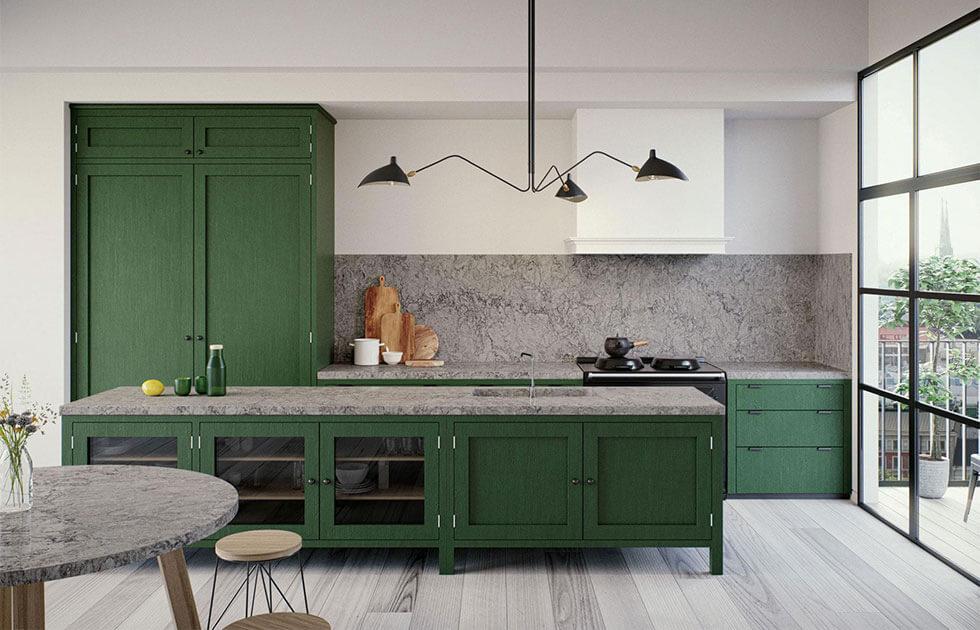 Oozing cool industrial vibes in a modern setting, this pairing of pine green and grey produces a moody kitchen with a refreshing colour twist - absolutely what 2020's all for. Its sleek black lights and thin window frames present an edgy, contemporary outline that accentuates the palette. Grey countertops, work stations and splashbacks on the other hand, are as practical as they are stylish.