10 best dining room colour ideas for inspiration
What does your dream dining room look like? Check out these 10 best dining room wall colours for inspiration.
If you're looking to switch things up in your dining room without spending too much time, money and effort, paint the walls! It's relatively affordable, can be done in a day or two, and makes a huge impact.
Whether bold and dramatic or elegant and sophisticated, easily achieve your dream dining room aesthetic by starting with the right wall colour. Here are 10 dining room colour ideas for you to consider!
1. Bold, beautiful blue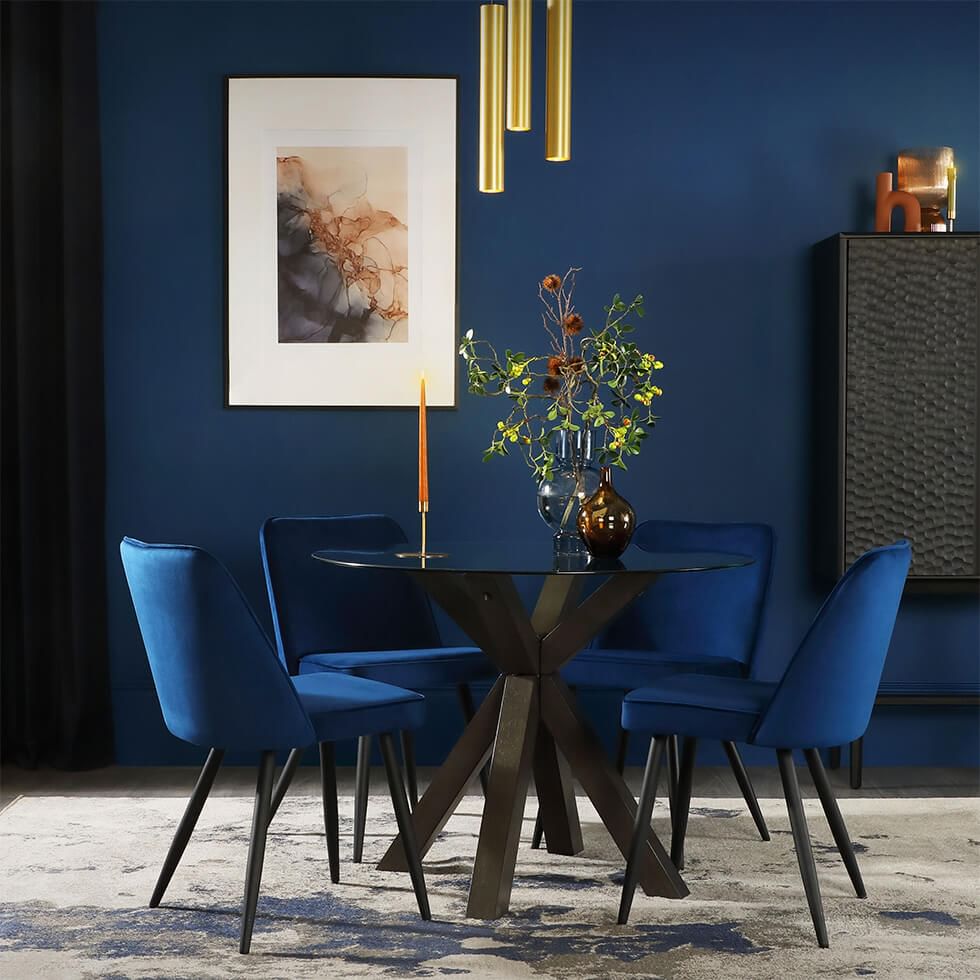 Suitable for a retro, eclectic setting as well as a modern and glossy space, blue is a lovely dining room colour idea to consider. Royal blue or even Classic Blue, the Pantone colour of 2020, are bright, rich hues that work well with the warmth of wood and brass furniture.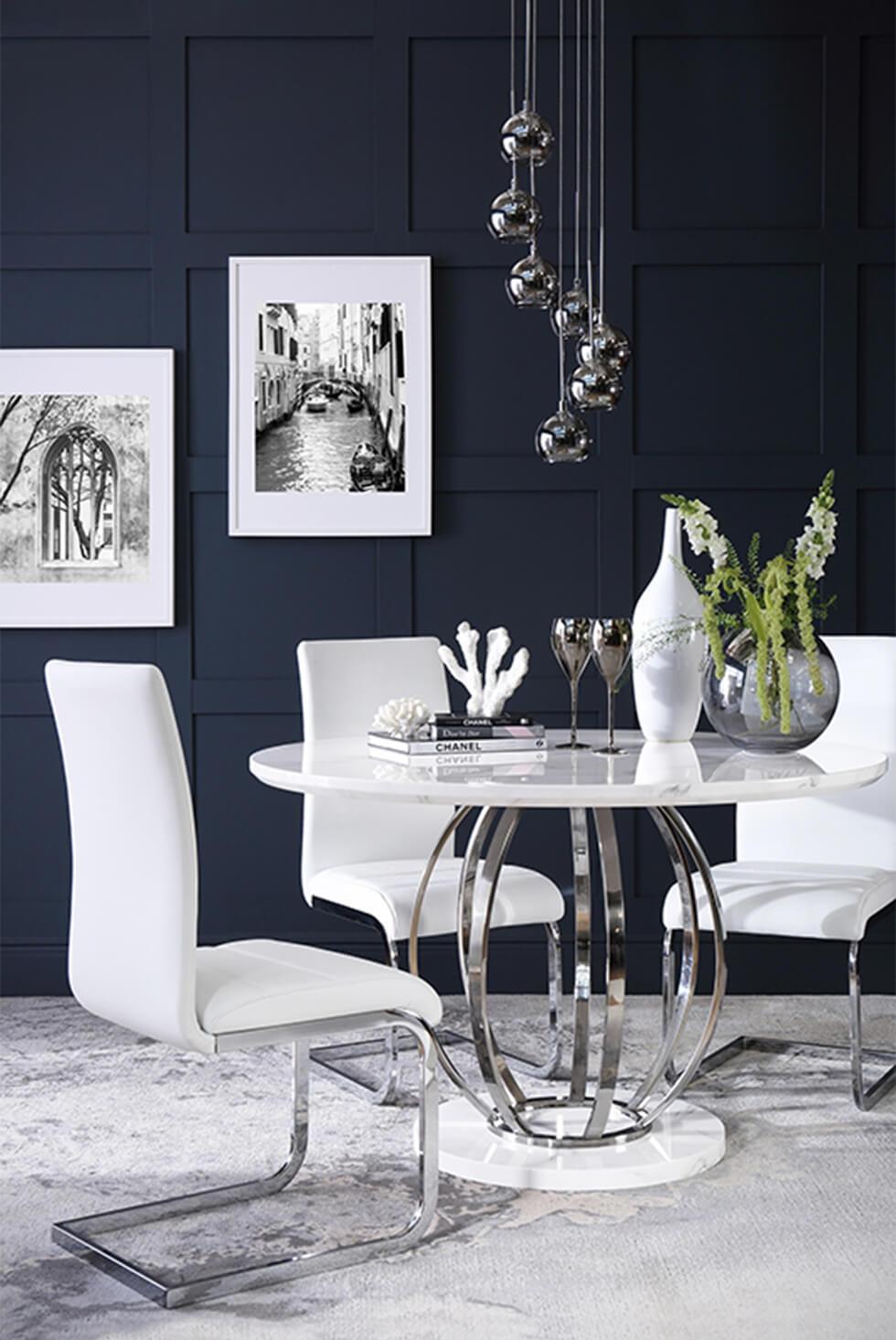 But if you prefer a more subdued and formal setting, navy blue pairs well against high gloss dining tables and chrome finishes. Lighting is key to avoid feeling closed in, so let it shine with statement pendant lighting for extra drama that's also functional.
2. Soothing green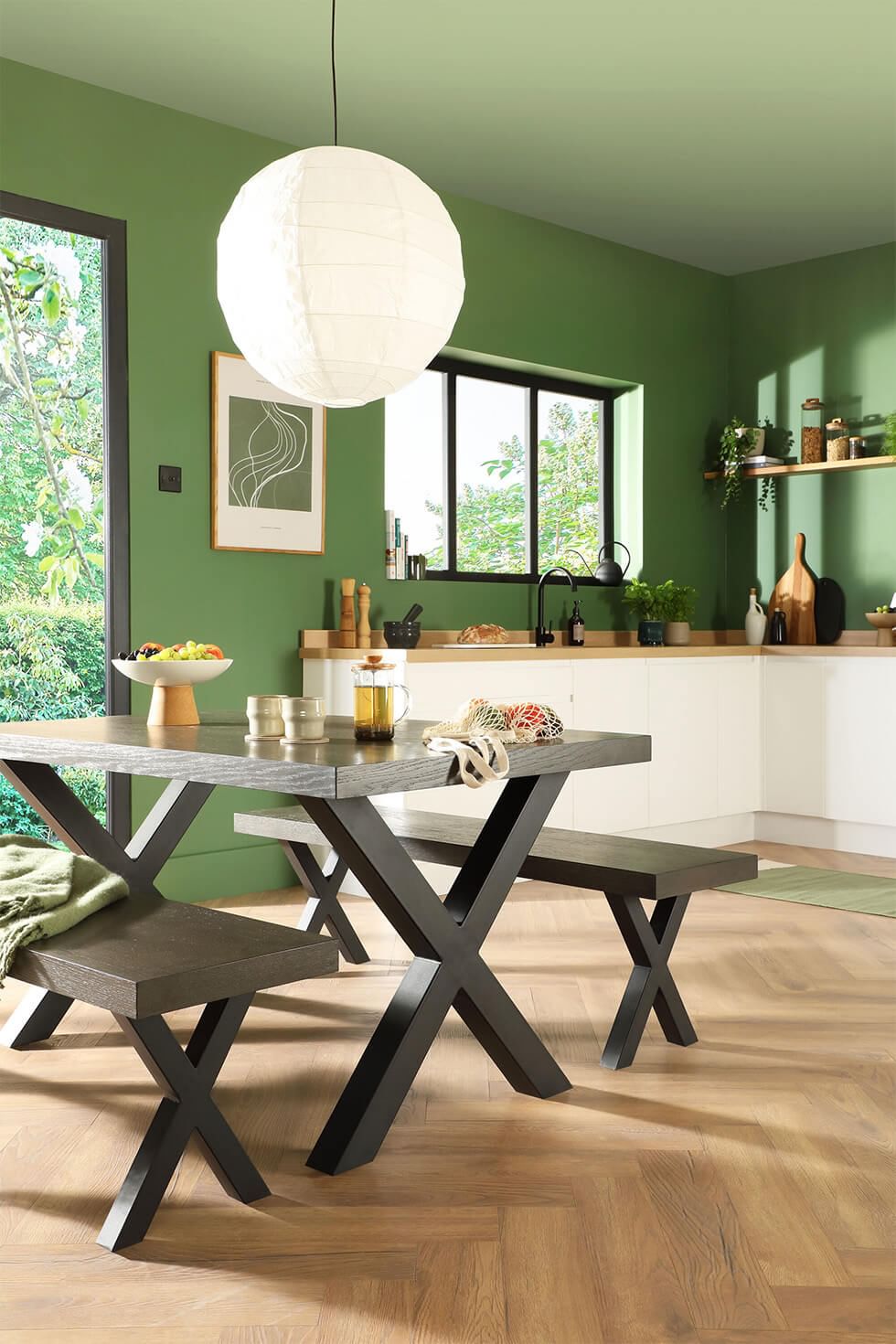 Need a little more green in your life? Enjoy a visually soothing dining experience by painting the walls your favourite shade of green. Medium tones like forest green go great with light wood tones and timeless neutral greys.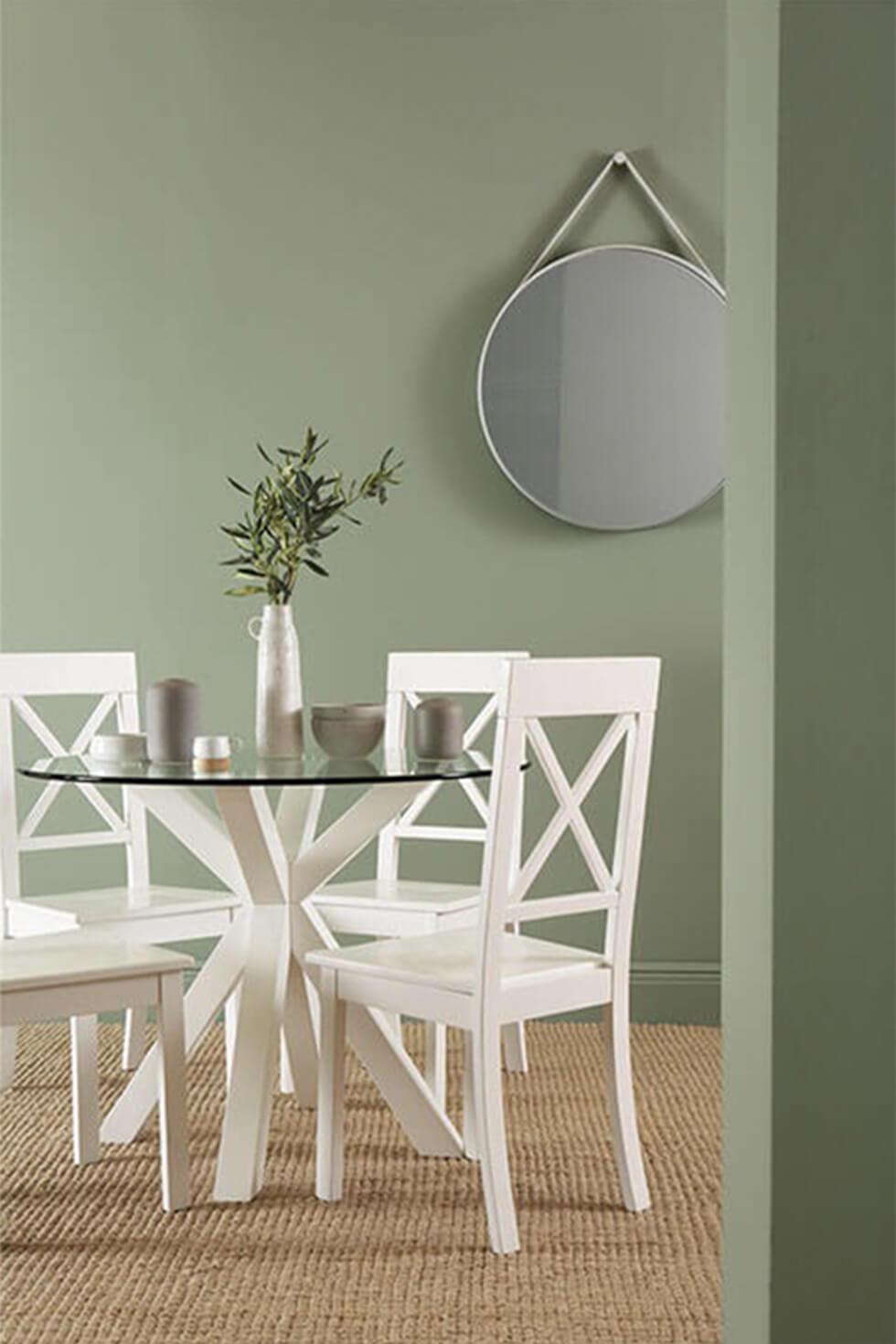 For a more muted alternative, sage green is an elegant choice for a chic farmhouse aesthetic. Contrast with a white dining table with a glass top to brighten the space and draw focus to your dining set. To bounce even more light around, angle a mirror strategically to face a light source or window for maximum inflow.
3. Playful pink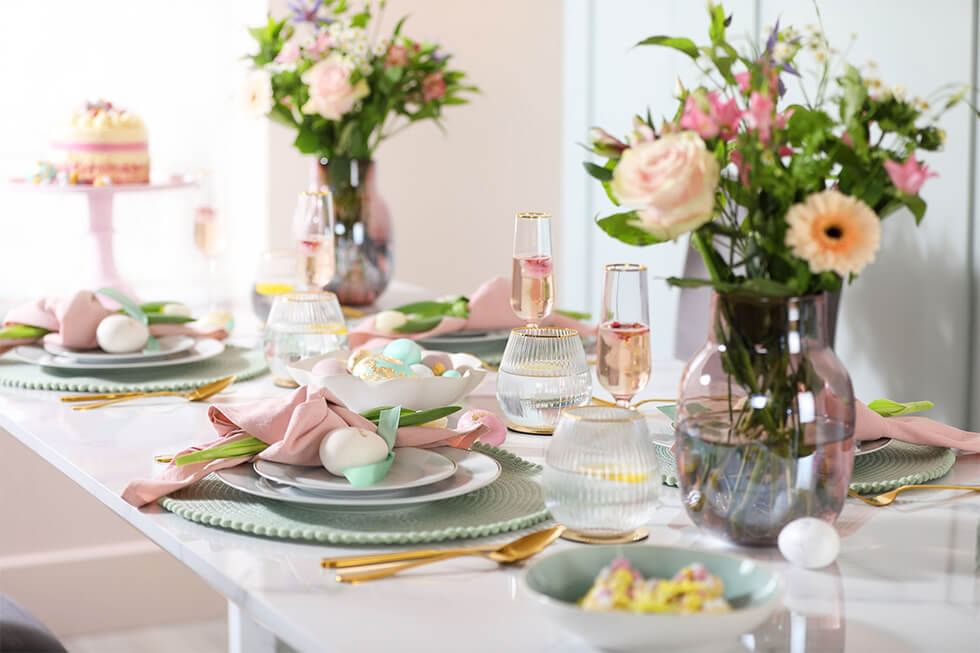 Another soothing tone that works especially well for a Scandinavian interior, mauve or blush pink is a great way to inject a playful touch to the dining room. It's especially good if you love clean, clutter free surfaces and complements white minimalist spaces.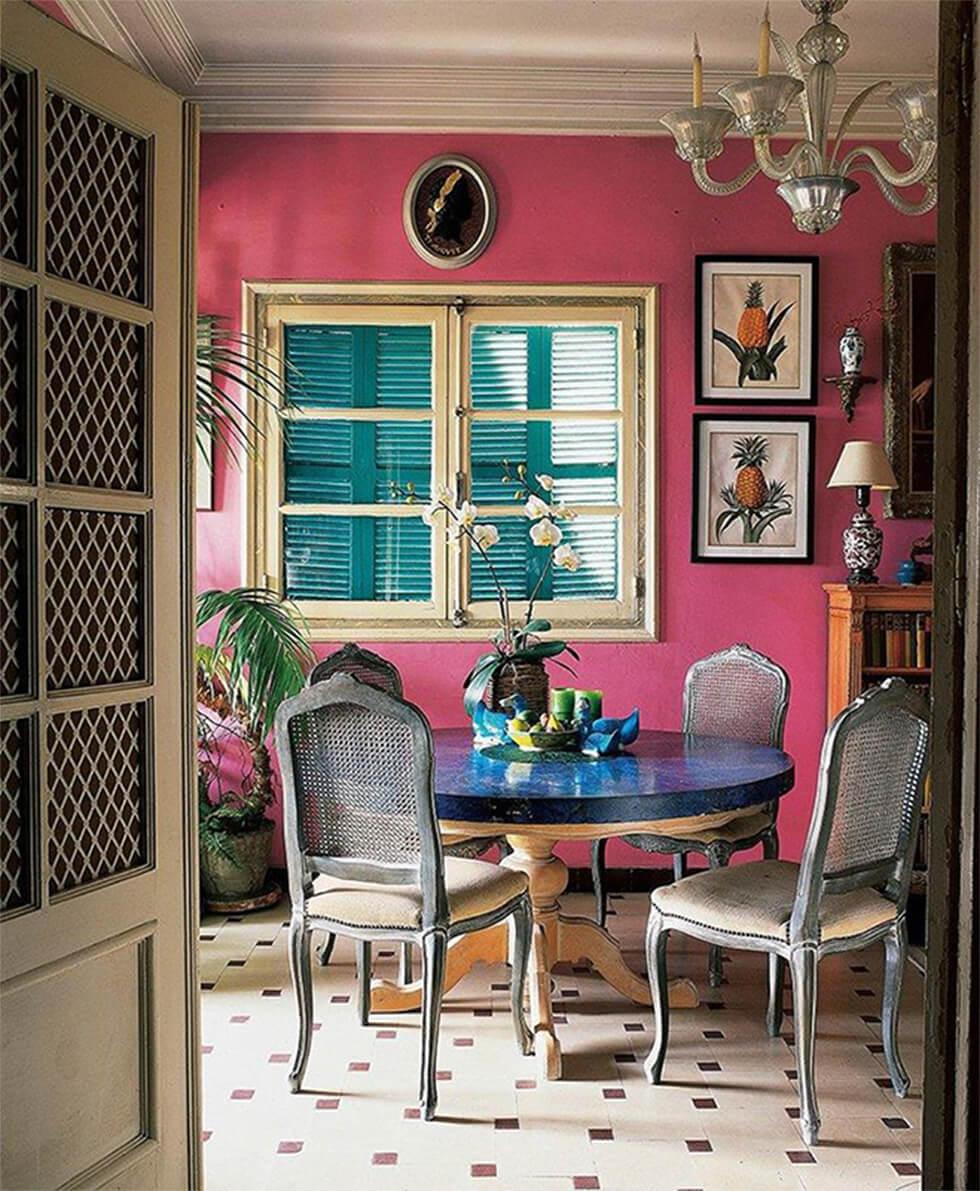 But if clean and clear isn't quite your style, take a bold maximalist approach to pink with a mesmerising fuchsia wall. Add bursts of teal, orange and blue to create a dynamic palette while keeping other elements fairly neutral to ground the look.
4. Sunny yellow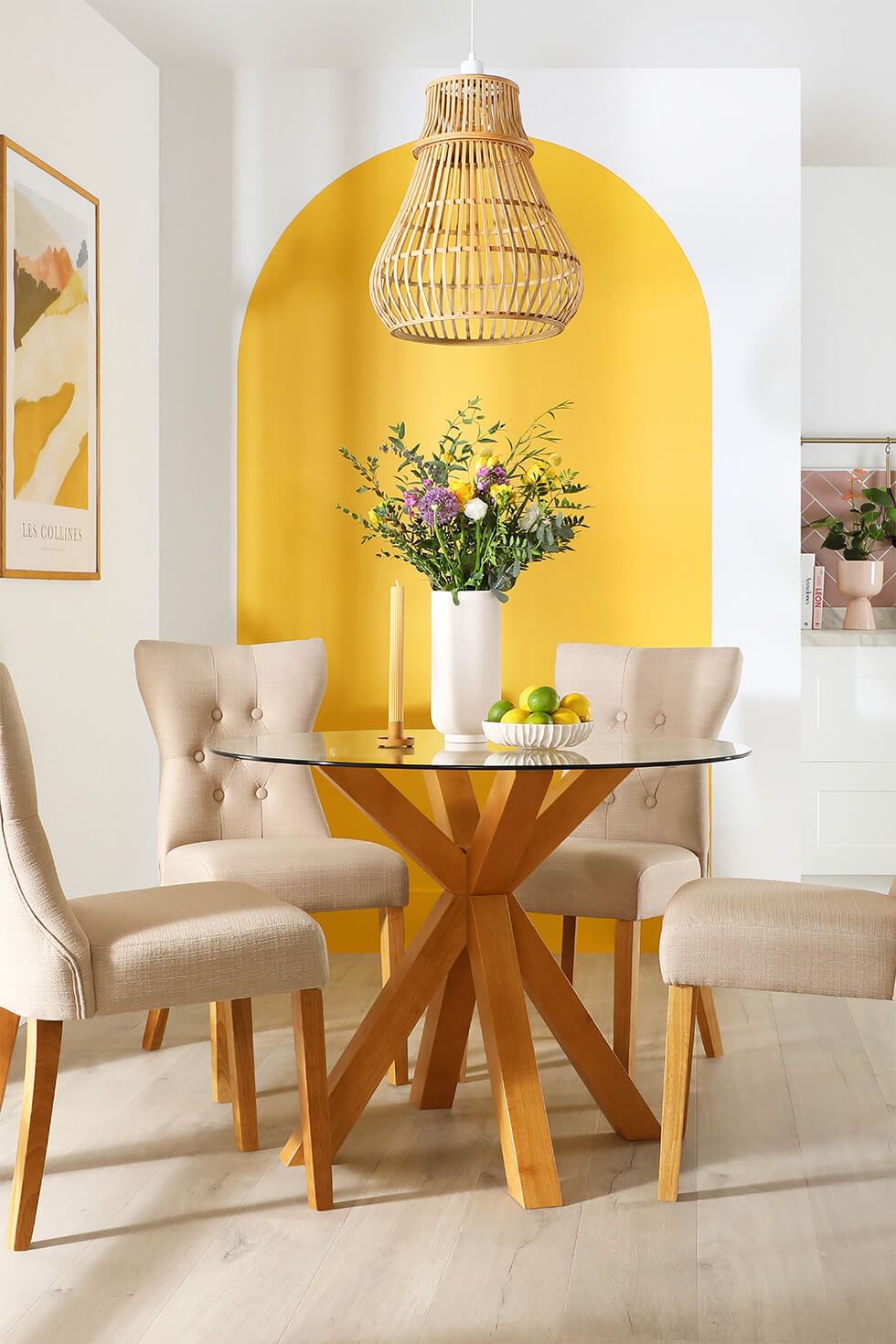 Moving on to a brighter hue, sunshine yellow is best used as a dining room wall colour when there's plenty of natural daylight. Despite it being a bold colour, this energising hue keeps the room feeling light and modern when paired with white.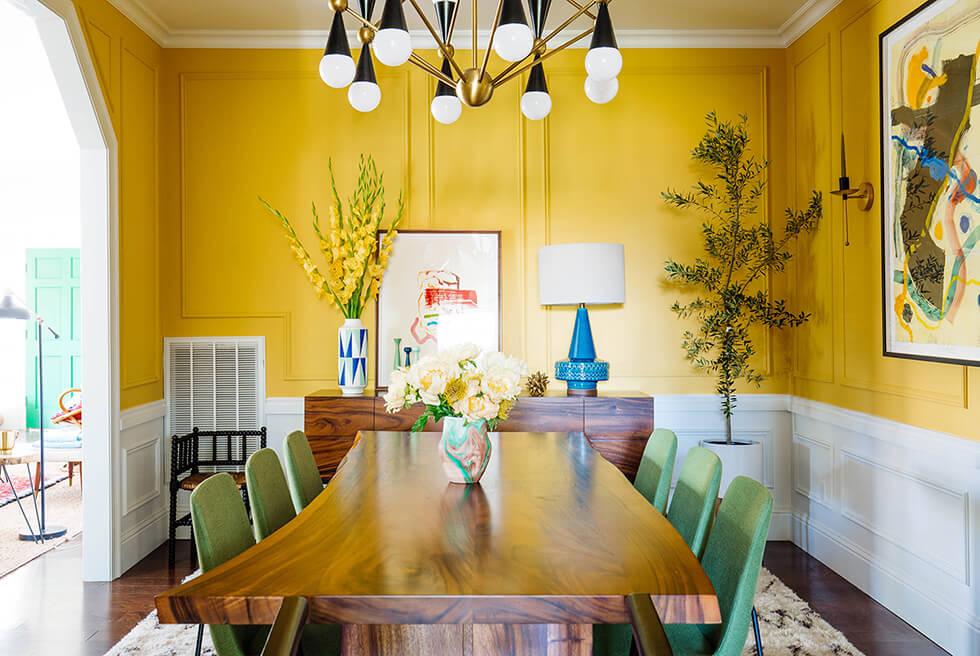 And for an artsy twist, choose black frames for wall art to make them stand out against those radiant walls. Follow up with little hints of black throughout the room for pops of modern edginess that can be softened by including some plants. If the idea is to create a fun and colourful scene, pick bright blue or green accent colours to naturally complement a bright yellow.
5. Energising orange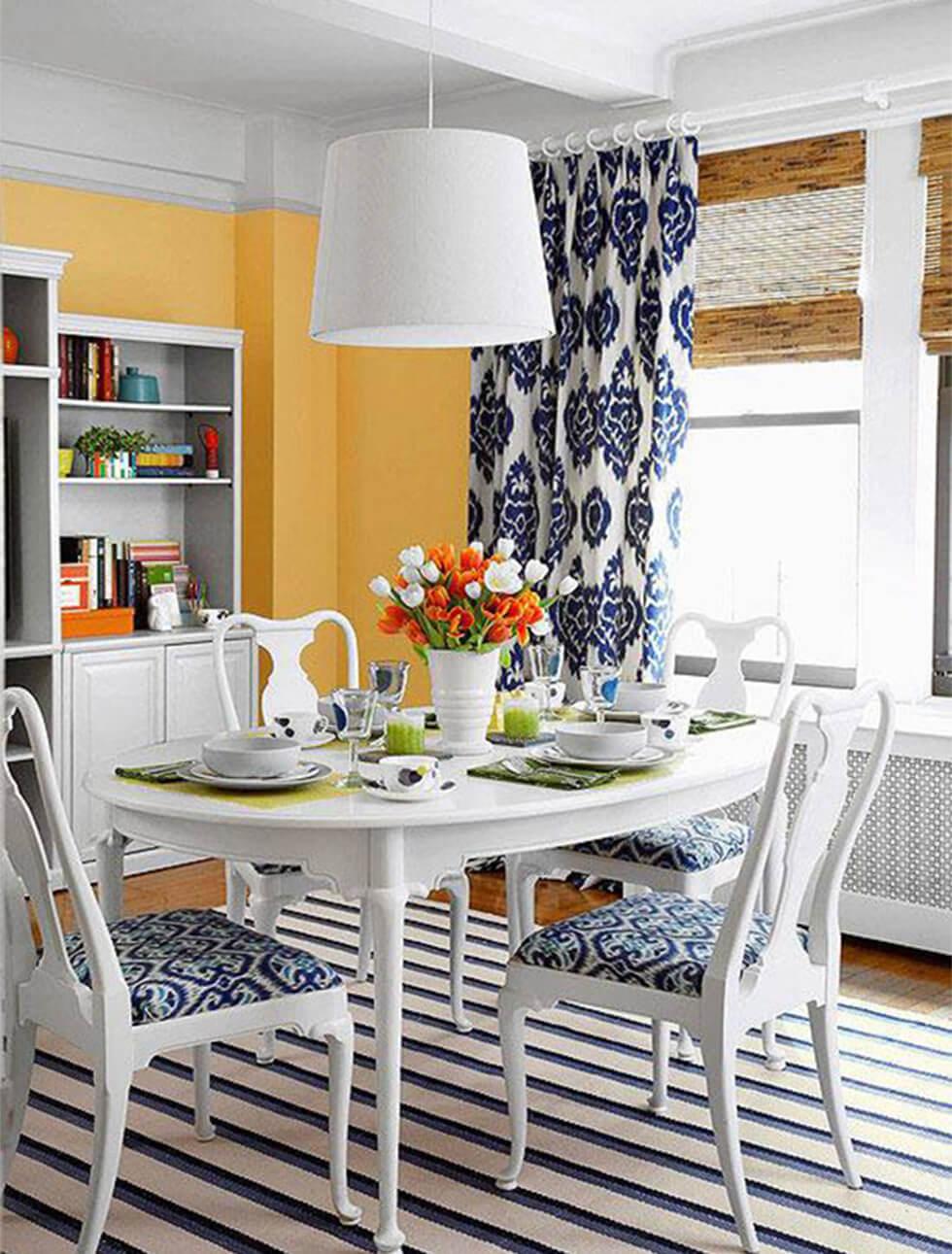 Much like the early notes of a vivid sunset, orange is energising yet can be calming at the same time. If your dining room needs a perky pick-me-up, splash some sweet marigold orange on the walls and furnish with white accessories to create a French farmhouse feel. Or, take a leaf out of the Swedes' books by pairing an earthy burnt orange with wooden furniture.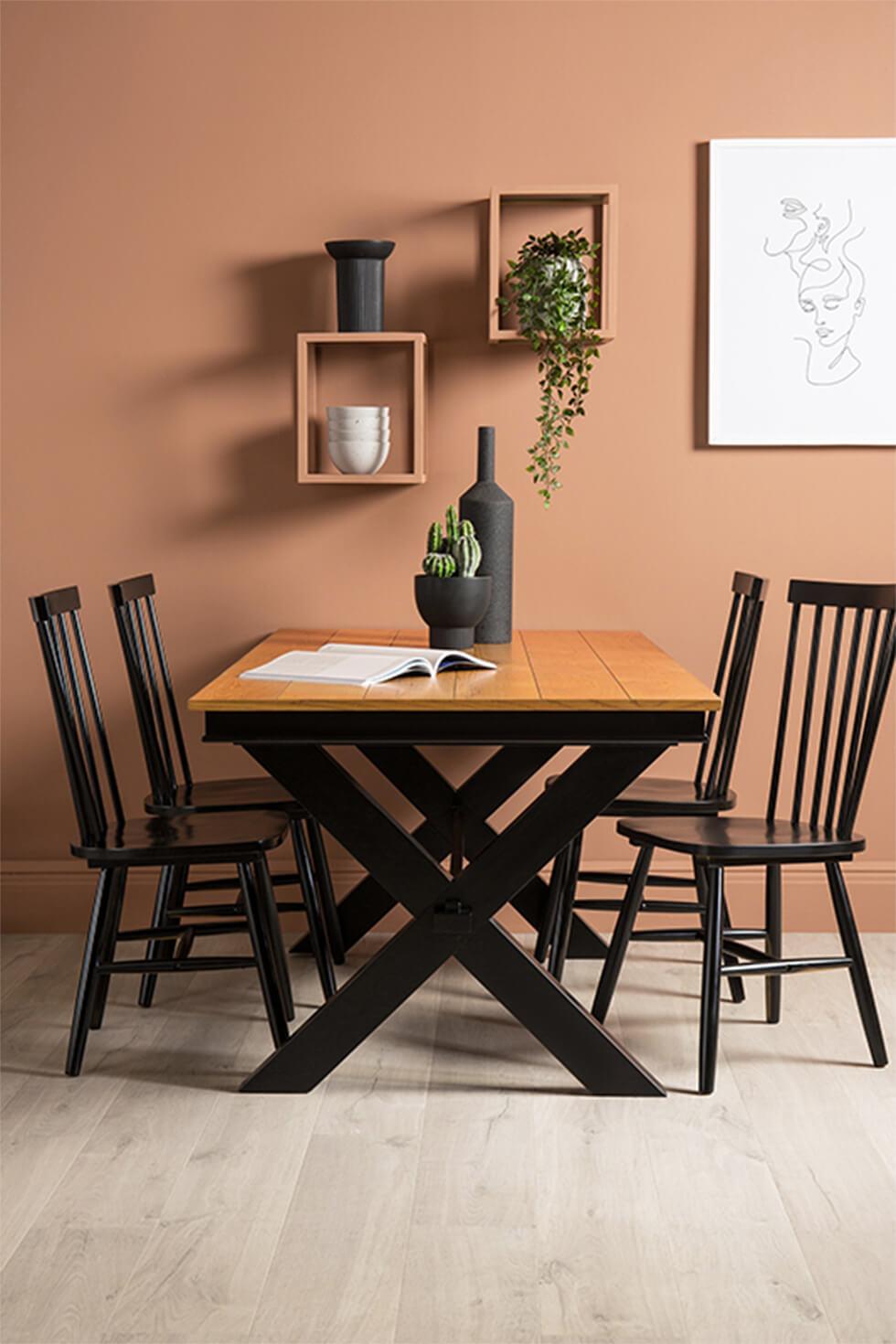 With warm tones like these, be mindful of the type of sunlight that would stream in. For example, a morning sun is cooler and brings freshness while sunset lighting is warm and golden. It's no wonder then that orange is also the perfect colour for autumn home styling and inducing cosy vibes for the cold season.
6. Purple for creatives and royals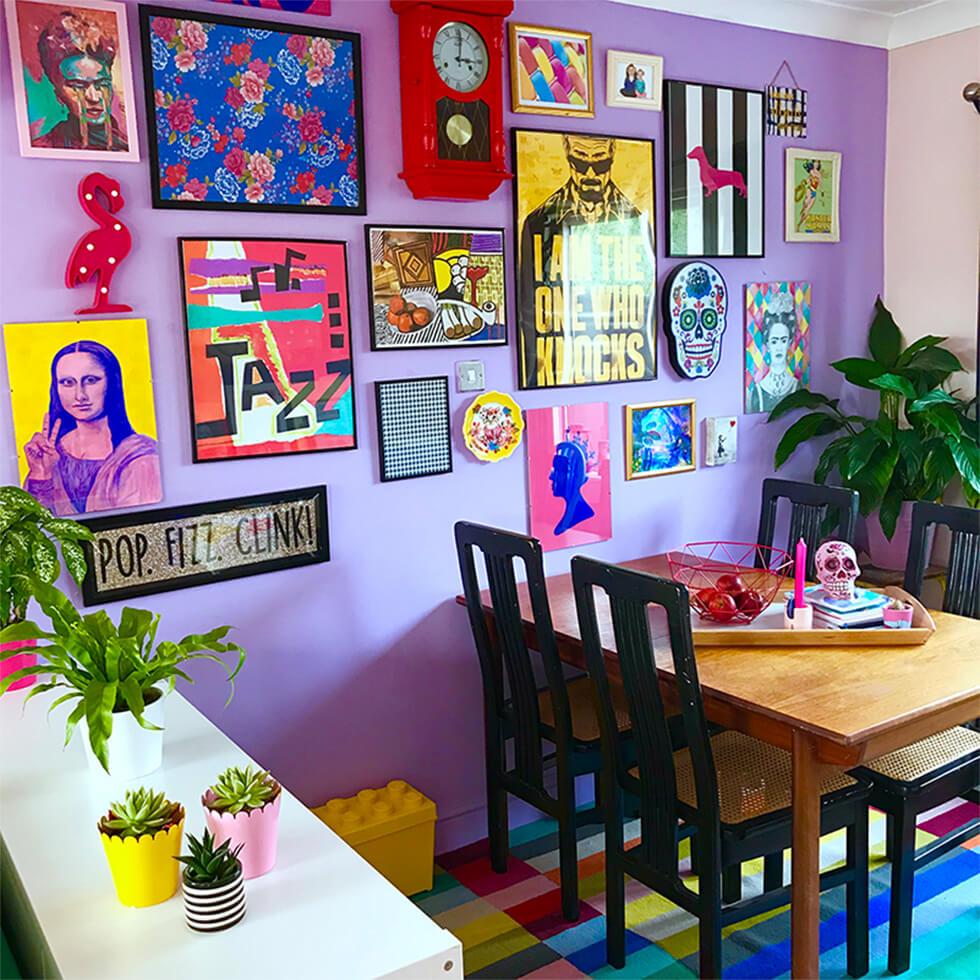 On the other end of the spectrum, a purple dining room can be mysterious, luxurious or even whimsical. Orchid purple presents a great base for a colourful dining room for instance; no surprises there since it's associated with creativity and independence. Best suited for modern or contemporary interior styles, this shade of purple goes well with white and other equally bright colours like yellow, red and royal blue.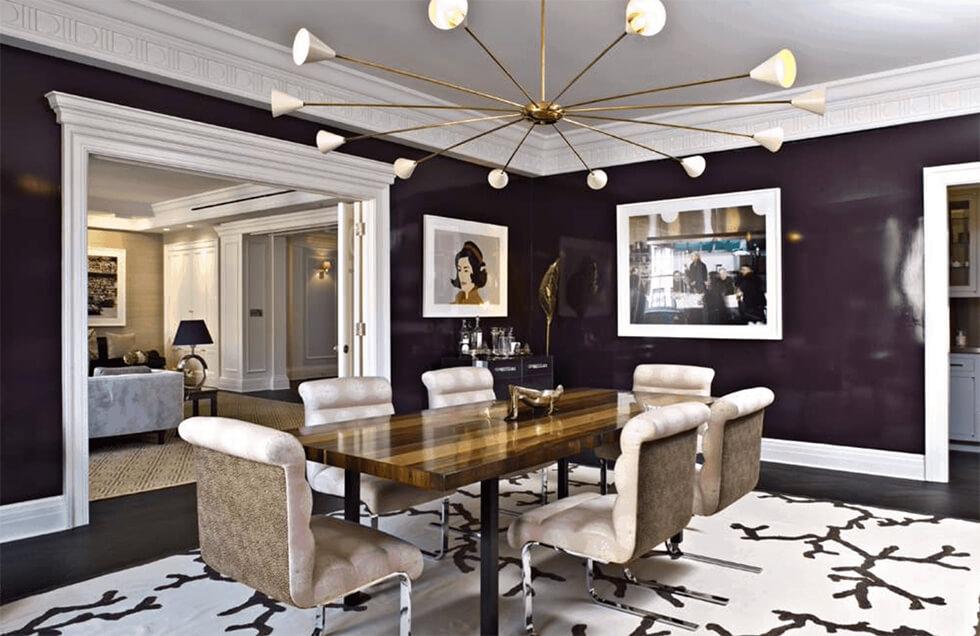 Purple is also associated with royalty and is a unique alternative colour for formal dining rooms. Draw out the colour's grandeur with sleek wood furniture and metallic candelabras, light fixtures or dining ware.
7. Classic white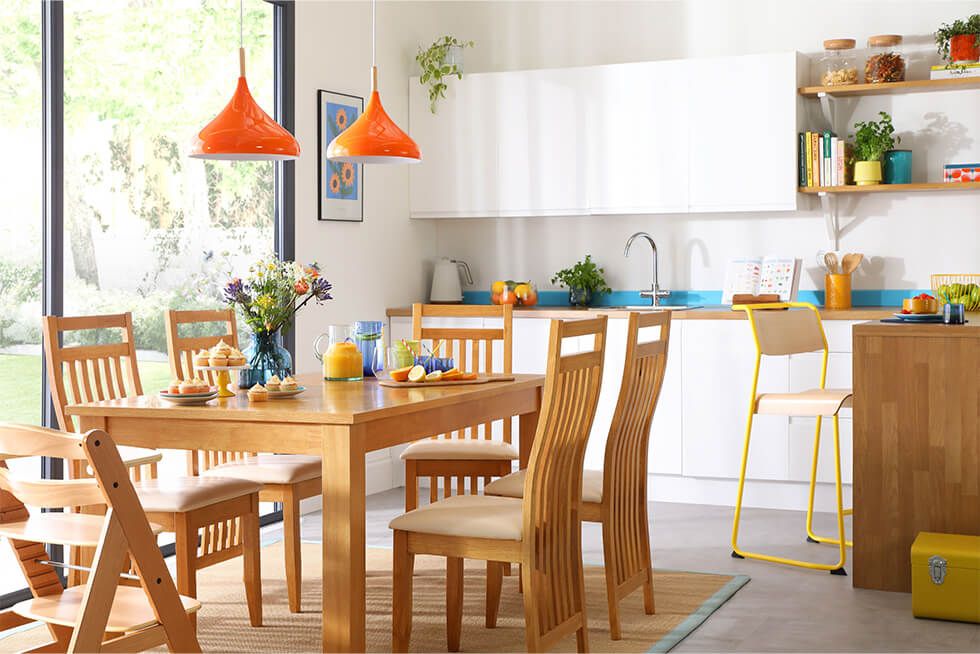 On the off-chance that you're not allowed to paint over your white walls, know that a white dining room is perennial and lovely in its own way. It's probably the most flexible dining room colour choice that will remain stylish throughout the seasons. From a warm Japandi dining zone to a crisp white, modern and eclectic setting, using white as a dining room wall colour means it can easily be dressed up or down when the occasion calls for it.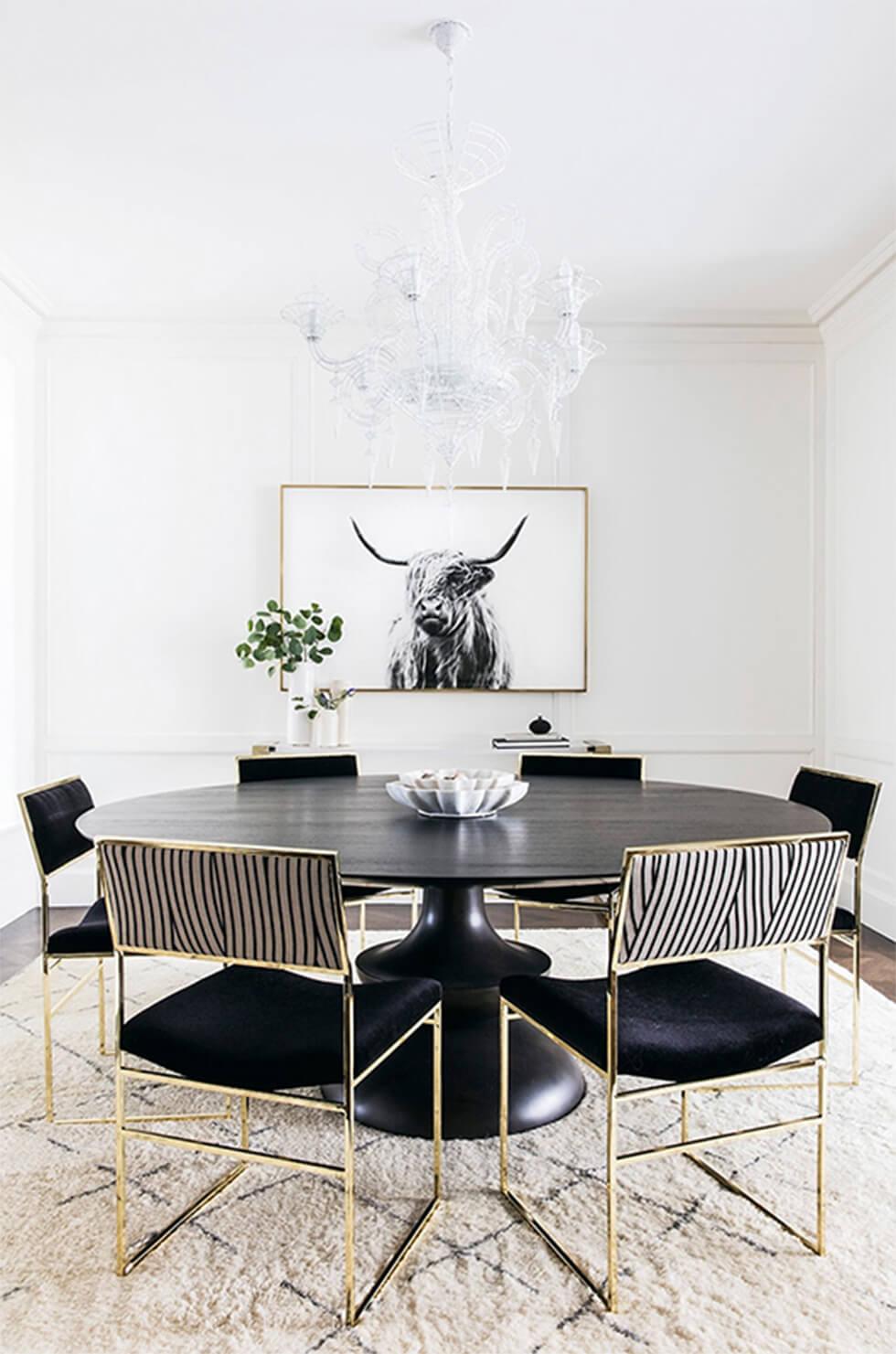 Wooden furniture and white walls are a match made in heaven, whether you're going for a bohemian, retro, or natural minimalist aesthetic. White walls can also work well with modern trimmings like metallic finishes, leather seats and dramatic black and white portraits. This neutral reflects light wonderfully and can help small spaces feel bigger and brighter.
8. Modern black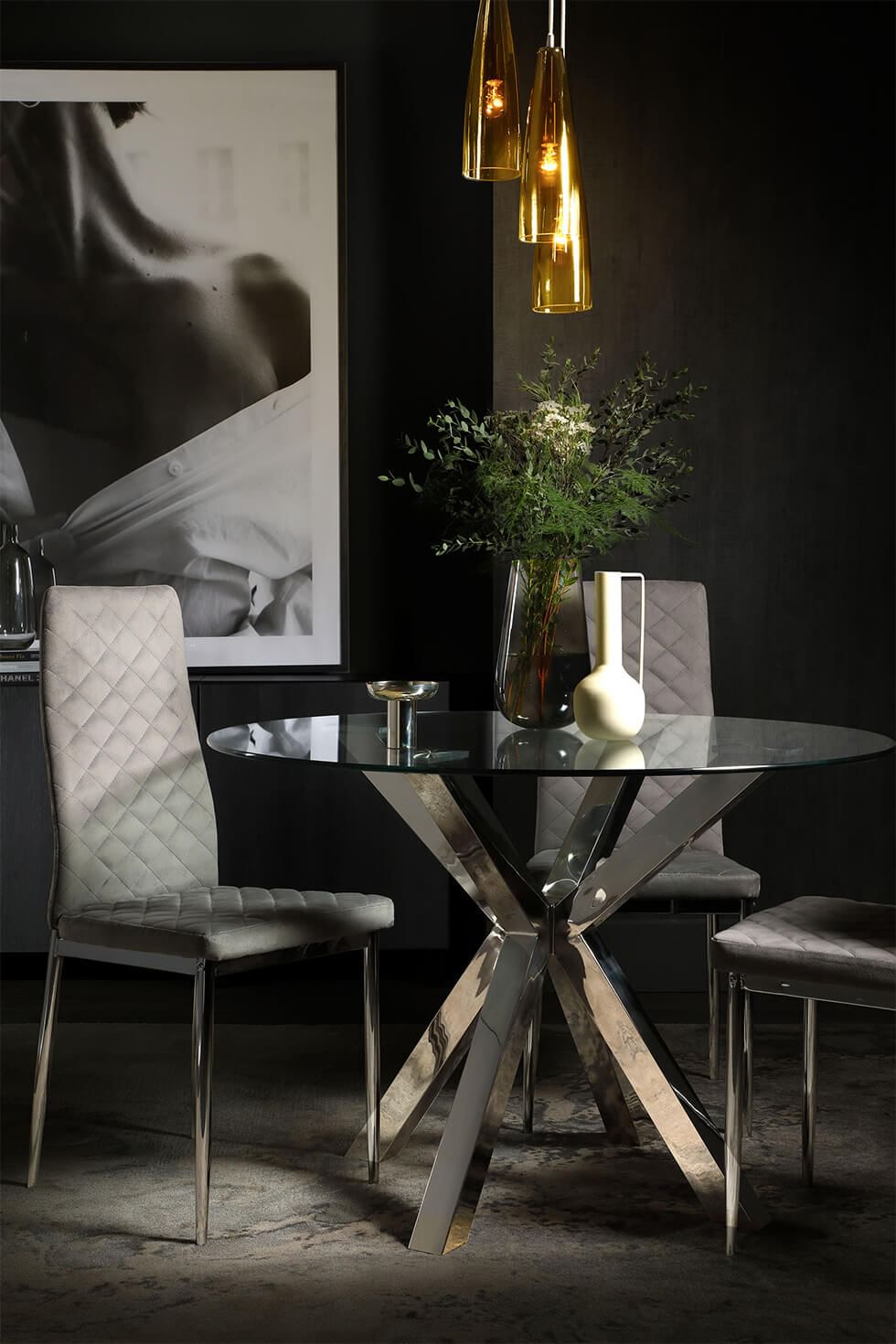 On the flipside, a black dining room is undoubtedly cool and stands out from the crowd. To avoid feeling cramped or claustrophobic, make sure to have plenty of light. Indirect sources like a standing lamp, sconces or even a fireplace can help open up the space without being too harsh. Alternatively, reach for minimal, modern light fixtures in brass and slender forms to avoid overwhelming the room.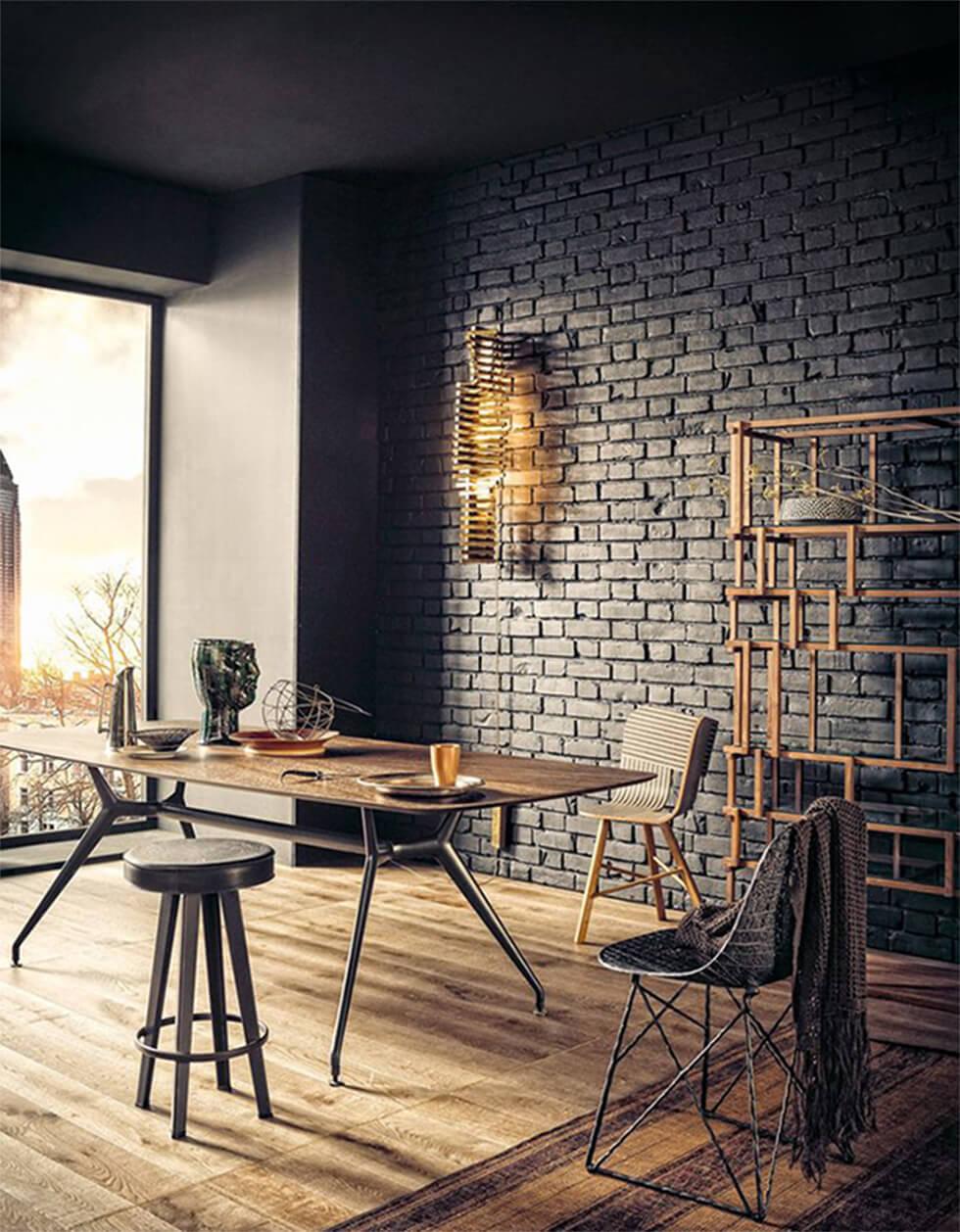 The same goes for furniture in a black dining room - clean lines and silhouettes make the room feel larger in its simplicity. Avoid cluttering the space and taking up legroom by adding warmth and texture with different materials - fabric chairs, a smooth marble dining table, or black brick walls are stunning textural features for the home.
9. Gorgeous grey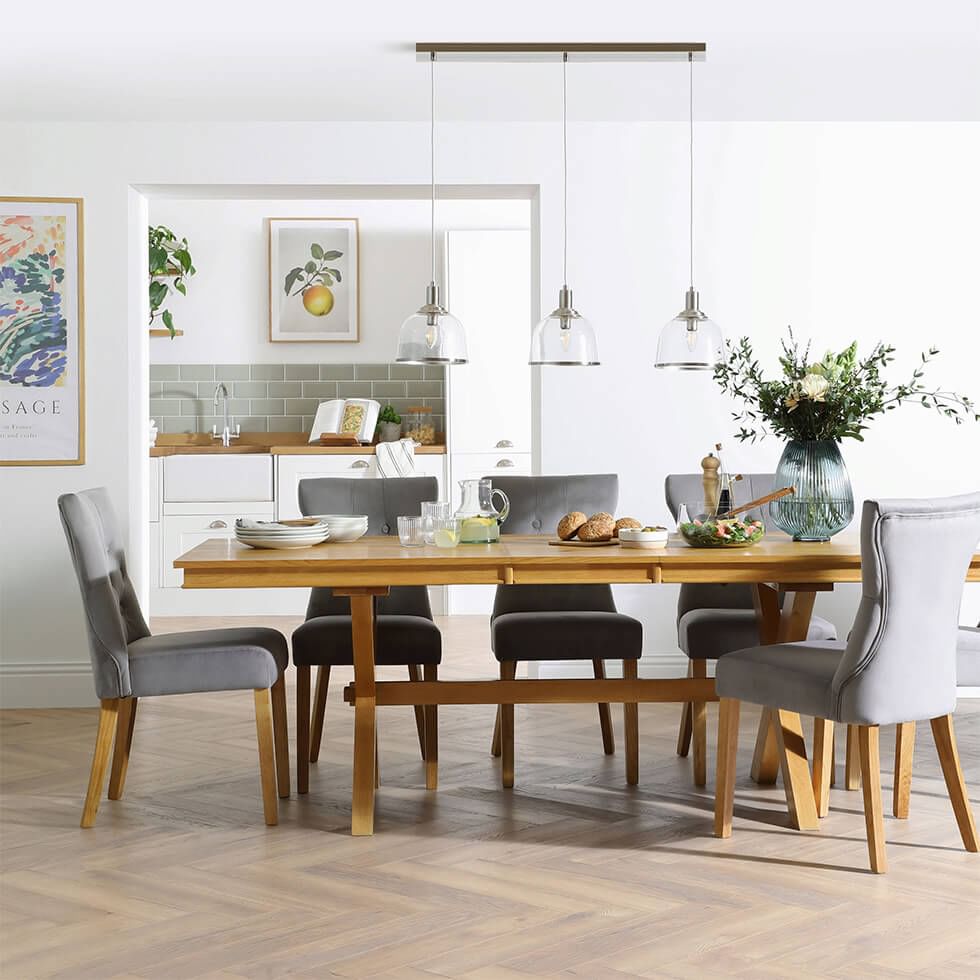 If you can't decide between white or black however, give grey a shot. Light and breezy, a soft, cool grey works especially well for a Scandinavian aesthetic. Fit out your grey dining room with warm wooden furniture, plants and cosy textures like a wool throw and fabric upholstery.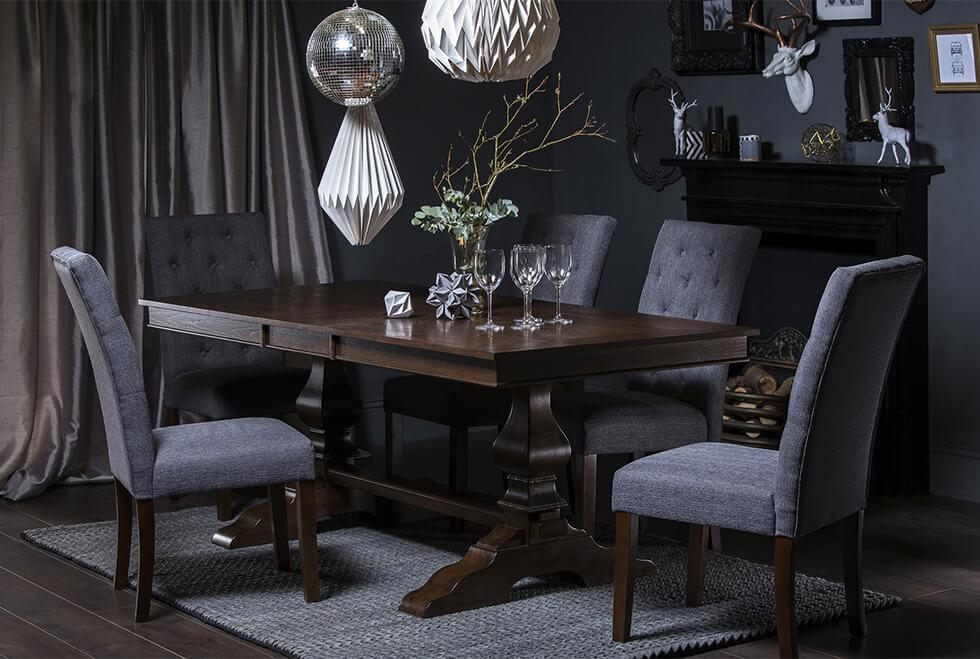 Grey is also stylish when used in a monochrome palette. Darker shades create drama without being overwhelming, complemented by pops of white and metallic finishes. And unless you're going for a moody candle lit scene, light up the space well.
For more inspiration on grey interiors, check out our article on 5 reasons why grey interiors continue to be popular in 2020.
10. Contrasting colours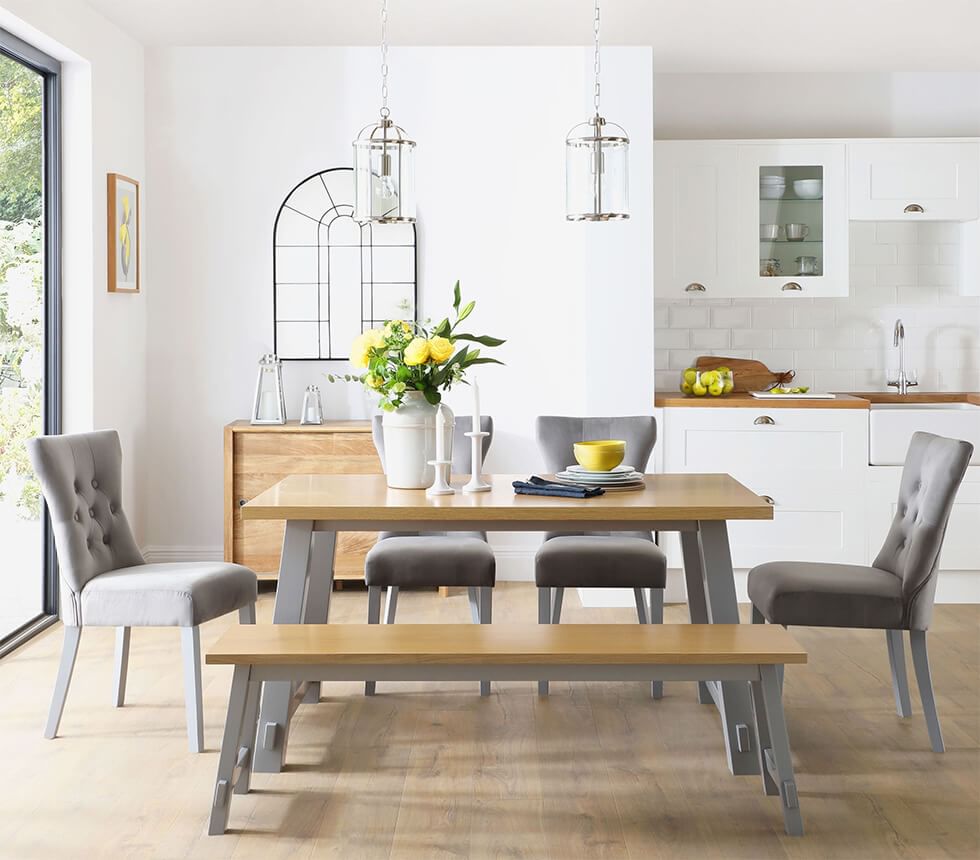 But what if you love more than one colour and can't decide? Then try mixing and matching! Wall colour pairings are fun and unique to your individual design style, down to your favourite piece of decoration. Start by reaching for a colour wheel, then explore complementary and contrasting colour combinations to find your preferred palette. For instance, the grey and yellow dining room above uses a bright yellow that sits opposite a cool grey in the colour wheel.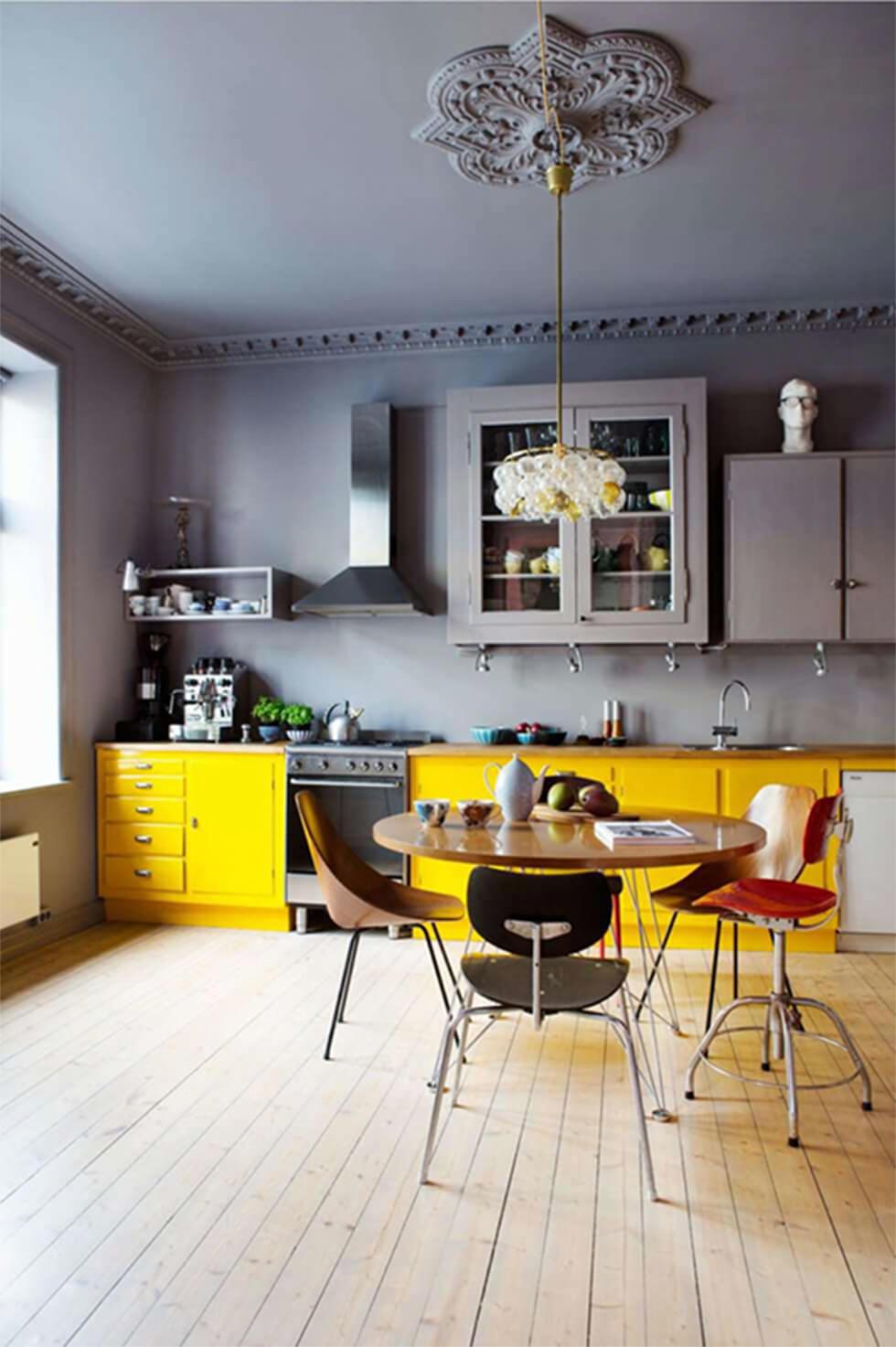 An easy rule of thumb is to keep to a palette of no more than 3 colours to maintain coherence across the space. Another tip is to keep undertones the same, as different tints or shades become more apparent in certain lighting. While a warm white might look neutral on its own, when placed next to a pure white the difference is easily spotted - the two colours' undertones will be easier to identify in comparison.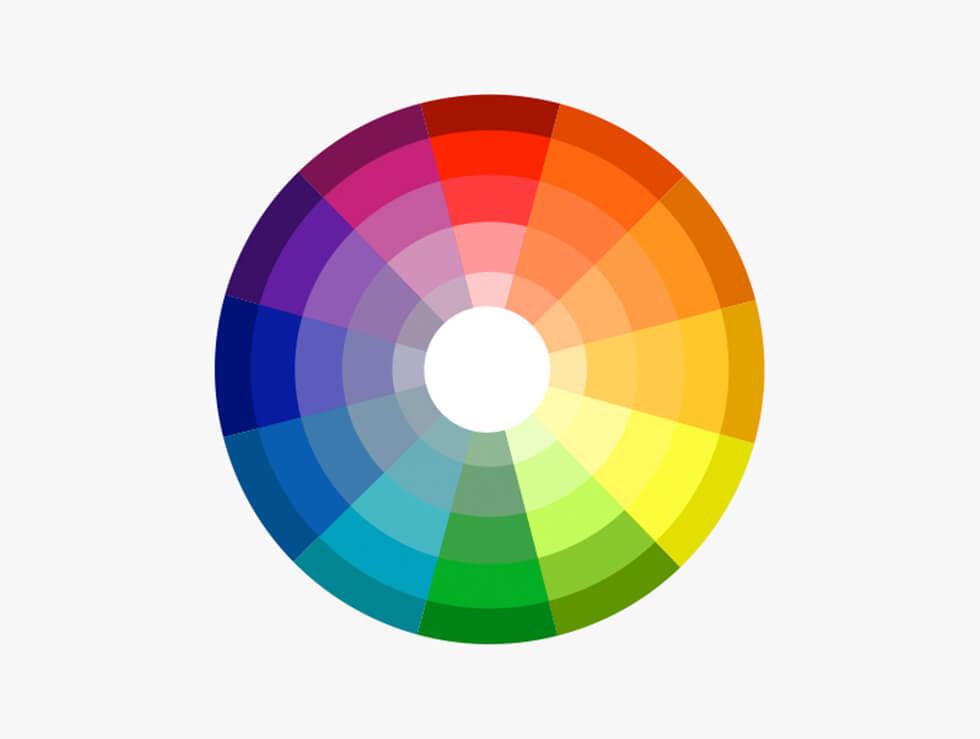 Also be sure to test your choice colours on a small part of the wall that experiences different lighting throughout the day - as undertones are drawn out differently with warmer or cooler light too. One way to begin styling your dining room is by choosing a centrepiece like a dining set, then build the palette and style around that. Take a look at some of our dining sets as a start!