Not just pink: 10 fresh (and colourful) decor ideas for girls' bedrooms
Think it's all pink when it comes to girls' bedrooms? We've gathered fresh and modern ideas that include playful prints, whimsical looks and lots of colour.
Sugar, spice and everything nice - the modern girl is much more than what the nursery rhyme can contain. And creating a creative, safe and beautiful room for her to grow up in can be a challenge, but a fun one at that.
Here are our 10 favourite updates for a fresh take on a stylish bedroom for girls!
1. Updated pinks and corals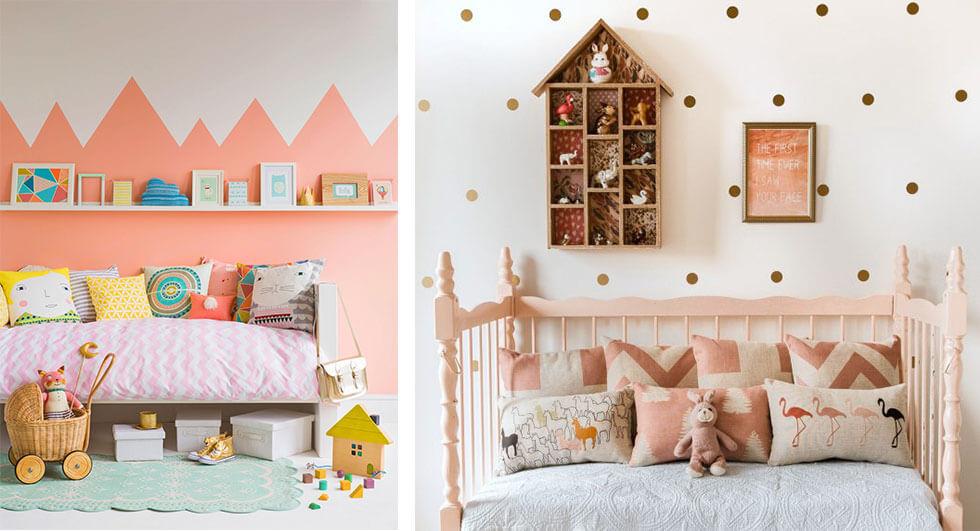 Pink is a classic shade when it comes to paint ideas for girls' bedrooms, but with gender-neutral decorating coming to the forefront, it's time for an update.
Candy tones and magenta-inspired pinks have given way for softer millennial blush hues and the 2019 Pantone Colour of the Year, Living Coral. A feature wall is a smart way to use a strong colour like coral, while light pink utilised in smaller doses and grounded with earthy browns and greys can create a calming, chic room while still being youthful and girlish.
Or, bring out her superhero side with this feminine cosmic spaces themed bedroom featuring a light, neutral palette with easily adaptable details.
2. Play with other colours and tones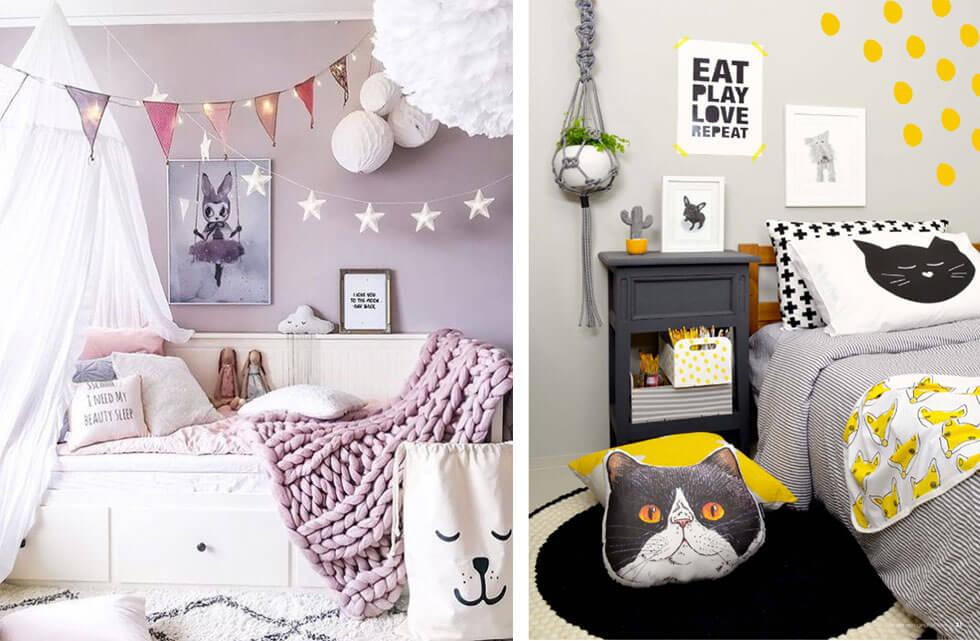 On the other hand, pink isn't the only colour on the block anymore - and other colours such as purple, yellow and blue also look beautiful in a girl's bedroom. Soft lavender pairs well with white and grey, and adds a pop of colour while still working as a neutral backdrop.
For a stronger graphic look, brighten a monochrome room with fun prints and dollops of yellow (and cat motifs, if you'd like!) for a cute space with lots of personality.
3. Winning wallpaper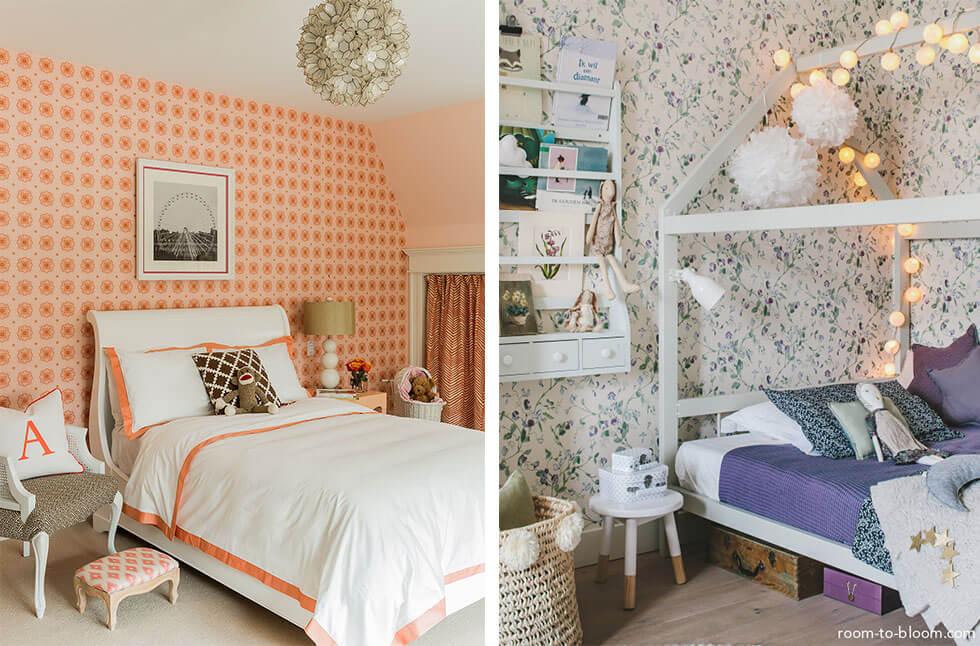 The power of wallpaper to transform a space can never be underestimated, adding focus and pulling the room together thematically.
For instance, a patterned wallpaper in a bright colour, mirrored in little touches around the room, can create a charming, bright space that's cohesive and intentional. On the other hand, gentle floral wallpaper is an easy classic that pairs well with both simple and more whimsical furniture. Both are also choices that will easily transition to a tween or teenager's room, with just a few small tweaks.
4. Pair rattan and rugs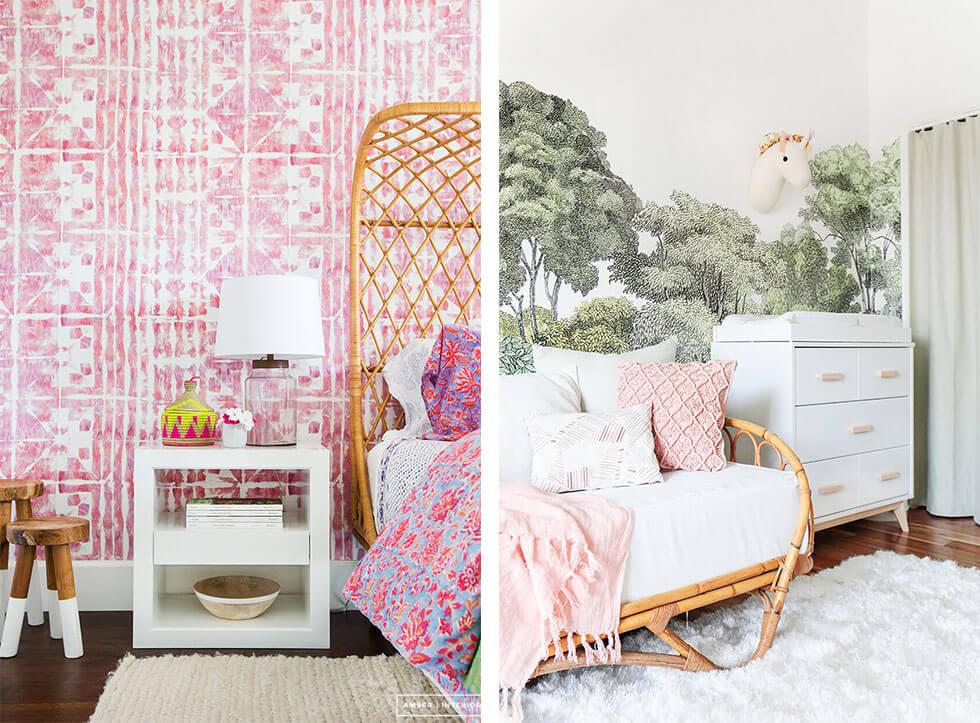 A major trend this year is rattan, with its effortlessly summery feel - so why leave the bedroom out of the fun? After all, this finish is especially stunning with bed frames, offering lots of different patterns and drama. Look out for options on sites such as Etsy, or antique sellers, to get steals and investment pieces at great prices!
Pair your rattan bed with white side tables for a clean, light look and soften everything with fluffy rugs and pillows for a girl's bedroom that will be beautiful and comfortable no matter her age.
5. Hang a chair and put your feet up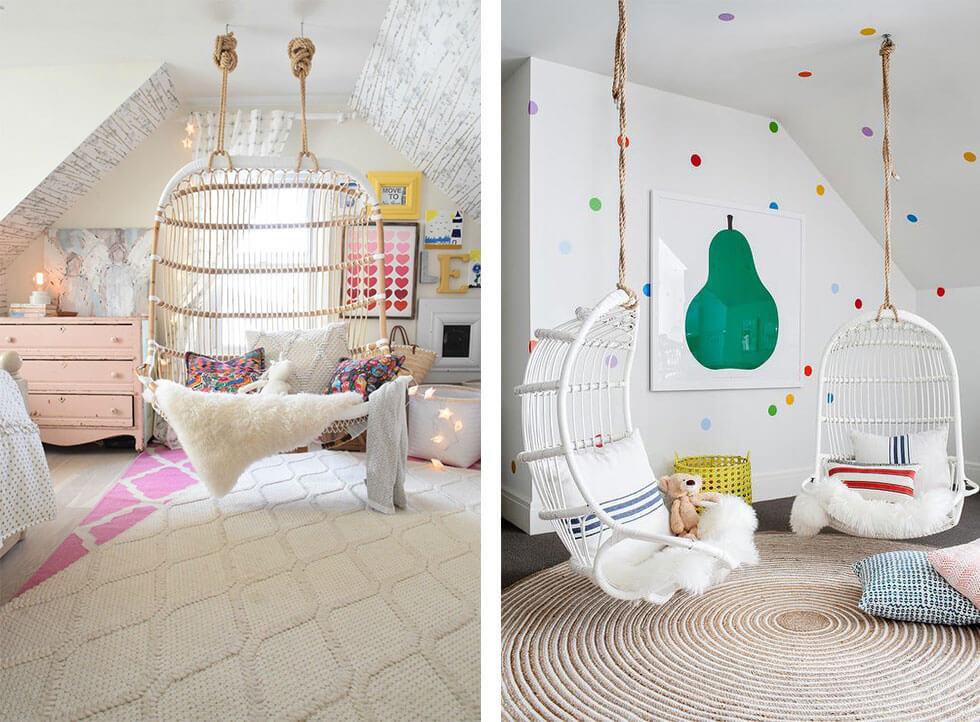 If you have a bit more space to work with or a spare corner, bring the playground in by installing hanging chairs for a swing-inspired look. These chairs are incredibly stylish and fun, and could also double up as a cosy reading nook.
6. Add soft texture and tones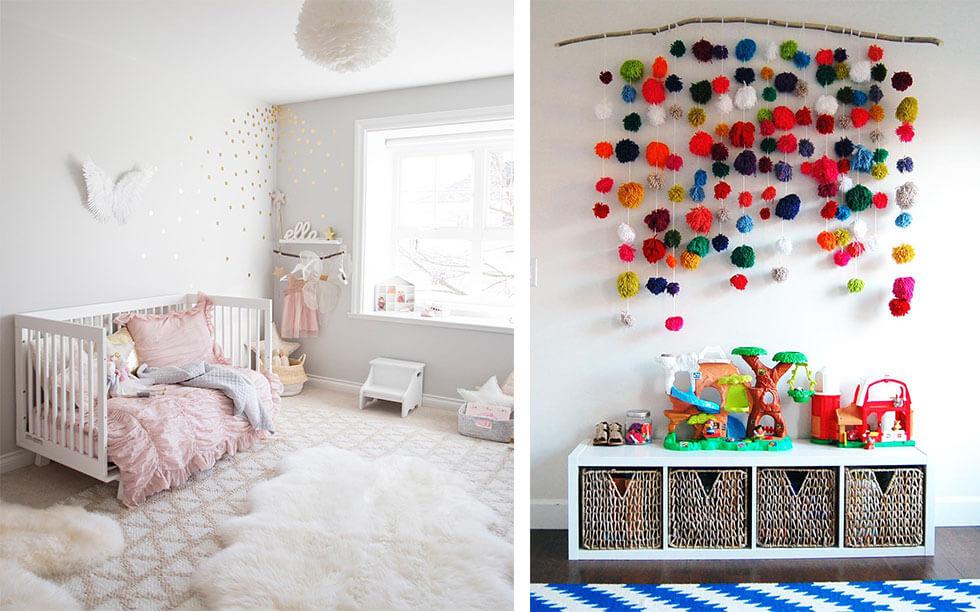 When creating a thoughtful space for your daughter to spend time and play in, adding texture all around the room is important and can complete the aesthetic.
And this goes from floor to ceiling - whether it's paper lamps, or soft rugs (which also cushion falls and sound, as a bonus), or even brightly coloured pom poms for a lively addition to your walls.
7. Print on print on print

Sometimes more is more, and that's especially true if you're decorating for a girl who loves colours and patterns and can't get enough. With a budding maximalist at home, the trick is to find ways to mirror patterns and colours, such as with this contrasting yellow checked bedspread tying neatly with the otherwise contrasting red squares on the pillows.
You could also work with a set colour palette - for instance of pinks and blues, before adding one pop of complementary colour for a little extra oomph.
8. Opt for a bold feature wall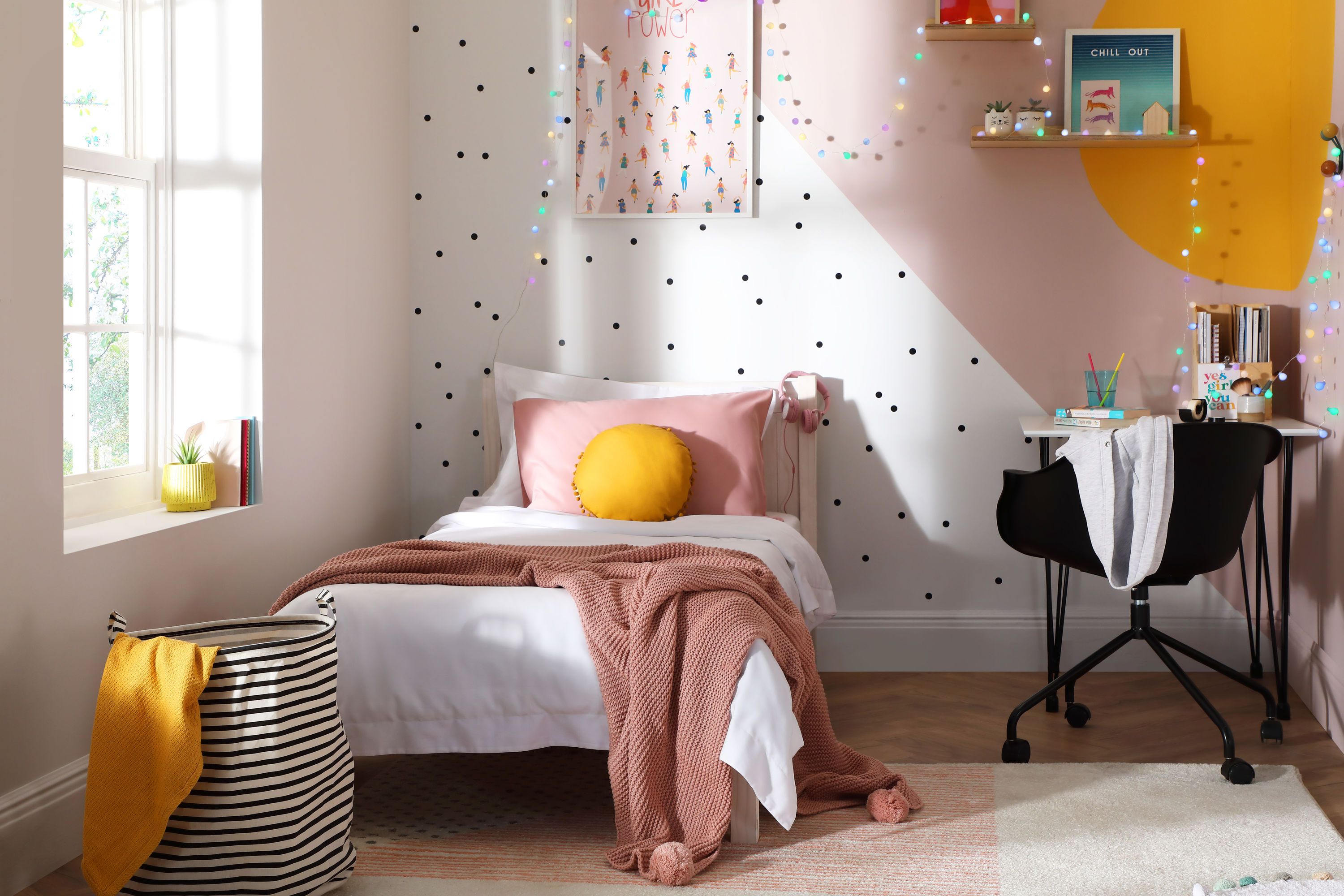 Another way to showcase colours and patterns is to focus it on a single wall. Bright, primary colours such as yellow can be overwhelming, so painting half a wall keeps the look clean while still imbuing the room with personality.
And if you'd prefer a more complex - but rewarding - project, experiment with other patterns such as chevrons or stripes for an eclectic, unique look.
9. Cap it off with a canopy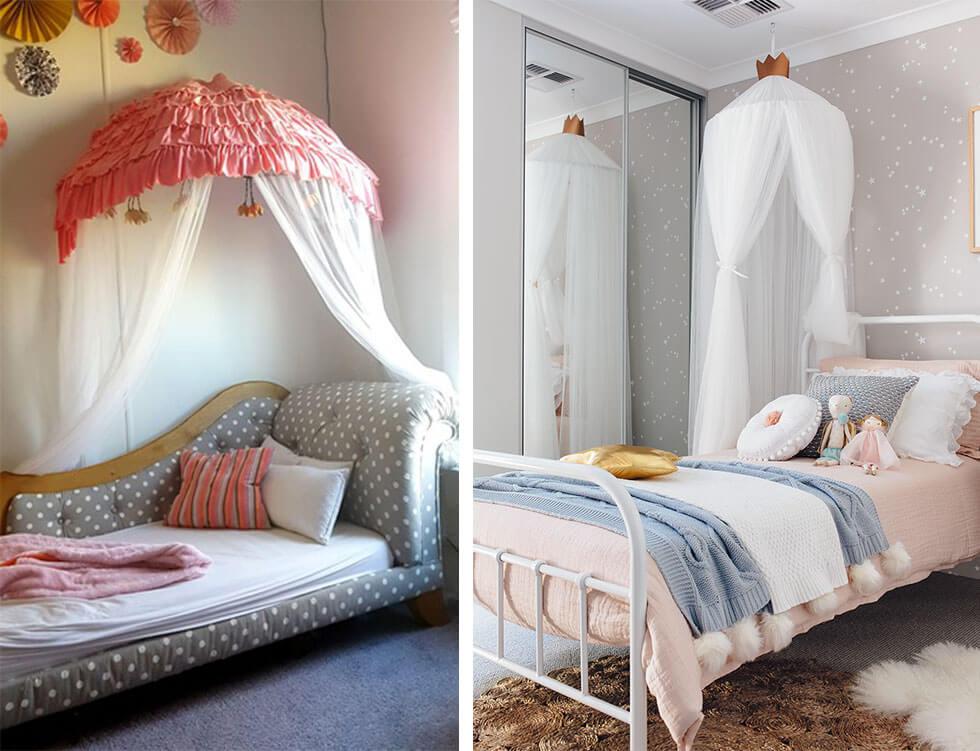 A canopy bed is the stuff of fairytales, but as a girl grows up, it also offers room for dreamy privacy and relaxation. Best of all, you don't have to go with a four poster bed to get the look and feel.
Small, simple canopies are pretty easy to find and install, and in a pinch, even using curtain rods and hooks will do the trick. For more DIY inspo, the designers of the home above actually used a round chair frame (sawed in half) and covered it in pink fabric for a beautiful canopy top!
10. Don't forget the ceiling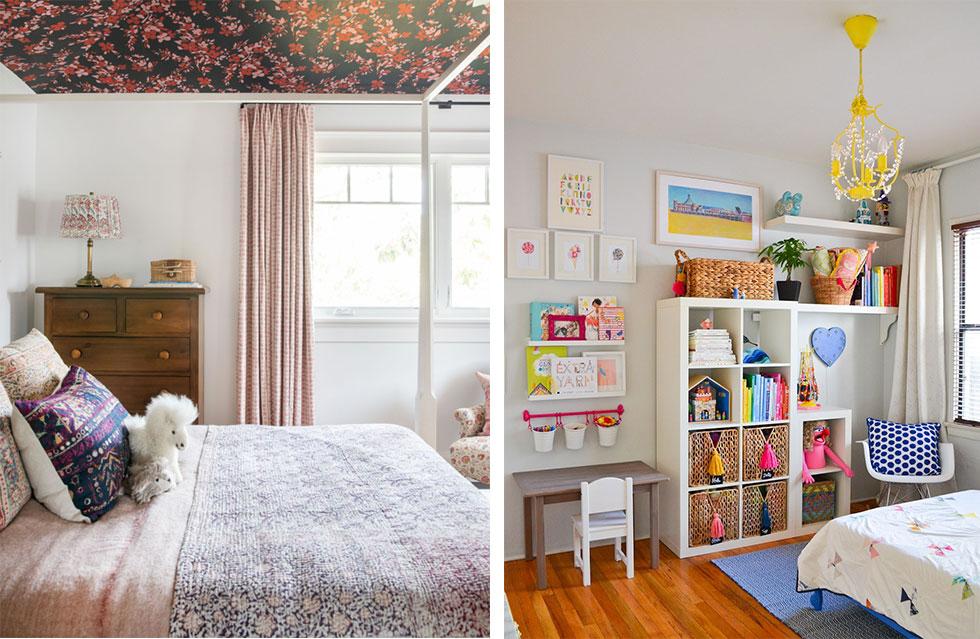 Lastly, even if canopies aren't your style, don't forget the ceiling! Lots of hours will be spent in this room lazing in bed, reading, daydreaming and napping, which also means plenty of time looking up.
Whether you go with wallpaper, glow in the dark stars or a mini chandelier, giving your daughter something to look up at and enjoy, is a lovely thing.