Minimalist bedroom designs to bring serenity and create a calming sanctuary
Discover the ways you can create a calming sanctuary at home, as we share ideas on how to make your bedroom a minimalist paradise.
Minimalist interiors focus on the less-is-more concept by decorating with intention. It prioritises clean lines, a calming ambiance, and decluttering as a decorating style. And as one of the key areas in the home that focuses on rest and relaxation, minimalist décor might just be the interior style that's right for your bedroom.
You might be wondering - is there more than one way to get the minimalist bedroom look? Read on to discover these stylish and cosy minimalist bedroom ideas and how to apply them to your bedroom.
After you've read our styling tips, browse our wide range of contemporary bedroom furniture as a good starting point for you to design a minimalist bedroom.
1. Choose a monochrome palette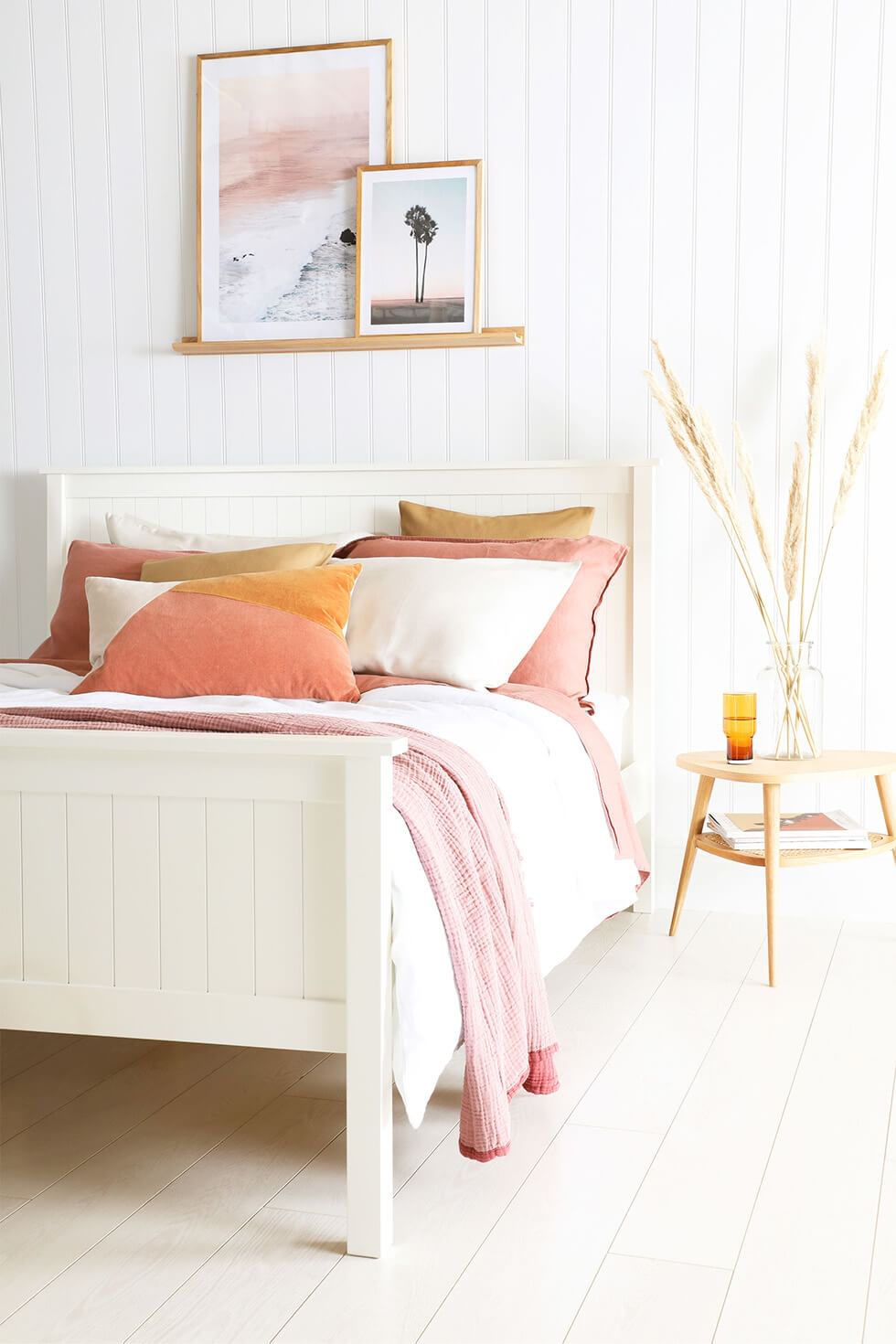 Since minimalist bedroom décor favour clean, calming style, going for a monochromatic palette is an easy choice. Neutral interiors are usually the preferred option as they are understated and create a timeless feel. Start with a white bedroom for its soothing, airy feel. Keep it simple with a white palette throughout and bring in small pops of colour to contrast.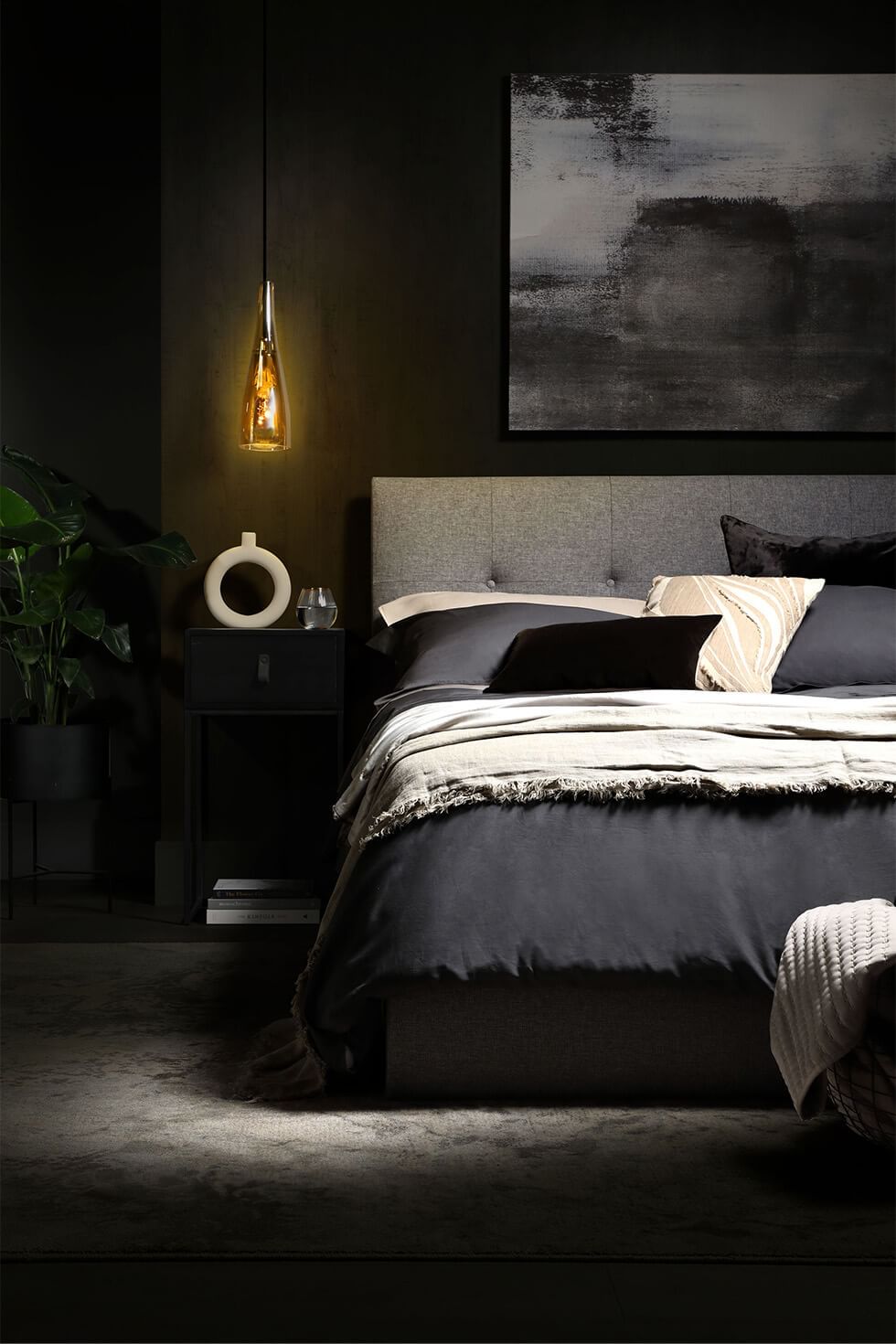 However if you're feeling bold, why not go all out with a black bedroom? Prevent the space from feeling too stark by introducing soft textures like a fabric headboard, cosy bedding and throws. Choose ambient lighting for a cosy touch and to make the room feel almost cocoon-like.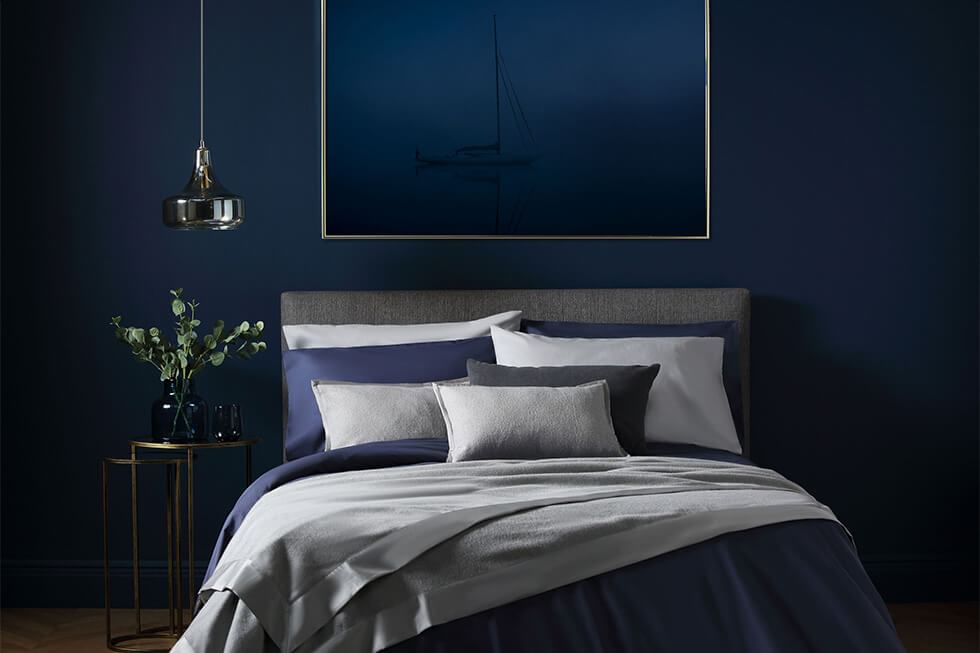 Aside from black and white, blue is another stylish (and cosy) monochrome option for the bedroom. Set the mood with navy blue walls for a calming, restful atmosphere, and then introduce lighter pops of blue to brighten up the room.

2. Let natural light in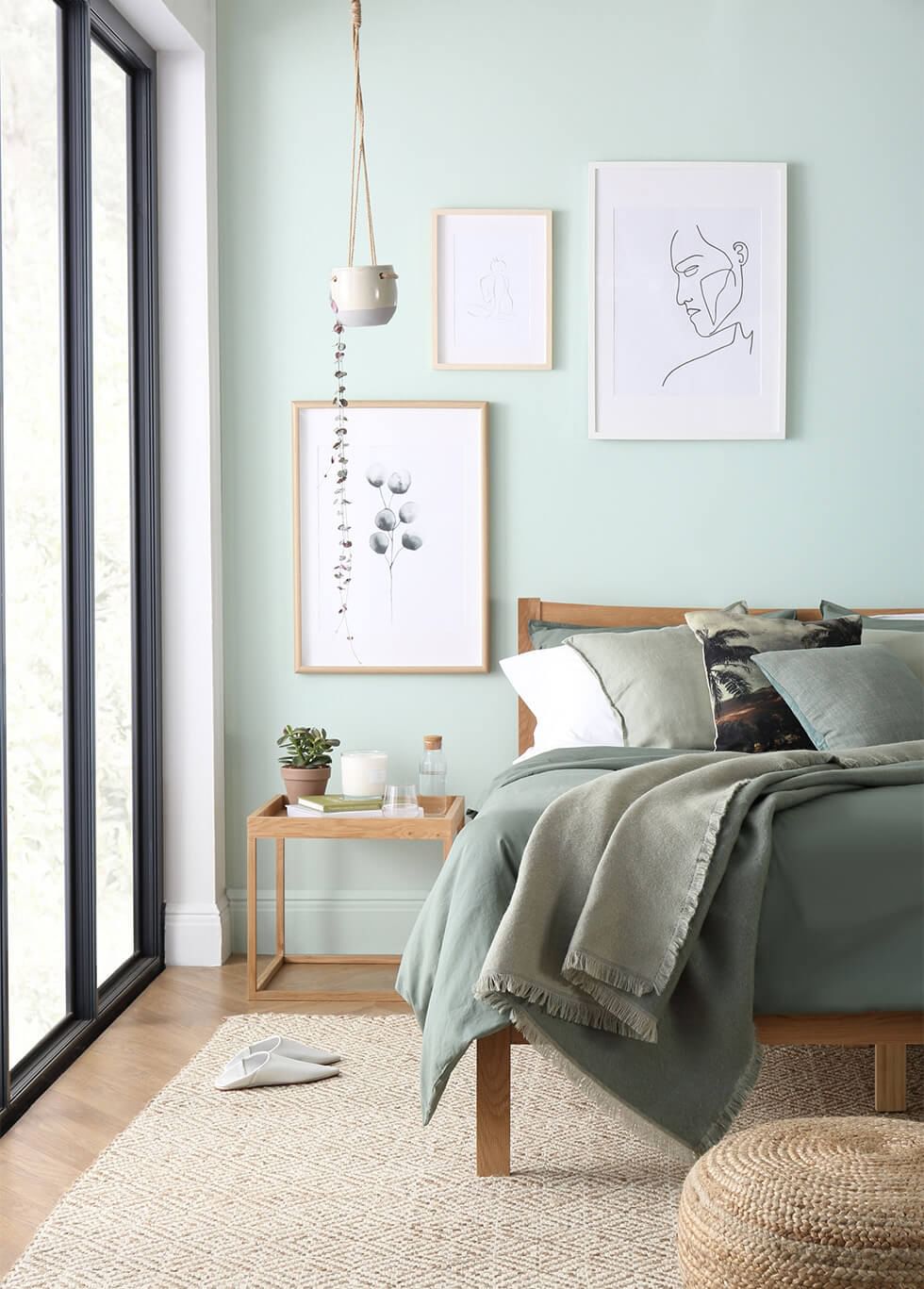 With minimalist philosophy focusing on self-care, maximise any natural light from windows or sliding doors to improve your general wellbeing. Position your bed near the window to balance your circadian rhythm. If you're worried about being woken up by the early morning sunlight, use blinds to let the light in in smaller doses. For bedrooms which don't get natural light, invest in sun lamps for that vitamin D boost and to create a minimalist bedroom aesthetic.
3. Keep your bed close to the floor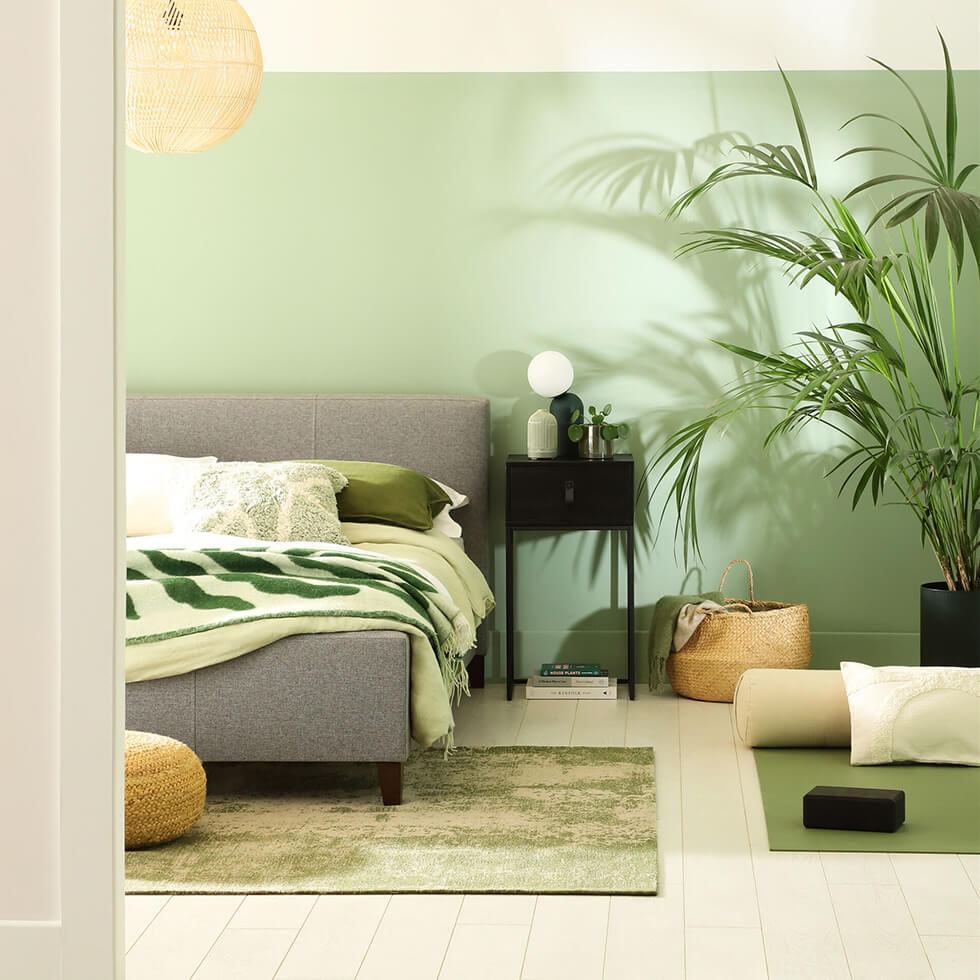 One of the key purposes of minimalism is to keep us connected to our surroundings. Having your bed at a lower level creates the impression of a higher ceiling and makes the space feel more spacious and airy. It also grounds a minimalist bedroom, making the space look understated and natural. Choose a relaxing colour palette like light green to match the tranquil feeling.
4. Simplify with multi-functional décor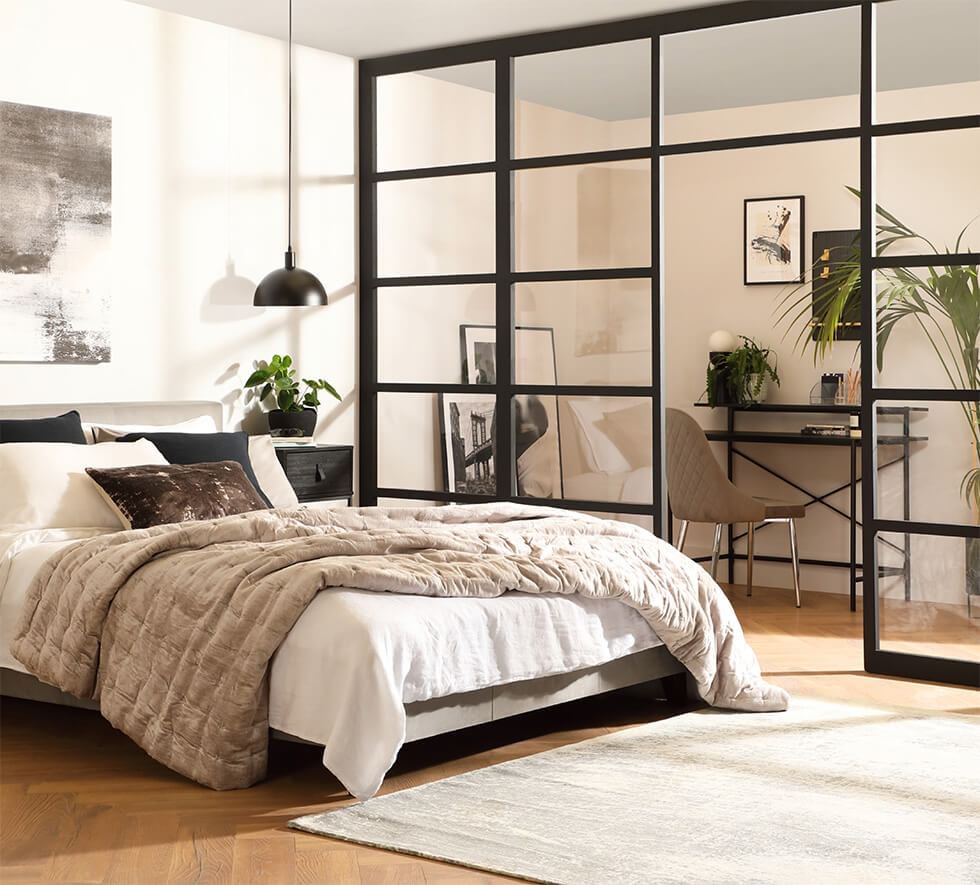 Decorating with purpose is an essential part of minimalist bedroom décor especially if you live in a small space. Favouring clean, functional design allows you to simplify your home and is far from boring.
One example of functional design is to create separate zones. For example, if you're working out of your bedroom it's important to separate areas for work and rest. Install a glass partition to let the natural light in while still keeping that airy flow throughout.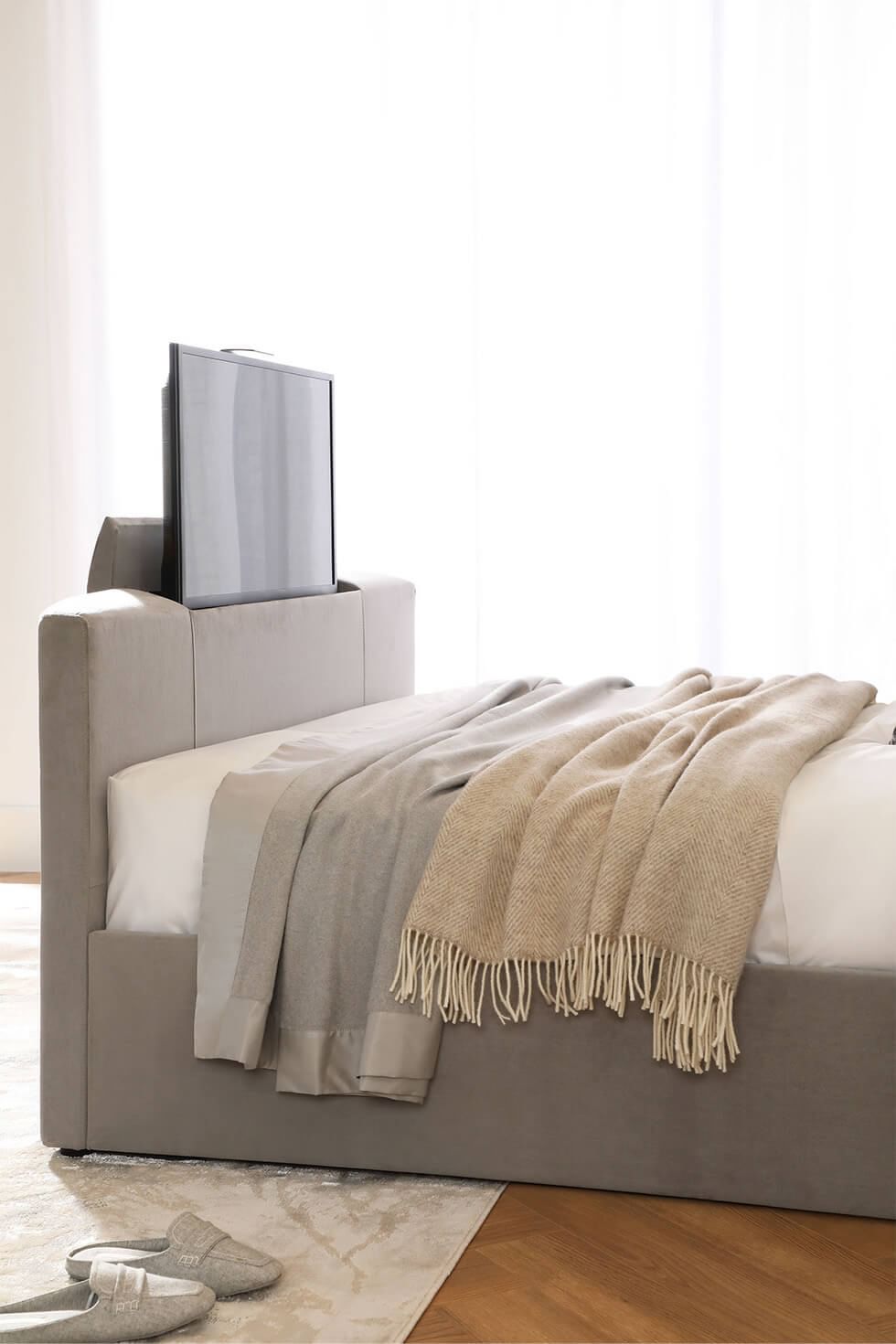 Aside from creating zones, another minimalist bedroom décor idea is to choose multi-functional pieces. One good option is a TV bed that can be concealed when not in use and rises up at the touch of a button. Or you could invest in an ottoman bed with extra storage to keep the space neat and tidy. These double-duty items lessen the amount of pieces without taking up extra space.

5. Incorporate different textures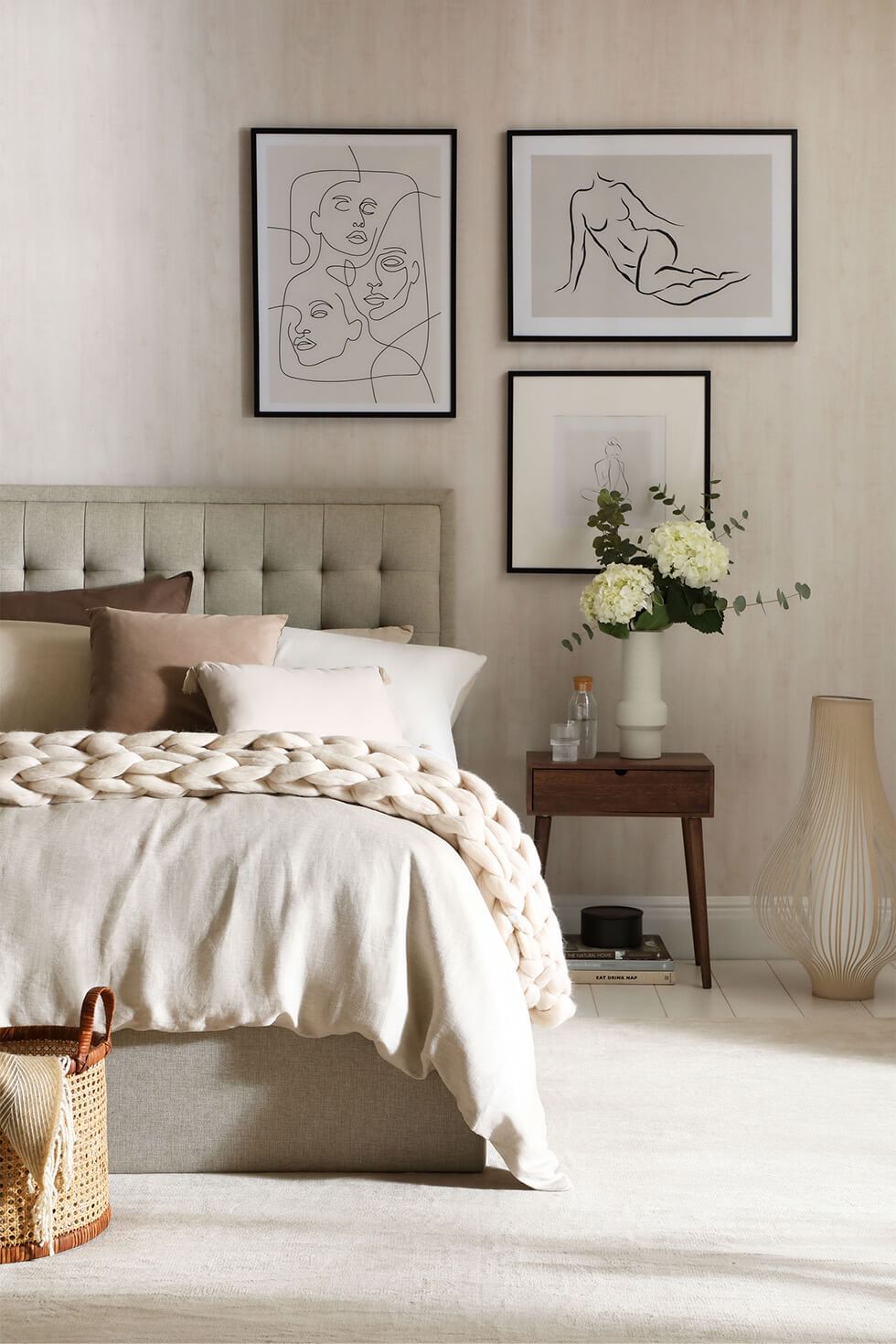 Minimalist bedroom design often gets labelled for being stark or overly plain - and it doesn't have to be. Play with texture by layering your bed with different throws and cushions. This allows you to bring in natural elements like cotton, linen or jute when decorating.
Add interest to the walls with textured wallpaper. Accessorise mindfully through artwork - the tip here is to choose designs in the same colour palette as the rest of the bedroom. This will create a cohesive look and keep the space looking tidy.
6. Zone your bedroom with a rug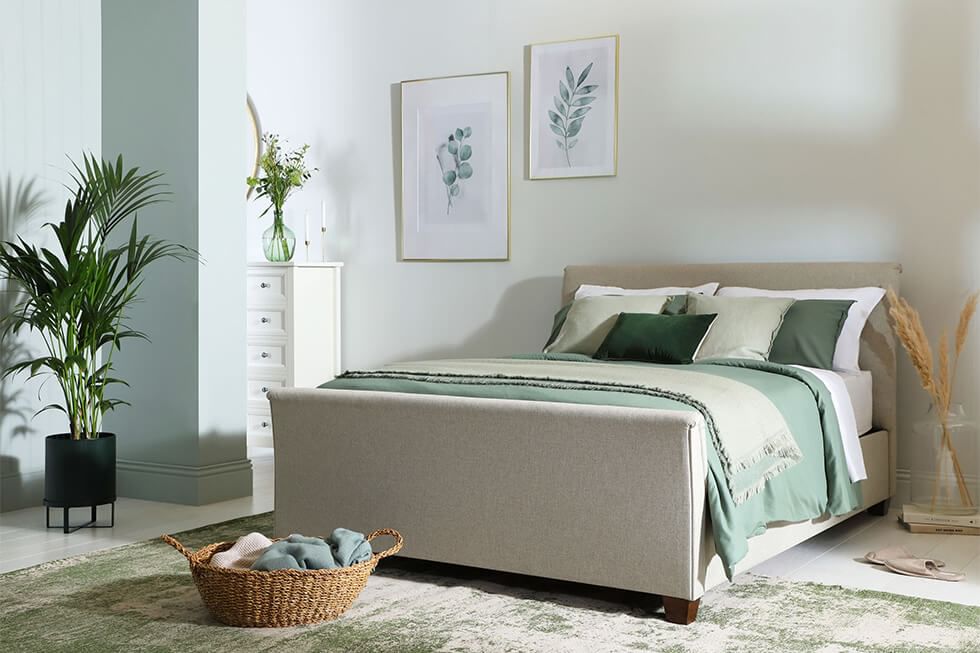 Tie a minimalist bedroom together with a cosy rug. Avoid loud patterns or bold colours in a minimalist bedroom as it's best to keep it simple. Pick a rug in a similar colour palette as the rest of the room for a cohesive look. Choose a rug texture that complements your bed and other accessories. Since it's the bedroom, a mid pile rug is the best option since it is shaggy enough to be cosy yet thin enough to clean.

7. Bring nature inside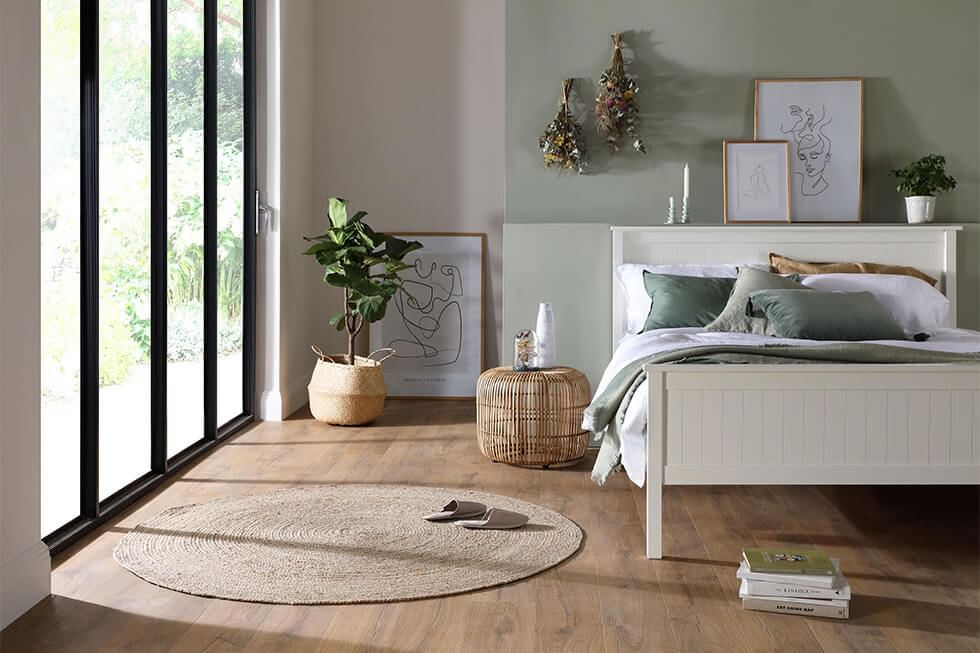 One of the goals of practising a minimal lifestyle is to live a simpler, more meaningful life. And, one of the ways to achieve this is to be connected to nature. You can do this in your bedroom by introducing greenery. Plants regulate the environment to create a purified and harmonious space. They also complement all the other natural elements of the room such as wooden flooring or rattan accessories. If you don't have much natural light but still want to add greenery, invest in good quality faux plants. They will still liven up your minimalist bedroom and do not require much maintenance.
8. Mix and match cool and warm tones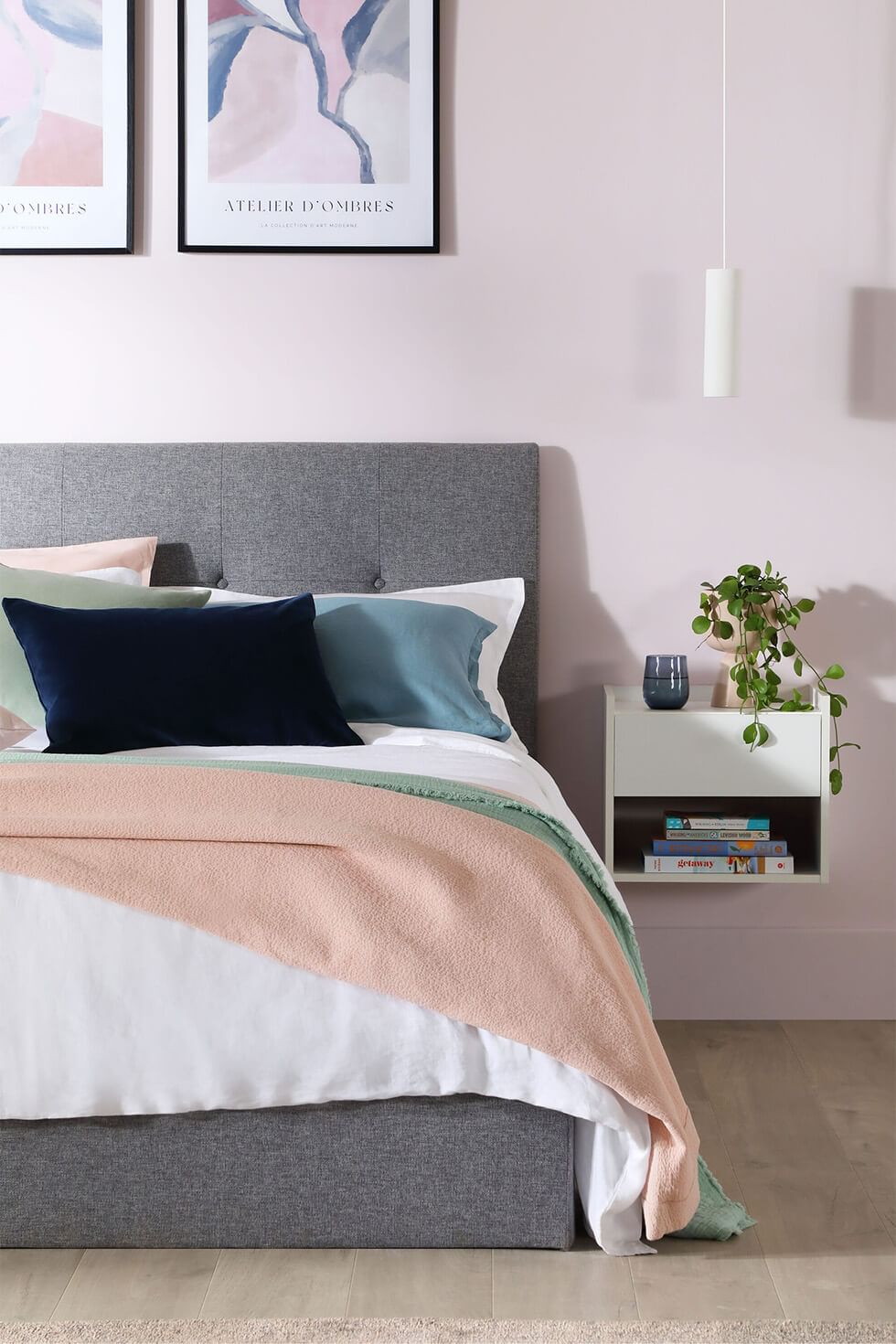 Neutrals are usually the go-to colour palette to achieve a minimalist bedroom aesthetic but why not switch it up? Introduce colour to your bedroom by mixing and matching warm and cool tones. For example, ground the room with a warm grey fabric bed to contrast cool light pink walls. Layer your bed with cushions and throws in a mix of warm and cool tones. Juxtapose the colour palette with minimalist accessories. Go for a sleek pendant light or contemporary white bedside table for a clean, uncluttered look.

9. Embrace the concept of Japandi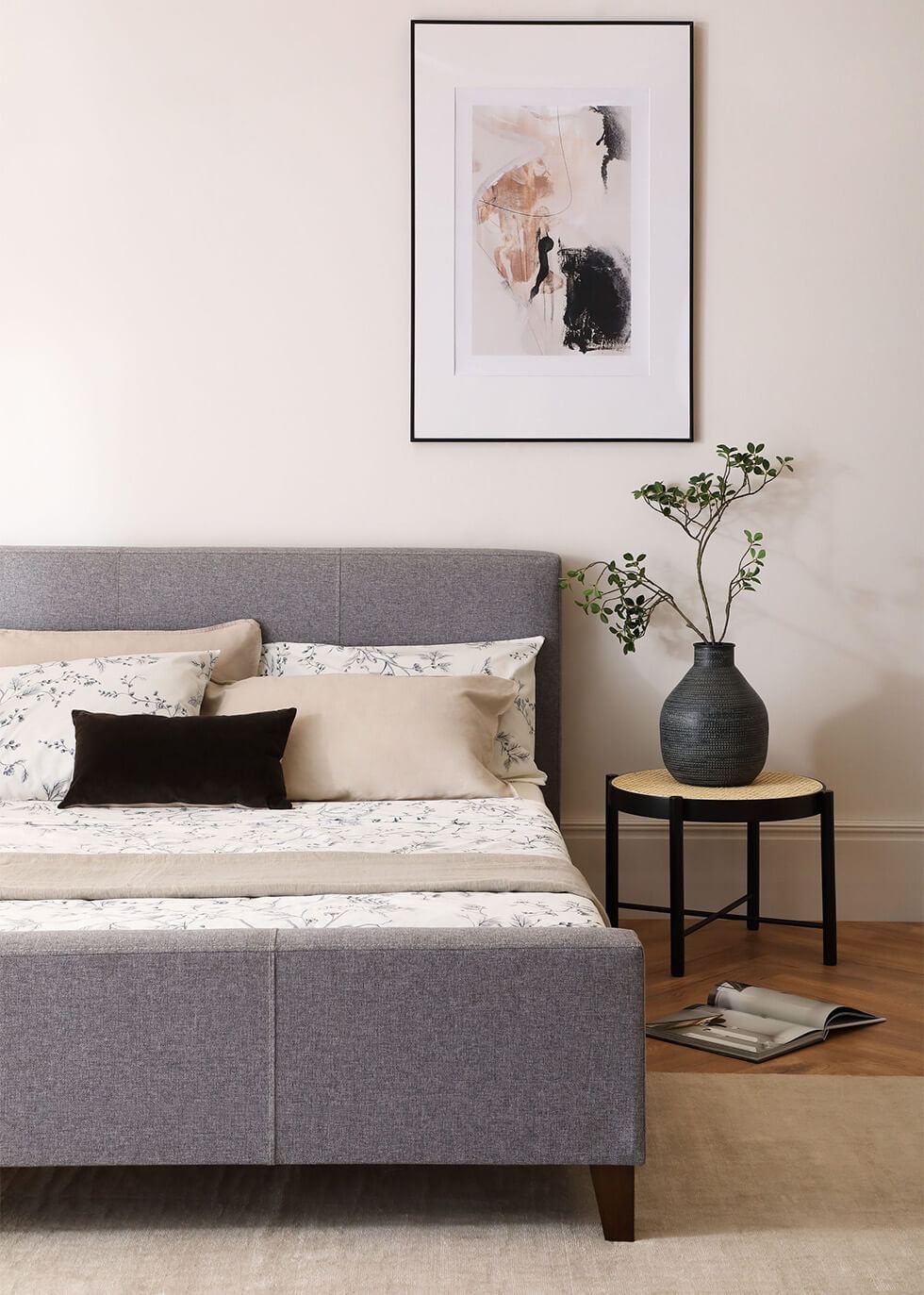 If you want to add character to minimalist interiors, give your décor the Japandi look. To create this east-meets-west look in the bedroom, focus on a neutral palette like beige, cream and light grey. Choose natural elements such as cotton, wood or linen to create a soothing effect. Accessorise mindfully with pieces that are unique such as an abstract clay vase or candleholder.
10. Combine coastal and minimalist style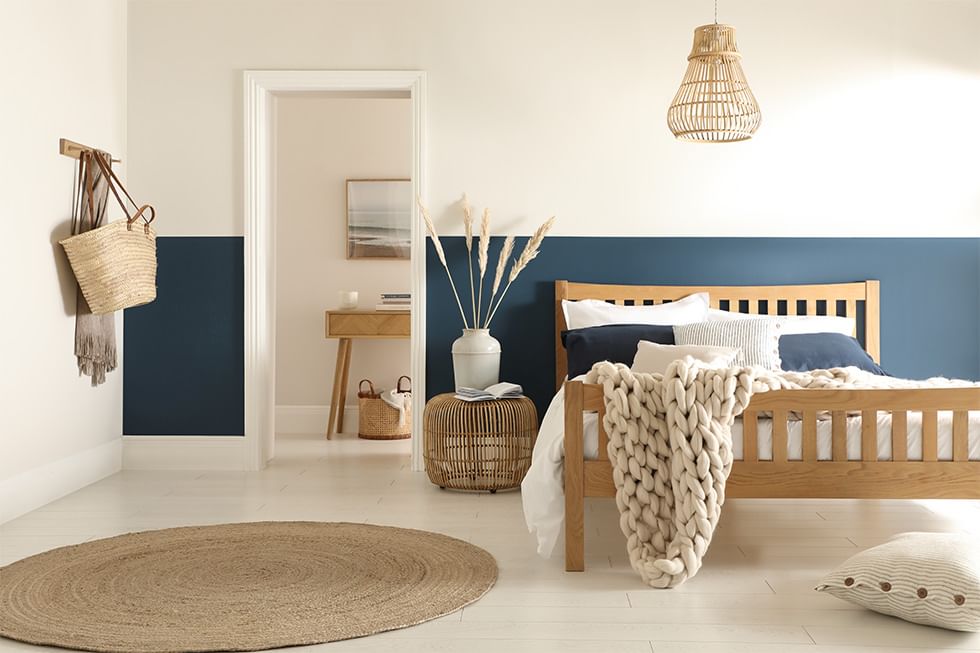 Give coastal style a modern update by combining it with minimalist bedroom décor. Evoke the ocean and blue skies with blue and white walls. Instead of anchor motifs and Breton stripes, bring in calming natural elements such as a wooden bed and rattan accessories. Soften the space with cotton bedding or wool throws. Round off the look with relaxing accents such as pampas grass, shell sconces or nature-inspired artwork.

11. Add hygge warmth to minimalist décor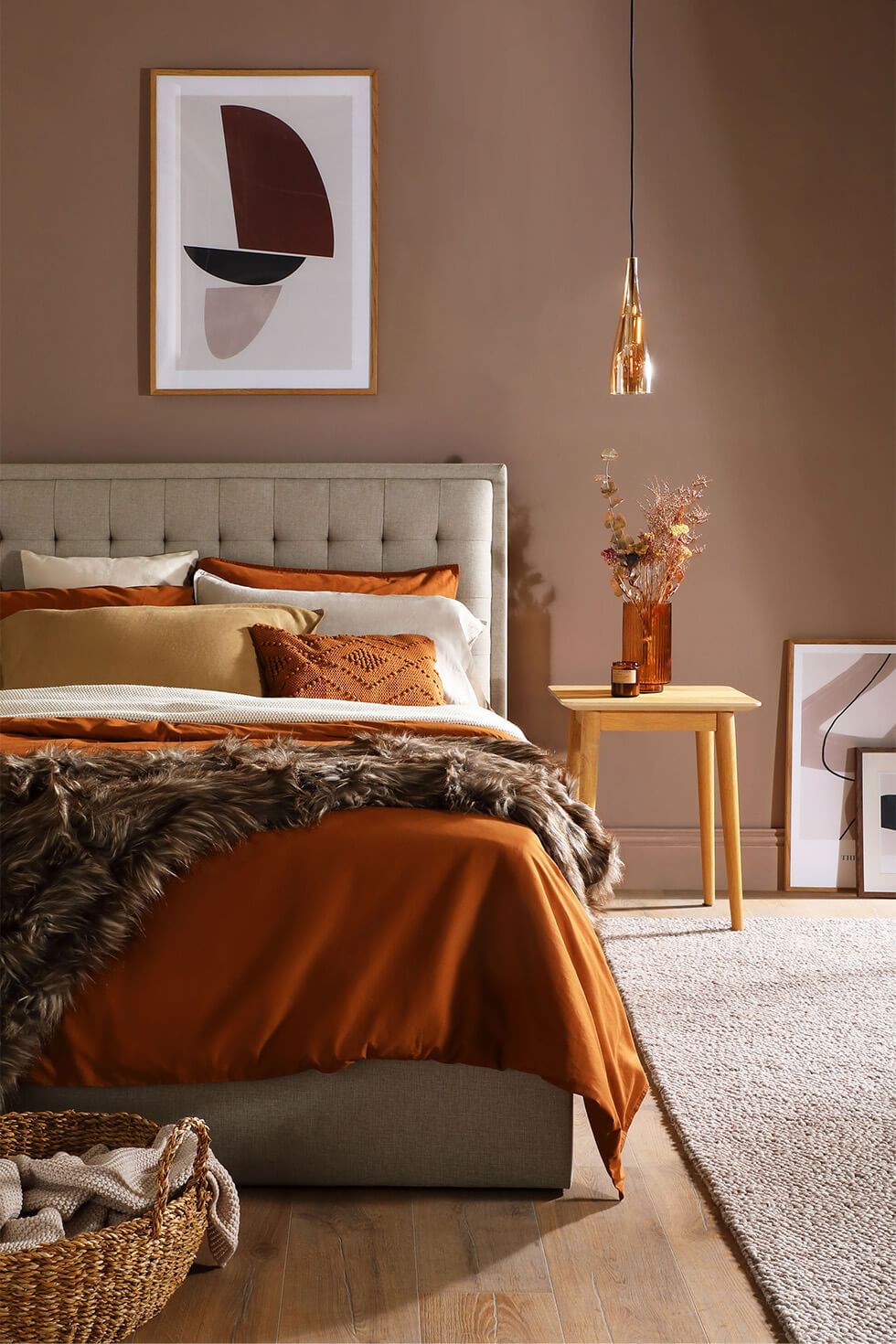 Hygge and minimalism have more in common than meets the eye. Rooted in its Scandinavian sensibilities, hygge adds warmth and cosiness to minimalism by accessorising and layering with intention. Ground the room in cosiness with a fabric bed as the base for accessorising. If you want to decorate your walls, showcase what is important to you such as travel photos or your own artwork. Add indoor plants or fresh flowers throughout the space.
Giving your bedroom a minimalist touch is an easy way to refresh your space. By placing importance in self-care when decorating, your home will become your sanctuary. For more ideas on how to improve your wellbeing, read our guide on how to make wellness a priority at home.