How to make your bedroom feel like a luxury hotel
Learn 6 easy tips to make your bedroom feel like a luxury hotel stay, including updating your bedding, the most restful colour palette, and decorating ideas.
For sheer indulgence, there's nothing quite like a luxury hotel stay. Something about the hush of a plushly carpeted room, freshly laundered crisp sheets and beautiful decor can all mean getting a better night's sleep than you do at home!
But maybe the question here is - why splurge on a one-night stay, when you can invest in your own bedroom? Here are some easy ways to get that same lush feel and comfort, right in your own home.
1. Overhaul your bed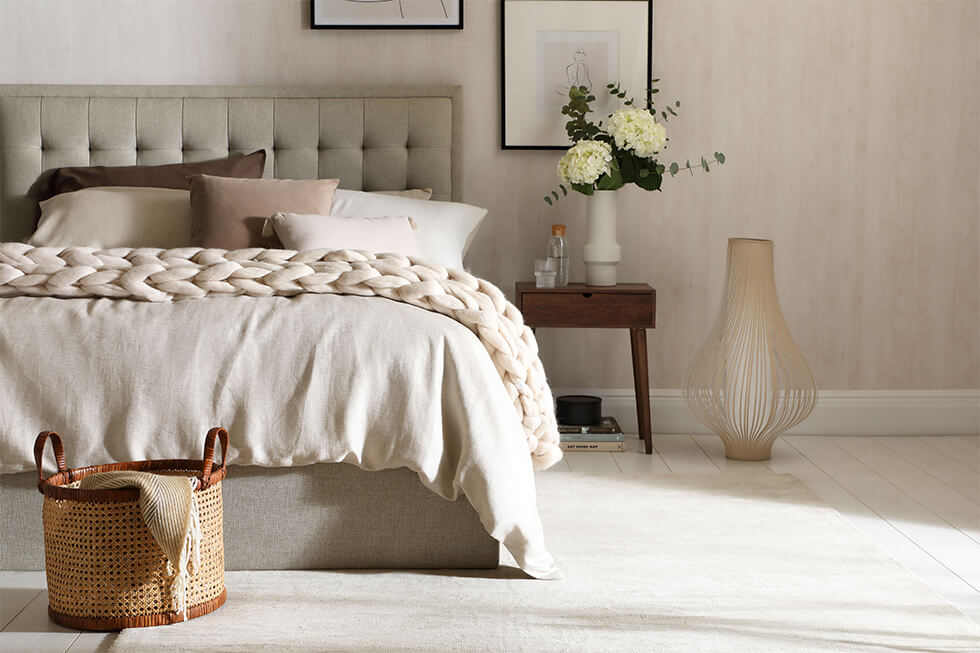 A good test to see if you need to update your bed is if you sleep better during a hotel stay than at home. That might be a sign that you need to invest in a newer mattress or a more supportive bed frame.
To start you on that process, think about what your experience was like in that hotel bed. What set it apart, or felt different from your bed at home? It might be the firmness of the mattress, the depth of the pillows, or even the feel of the sheets. Making a list, or thinking it through, can be a helpful guide to replicating the experience.
2. Invest in luxurious sheets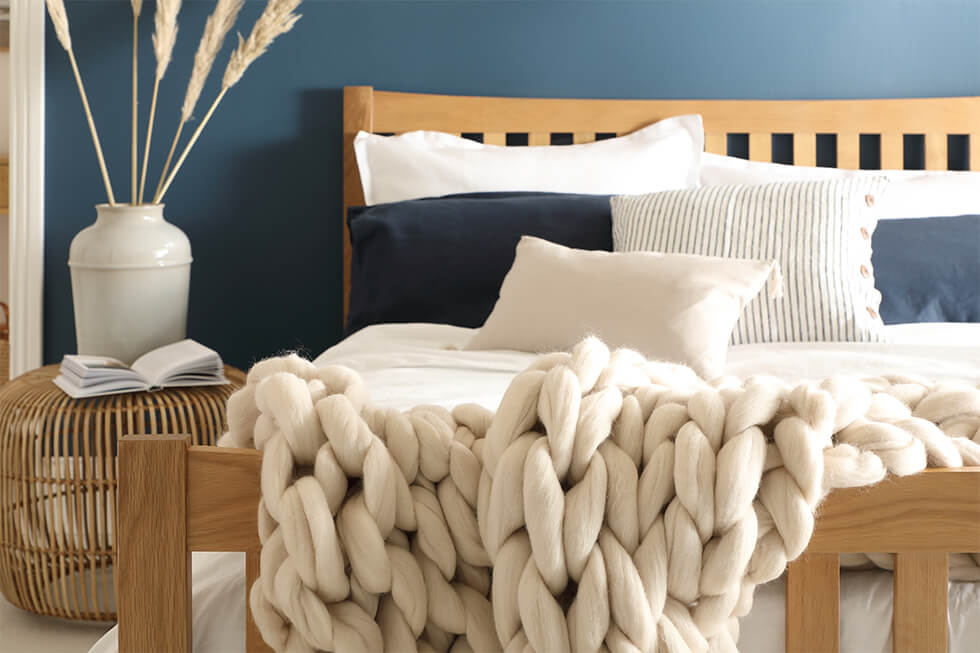 A surefire way to get the hotel room feel, quality bed sheets are a must-have. One way to do this is look for sheets with a 200-800 thread count, for an unmistakably comfortable touch.They might be more expensive at the outset, but they'll last ages and get softer as the years pass.
Outside of thread counts though, the most important thing is to choose a material that feels best on your skin. Most hotel rooms opt for cotton percale bedding, but it's always best to actually touch and feel the fabric, and go with what feels good to you.
Crisp white sheets also instantly evoke high-end hotel rooms. So if you really want to go for it, iron your sheets and when you make your bed, keep those corners tight.
3. Create a cosy space with lighting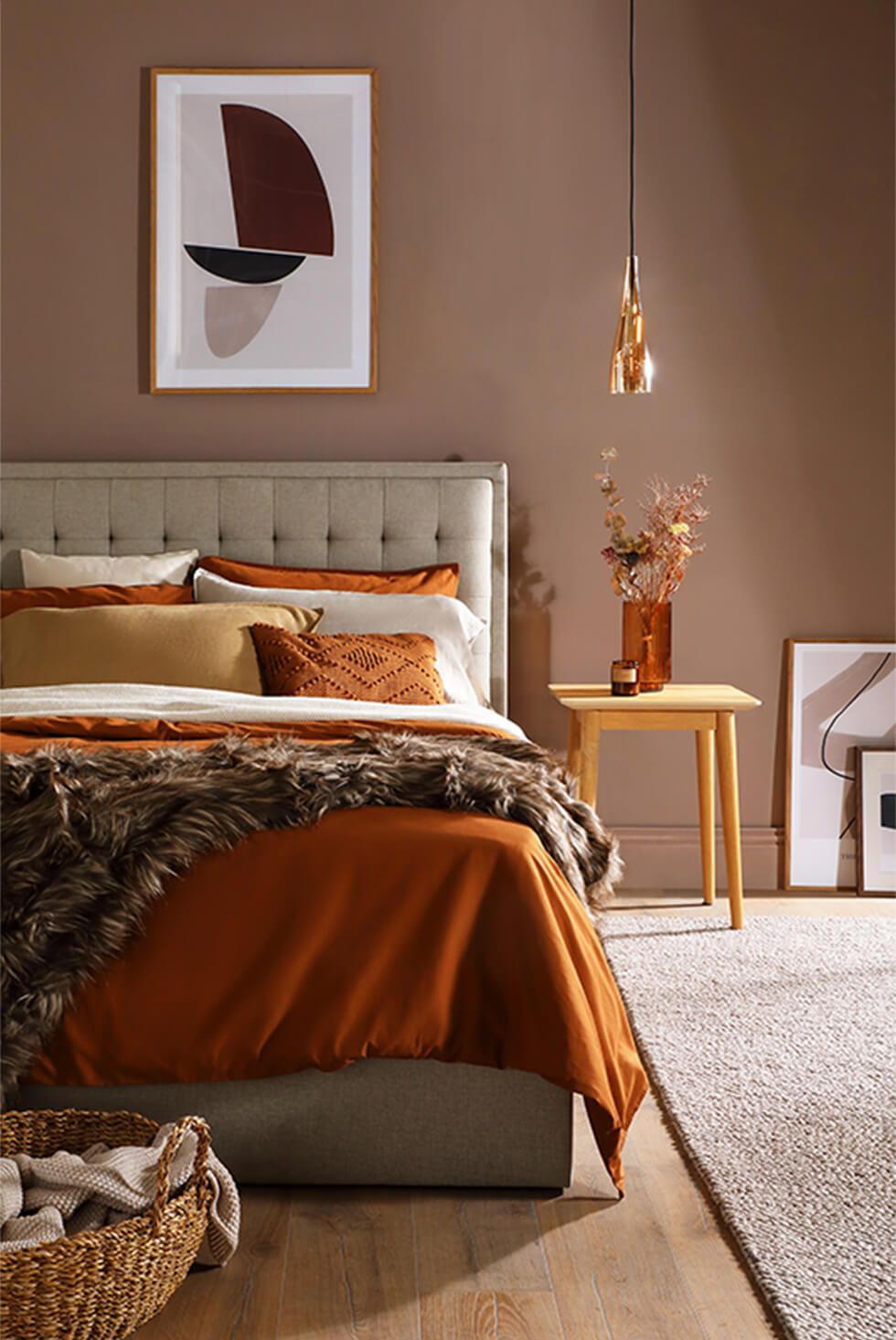 In the bedroom, lighting can be make or break. The key thing is to include a few lighting sources, so you can choose different moods for different times of day.
For instance, a hanging lamp or sconce by your bedside can create an intimate, restful space, without the glare of overhead lighting. And look for lamps that will add style and visual interest. Metallics such as rose gold and bronze are a good choice for polish and shine.
4. Rethink your curtains
On the other hand, there are times when it's important to filter or block light. Early summer mornings and Saturdays come to mind!
So do what hotels do and invest in blackout curtains for better rest. And for the full-on experience, pair them with lighter, sheer window shades so you can choose how much light (and sound) you want to allow in.
5. Don't forget the little luxuries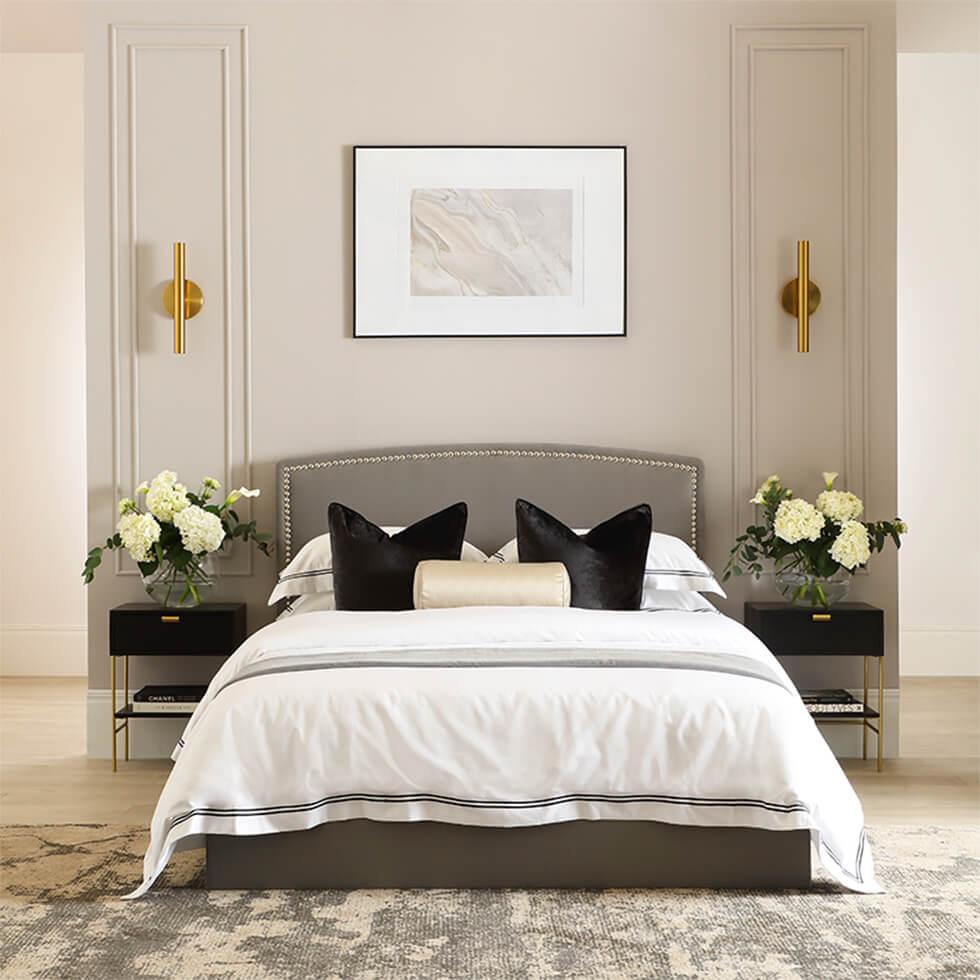 To really complete the feel, include slices of luxury and indulgence in your bedroom. Frame your favourite pieces of art (and they can be anything: postcards and magazine covers would work too!) or create a gallery wall.
And set up your bedside table to perfectly suit you. Place things that will spark joy, such as fresh flowers and fragrant candles, or that promote self care, like a rich hand cream.
6. Think about your colour palette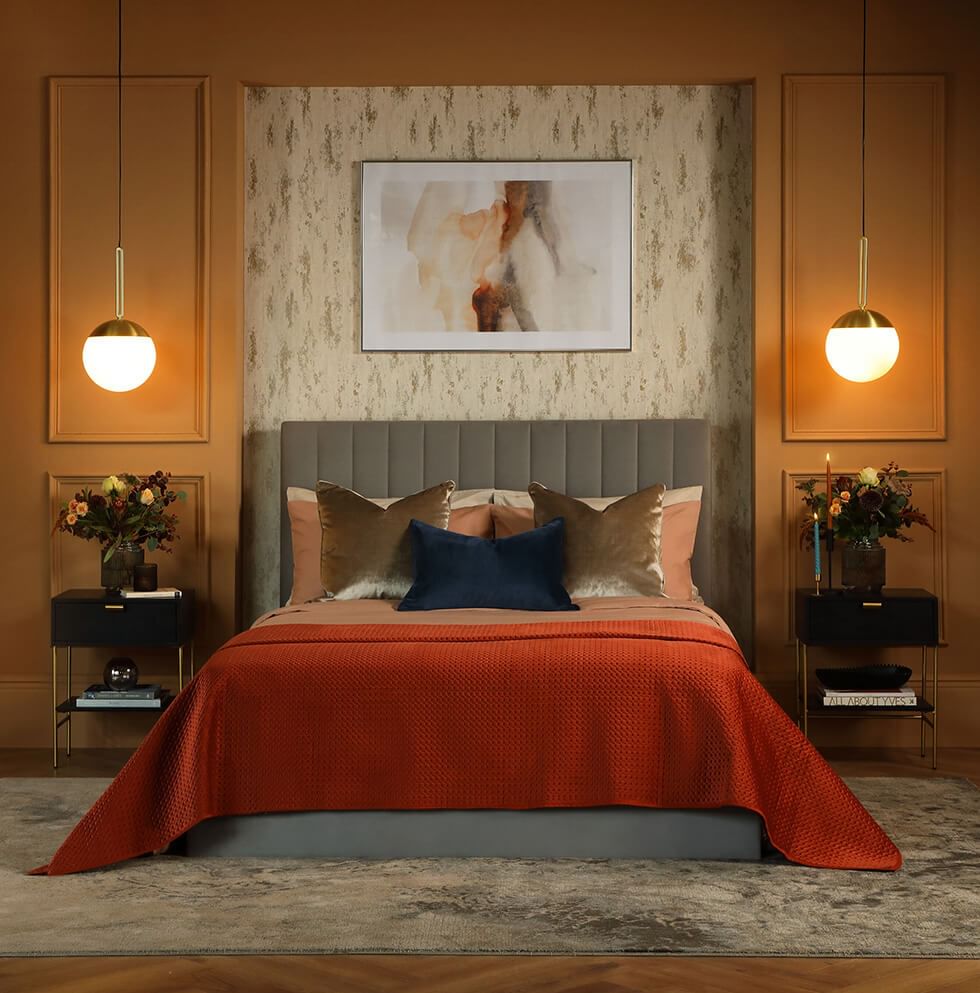 Relaxation is the main aim here, so go for clean tones and keep things simple. Opt for only one or two colours, and then play with tonal variations. Use your main colour for your centrepiece, such as your bed or walls. And then create dimension with pillows and throws in varying shades.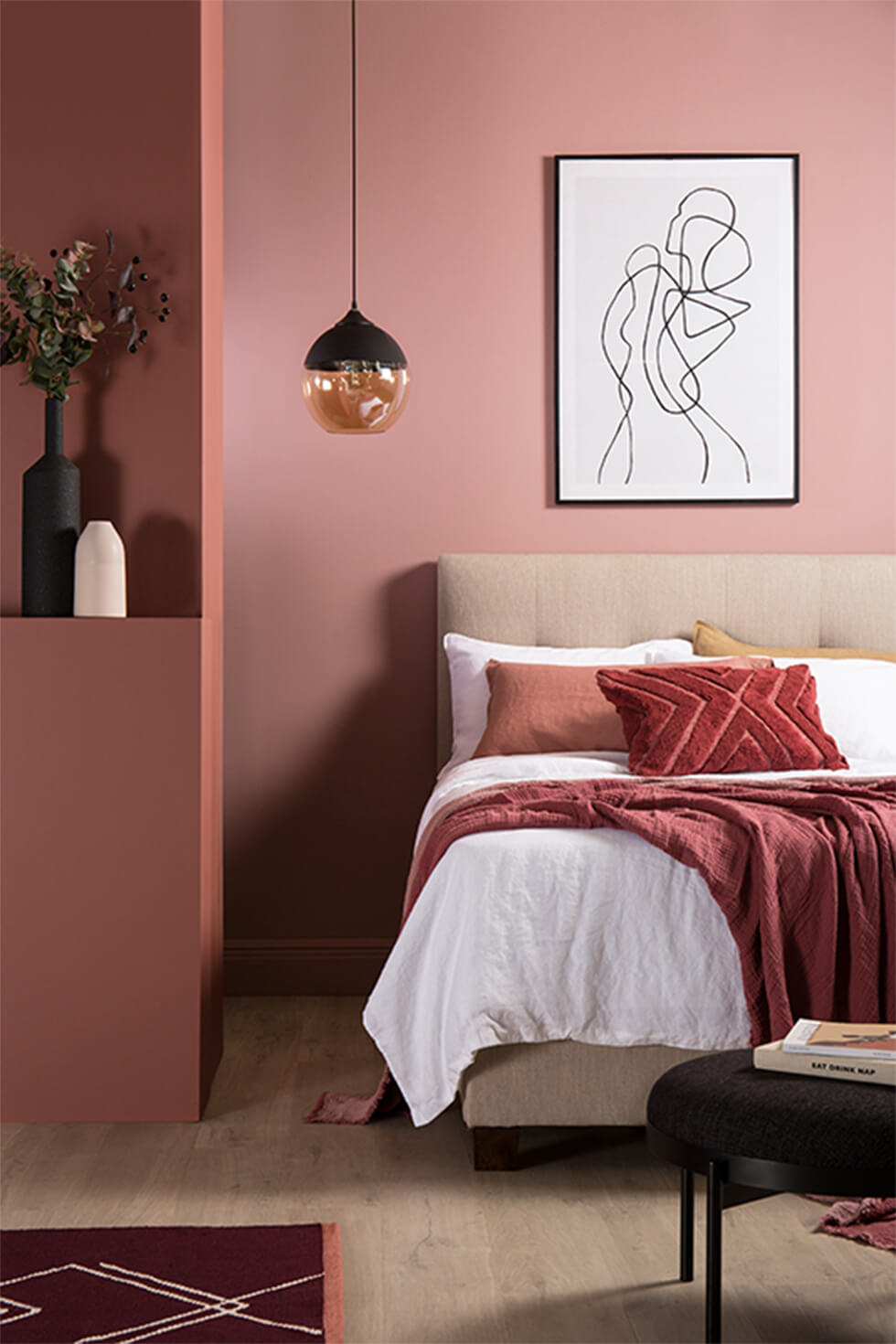 It's all about creating a restful, serene feel - shades such as soft pink, sage, and warm neutrals are great choices.
Bonus tip: It's all in the details!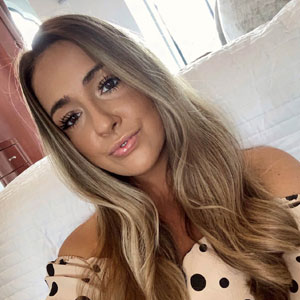 Lucy Jeffries
@greychurchhome
A lover of all things interior from Manchester
And once you've got the luxe basics down, it's time to add your own personal touch. We spoke to Manchester-based blogger Lucy Jeffries on how she decorates her own bedroom with glamorous (yet cosy) details.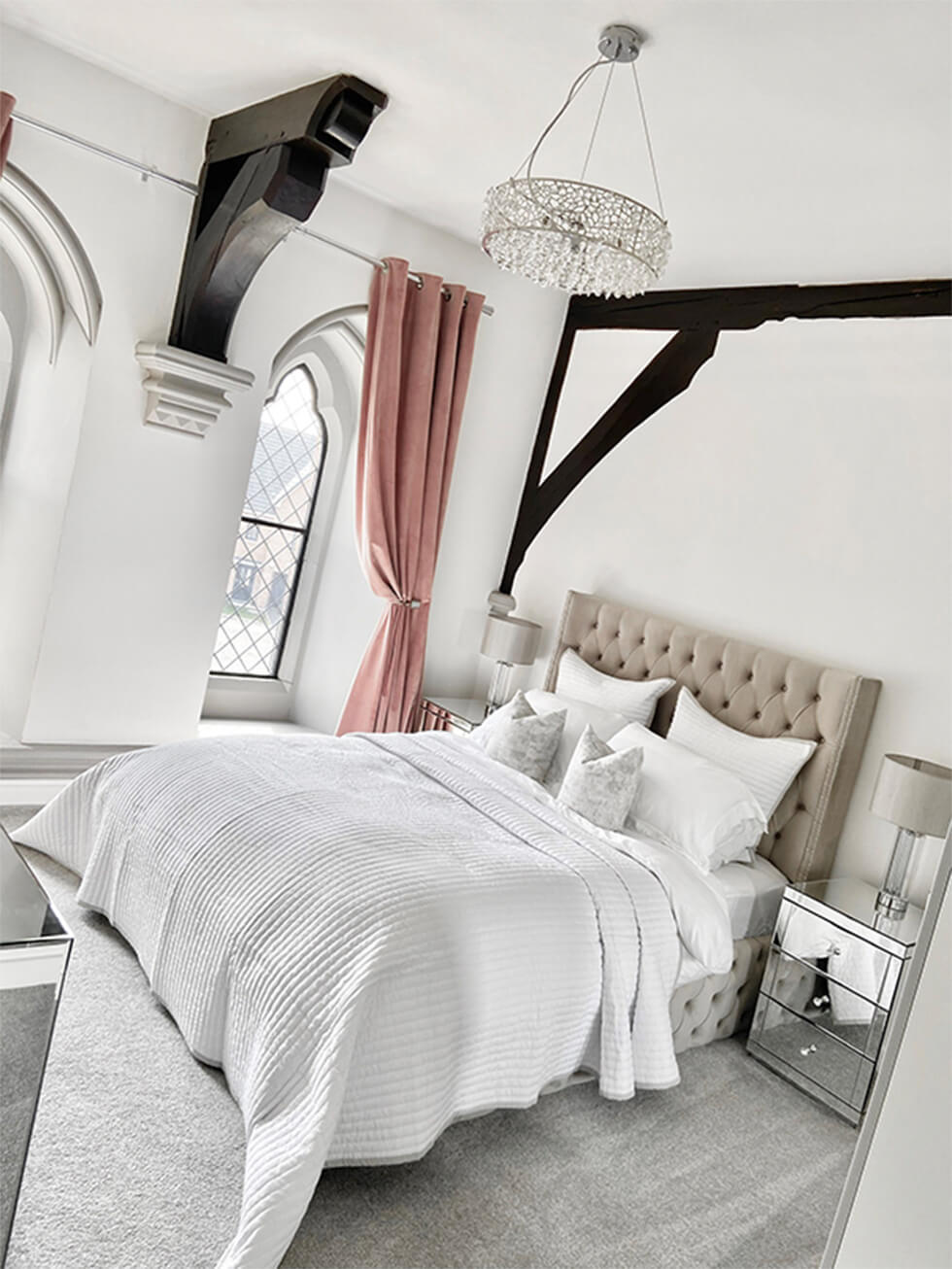 My top tip would be to always add a luxurious big throw on your bed and ensure your room has statement pieces (such as a hanging light fixture!)
Looking for more ways to bring everyday luxury into your home? Check out 6 more tips here.