How to: 8 cool boys' bedroom ideas
From toddler to teenager, here are 8 great ideas to create a bedroom your son will love.
1. Dinosaurs - take a walk on the wild side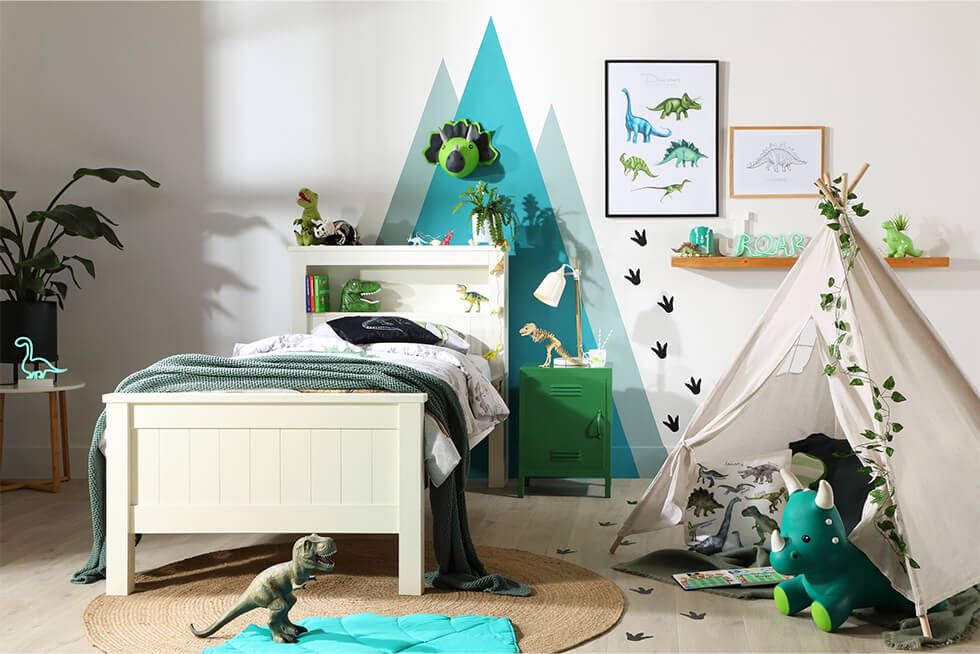 Dinosaur motifs are common when it comes to children's bedrooms, but there are some playful new ways to update it! Layering colour, wall decals, bedspreads and textures can create a colourful space that embraces a love of dinosaurs without feeling juvenile or scattershot.
For example, style a dinosaur-themed bedroom with a mountain mural backdrop and a cute play tent area. Spark their imagination with dino soft toys, footprint wall decals and artwork throughout the room.
2. Encourage the explorer with mountains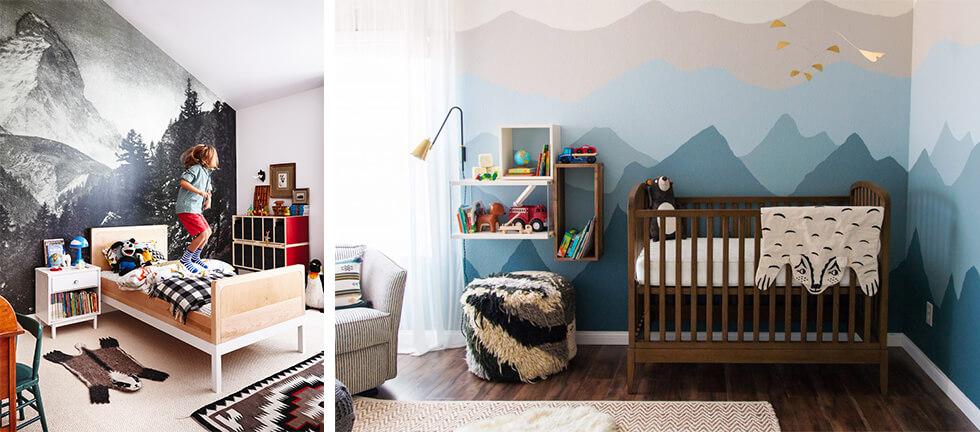 Mountains are deeply evocative - of adventure, exploring the great outdoors, and all the possibilities that lie ahead, and that makes them a wonderful idea to work with in boys' bedrooms. For a photorealist take that's also a strong, grounding feature wall, opt for wallpaper or a monochrome mural.
However, you can also do it yourself with some paint and tape. Map out the mountains that you're planning to have, and then paint them in, for a calming, ombre look that will also easily transition to an older child or tween's room.
3. Map it all out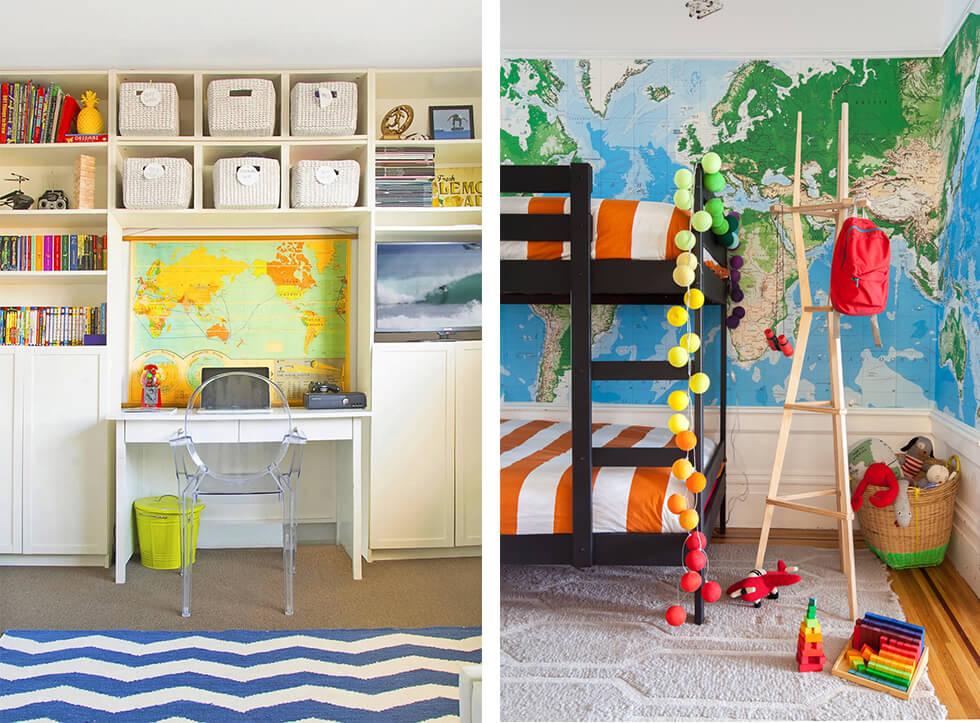 Speaking of exploring, maps are also a wonderful way to capture the imagination, impart some knowledge, and showcase what a wide, beautiful world we live in. Whether you go for a floor to ceiling look or scale it down to fit into a reading nook, maps are multitasking wonders, and are lovely to look at as well, adding colour and texture to the bedroom.
4. Create a Batman-themed bedroom for your little superhero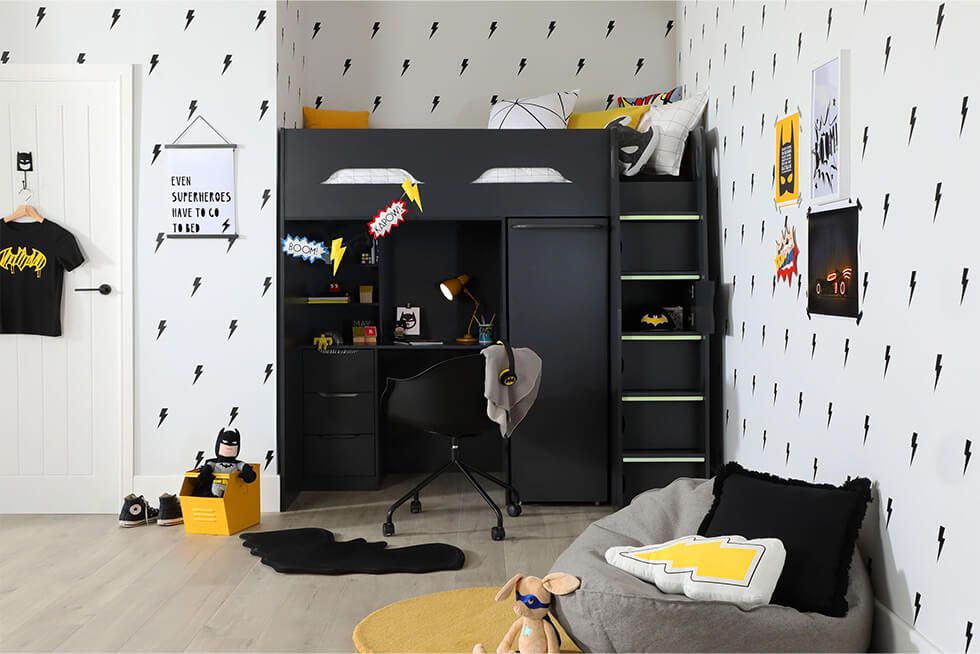 If you want to create a Batman-themed bedroom for your little one but are worried that it would be too loud or gimmicky - start with a monochrome palette for a clean base. Tie the look together with a black and white palette and bold yellow accents in the form of superhero decals, soft toys and posters on the walls. Make their dreams come true with a Batcave-style high sleeper bed featuring a built-in desk and pull-out wardrobe.
5. Make it a space to play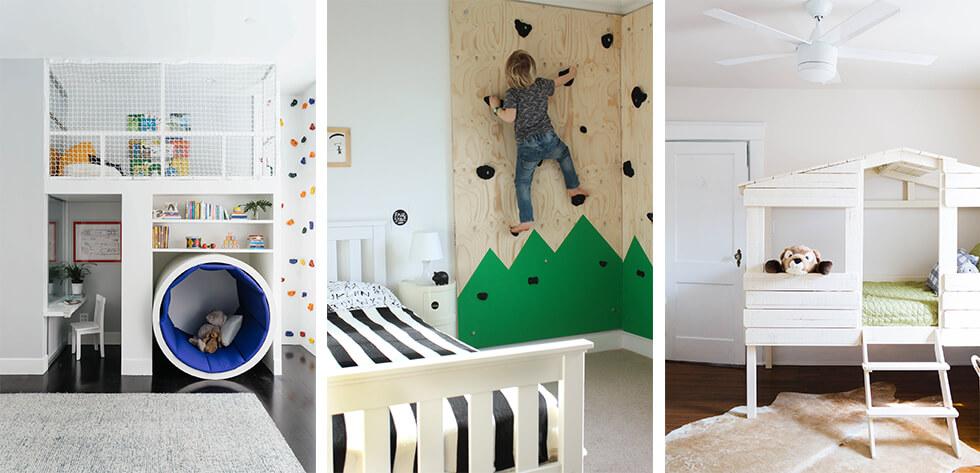 When it comes to looking for boys' bedroom furniture or bedroom sets, bunk beds are likely to come up. Aside from being space savers for children who are sharing rooms, part of the thrill lies in climbing to the top bunk, and having that ladder there to clamber on.
So why not extend the fun, and build in cubby holes and play spaces in your son's bedroom? It doesn't have to be very extensive - a simple rock climbing wall or mini treehouse bed will certainly do the trick, and create a bedroom that your child will enjoy spending hours in.
6. Enjoy bold updates on classic blue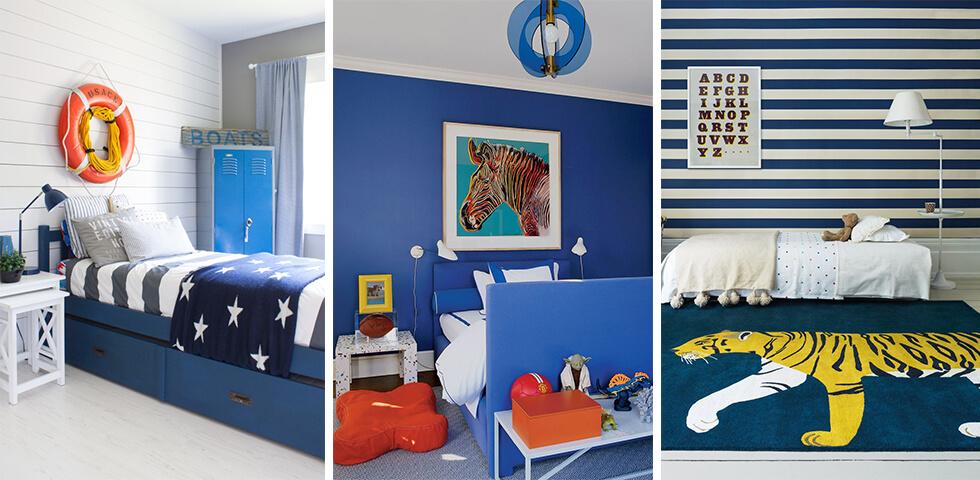 Blue has always been a classic choice for a boy's bedroom, and with good reason, but it's also due for an update. A nautically inspired room allows for the introduction of stripes and stars for some added prints, while a bold, graphic rug adds plenty of style punch and can easily be moved to another space or room, if you're looking for a change.
Or push the boundaries further, and go with a more vibrant shade of blue, for a thoroughly modern space that can take other pops of colour, such as red and white.
7. Explore the galaxy with a space-themed bedroom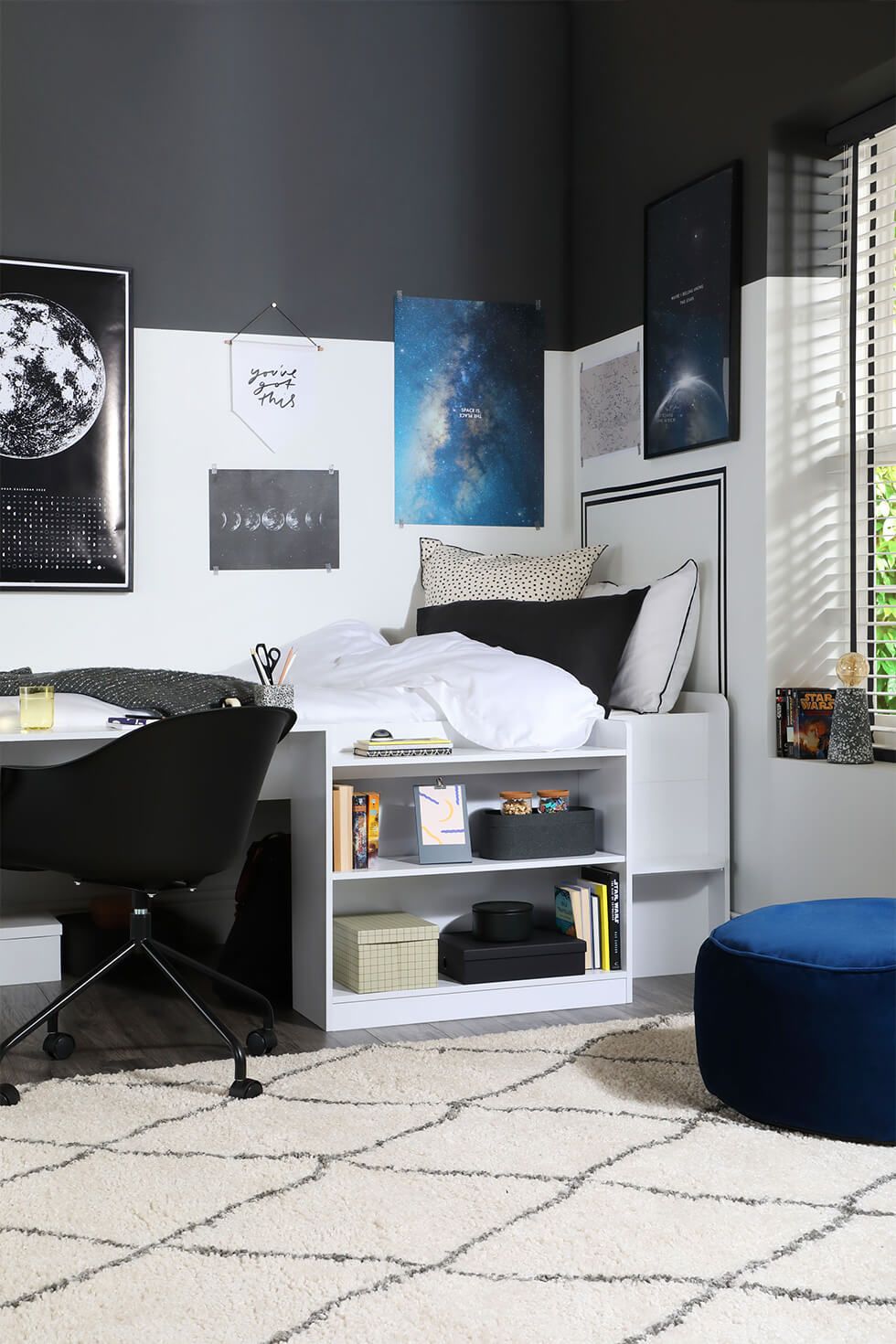 The lure of the galaxy and spacecrafts is a loud one, and there are many ways to translate this into designing a room. Paint the ceiling dark grey to create the illusion of sleeping under the night sky. Then dress up the walls with space-themed posters.
8. Write and draw on chalkboard feature walls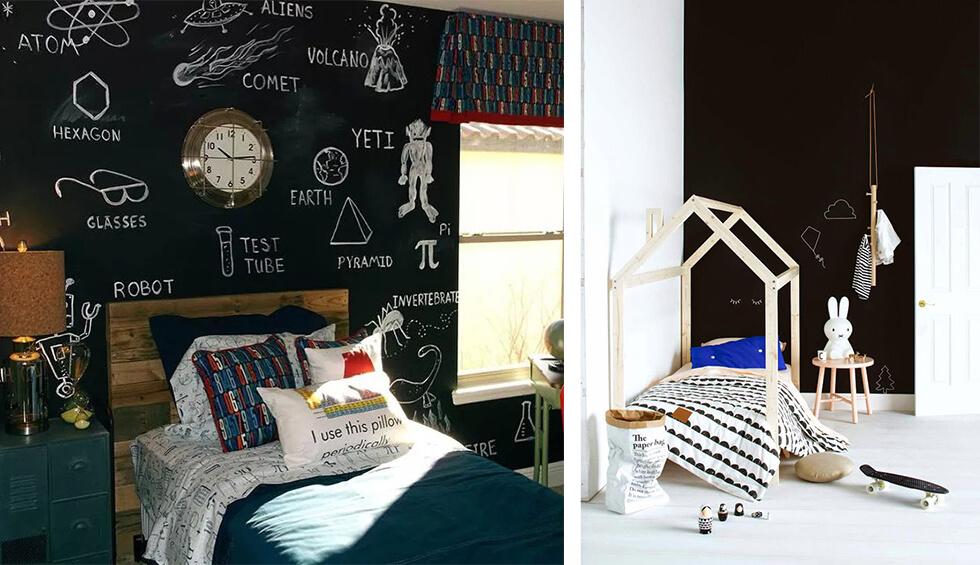 Rather than discouraging your child from drawing on walls, give him room for his creativity to flow free! A chalkboard feature wall allows your son to customise his own bedroom, whether it's in the form of adding his own decorations, using it as a notice board, it's a way to really make the space his own - and it's all easily done with just a few coats of paint.
Looking for more fun themes to dress up your child's bedroom? We've got more creative kids' bedroom ideas to light up the little one's space.