Express yourself: 6 fun design tips to try in the bedroom
Experiment with daring new trends in the bedroom, and create a space that expresses your style and taste.
More than anywhere else in the home, the bedroom is a truly personal space.
Which actually makes it a perfect spot to express yourself, and try out more daring trends! Whether it's experimenting with colour or displaying art, being able to create a space that really captures who you are is a wonderful thing.
Here are 6 great styling tips and trends to try out in your bedroom.
1. Display art and photos with a gallery wall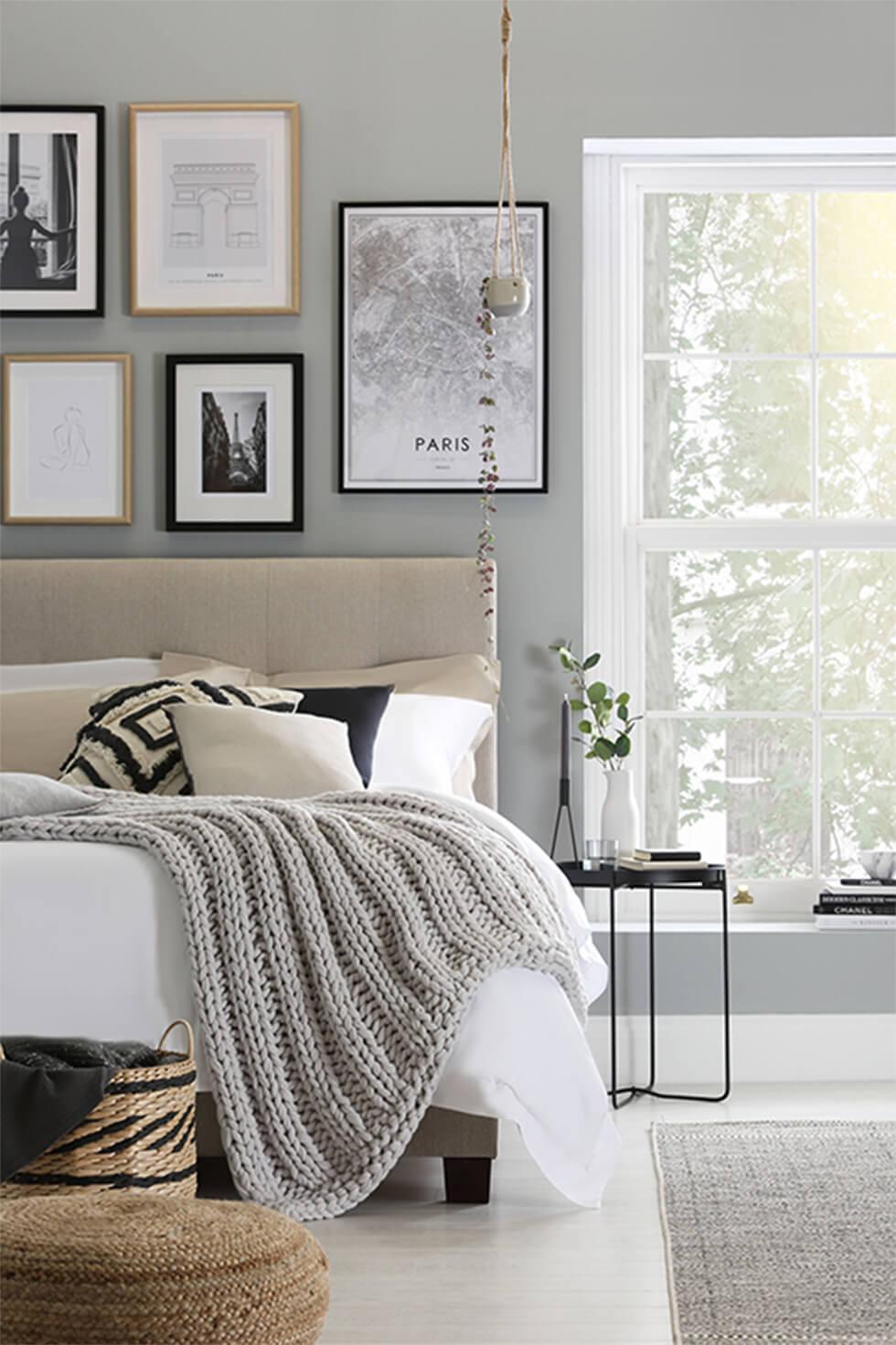 First of all, what better way to express yourself than to display the things that are meaningful to you? A gallery wall is a lovely approach for a feature in the bedroom, since it's a wonderful way to showcase what makes you feel most happy and content.
Anything goes here, whether it's a beloved poster or postcard, personal drawings, family photos, mementos of travel such as ticket stubs… the list goes on.
To get a cohesive, finished feel, frame your chosen items before hanging them up. You can also plot the layout by cutting pieces of paper that will approximate the size of the frames, and stick them onto the wall to have a sense of how it will all look.

2. Bring a little colour in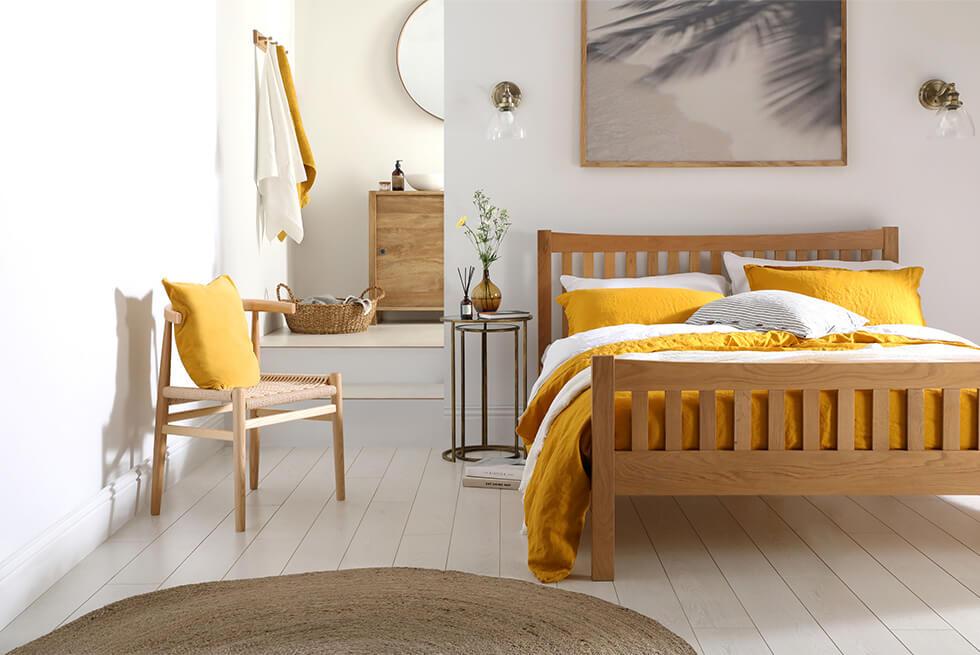 If you're keen on trying out colour, especially brighter or bolder tones, one approach is to introduce it in small pops. For instance, it could be in a vase by your bedside table, art, maybe even your bedding.
Having variations on a colour is a fun way to have a thematic, cohesive feel in your space - or scatter it across the room, as we see in this bright, summery bedroom with its yellow pillows and duvet cover. When paired with an otherwise neutral palette, touches of colour add a lot of visual interest and style panache, without being too much.
3. Or go all out with lots of colour!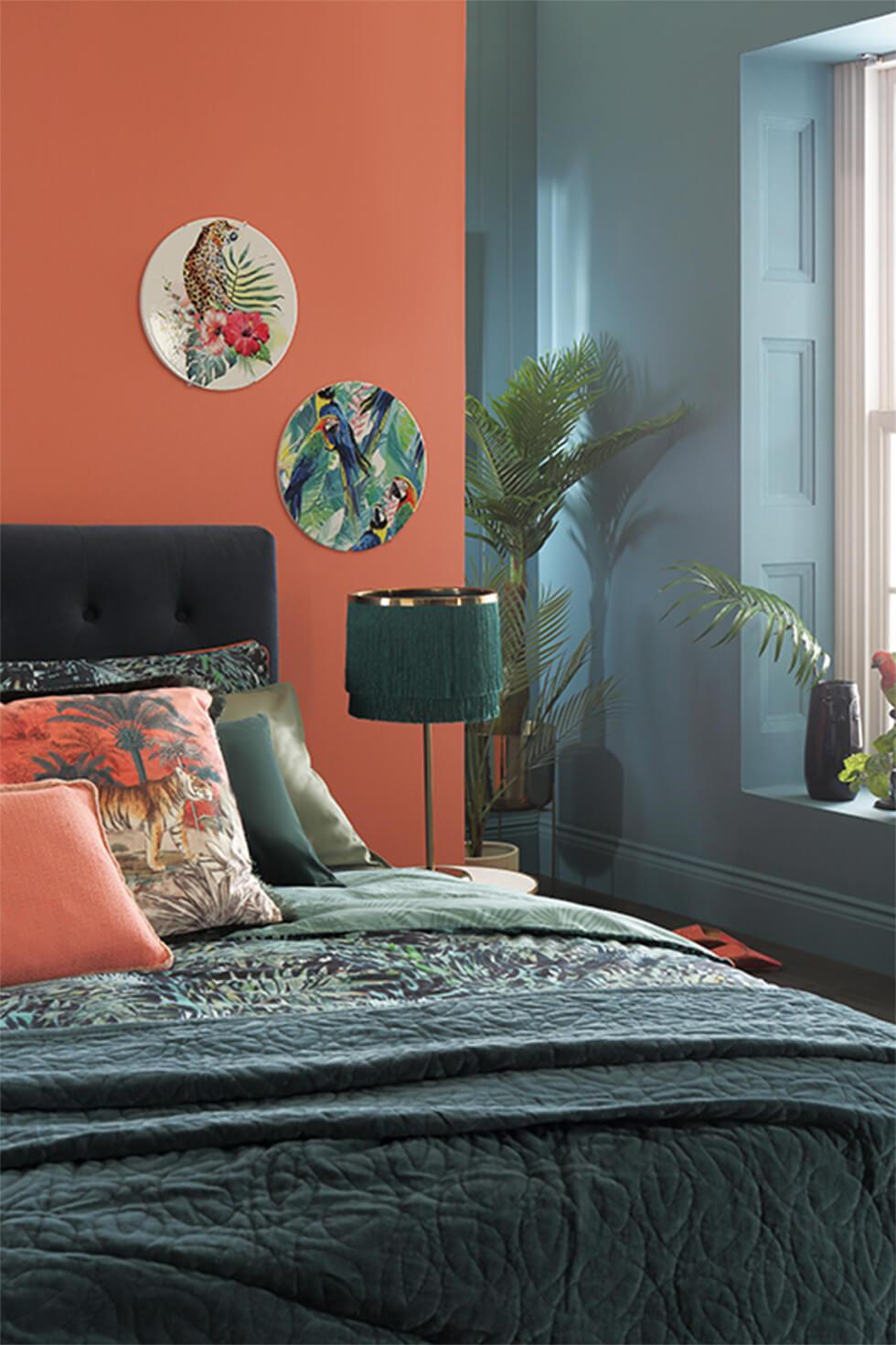 Some advise against bright colours in the bedroom - but that's the beauty of decorating your own home, you get to make up your own rules!
So if you love vibrant tones like orange, red or peach - feel free to use what makes you feel best and look for moments of balance. In this bright, tropical-inspired room, the warmth of the orange is beautifully contrasted against teal and green, which also have a grounding, calming effect.

4. Experiment with prints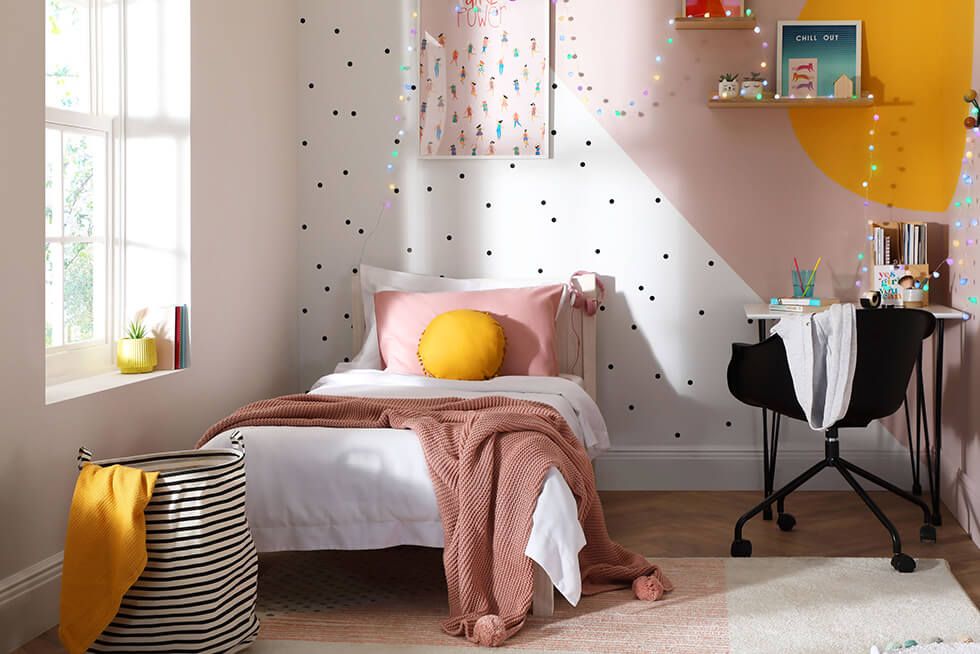 Or maybe you enjoy the whimsy and visual delight that prints can bring! There are a few approaches you can take here.
Wallpaper has the most immediate impact, and can transform your room very quickly. Start with the look and feel you want to achieve - whether romantic (think florals and soft colours), fun (interesting graphics and shapes) or formal (classic patterns, such as stripes) - and go from there. And you can always start small by trying it out on a feature wall first, before branching out.
But you can also play with prints in other ways - through bedding and pillow covers, for even more punch. Look for similar motifs or colours, so that even if you have a few prints in the same space, it all ties together.
5. Get sensual with rich textures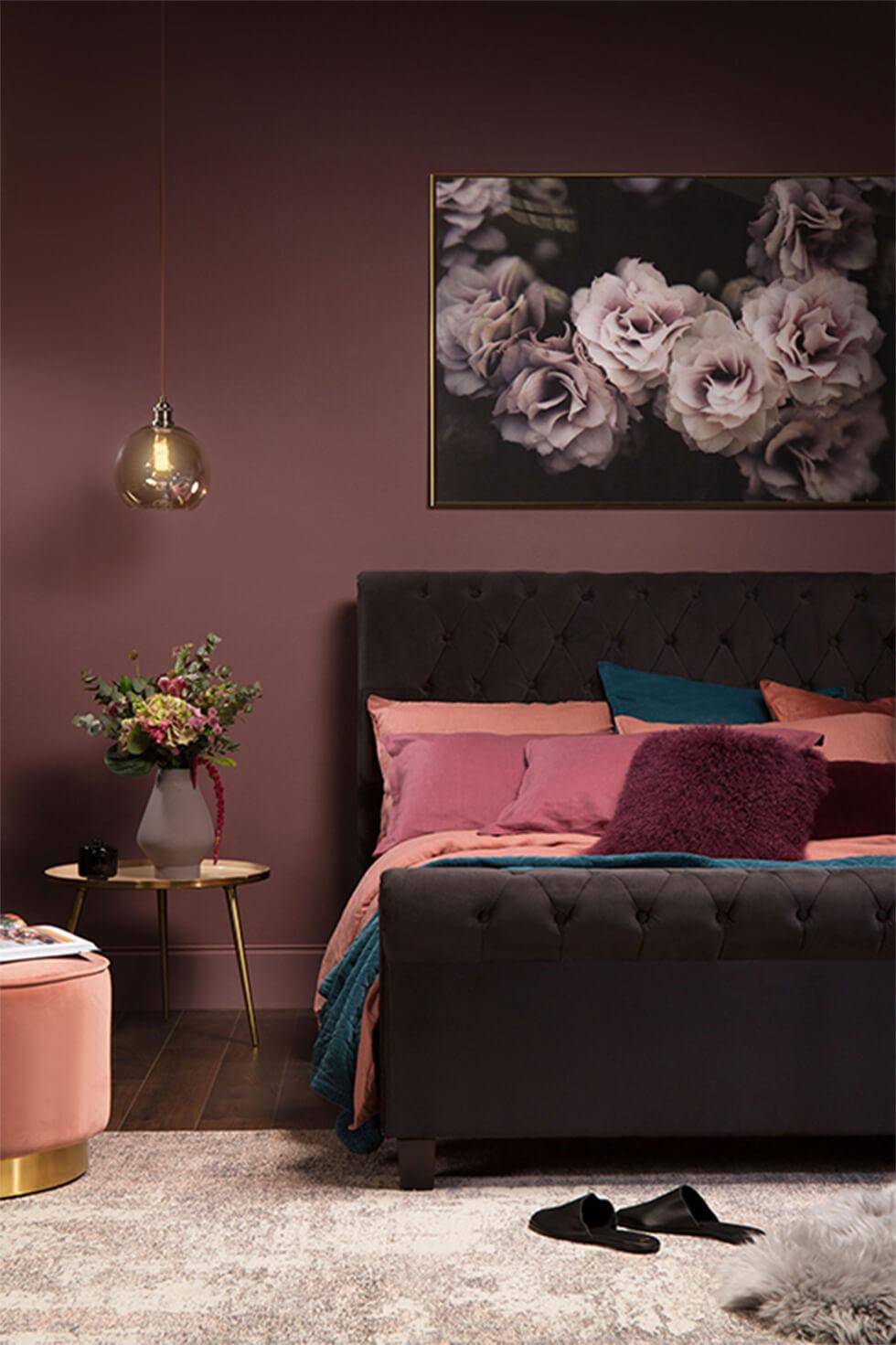 While we all know the importance of having a comfortable bed, the rest of the bedroom should also have a sense of soft cosiness and touchability. And there's no easier way to achieve that than by adding rich fabrics and textures.
A velvet bed instantly adds that tactile, plush feel to the room while also being a sophisticated choice. You can also pair it with a soft, deep rug for even more comfort and play it up with darker colours and metallic finishes for a thoroughly glamorous, inviting room.

6. Highlight a statement piece
Wall panelling has become a top interior design trend in recent years, thanks to its ability to turn blank walls into beautiful focal points. Make a chic statement with fluted wall panels - instead of going full height to the ceiling, go for a half-height panel which doubles as shelving for artwork and small accessories. Highlight this feature piece even further with colour, like blush pink for a soft, cosy effect.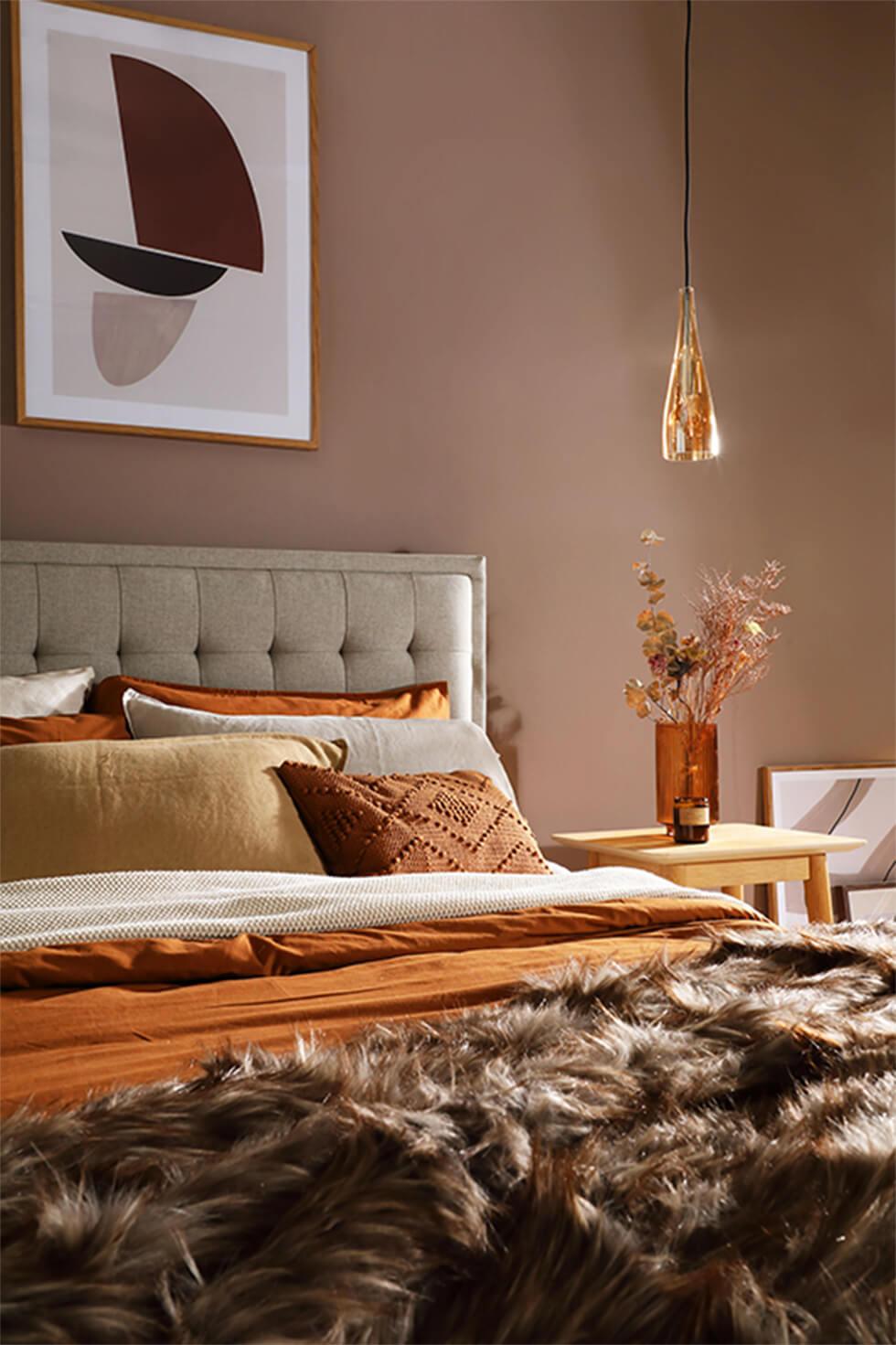 Lamps, chandeliers and other lighting options can be a particularly smart way to play with this, as light can make a huge difference in the bedroom, especially when it comes to making it feel cosy and welcoming.
Look for options that offer a little something extra like sculptural pendant lamps or wall sconces. This hanging bronze pendant gives vintage charm and glamorous shine to a warm, chic bedroom.