8 Ways To Incorporate Art Deco Interiors Into Your Living Room
How can you make your living room Art Deco? Get to know more about this bold and timeless decor style which defined the 1920s.
A defining style of the 1920s and 30s, Art Deco interiors are known for its glamour and decadence. Characterised by an eye-catching colour palette, geometric patterns, streamlined shapes and luxurious finishes, Art Deco is a style that's both chic and distinctive.
Since it's an interior design style that's all about making a grand statement, it makes perfect sense to go all out when decorating your living room. Read on to discover how to give this décor style a modern interpretation while still maintaining Art Deco's unique touch.
After you've read our styling tips, browse our range of velvet sofas to get started on decorating your modern Art Deco living room.
1. Choose A Bold Colour Palette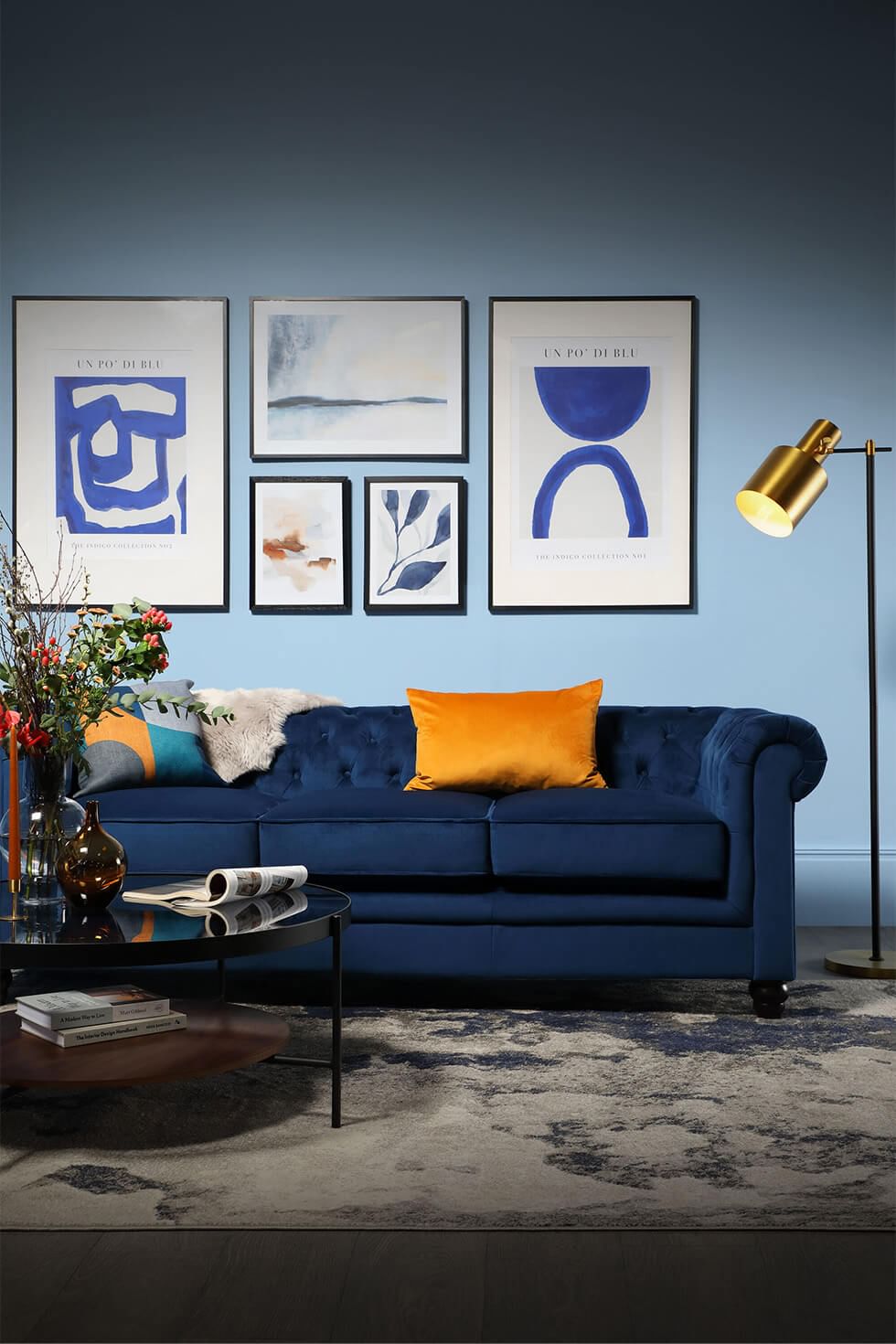 Art Deco interiors are known for their showstopping style which often favours a bright colour palette. As the saying goes 'fortune favours the bold', so go all out with a jewel tone palette when choosing your sofa. Pick a bright and glamorous colour like deep blue, rose pink, mustard yellow or emerald green. You can complement the sofa colour with lighter hues on the wall such as sky blue or neutral accessories to soften the room.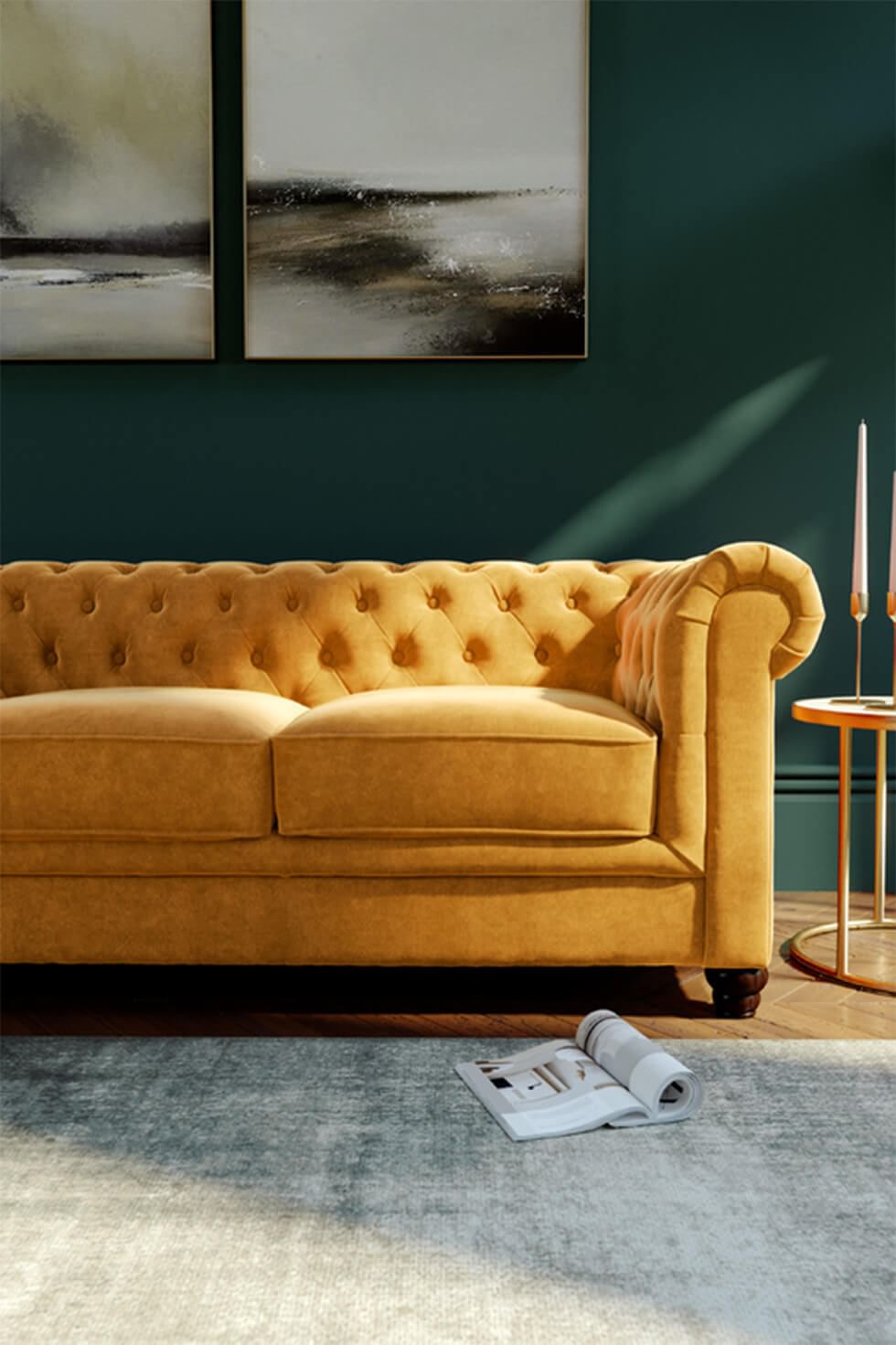 Or you can create a stylish contrast with a light hue for your sofa and dark wall colour like mustard yellow and dark green. The tip here is to choose two distinctive and rich colours to add depth and sophistication to the room.

2. Go Monochrome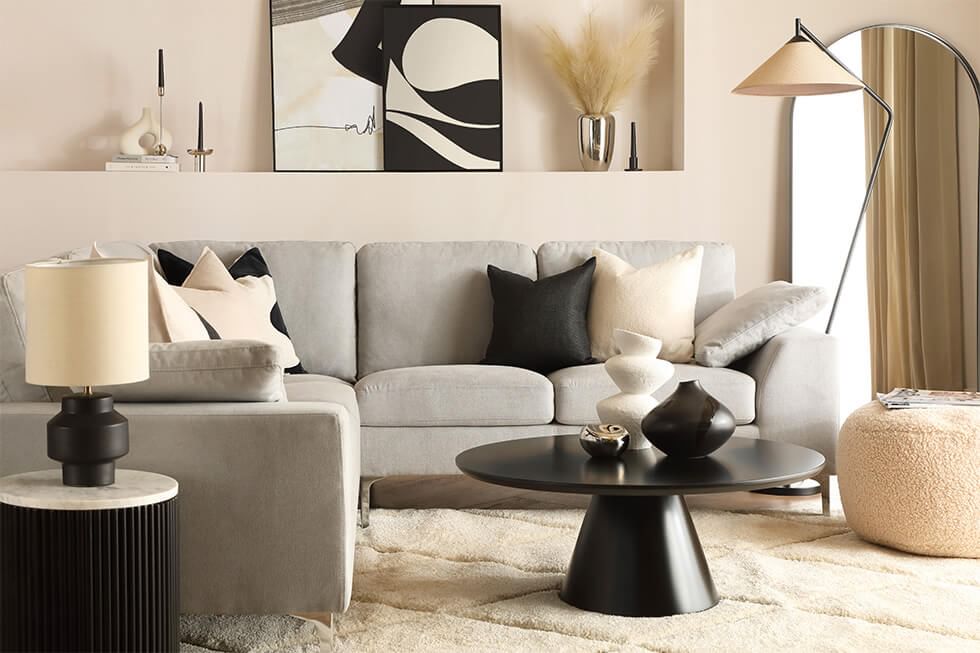 On the other hand, Art Deco style also works perfectly with black and white interiors thanks to its clever use of straight lines, geometric and streamlined shapes in the décor. Channel this timeless colour palette in the living room by starting with a neutral base on the walls and a light grey sofa. Then add contrast with chic black accents. Bring in these accents through the stylish curves of a coffee table, abstract artwork and cushions.
3. Incorporate Geometric Patterns
Another signature element of Art Deco (and the movement as a whole) is the clever use of geometric patterns and symmetrical motifs incorporated into the interior and architecture. Common geometric designs include:
chevrons
zigzags
trapezoids
sunbursts
triangular shapes
scalloped shapes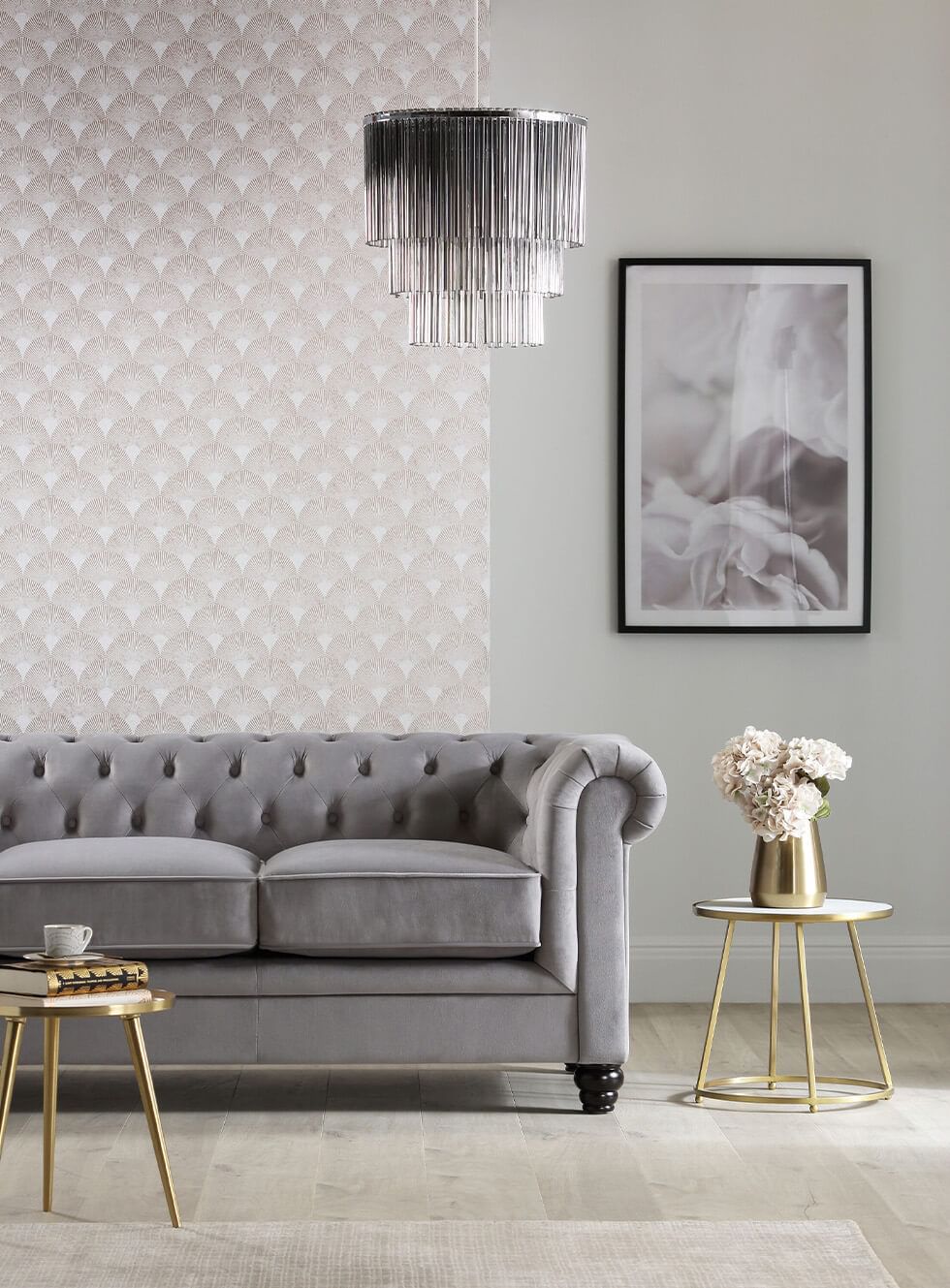 The great thing about these motifs is that you can experiment with how you want to integrate them into your interior. You can start by elevating your living room with scalloped-shaped wallpaper as a feature wall.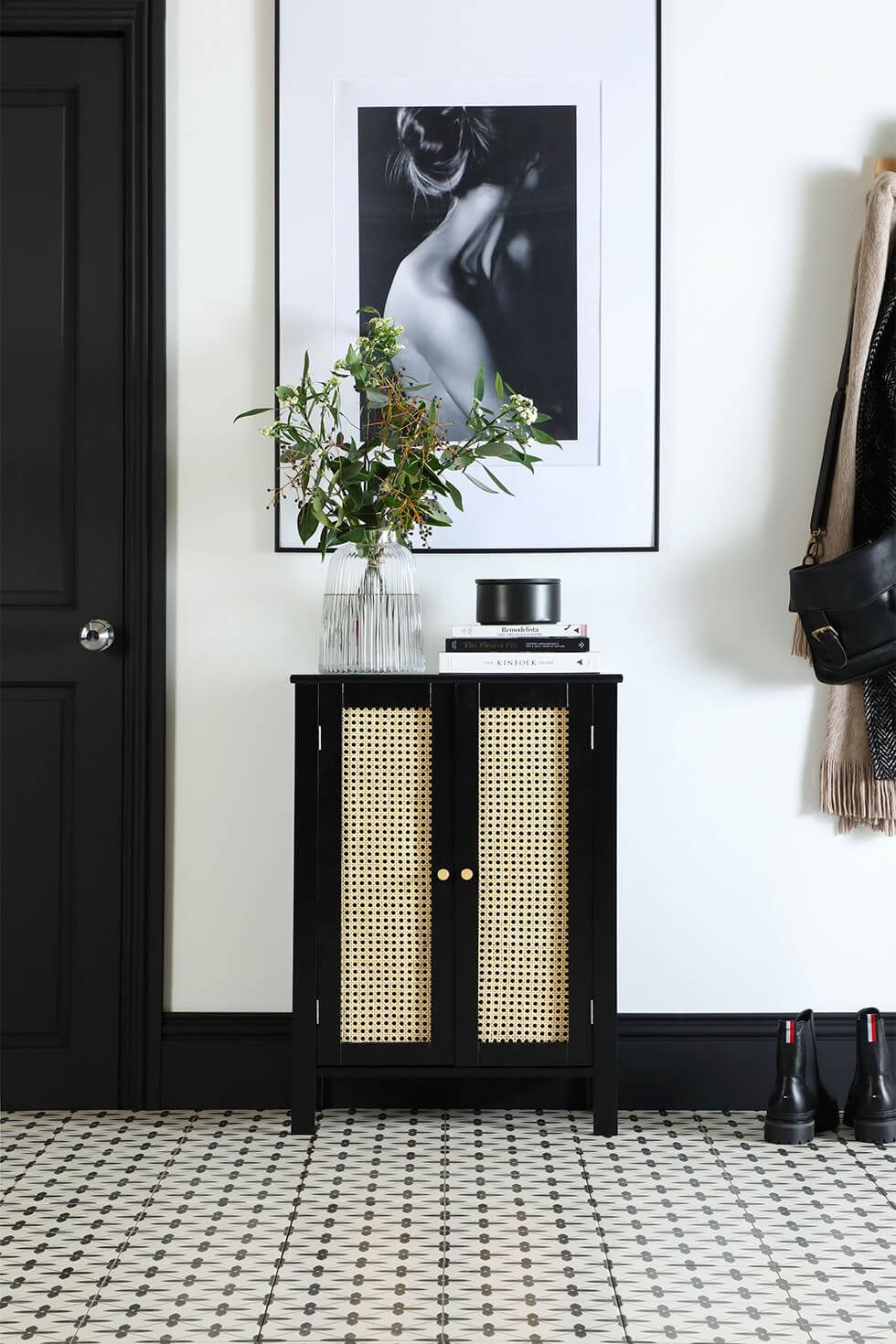 Or you can give your flooring a designer-worthy update with beautiful ceramic tiles in a geometric motif. Go for a black and white palette to match the tiling and to make the room look symmetrical.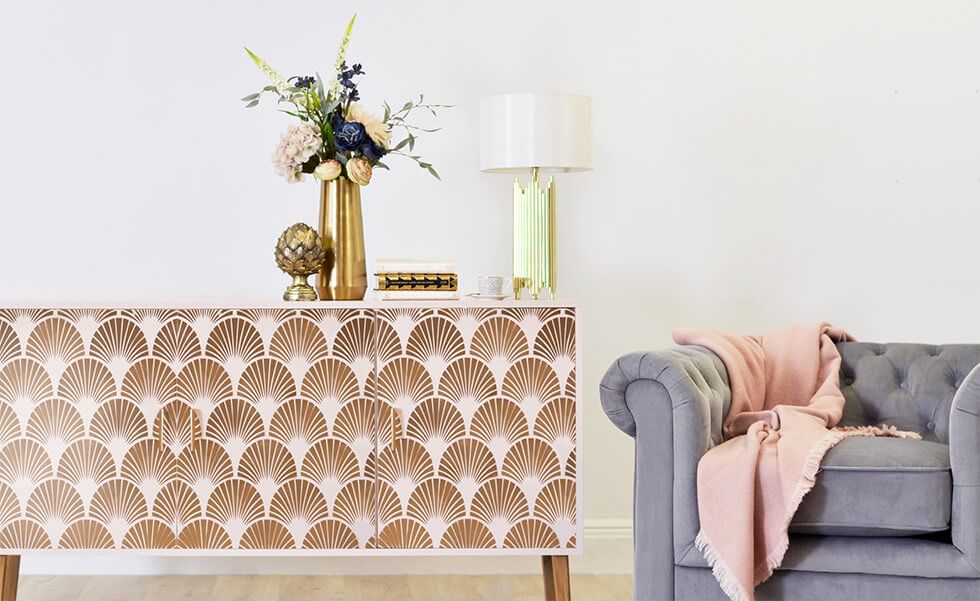 And you can use also use geometric motifs to give your furniture a glamorous update while on a budget. For example, turn an ordinary sideboard into a showstopping Art Deco-inspired piece with the help of stencils and spray paint. We love how this sideboard jazzes up (pun intended) the room while also being a functional storage piece.

4. Go All Out With Glam Lighting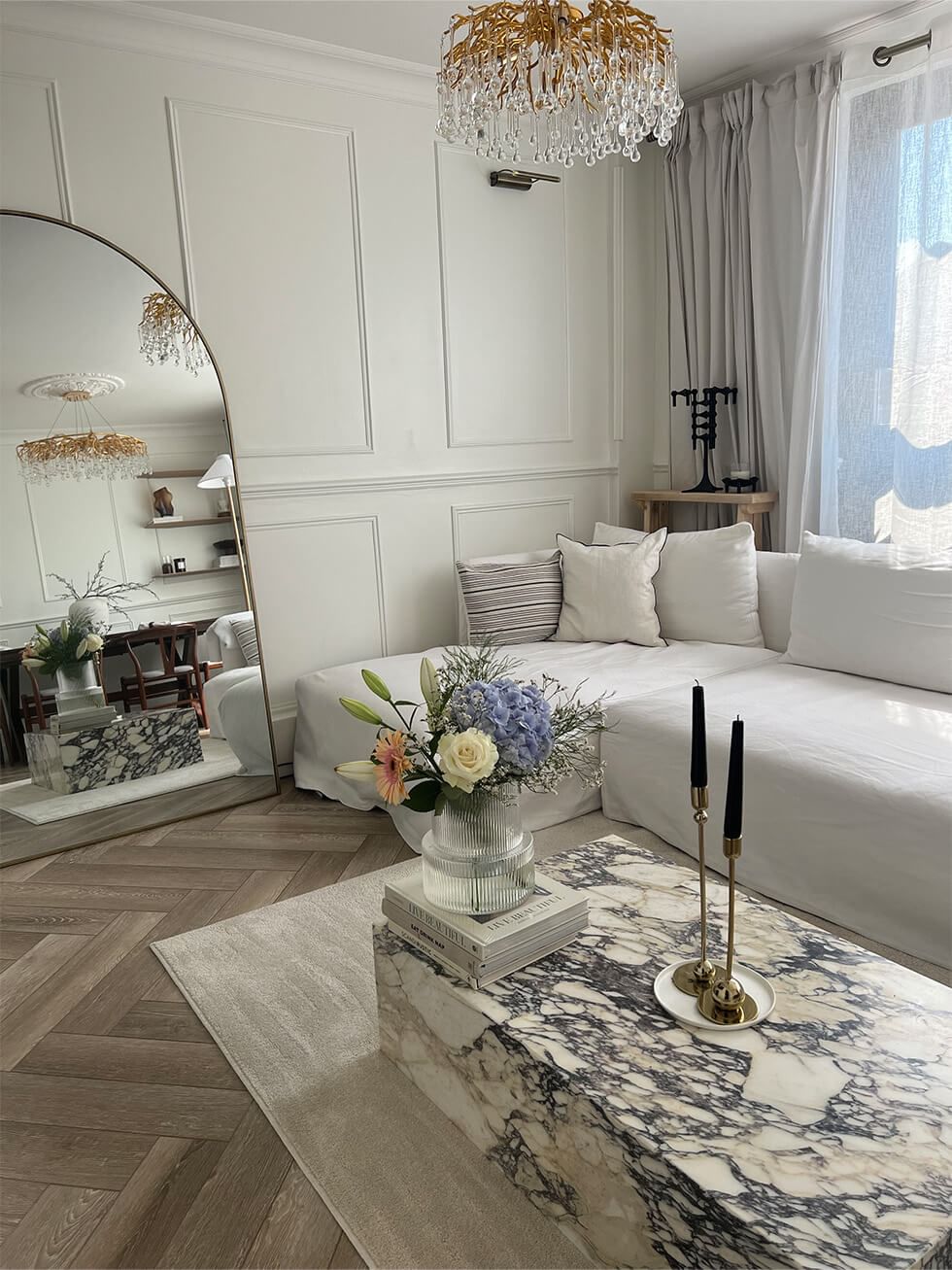 Capture the glitz and opulent mood of the Art Deco era with the right lighting. Channel the Great Gatsby vibe (but with a modern touch) with the help of an eclectic chandelier that has a cascading effect. Or you can opt for sparkly lighting fixtures with geometric or symmetrical patterns to bring out Art Deco's signature touch.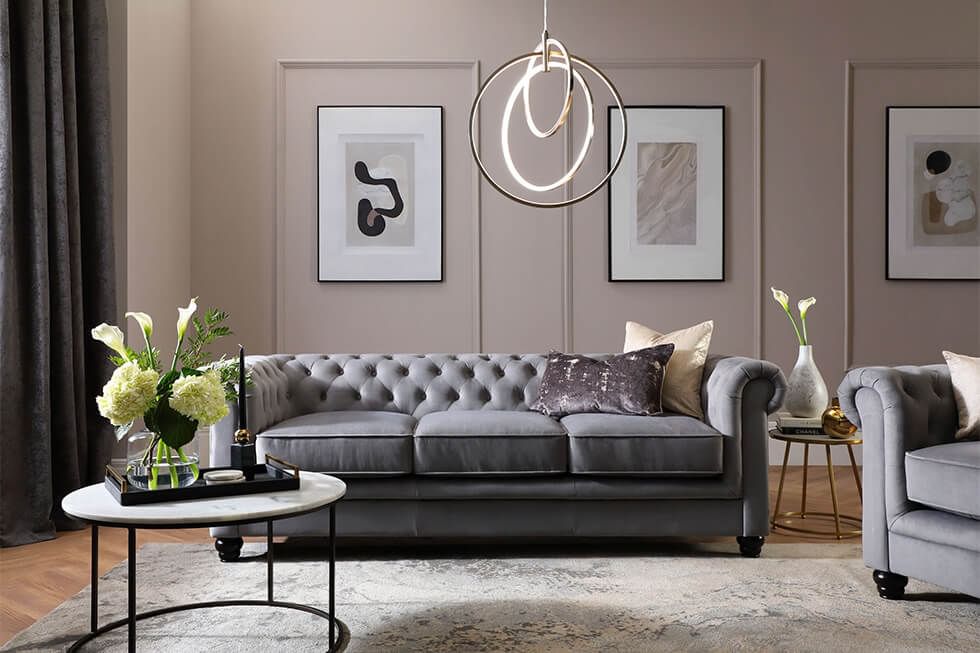 If you prefer a more contemporary and pared-back version, focus on sleek lighting fixtures with streamlined shapes or simple curves which are also another characteristic of Art Deco house interiors.
5. Be Bold With Luxe Finishes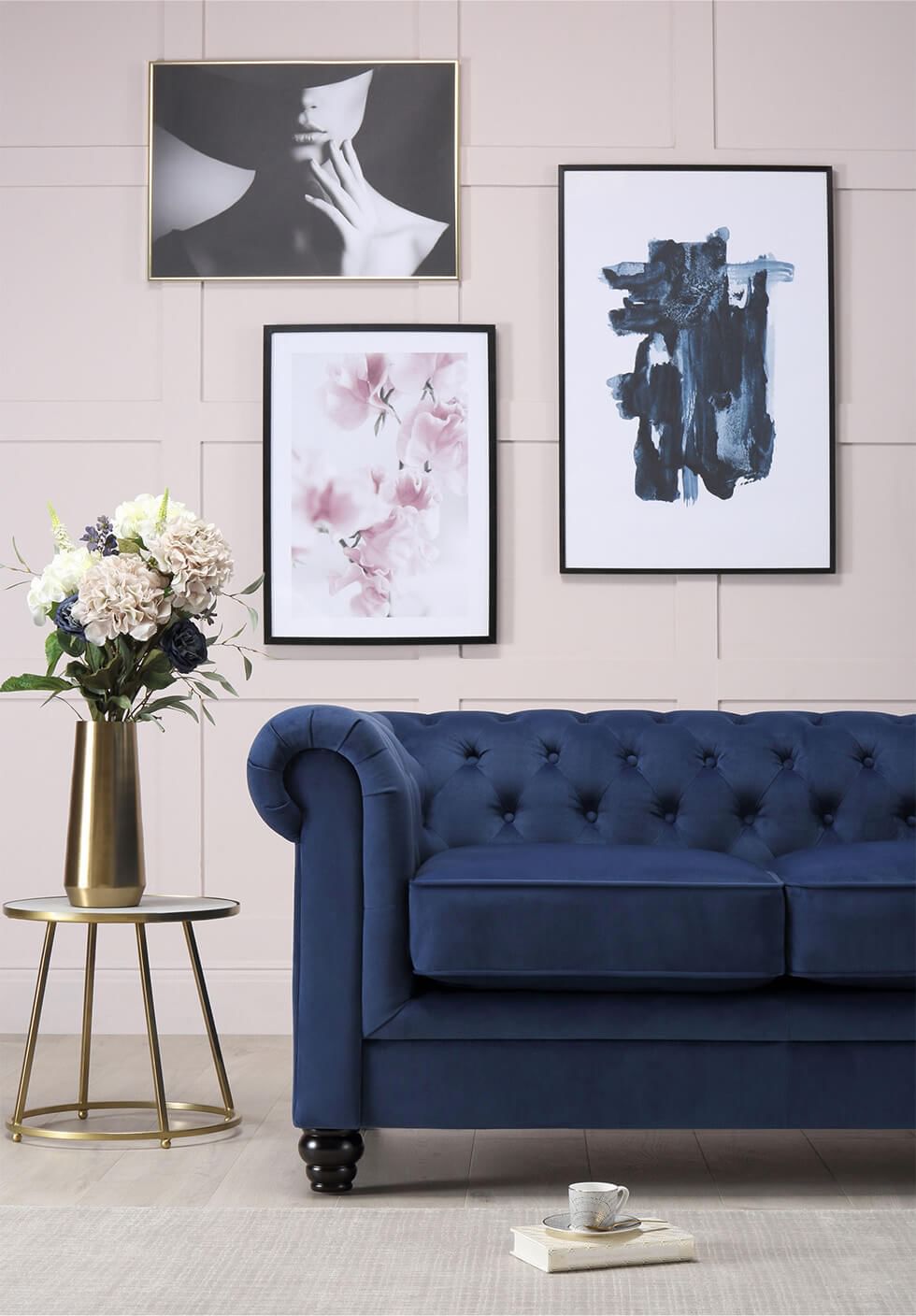 Classic Art Deco interiors are known for their emphasis on flashy materials such as gold, brass, chrome and marble highlighting the new wealth of the 1920s and 30s. Pay homage to the era by introducing these luxe materials through accessories such as a bold side table or coffee table in gold or brass.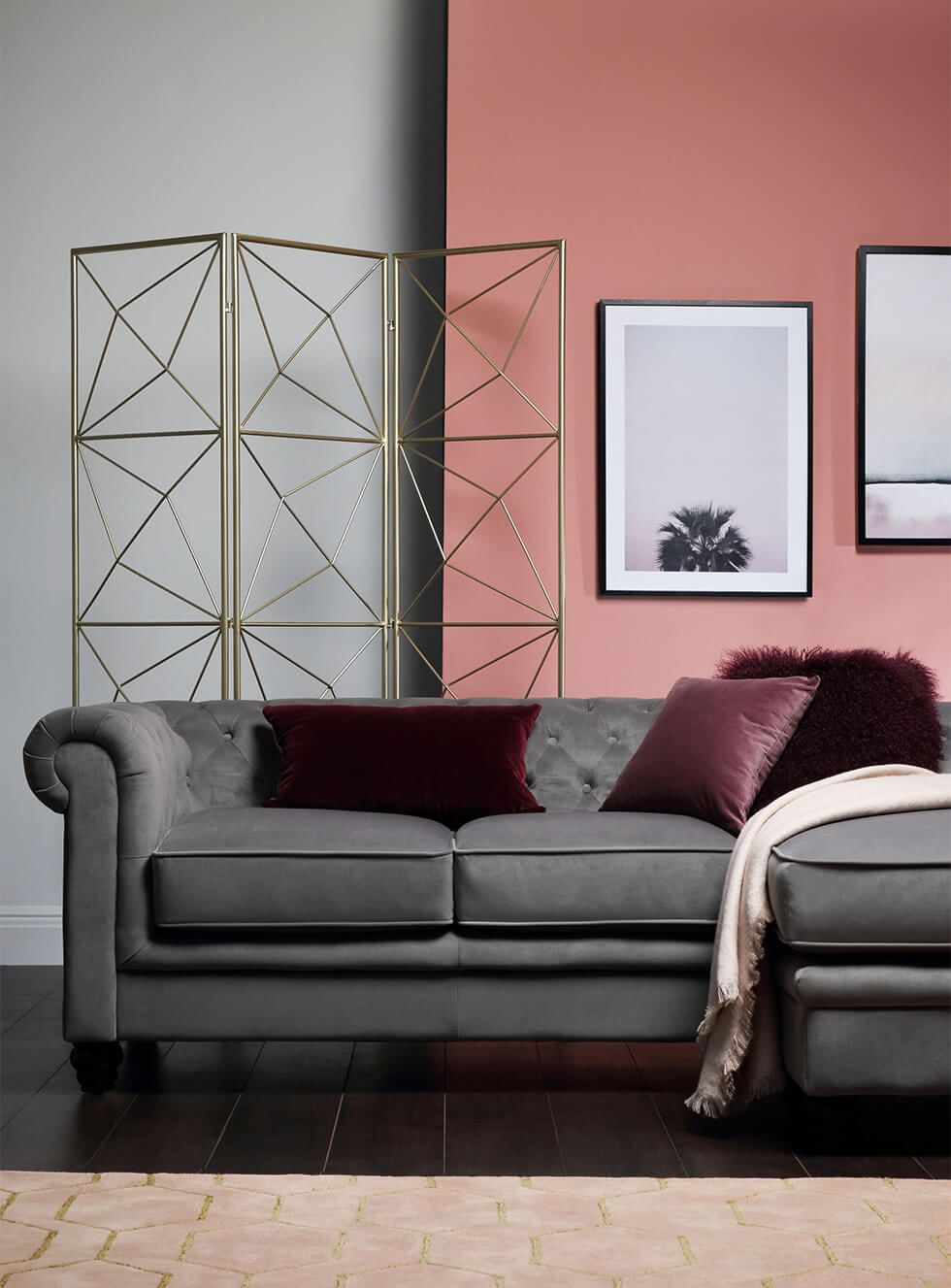 You can also use these gold or brass accents to zone an open plan space just like this stylish room divider. This allows you to change the layout of your space while still functioning as a decorative piece.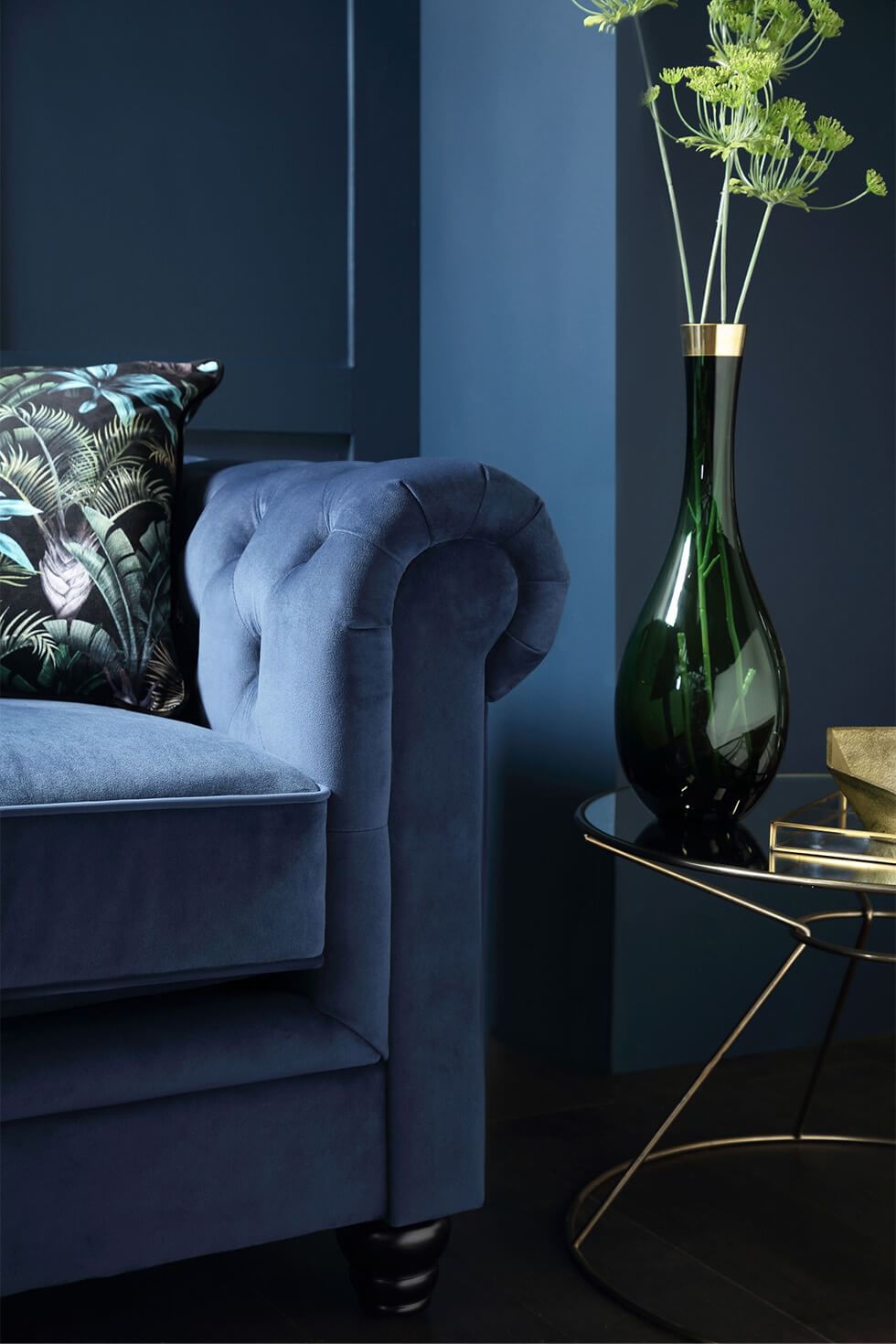 Choosing luxe textures also means soft upholstery such as velvet or leather. For example, pair a deep blue velvet sofa with a gold or marble coffee table to tie the look together.

6. Add Mirrors And Curves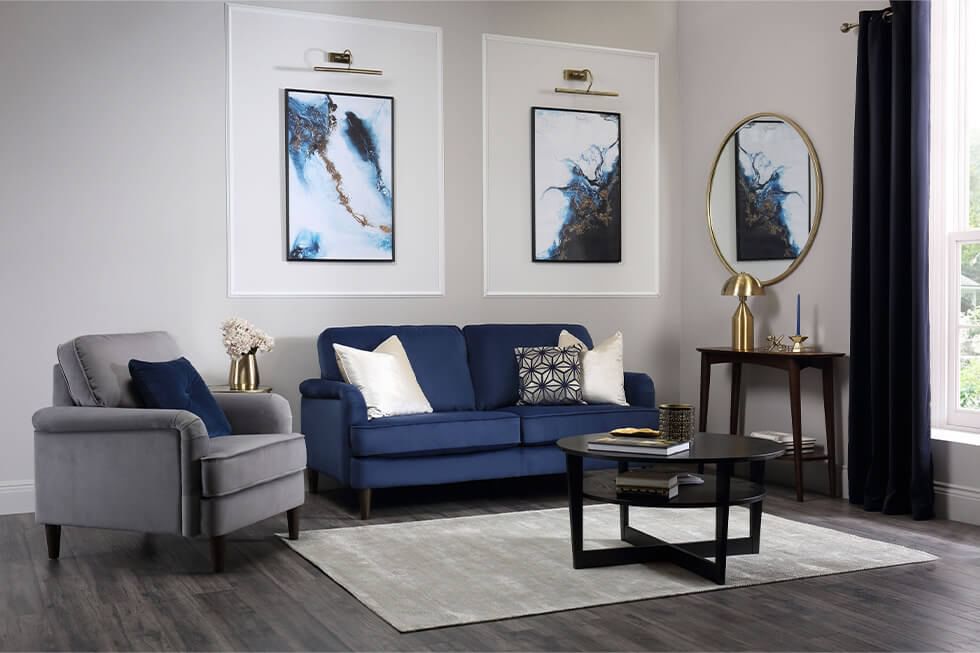 Aside from geometric motifs, use mirrors to bring a shiny Art Deco touch. Choose a round or starburst mirror to break up the linear lines of the room. Opt for a mirror with a gold or brass frame for extra shine.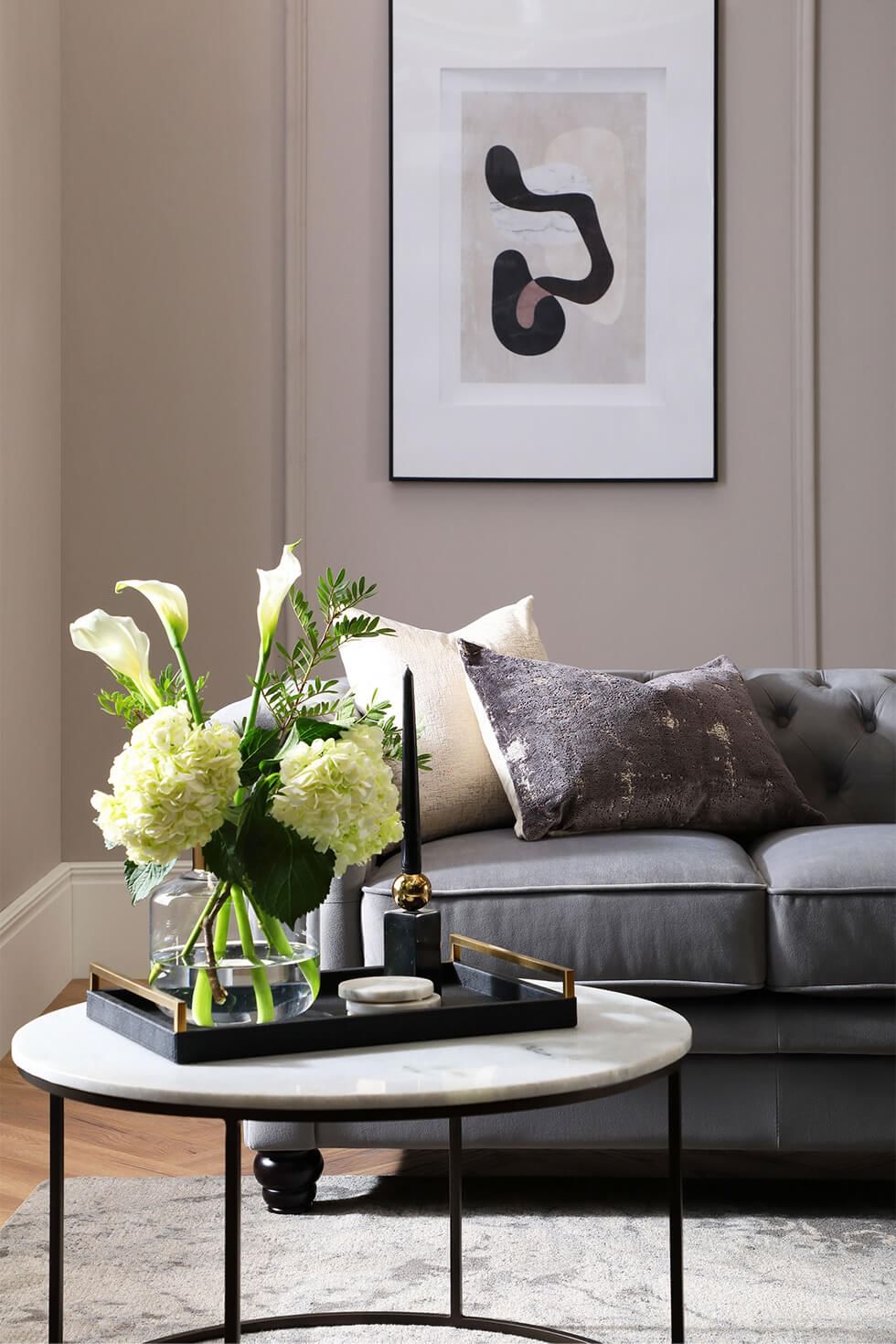 Bring in curved or rounded accents in small touches for the added luxe factor. For example, this round coffee table not only ticks the boxes for its circular shape but also for its classy marble top.
7. Create An Art Deco Reading Corner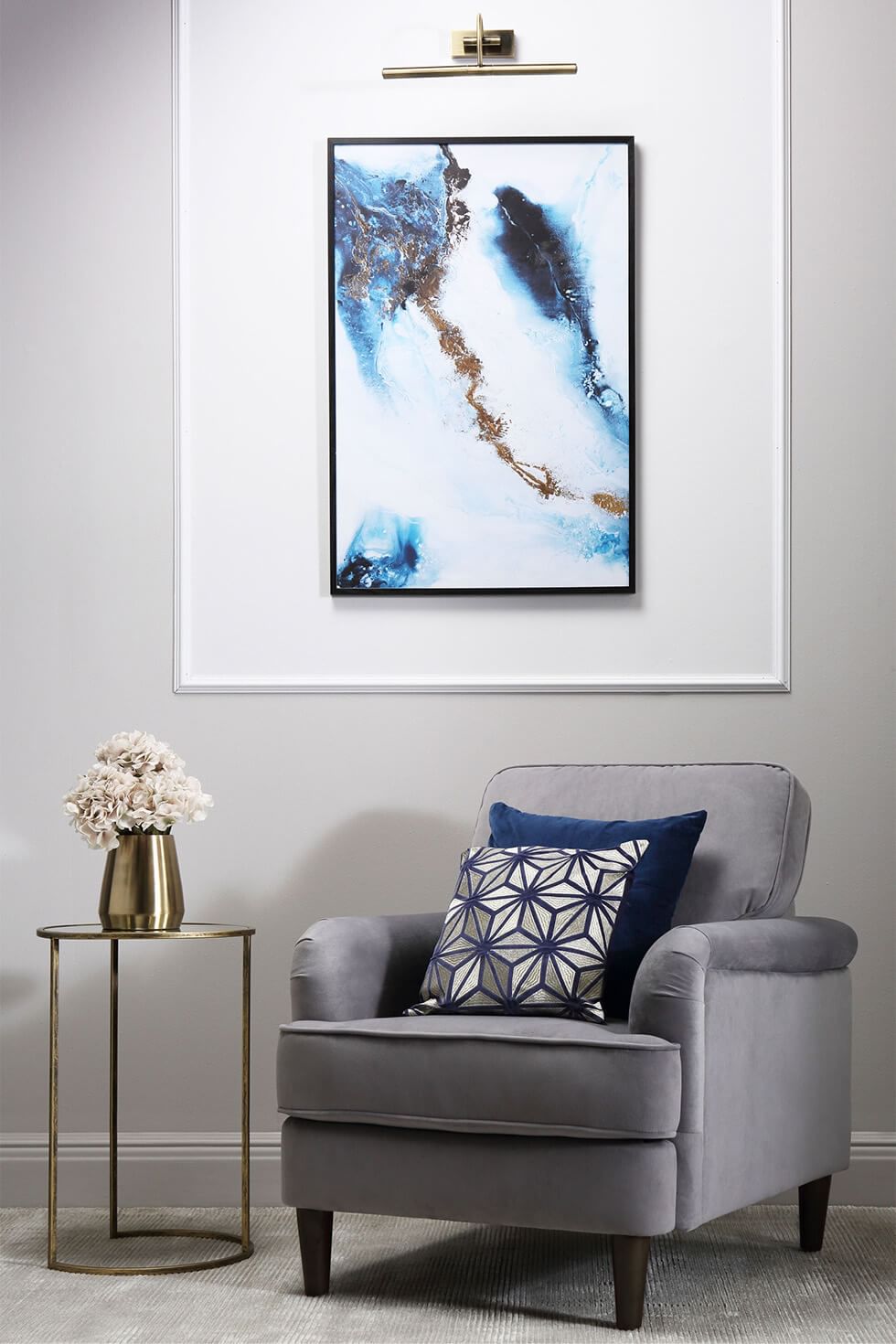 Introduce Art Deco's distinctive style into quiet corners of your living room. Create a relaxing reading corner which allows you to experiment with textures, clean lines and pops of colour. Add a classic touch with wall panelling to subtly bring another layer to the room and an elegant feel to the surrounding space.

8. Get Dark And Dramatic With Wood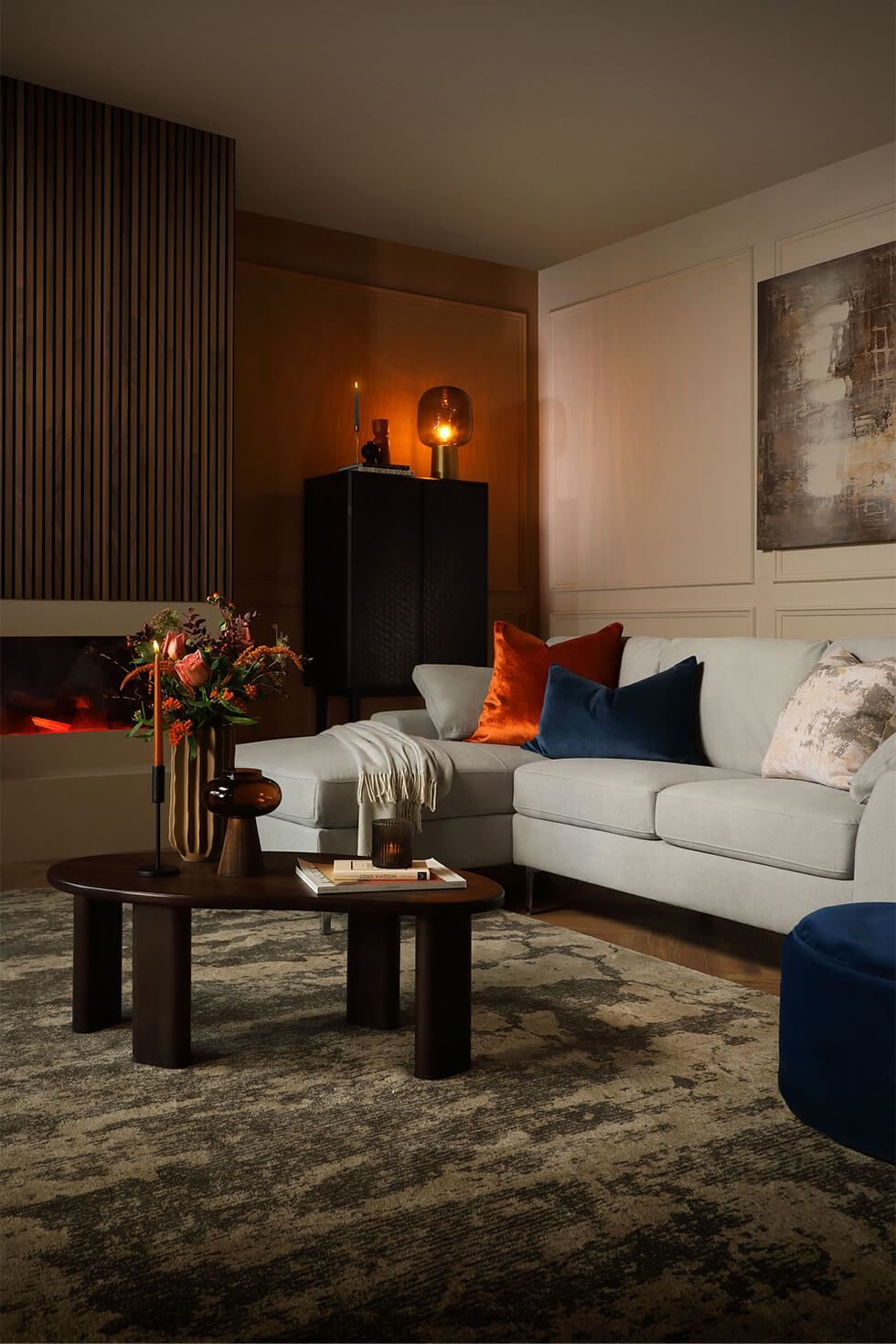 Besides the flashy metallics, you can lean into Art Deco's dark, dramatic side with wood flooring and a wood slat feature wall. Match the rich, moody vibe with a chic walnut coffee table and swanky velvet textures. Play up the glamour with sleek amber lighting and smoked glass accents.
We hope these Art Deco living room ideas inspire you to incorporate this classic style into your home. As a décor style that brings to mind glamour and sophistication, it has remained an enduring favourite thanks to its versatility. Discover our timeless furniture guide for more décor ideas and styling tips.