These purple bedrooms show how pretty and versatile this colour can be
From soothing lavender to luxuriously dark plum shades, purple can be an elegant choice for your bedroom - get started with these inspiring ideas.
Often regarded as the colour of royalty, luxury and magic, purple can be a spellbinding colour for making a statement at home.
At one end of the spectrum, a soft purple tint can be calming and light-hearted but if you turn it up a few notches deeper aubergine shades offer a bold contrast colour. Either way, we can all agree that purple's versatility makes it a suitable choice for the bedroom.
Whether you prefer a softer or stronger approach, let purple give your bedroom the regal treatment with these 7 stylish ideas.
1. Relax with a lavender feature wall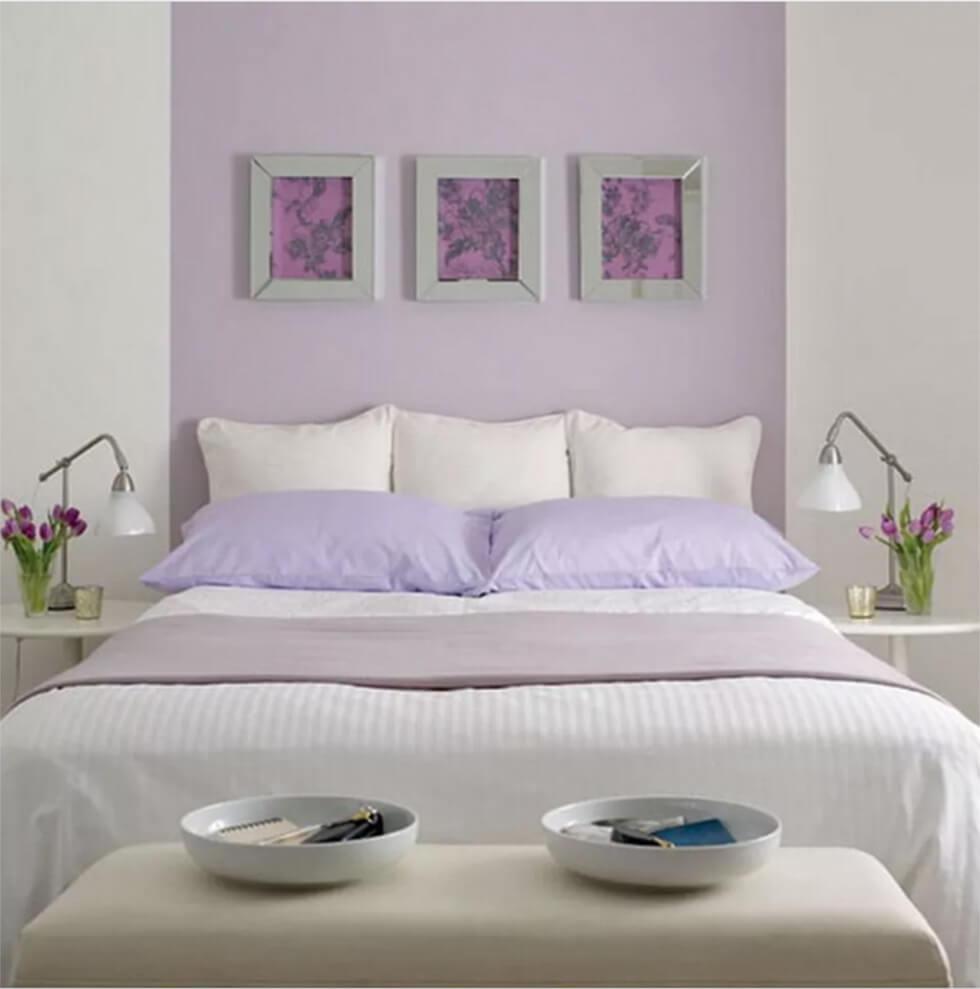 If you're worried about purple overpowering your bedroom - start on the lighter side with lavender. Often associated as a colour (and flower) that helps you unwind and relax, use lavender on a feature wall colour sets the scene for a soothing atmosphere to lie back and relax in.
Keep the chill vibes going by pairing lavender with white to give your bedroom a classic, tranquil atmosphere. White bed linen looks especially crisp next to this soft purple tone, while white glossy accent furniture will add a polished, contemporary feel.
2. Add a whimsical touch in a child's bedroom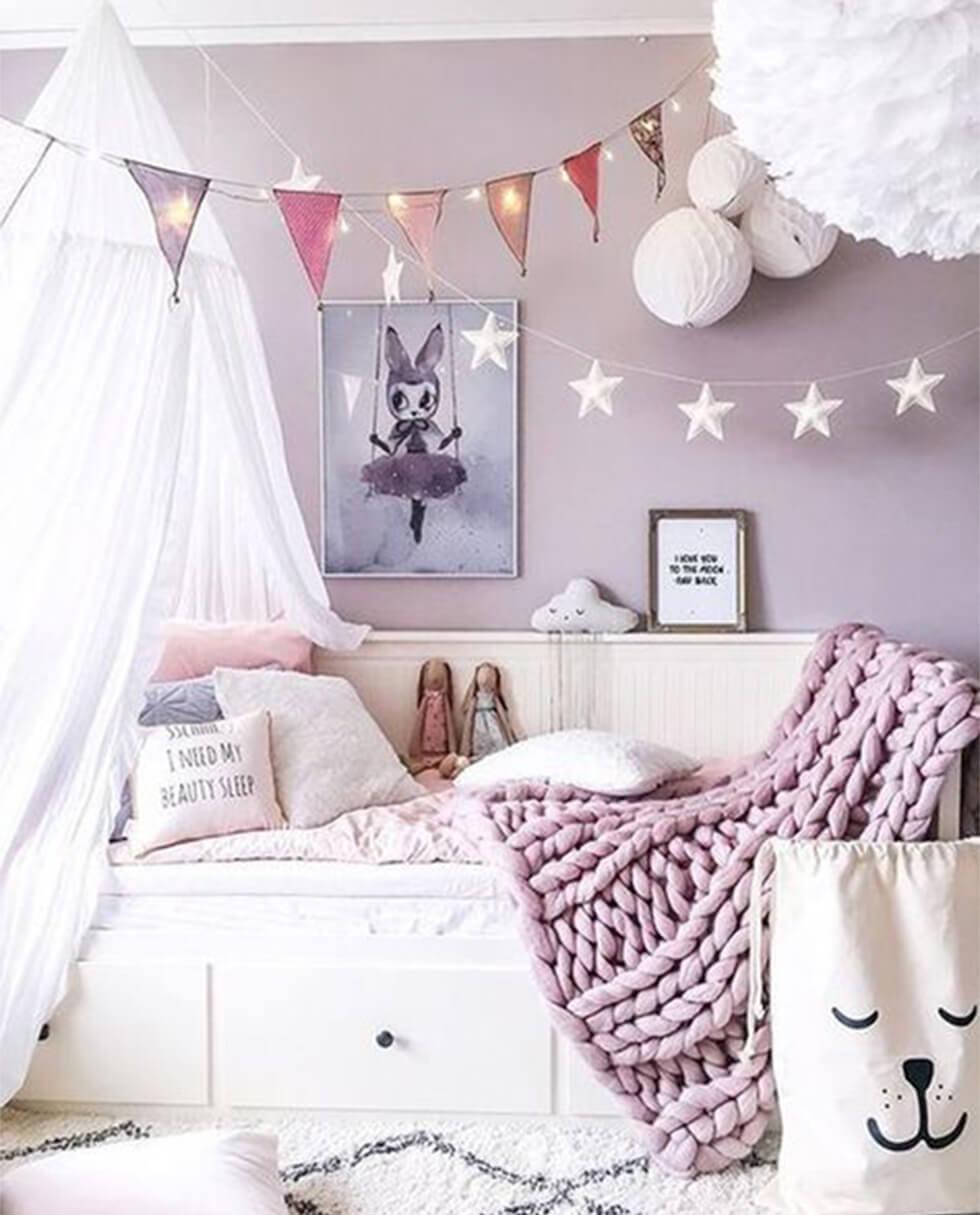 Still on the lighter side of the spectrum, opt for the soft, lilac tones if you're planning to decorate a child's bedroom. Lilac is the perfect go-between classic pink or blue, as it adds a sweet and refreshing twist to the space while inviting the opportunity to accessorise.
For a child's bedroom, lean into the whimsical side of lilac where a little goes a long way. Here, lilac walls provide a playful backdrop for a canopy tent to let your child read or play pretend to her heart's content. And let those soft, fluffy feelings come alive with light neutral furnishing and cosy purple accessories throughout the room.
3.Opt for a relaxed boho feel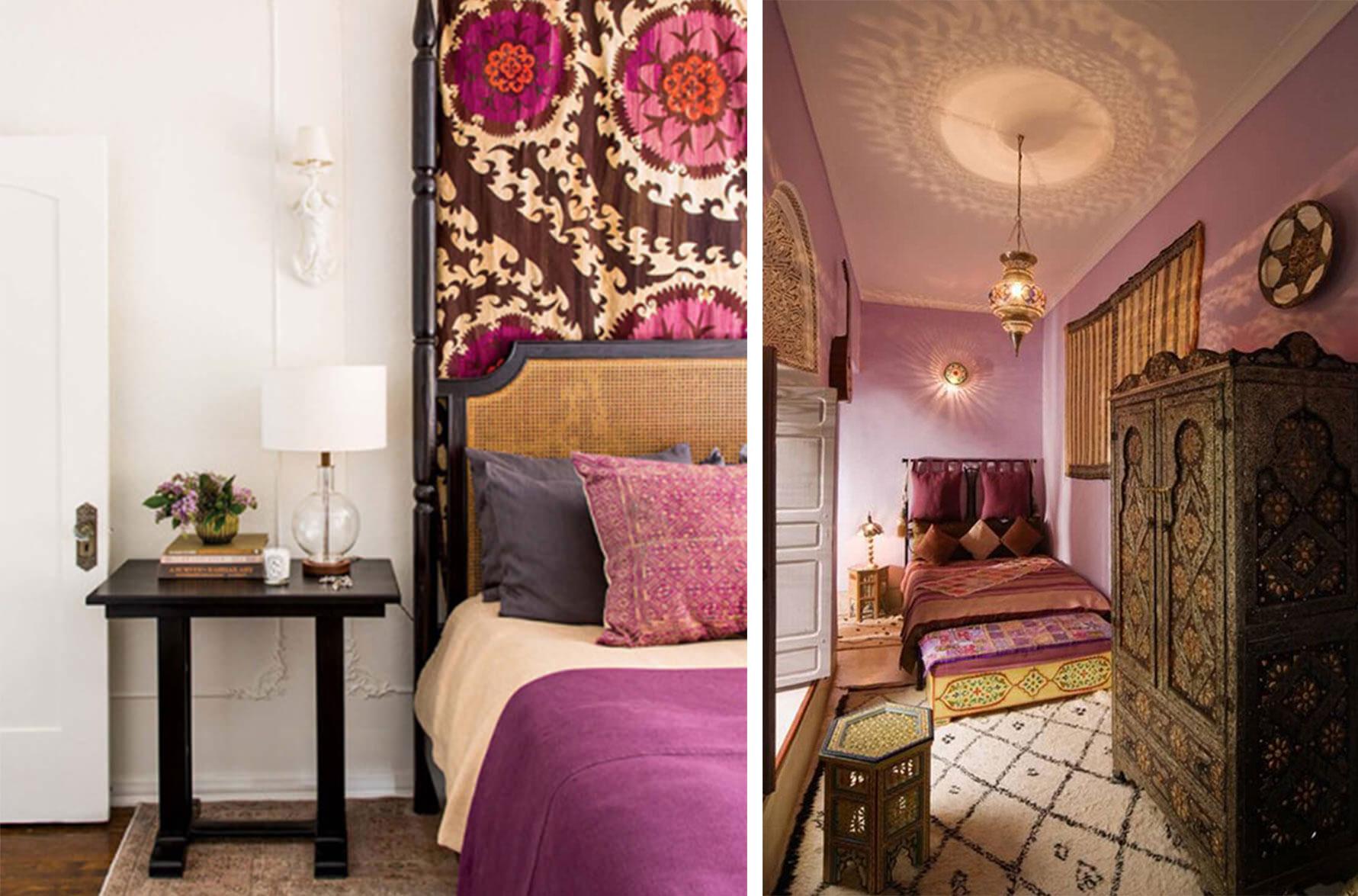 Speaking of purple's whimsical side, it's also a colour often associated with magic and mystery — very much in line with bohemian style! If you're feeling intimidated by boho's eclectic personality, pare it back with a calm, neutral palette and natural materials such as wood or rattan. Mixing prints and patterns maintains the playful side of the boho aesthetic and keeps your space fresh and lively.
But if you want to go all out, don't be afraid to let loose. Take a leaf out of your global style textbook by adding Moroccan touches to your boho bedroom - think vibrant colour palettes, mosaic patterns and textured rugs amidst a purple backdrop. If it starts to feel overwhelming, turn it down a notch with soft lighting. The warm glow of a lamp matches the boho aesthetic while maintaining the room's dreamy and relaxing ambience.
4. Dress it up with jewel tones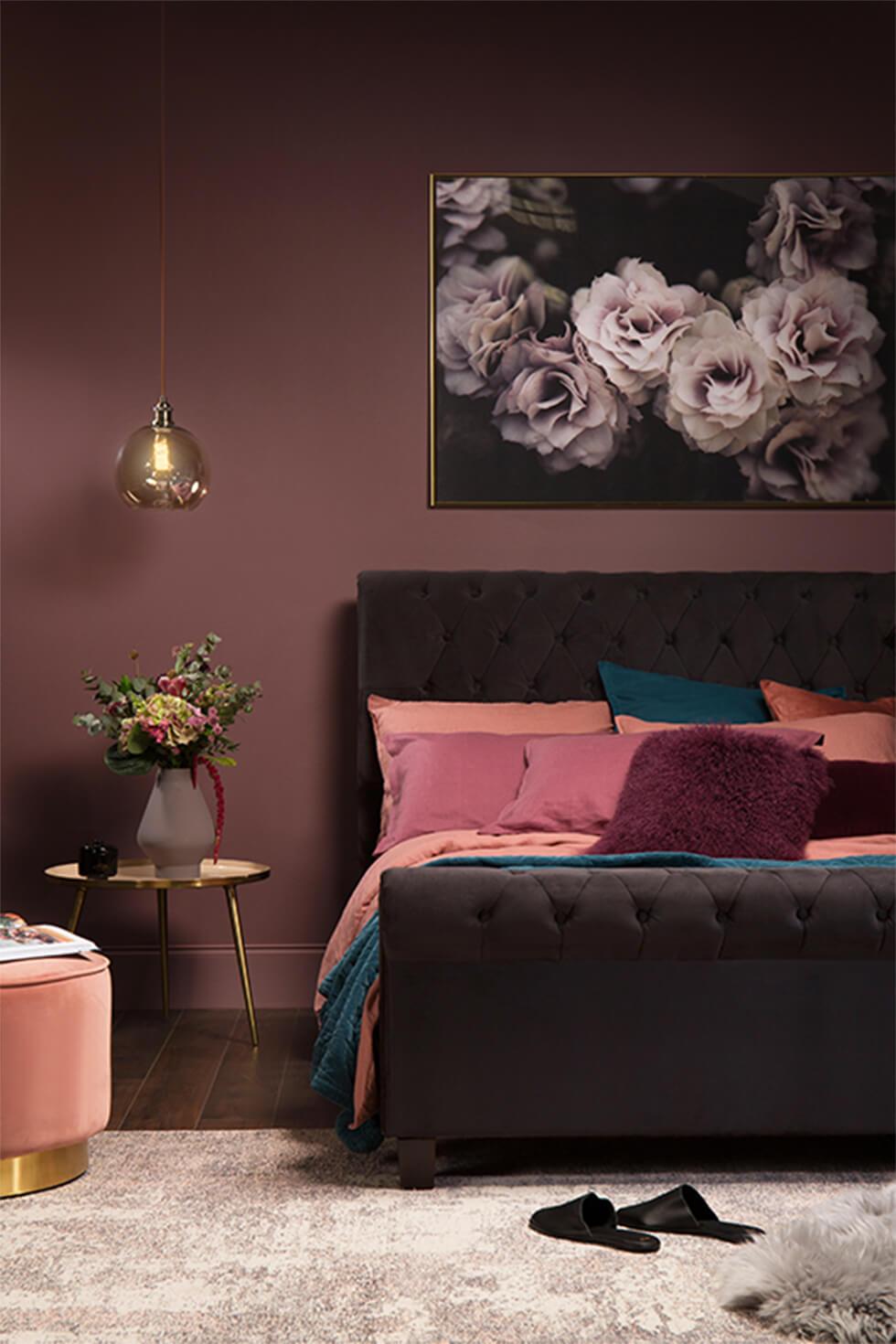 If you're looking to dial up the drama, the right shade of purple can do just that. Look for a warm, dusky shade that's equal parts glamorous and cosy - we're big fans of mauve as a wall colour for being feminine and ultra chic all at once.
Build up this palette by introducing sensuous textures like velvet, silk and cashmere to play up mauve's sophisticated side. Velvet works especially well to bring out colours in ways that few other fabrics can achieve - add this luxurious finish to your bedroom through a velvet ottoman stool or an upholstered velvet bed. This look makes room for layering so match it with other jewel tones like sapphire blue, amethyst purple and morganite pink for a calming ambience. And for that extra bit of glamour, add metallic accents for a hint of sparkle.
5. Colour block purple with teal for a dark, moody finish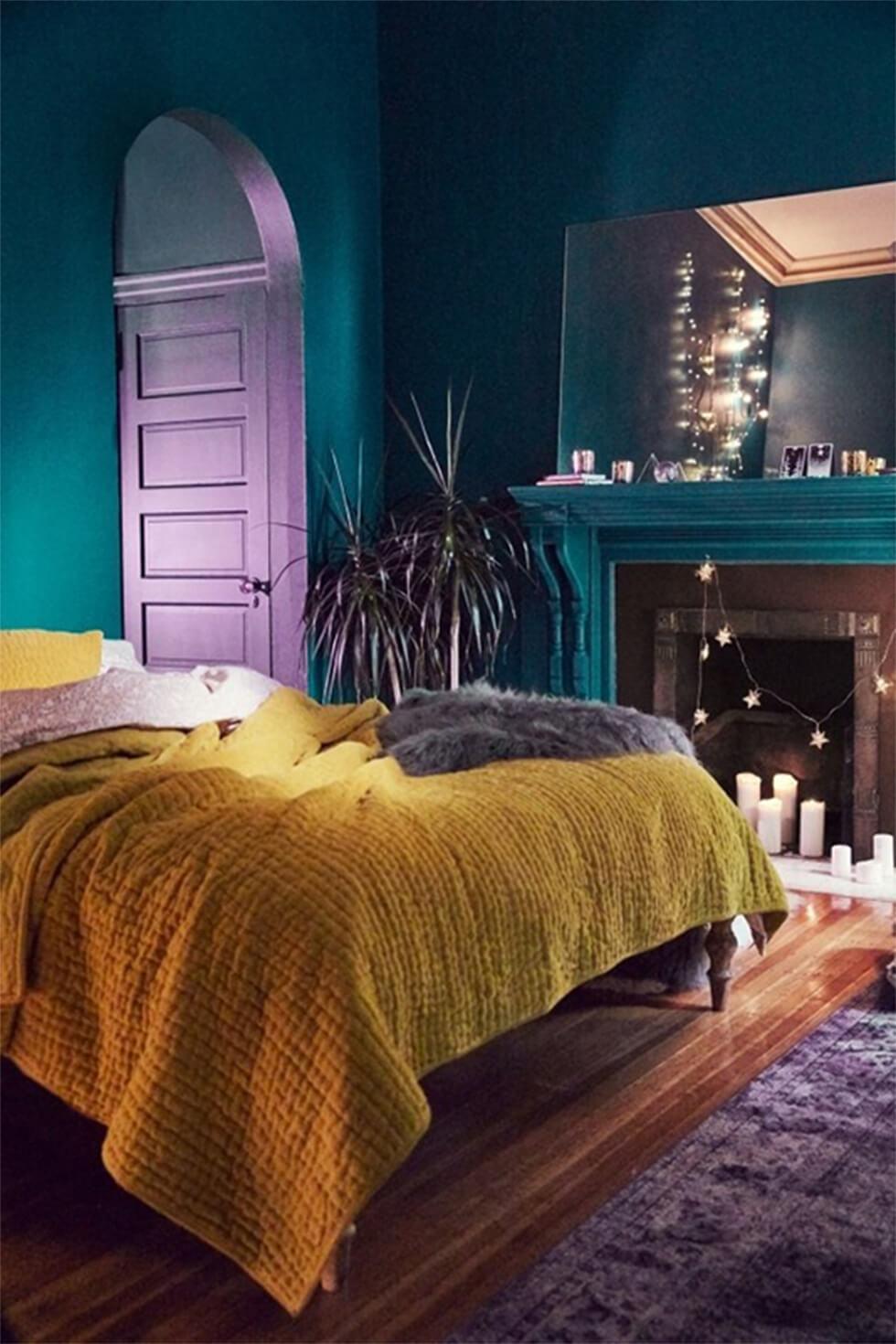 If you're up for riding this bold and colourful wave, colour block purple with teal - two colours that don't shy away from making a statement. This is a look that's perfect for maximalists at heart, bursting with personality while still creating a warm and inviting space.
With teal and purple verging toward the darker side of the colour spectrum, add a cheerful pop of colour to lighten the mood. A touch of mustard yellow will do the trick to add a playful boost. And don't underestimate how natural materials can keep these vibrant elements down to earth - dark wood will look especially warm and inviting, and a large indoor plant or two creates a more lived-in vibe. With this backdrop in place, set the mood for a cosy night in with candles and fairy lights.
6. Add purple to a grey bedroom for a glamorous touch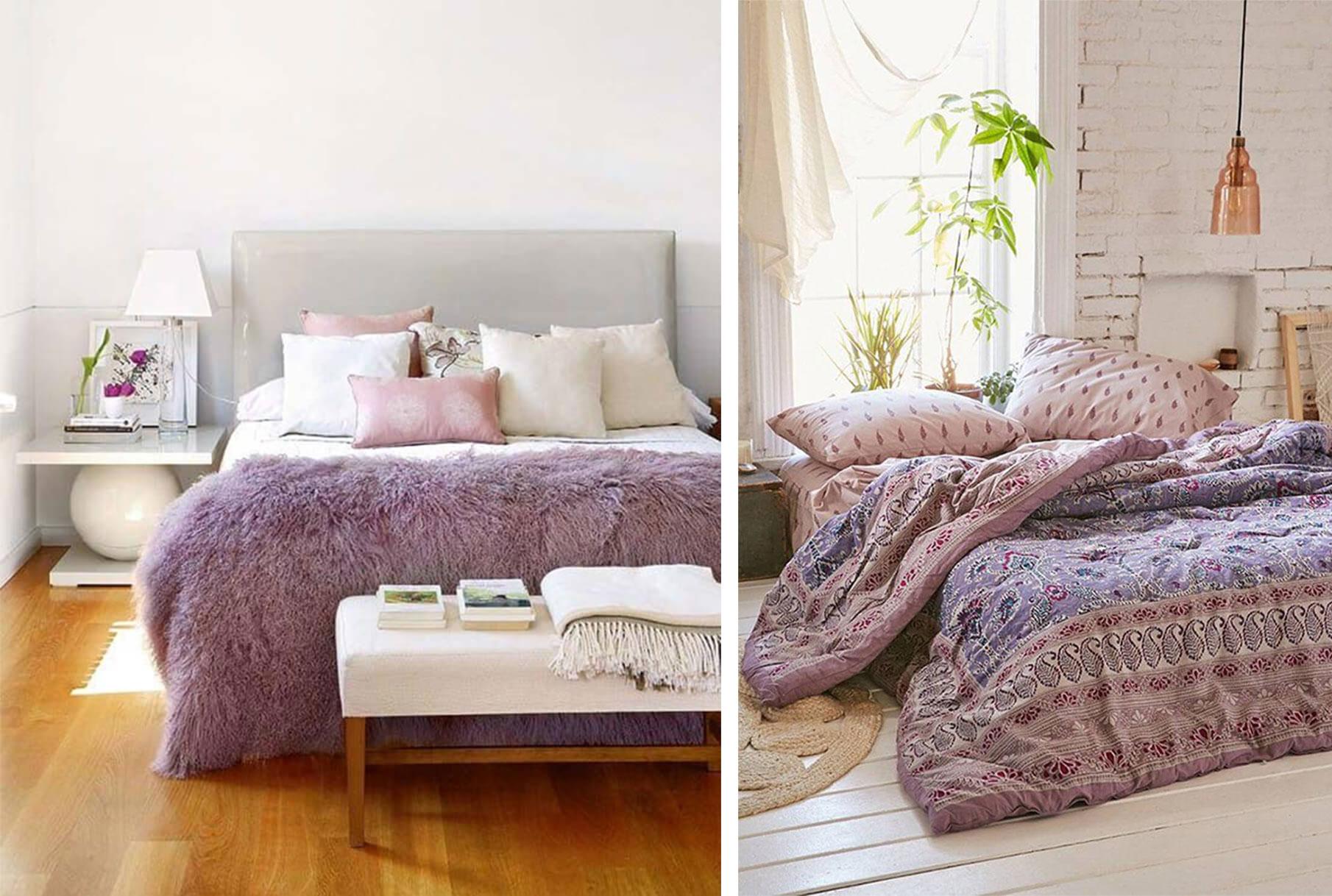 A grey bedroom remains a perennial favourite but also runs the risk of feeling dull if the space is devoid of colour. That's where accents come in.
If painting over a wall or bringing in more furniture isn't an option, look at how you can introduce colour through your textiles. A textured lilac bedspread adds a sweet pop of colour to a light grey headboard and neutral backdrop while dark grey walls gives a gorgeous plum bedspread a dose of regal elegance. Keep it contemporary with sleek bedside lamps and comfy pillows and cushions to dial up the luxe factor.
7. Make a statement with black and purple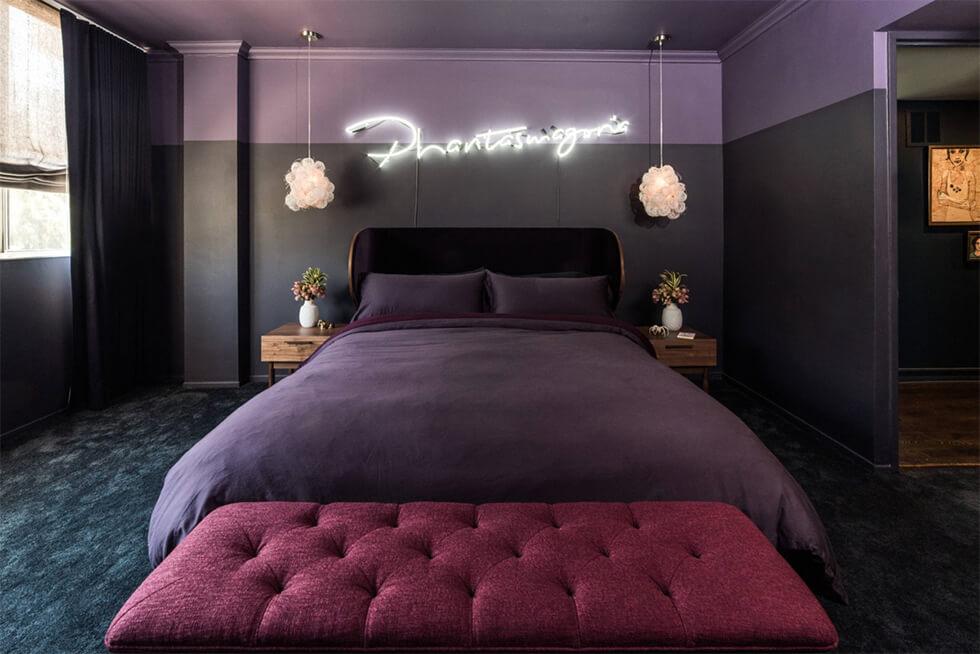 And finally, for an unexpected contemporary twist, make it moody with dark purple and black in the bedroom. This isn't a look for the faint-hearted but works surprisingly well when you focus on clean lines and simple styling.
The walls are here to make a statement so keep the rest of the bedroom symmetrical and minimal. Balance the room with the soft curves of a rounded headboard and simple bedside tables for a cohesive, modern feel. Textures are the key to making a dark, broody bedroom feel warm and cosy - a fetching velvet piece like an ottoman bench can work wonders, but also look at fabric upholstery, cotton and carpet flooring for adding softness to the room.