9 fabulous blue bedroom ideas that will inspire you to decorate
Transform your bedroom into an oasis of peace and tranquillity with our blue bedroom ideas guide.
1. Choose pale blue for a soothing ambience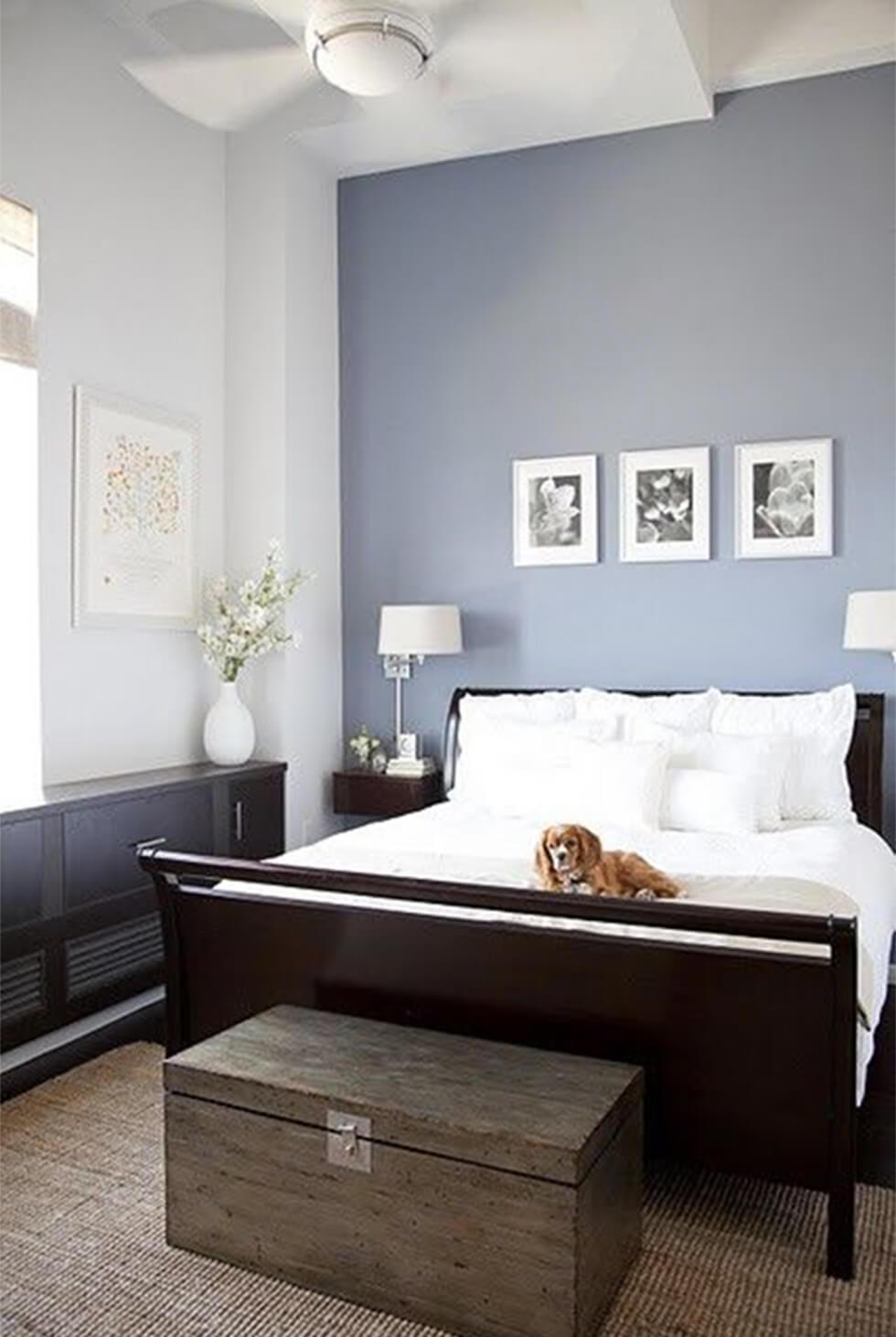 Create visual interest with a pale blue feature wall as it can be used to make the bedroom appear larger than it seems. With the feature wall as the focal point, keep the rest of the decor simple by focusing on clean lines to tie the room together for a cohesive look.
Pair your walls with neutral accessories such as white bedding to amp up the cosiness. Pillows and artwork in white and grey accents help round off this unfussy, contemporary look.
2. Use light blue to create a rustic bedroom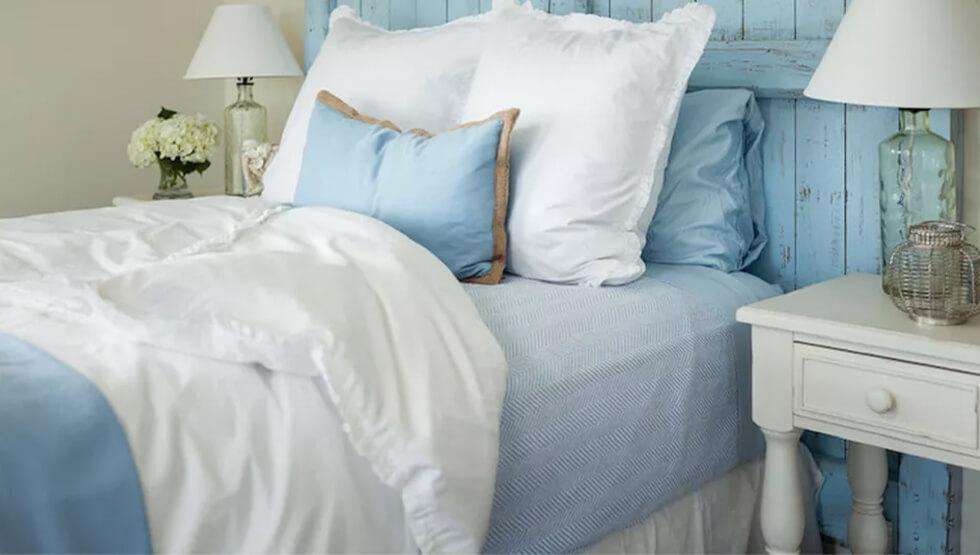 Channel rustic charm by incorporating light blue alongside wooden textures. A bit of DIY adds a personal touch to your space, so why not paint a wooden bed headboard light blue? Match the headboard with light blue and white bedding for a relaxing and cheerful effect in the bedroom.
Pile on the decorative accents to complete the look with plenty of snug pillows and cushions, and flank the bed with glass table lamps for a classy look.
3. Colour block with blue and white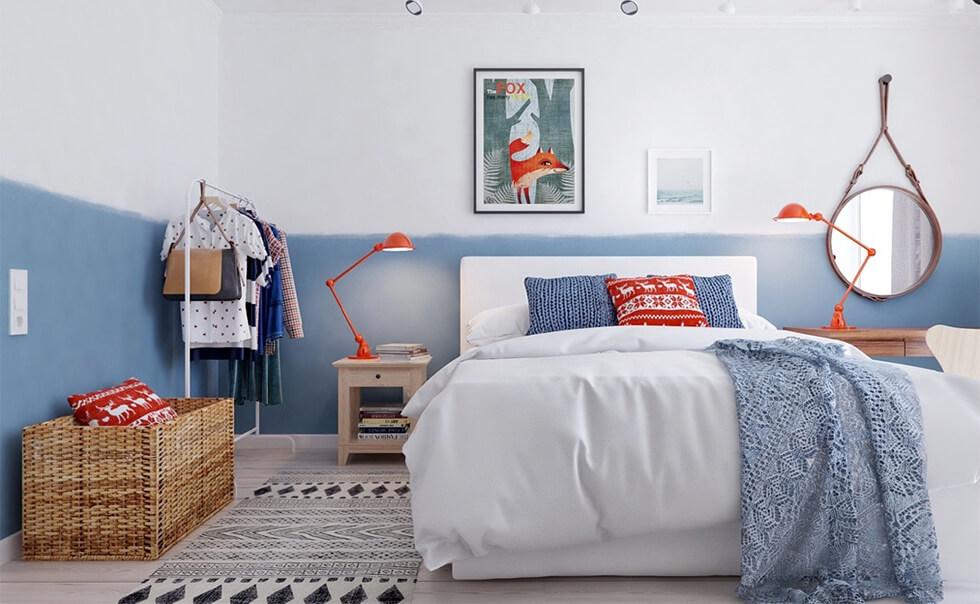 Modern and ultra chic, half painted colour blocked walls can add a surprising spin to the room. For a breezy look that's reminiscent of gorgeous blue skies, look at colour blocking light blue and off white on your walls.
When it comes to choosing accessories for this blue bedroom, pick items that share a common theme such as the same material or colour. A wooden bedside table, desk and rattan basket nicely complement the blue and white elements while adding their own warm, natural touch. On the other hand, the bold red lamps and cushions act as an accent colour that stands out against the rest of the decor.
4. Channel modern coastal style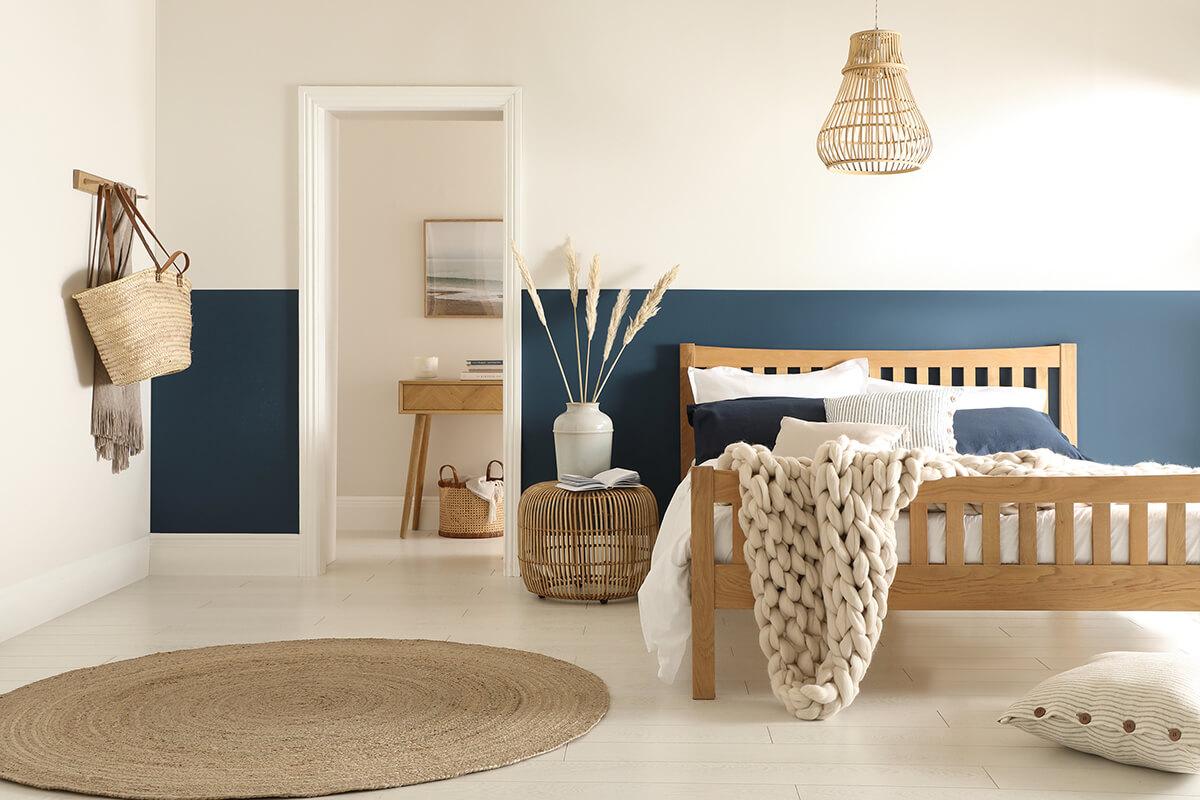 Take the colour blocking up a notch by introducing a summery look to the home with coastal style. This modern take features a statement wall that's half painted in sailor blue and crisp white, with plenty of natural textures to layer around.
The wooden accessories of the room, such as the bed and rattan ottoman, create a luxurious and welcoming element when paired with chunky knits and jute rug. Combining these details with the marine-inspired backdrop creates a soothing, sensorial experience ideal for sleeping.
5. Opt for a royal blue headboard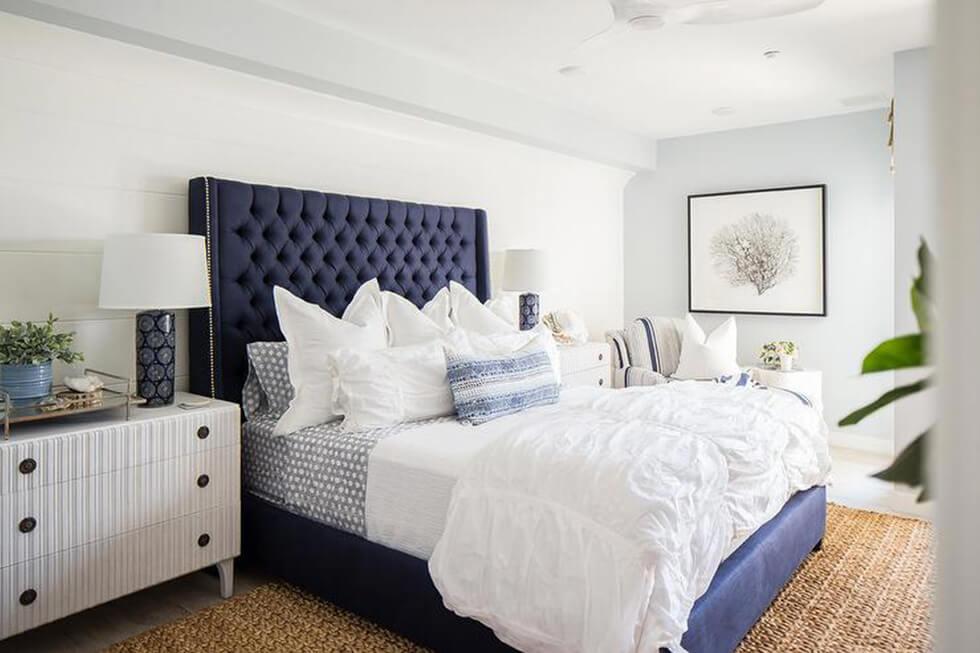 A gorgeous royal blue headboard is a classic (and chic) way to create a dramatic focal point in the bedroom, especially when the space is predominantly in a neutral palette.
Pick an upholstered, tufted headboard so that the dark blue shade stands out against white walls. Velvet is often a preferred choice and adds a hint of elegance while being touchably soft. Decorate the rest of this blue bedroom with complementary textures such as cotton bedding, a rattan rug or a quilted chest of drawers.
6. Switch things up with navy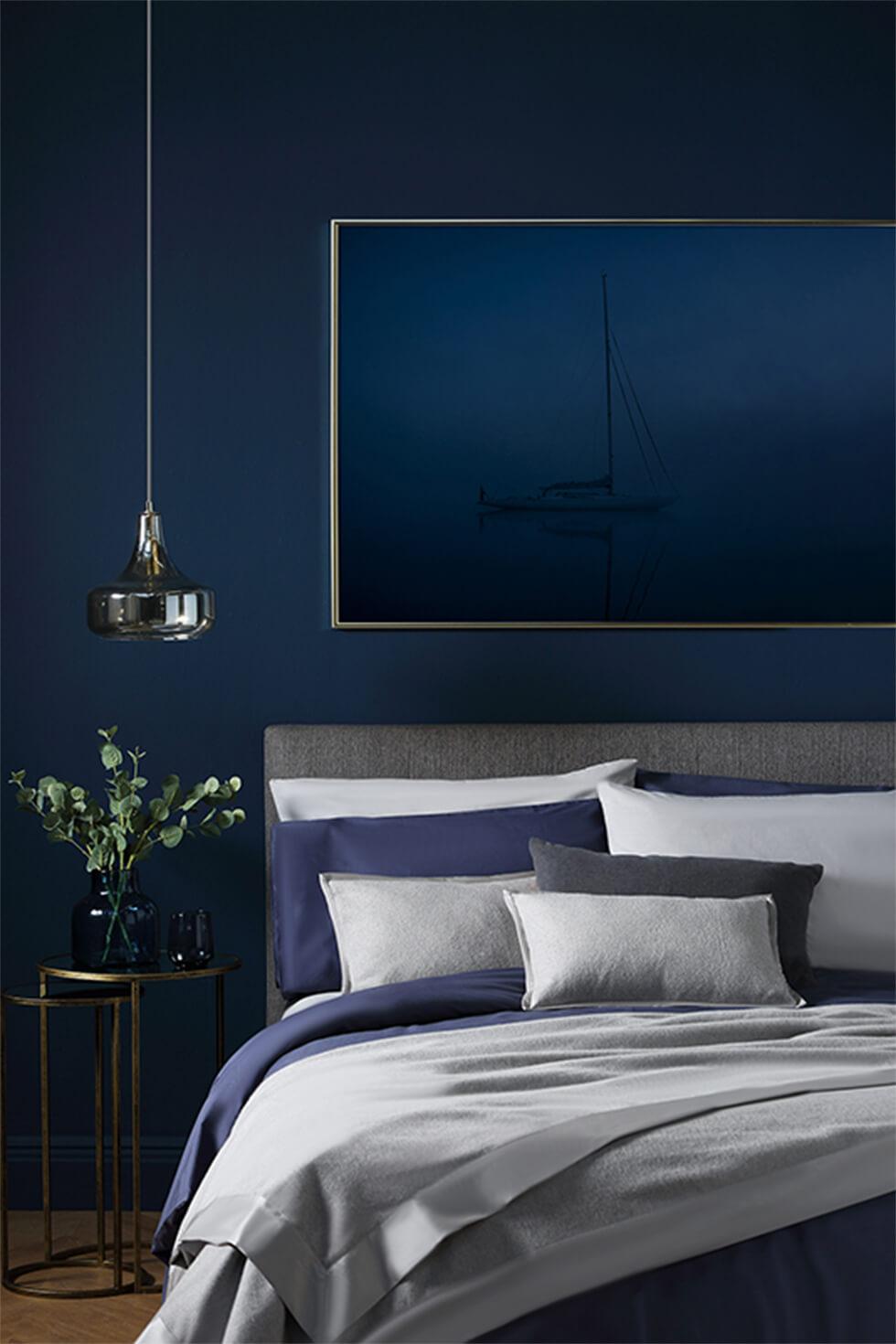 You can't go wrong with navy as the key bedroom shade as its warm undertones heat up the room and provide a good base to accessorise. Dress up the room with modern trimmings - a bedside table with gold accents, artwork on the walls or a contemporary lamp that will stand out against the navy textures. With these accessories in place, take the opportunity to play around with different shades of dark blue by pairing them with grey or white to lighten up the space.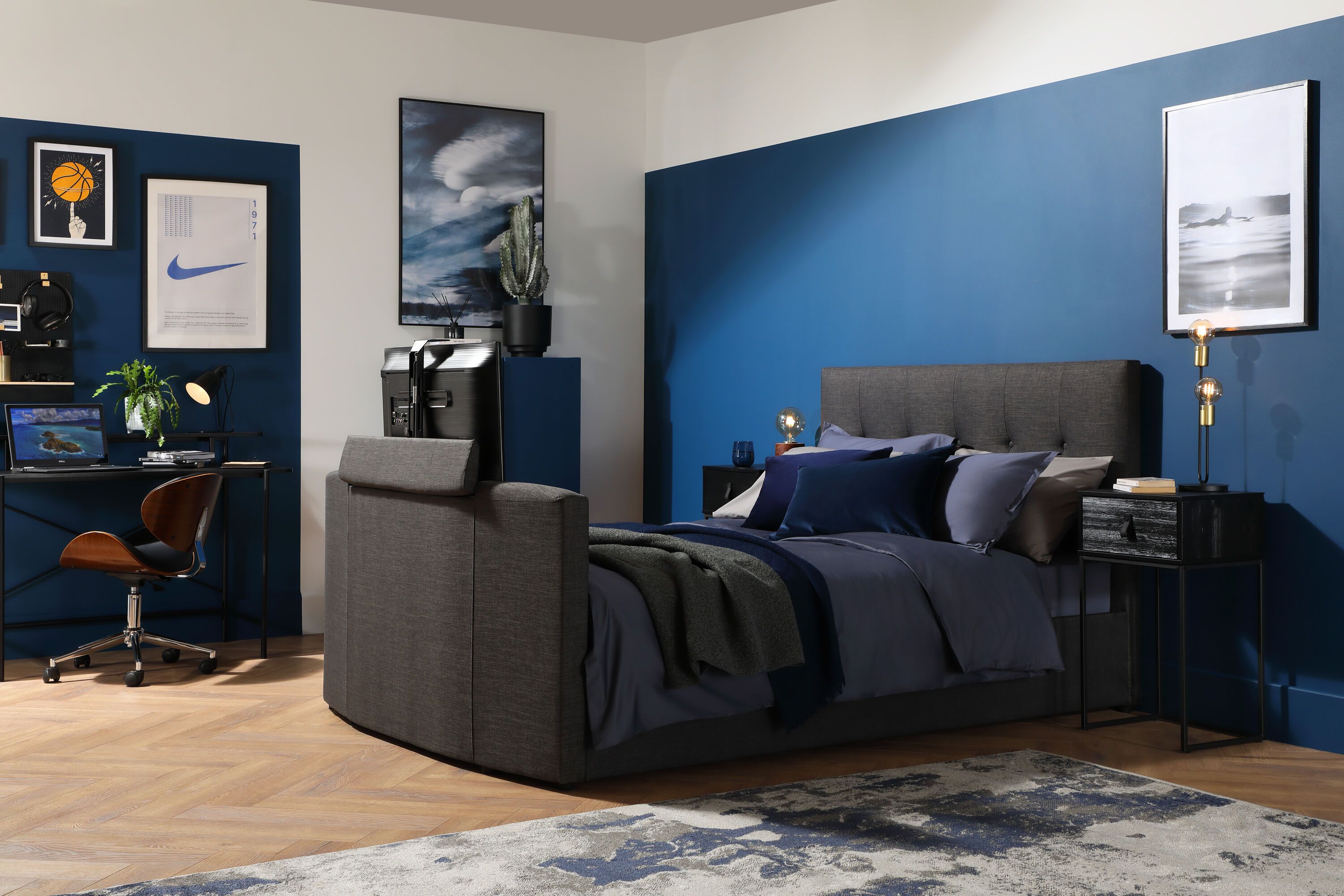 Navy blue is also a great option when decorating for college-age students. Paint a navy blue feature wall to create separate zones in the room for sleeping or studying.
Ground the room with a modern TV bed to rest and relax. One top tip would be to position the desk away from the bed to avoid distractions. Accessorise with black and white photography posters to complement the room's palette.
7. Contrast blue with grey and pink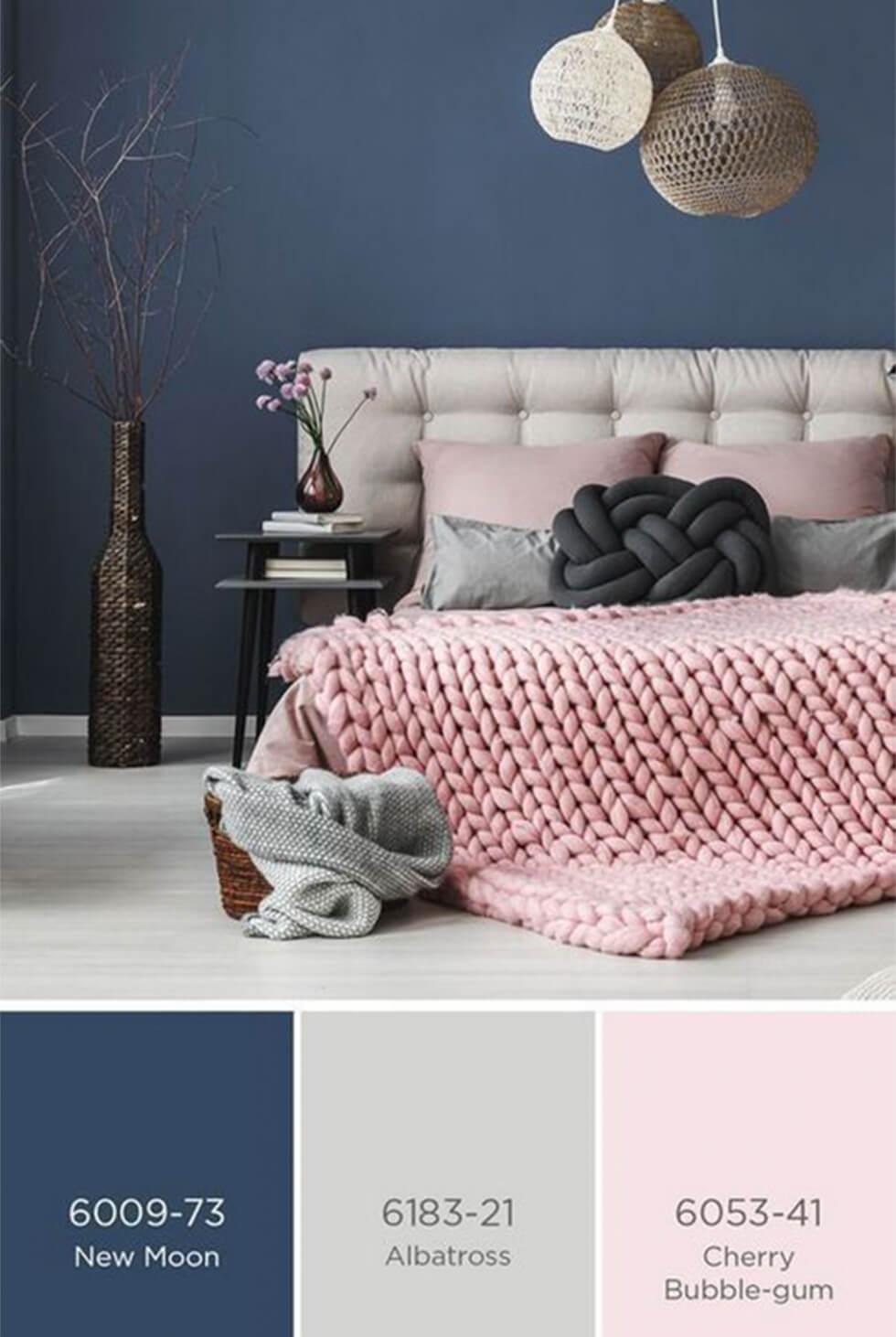 An update from the classic blue and white pairing, blue – specifically navy – and grey gives the bedroom a strikingly contemporary feel. The grey tones are a calming addition next to navy, giving the room depth and the chance to experiment with different textures. Choose soft and calming layers that complement each other, like wool and rattan which add a cosy element to the bedroom.
Light pastel hues, such as blush pink, work well as an accent colour when paired against the neutral tones of blue and navy. Incorporate this through accessories like pillows and cashmere throws for a calming, sophisticated effect.
8. Decorate your walls with Chinoiserie wallpaper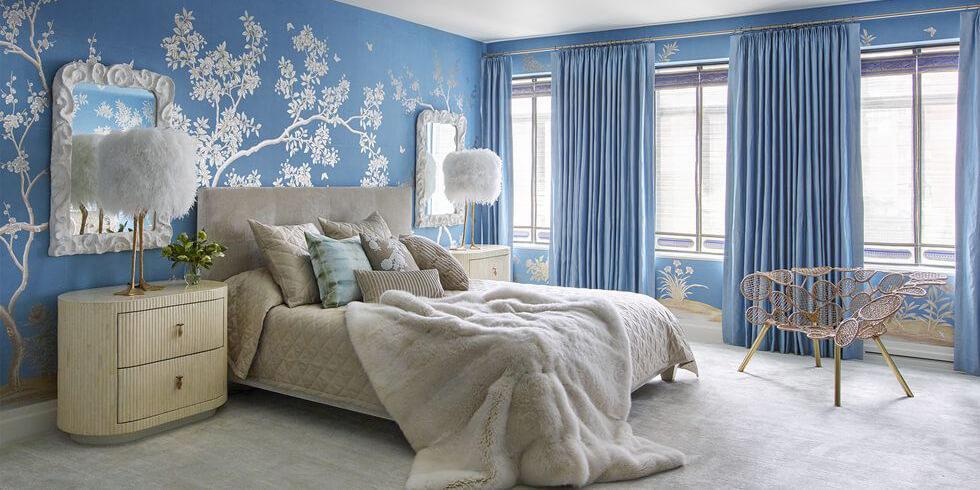 Perhaps you prefer a glamorous look in the bedroom - one that's classic and sophisticated at the same time? Elaborate chinoiserie wallpaper might be your answer. A European take on oriental decor, chinoiserie adds luxury and elegance to the room, and is best matched with equally classy pieces like a velvet headboard and ornate trimmings.
This design style encourages dramatic accents and is a great opportunity to go all out with whimsical touches. Whether it's the furry detail on the lampshades or a metallic armchair juxtaposed against soft textures, this style's enduring appeal ensures that your bedroom décor steals the show.
9. Go maximalist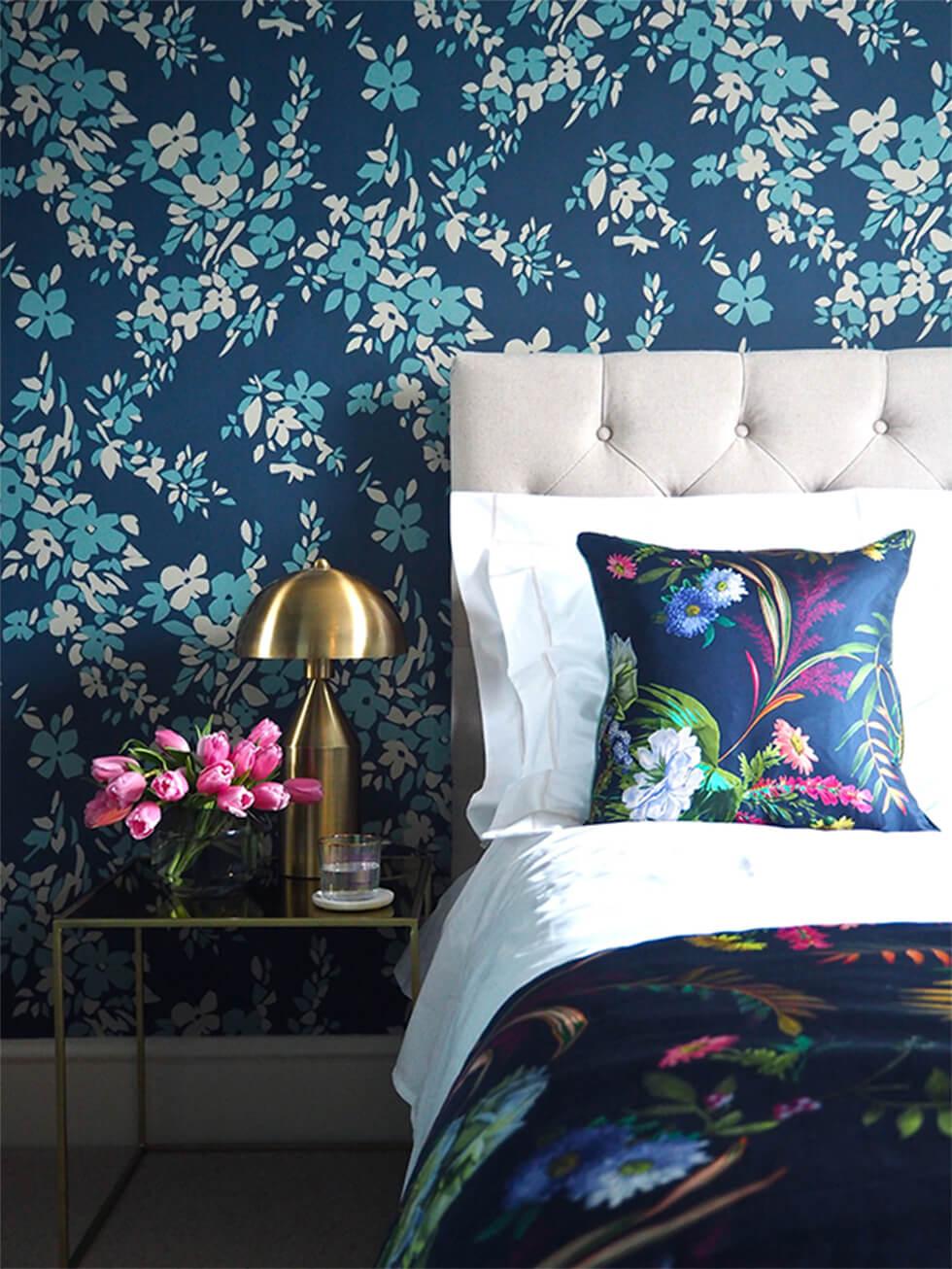 If your decorating mantra is, "more is more!", then look no further than maximalism; when done right, this style is full of vivacious personality and can bring a room to life like no other.
For a classic approach to maximalism, keep things interesting by mixing prints - think floral wallpaper, colourful bed linen, and bold lighting or artwork. The key to making this eclectic style look classy is by staying within a unifying theme (in this case, florals) and opting for furniture that's modern, tailored and clean.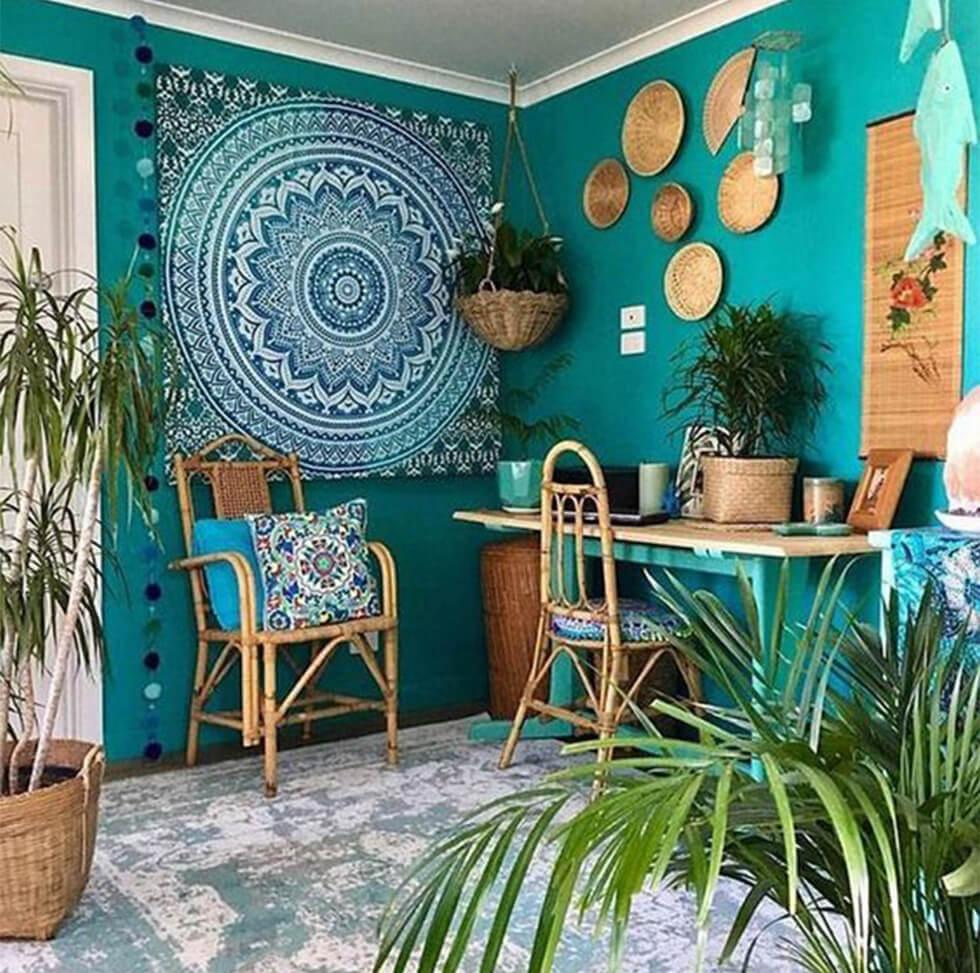 Or, go down the boho route with a turquoise wall, rattan accessories, colourful wall hangings and lots of greenery. The warm turquoise hues match maximalism's ethos of creating an inviting and immersive space with plenty of distinct decorative details.