8 white bedroom ideas that will never go out of style
Whether your decor style is Scandinavian, coastal or contemporary, we have white bedroom ideas that are inspiring, stylish and, most of all, achievable!
1. An all-white bedroom: add texture (and lots of it!)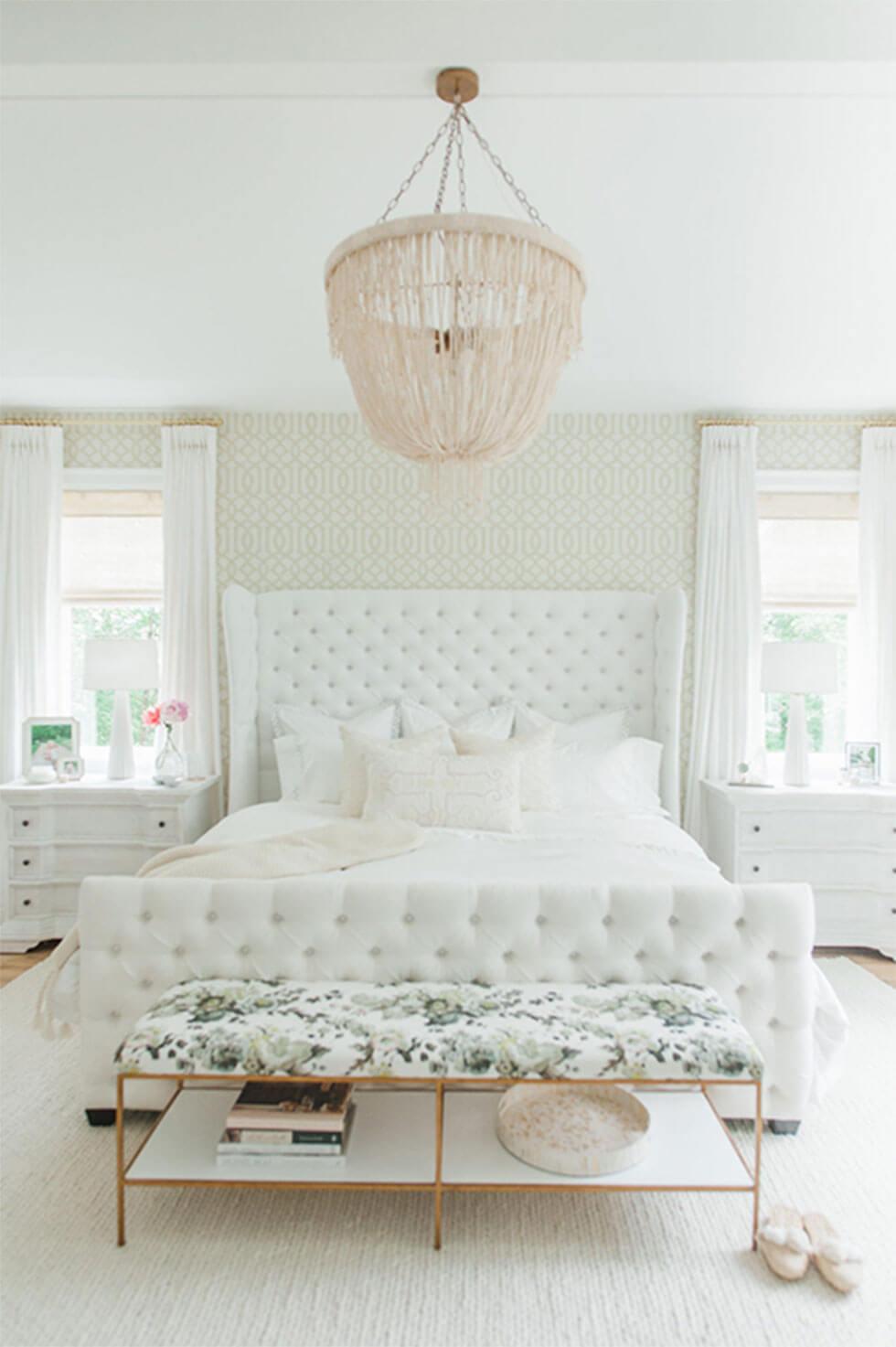 An all-white bedroom runs the risk of looking flat and lifeless, but we'll let you in on a little secret to turn it from dull to dreamy: layers of texture.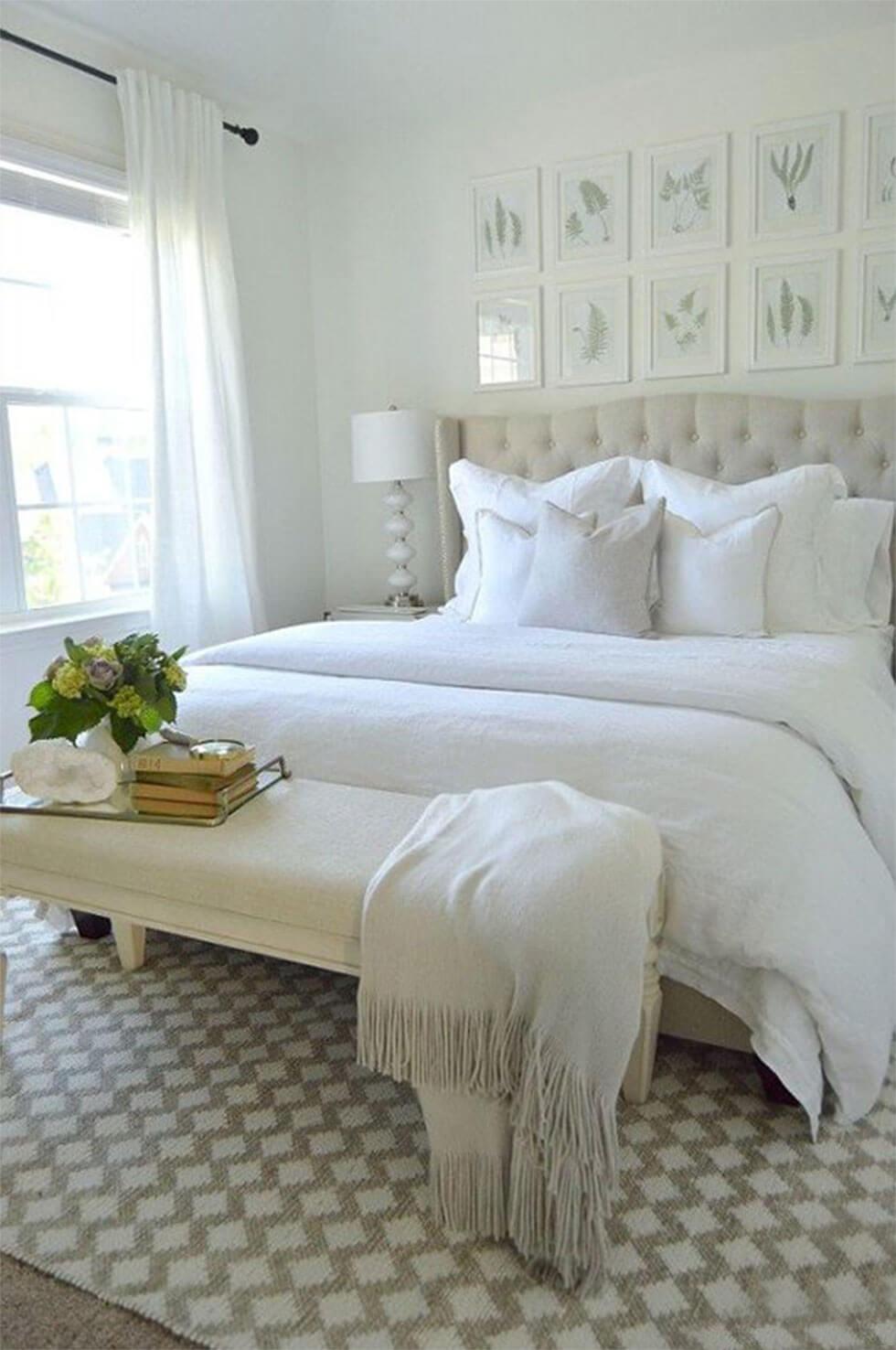 Work in a variety of textures to bring richness to the room, like a tufted fabric headboard, relaxed linen bedding, soft cashmere throws and even faux fur cushions. A glossy finish or painted wood for side tables will also blend in well. And keep it tone on tone: think colours like vanilla, cream, eggshell and pearl to create an ethereal effect.
2. Add light grey for sophistication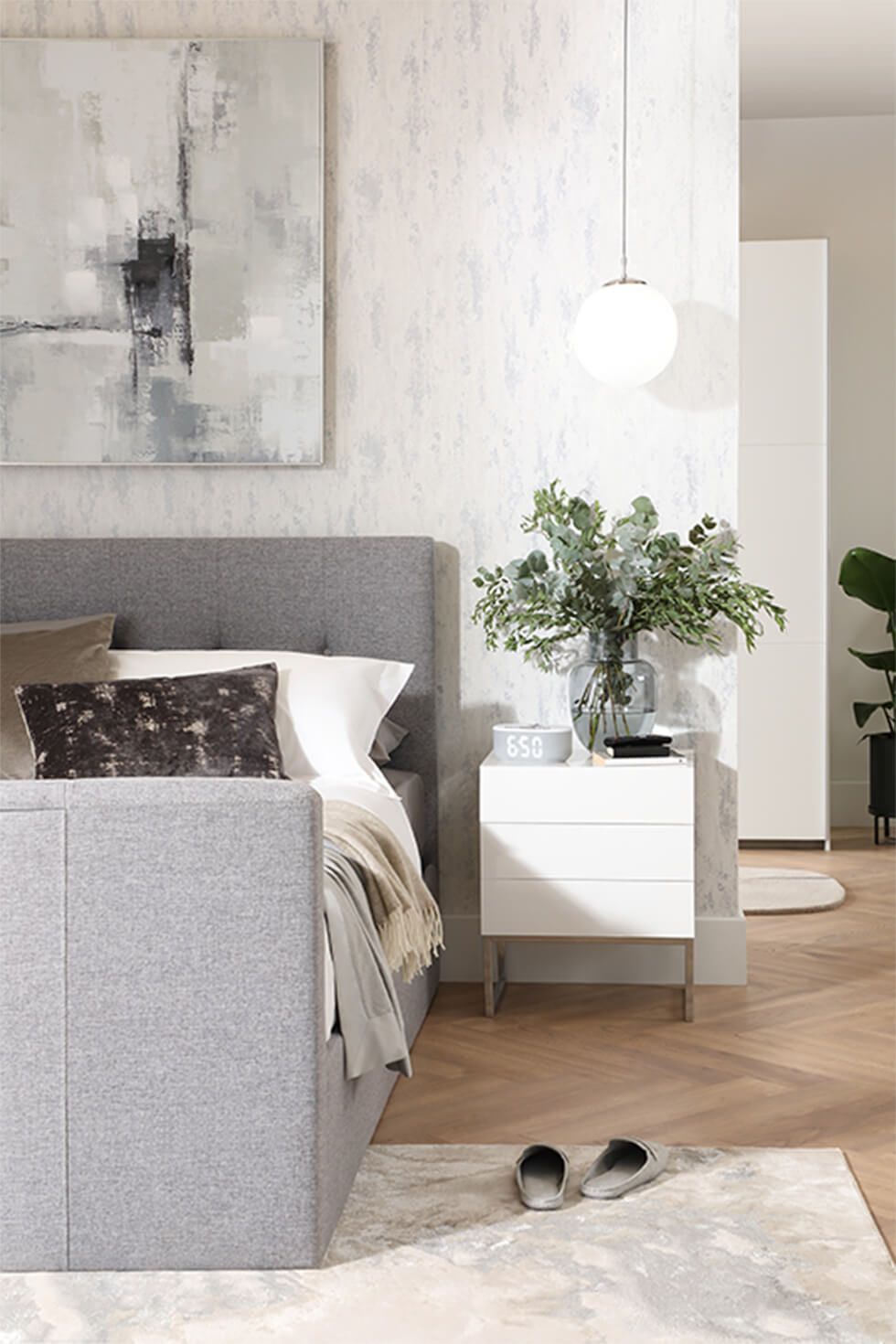 There are few colour pairings that are as effortless as light grey and white tones in creating a grown up, sophisticated space that still remains cosy and inviting.
Build the room around light grey and white pieces, like a touchably soft grey velvet bed flanked by white nightstands. Bring in grey accent chairs if space permits, but if adding more furniture to the room isn't an option, a textured rug and linen cushions in varying grey shades work just as well. Give the room a touch of luxe with mirrors and metallic finishes.

3. Go black and white for a chic monochromatic room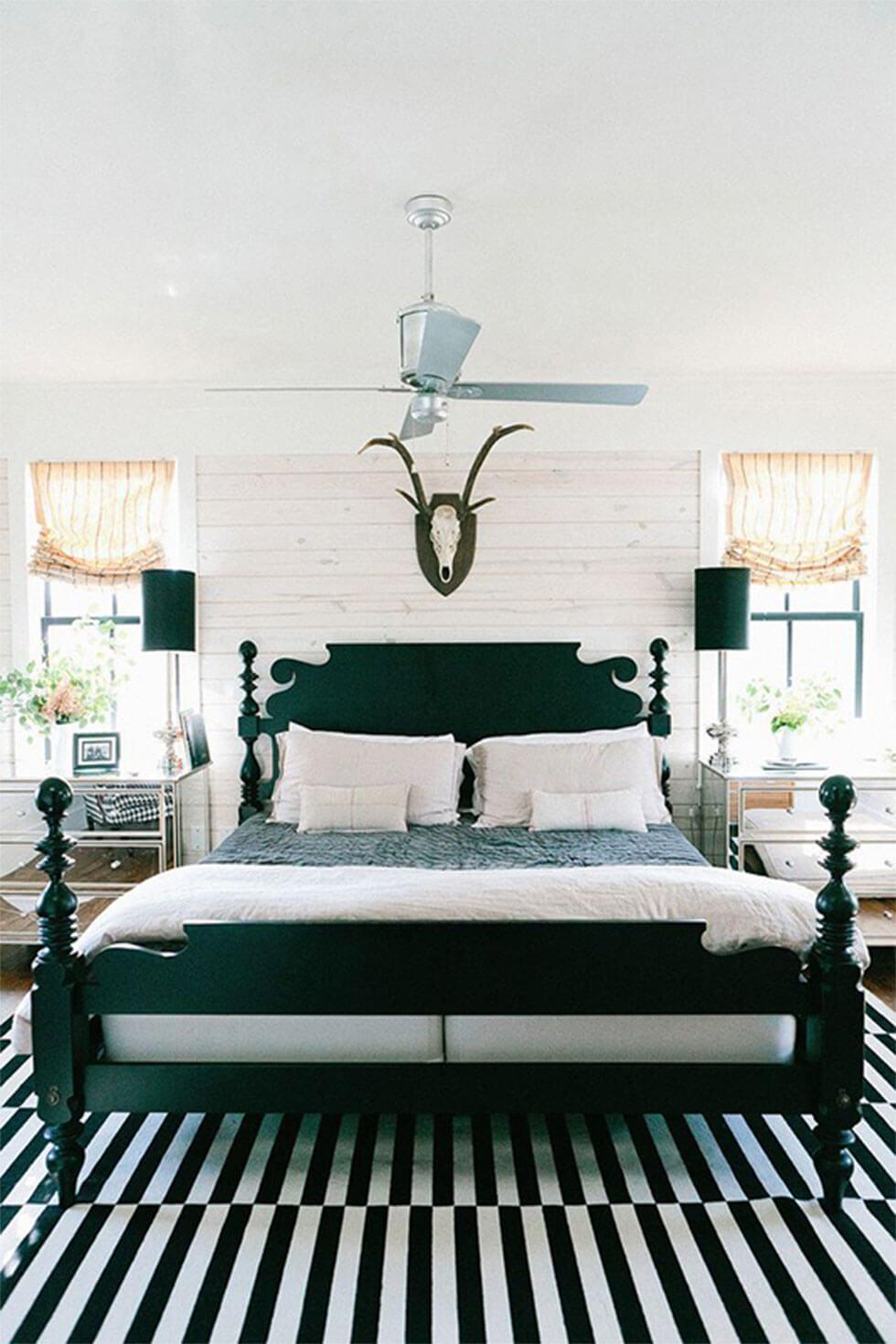 A black and white bedroom is the epitome of chic, timeless style, and easy to pull off with a few key pieces in place. A black bed frame, for instance, looks decidedly modern against white panelled walls and a black and white striped rug, with simple black lamps as accents.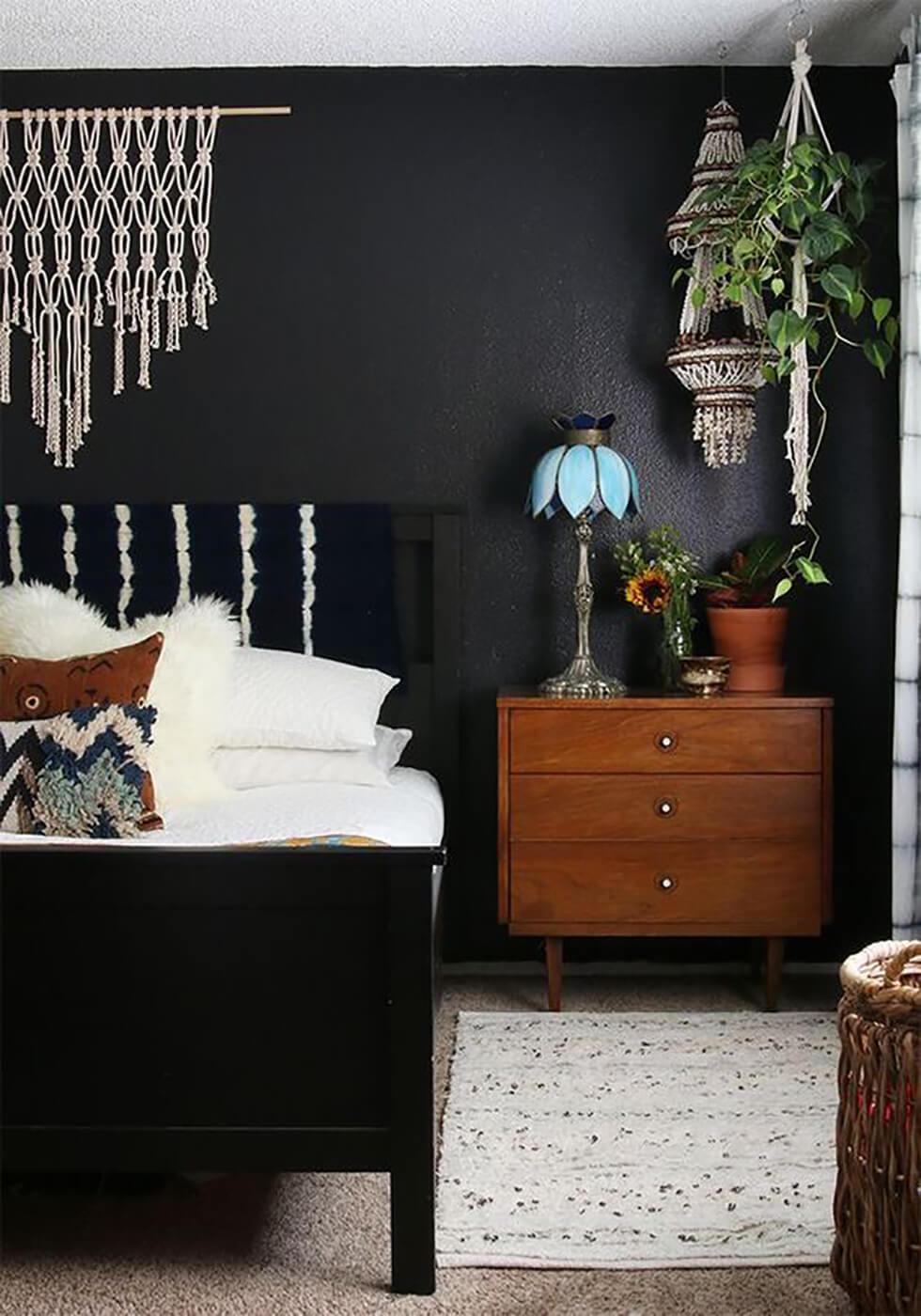 If you have a bigger appetite for dramatic flair, however, a black feature wall is bold, modern and can surprisingly make a space feel cosier, depending on how you style it.
Keep the ceiling and floor in a light neutral for balance, and don't underestimate the power of natural textures to add warmth to the room - potted succulents and oak accent pieces go a long way. Of course, your bedroom should also showcase your personality, so go ahead and display framed photos of loved ones or put up interesting features like this macrame wall hanging that hints at modern boho charm (check out our easy DIY tassel wall hanging to make your own!).
4. Get coastal vibes in a blue and white bedroom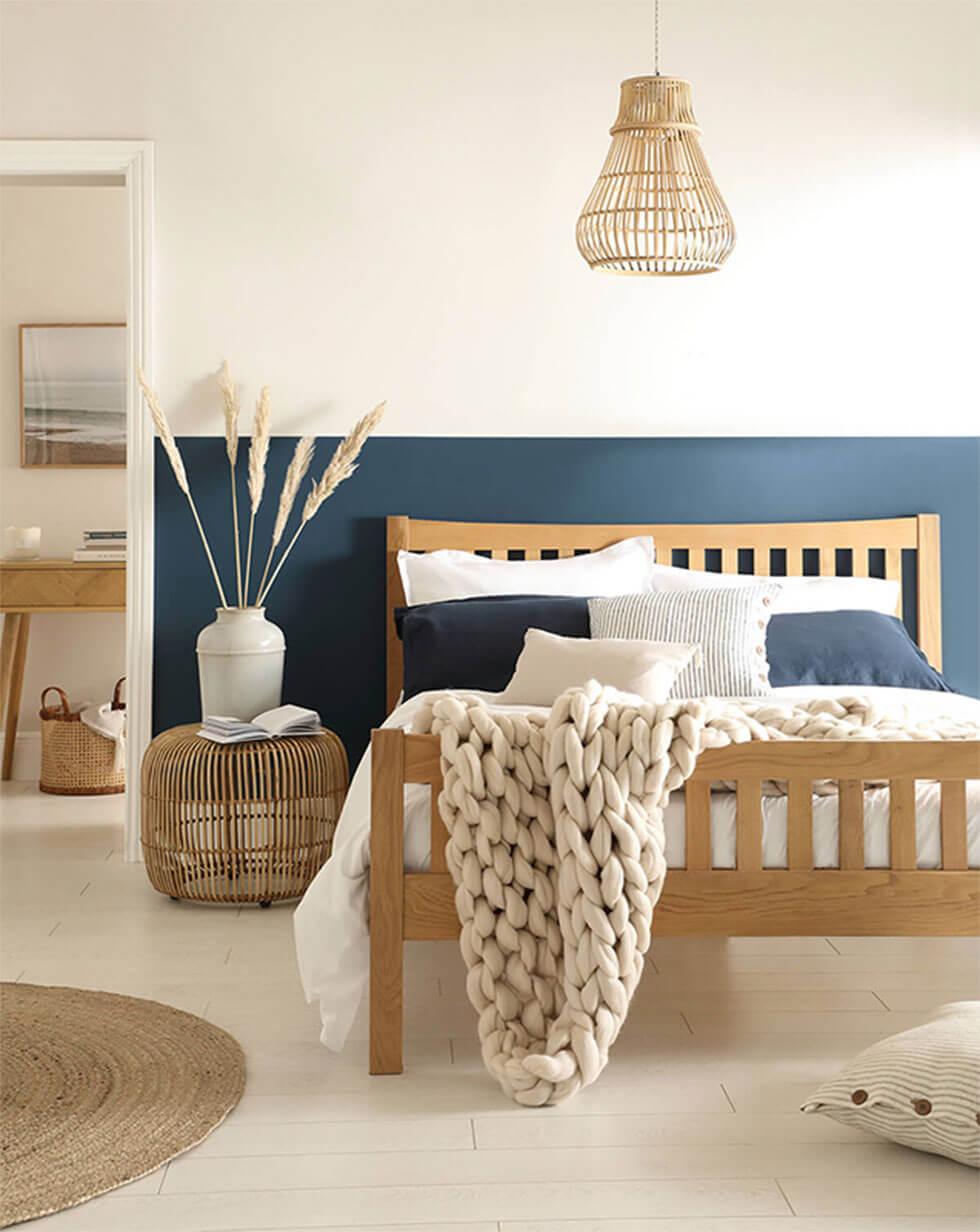 If your last seaside escapade is still on your mind, then why not create a coastal-inspired blue and white bedroom for a beach vibe all year?
Keep it current by pairing dark blues like navy and indigo with crisp white, cream and ivory for a luxurious, welcoming base. When it comes to this nautical look, our idea of modern coastal style at home does away with seashells and cliched marine-inspired accessories -- it's all about nuances and natural elements, like natural oak, rattan baskets and jute rugs.

5. Add pops of playful colour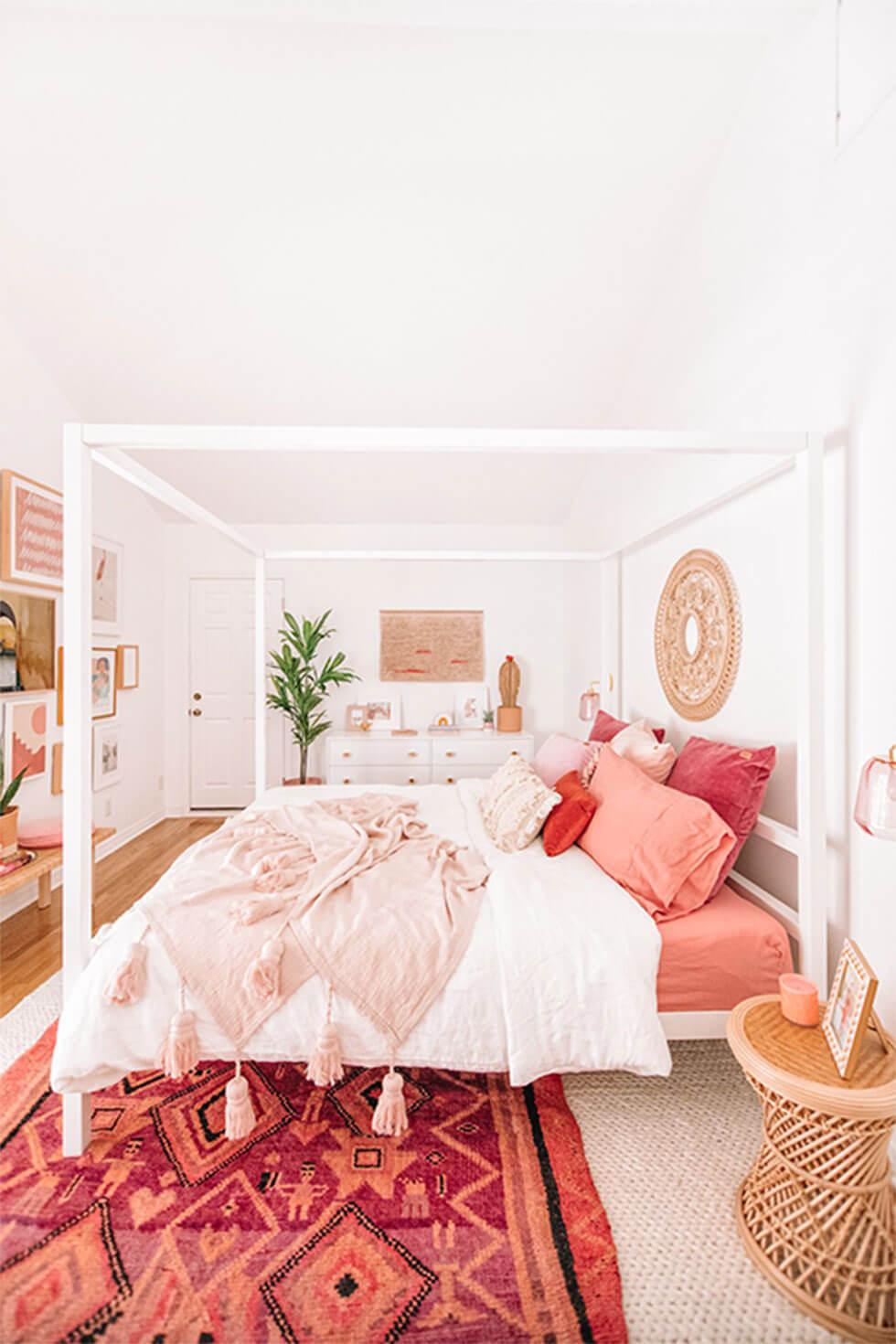 When a white bedroom is a canvas for you to play with, add pops of colour to your heart's content! However, there are a couple of things to keep in mind to prevent sensory overload.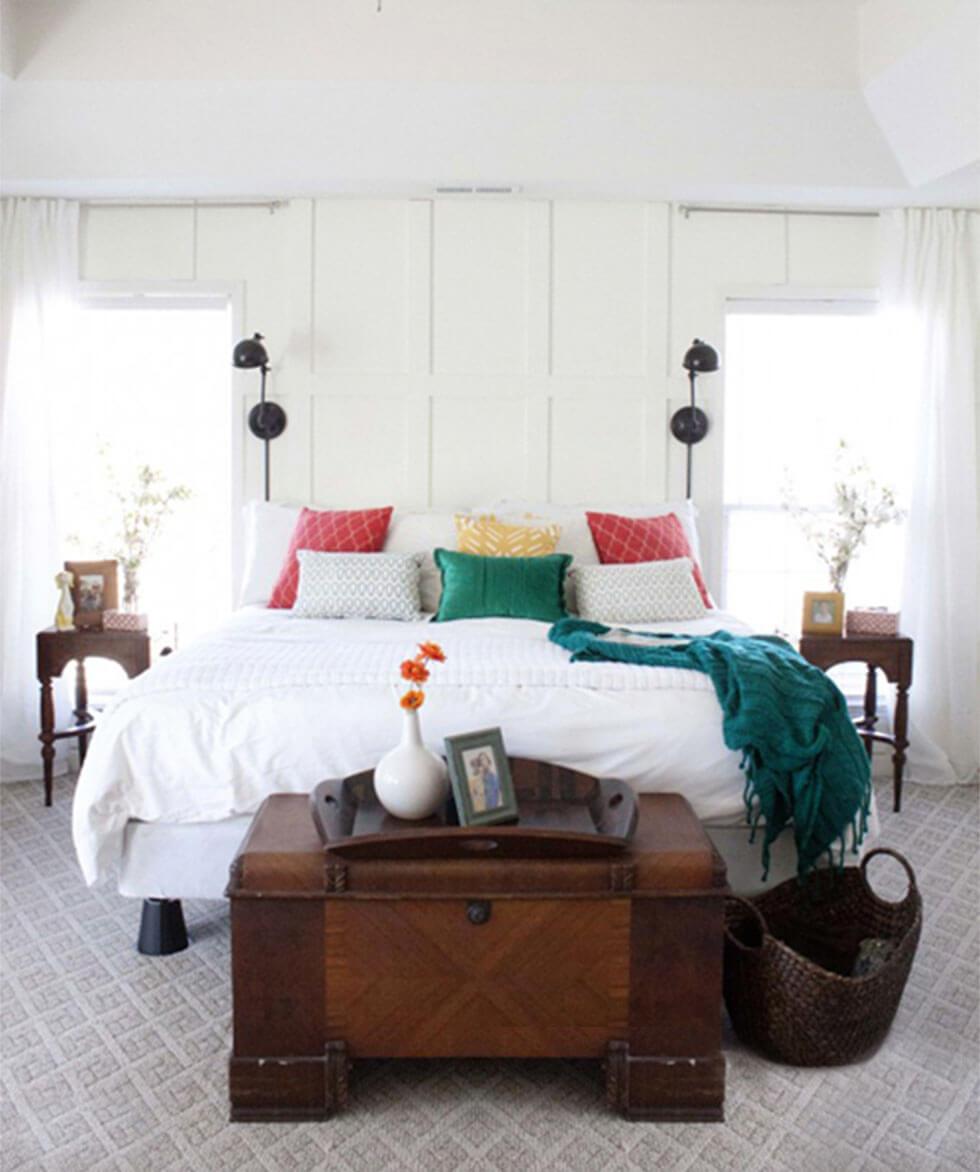 When using a single colour - like pink, for instance - layer multiple tints and tones like peach, coral, strawberry and blush instead of relying on a single hue. This turns a one-dimensional, flat-looking space into a room that looks like it's been thoughtfully designed.
Or, start slow and see how you feel with brighter pops of colour in the bedroom. Add a few accent pillows in no more than 3 different colours for an instant style pick-me-up.
6. Show off a sleek, modern headboard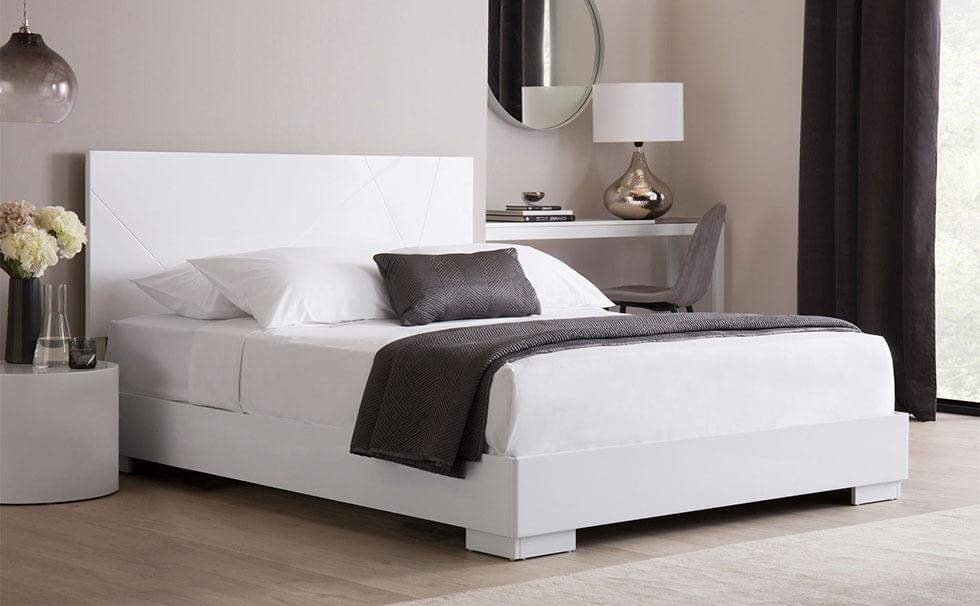 More of a minimalist at heart, you say?
Voted Great Britain's favourite home interior trend in 2019, minimalism is all about carefully selected pieces, with an emphasis on simplicity and functionality. And a white bedroom with neutral trimmings is the perfect base to build this look.
With such a muted colour palette, use a mix of glossy finishes and matte surfaces to keep it interesting. Anchor the room with a sleek, modern bed that stands out without overpowering the rest of the space, and opt for unfussy accent pieces that highlight clean lines.

7. Accent with light wood for Scandi charm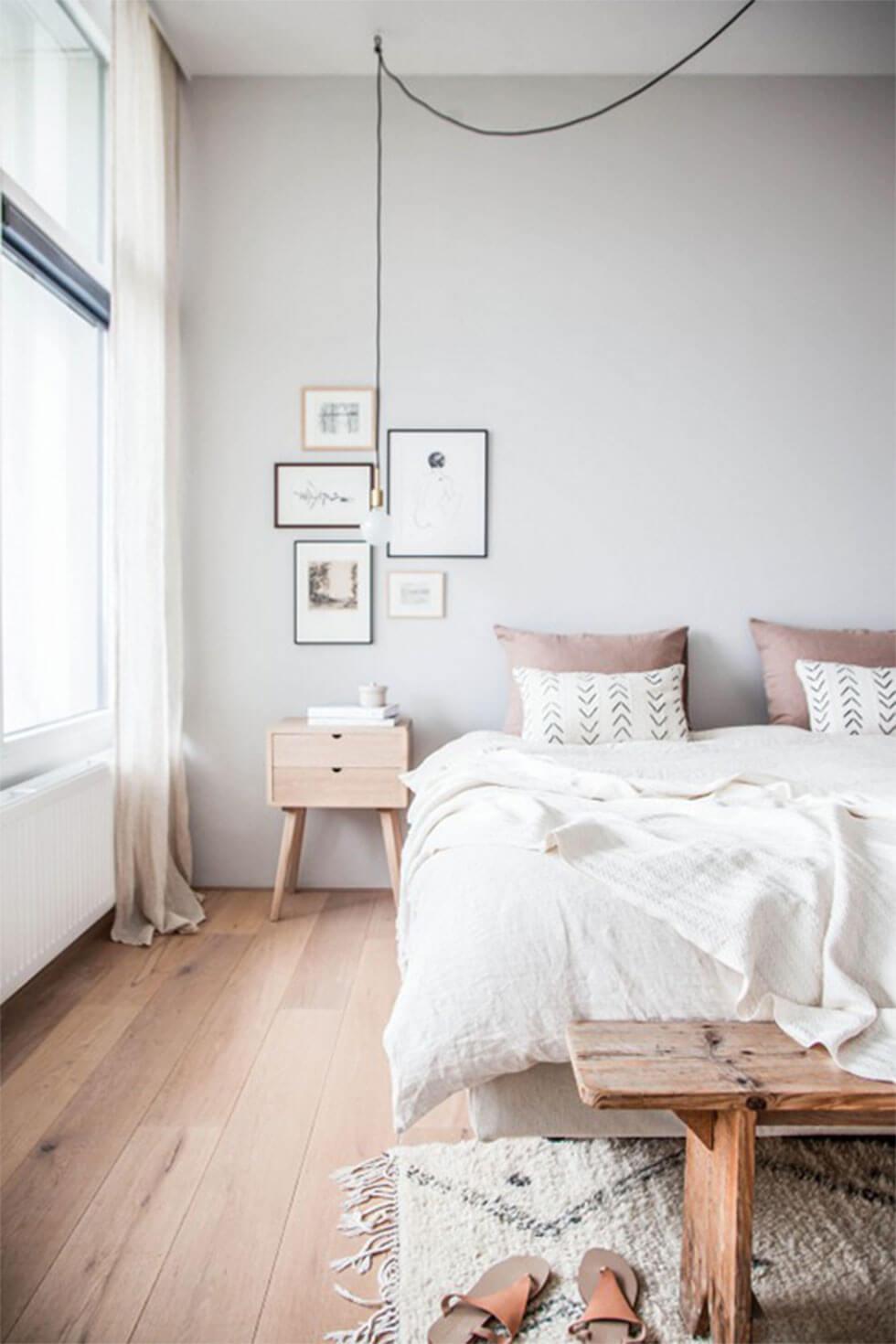 Light wood accents in modern white bedrooms are a match made in heaven -- just ask our Scandinavian neighbours, who have perfected cosy decorating down to an art form.
Rich wood flooring and light oak accent pieces bring instant warmth to the room and contrasts beautifully against off-white walls and soft, white linen bedding. Highlight some simple art work and layer up on comfort in the form of throw pillows and textured rugs.
8. Liven up bare walls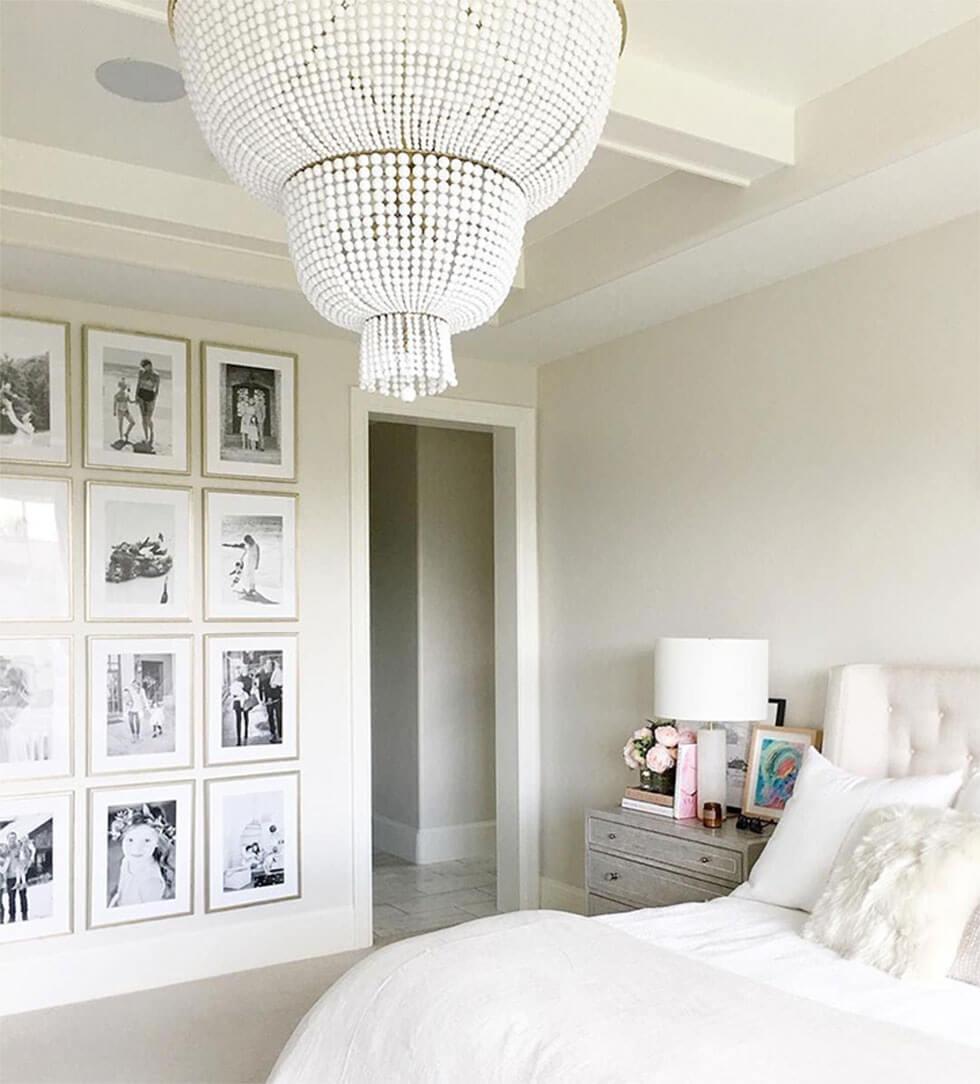 Blank white walls can often give off a cold, stark feeling to the room, but they can also be lively and artistic if you approach it creatively!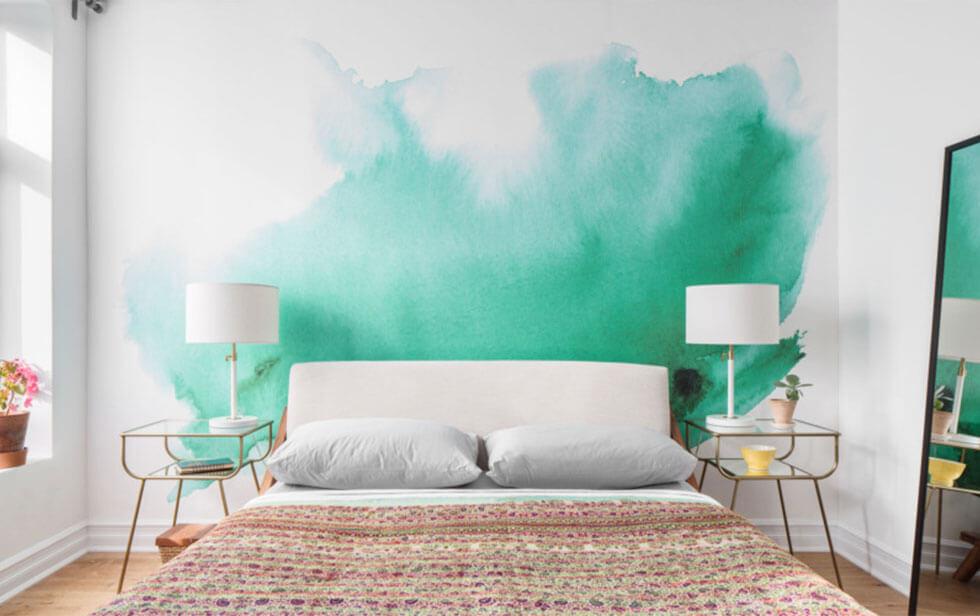 For instance, a gallery wall of black and white photos of loved ones can be a beautiful way to wake up and drift off to sleep. Or, decorate with wallpaper in an abstract watercolour design that calls out to your creative spirit while you're in deep slumber.

What wall colour goes well with white bedroom furniture?
Neutrals

Grey, beige and cream are versatile and relaxing colour palettes that pair effortlessly with white, and work for both modern and traditional interiors.

White

Ultra-modern, white on white emphasises the clean lines of contemporary furniture and soft textures of the room.

Green

Set the scene for relaxation with sage or mint, or paint an accent wall in zesty lime green for impact. Also, consider dark green walls as a deeply soothing wall colour.

Pastels

Cotton candy walls (baby pink, peach or baby blue) perfectly complements white furniture to add whimsy and optimism to the room.

Navy

A classic choice, navy walls are a good alternative to black and makes crisp white furniture stand out even more.

Purple

For the bold and artistic, purple walls and white furniture come together for a room full of personality.

Black

An eternally stylish colour pairing, black walls with white furniture is dramatic, elegant and chic all at once.