8 dreamy and cosy grey bedroom ideas
Grey is a deeply versatile, effortlessly stylish colour for a dreamy, cosy bedroom. Easily style your own with these 8 grey bedroom ideas.
Going beyond 50 shades - grey is a deeply versatile, effortlessly stylish colour, and is especially calming when used in a dreamy, cosy bedroom.
Whether you prefer cool, dark greys for a relaxing, elegant sanctuary, or prefer warmer, lighter greys for their welcoming tone, this colour is an easy foundation to build your bedroom on. Read on for our 8 favourite tips on styling a cosy bedroom in grey!
1. Go airy with light grey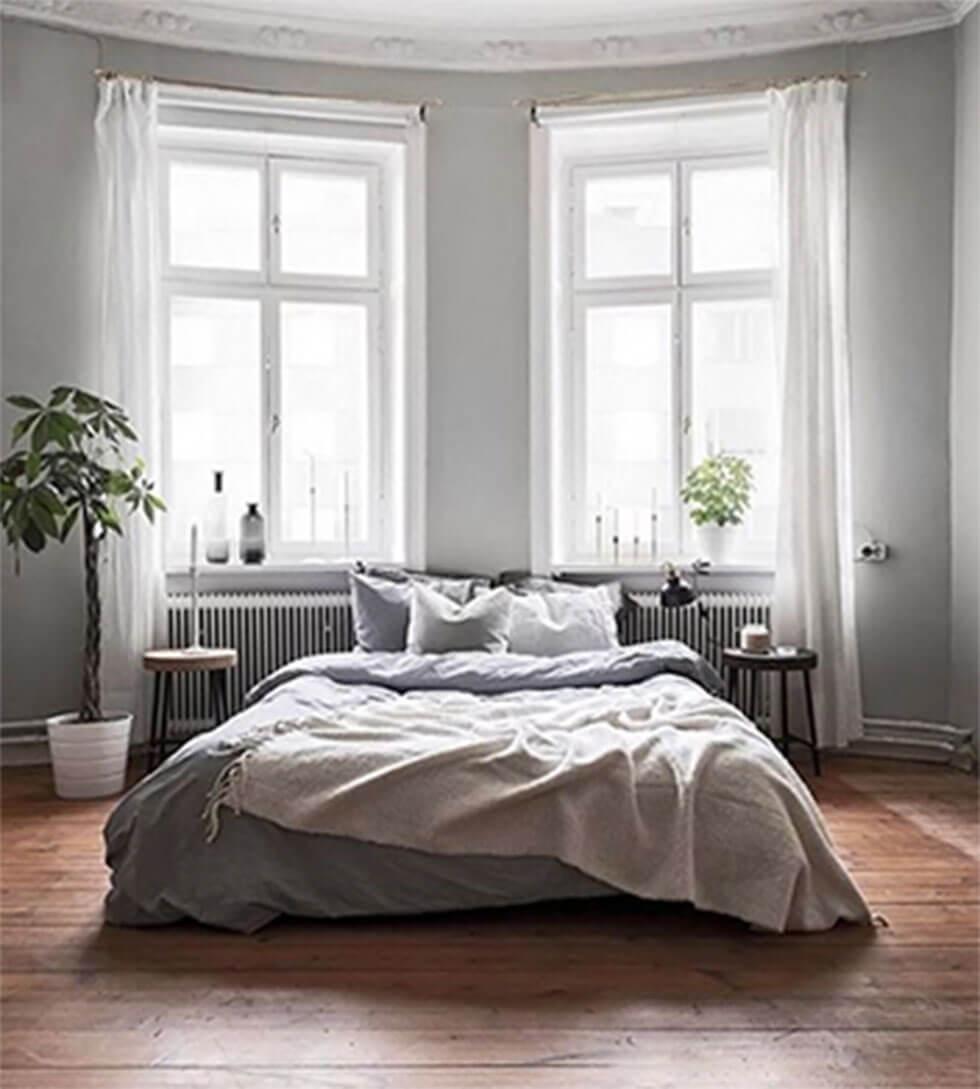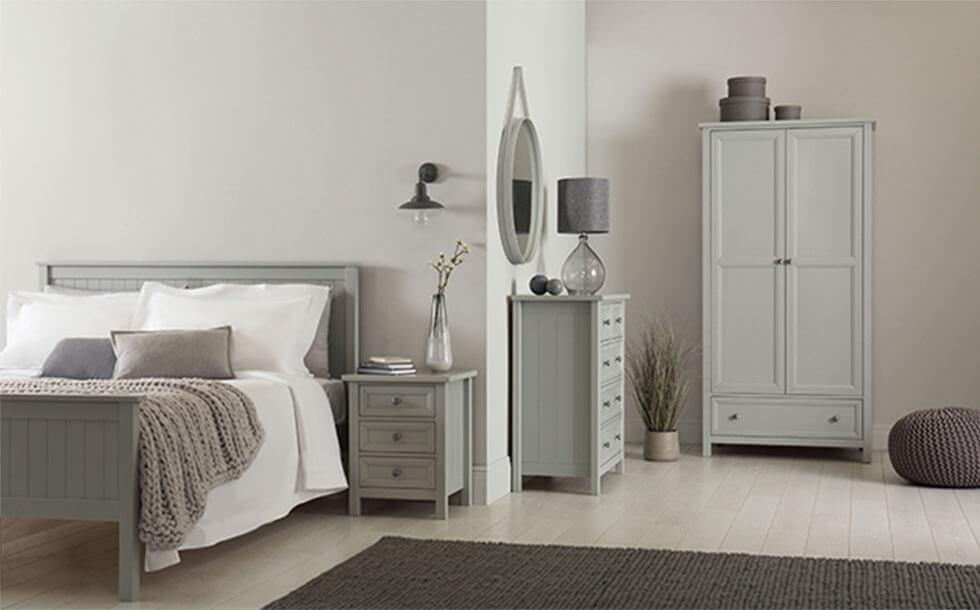 A relaxed, less stark alternative to white, opting for light grey is a great way to create an airy space. When playing with a monochrome look, there are lots of opportunities for experimentation. For instance, adding different tones and shades of grey (running the gamut to creamy off-white) can create texture and interest, and draw the eye upward - especially when the room is anchored with a dark grey centrepiece like a bed or a rug!
2. Enjoy the gravitas and elegance of dark grey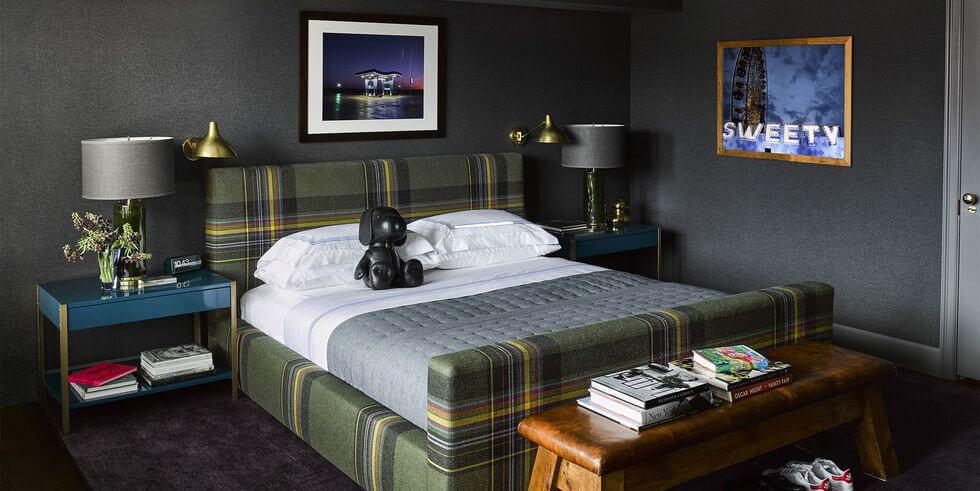 On the other hand, dark grey has a calming quality, and when used in the bedroom, can help to create a stylish, restful haven. If you're feeling bold, going for an all-grey look is a dramatic, yet elegant approach, and as a bonus tip: if your room lacks natural light, using a dark colour can create the perception of depth, and conversely, makes the room feel larger.
You can also take it slow, adding elements of dark grey to give the room a sense of gravitas: pillows, throws, or even side tables would work beautifully.
3. Layer, layer, layer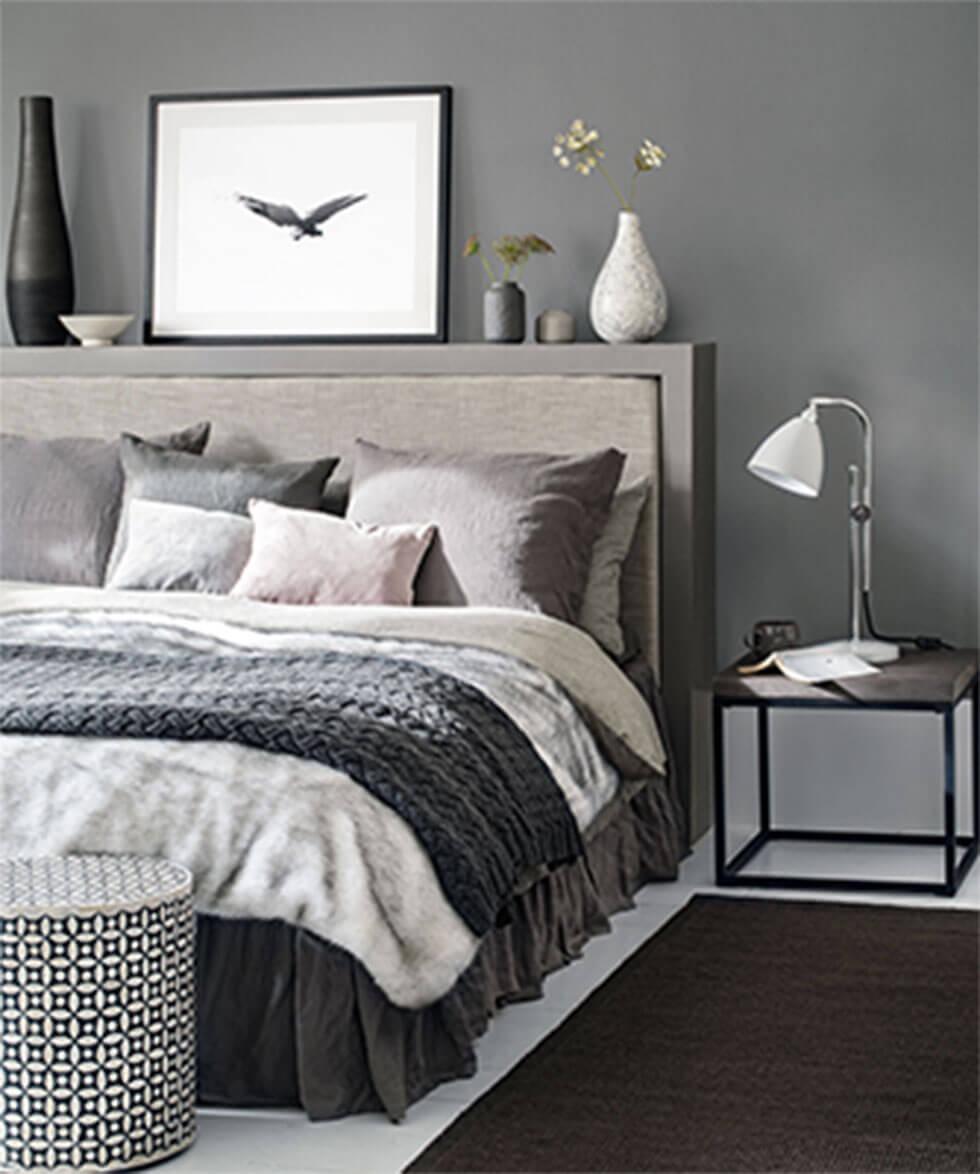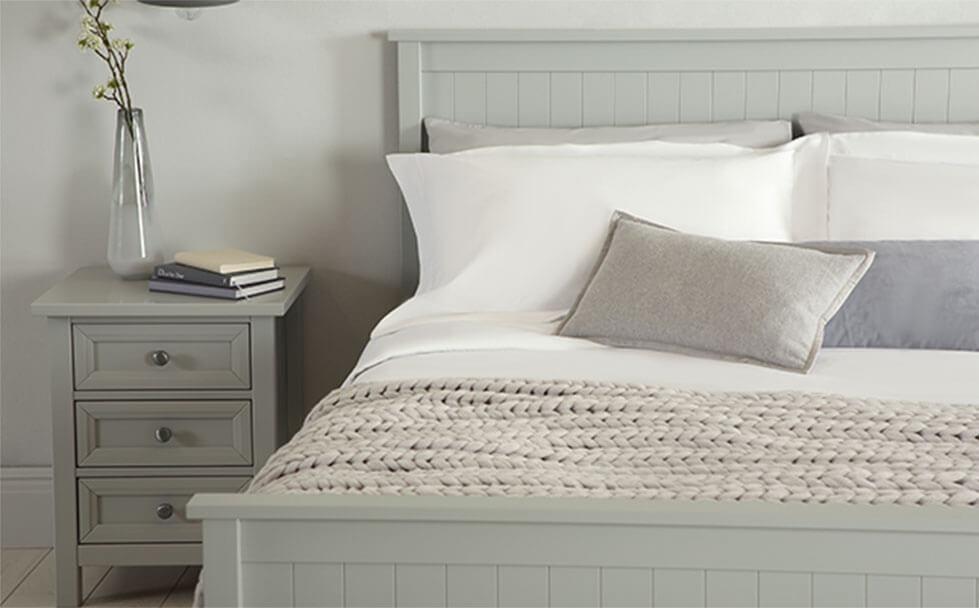 For a truly cosy look, it's all about layers, both in terms of texture and colours. Adding different shades of grey (and even other hues: think dusty pink, dark green or blue) add depth and interest to an otherwise clean, neutral space.
And of course, textures are everything. Pile on soft throws and duvets, fuzzy pillows, faux fur rugs - these are all easy and quick ways to create a comfortable, snug space.
4. Consider going for a grey and pink bedroom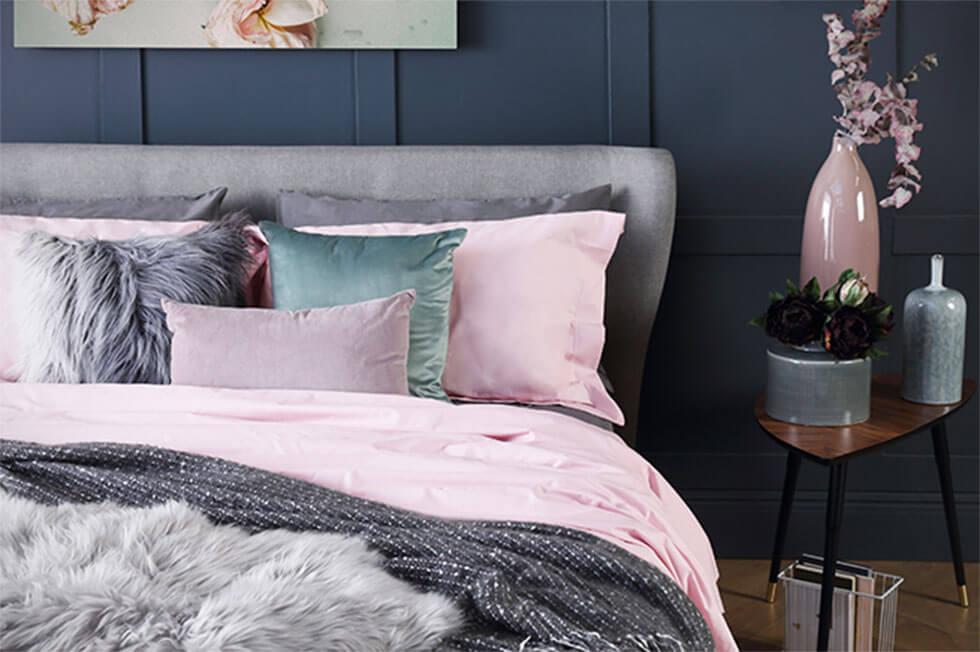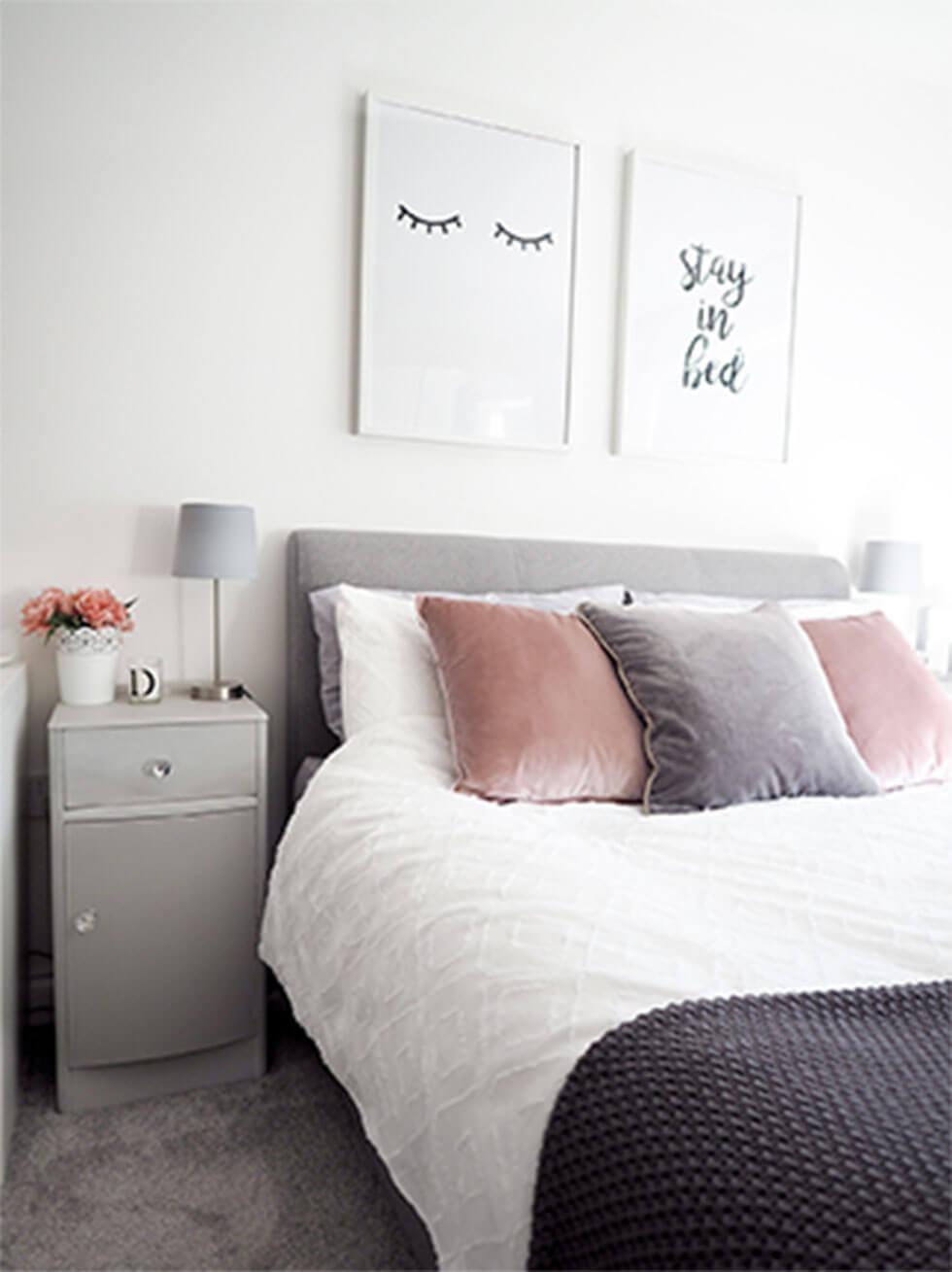 If you're looking for a gentle pop of colour, pink and grey is a soothing, and deeply on-trend combination. The cool undertones of dusty pink pair beautifully with grey, especially when used as an in-between shade in a space that has both light and dark tones.
Pink really shines when it's used as an accessory - for instance, with a soft velvet cushion, or a polished vase - for small doses of personality against a calming, neutral backdrop.
5. Experiment with colours and patterns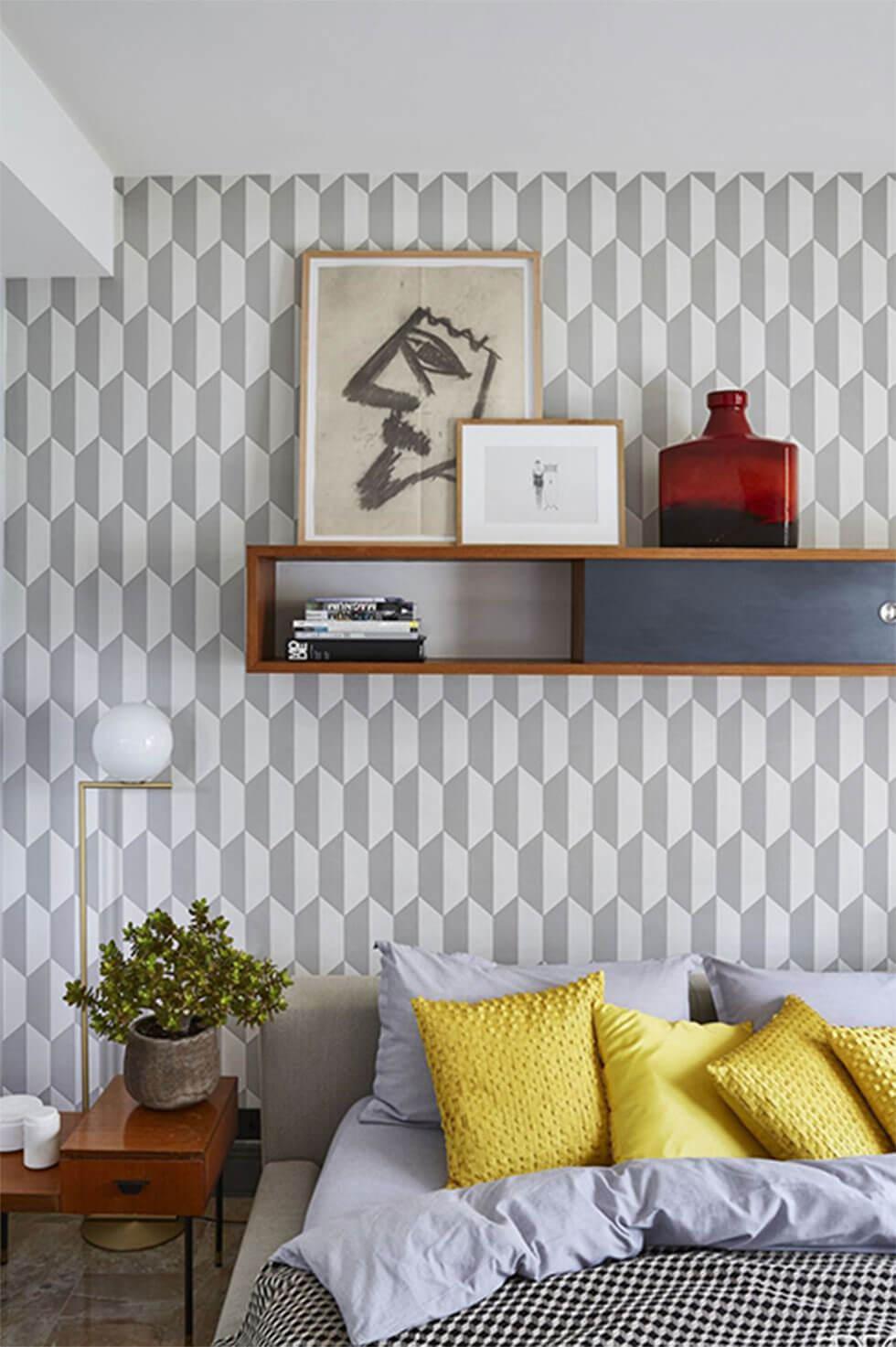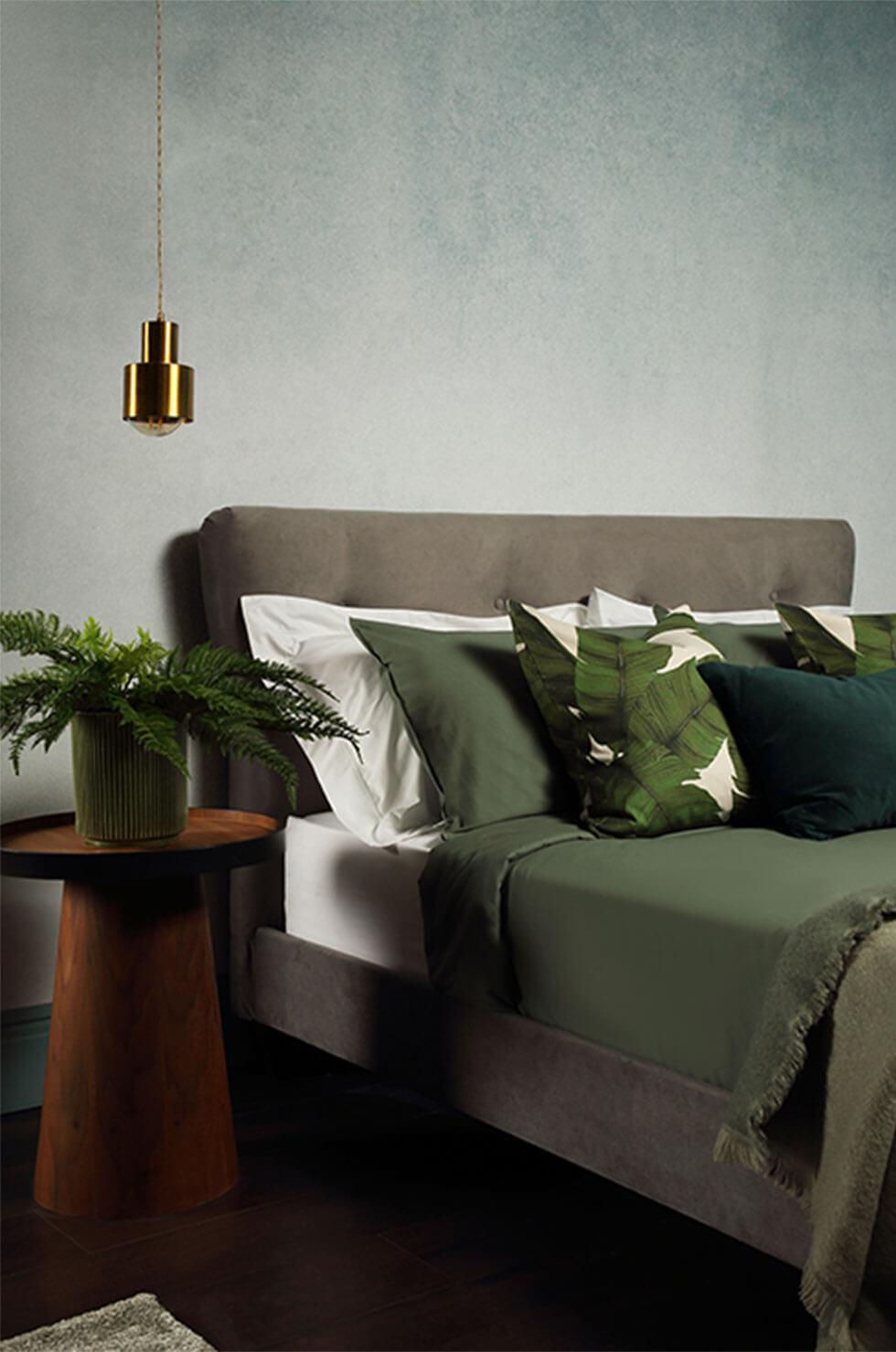 But why stop at pink? Grey is a relatively quiet tone, so the sky's the limit when it comes to playing with clashing colours and prints. Yellow is a cheerful, decisive colour that can serve as a bright contrast against grey, while shades such as dark green and blue have classic, elegant appeal.
Playing with patterns, such as a chequered or herringbone print, can also add personality and liveliness to a grey bedroom.
6. Be modern with silver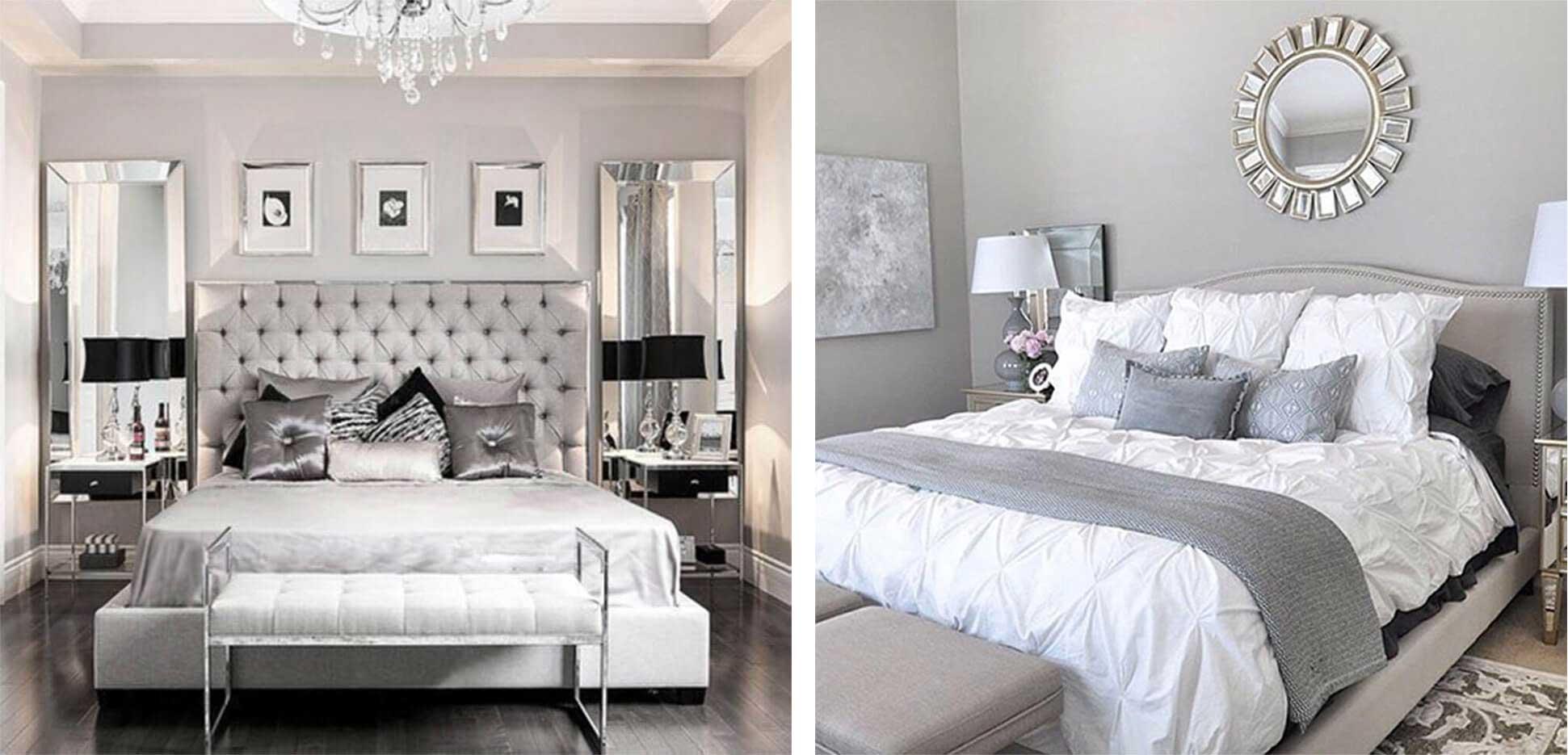 It's hard to resist a little dollop of glamour - and silver certainly brings some shine and glitz to the bedroom. You can go big with a silver velvet bed, and then either keep the rest of the room simple and minimal, or lean into the drama with equally glam details such as a chandelier or large mirrors. Or you can add it in small doses, such as an Art Deco-inspired mirror or wall hanging, or even with lamps or a few pillows.
7. Warm it up with natural textures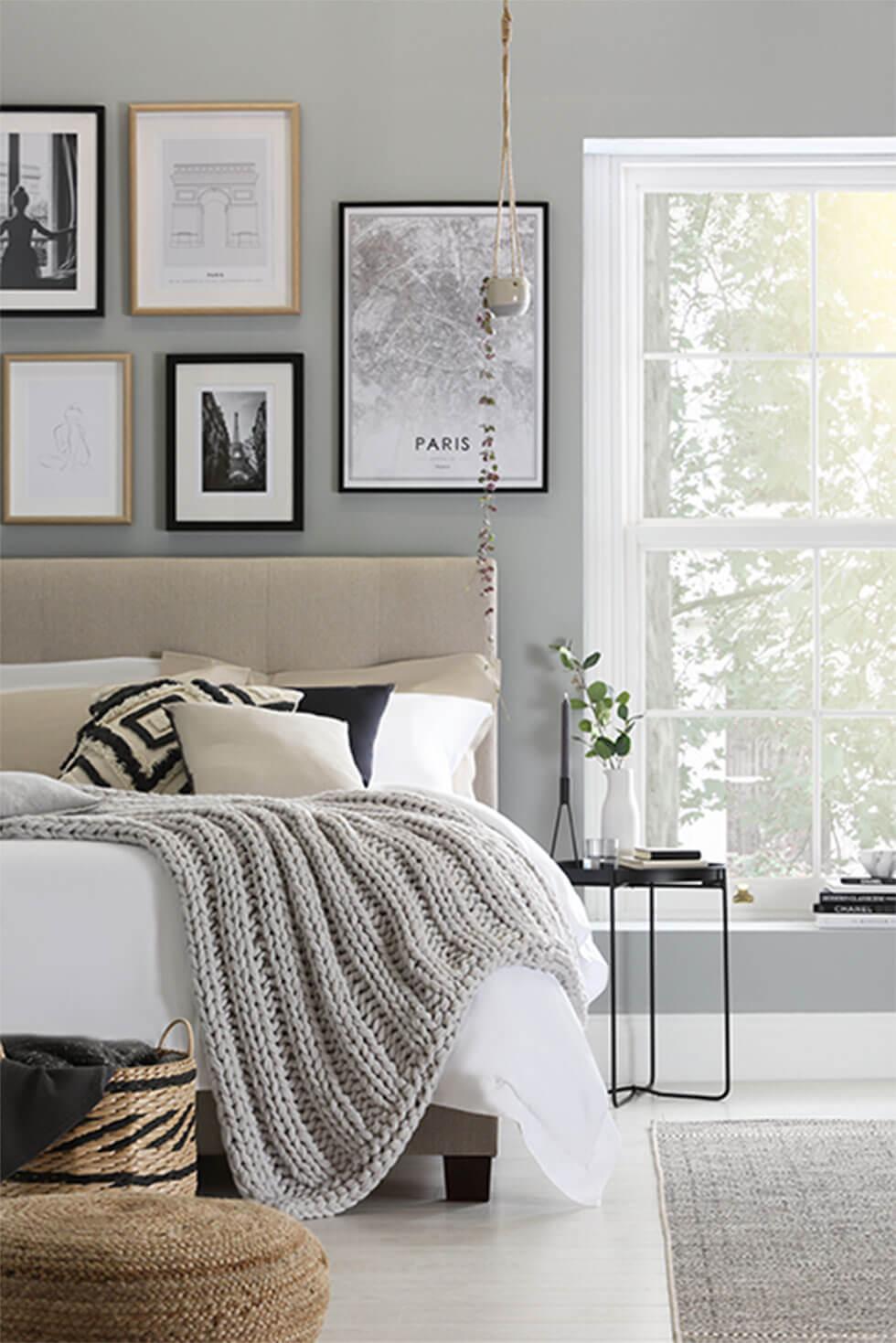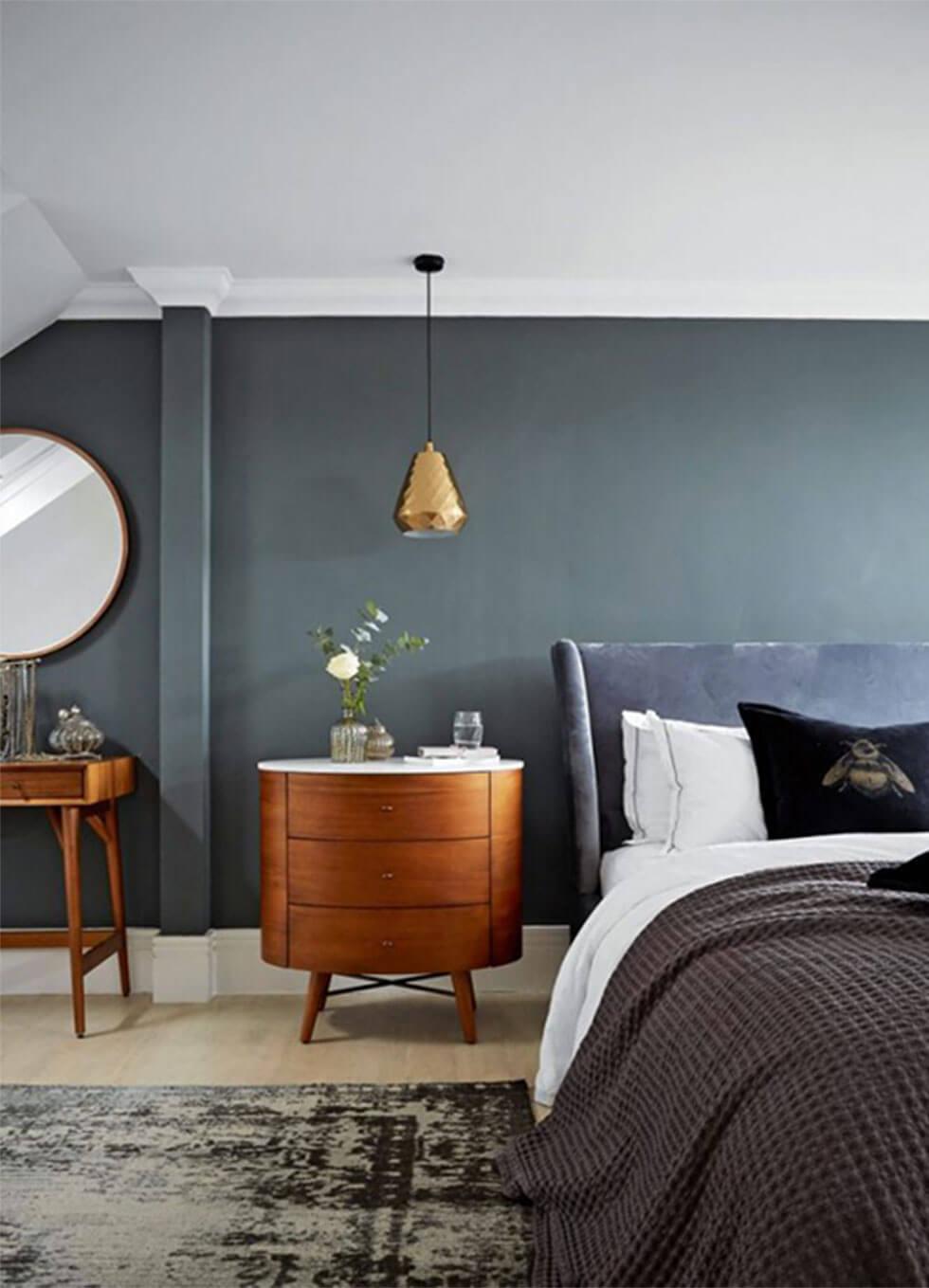 Grey rooms run the risk of looking austere and spare, so including natural elements and tones is a quick, welcoming way to add visual and textural interest! Rattan baskets and greenery create a light, summery mood all year round, but it can also be as simple as including a wooden side table for its warm tones and organic feel.
8. Opt for a feature wall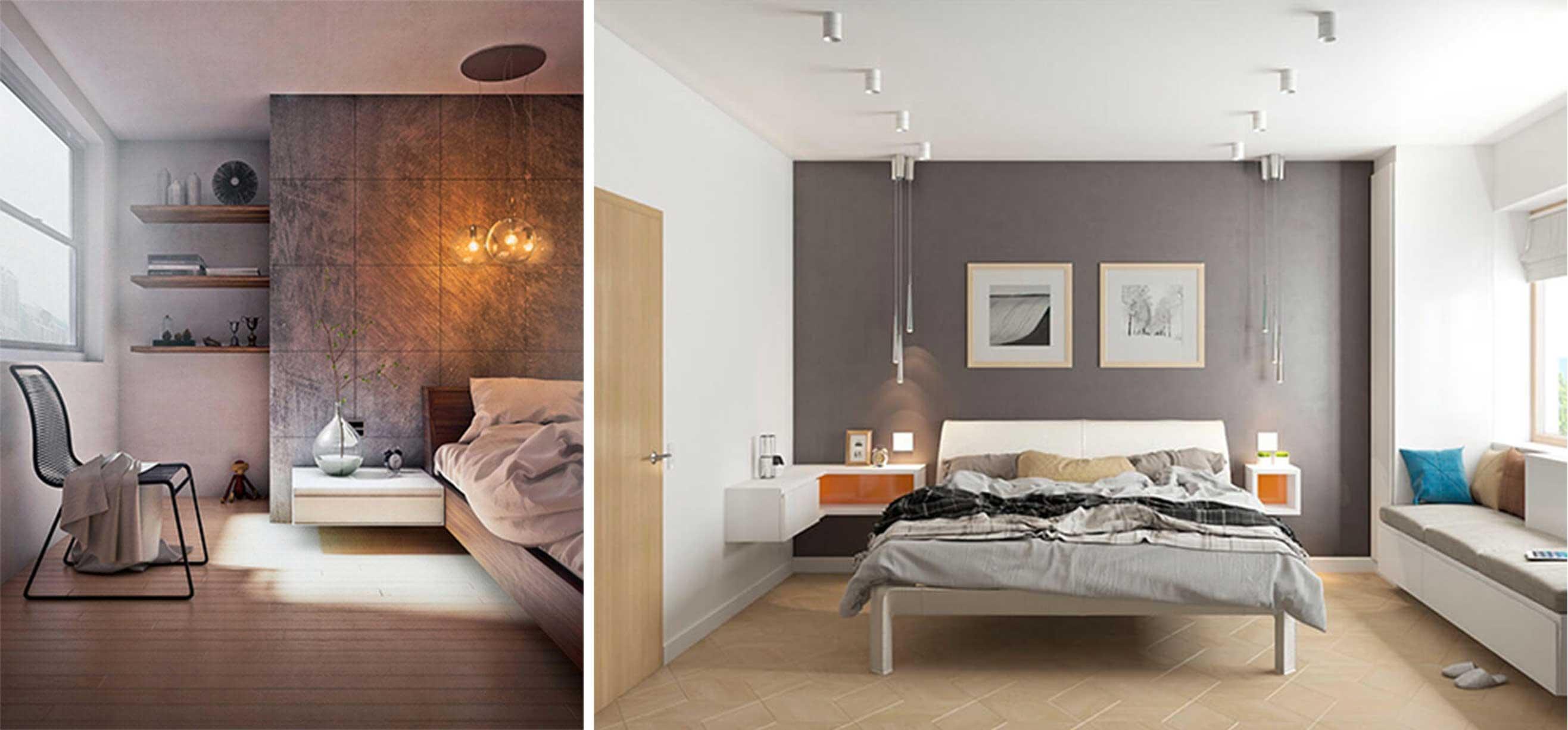 Last, but certainly not least - grey is a great colour to consider for a feature wall. Especially if you're still unsure about using it in large amount, a grey feature wall can really anchor your room, and allow a play on contrasts, with lighter bedding and furnishing standing out against a darker wall. For more oomph, using wallpaper or textured wall panels can add extra personality and style to your space!
Wall colours that go well with grey bedroom furniture
Light blue

: Both being cool colours, light blue and grey make a bedroom comforting and inviting.

Turquoise blue

: A turquoise feature wall in a bedroom with grey furniture brings personality to the room.

White

: A classic neutral combo that oozes chic - a white and grey palette is a sophisticated base to create a cosy bedroom.

Pastel tints

: Cotton candy walls - baby pink, lilac, neo mint or peach - perfectly complement soft grey tones for a calming and restful space.

Yellow

: Yellow walls add a bright, uplifting feel to the room, while grey furniture adds depth and tempers those sunny hues to create cosiness.