7 ways to make a green bedroom look good
Whether it's light sage or forest green, get inspired by these green bedroom ideas to create a relaxing, restful space.
Taking a cue from nature and the great outdoors, green is a refreshing choice to enliven the bedroom.
Whether you prefer the calming qualities of light green tones like sage or the richness of emerald and forest green, this extremely versatile colour can be subtle or bold depending on how you style it. Read on and get inspired with our styling tips on decorating a green bedroom!
1. Set the scene with green walls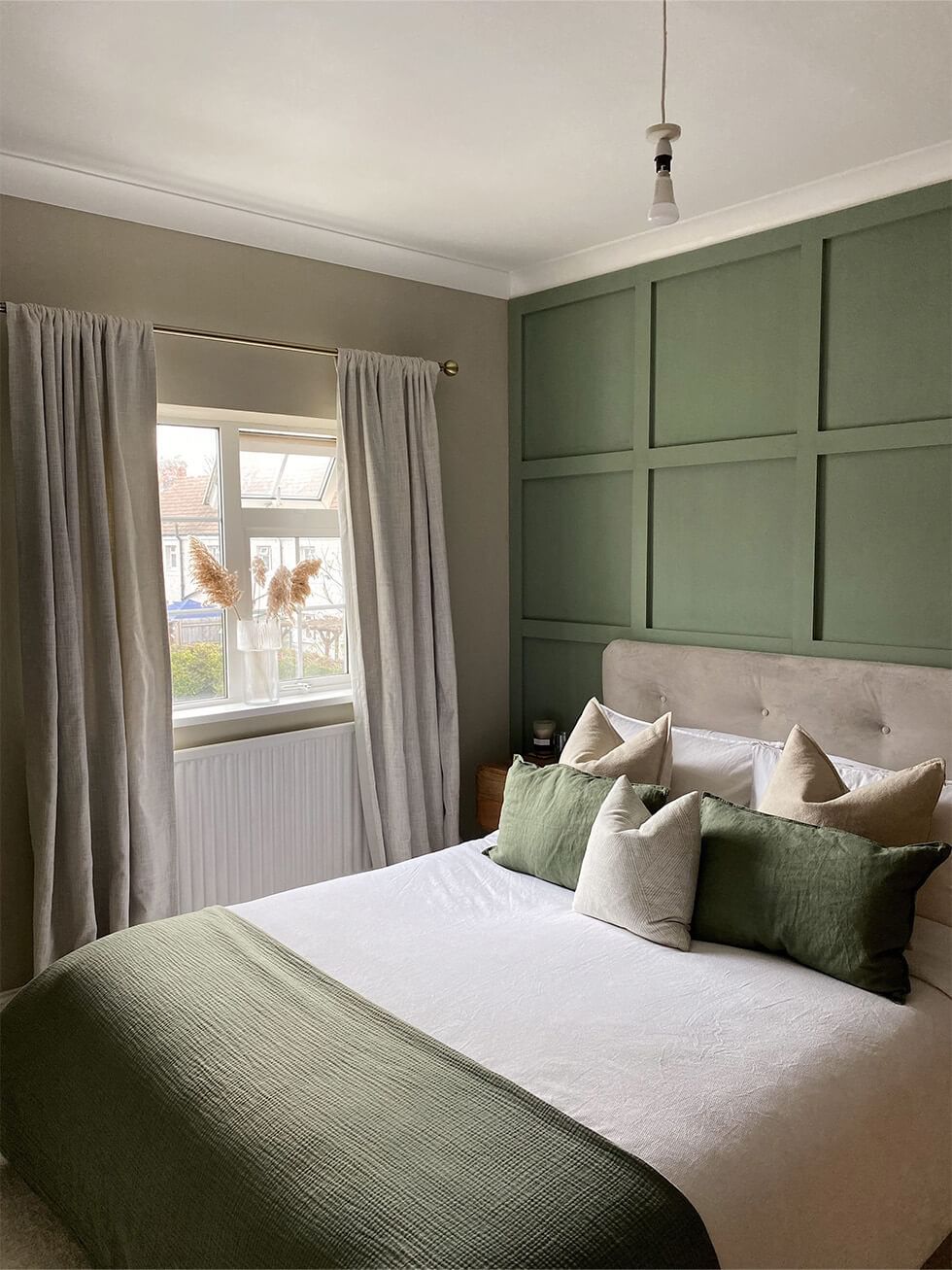 Create an intimate space with deep or warm shades of green like olive or emerald green on the walls. Combined with chic wall panelling, these deep green shades work well with classic, mid-century modern or contemporary styles. Add softness to the room with textures like cotton and cashmere to create a cosy vibe that's perfect for deep slumber.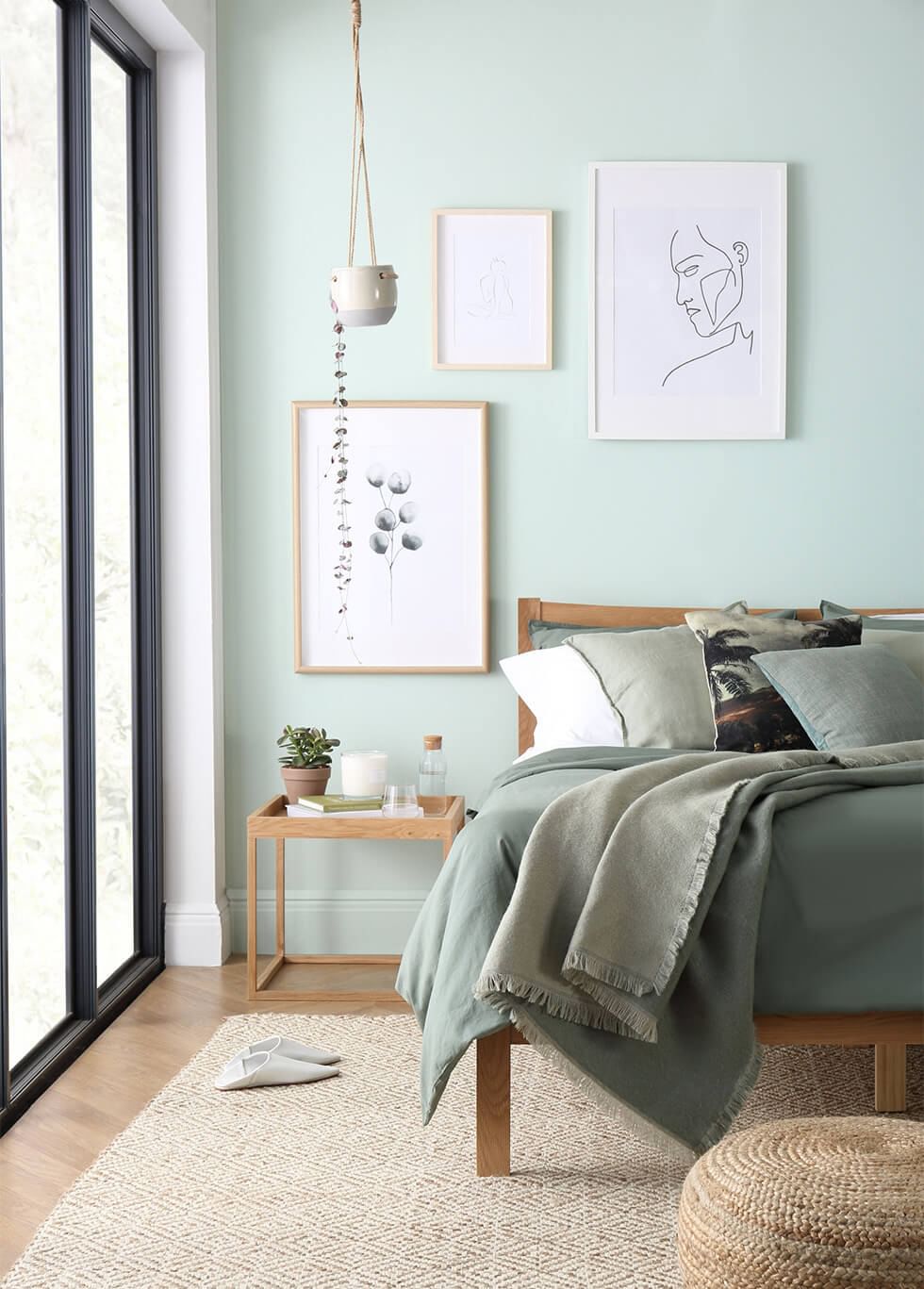 On the other hand, light green can make smaller bedrooms feel more spacious and airy. Sage, for example, works wonderfully as a neutral shade for walls and complements natural textures like wood, rattan or jute. It also uplifts other neutrals such as white, cream or grey effortlessly.

2. Decorate with nature in mind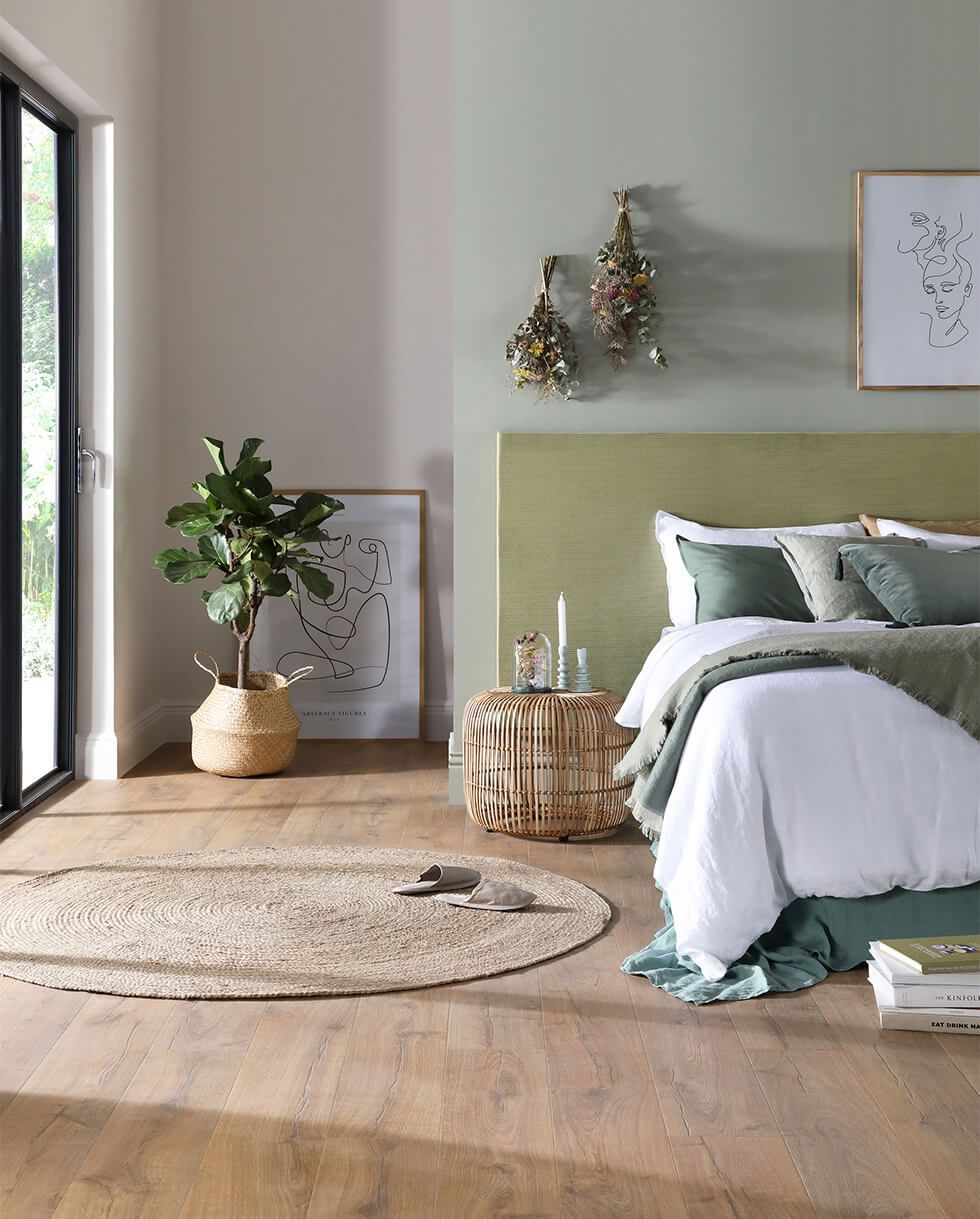 Turn your bedroom into a mindful space that's all about rest and relaxation by using sage or celadon green as a base colour. These light shades establish a sense of harmony, especially alongside natural elements like jute rugs, rattan accessories and plenty of sunlight streaming in.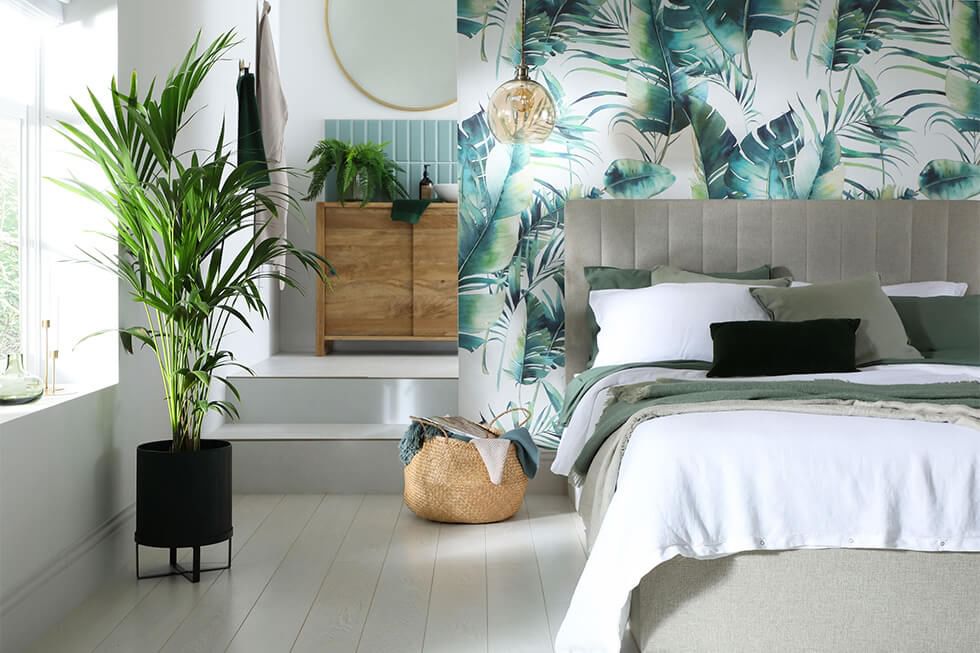 Meanwhile, a tropical or jungle-inspired bedroom in a deep shade of green should be the go-to decorative style for the maximalist at heart. Don't be afraid to be bold here – think palm prints on the walls, rattan baskets and lots of indoor plants – as these details make an exotic and stylish statement.
3. Use environmentally conscious materials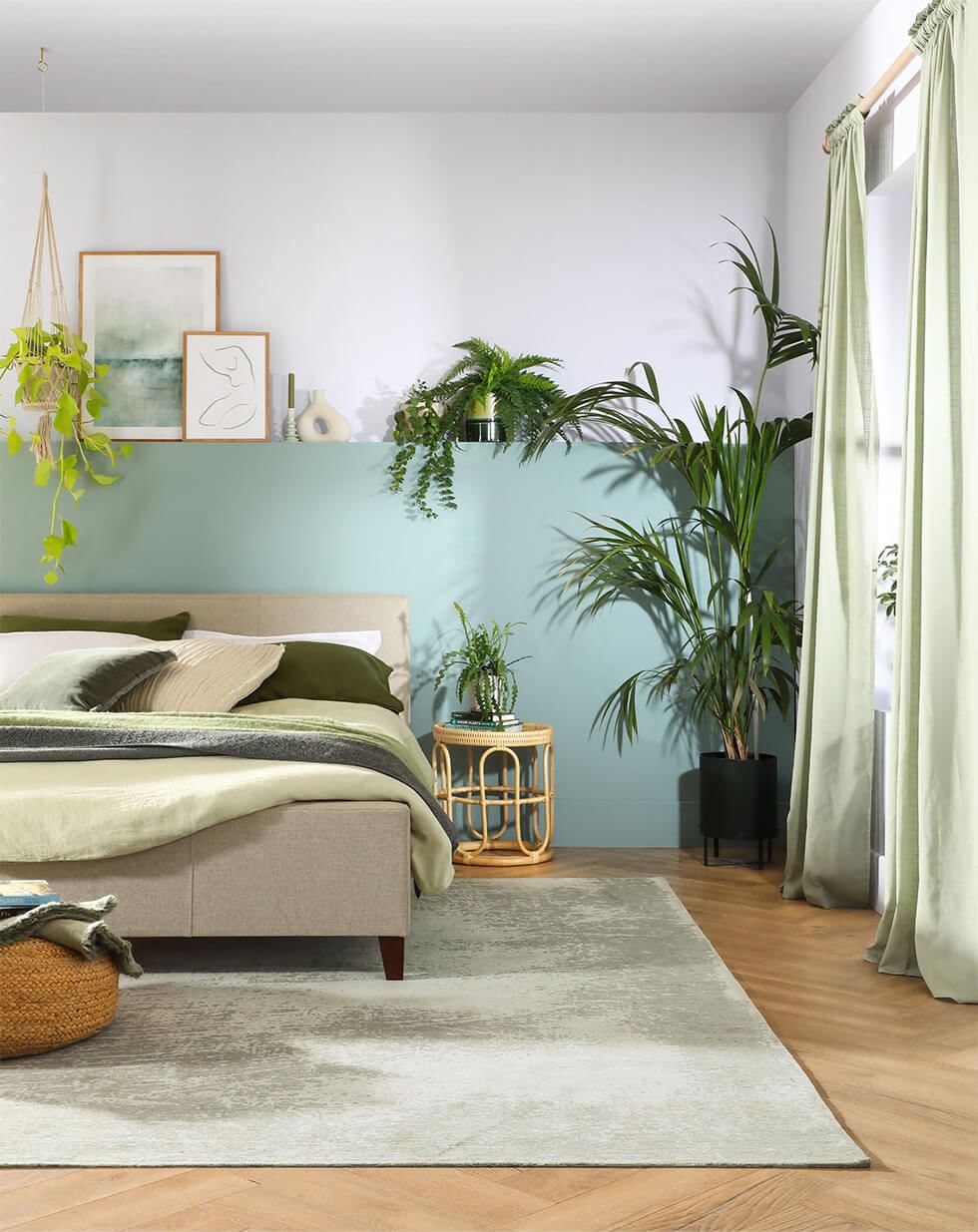 What better way to go green than by turning your bedroom into an environmentally conscious space?
Choose paint without volatile organic compounds (VOC) to reduce impact on the environment and general health - studies have shown that the presence of VOCs in the home can cause respiratory problems and allergies due to chemicals floating in the air. Furniture made from sustainable materials like reclaimed wood or metal, insteadof plastic, are also good eco-friendly options.
And for better sleeping comfort, choose an organic latex mattress and organic bedding – this will also help if you have sensitive skin as these are both hypoallergenic, making it unlikely to cause an allergic reaction.

4. Make it a pretty pairing with pink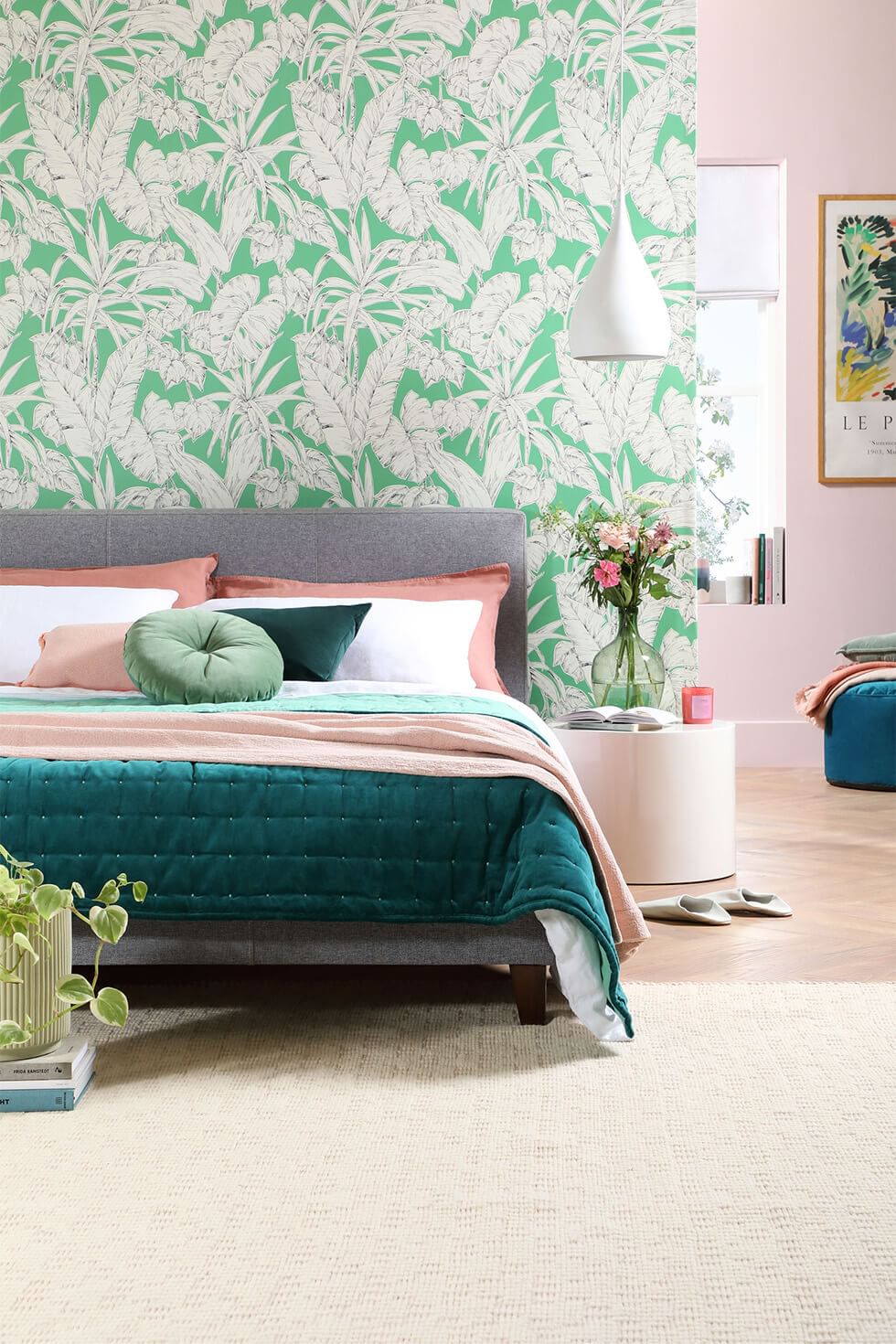 If bright colour pops are more your style, go for an unexpected twist like a neo-mint and coral pink combination. This vibrant pairing is energising and daring, and will lend summery vibes to your room all year round. Ground the room with a grey bed and add warmth with natural elements like plants and wood accents.
5. Incorporate zesty lime green accents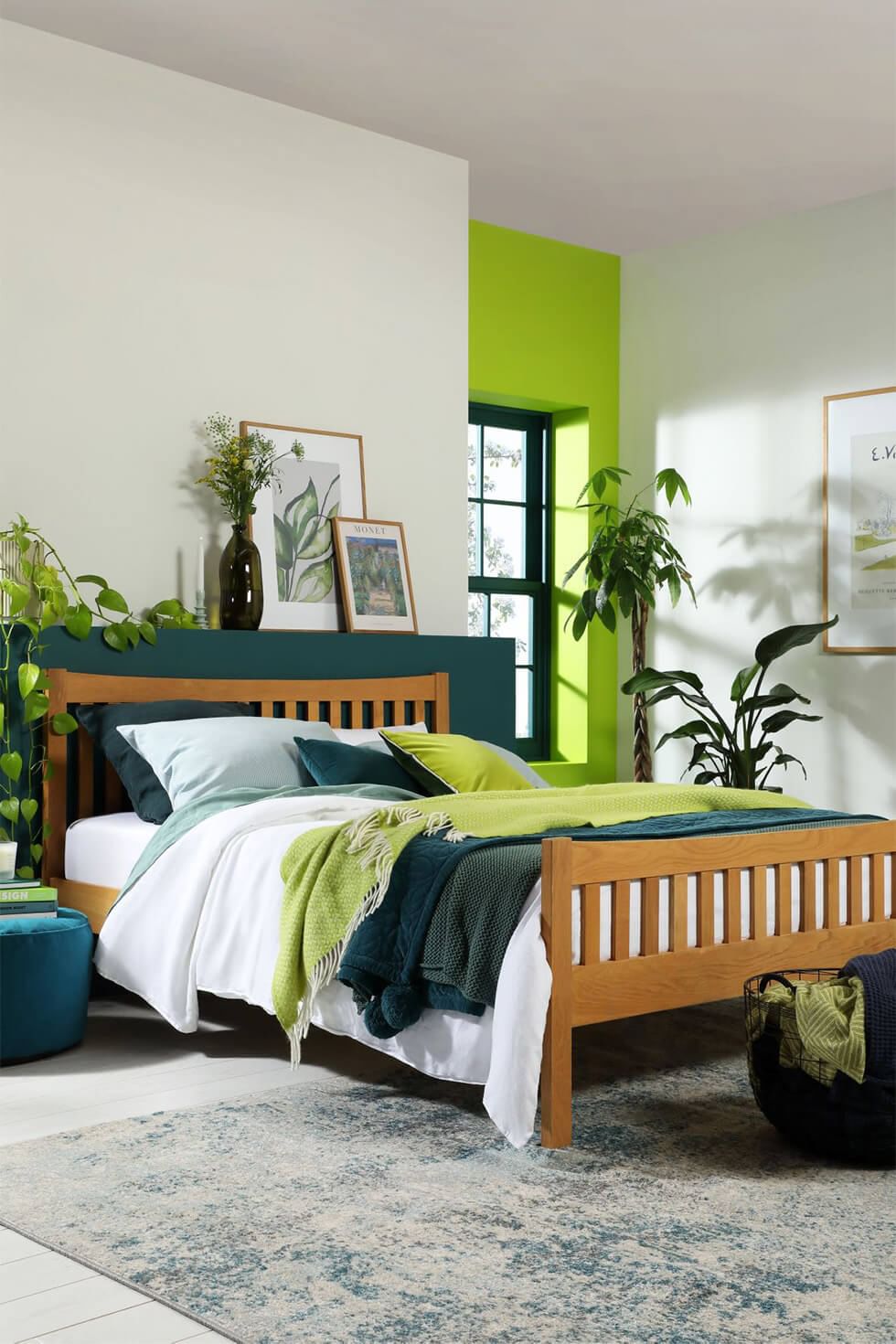 Incorporating lime green accents to the bedroom interior will add a zesty, bold touch to the overall space. For maximum impact, take it to the walls with bold wallpaper or a feature wall for a bright contemporary look. Or, if you'd rather start with small doses, add pops of lime green with cushy throw pillows or soft blankets to energise the space.
6. Accessorise with a statement headboard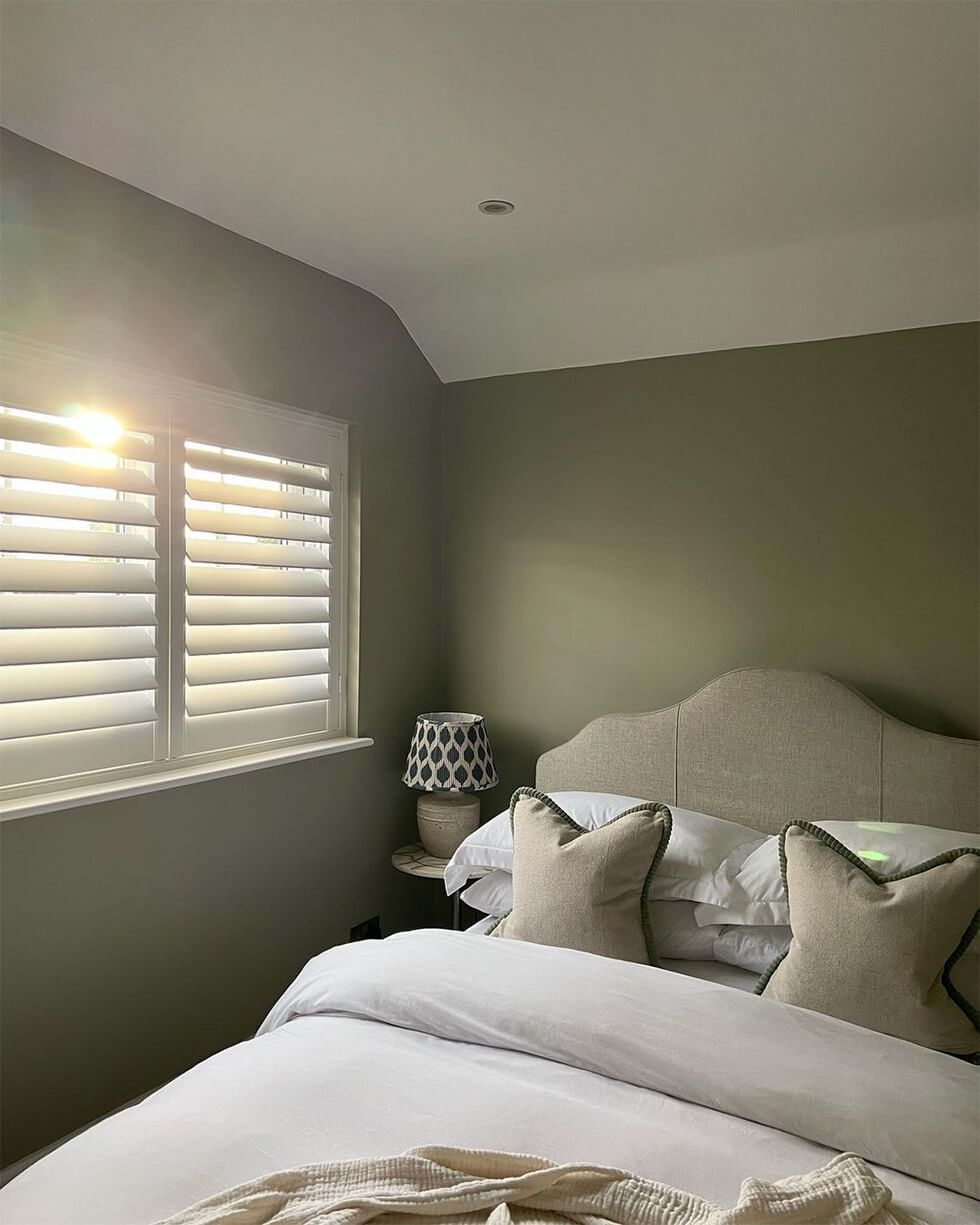 Make an elegant statement with a classic headboard in an oatmeal shade which will add a touch of cosy luxury to the space. Turn up the warmth with accessories in a neutral colour palette, like a fabric stool or small potted plants. Keep bedding and accent colours within the earthy spectrum: think white, beige or grey for soft layering.
7. Bring the outdoors inside with plants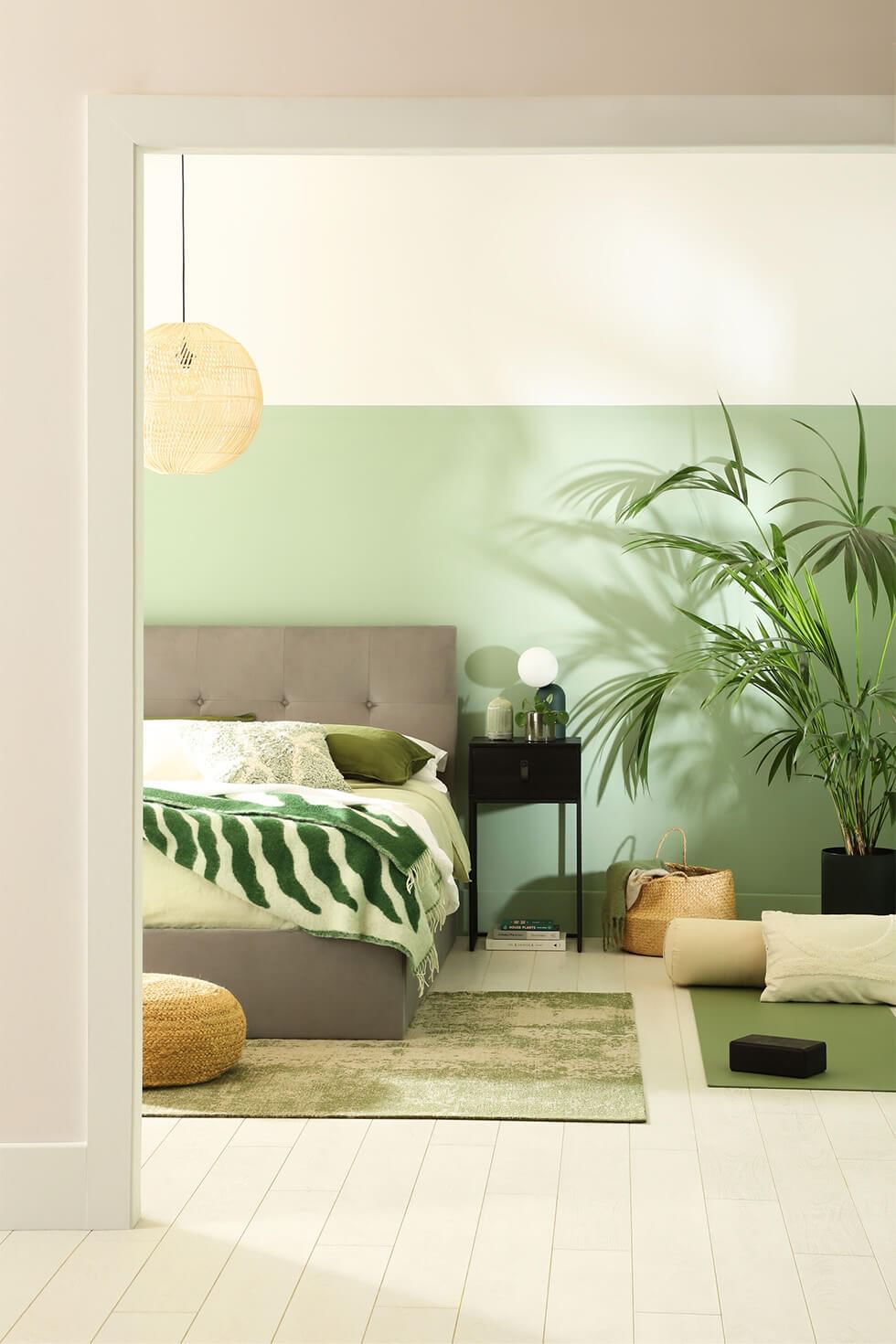 Bring a piece of the outdoors inside by adding plants to your bedroom. Start by researching the types of plants best suited for your bedroom. Do you want to improve the air quality? Are you looking for a plant that is easy to maintain? These are all factors to consider to transform your space.
Aside from enhancing the overall décor, indoor plants provide many healing benefits by simply absorbing carbon dioxide and releasing oxygen into the atmosphere. By purifying the air and removing toxins such as formaldehyde, the presence of indoor plants helps create a healthier and happier environment in the home.
Here are some common indoor plants to consider:
Spider plant - easy to maintain and purifies the air
Snake plant - improves air quality
Peace lily - absorbs toxins in the air and adds humidity to dry environments
Aloe vera - produces oxygen at night for restful sleep
What colours go well with green in the bedroom?
Sage green + off-white

Calming, elegant and gender neutral. This colour combination is the ideal base for wellness-inspired and minimalist bedrooms.

Seaweed green + blush pink

This chic pairing adds a dash of cosiness to modern and eclectic bedroom styles while providing plenty of room for experimentation.

Emerald green + navy

These deep shades of blue and green add depth to your bedroom while creating a warm and intimate space.

Pickle green + coral pink

As the Pantone colour of 2019, coral is an incredibly versatile colour that is energetic yet comforting when paired with green. This colour combination works well with tropical and maximalist bedrooms.

Green + Brown

Emphasising the strong connection green has to nature, this calming match brings warmth to the bedroom, especially in winter.