7 inspiring ideas for your bedroom walls
Jazz up that empty space above your bed with our inspiring bedroom wall ideas - our quick guide will show you how to get started!
A calming, private space meant for rest and self-care, the bedroom is one of the most important rooms in the house - and also one that guests are least likely to see. Which also means that perhaps more than other spots in the home, it's also a room that you can truly make your own!
While beds are undoubtedly the star of the space, bedroom walls are also incredibly important when it comes to setting the mood. But if you're at a loss when it comes to designing your bedroom walls and figuring out what should go where, here's our quick guide!
How to plan and design your bedroom walls
Figure out which direction your bedroom window - if you have one - is facing. This will help determine how light will enter your space, and at what time. From there, you'll be able to figure out where you'd like to place your bed in relation to the window. For instance, if you're an early riser, you may like to have your window at the foot of your bed to be greeted by sunlight each morning.
It's likely that one wall will have more focus and attention than the others, and that wall is likely to be the one your bed is set against. We have loads of ideas for the space above the bed, but remember safety comes first! If you're planning to mount anything heavy (such as a large mirror or art piece), do consult a professional.
1. A striking, yet calming feature wall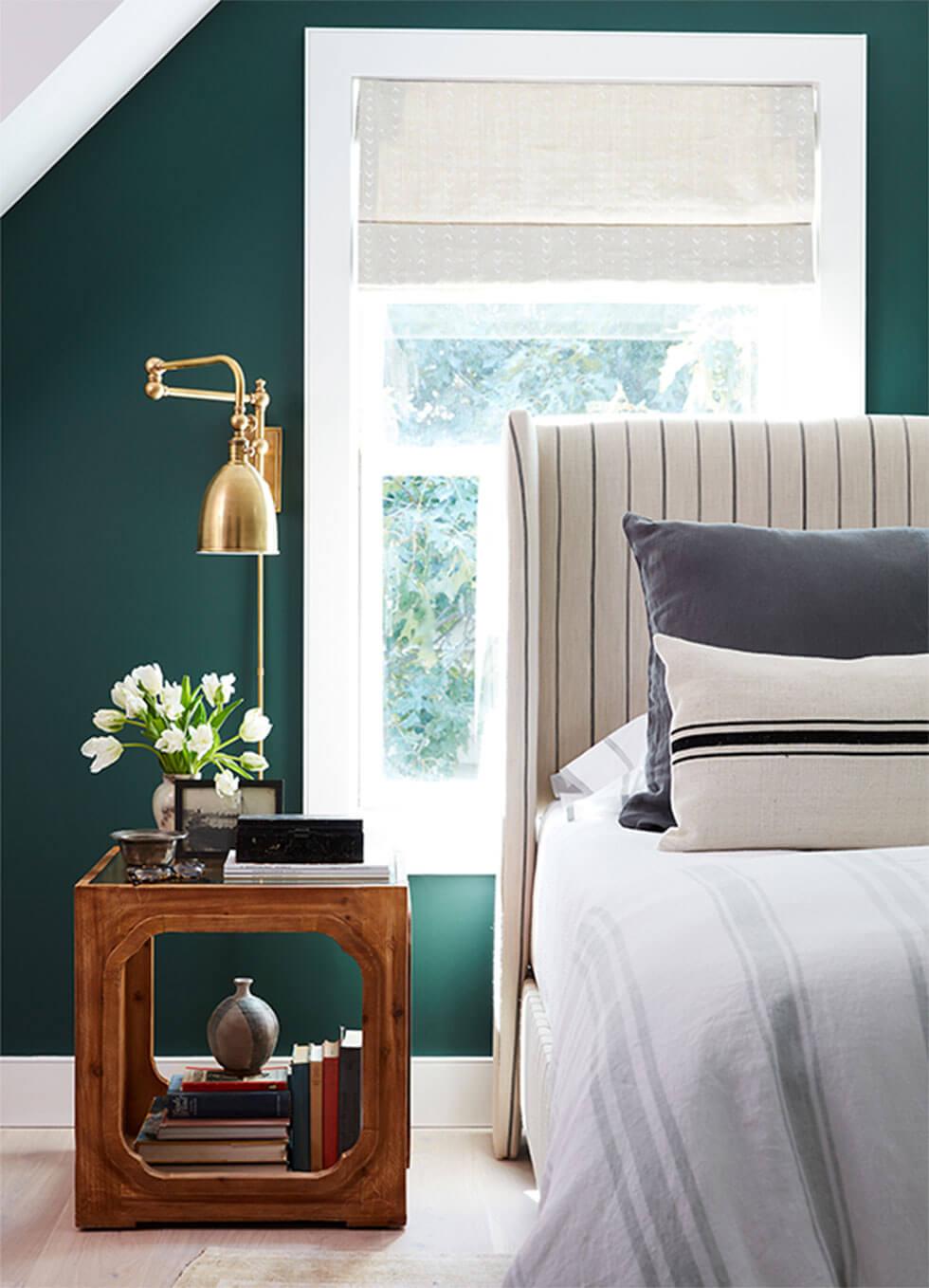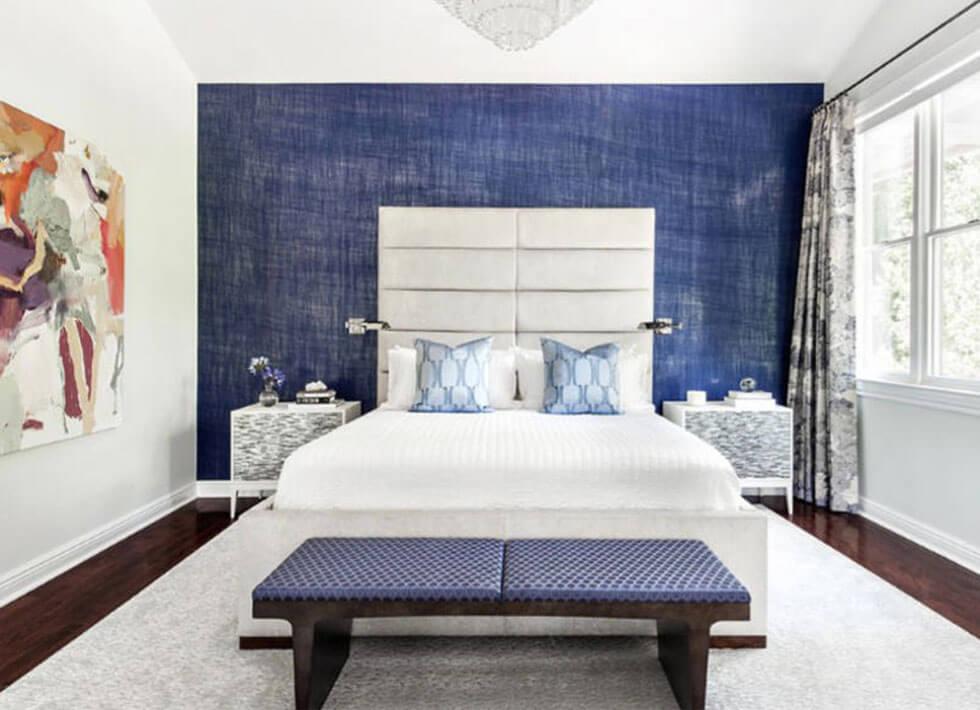 First of all - a classic. The feature wall is a staple in home styling, and with good reason. Blue, green and grey, whether in darker or lighter tones, are calm, thoughtful colours that can have a lot of impact, making them great choices for this look.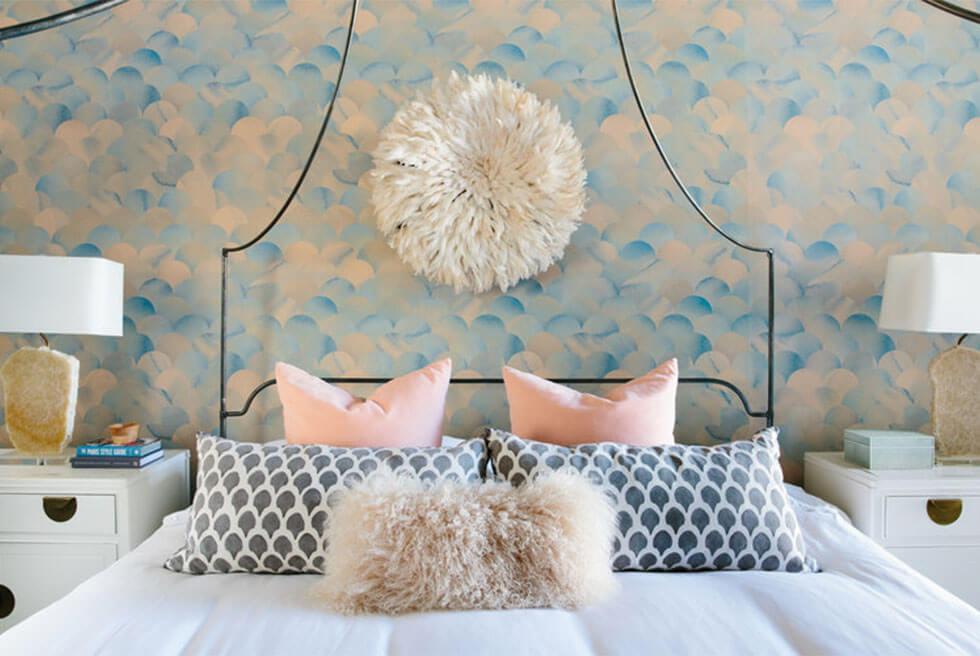 However, if you would like to play with a little more tone and colour, a pastel watercolour look offers a softer option, as do ombre looks.
2. Geometric feature wall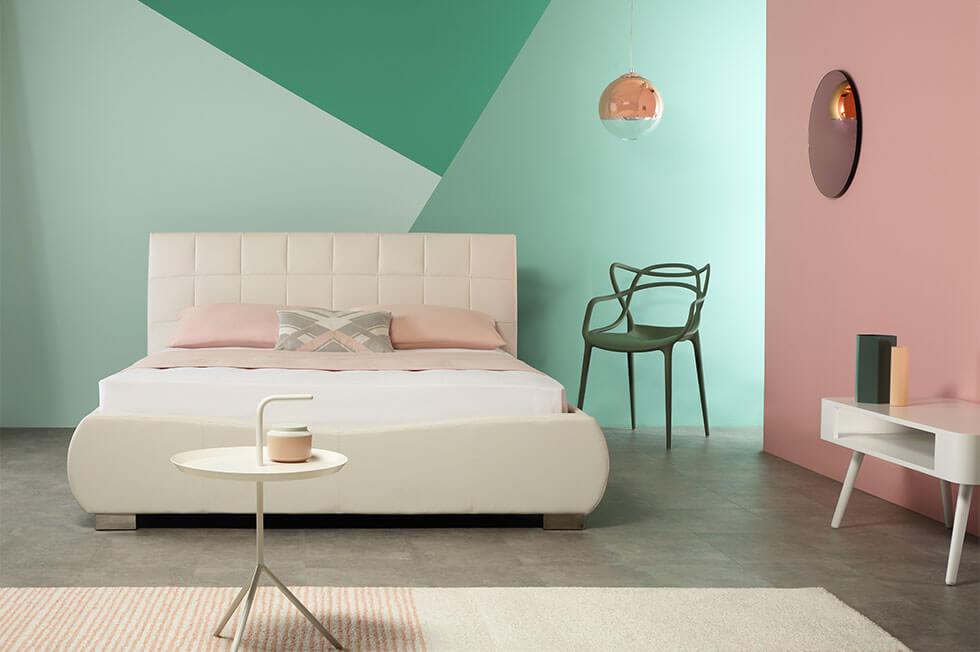 For an edgier, modish look, you could experiment with
colour blocking
for a sharper, geometric bedroom. With a look this strong, opting for gentle, muted pastels such as mint and blush pink softens it slightly, while still keeping that element of surprise and whimsy. While the impact is huge, achieving this is relatively straightforward. All you need is a few tones of paint, a roller, and some tape to achieve crisp, clean edges.
3. Play with wallpaper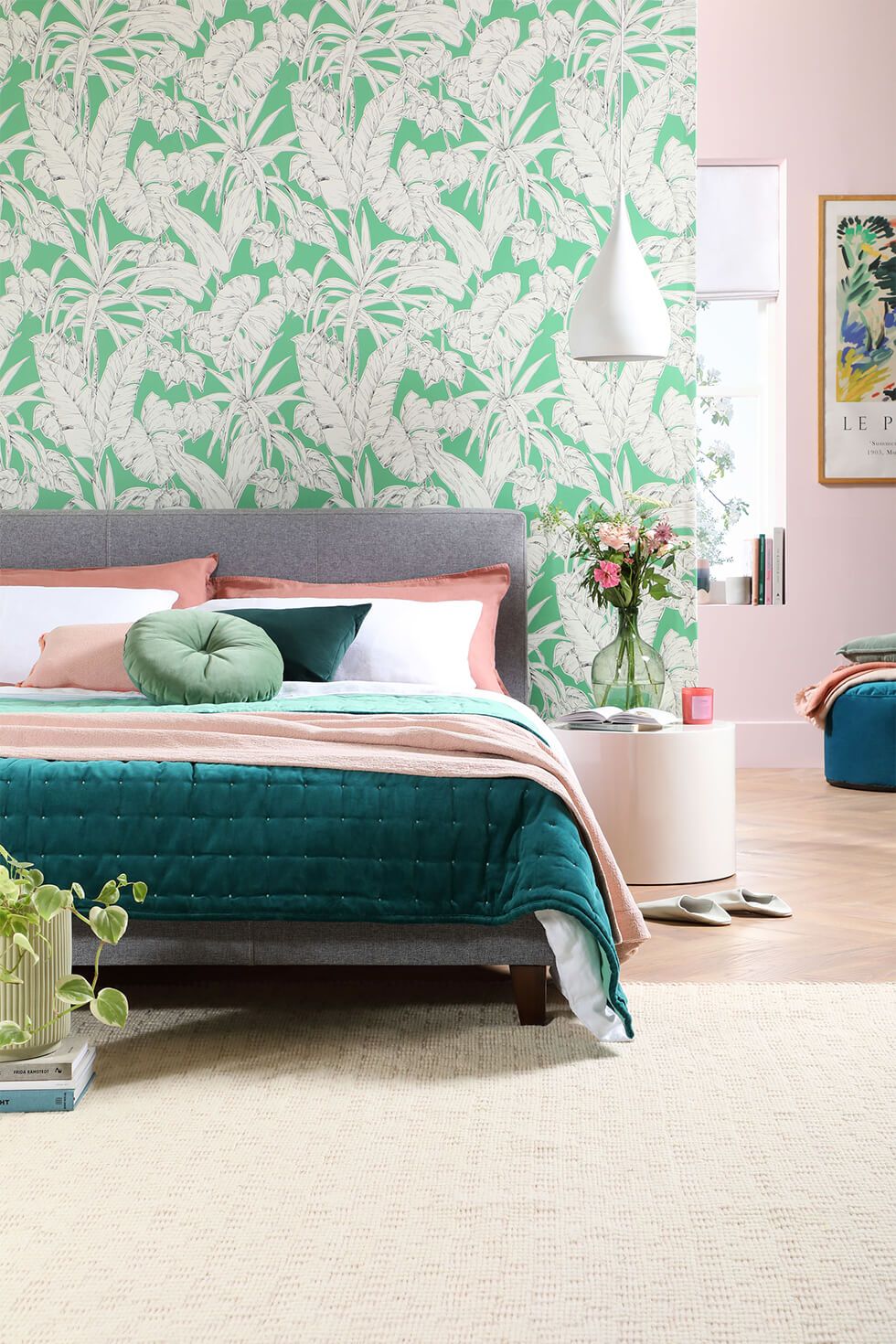 On the other hand, you don't have to use paint at all. Wallpaper is a great way to make a statement in the bedroom, and while you could always opt for soft florals and patterns, there's real value in being bold here too.
For an all-over approach, go for a tropical pattern with a colourful design, and bring some of the same tones and colours into the furniture to tie the room together.
4. Display your favourite art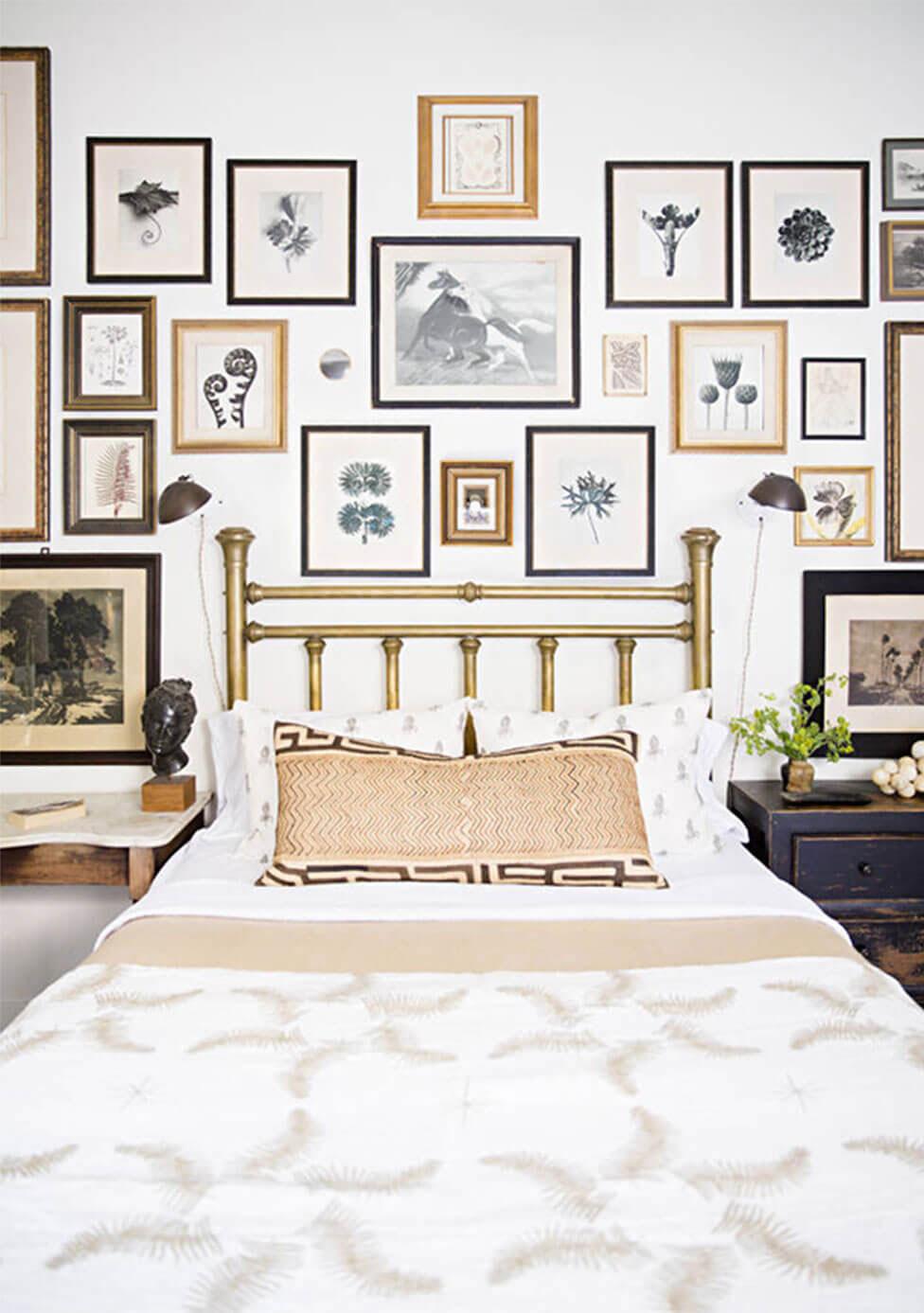 For the space right above the bed, displaying art is a nice way to add something unique and make the space truly your own. If you can't pick just one piece, a gallery wall is a great way of enjoying all of your favourite pictures in one space. To work out how you'll lay these out, practise by mapping out the size of your frames using brown paper first, and stick it up on the wall to give you an idea of how the finished product might look.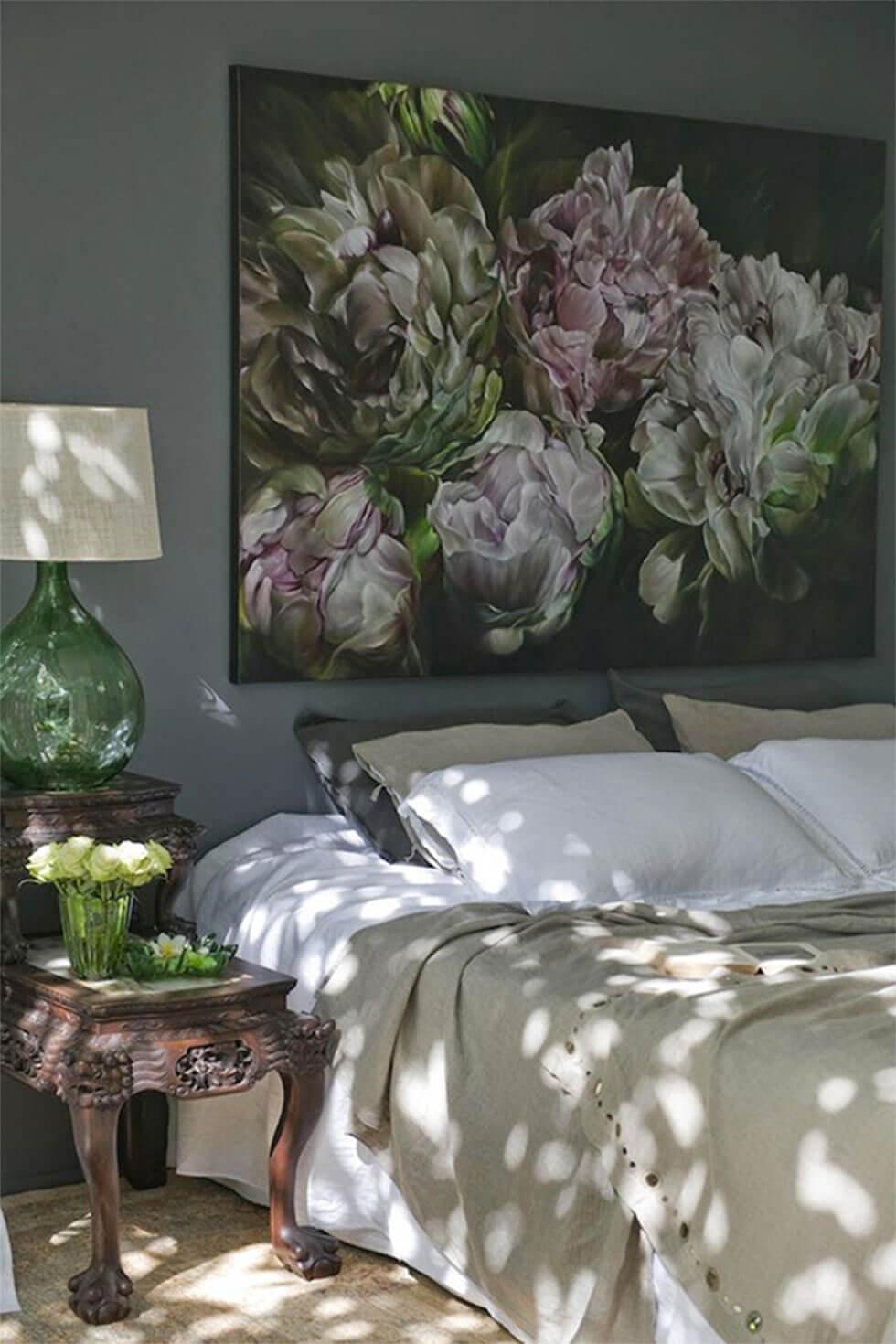 Having said that, the impact of a larger piece of art shouldn't be underestimated - it can truly change the direction of the room, and if you have a statement-making piece, building the decor around it also has lots of pay-off.
5. Think outside the box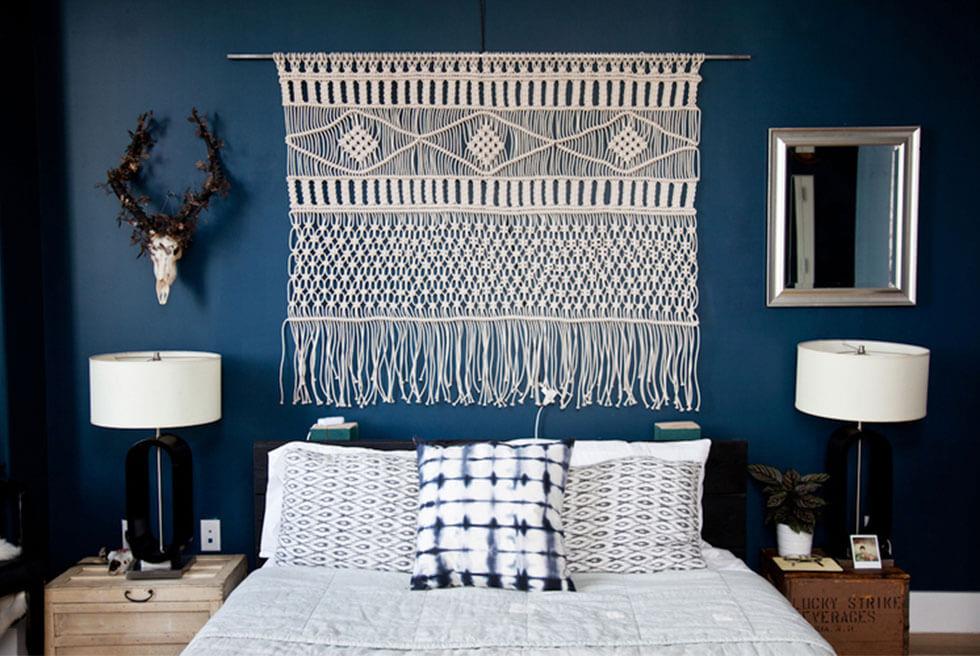 Of course, you don't have to be bound by traditional notions of art. Cosy fabric hangings - whether in the form of a rug, or knotted macrame - can add lots of texture and personality to your room, as well as softening the overall aesthetic. Try your hand at making a modern tassel wall hanging for your bedroom.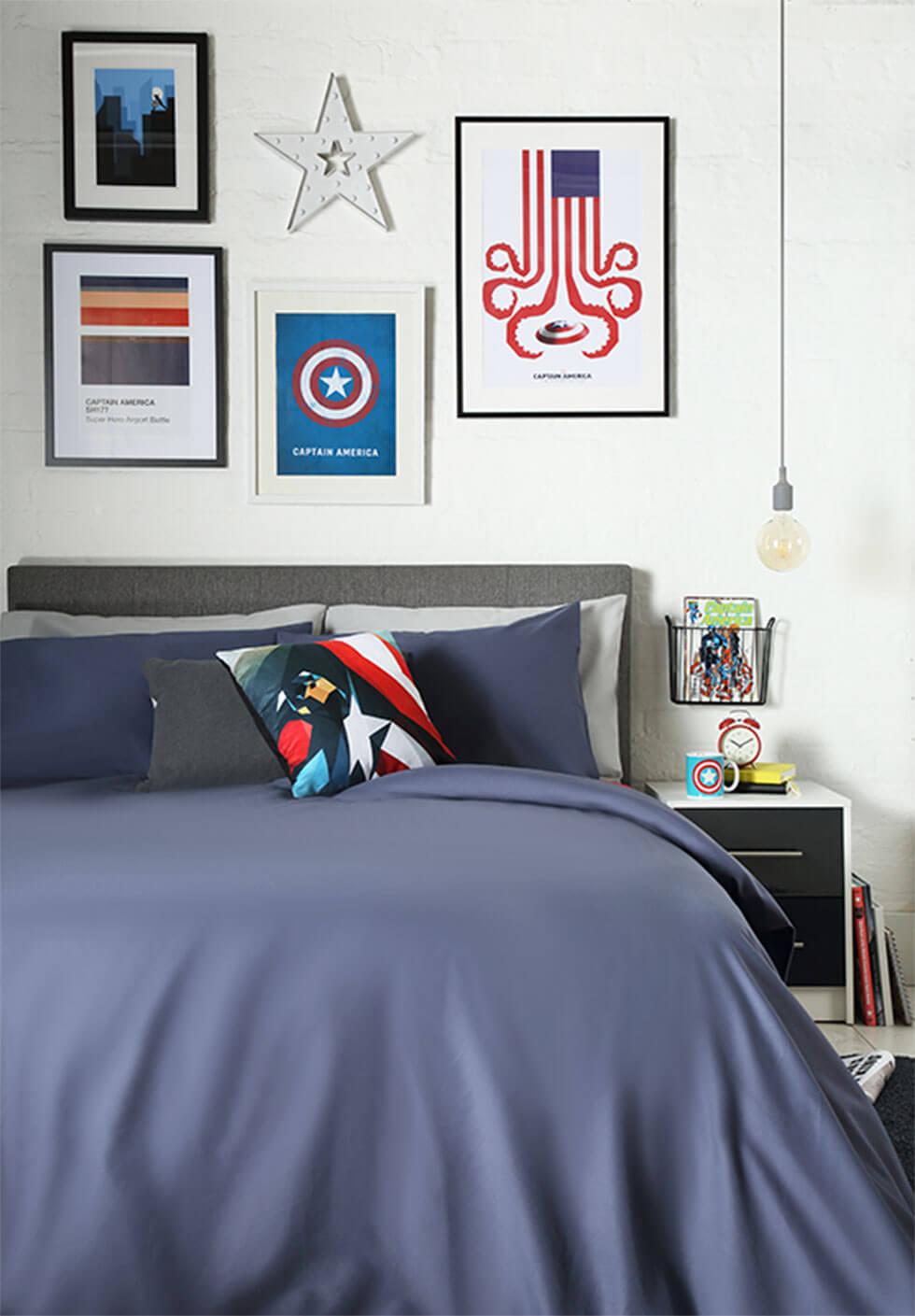 And this is also a great place to display your interests. Hanging mementos, like concert tickets, film posters, and photos can help personalise your bedroom. If you have comic book covers and movie posters, you can even create a superhero-themed bedroom in no time at all.
6. Experiment and DIY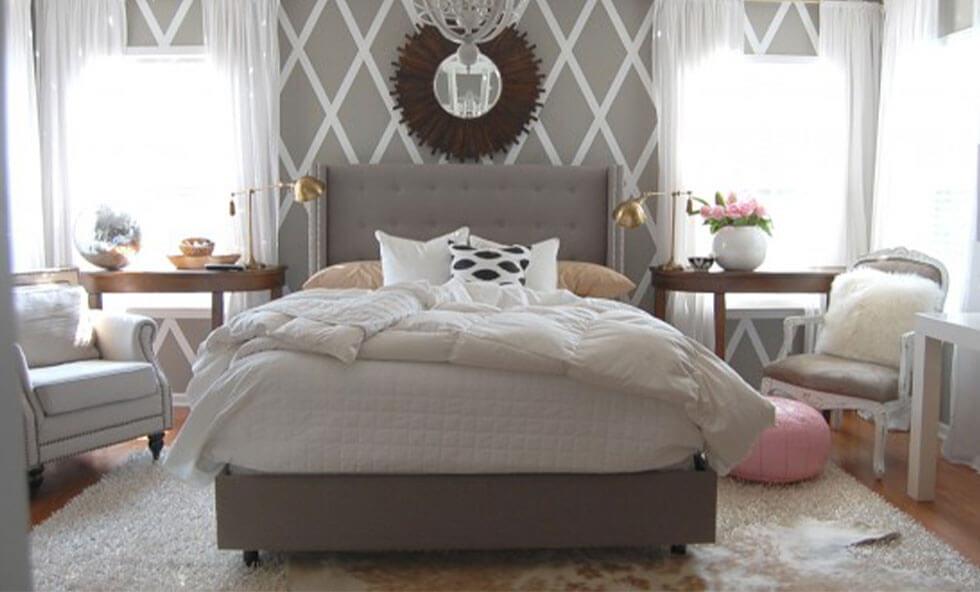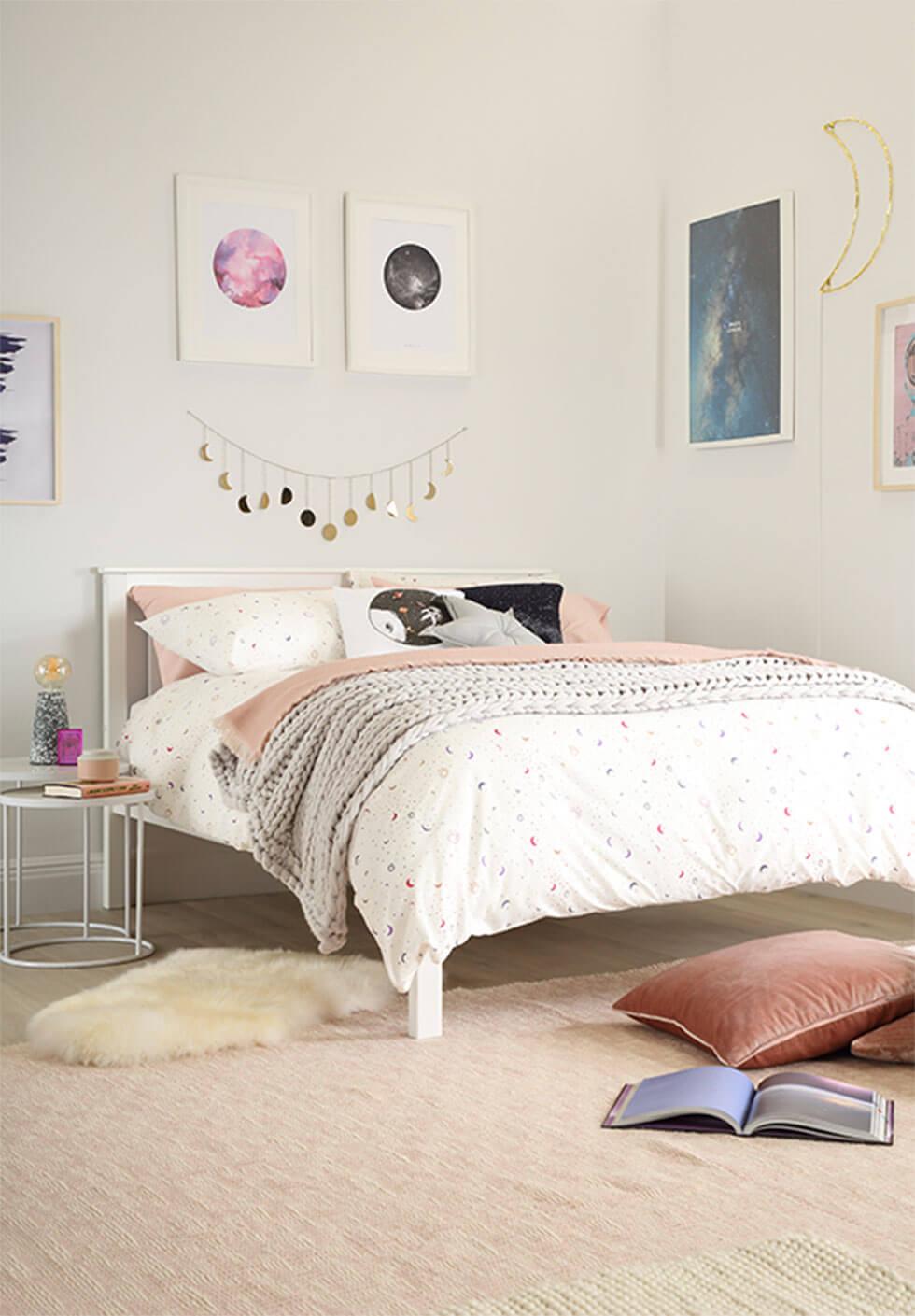 If you enjoy crafting and DIY, the bedroom is a fun place to try things out. Whether it's stringing together delicate garlands to go on the walls, creating a wooden feature wall for added warmth and rustic charm, or even styling a geometric diamond wall with decorative tape, the possibilities are endless.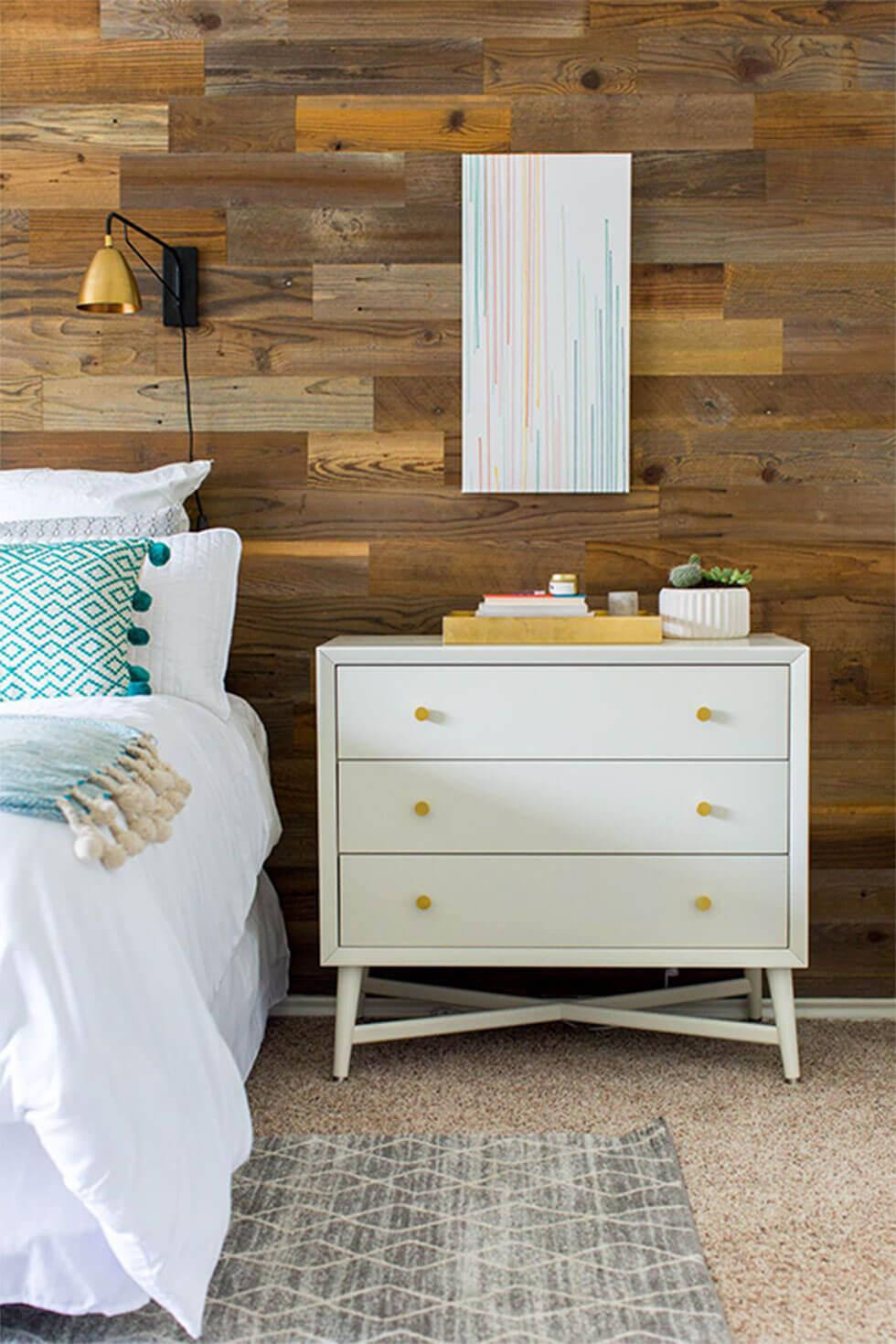 7. Small bedroom wall ideas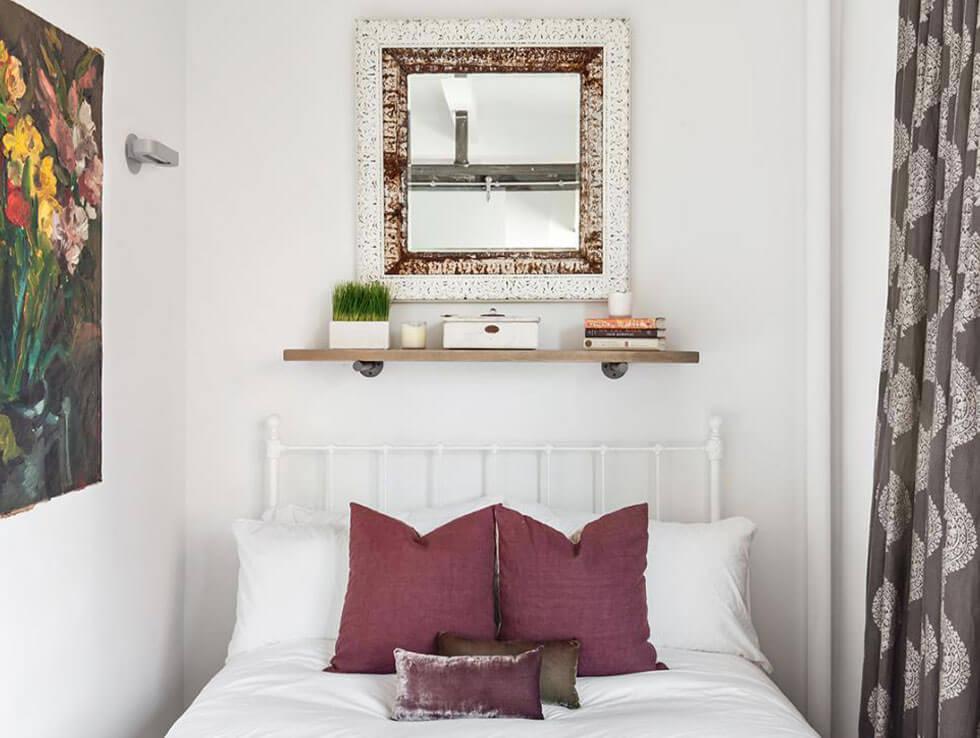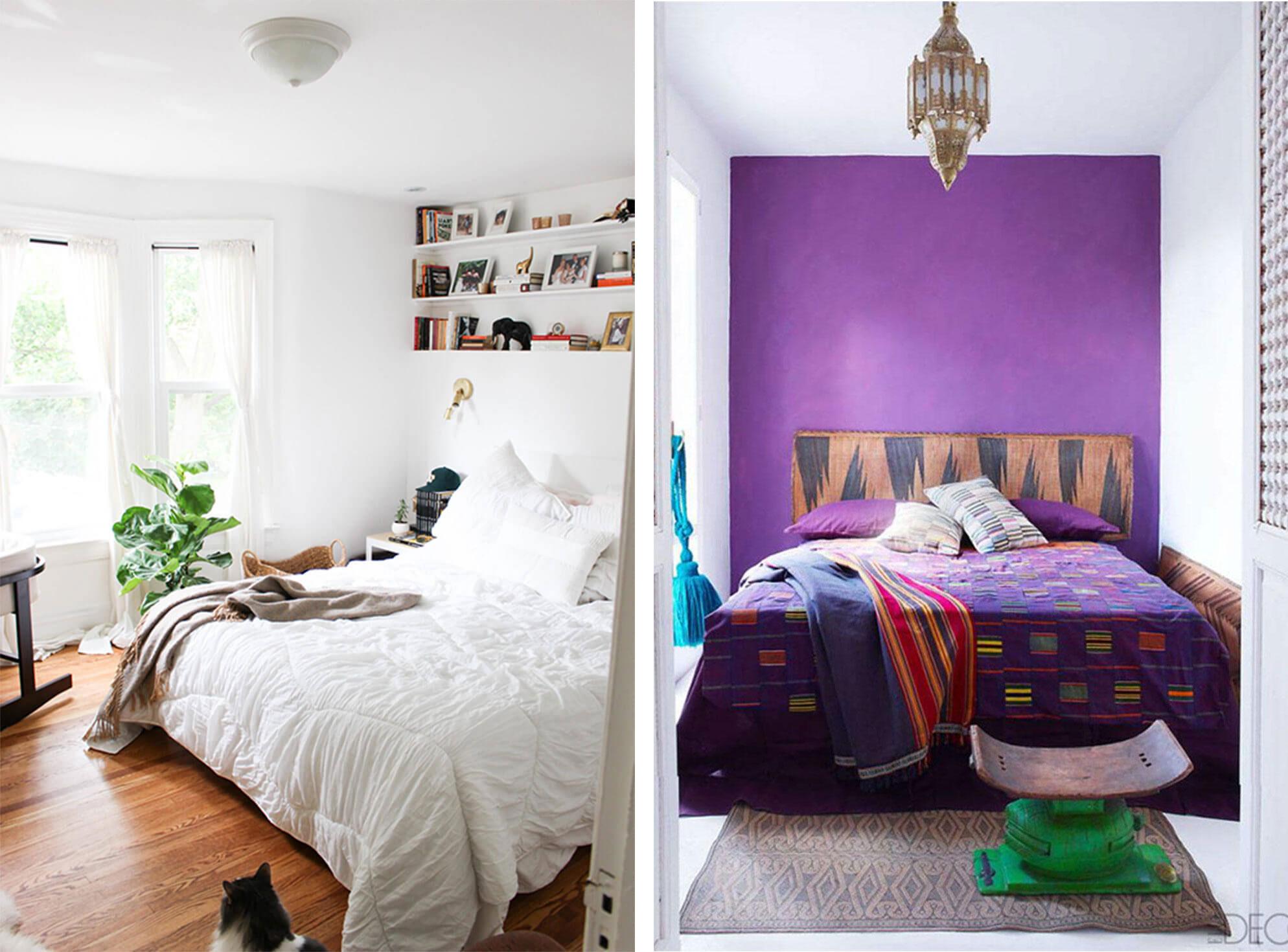 And if you're working with limited space, most of these ideas will still apply, though they might need a bit of reworking or strategic placement.
Generally speaking white or cream walls are best in a small bedroom to maximise light, and a mirror works wonders here too. Building shelves right into the walls is a clever way to get more storage while also giving a personal touch to the decor in your room. And a bold feature wall can draw the idea further along the space, tricking the eye and creating the illusion of more room and height.