6 powerful and stylish black and white bedroom ideas
We take you through 6 stylish, effortless ideas for black and white bedrooms, from minimalist to maximalist and rustic chic to modern luxury.
Effortlessly stylish, pairing black and white is a classic combination - and one that opens the door for lots of different styles and looks.
Particularly in the bedroom, black and white décor has a calming effect, while still being visually impactful. Whether you prefer a clean, minimal look, or want to layer different elements and textures, opting for this pairing gives you a strong palette to build on. Black and white is also a wonderful choice for smaller bedrooms, as the contrast between allows you to play with light and scale to create the illusion of space.
1. Soften with natural wood and rustic touches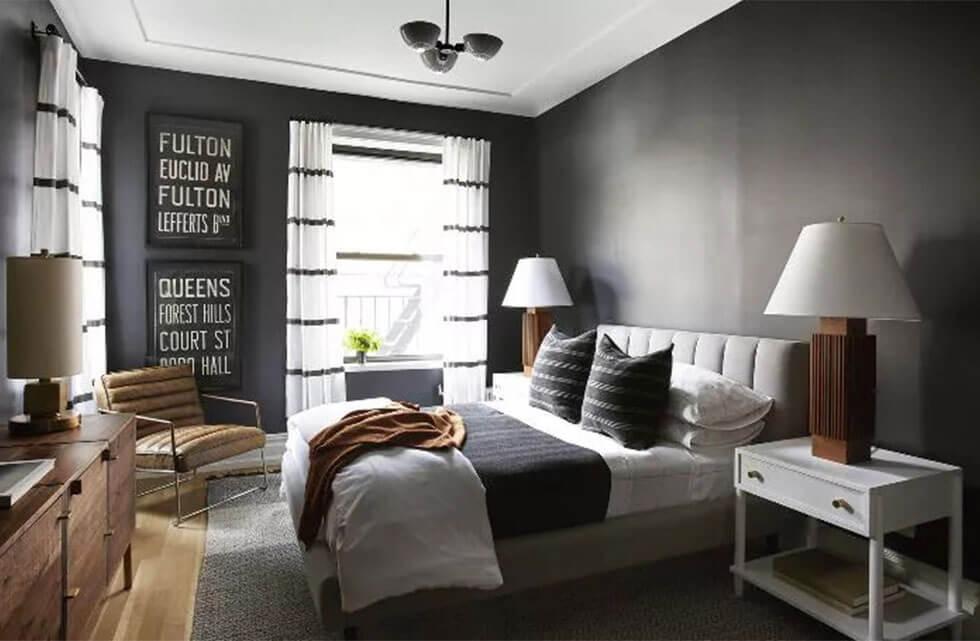 As a pairing, black and white can be an effortlessly modern, sharp look, but on the flip side, the high contrast between these colours can be too stark for some. One quick way to warm it up is by adding wooden tones and accents.
An all-black bedroom room is lightened with a white bed, furniture, and lampshades, but also given an added warmth with natural wood floors, cabinets and lamps.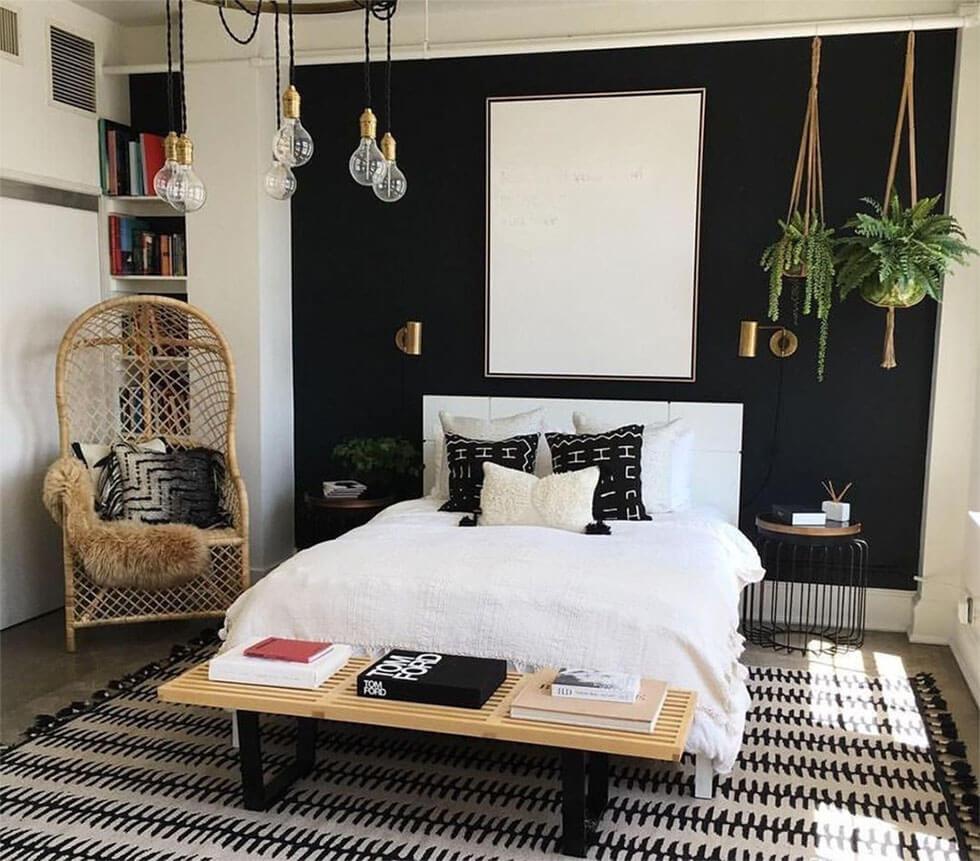 Or for a look with even more texture and movement, you can go all out, letting black and white give a clean, modern edge to a tropical room, all while softening it up with a woven rug, rattan chair and hanging planters.
2. Warm it up with gold and bronze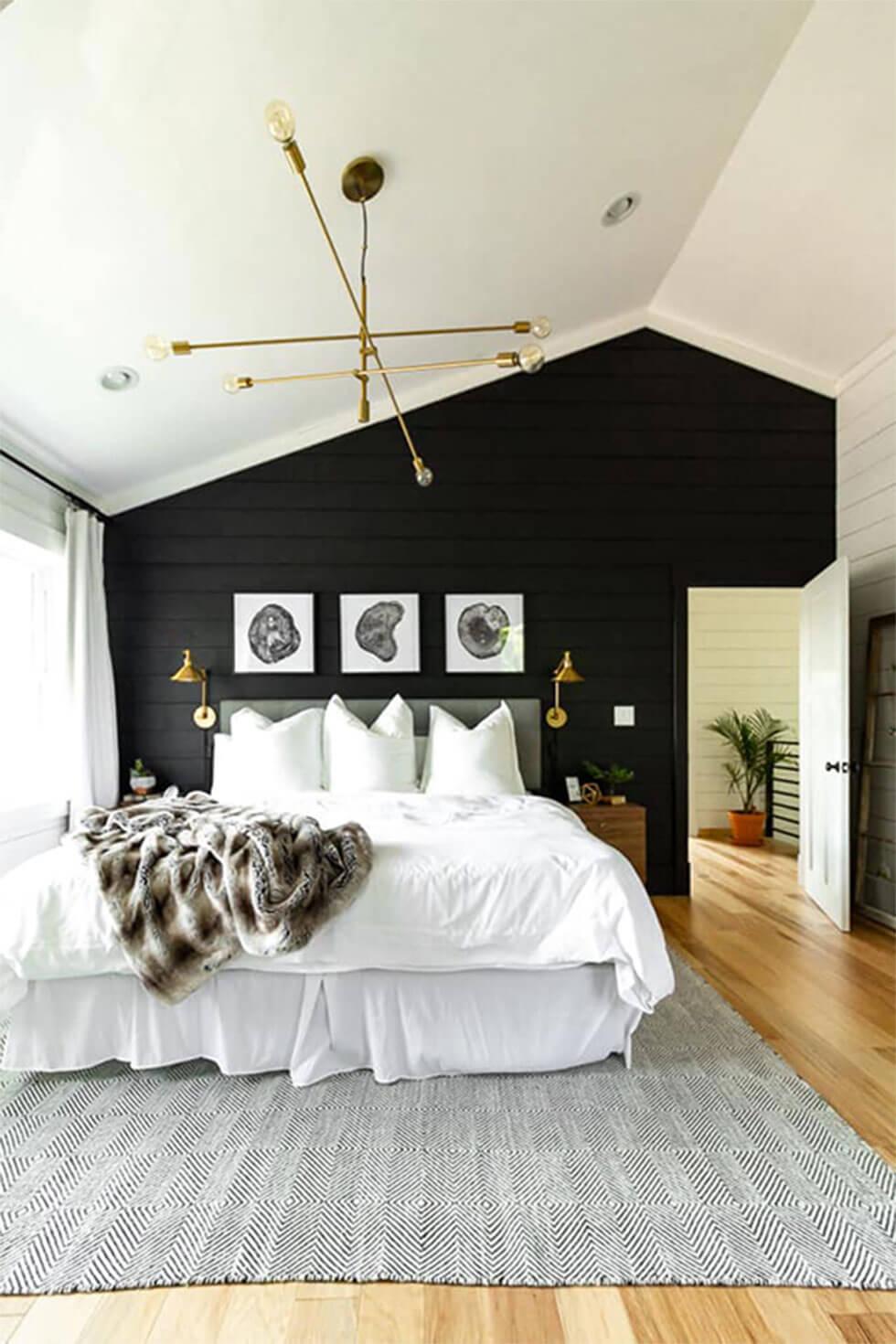 If you're looking to create a luxurious sleep environment, add a metallic element to the room for some glitz and shine. Warm metals like bronze, brass and gold elements - whether in a matte or gloss finish - will add glamour and contrast to a black and white bedroom.
This can take the form of either a sculptural chandelier or chair if you have the space, or in bedside lamps and picture frames for subtle accenting.
3. Add in a colour or two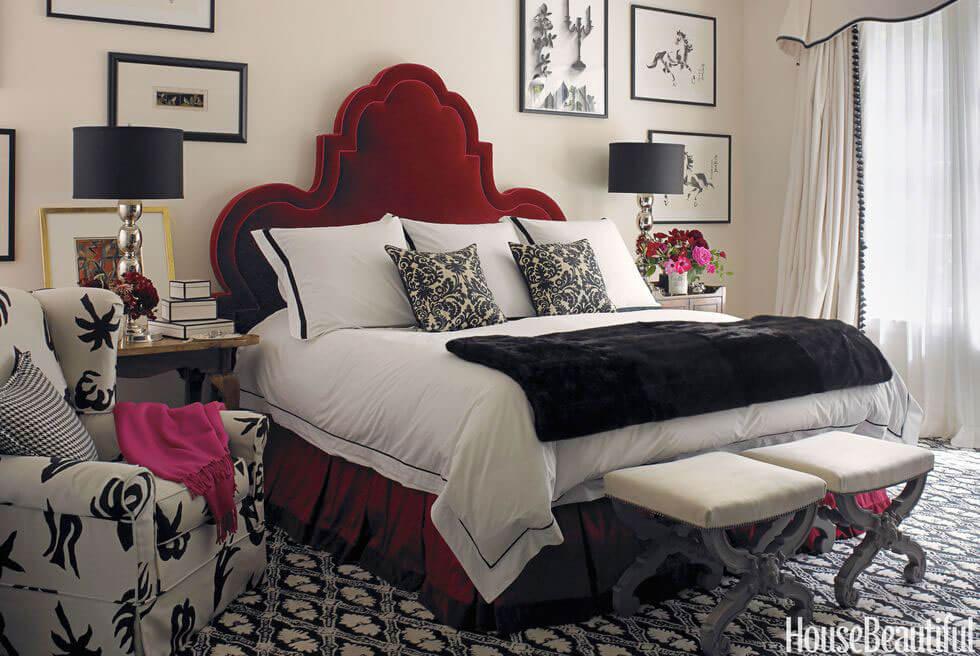 Black and white's simplicity also make it the perfect backdrop for a bold accent colour. For instance, you could go big with a red velvet bed working beautifully in an otherwise monochrome room, vibrant without being too busy. Alternatively, sparing use of bright splashes can add interest in smaller rooms, where accent furniture would dominate the space.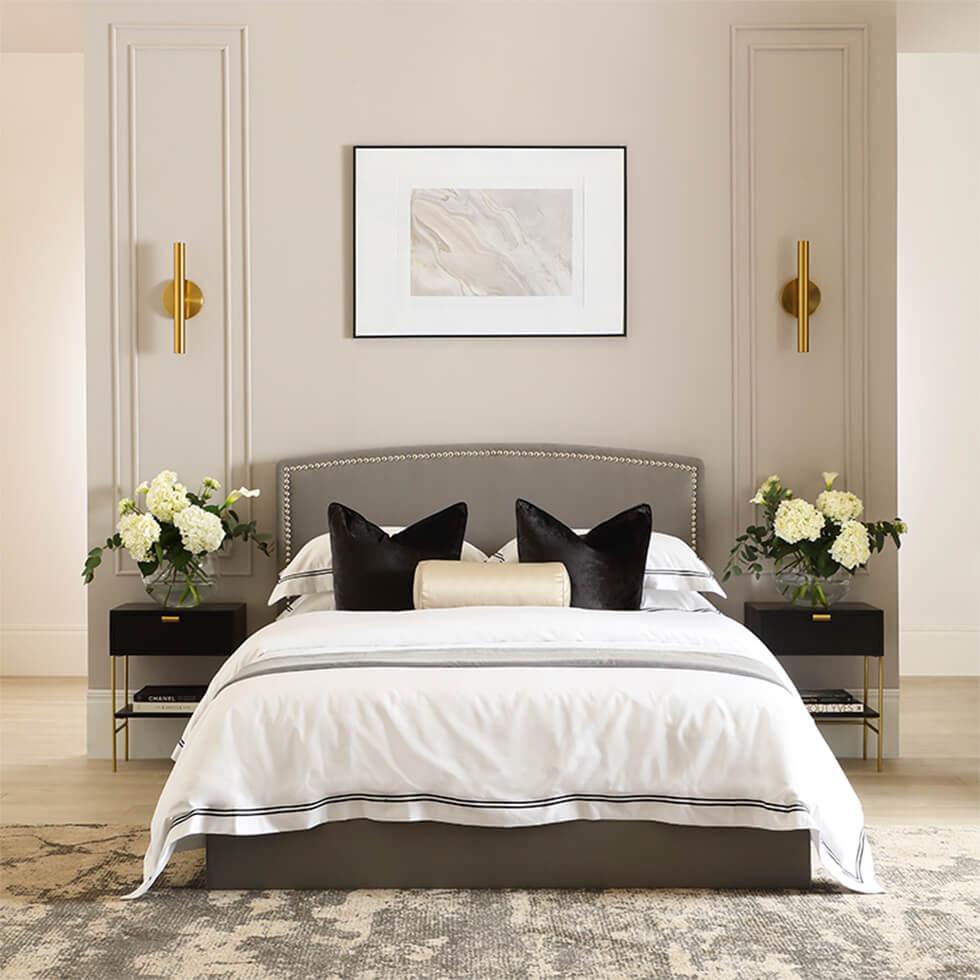 Of course, you can also keep to a monochrome palette using warm greys to soften the contrast between black and white furnishings.
A grey bedroom is just as chic and cosy - check out these stylish grey bedroom ideas for inspiration.
4. Go for full-on luxury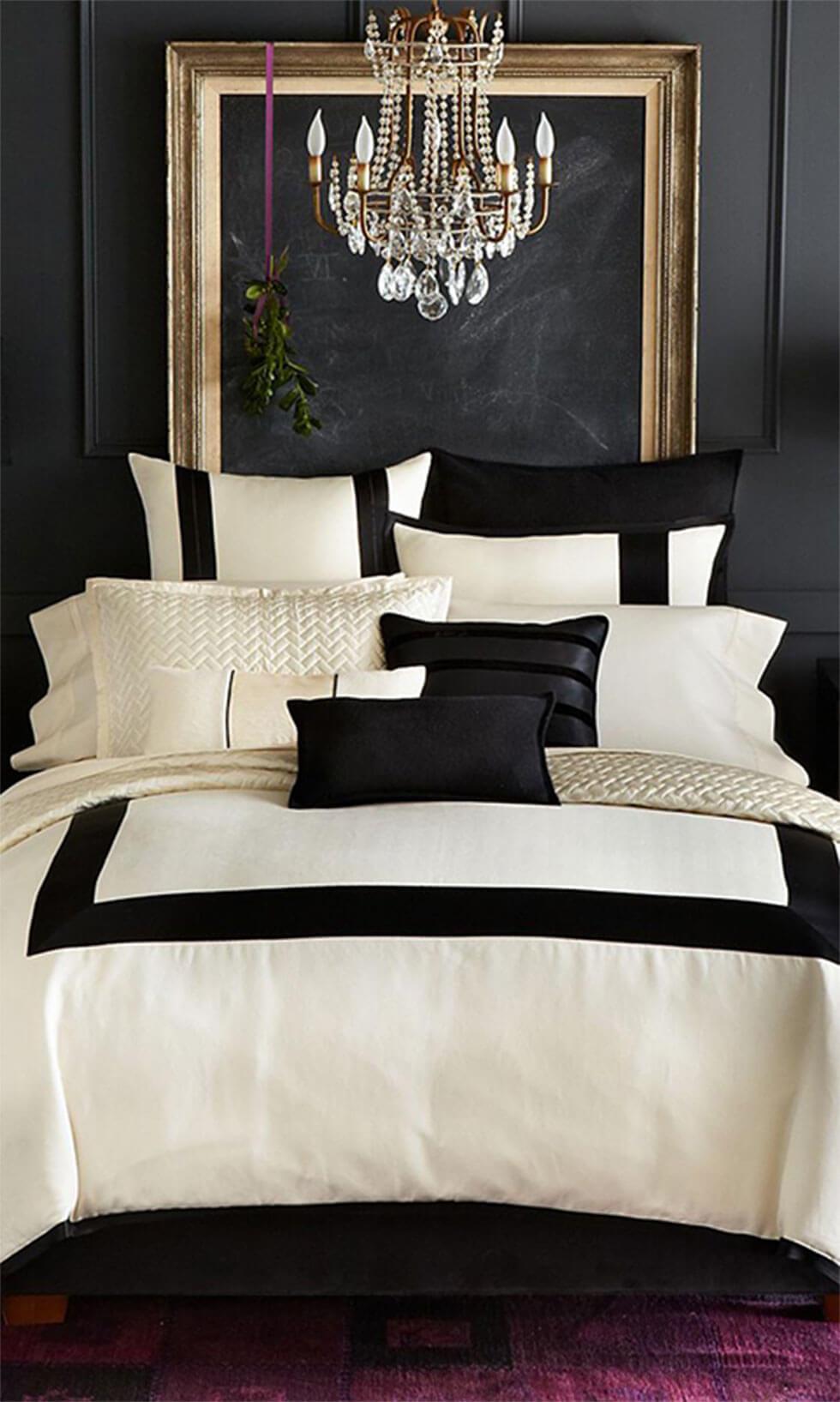 And speaking of sophistication, a black and white palette is a great starting point for creating a luxurious bedroom worthy of a 5-star hotel. The secret lies within the layering of cushions, throws, and quilts, and using quality bed linen.
For instance, in this lovely bedroom, clean lines and a picture frame feature wall are offset by soft pillows and a luxurious duvet, with a classic chandelier bringing it all together.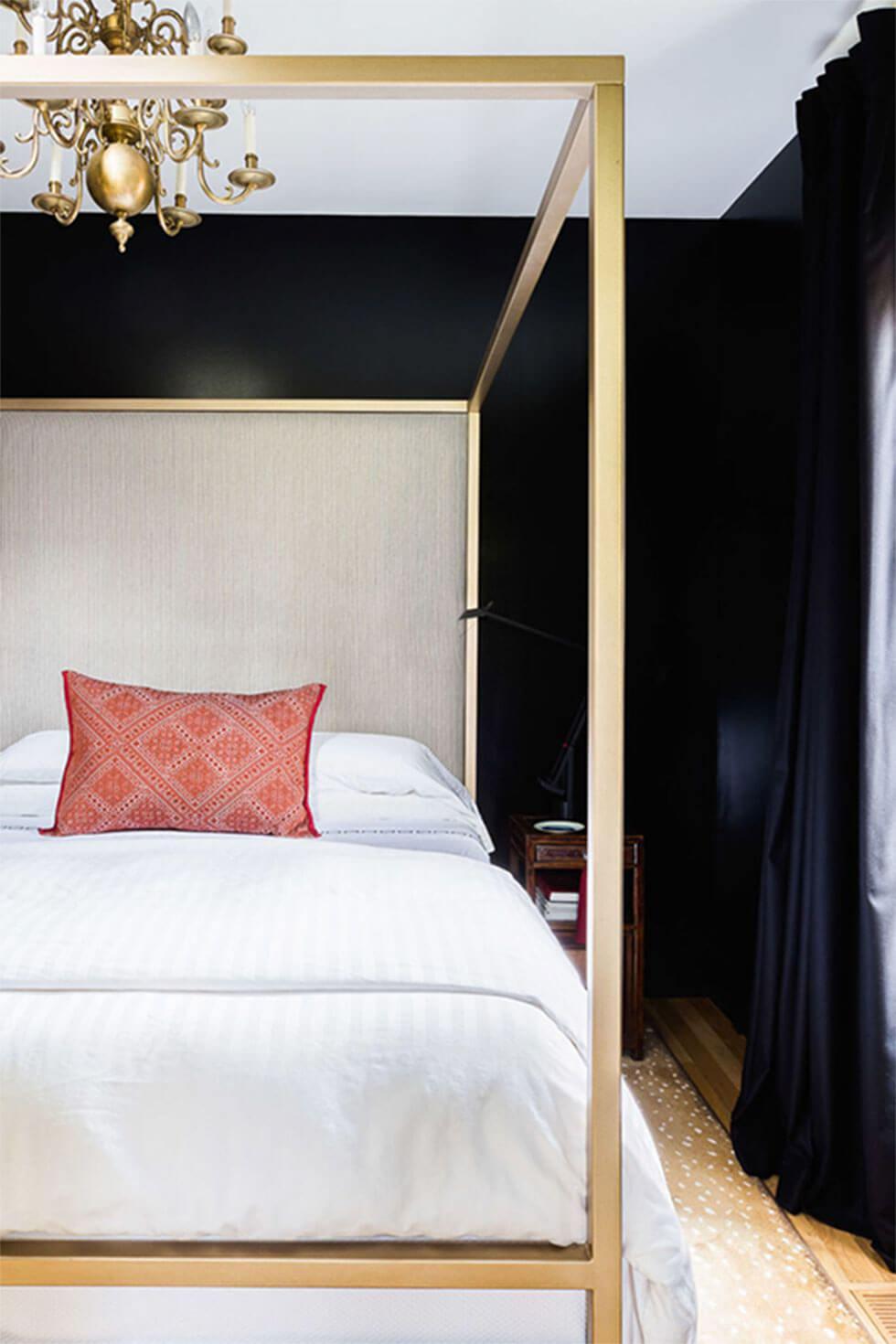 This look also achieves a luxurious feel with a minimal twist, with a white bed being given an extra dose of glamour using a bronze bed frame and chandelier. The trick here is to create one main point of focus and contrast - for instance, a small chandelier or light fixture.
5. Experiment with patterns and decor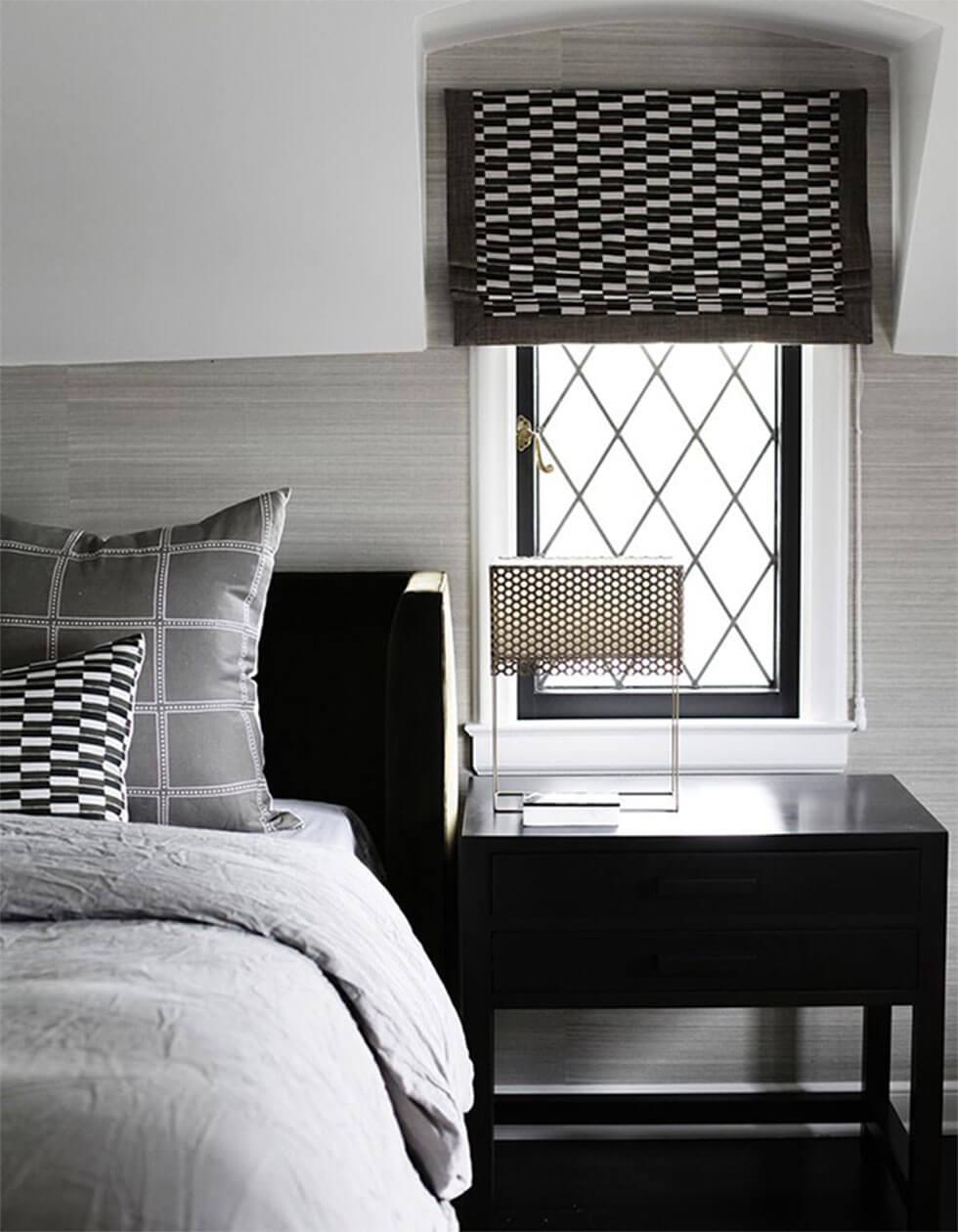 The clean, uncomplicated appeal of black and white also means that it's a strong base to layer and play with textures and prints. Classic houndstooth, chequered or chevron patterns would look particularly good here, and can easily be incorporated in the form of pillows, blinds, or lampshades.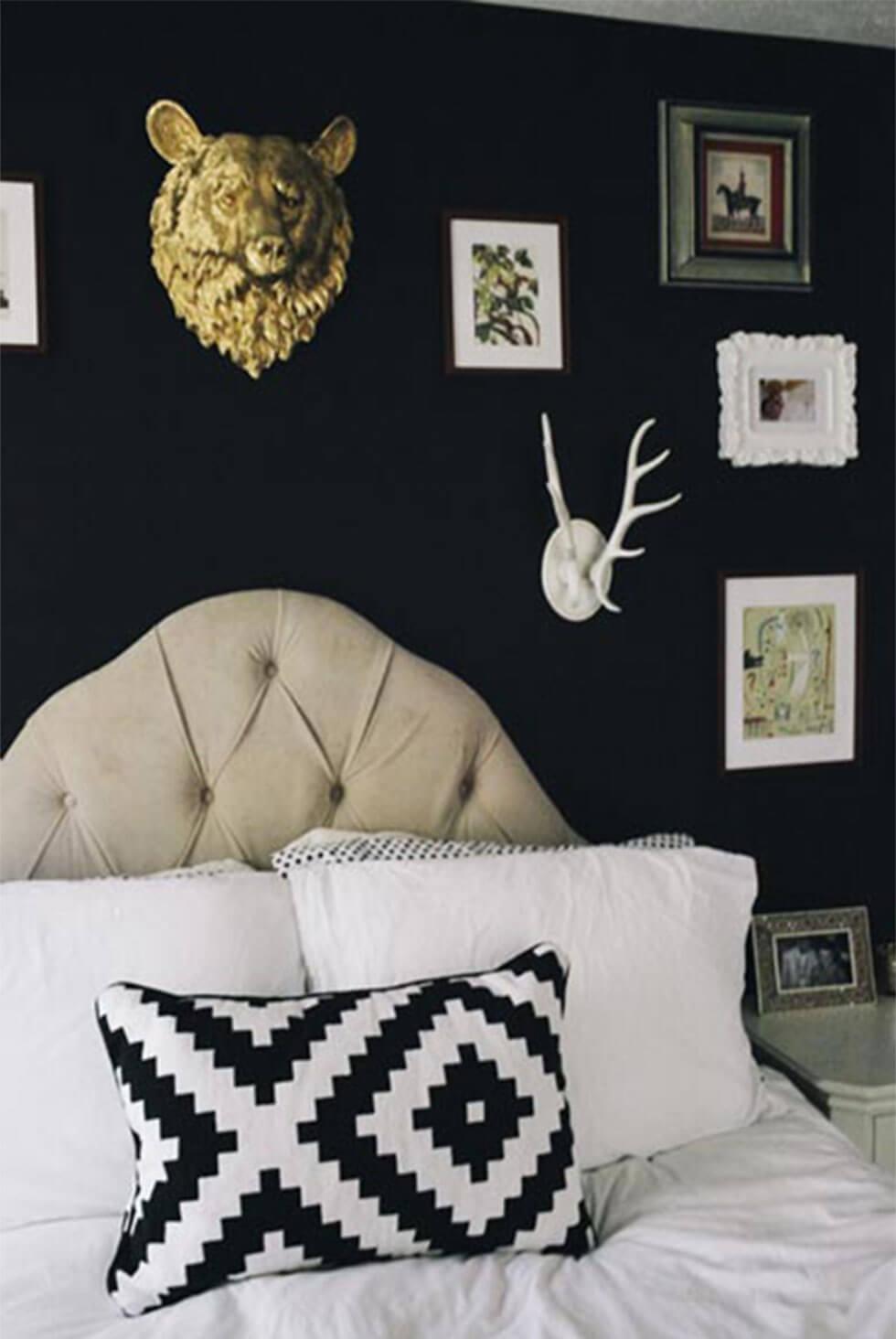 And for a look with even more whimsy, try experimenting with different shapes and styles of decor - again, the simplicity of a monochrome room provides lots of space for trying things out. Elements such as picture frames of different sizes and quirky wall art can all be tied together within a black and white theme.
6. Combine the old and the new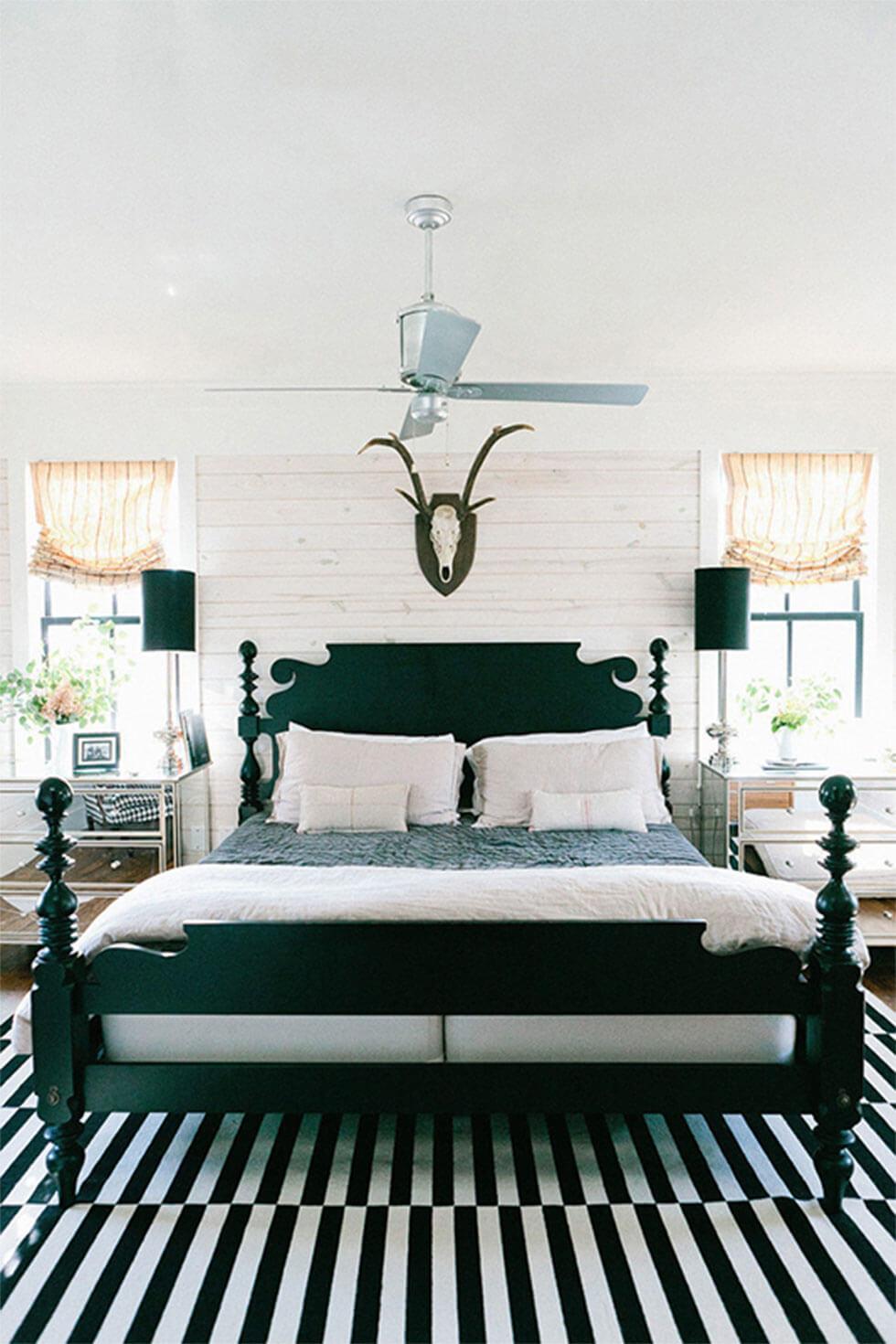 If there's a key to styling a black and white bedroom, it is to play around with the strong contrast between the two colours. Whether that's by softening or exaggerating this difference, or using it to play with scale and the bedroom's sense of space, black and white offers the perfect base for experimentation.
Taking that further, this colour palette is a great base to experiment with combining the old and new into one space. For example, a classic black wooden bed placed against a thoroughly modern, printed rug offers a sense of fun, and a twist on a vintage look.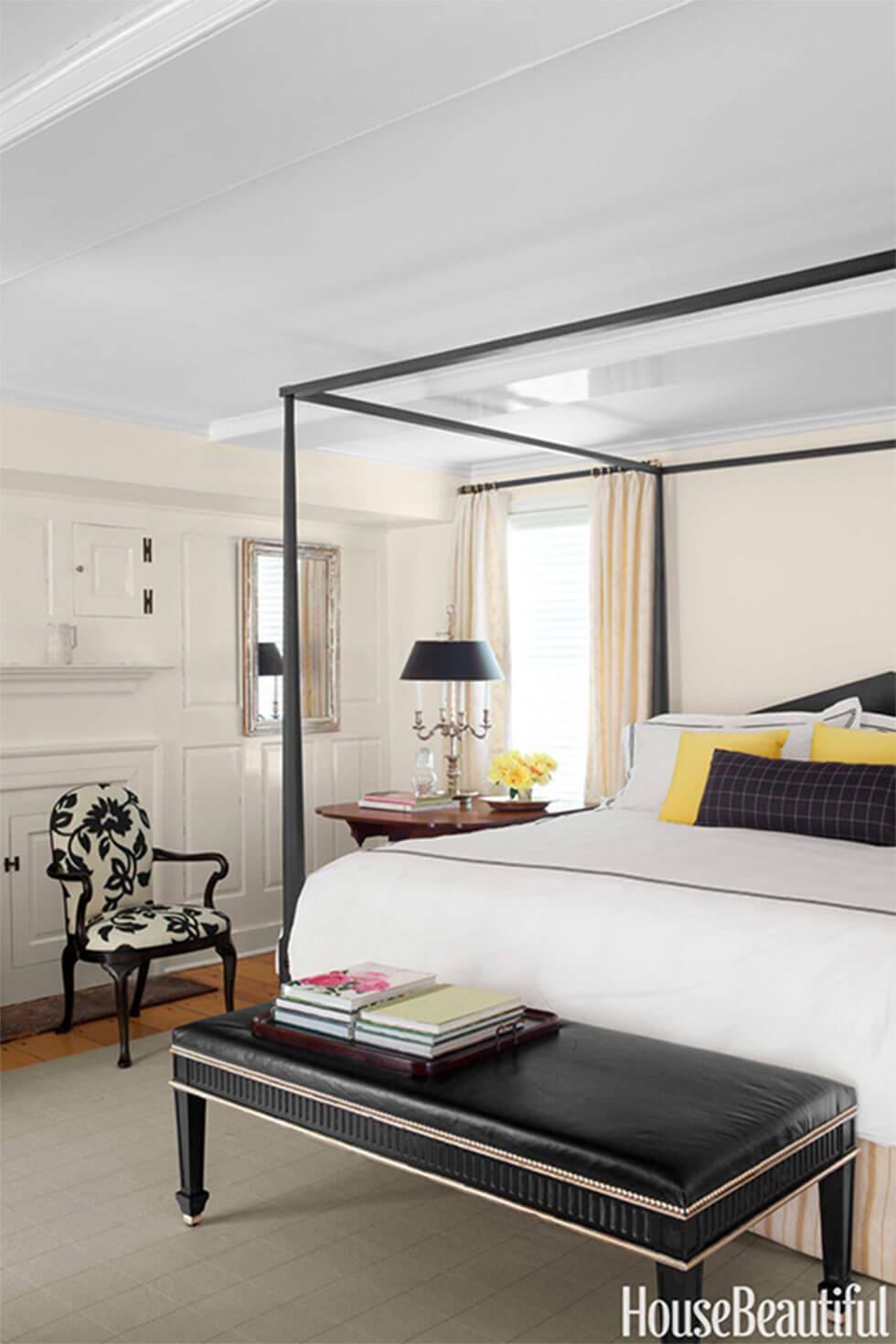 Similarly, adding unexpected bursts of yellow keeps an otherwise elegant room from feeling stuffy, helping it to appear fresh and light instead, and drawing the eye to these accent pieces.