What is a summer blush colour palette?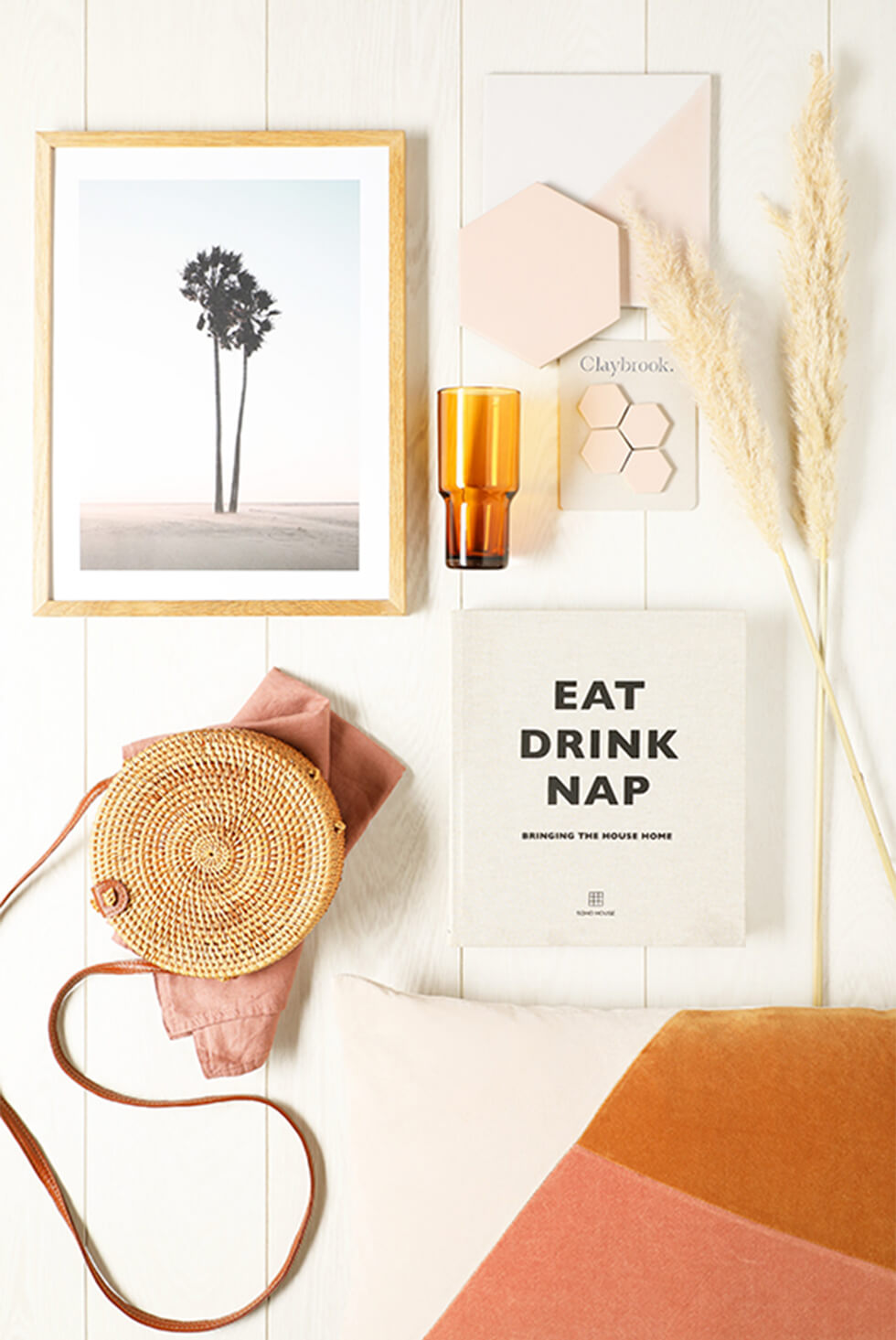 We often associate beachside getaways with light-hearted fun (and sun!). With that in mind, a summer blush palette comprises colours with a light and soft undertone reminiscent of the ocean, blue skies and dreamy sunsets. If you're unsure where to start, it's simple: pick a lighter shade of your favourite colour. For example, choose blush pink if you like red or sage for forest green. By pairing it with white you'll then have your go-to colour palette for a light, summery feel.
1. Keep the hallway light and breezy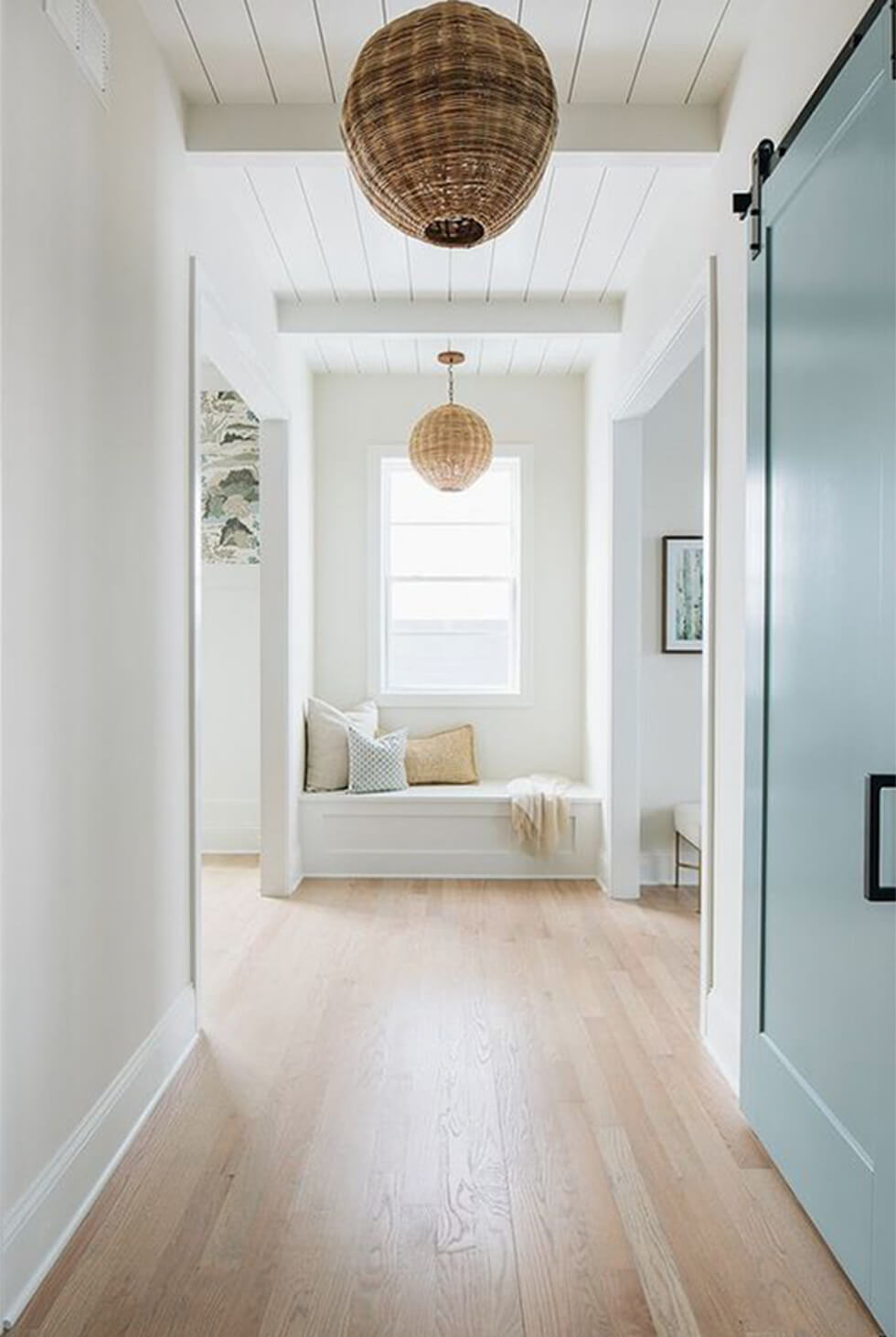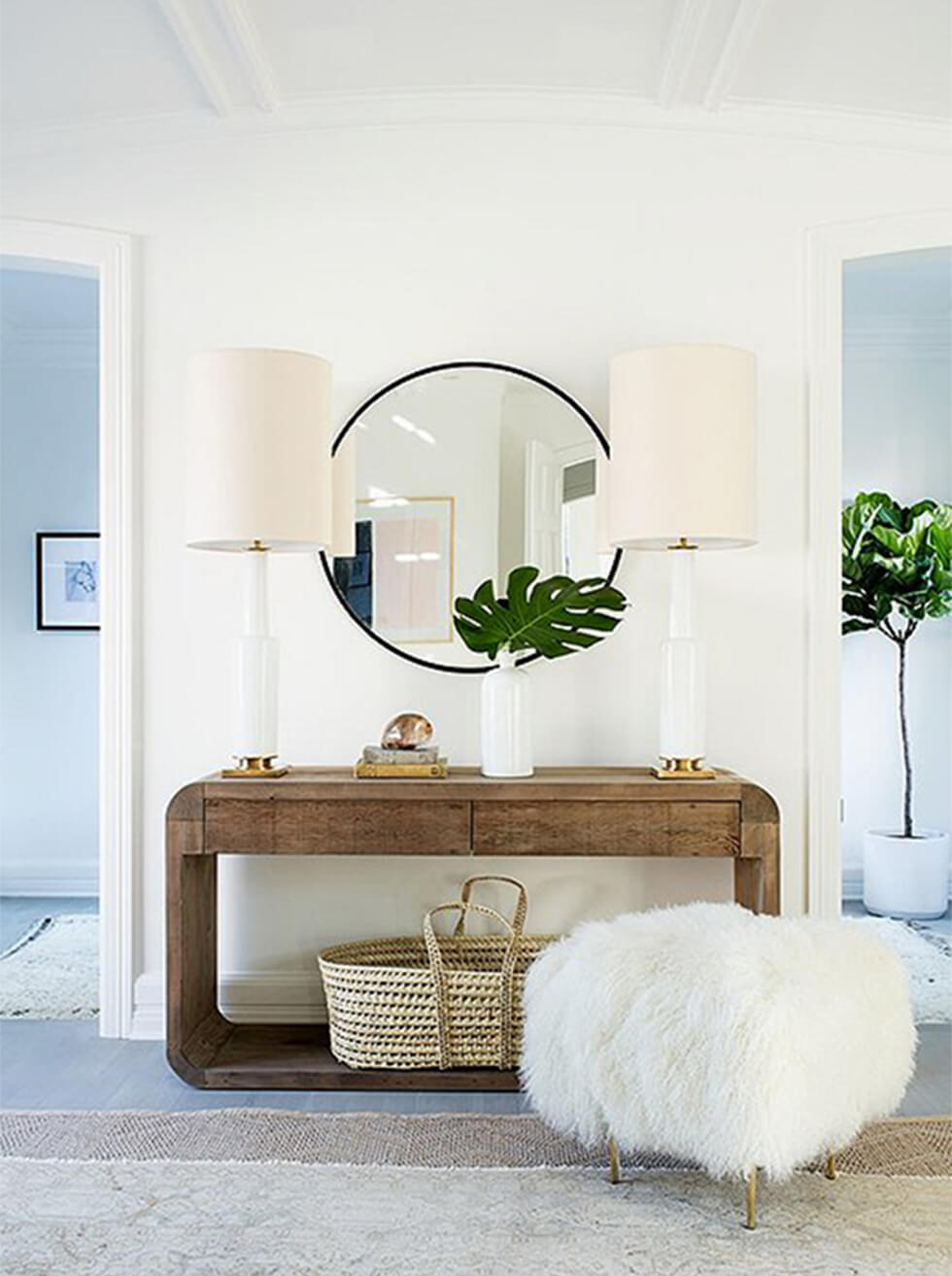 Kickstart that holiday feeling by making a stylish first impression with the hallway. As a functional space, it's important to make use of natural lighting by keeping the palette light so it's as though you're walking into your own beach home. Flooring is also an important aspect to create a breezy space so consider light wooden floorboards to keep the space looking clean.
If your hallway is narrow or you just want to make it feel more spacious, incorporating mirrors as part of the decor instantly uplifts the room thanks to its light-reflecting properties. And since practicality is a top priority here, keep clutter at bay with a double-duty storage bench or console table to store your belongings.
2. Combine blush pink and white in the bedroom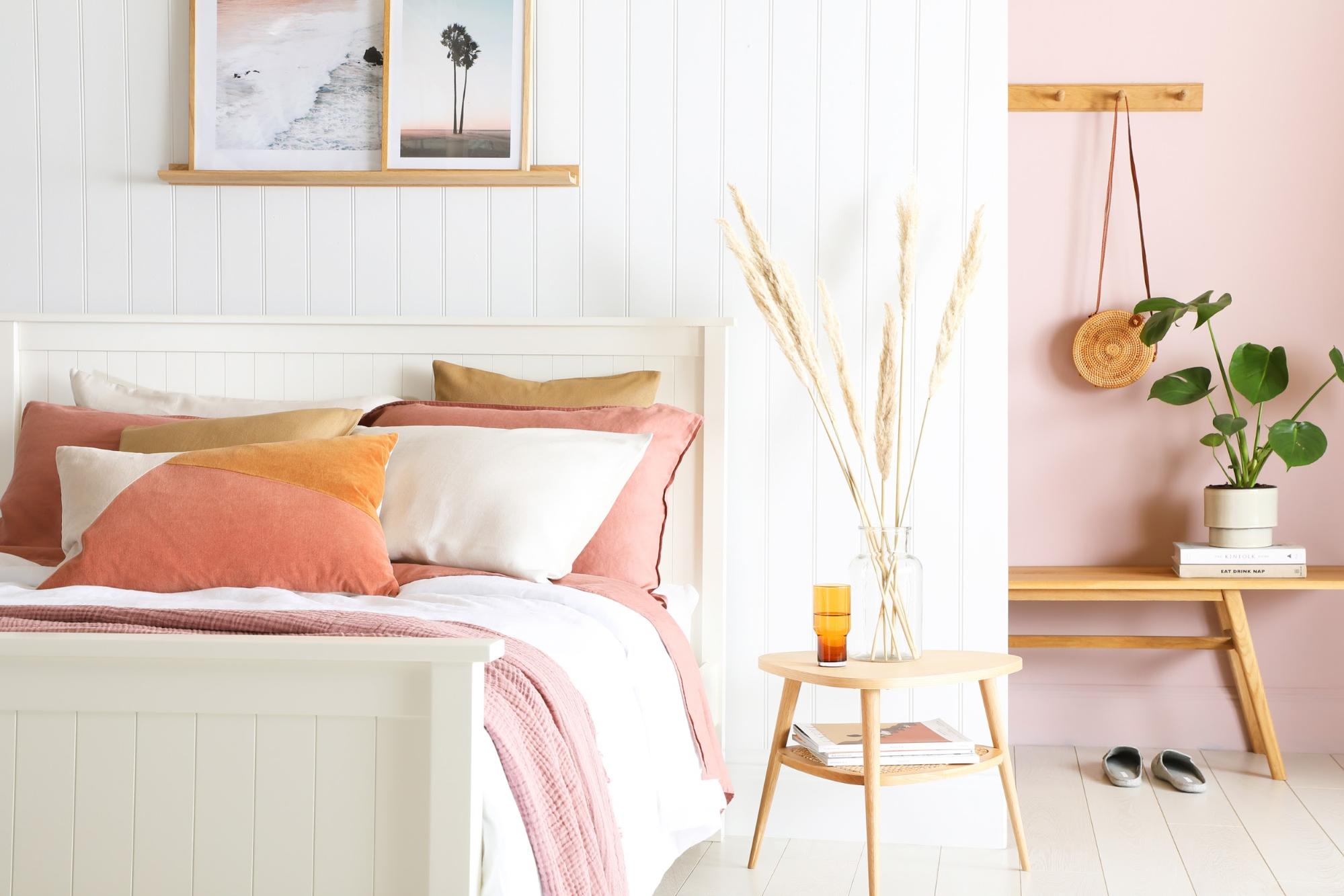 Meanwhile, in the bedroom choose blush pink to resemble a pastel-tinged sunset glow. The theme here is beachside chic so it's crucial to exude a carefree, playful touch when decorating. Tap into the details of the room by placing emphasis on the tongue and groove panelling as part of the backdrop while offering a light contrast with blush pink accents.
Since being by the beach is a sensorial experience, celebrate nature in all its glory with organic textures and greenery. Take inspiration from coastal style with light wooden touches and the fluffy finishes of pampas grass for a relaxing, zen-like feel.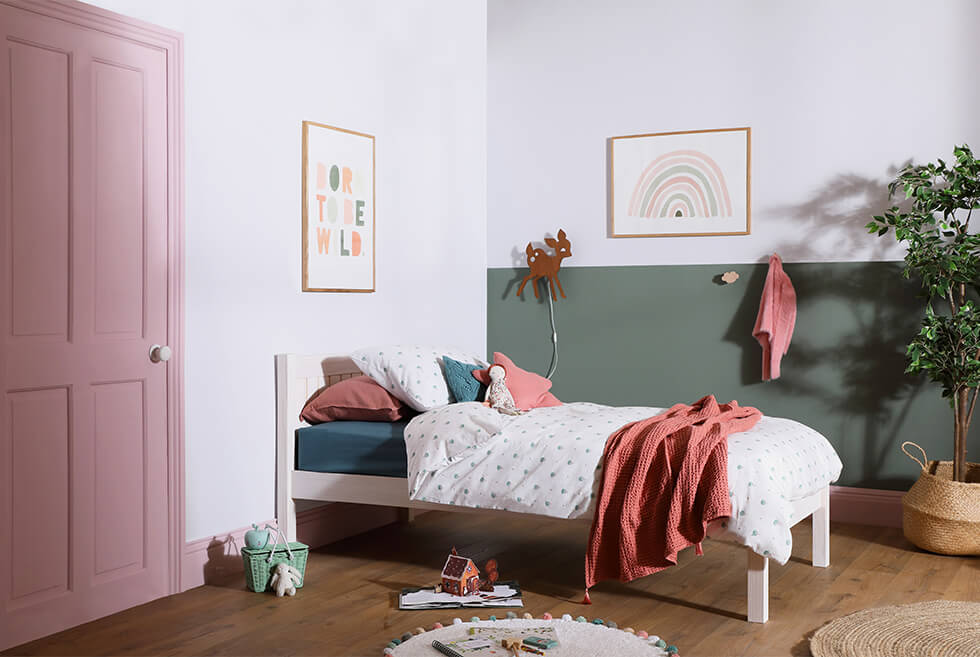 And you can introduce this light-hearted colour palette in your child's bedroom too! Make your child feel right at home (or by the beach) by combining pink and green accents for a tropical touch. Explore the joyful and curious aspects of childhood by introducing playful hints of nature in the form of cuddly toys and pom pom accessories. Match that dreamy feeling with light wooden flooring to maintain a soothing atmosphere.

3. Contrast an uplifting colour palette with relaxing neutrals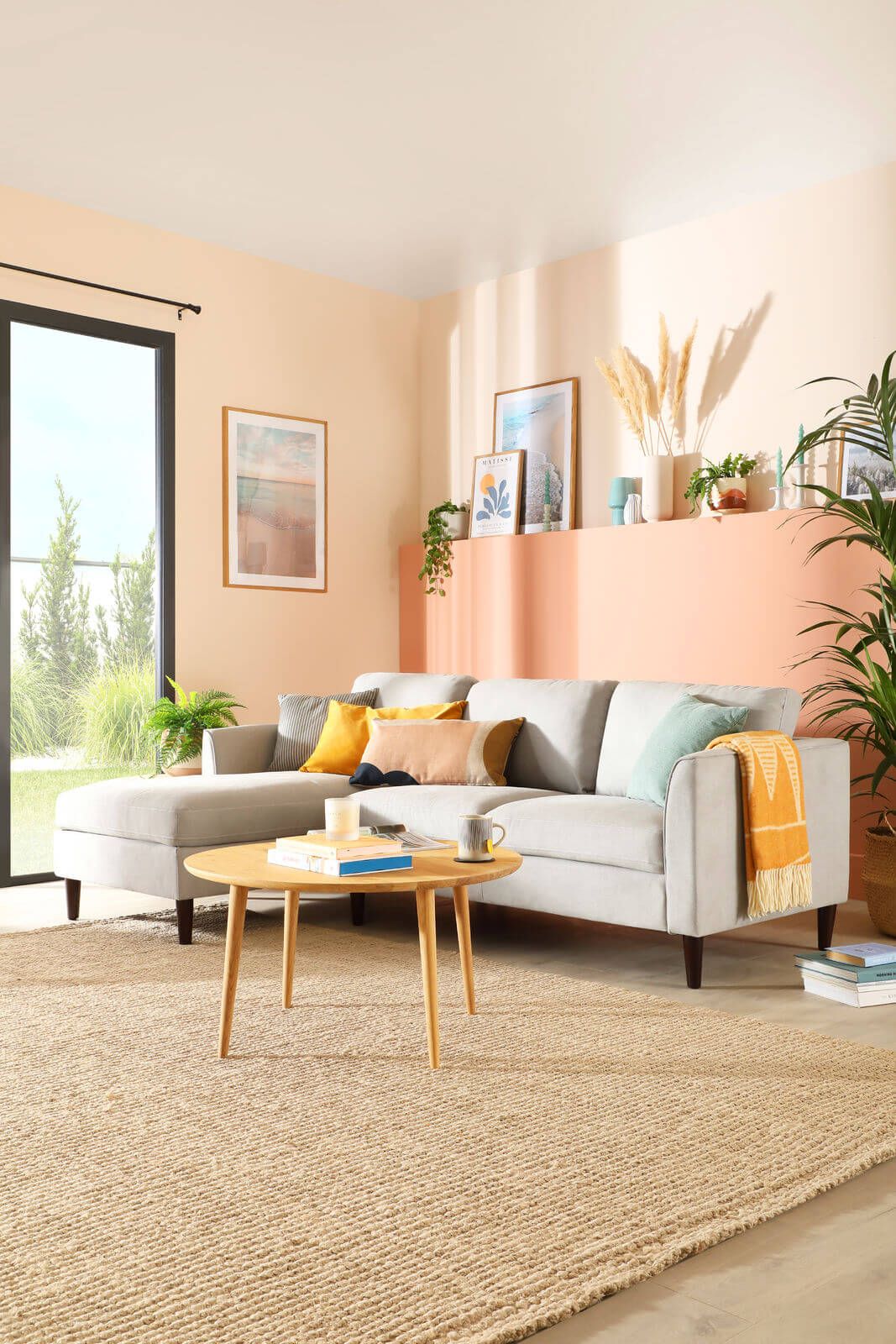 Capture that sunkissed feeling in the living room with lots of organic textures and natural lighting for that post-holiday feel. Create a punchy backdrop with peach walls and balance it with a grey sofa, jute rugs and lush greenery for a lively yet sophisticated ambience.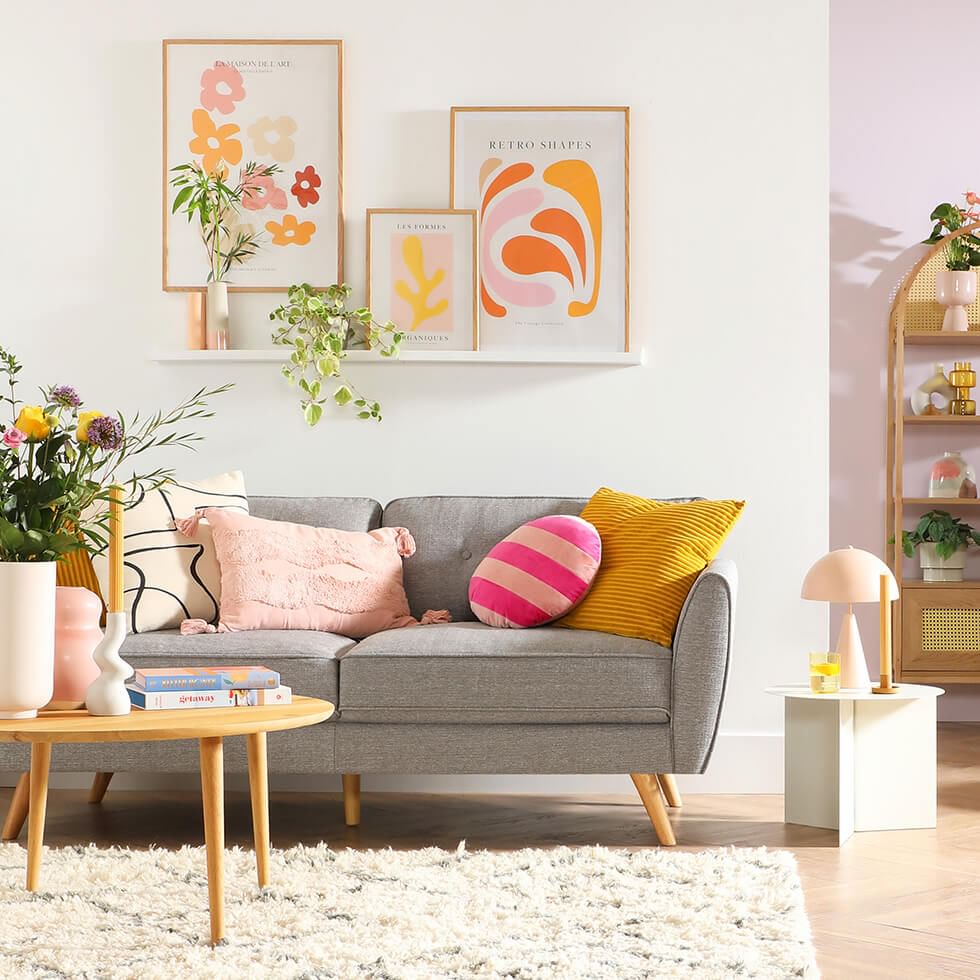 However, if you want to inject a dose of colour to the living room, bring soft pink and mustard yellow together for a hint of the unexpected. An uplifting colour combination that has captured the imagination of many Pinterest boards and design blogs, it brings a strong retro feel to the room giving it a sun-warmed look thanks to the rich, saturated tones of yellow and muted pink hues. It also perfectly complements the natural elements of the room, bringing out the warm and airy touches of wooden flooring and indoor plants.
4. Choose calming sage for the kitchen and dining room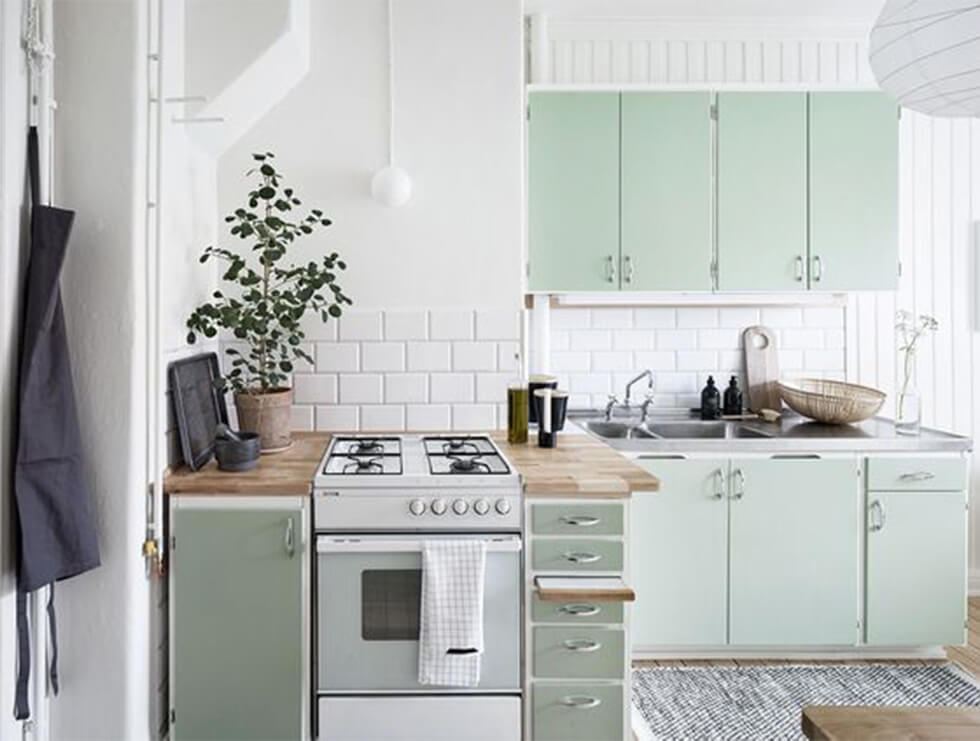 As a fresh nod to tropical style, opt for sage and white in the kitchen. The right balance between energetic and mellow, this colour palette hits the sweet spot to give the heart of the home a clean, effortless look. If you want to make your kitchen seem more spacious, alternate between both colours and break it up with wooden accents to prevent the room from feeling too repetitive. Keep the rest of your kitchen accessories neutral to maintain that crisp flow of energy throughout.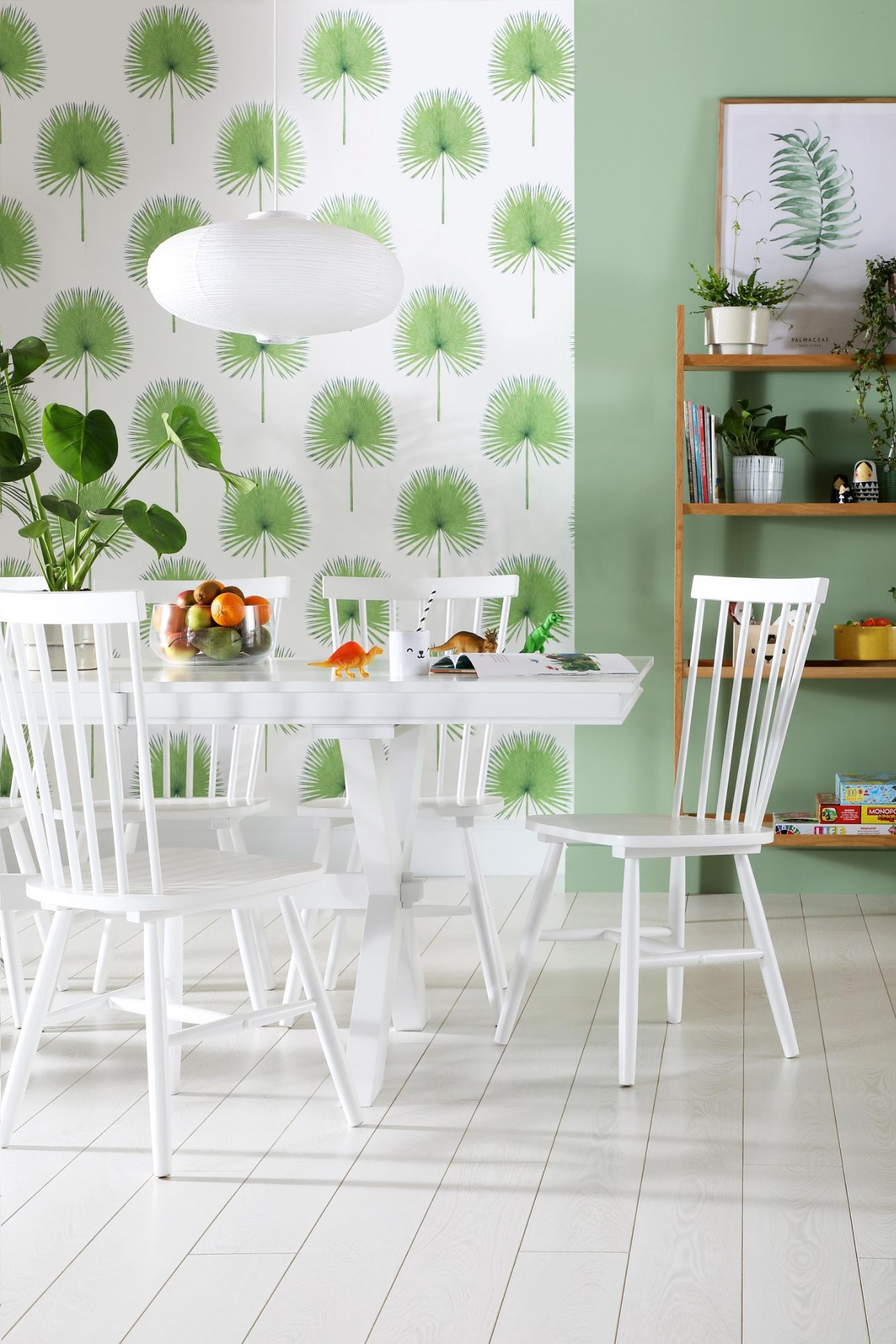 This calming palette is also right at home in your dining room. Sage walls and palm print wallpaper serve as the connecting link if your dining room and garden are right next to each other, bringing a playful aesthetic that's both relaxing and restorative. And when matched with light wood tones, it creates a lively mood that's great for entertaining.

5. Feel the blues in the home office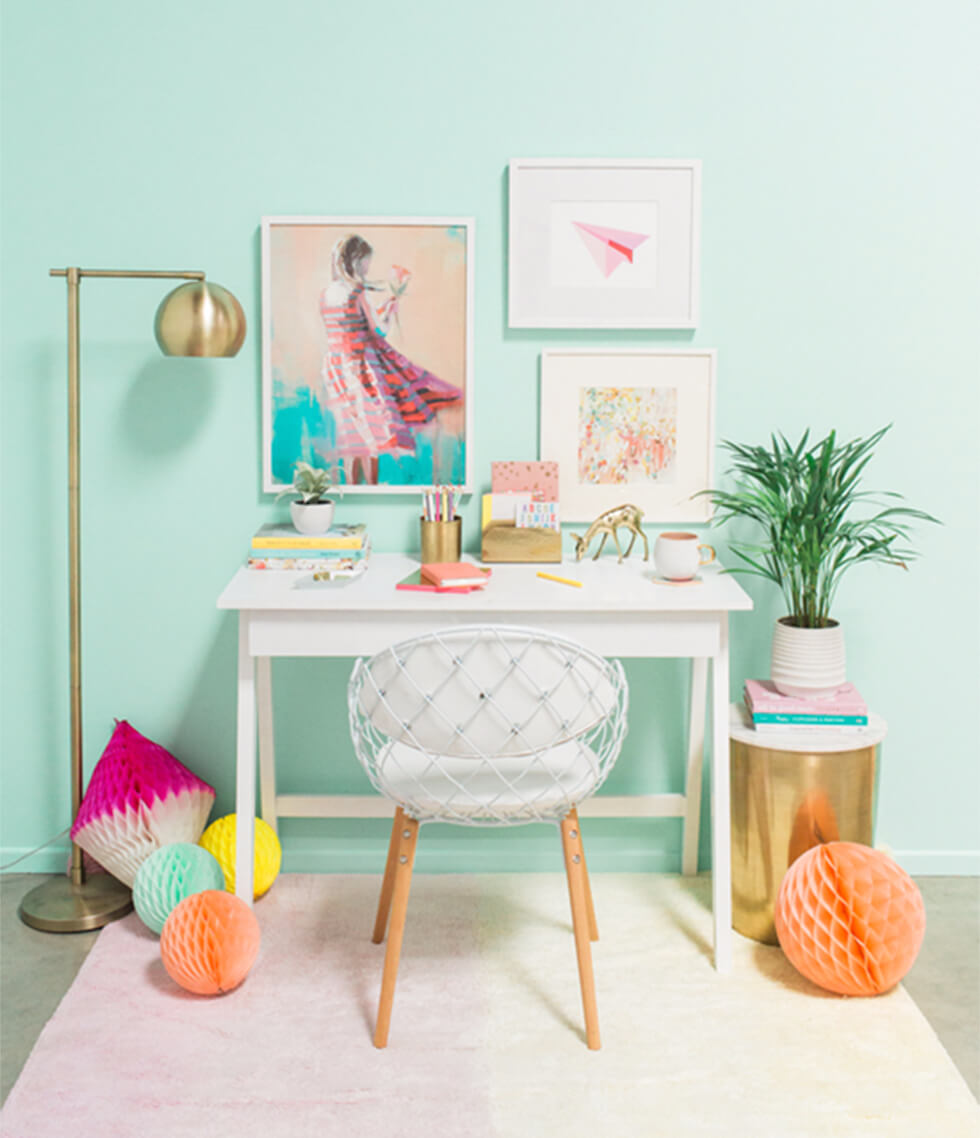 Evoke the coastal and tropical charms of being by the ocean with a turquoise palette in the home office. Soothing, chic and productive, this colour scheme sets the scene for a place to focus while adding a tranquil touch. Keep it contemporary by using white as your main accent colour as it sets the scene for classy brass finishes and indoor greenery.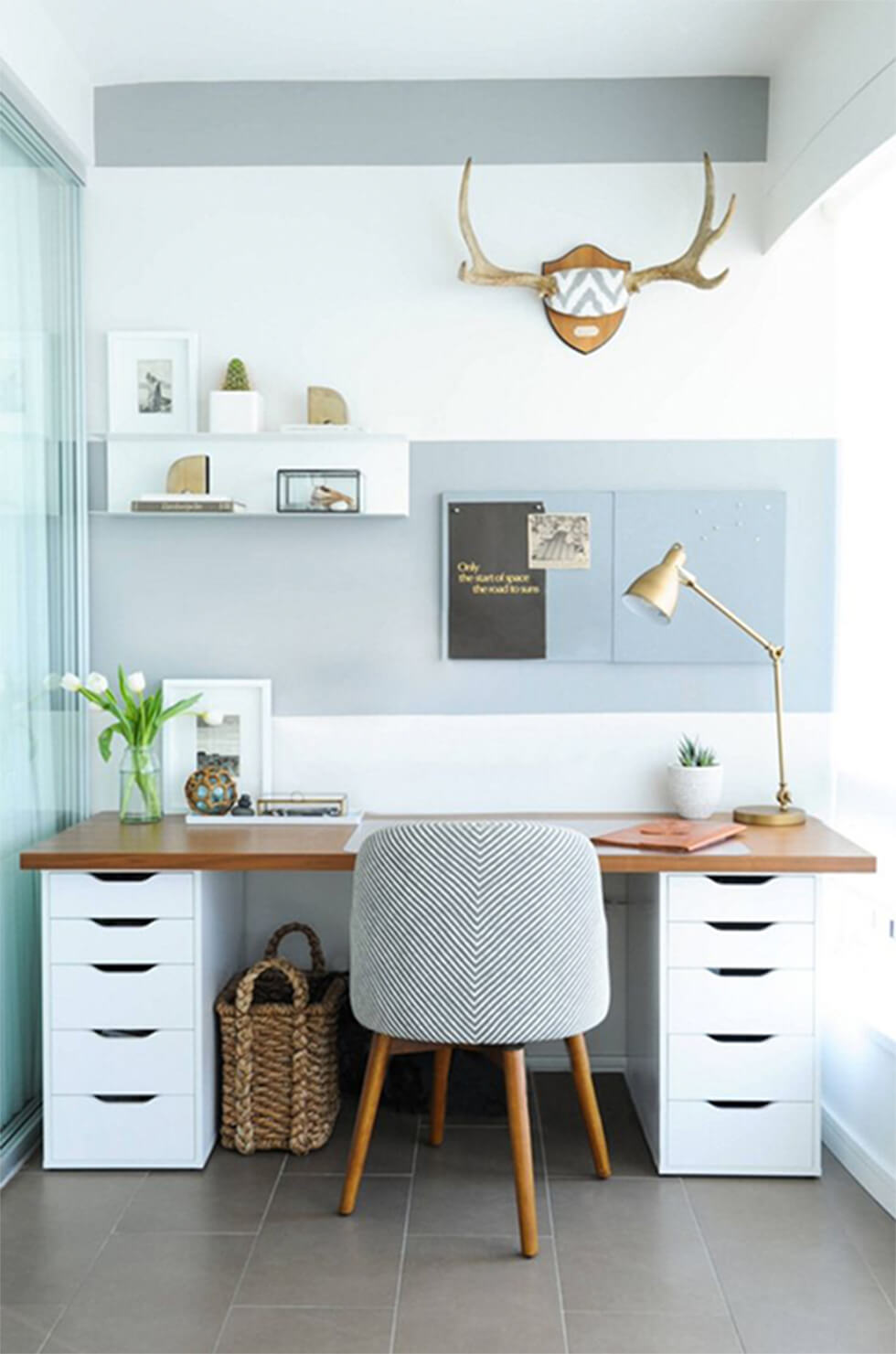 But if you prefer a more neutral workspace, light blue with white and wooden accents go hand in hand for a classic, coastal touch. Just like calming ocean waves, this serene palette provides an elegant touch that's refreshing and may just give you that creative boost that you need.