11 easy grey dining room ideas
Effortlessly chic yet urban and cool, grey dining rooms are stylish and practical. Read our 11 easy design tips to decorate yours today!
Grey is the new white: with all its versatility plus extra points for elegance. Chic, cool, classic yet modern all at once - it adds character without being overwhelming and allows individual expression in a controlled manner.
Read on for tips on how to style your very own grey dining room, followed by gorgeous examples of grey settings in multiple styles.
1. Picking the best shade of grey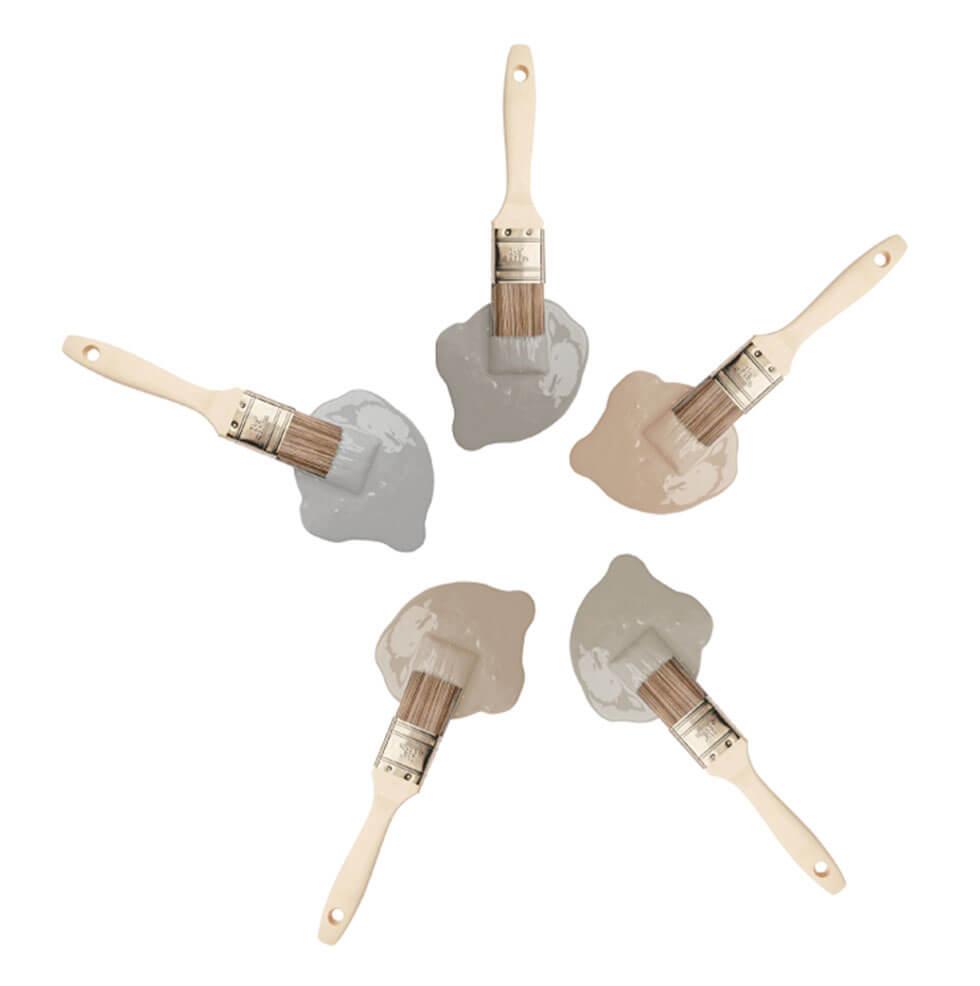 More than just how dark or light a grey is, this versatile colour comes in a variety of undertones, too. There are red, orange, yellow, green, blue, and purple toned greys! Don't worry, picking the right shade is easy with a few simple tips.
First, make a note of the main colours that exist in your dining room. Are there more reds and browns (warm tones) than blues and purples (cool tones)? Selecting a grey with the same visual temperature will bring out the best of them and make the space feel well put together.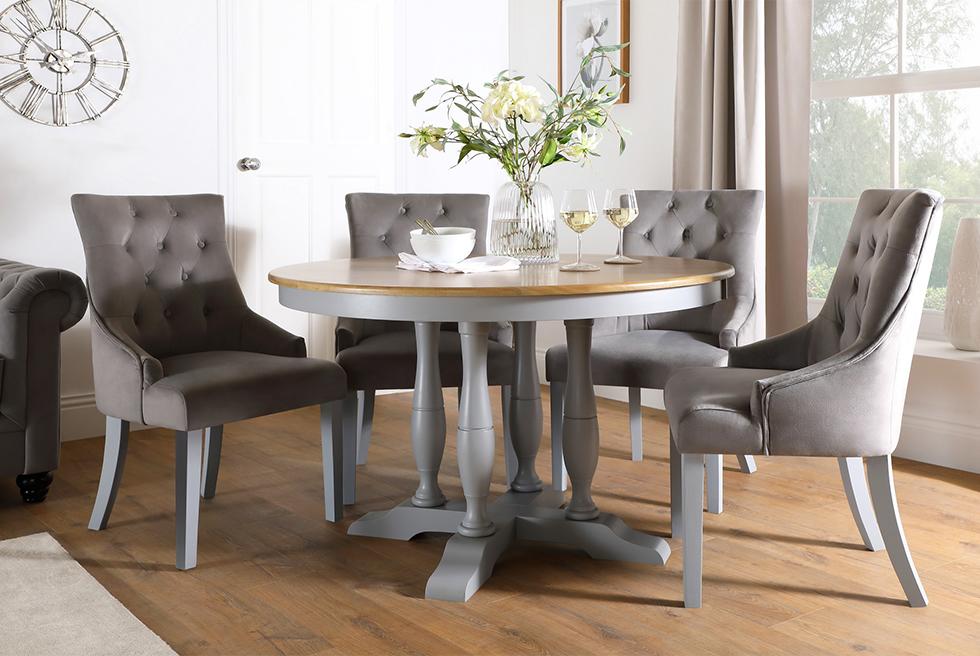 Next, the cardinal direction the room faces plays a role too. For instance, south and east-facing rooms may be painted a cooler grey, to balance the brighter and harsher daylight. On the other hand, north and west-facing rooms will benefit from a warmer tone to enjoy added cosiness come sunset and twilight.
2. Getting the lighting right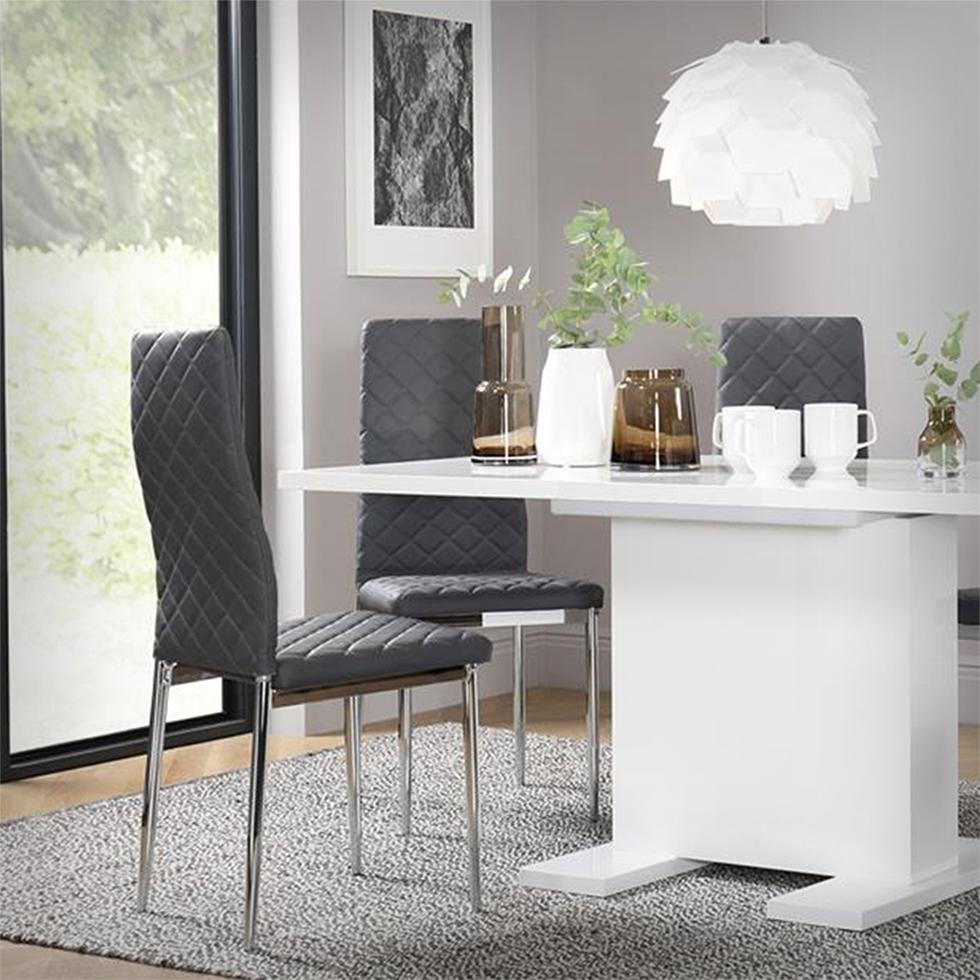 A common misconception about grey rooms is that they're automatically dark and dreary, but that doesn't have to be the case! Getting a grey room to look good is all in how you light it up. Natural daylight will always be the best option, but bulbs that emit a soft glow work too.
Hang stylish pendant lights directly above the dining table for maximum illumination and as decorative elements. This placement brings another benefit: it draws the eyes up to make a room feel more spacious and put together. If more brightness is needed, candles make for a classy, cosy lighting option.
3. Add warmth and cosiness with soft textures and natural elements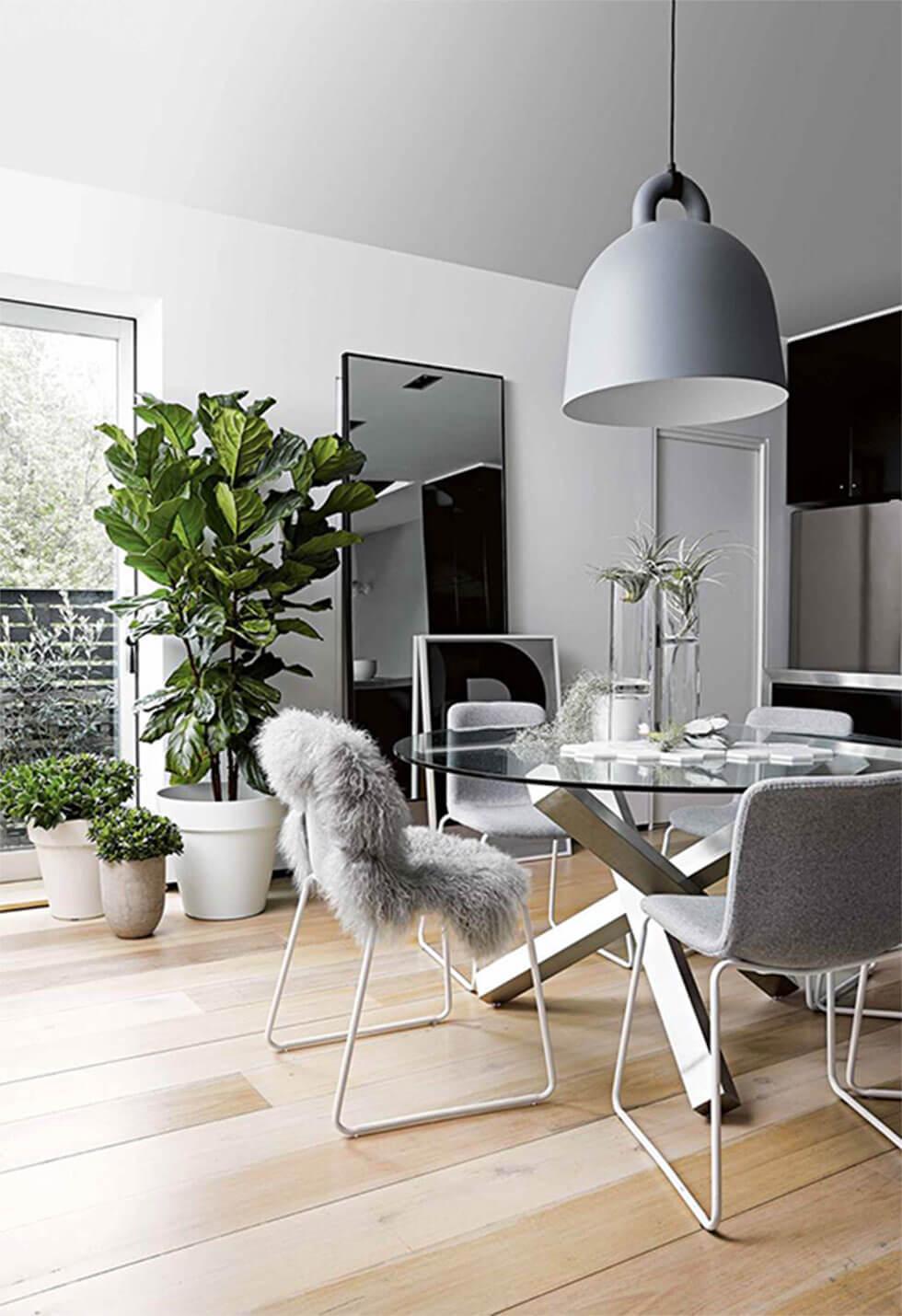 A surefire way to warm up a grey dining room is by adding green, leafy plants. Easy on the eyes (literally, as looking at the colour green soothes tired peepers), plants invite a burst of freshness and life. Some even help clean the air!
Nothing beats the warmth and rustic feel of natural wood. However, if that's not an option, pieces that are more organic in shape - like this round glass table and bell-shaped light - are a welcoming sight. As a finishing touch, layer the space with soft textures like a comfy rug, faux fur throw and dining chair pillows for a comfort boost.
And there you have it, these are the basic foolproof tips to styling a grey dining room. Next, we share inspirational grey dining room ideas in the style of popular interior trends like coastal and Scandi. Keep scrolling down!
4. Metallic touches for glamour and extra shine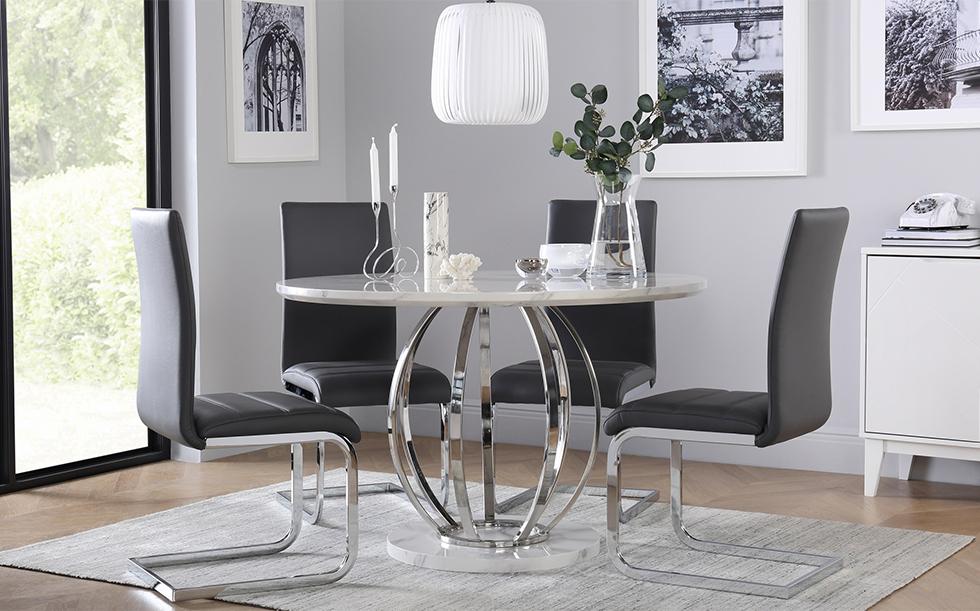 A little shine here, a little sparkle there - metallic features easily add volume, light and class to a grey dining room. To really amp up the luxury factor, pair with furniture made from leather, suede or sensuous velvet. Little glimmers of light bounce off the metallic features to create a magical, sparkly effect so the room feels brighter, too.
5. Cool greys for a chill coastal vibe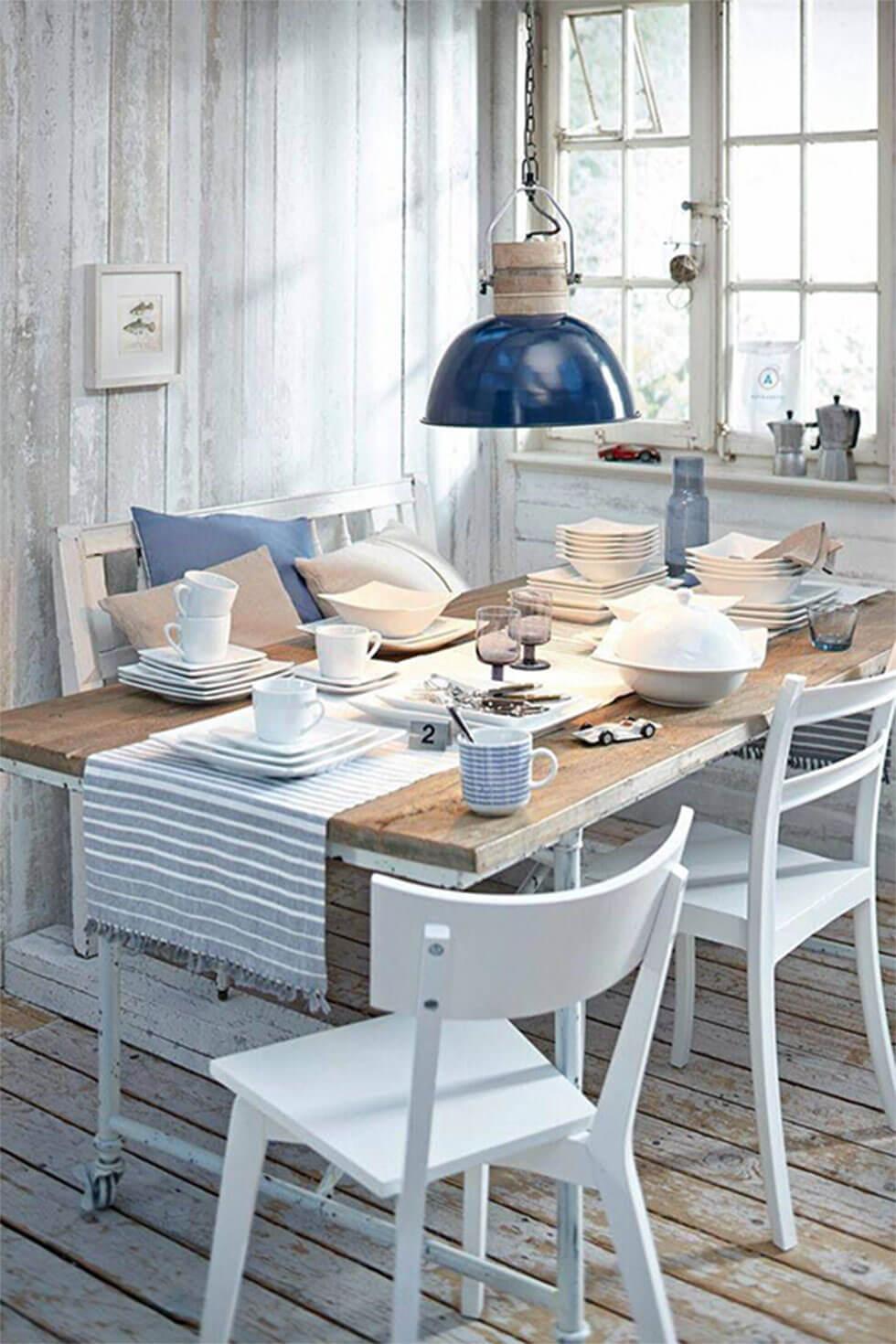 Uber trendy with major chill vibes, create your very own coastal chic interior by using a cool light grey on the walls. Shiplap instantly draws out the seaside style, further reinforced by pops of ocean blue throughout. Add rustic touches like seashells or vintage sea-inspired artwork and keep the palette fairly neutral. Blue, grey, ivory, and white are reliable options.
If you're a crafty creative, follow this simple shibori tie-dye napkins DIY! Having anything handmade invites feelings of homeliness and elevates the space with artisanal values.
6. Soothing Scandinavian setting in a neutral palette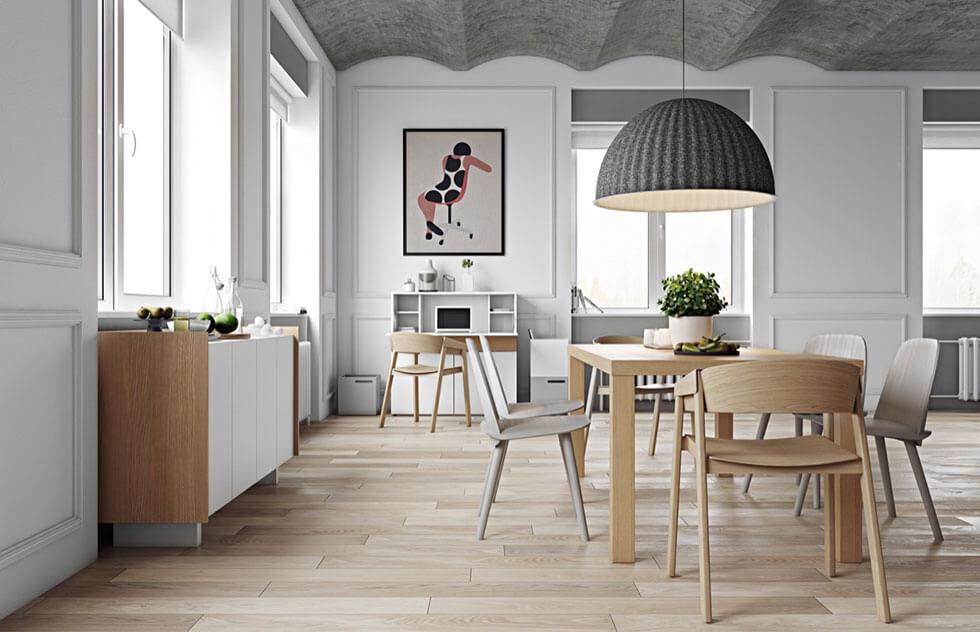 A Scandinavian interior cheat sheet can be boiled down to these attributes: clutter-free surfaces, pared back yet comfortable decor, plants, candles, and natural elements in a light neutral palette. The style's characteristic clean surfaces and focus on comfort and wellbeing are strong bedrocks of the art of slow living - very much in line with the concept of hygge.
Starting with cool light grey walls, bring in light wood and white. A darker shade of grey is great in a statement piece, but any toned down colour like blush or blue would work. Besides having plants and wooden furniture, introduce natural materials like ceramic through kitchen and dining ware to complete the setting.
7. Clean grey surfaces for a minimalist dining room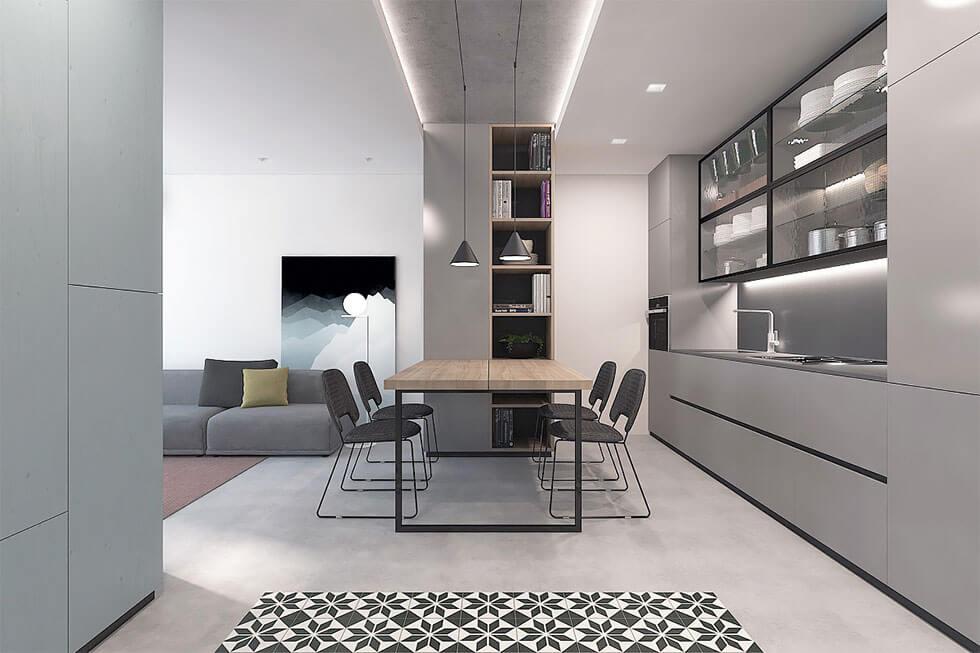 In the process of styling a minimalist interior, the first step is always to declutter as having clear, clutter-free surfaces is core to the concept. Apply the same mindset when forming your dining room's palette - that is to refrain from adding too many colours or shades.
In this example, the same warm light grey is used for the feature wall and cabinets, while slate grey dining chairs add depth and interest. Generally, clean silhouetted and thin-framed furniture are safe options for the minimalist aesthetic. As for ambience goals? A minimalist dining room aims to be calming, functional and uncomplicated, but not without style.
8. Create your own sunshine with pops of yellow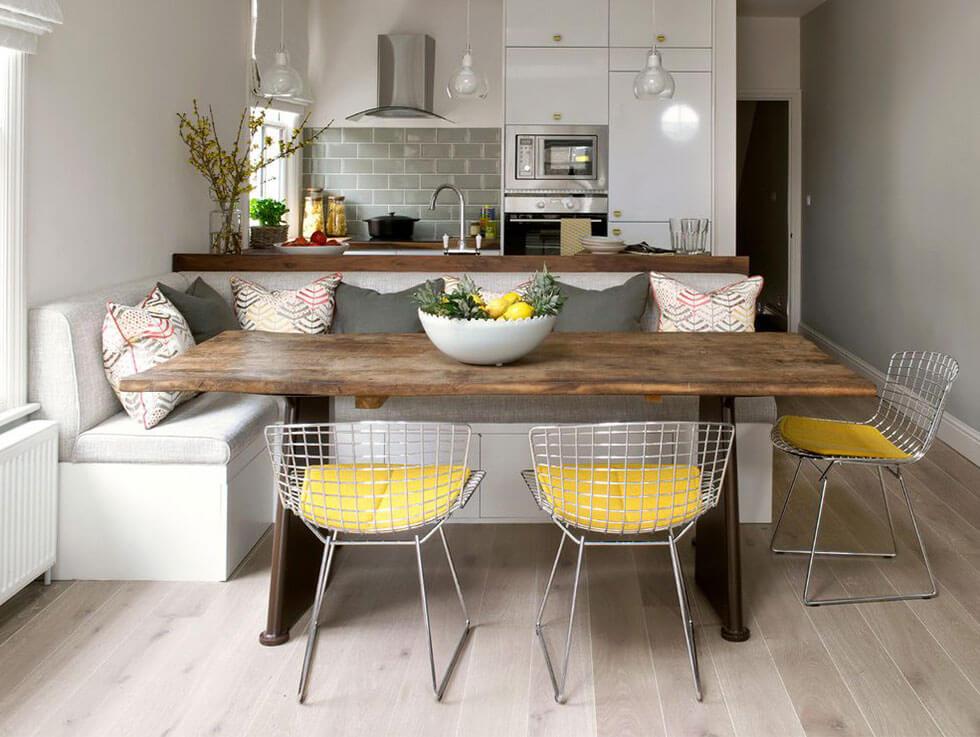 Bring in bright pops of yellow into a grey dining room. Reminiscent of sunny days, lemon trees, honey bees, and all things happy, yellow induces positivity and is an energising colour. A zesty lemon yellow complements a warm grey well, as both colours bring out the best in each other.
Whether designing a farmhouse-style dining room, or urban dining nook, this palette is cosy and sophisticated at the same time.
9. Elevate a tropical theme with touches of grey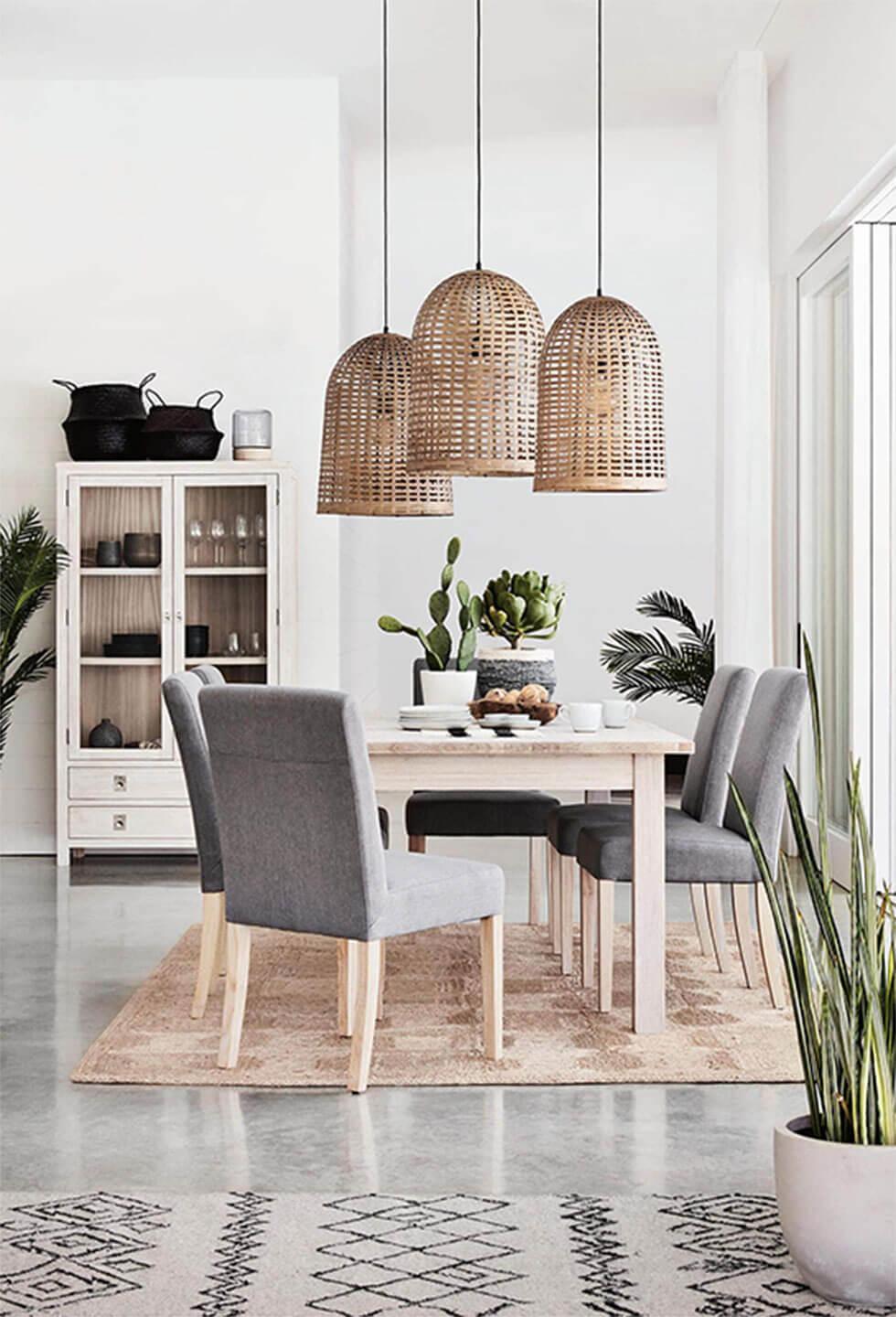 Add a touch of grey to a tropical interior for instant chic. The pairing of medium grey chairs, light wood table, and oversized rattan pendant lights is yes, yes, yes. Fun prints on a rug injects playfulness while large, leafy green plants provide a tropical backdrop. The vibe is relaxing, fashionable, laidback; and easily achievable.
Begin with a very light warm grey wall, and keep to a neutral palette of whites, greys, and light woods. Fabric dining chairs are ideal - their material providing a nice texture while being comfortable and reliable - as are accessories made from natural materials like rattan.
10. Layering grey on grey, the right way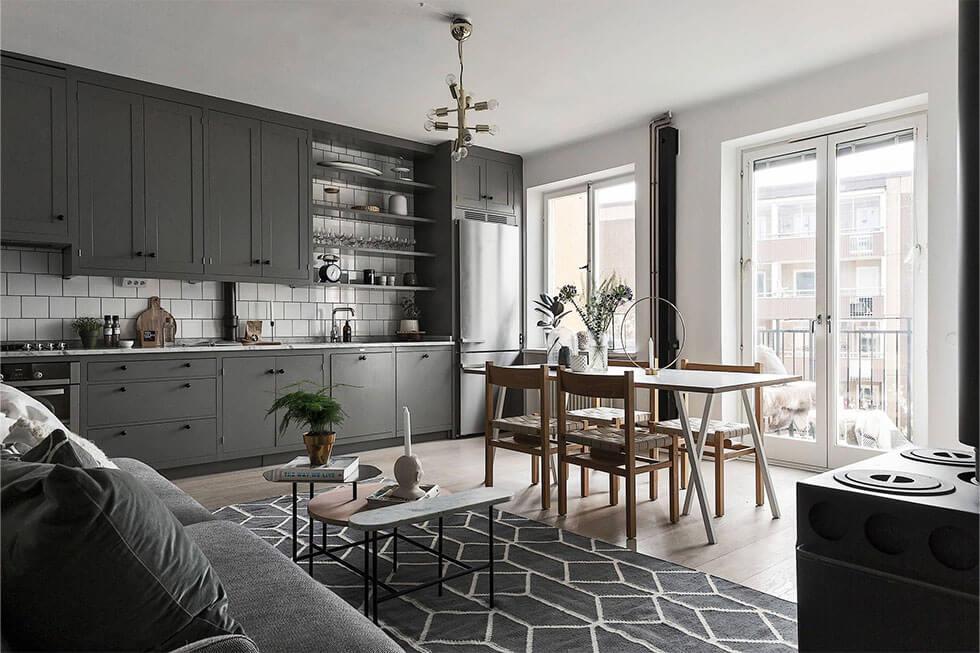 Can't pick just one shade? Then, go ahead and layer them all. A grey on grey dining room is ultra stylish and modern, when done right. One way is to start with darker shades for the bottom of the room, then get lighter as you work upwards. For instance, feature ash grey in a floor rug, moving on to a medium grey sofa, and light grey pillows as toppers. This technique also helps open up the space to make it seem bigger. Just remember to pick greys with the same undertones, whether warm or cool.
11. Pretty chic in pastel pink and grey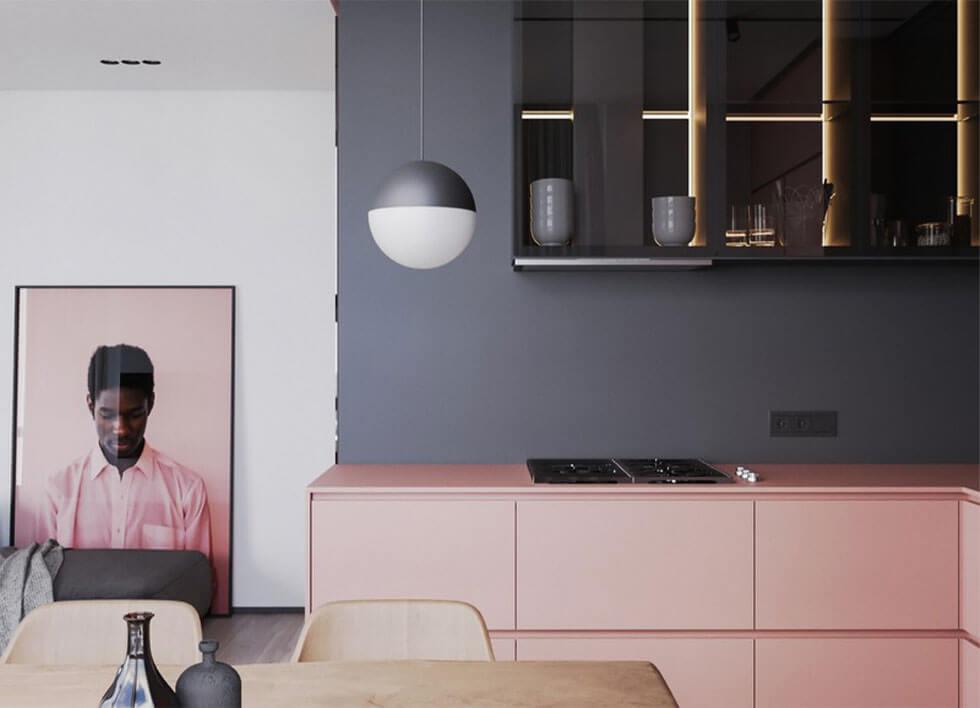 Embrace your feminine side by introducing pink into a grey dining room. Effortlessly chic, a pastel version of the romantic colour goes well with grey and adds softness and cool urban vibes. Dark grey walls that might've seemed too serious are now balanced by the lightness and freshness of a pastel pink.
However, if having a blush-hued countertop is not your cup of tea, there are other ways to highlight the colour. A more classic dining room might display fresh pink flowers, while using pink dining ware or seat cushions are some other ideas.