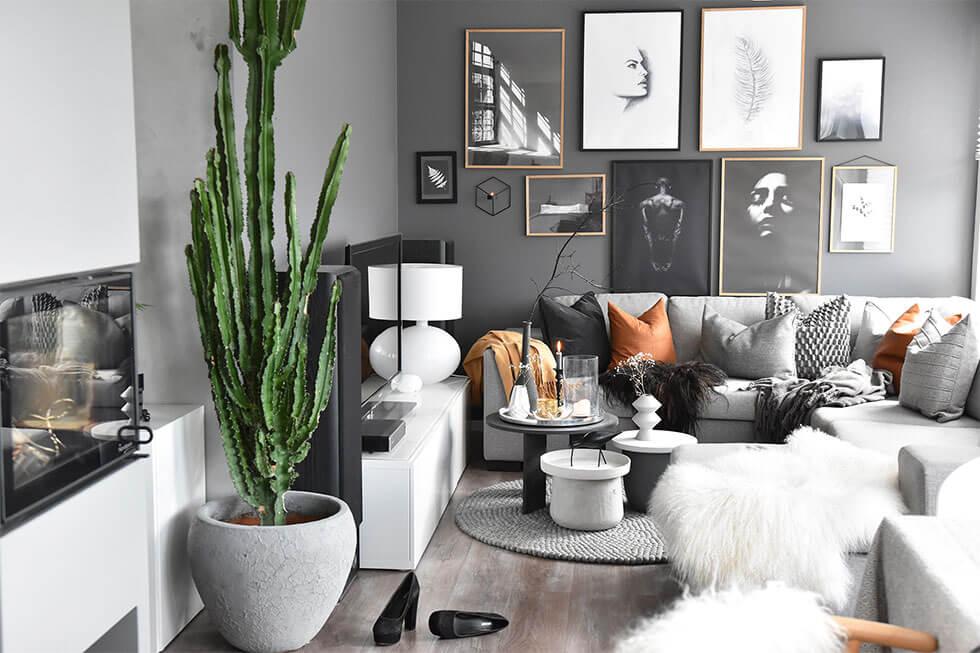 Easily adaptable to any interior style, grey is the best colour for a living room, with all the versatility of white. It's great on its own, but also incredibly easy to create a unique palette with. If you're looking for inspiration, we've curated a list of easy grey living room ideas below that are sure to help.
1. Use a light grey shade on walls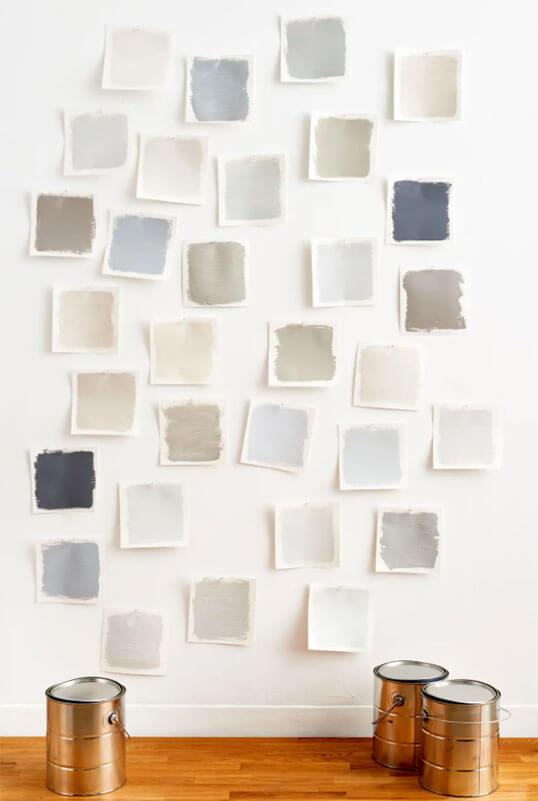 If you're using grey abundantly for the first time, choose a light shade to calm any nerves you might have. Light tones like Pratt & Lambert's Whitecap Grey, Dunn-Edwards' Cloud, or Behr's Seagull Grey are beautiful, safe choices to keep the walls bright and soothing.
2. Layer different shades of grey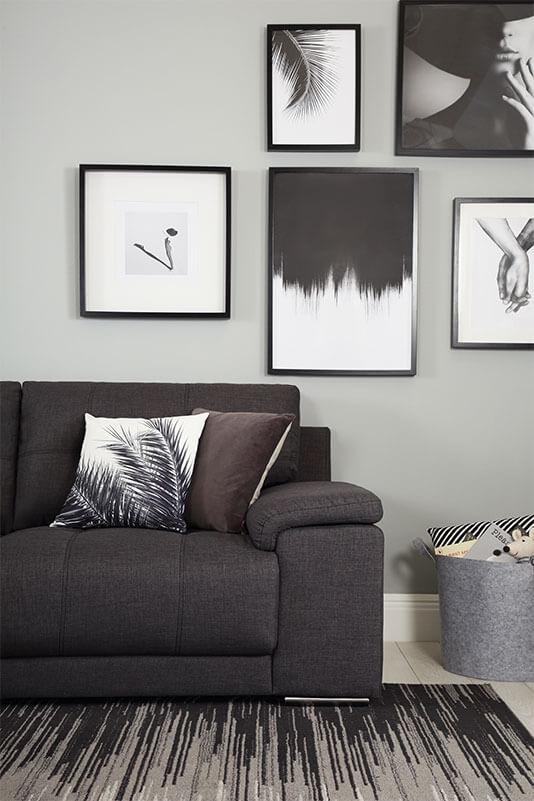 Got more than one gorgeous grey you want to use? Go ahead. Start with a light tone for the walls and floors (or rugs), and choose a darker grey sofa, to add depth and contrast. Then, mix things up with whites and greys ranging from light to near-black in the form of throws, ottomans and pillows. Maintain your monochrome setting by sticking to artwork that follow the same colour scheme of black, white and grey.
3. Add a touch of metallic shine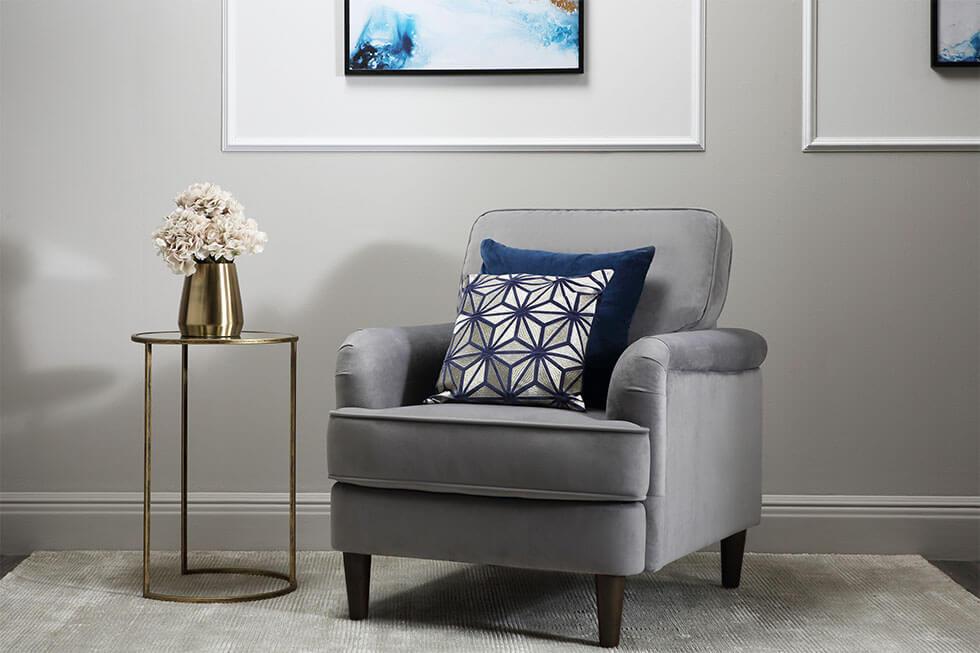 Add a few metallic pieces to your grey living room for a luxurious touch. Gold, chrome or rose gold all work, but it's best to stick to one colour choice to maintain visual coherence. As light reflects off these surfaces to brighten and visually enlarge the space, having thin-legged furniture with metallic finishes will present a look that's open and clean.
4. Warm up a grey room with organic materials and soft lighting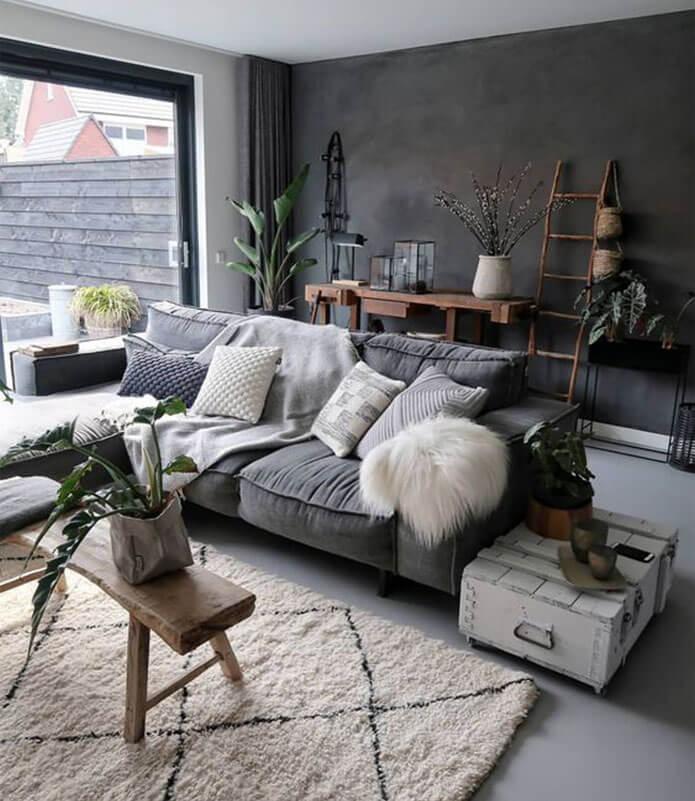 Scatter a mix of soft throws and fluffy pillows, light a few candles, and place potted plants around for a sense of life and warmth. Let in as much natural light as possible, too. When it comes to indoor lighting, a soft yellow tone from a standing lamp or sconces helps create a cosy and welcoming atmosphere.
5. Design a sleek, modern masculine space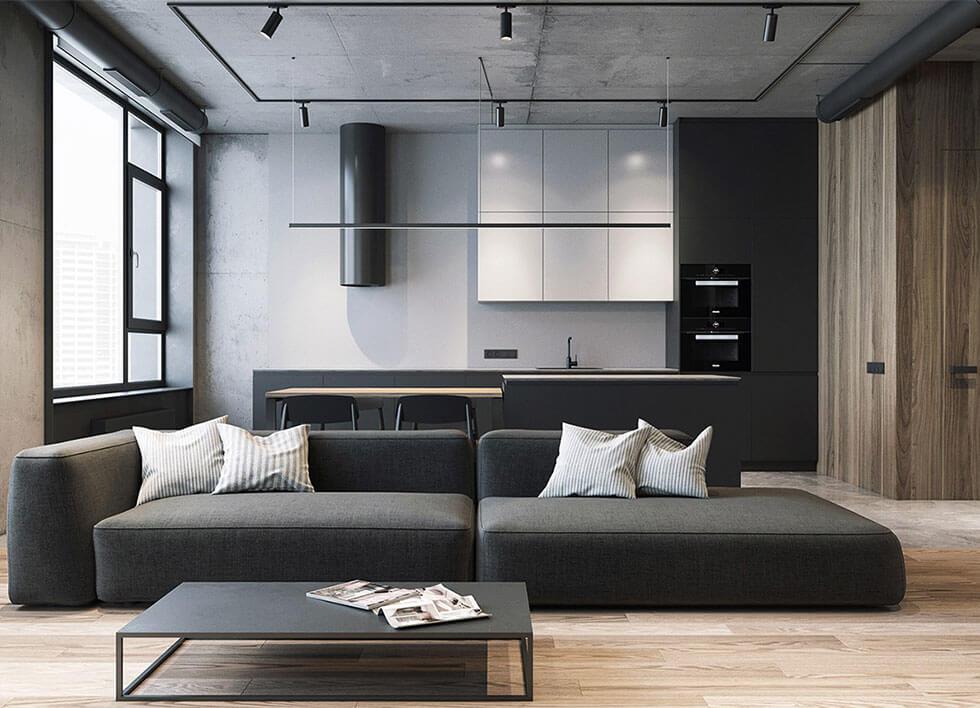 Darker shades of grey work well when creating a sleek and modern living room with a masculine feel. In the minimalist space above, a charcoal sofa is framed by industrial-styled ceilings and wood-panelled surfaces, while an ultra simple coffee table with a thin metal frame adds edginess to complete the look. If you're going for this vibe, keep the space clutter-free with minimal fluff pieces.
6. Match warm greys with blush tones for a feminine touch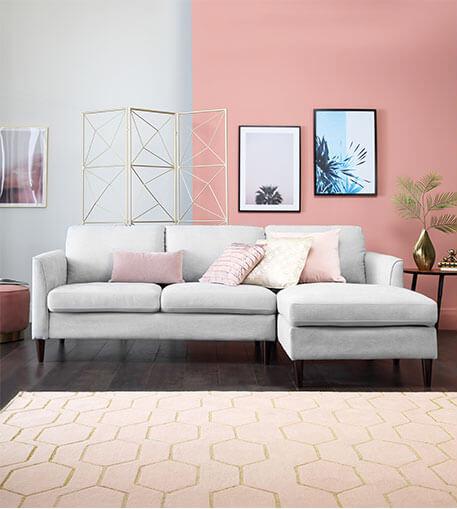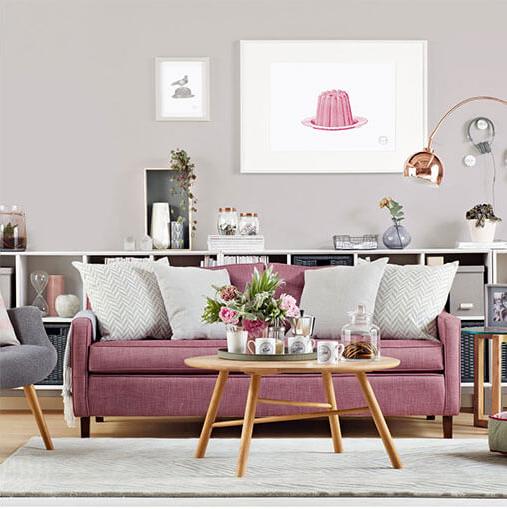 When paired with pink hues, warm greys take on a feminine nature that's soft, stylish and inviting. Metallic accents like a rose gold lamp and copper planter work to brighten the room while adding personality. Add some leafy green plants to make the room come alive with freshness.
7. Mix in dashes of bold and bright colours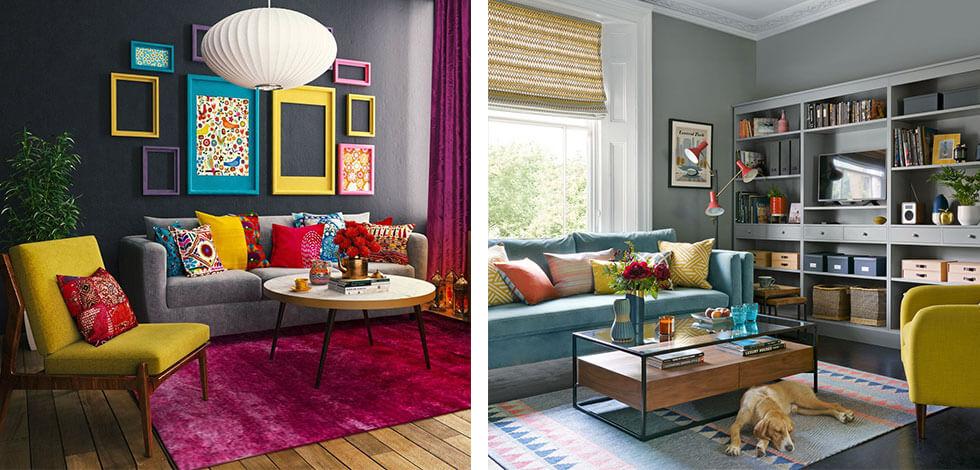 As a versatile neutral, grey pairs well to anchor bold colours like teal, magenta, yellow and red in a living room. However, when combining multiple hues, it's best to use no more than 4 secondary colours to maintain coherence. Spread out the colours among different elements like having a yellow armchair on one side and yellow cushions on another sofa.
8. Update a shabby chic style with grey accents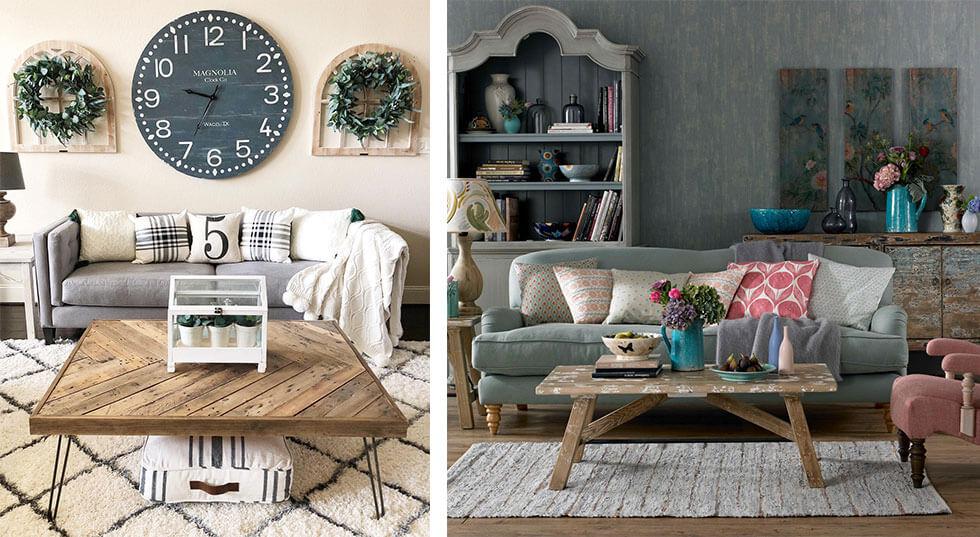 A charming choice for the shabby chic interior style, grey provides the perfect backdrop for wooden accents and soothing neutrals. Alternatively, make a statement with an oversized grey wall clock, or paint your walls a darker shade for a moodier elegance.
9. Create coastal vibes by matching grey with blues or neutrals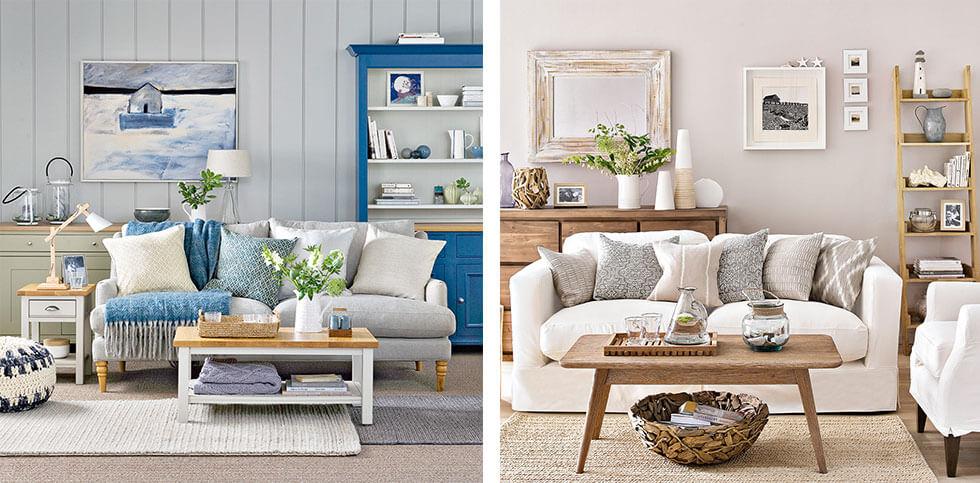 Whether aiming for a coastal living room with cool blue tones, or one with warmer neutrals, grey works well to tie the palette together. Incorporate several shades of grey via different textures like wool or cotton to create a cosy ambience. You can also update the insides of cabinets to match your chosen grey or use a beautiful grey rug for extra warmth.
10. Take a minimalist approach or try the Scandinavian style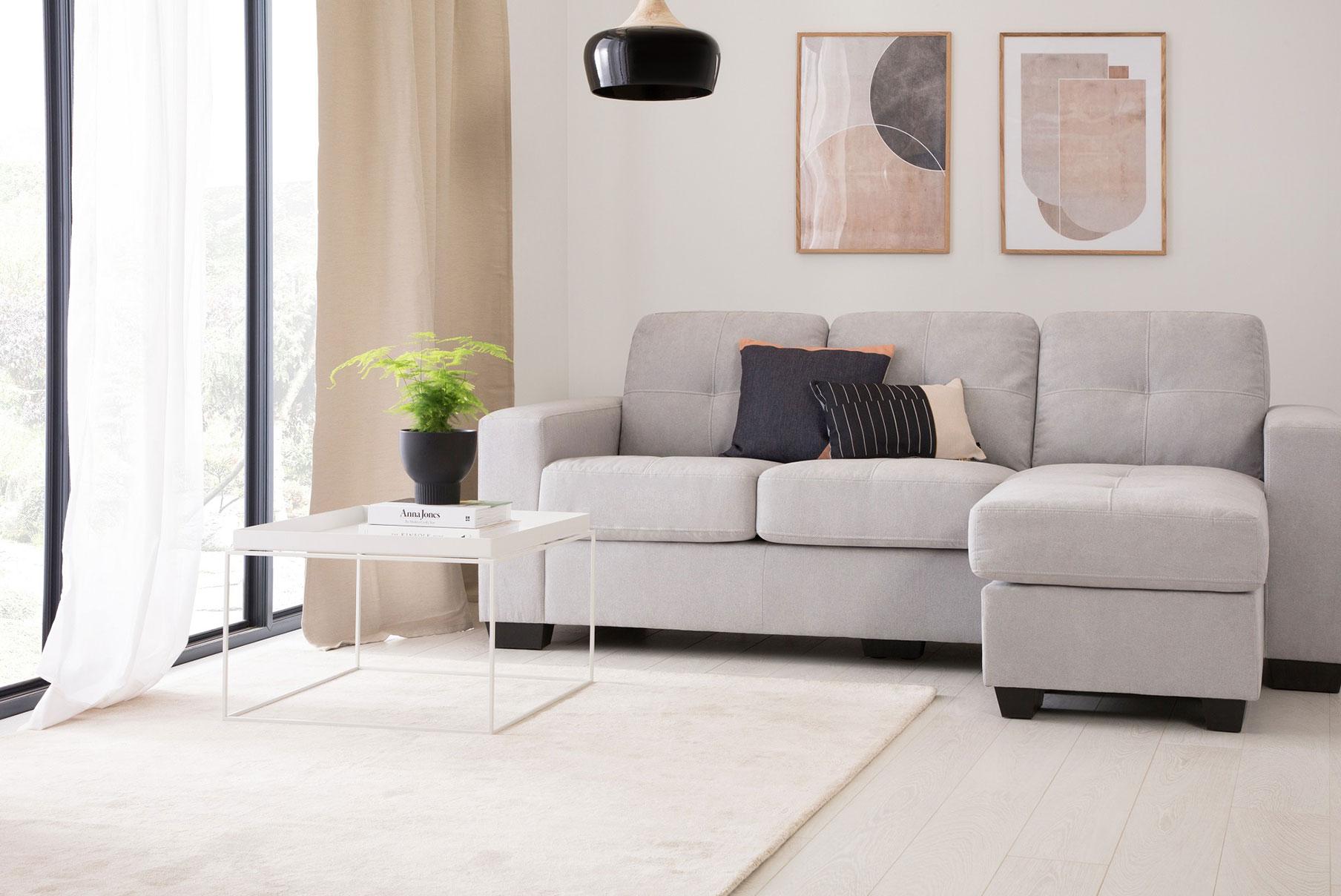 Grey is the second go-to colour after white for a minimalist interior -- pared back yet irresistibly elegant, it is soothing and clean, totally in line with the philosophy of minimalist living at home. Cosy up your living room Scandi-style by adding natural elements like wood, indoor plants and a soft rug to create a space that's relaxing and inviting.
Colours that go well with grey
Pink

- Pair soft grey with light pink for a chic, feminine combination.

Grey

- Layer different shades of grey to achieve a stylish, understated elegance.

Navy blue

- Create coastal vibes or an edgy, modern look.

Neutrals

- Match with white, tan, or mustard for a minimalist or Scandinavian interior.

Yellow

- A light grey goes well with sunny yellow to create a fun, happy room.

Teal

Coral

- Try going tropical with a cool grey, coral, and hints of mint.

Green

- Take a trip into the jungle with lush, dark greens and greys.

Cherry red

- Pair light grey with cherry red for a modern or retro-modern look.

Black and white

- Maintain a stylish monochrome palette for a bold, moody style.