How to get it right with a classic monochrome interior
Black, white and grey are a classic trio and offer endless design possibilities. Find out how to style a monochrome interior.
Effortlessly stylish, monochrome interiors are also incredibly versatile. From classic, timeless looks to edgy, modern spaces, this theme's back-to-basics approach is a perfect opportunity to decorate creatively, and reinvent monochrome on your own terms.
First of all, what is monochrome?
With roots in Ancient Greek, monochrome simply means having one colour, being composed of different hues within that one shade, or going black and white.
So this extends of course to all-red rooms (with crimson, maroon and pink sharing the spotlight) or lush green spaces (think forest, kelly, mint, teal) - but for today, we're going to be focusing on the classic: black and white. This of course includes everything in between the two ends of the spectrum, leaving all the shades of grey for you to play with! The clean, neutral feel of this palette leaves lots of room to experiment with different textures, shapes and contrasts in the home.
Go bright and airy with white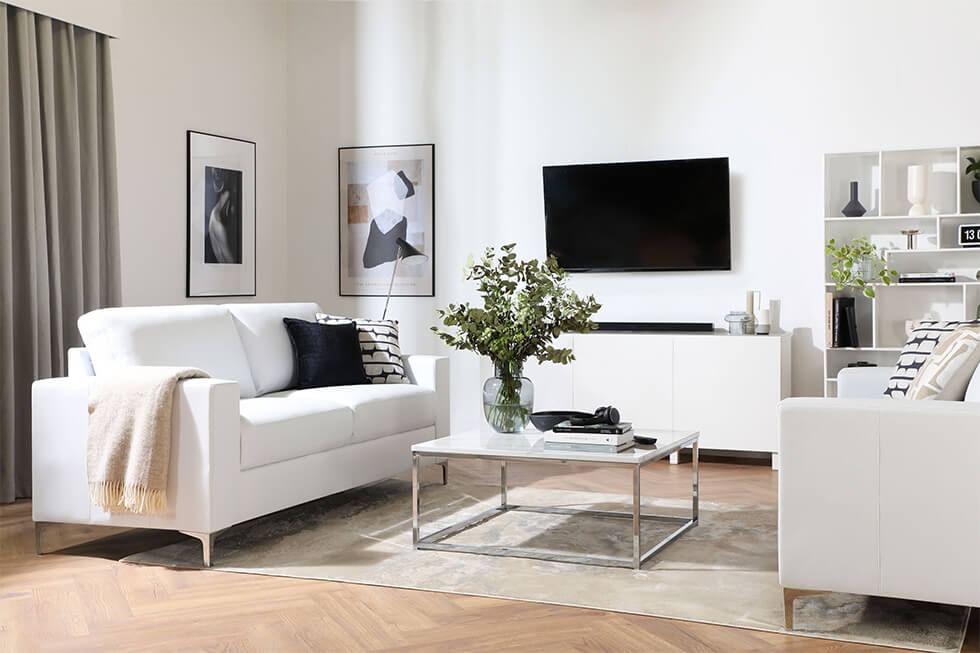 A classic for a reason, white brightens up a room and creates space and airiness, especially in smaller homes. Poppy Smith is an interiors enthusiast who has artfully honed the skill of decorating with neutrals, and she shares the following tip:
Neutral tones in the home are always welcoming, cosy and homely. Using shades of white keeps things crisp and clean, and they work perfectly together. A timeless colour combo!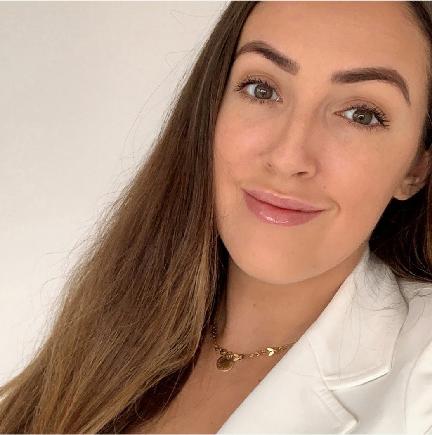 With minimalist interiors continuing to be a major trend, using white in a monochrome space is almost a style shortcut to achieving the look. However, the tricky bit is that when it isn't done right, it can also come across as empty and unfinished.
Therefore, it's important to layer in subtle neutral tones, and also include natural elements like wood and greenery. These components work well together for a modern rustic look in the living room and can even be dialed up for a bolder, summer-ready interior with the addition of wicker or seagrass - all while maintaining a clean, crisp look!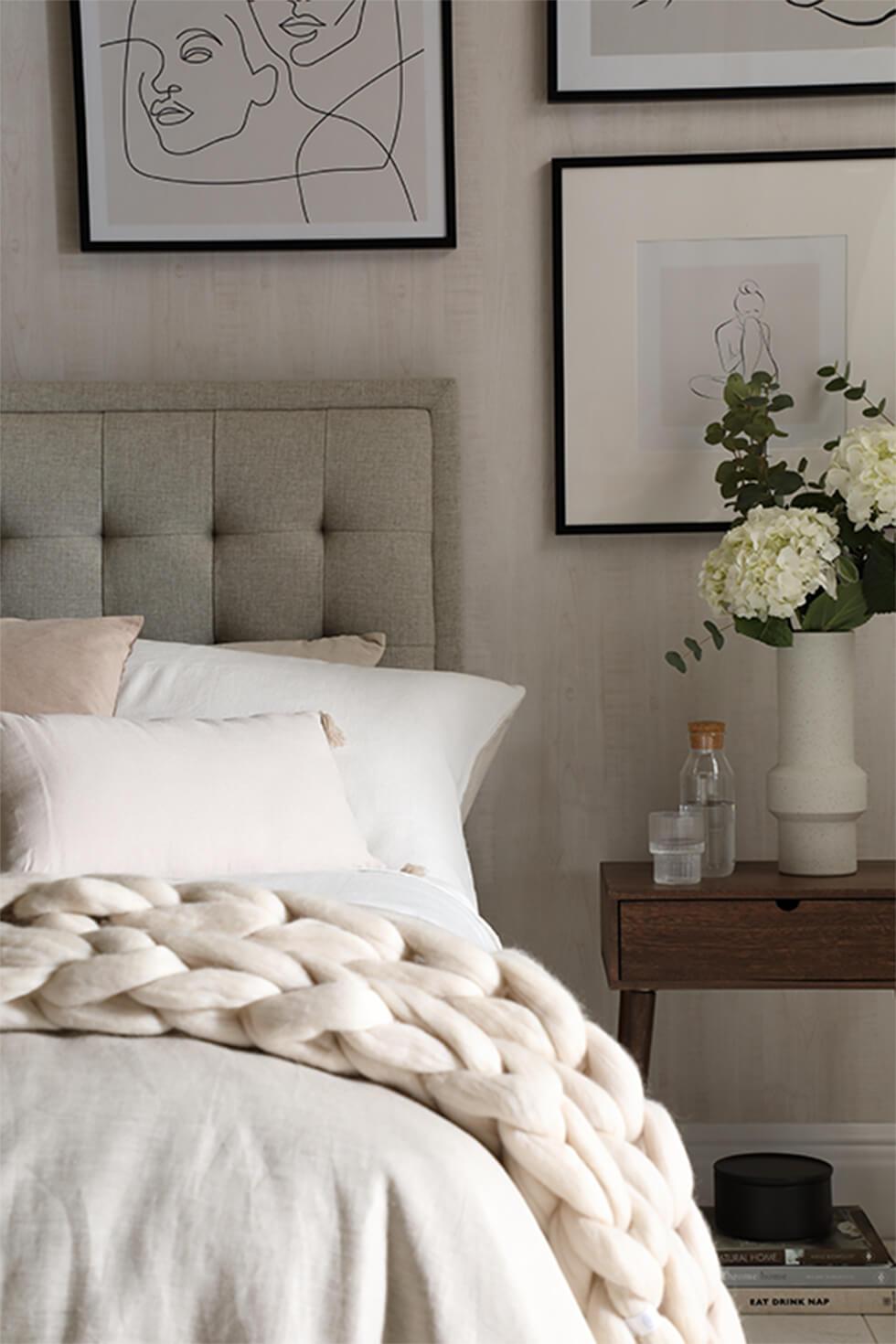 Picking a suitable shade of white matters too. Off-white shades have subtle warm undertones that'll instil a welcoming vibe in a room. Score major comfort and style points by incorporating a fabric sofa (or a bed) and accessorising with light coloured throws, pillows and a sprinkle of thoughtful details such as indoor plants and framed artwork on the walls to really make it your own.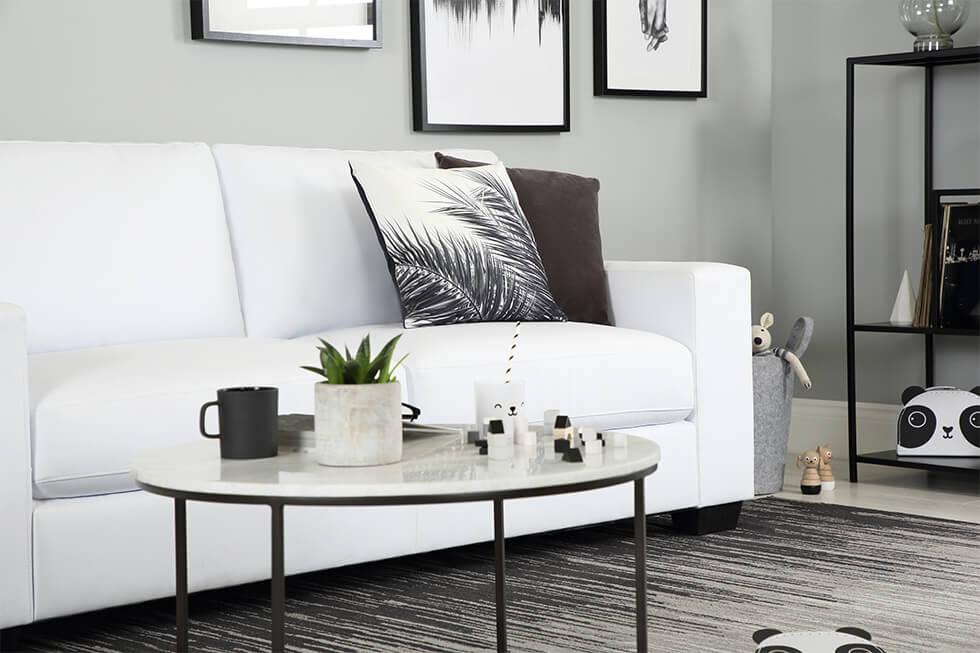 To introduce some major contrast, black is an obvious choice for a monochromatic pop. Using white as your main colour and backdrop, introduce black in small doses, whether as cushions against a crisp white sofa, in an artsy gallery wall or with subtle, decorative accessories.
To complement our white sofa and matching coffee table, we introduced animal-themed decor from This Modern Life around the room for a playful twist.
Get sophisticated with black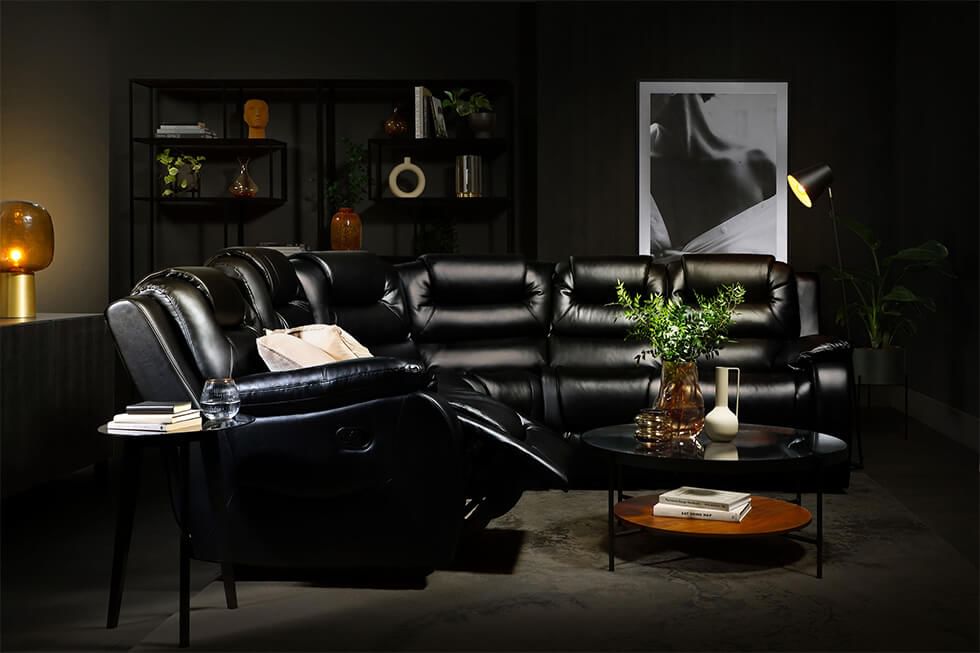 Moving to the dark side, black's dramatic, glamorous edge ensures it never goes out of style. For a chic, ultra-sophisticated look, go for all black walls (and even floors). To ensure you get a dark, moody look that doesn't feel too heavy, add natural elements such as wooden furniture and clay or porcelain decor for a little warmth.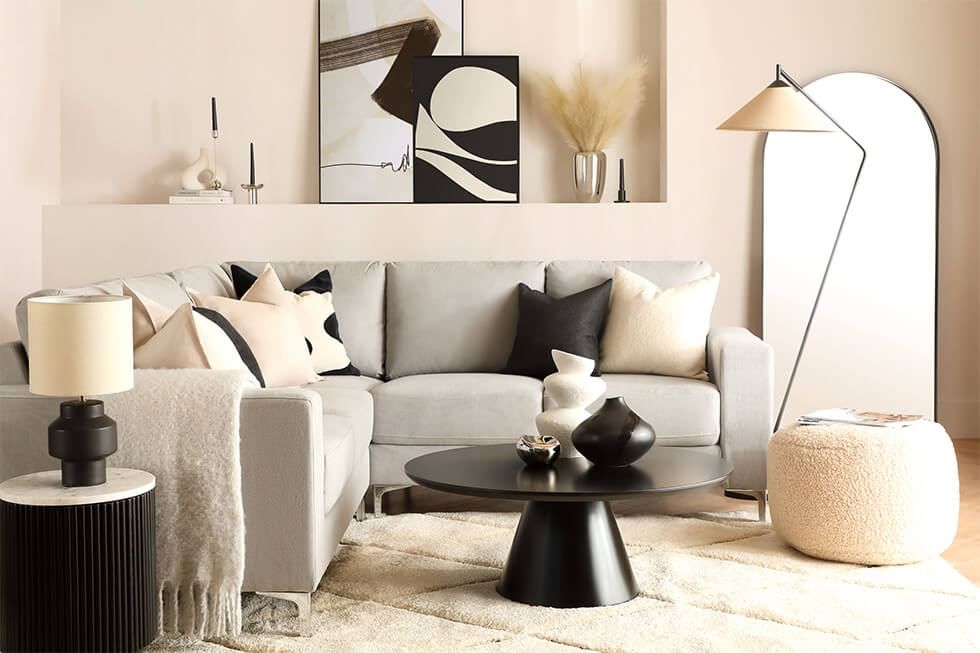 On the other hand, you can use black to highlight specific parts of the room, whether with a feature wall, art, or even with a statement sofa. This works beautifully in a monochrome space since black and white (or cream and beige) are one of the undisputed true pairings in the design world, offering immediate visual contrast.
As we are doing away with colour, texture and layers are key players here. Mix it up with contrasting materials such as gold hardware, or a marble table for an opulent touch.
Embrace the versatility of grey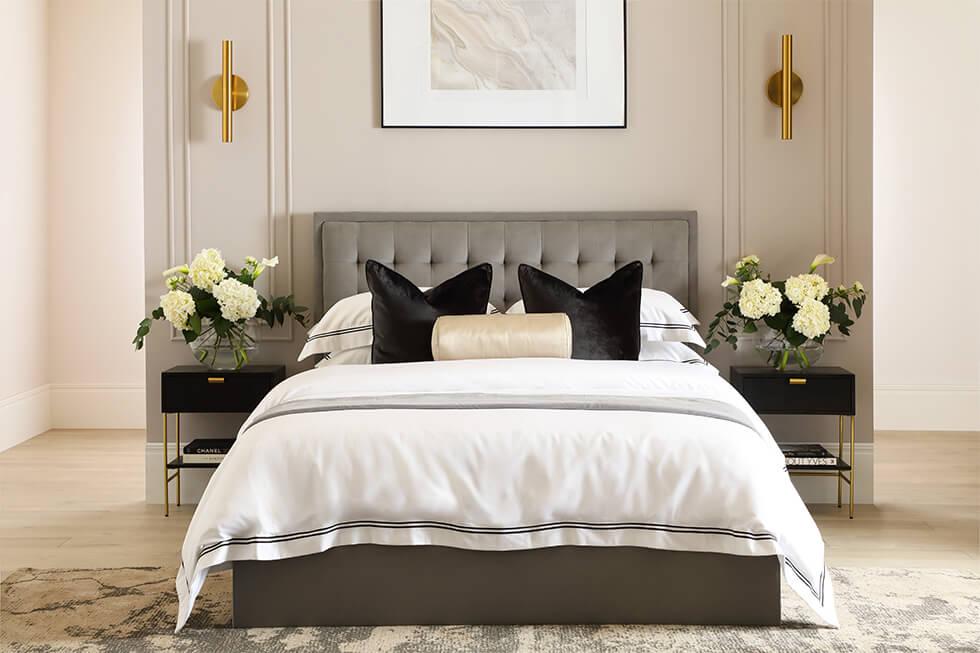 An ever-relevant colour, grey is a classic neutral that has proven its versatility in interior trends through the ages. And with wellness-focused approaches in full swing, grey has been a popular go-to colour for a relaxing, timeless feel at home.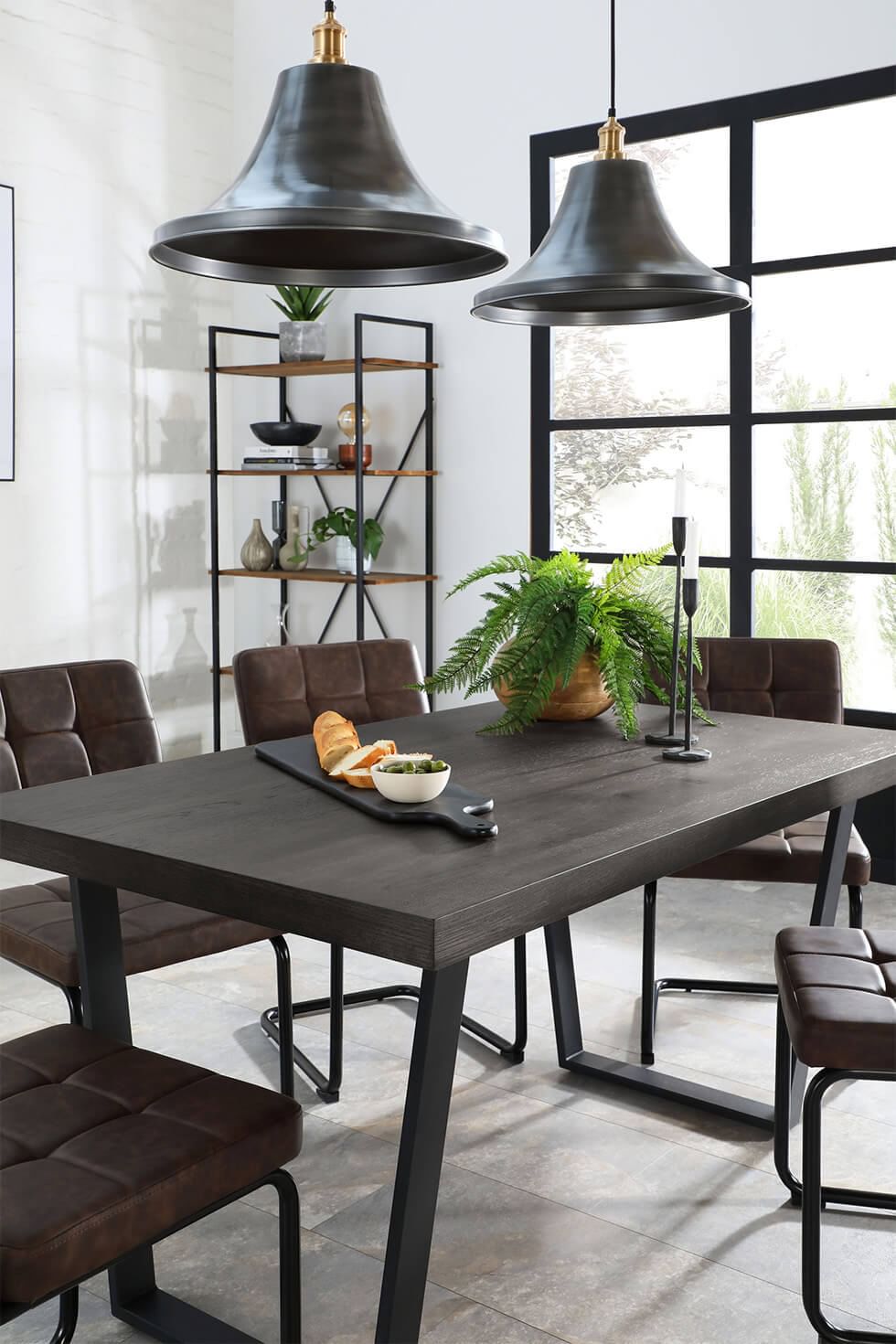 Grey's calming qualities make it a great fit for all parts of the home, from the living room and bedroom to the dining area and kitchen. Dark grey has a romantic, elegant feel that doesn't compete with statement decor and furniture, but adds depth and interest instead.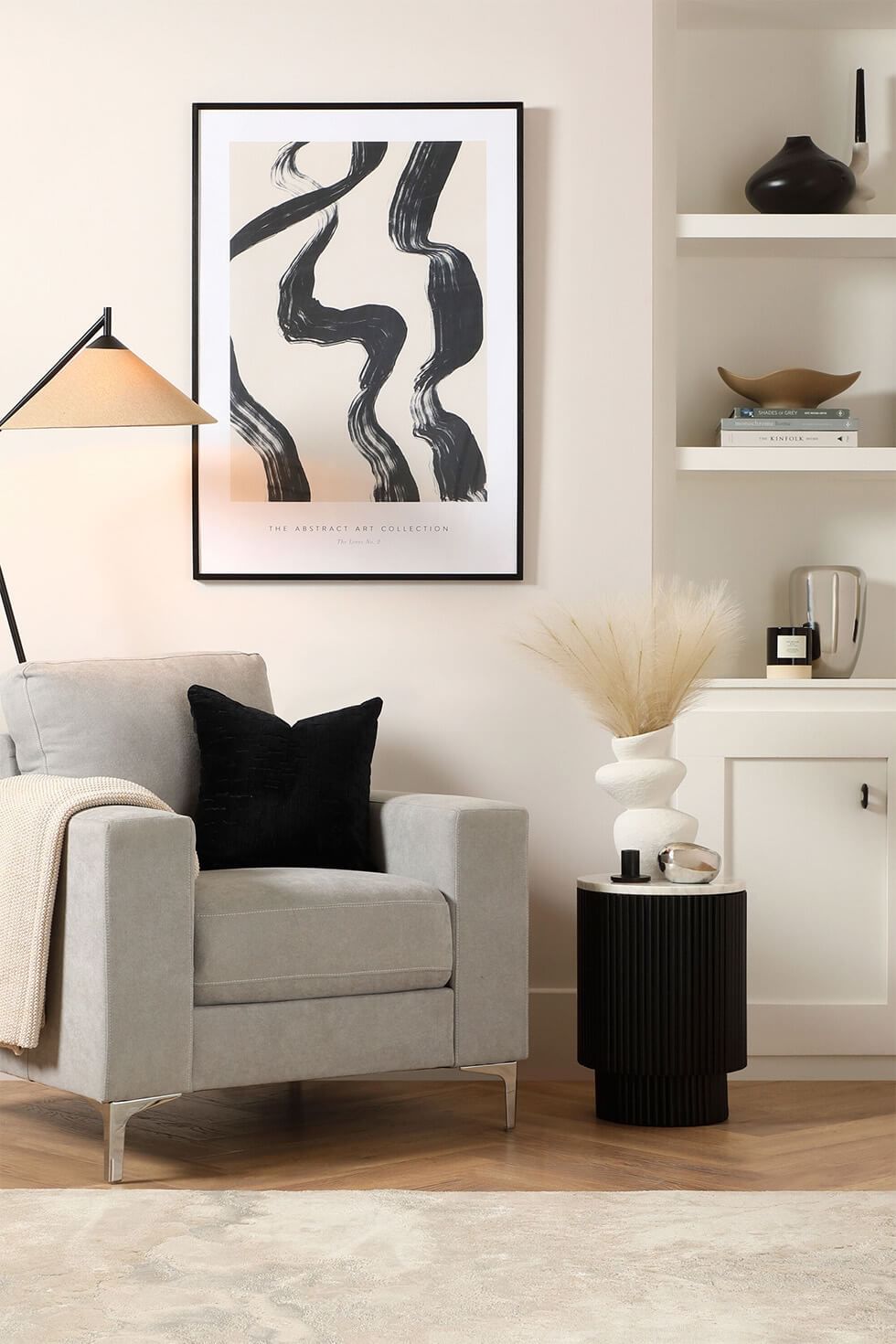 Grey has traditionally been thought of as a cooler colour, but a modern iteration of this is to warm it up with taupe, soft pinks and terracotta. The key here is to experiment with contrasts and textures - for instance, this reading nook feels soft and inviting with a cosy armchair and stylish accessories. Meanwhile, taupe walls give a neutral, but interesting background touch.
And as always, adding natural elements, such as greenery, gives additional warmth and interest to the room.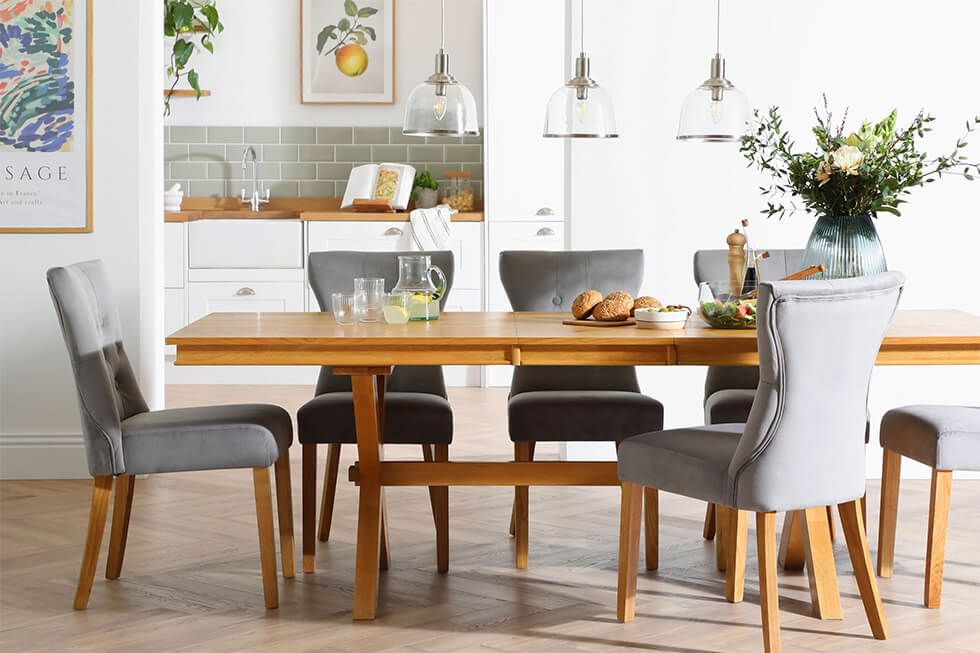 And finally, the cool thing about grey is that it's also effective in small doses, introducing dimension for a subtle style boost. A two-toned colour block approach such as grey dining chairs matching the kitchen backsplash adds a boost of personality without coming across as tacky and overdone.
What colours go with black, white and grey?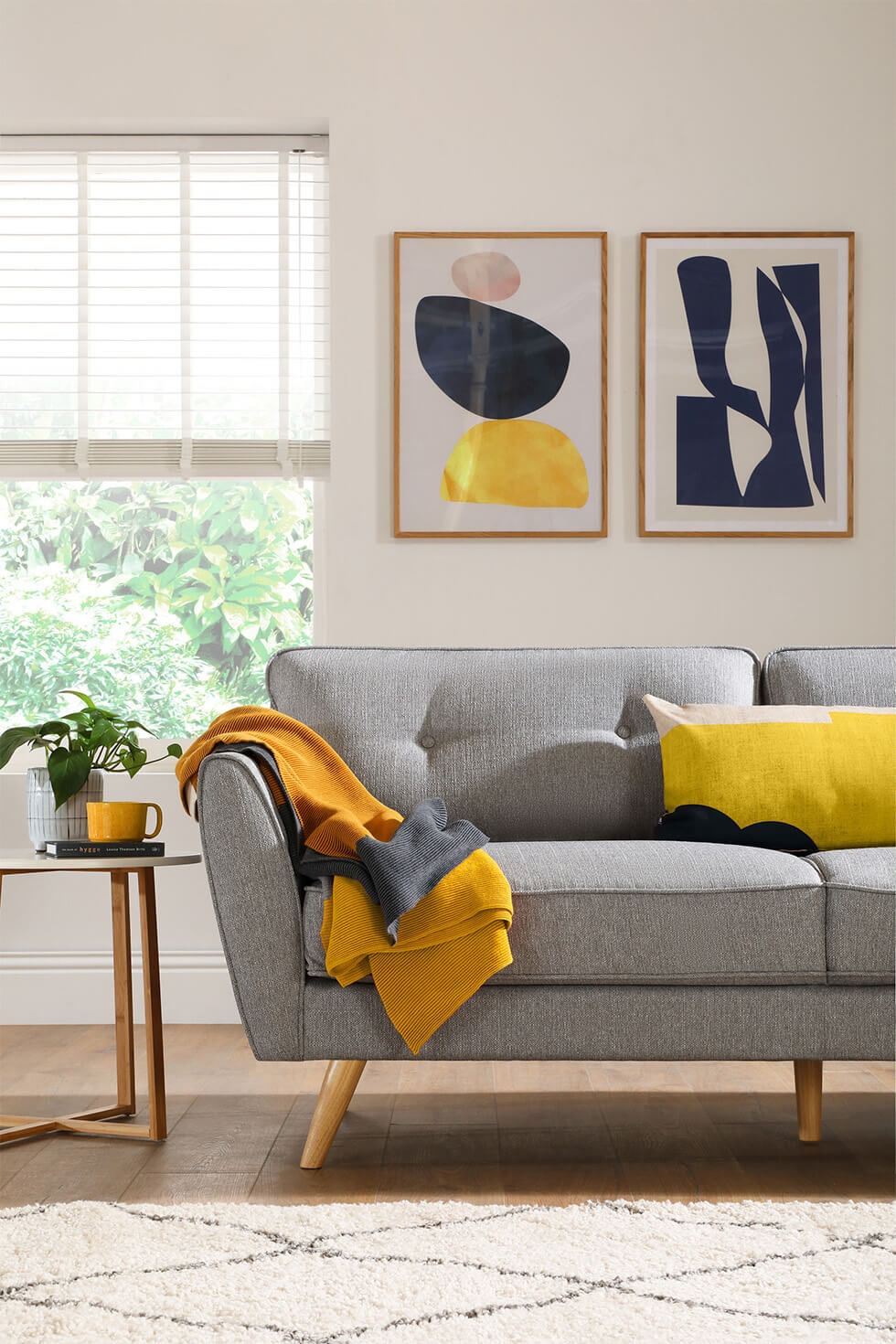 The simplicity of monochrome effectively means that any colour would work splendidly in a black and white room, since there's no real risk of a clash. So our best advice here would be to work with your favourite colours, and maybe stick to one or two colours per room.
Adding colours to a monochrome space is best done with statement pieces or as pops of personality and fun. So for instance, opting to add a soft hue such as blush pink, or earthy yellow (as we see in this chic living room) creates dimension, depth and visual interest.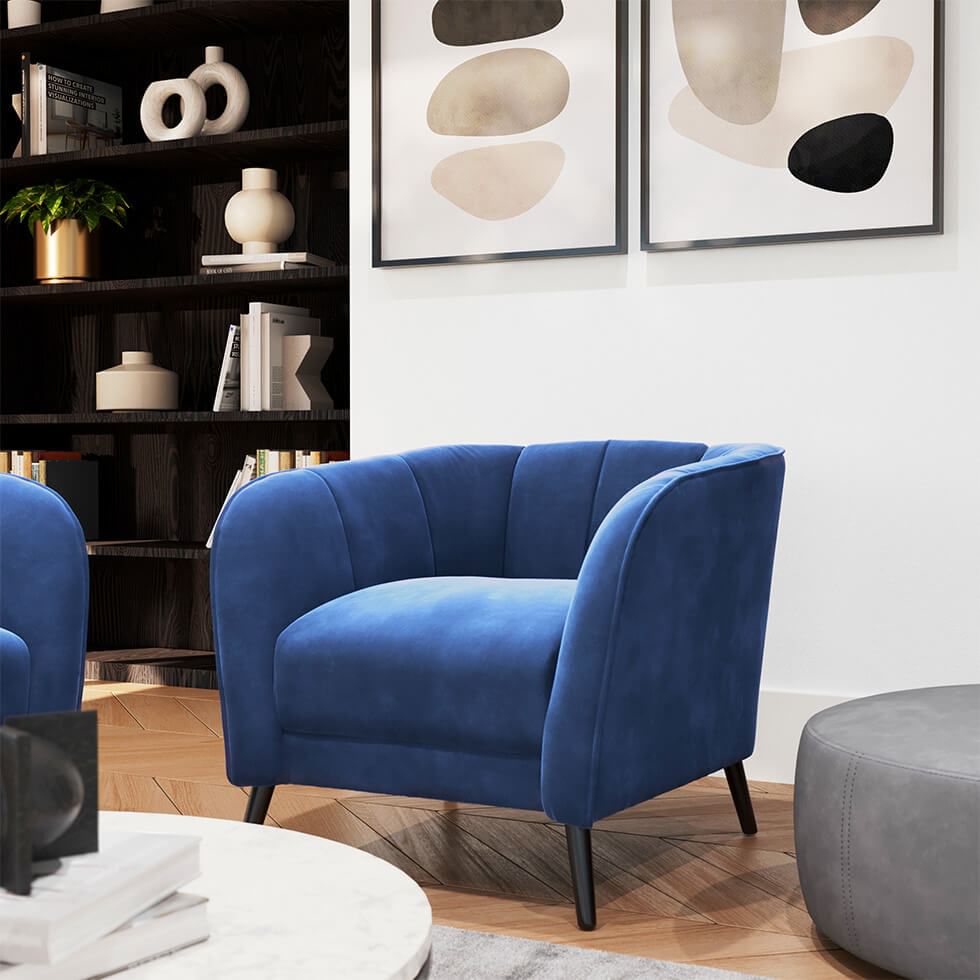 On the other hand, go big or go home! Choosing a bold, primary shade such as red or blue can add plenty of personality, fun and pop to your room. For this approach, look out for corners or spaces that you want to highlight and plan around that. This bold blue velvet armchair makes for a deeply stylish reading corner in a clean, monochrome room.