8 best ways to layout your living room
Running out of living room layout ideas? Check out our guide on how to create a comfortable and functional space.
As a multi-functional space, the living room sees plenty of different activities. It's a place to relax with family and entertain guests, but it also doubles as a dining area, home office or play area too, making it seem difficult to plan a layout that fits everything.
By taking all these details into account, creating a living room layout that is both comfortable and functional should be done with careful organisation and proper understanding of what you want your living room to be. Whether you're moving into a new place or interested in updating your existing space, read on to learn helpful tips on planning the best living room layout for your home.
1. Work out the flow of your living room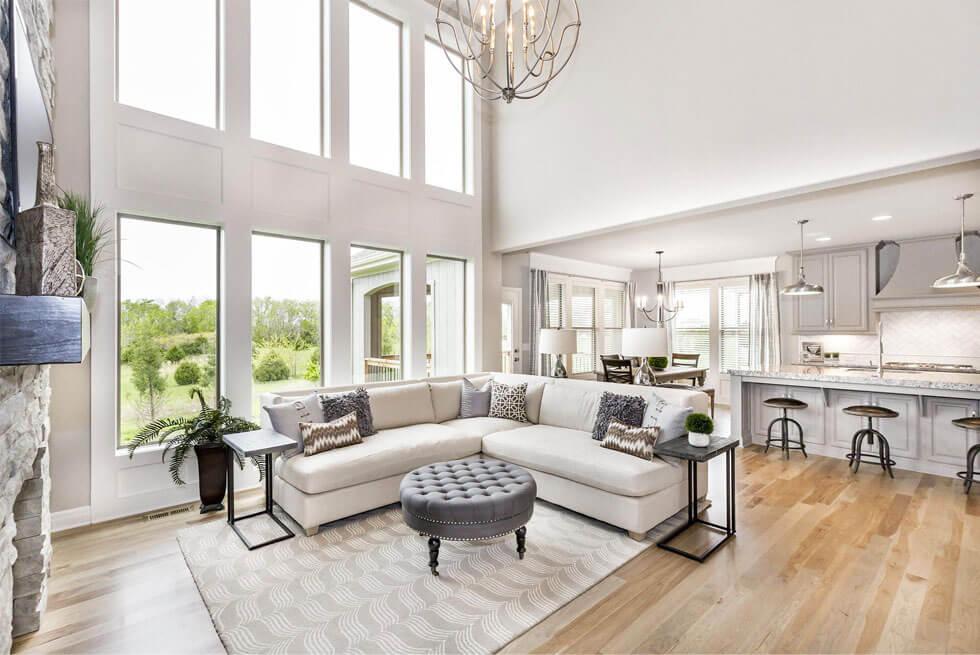 Good flow in a layout means traffic moves through the space with ease - and this is especially important in open plan living.
In homes where the cooking area and living room share the same space, why not incorporate the same style elements as well? For instance, if the kitchen has a light colour scheme, use similar tones for the living room but with softer textures.
Also, pay attention to spacing - you wouldn't want to keep bumping into the coffee table to get to the sofa. A good rule of thumb is to have 3 feet of space between furniture to make moving through a room feel effortless.
2. Determine your focal point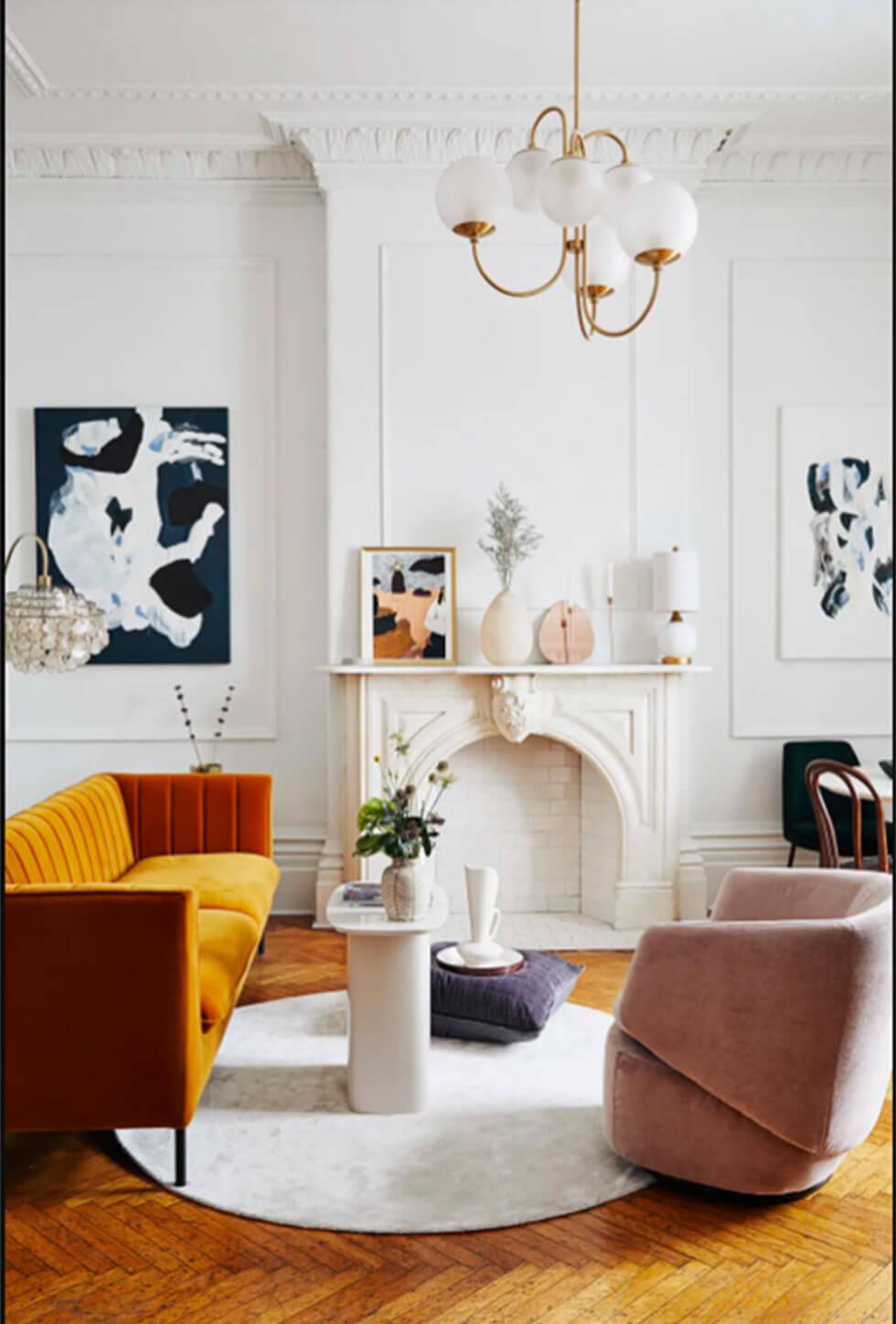 A focal point refers to the most visually interesting feature in the room - like bold artwork, a cosy fireplace or large windows overlooking a garden or a lake. In many modern homes, it might be the TV.
What's important is that it should be something you enjoy looking at – as it plays a prime role in helping you plan your layout and furniture arrangement. Building your room around a focal point will give the room a natural sense of comfort and flow.
3. Divide the room into different zones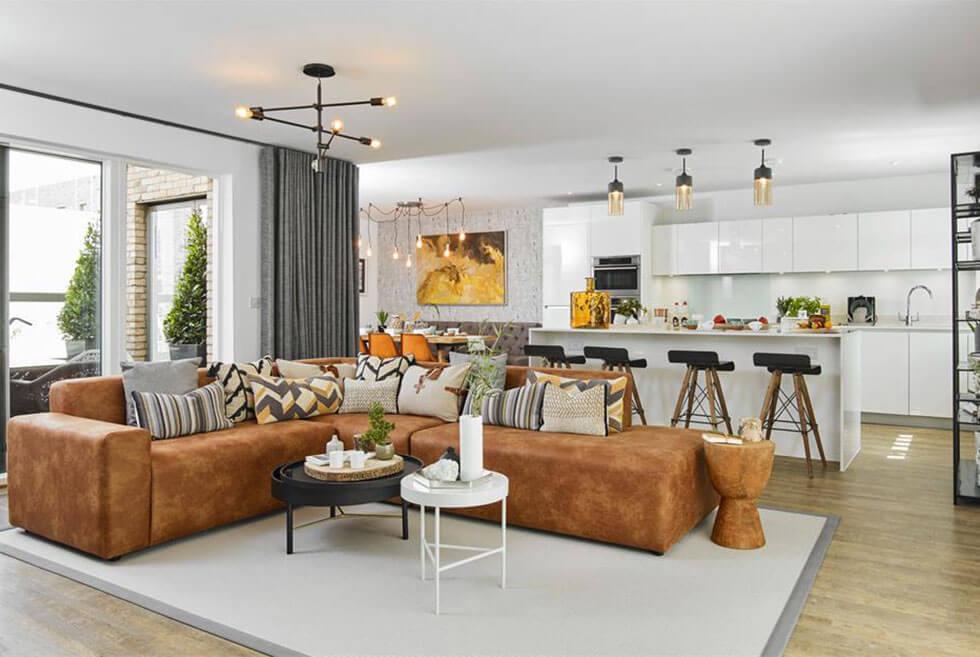 Creating zones in an open plan layout is the key to creating a homely atmosphere, and a sectional sofa is a great way to do this. Its structural shape naturally draws a line to separate the lounge area from the dining and cooking area. Plus, it frees up floor space and seats more people than your average sofa.
Rugs and lighting are also fantastic ways to define your living zone. A rug anchors the living area and is a chance to inject personality to your home, whether it's a soft pastel, geometric print or vibrant patterns. Likewise, use different light fixtures - like a striking pendant light or floor lamp - to zone your living section.
4. Float your furniture in a narrow living room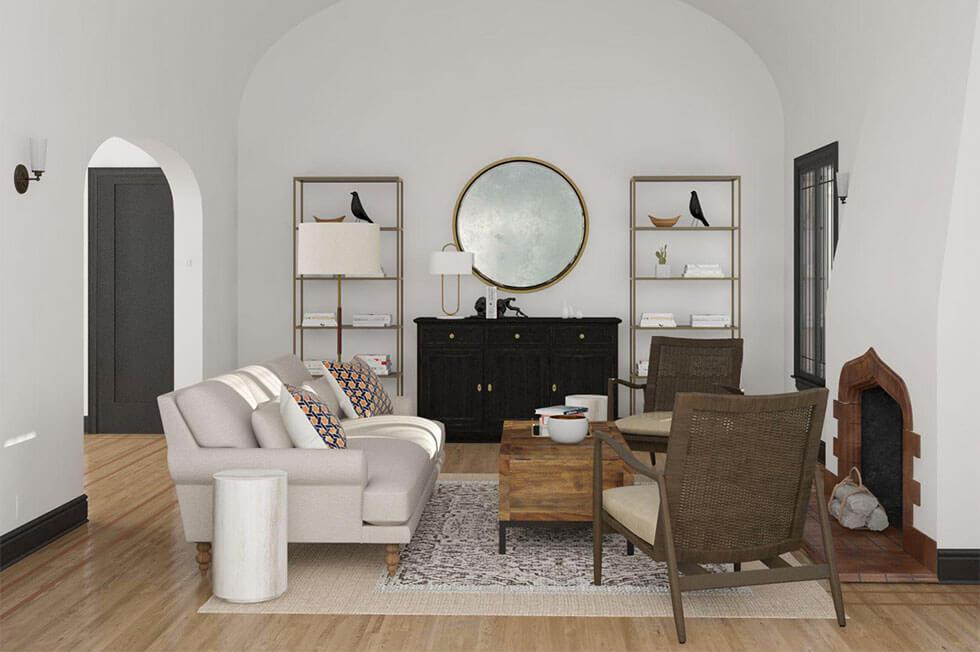 Sometimes, a sofa might just look awkward when it's arranged against the wall - especially if it's a long and narrow living room. If that's the case, 'floating' your furniture might be the best way forward. Placing your sofa in the centre of the room to face the focal point creates a special area of its own and may feel more cosy and intimate, making it easier for people to interact.
A floating sofa will naturally form 'lanes' for walking through your space, since it functions as the key piece of furniture in the living room. This also frees up the walls, so feel free to hang artwork or photographs to dress up those bare surfaces. If you're in need of extra storage, place shelves or a sideboard to keep things organised.
5. Make lighting a priority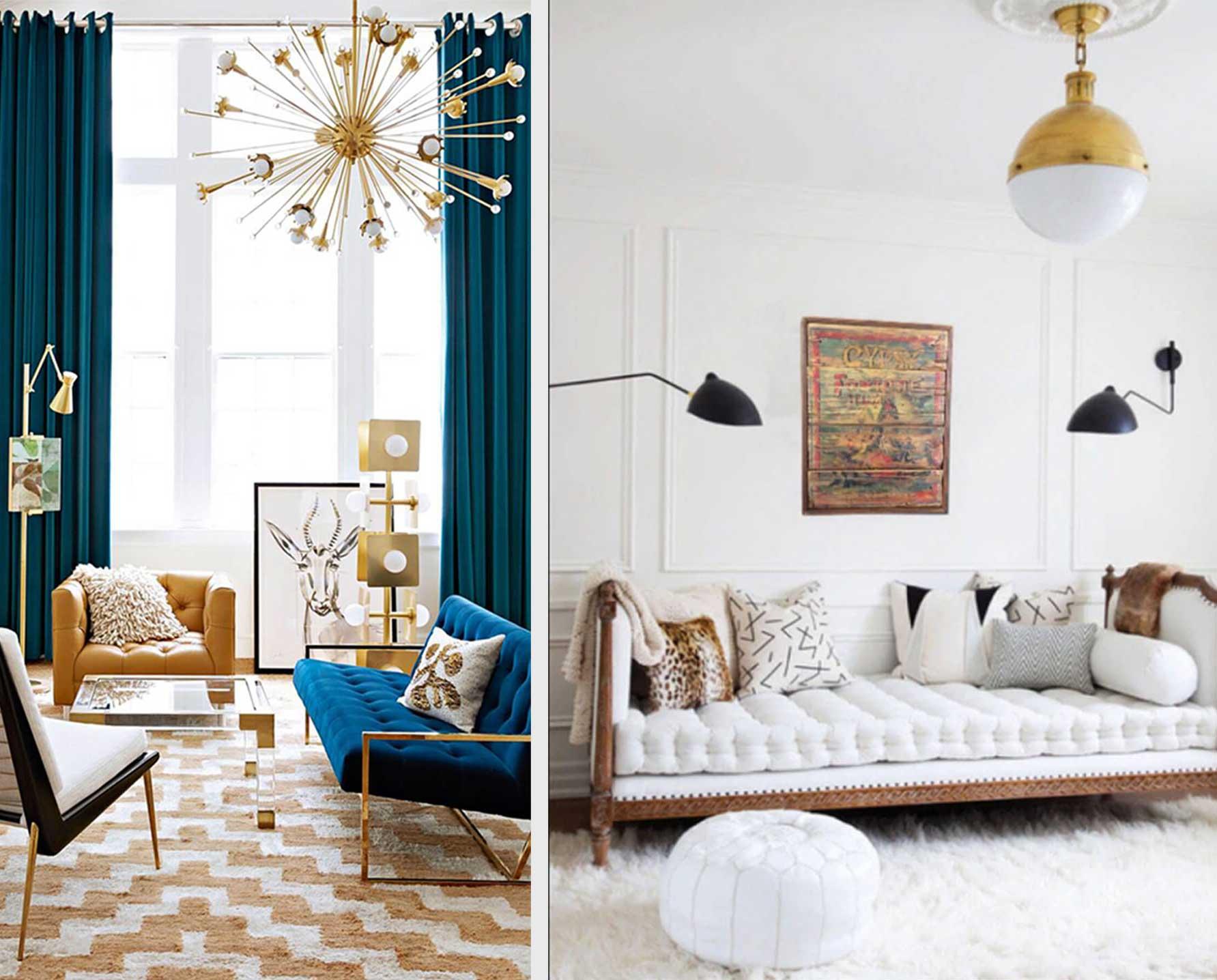 Getting the lighting right is essential to setting the tone and ambience of the space. Lighting plays a big role in highlighting different zones in the living room, so it's important to make sure that it's functional just as it is decorative.
Here are several types of lighting fixtures to consider:
Task lighting – lighting that sets up the space
Bias lighting – helps avoid the glare of the TV screen and decreases eye strain
Accent lighting – highlights key areas of the space such as artwork
Ambient lighting – fills in the gap and sets the mood of the space
Also, always take advantage of any natural light that comes into your living room as it will make your space feel more airy, bright and inviting. An instant way to do this is to hang a mirror on the wall across a window to reflect the light streaming in. Sheer curtains and a glass coffee table will also do the trick to let in more light and make the room feel more spacious.
6. Create balance in a large living room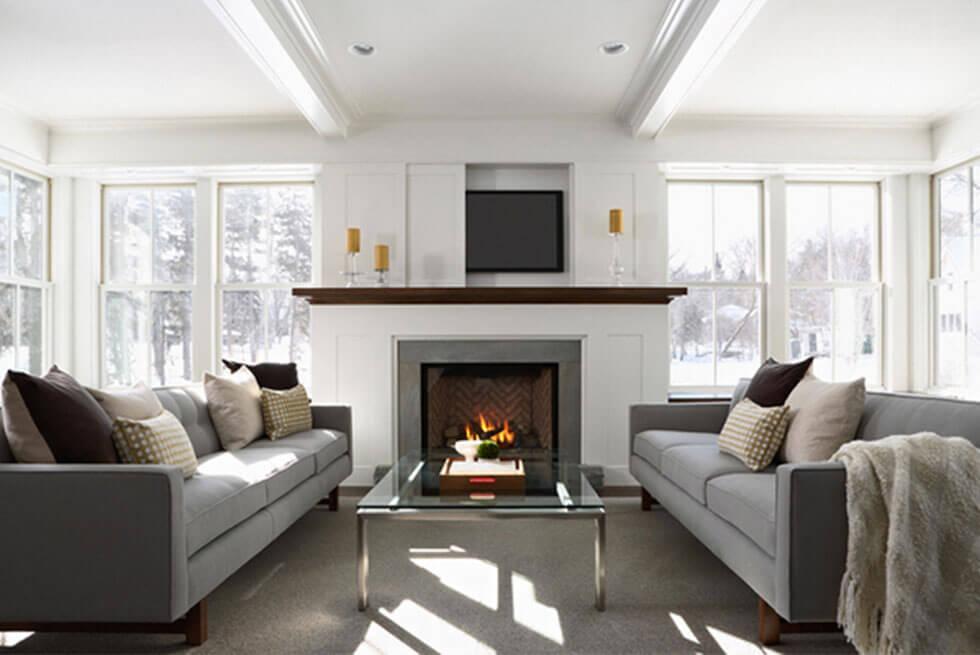 Have you ever felt a sense of calm when looking at furniture arrangement? The harmonious feeling could possibly be a result of your brain picking up on the symmetry and order that a well-balanced living room exudes. Pair matching sofas and armchairs to face each other with a coffee table in the centre or arrange the furniture in a U-shape to face the focal point. This creates a simple yet striking effect to the space.
7. Maximise space in a small living room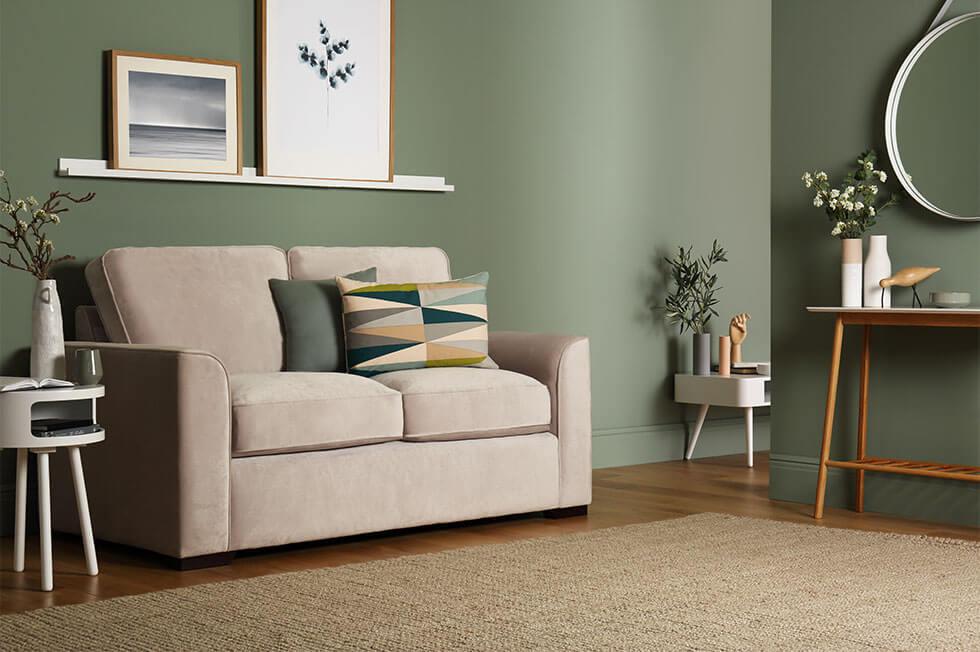 If you have a small living room, why not use a light colour scheme for the walls to make your room appear larger than it seems? White may be the obvious choice but also consider other relaxing shades such as sky blue, lilac, grey or sage green.
Another tip to maximise your space is to invest in double duty furniture that function as smart storage solutions. Use an ottoman or a coffee table with a shelf to store items while adding a stylish decorative accent to the living room.
8. Proportion is important!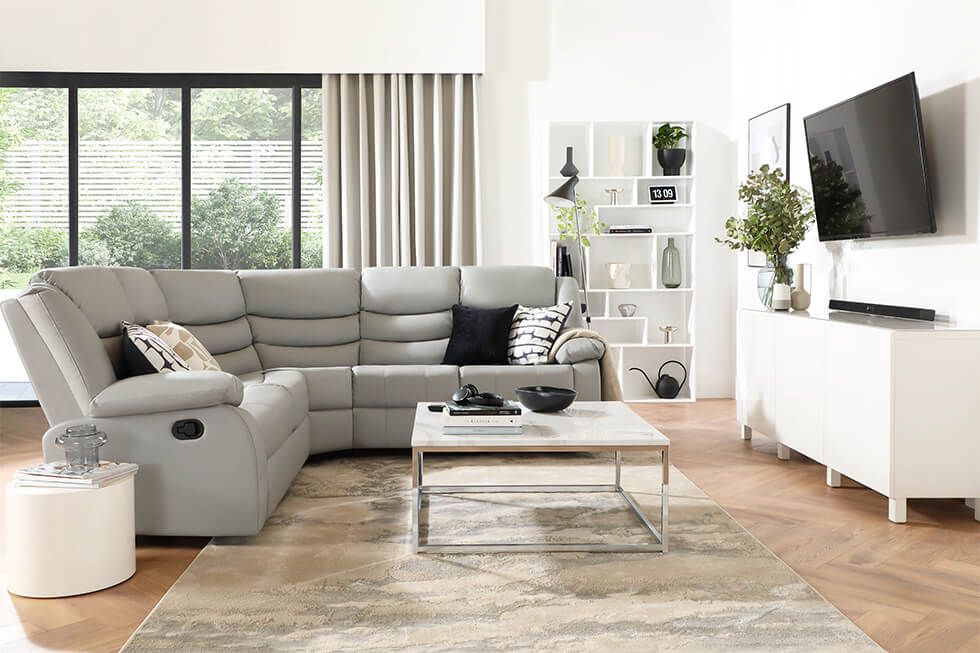 Proportion refers to the size of two objects in relation to each other in a room. The tip here is to remember that large living rooms can handle larger furniture while it's better to keep your furniture more compact if you have a small living room.
Walk through your space and notice if anything feels out of proportion with everything else. If you feel as though the large hanging lights make your room feel smaller or the coffee table looks too big next to the sofa, it's a sign that it doesn't feel right in your space. Try removing it to see if your room feels more proportioned.
FAQ: How Much Seating Do I Need in My Living Room?
Two seater sofas are a popular choice for smaller homes, while the go-to option for many is a 3 seater or a corner L-shaped sofa. Choose a size that comfortably fits your living room and lifestyle, and if space permits, add an accent chair or two for extra seating that also serves as stylish finishing touches.
When thinking about seating in the living room, here are a few things to consider:
Give your living room some space

Even though many of us would love the idea of fitting 10 seats in the living room, most of the time it's simply not doable. Keep it cosy and clutter-free by creating a minimum of 3 feet of space between furniture for people to walk around easily.

Look for multifunctional furniture

Ottoman stools are especially handy in smaller homes where it doubles as a coffee table and can be used to seat extra guests. Also, look for stools that could be used as side tables.

Choose compact seating options

Look at foldable chairs or futons to sneak in more seating options without adding bulk to the room.