Open kitchen living room ideas
Discover the ways to create an open plan kitchen lounge with tips on zoning, styling, storage, as well as the pros and cons of this layout.
The concept of an open plan kitchen living room is a popular choice for modern homes as they offer a multifunctional space to cook, dine, work, and play. This layout removes barriers between the kitchen and other living spaces, creating a seamless and inviting environment that brings the family together.
When exploring open plan kitchen ideas, it's good to keep in mind things like the layout, storage space, and how to style the area. It's also important to choose the right dining table set as that will add the finishing touch to your space. Whether it's a rustic dining table that you like or a simple compact one, you can browse our collection of dining sets to find what you're looking for.
Ready to create your open plan kitchen lounge but don't know where to begin? Here are some ideas to inspire you!
1. The benefits of an open plan layout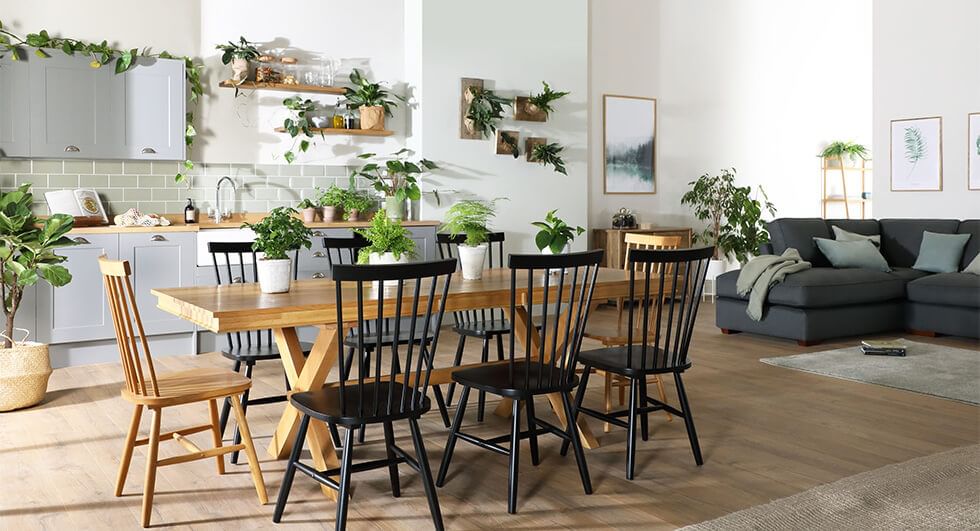 Knowing the advantages and disadvantages of this layout can help you decide if an open plan kitchen living room is a good idea for your home. This design is perfect for those who want the flexibility to experiment with different layouts for their open space. For example, consider a galley kitchen layout with two parallel walls of cabinets and a corridor in between.
Another layout idea is the broken plan design which divides an open plan layout into separate zones by using different floor finishes, floor levels, and temporary dividers like bookcases and screens. These give a sense of separation while keeping the roomy feel of an open plan layout.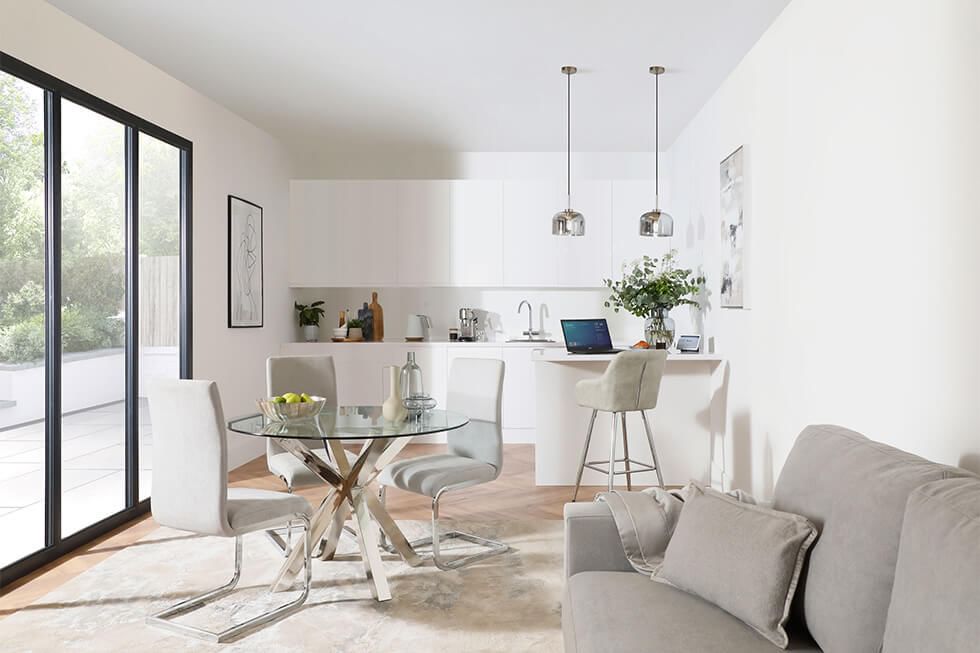 Another benefit of the open plan design is that it can make smaller homes feel more spacious, especially when you install a full height glass door that allows plenty of natural light to shine in. Many home buyers also prefer this layout compared to traditional layouts so having an open plan kitchen living room definitely helps add value to your home.

2. Add smart solutions to an open layout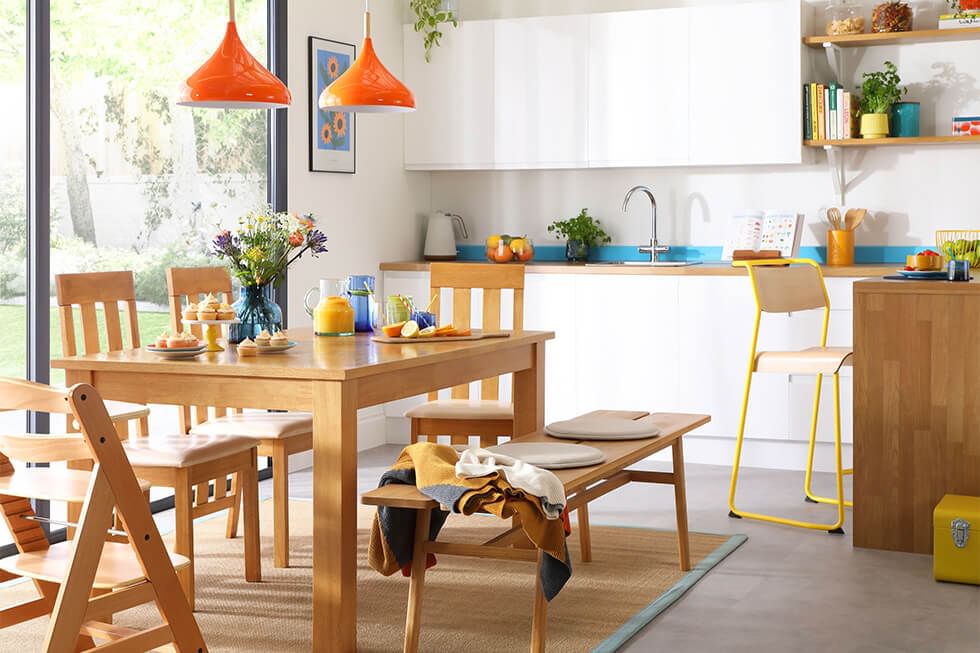 On the other hand, having an open plan kitchen lounge means that there will be less privacy. To counter this, you can create a quiet zone that can be opened up or closed off according to your needs. Sliding doors, wood slats, and glass wall partitions with doors are all great options as room dividers.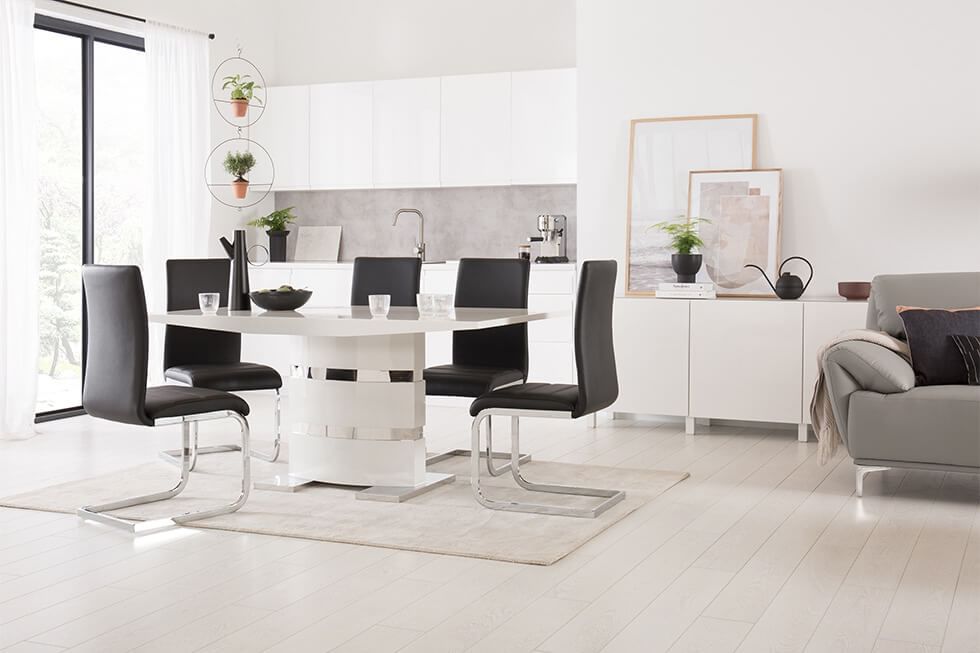 Cooking smells can also spread and linger around in your open plan kitchen. So it's important to have a plan for ventilation when designing your open space. Investing in a good cooker hood will help filter the air and keep your space odour-free.
3. Section your open plan kitchen with furniture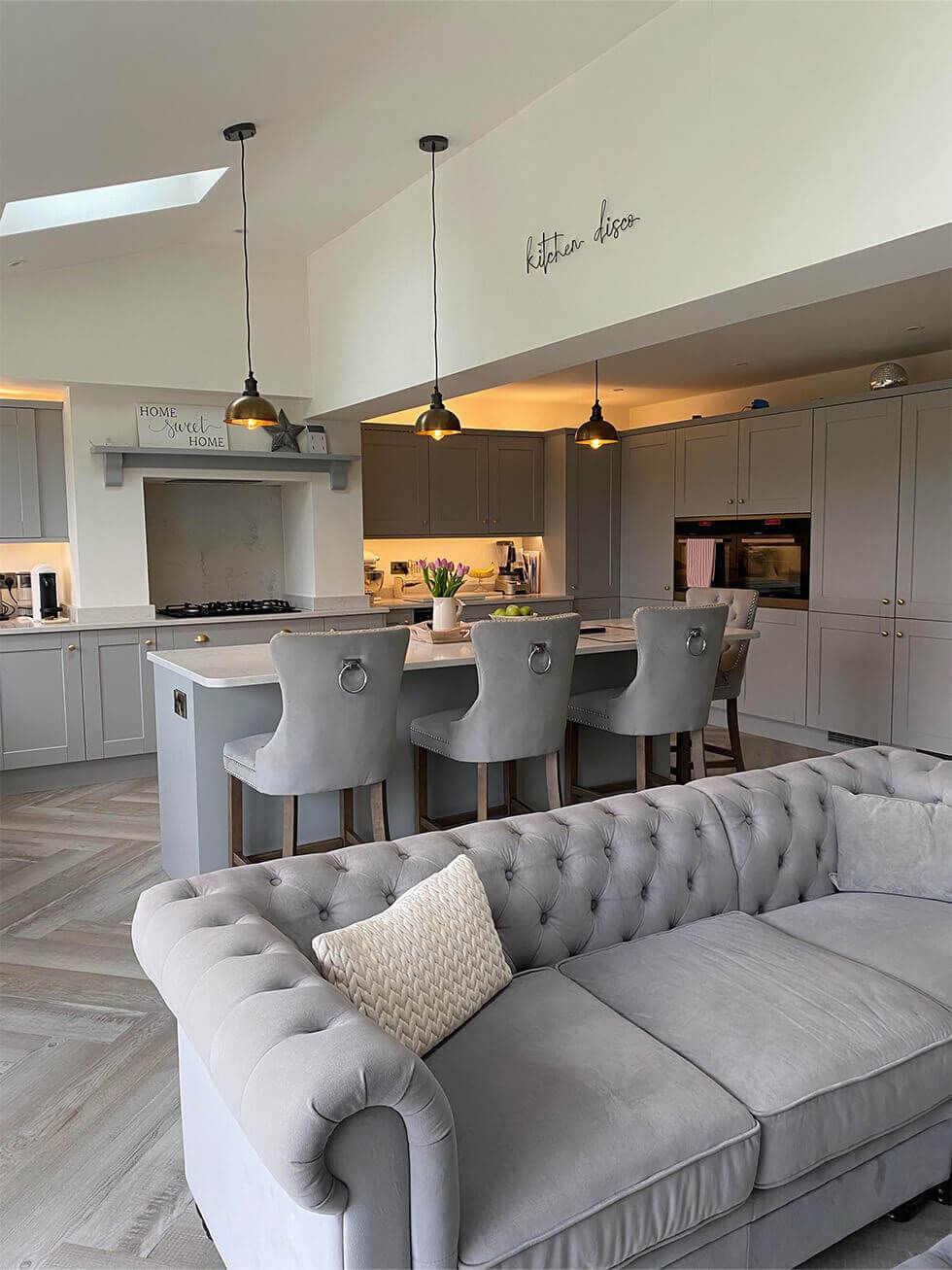 Defining the different sections of your open plan kitchen living room is essential. Start by introducing an island or peninsula to serve as a natural divider between the kitchen and living area. Use pendant lights over the kitchen island to further section the area as a particular zone. Depending on the size of your island, go with either three or five pendants. Odd numbers create a more balanced look.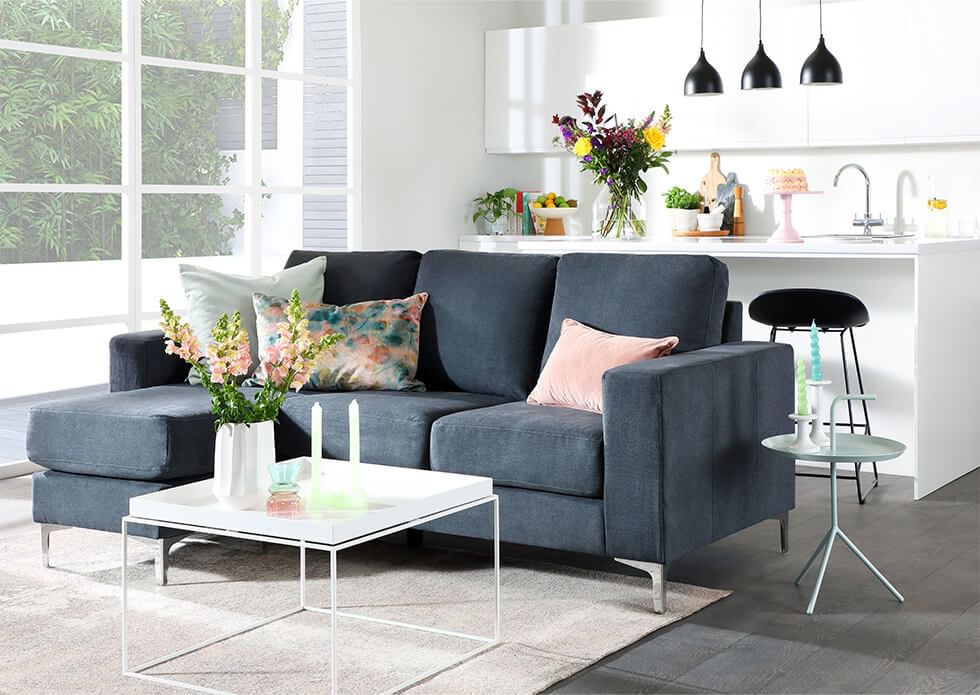 Another way to divide your open plan kitchen lounge is to position your sofa strategically. A well-positioned sofa can separate the kitchen and living area without obstructing the flow of the room. L-shaped sofas or corner sofas are particularly suitable for sectioning off areas.

4. Create a multipurpose kitchen with an island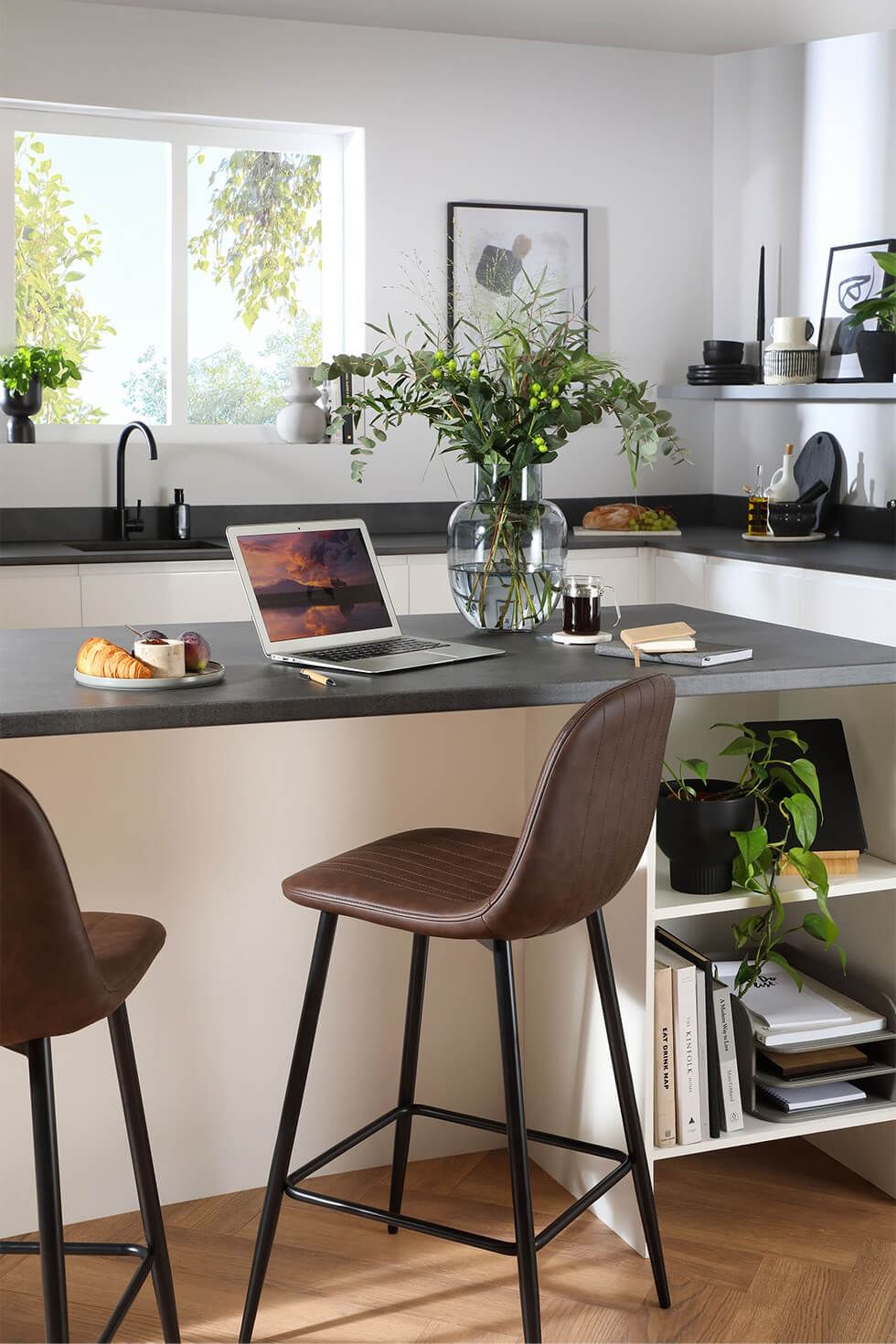 Install an island to create a multifunctional kitchen, this is extra helpful if you have a small open plan kitchen. Use the island as a food prep area to prepare your cooking ingredients. No more cutting and chopping on cramped countertops! The island can also be used as a cosy dining spot for quick meals or casual gatherings.
The best part? You can transform it into your perfect home office, with ample space for all your work necessities. Pick out some trendy and comfortable bar stools to match your kitchen island.
5. Use lighting to zone your open plan kitchen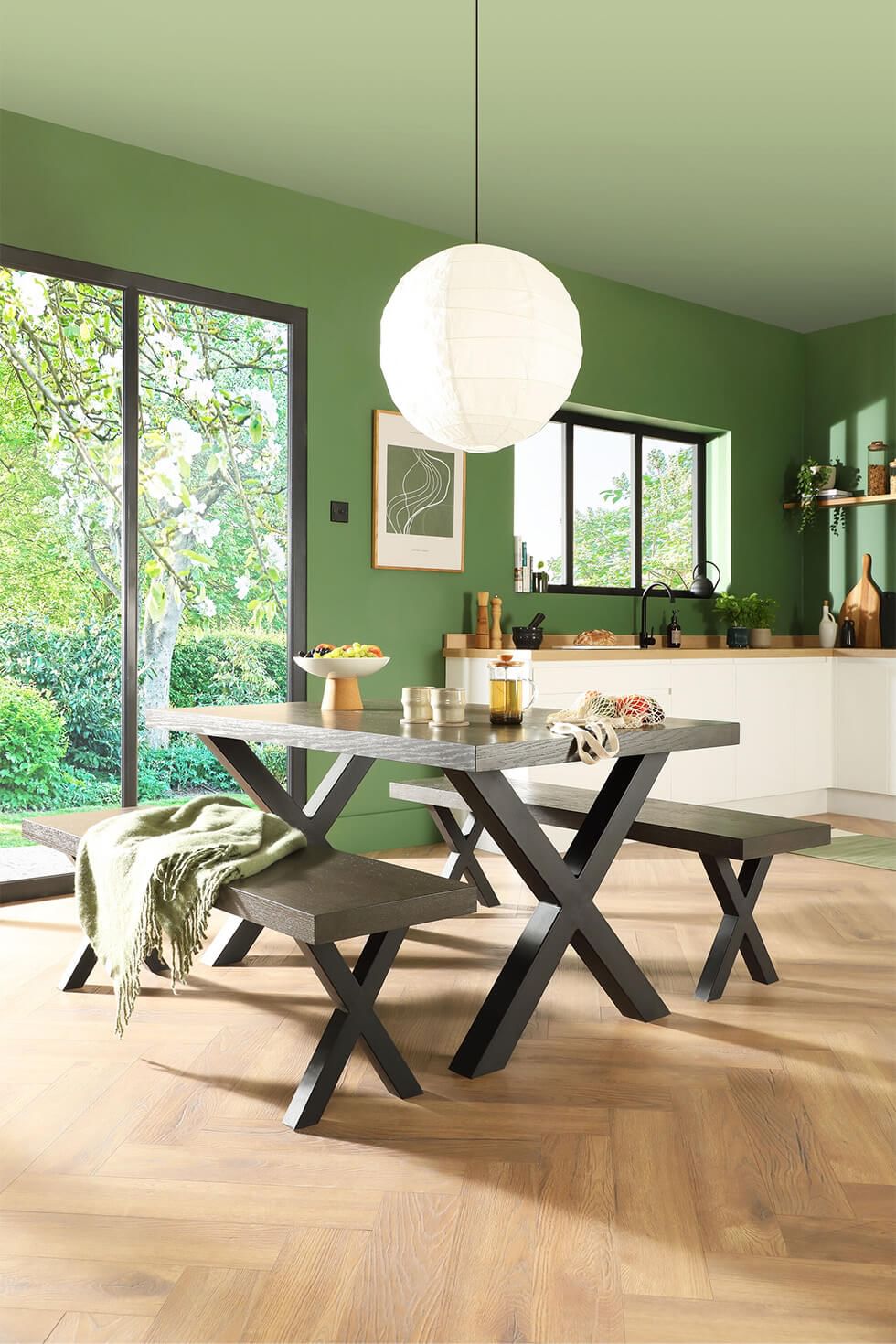 Zoning with lighting is an easy way to define areas in your open plan kitchen. You should use different lighting in each zone for different purposes. To separate the dining area from the kitchen, hang pendant lights or statement fixtures above the dining table to create a focal point.
For task lighting, install under-cabinet LED strips to illuminate the countertops so you'll have plenty of light when doing things in the kitchen. For the ultimate flexibility, use dimmable lights. They are great for defining zones and you can adjust the brightness to alter the mood and ambience of that space.

6. Maximise natural light in your open plan kitchen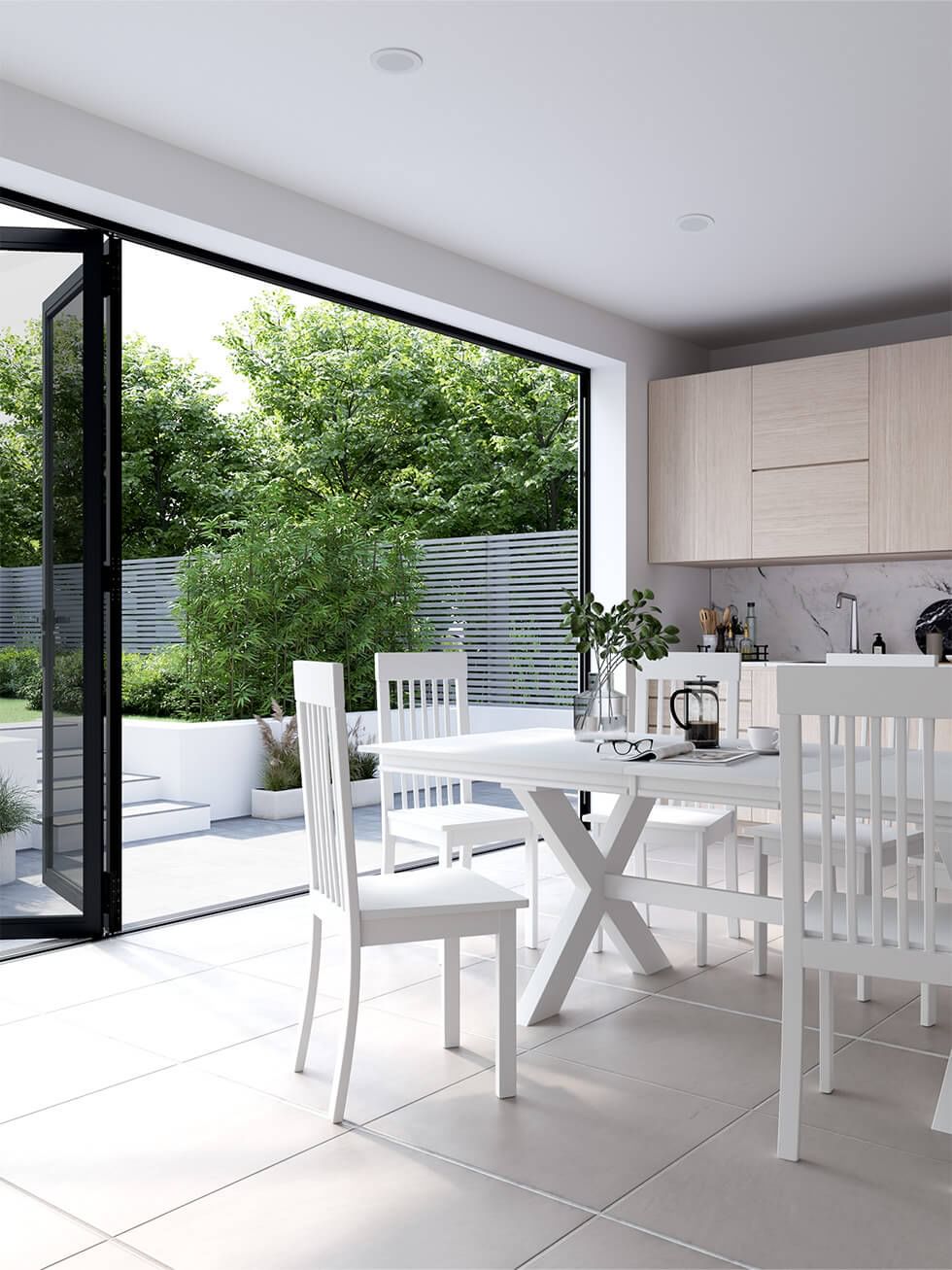 Design your open plan kitchen to allow plenty of sunlight in. That way you can save on electricity from lighting while making your home feel more spacious and airy. To fill your open layout with natural light, install large windows or floor to ceiling glass doors. Crittall windows and doors are a good option if you love a sleek look with geometric lines.
7. Unify your open plan kitchen lounge with colours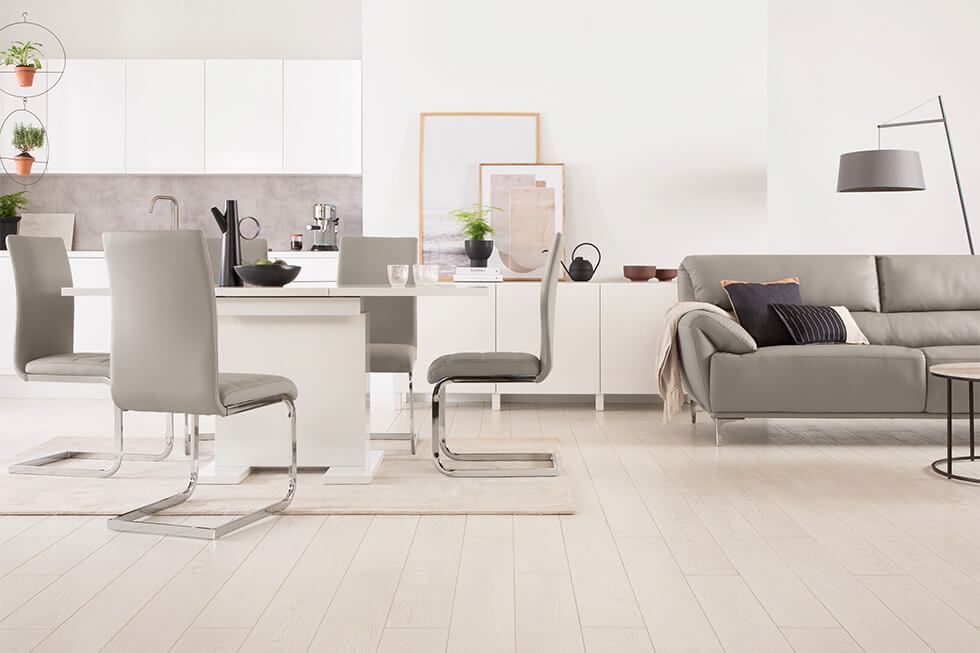 Your choice of hues can connect your entire space so keep a consistent colour scheme throughout. You can do that by choosing furniture in complementary colours for example, a white dining table with grey dining chairs. You can never go wrong by using neutral tones like white, grey, cream, and beige in your open plan kitchen living room.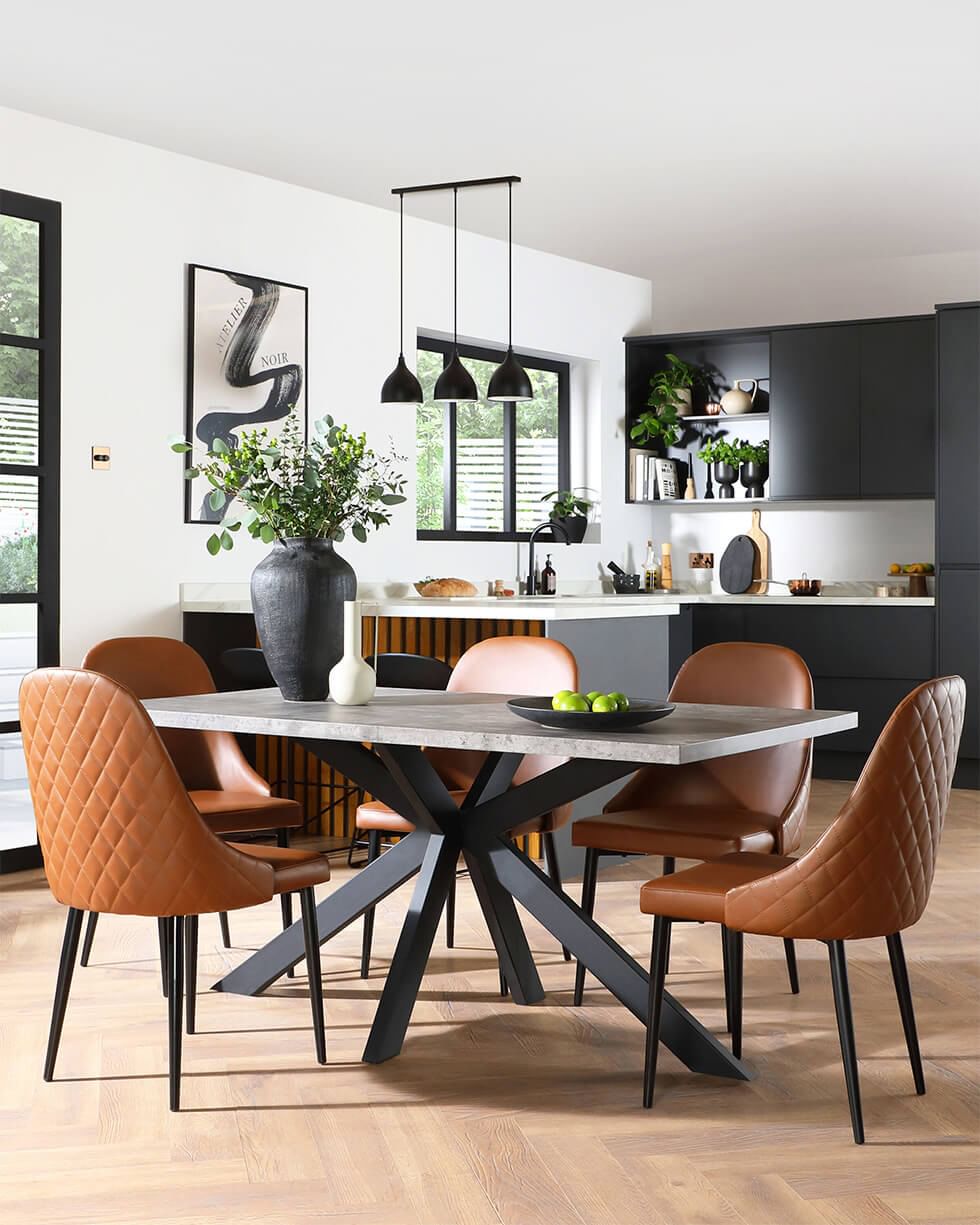 Black is another colour that works wonders in creating a cohesive look. Match it with colours like warm brown and marble grey for a modern industrial look. Black also looks great with wooden floors. Besides coordinating your furniture, you can also use decorative items in the same colour palette to pull a look together. Get creative with framed prints, vases, and kitchen accessories.

8. Organise your space with clever storage ideas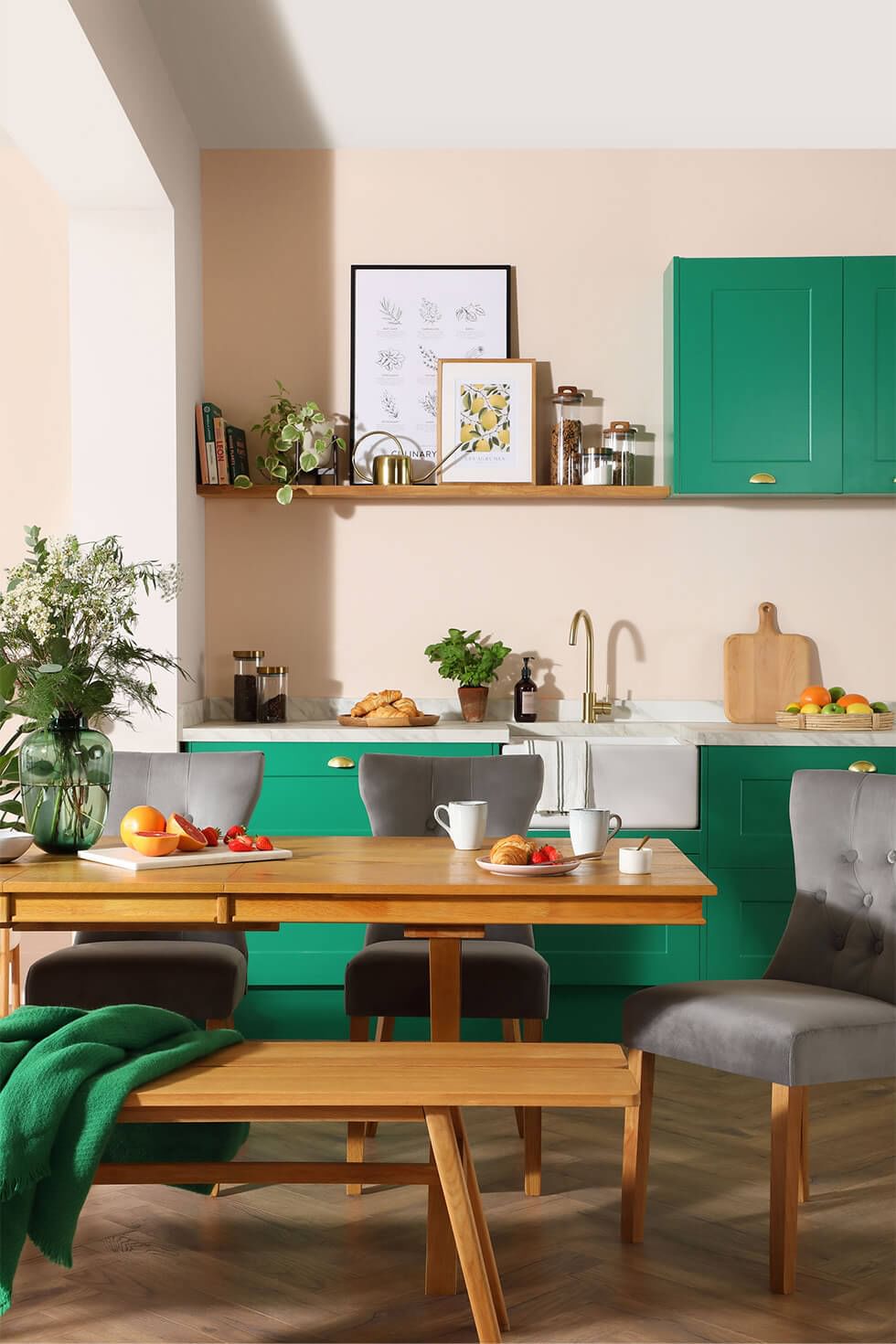 With fewer walls in an open plan design, there will naturally be less storage space. You can counter that problem with smart storage solutions.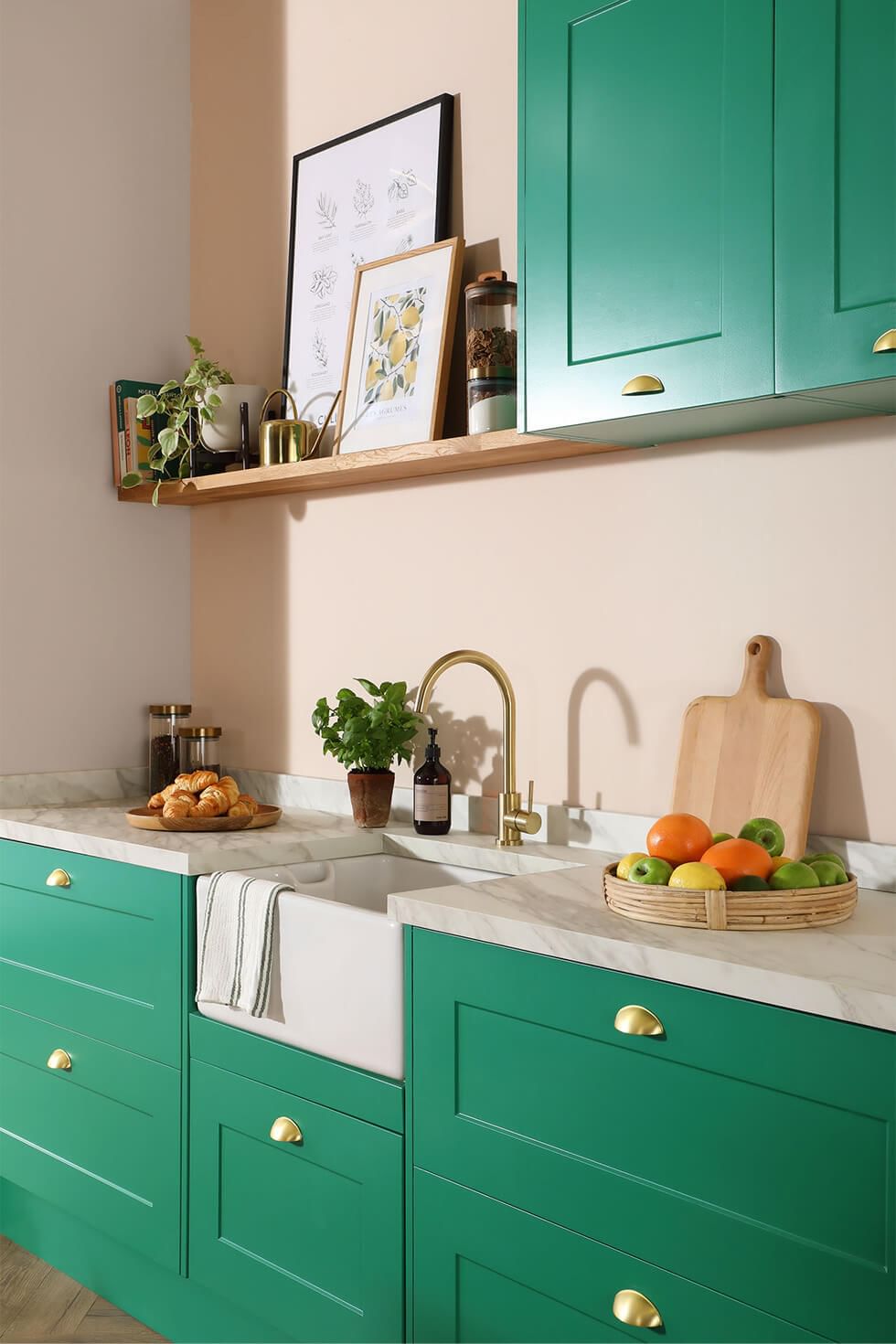 Choose built-in cabinets and open shelves for your open plan kitchen lounge. Built-in cabinets can seamlessly blend into the decor while keeping clutter out of sight and open shelving can be used to store your everyday kitchenware.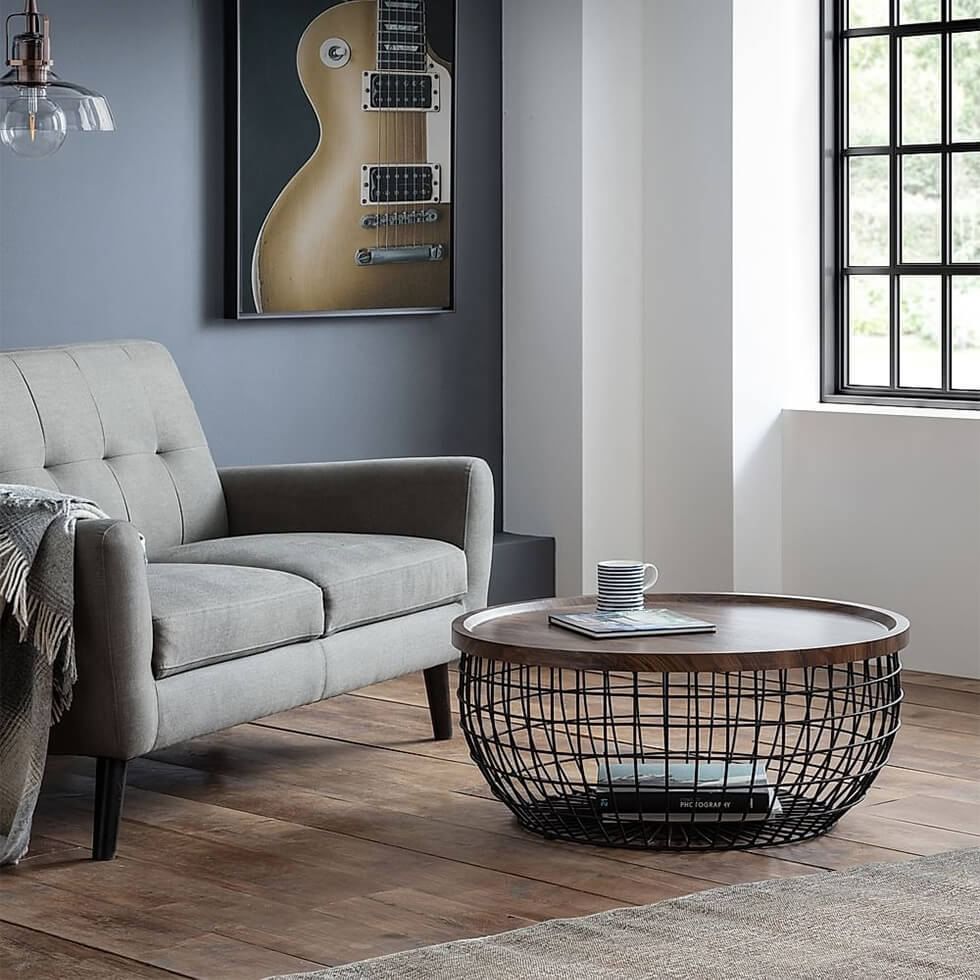 For the living area, include multipurpose furniture like an ottoman with hidden storage or a coffee table with storage underneath for books and magazines.
We hope these ideas have inspired you to experiment and tailor your own open plan kitchen living room. Want to read more inspirational ideas like this? Check out our room divider ideas or rug ideas for under the dining table.