What Is Dopamine Décor, And How Can You Incorporate It Into Your Home?
With insights from our design expert, discover the feel-good trend of dopamine décor and easy ways to introduce this joyful style to your home.
If you're wondering 'what is dopamine décor?', then picture your home filled with cheerful colours, whimsical prints and positive vibes. Often called the 'happy hormone', dopamine is a natural brain chemical that gives you feelings of pleasure and satisfaction.
The great thing about this trend is that a dopamine-designed interior can mean different things to everyone. So whether it's wild clashing prints or a more polished look that pairs modern sofas with colourful accents - there's no wrong approach here if it makes you happy.
With the help of Rebecca Snowden, Interior Style Advisor at Furniture And Choice, read on for expert tips on how to incorporate dopamine décor into your home.
1. Start With Small Pops Of Colour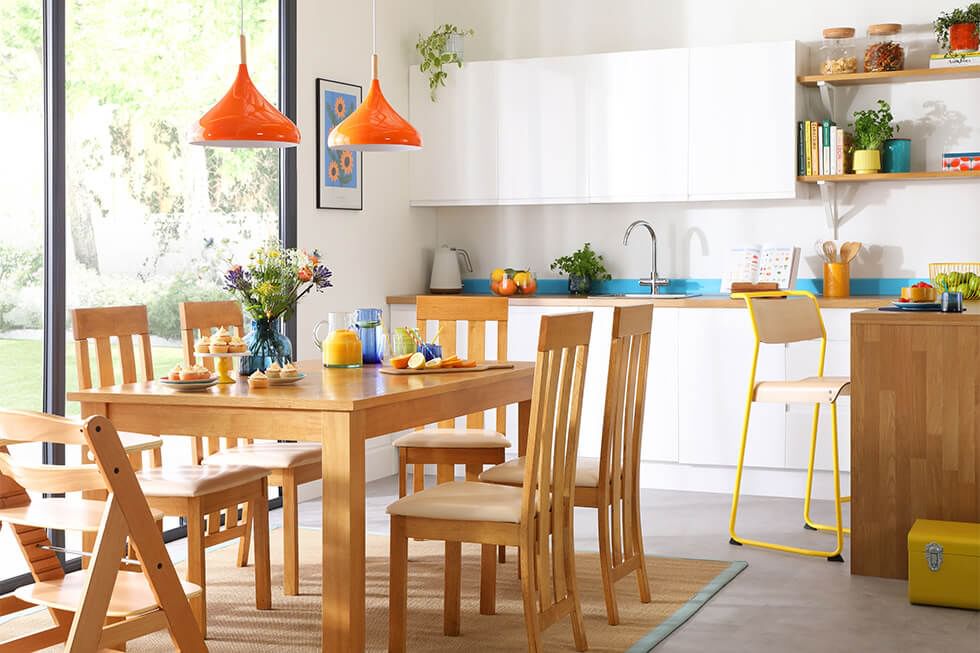 As a space that's often buzzing with activity, your kitchen-diner is a great place to try out dopamine décor. "In a white kitchen with a warm oak dining set, swap out accessories for modern pendant lamps, vases and dinnerware that show off brilliant, bright hues," Rebecca suggests.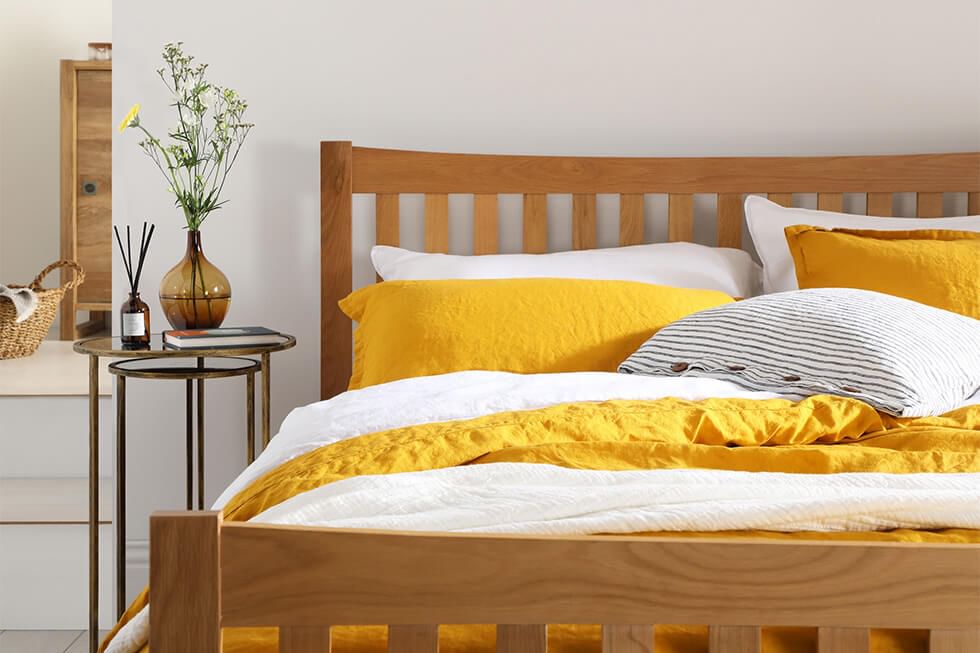 "Similarly, use a zesty colour to inject cheerful vibes into your bedroom," she says. Add warmth and cosiness with a wooden bed and crisp white bed linen. Then layer bedding in a happy, warm hue you'd love waking up to.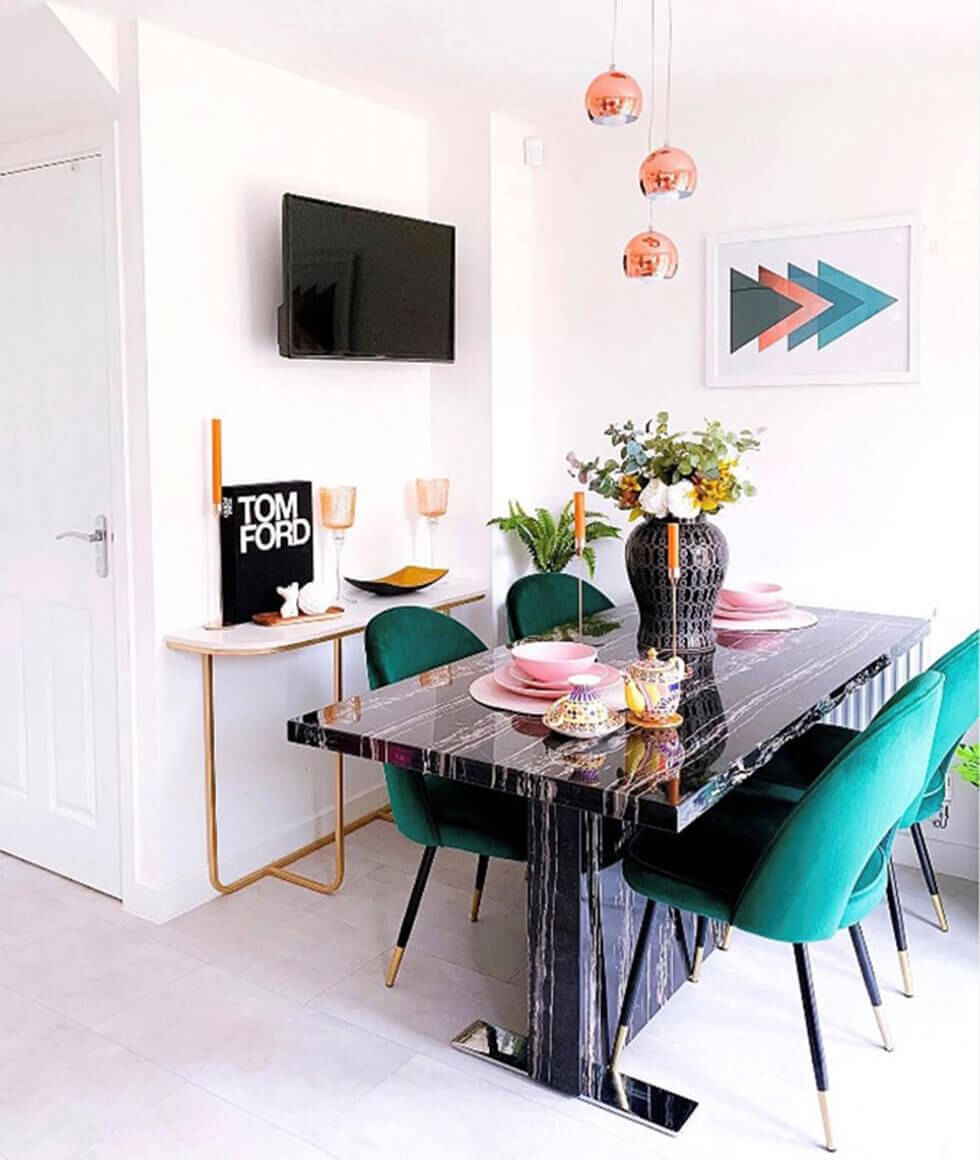 Get inspired by our customer Dola and her gorgeous colourful home. With a clean white base, vibrant mix of colours and touches of luxury, Dola does dopamine décor with style. Recreate this look in your home with a black marble dining table - pair it with jewel tone dining chairs in velvet for added glam.

2. Paint An Interesting Feature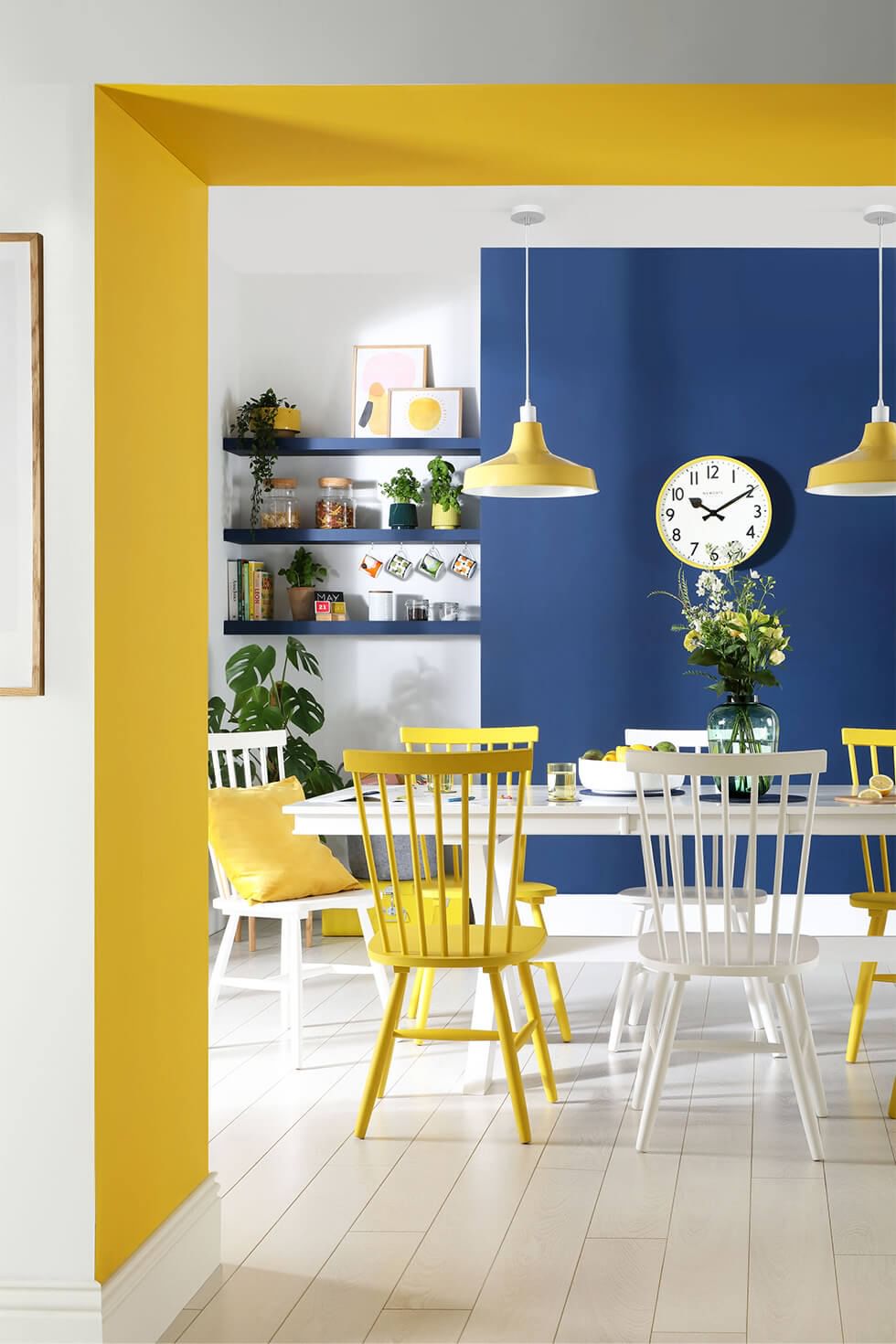 "Transform a neutral everyday space in your home into an energising family spot filled with positive vibes," suggests Rebecca. "Colour block with vibrant hues like Lemon Punch and Atlantic Blue (both from Dulux) to give the area a playful spin. Set the tone with a white dining set that's easy to match. You can even paint some of the chairs yellow to brighten up this look further."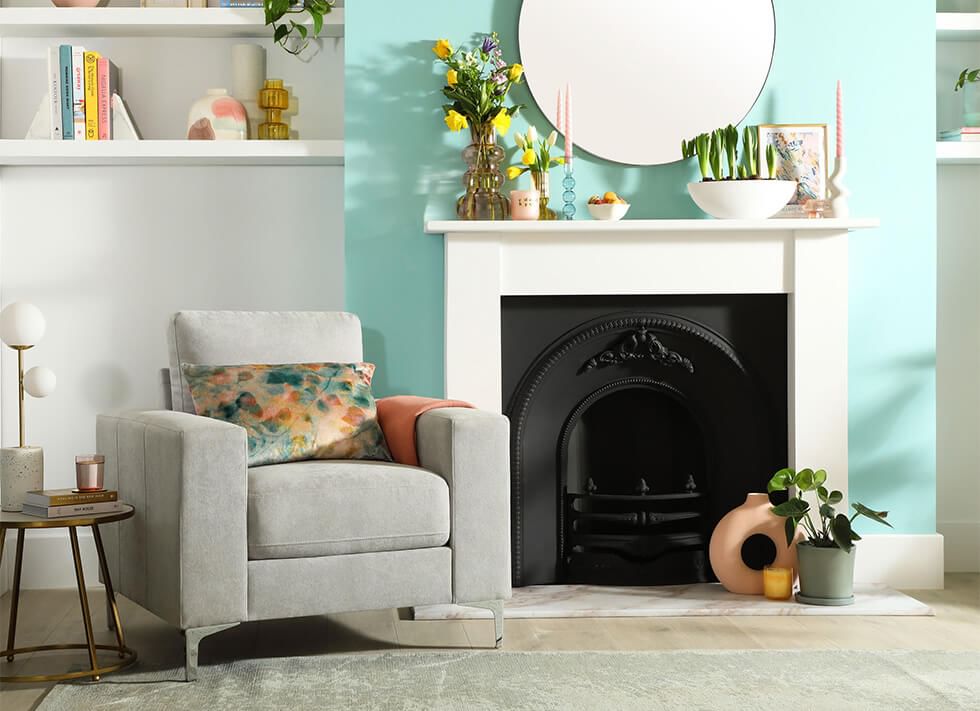 Another dopamine décor idea is to create a happy little corner where you can retreat with a good book or cuppa. Pull up a chic and comfy armchair then zone the area with light blue paint, like Dulux's Celestial Blue 6, a colour known to encourage peace and relaxation. Add colourful accessories in cheerful tones like peach, mint and yellow.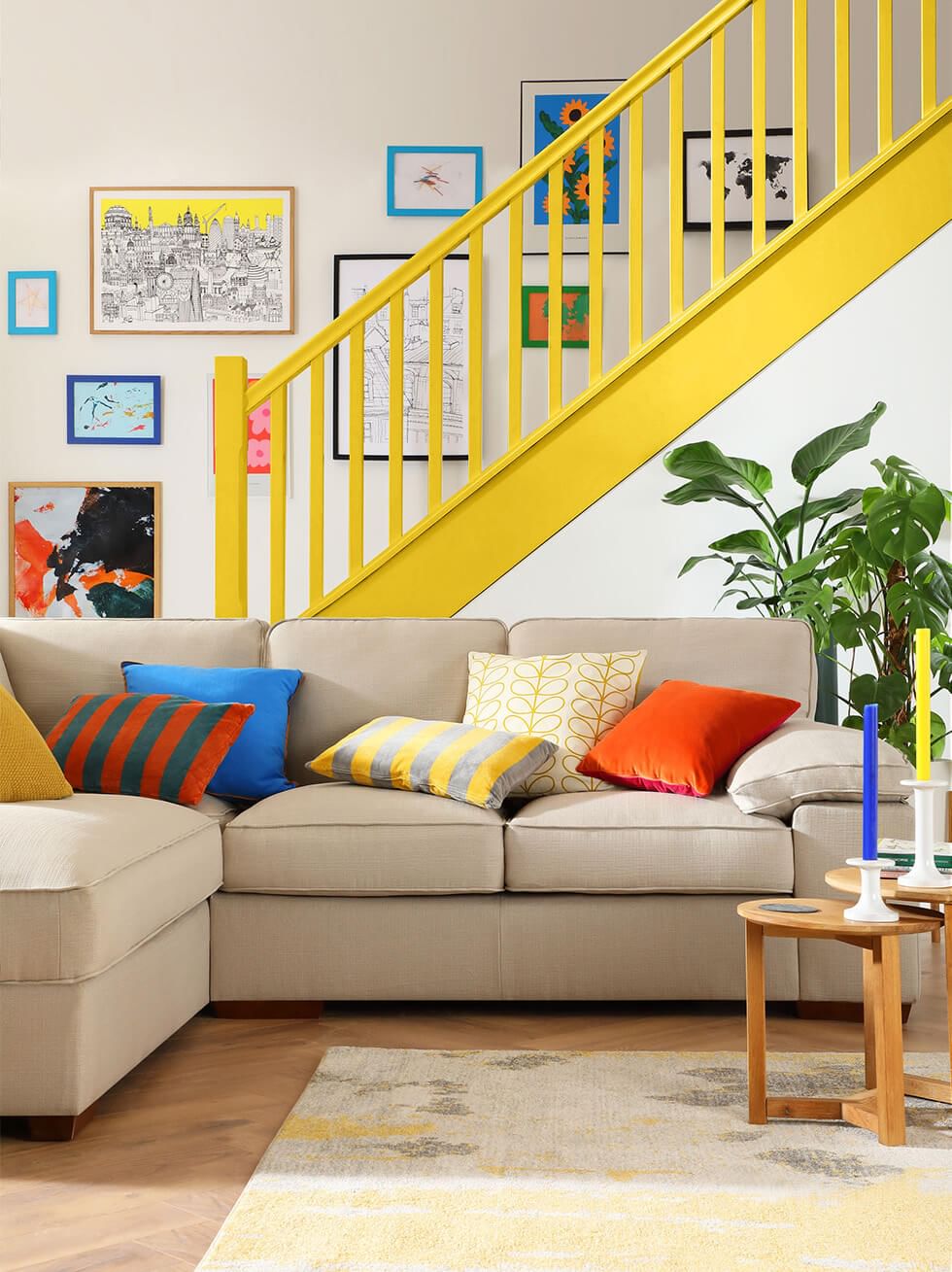 For a pleasantly unexpected twist, why not paint your staircase in an upbeat colour? "We used Lemon Punch by Dulux here but you can use any bright colour that makes you happy," says Rebecca. "The key to tying this look together is to use your featured hue in accessories like cushions and artwork." Use neutral furniture to ground the room.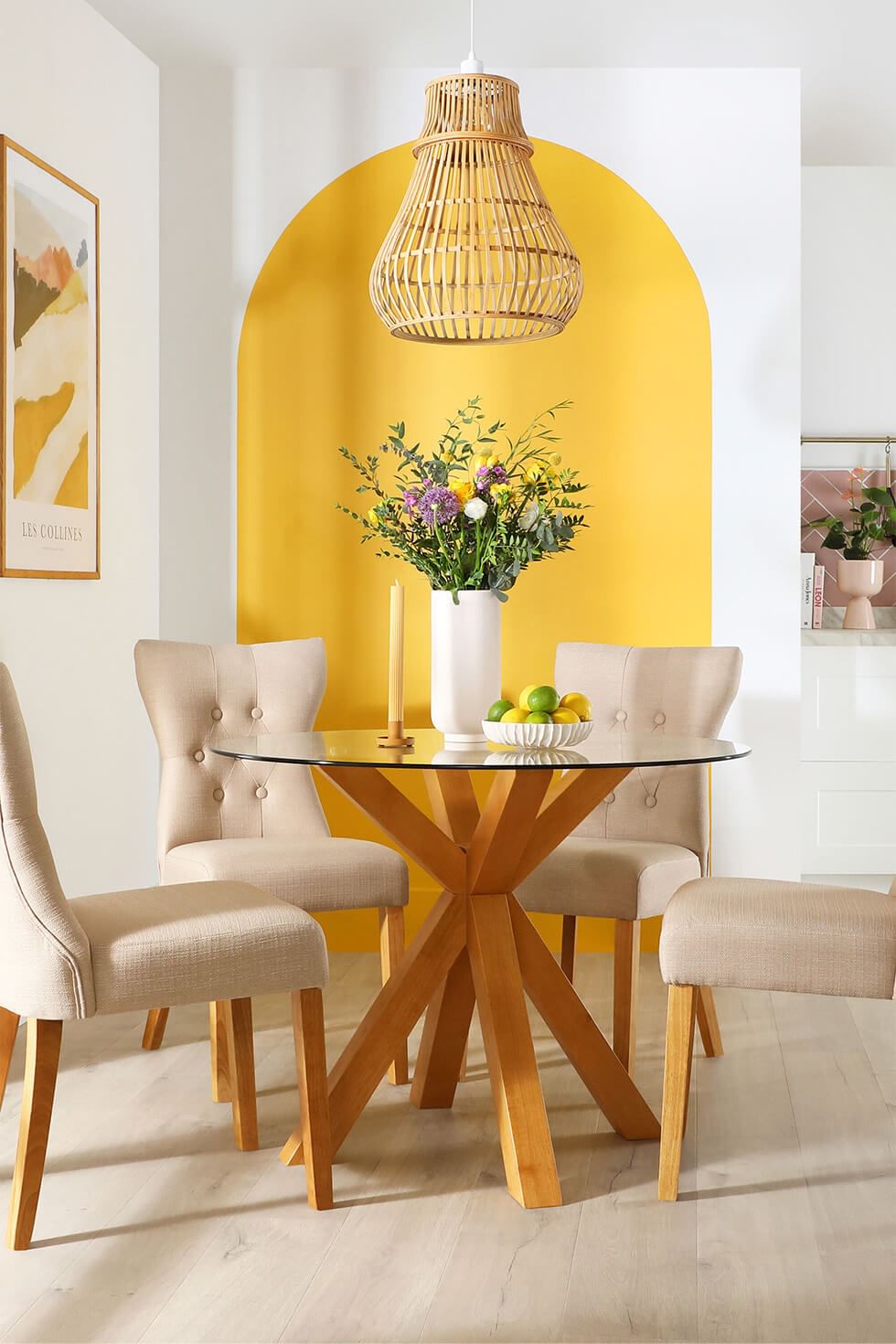 And if you don't have an architectural feature to highlight? Make your own! For instance, introduce a painted arch in Dulux's Honey Mustard as a focal point in your dining space. "Arches and curves in the home promote a sense of wellbeing, flow and relaxation," says Rebecca. Complement it with other curved details like a round dining set and round pendant light. Click here for more ideas to style a painted arch.
3. Get Playful With Bright Walls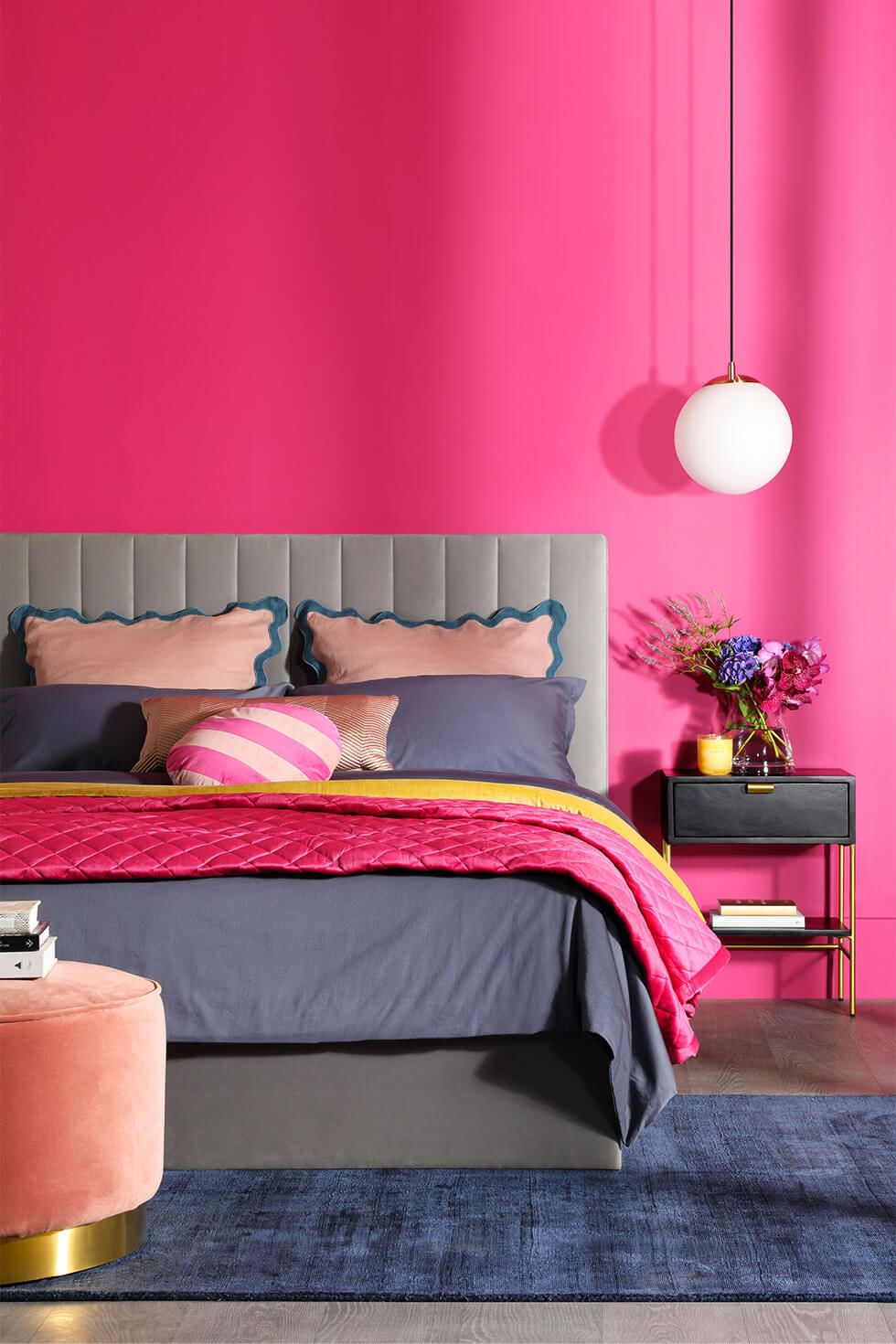 If your favourite colour happens to be flamboyant hot pink, dopamine décor encourages you to go all out with your inner maximalist. "Use this bold, vibrant hue on a feature wall in the bedroom, with a grey velvet bed to balance the look," suggests Rebecca. "Add fun, quirky shapes (like scalloped cushions) and luxe brass finishes to keep it contemporary and chic."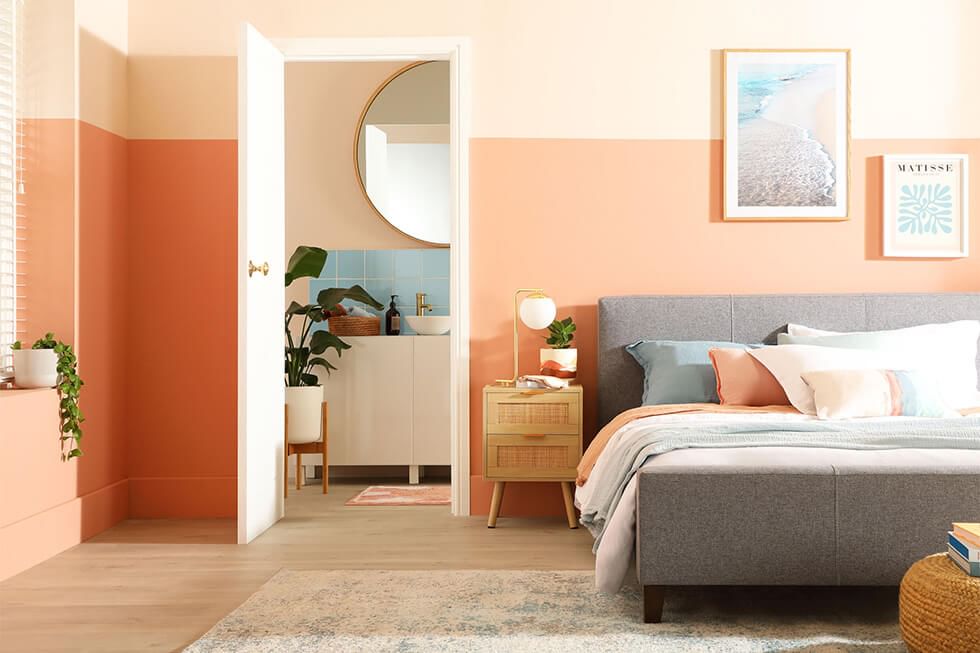 Or perhaps your idea of happiness is idling time away in a summer holiday beach house? "Use two-tone peach walls, like Coral Reflection and Treacle Tart (both from Dulux), to design a dreamy beach-themed bedroom," says Rebecca. "Pair your walls with a palette of white, sky blue and peach to evoke a seaside staycation feel." Add softness and warmth with a grey fabric bed and natural materials like rattan.

4. Choose Whimsical Accessories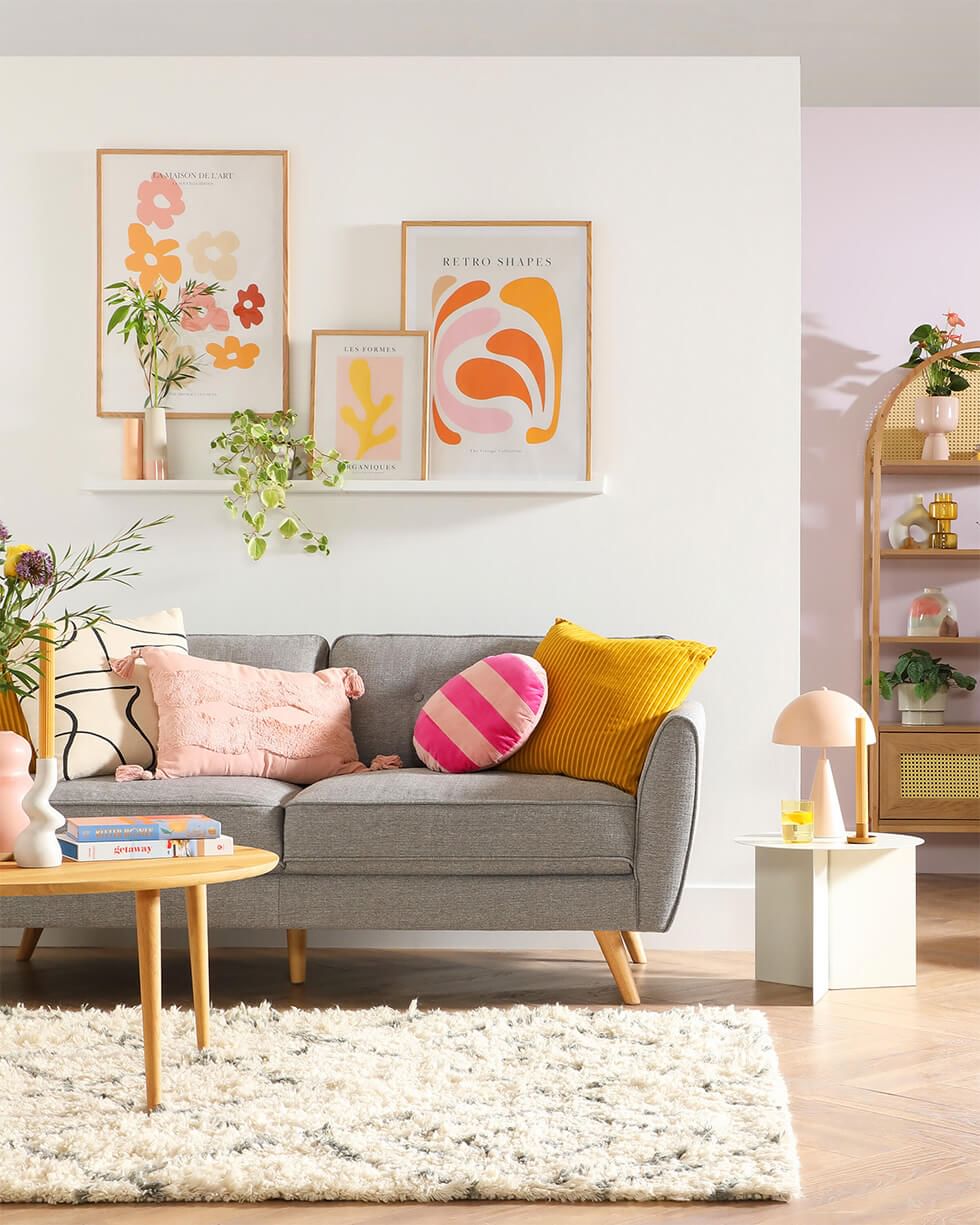 "When choosing accessories for dopamine decorating, look for shapes and prints that feel playful to you," says Rebecca. "For example, candy stripe cushions, wavy vases and mushroom lamps have a carefree, retro feel to them while still being grown up." Layer them around the room for a lighthearted look.
5. Add Personal Touches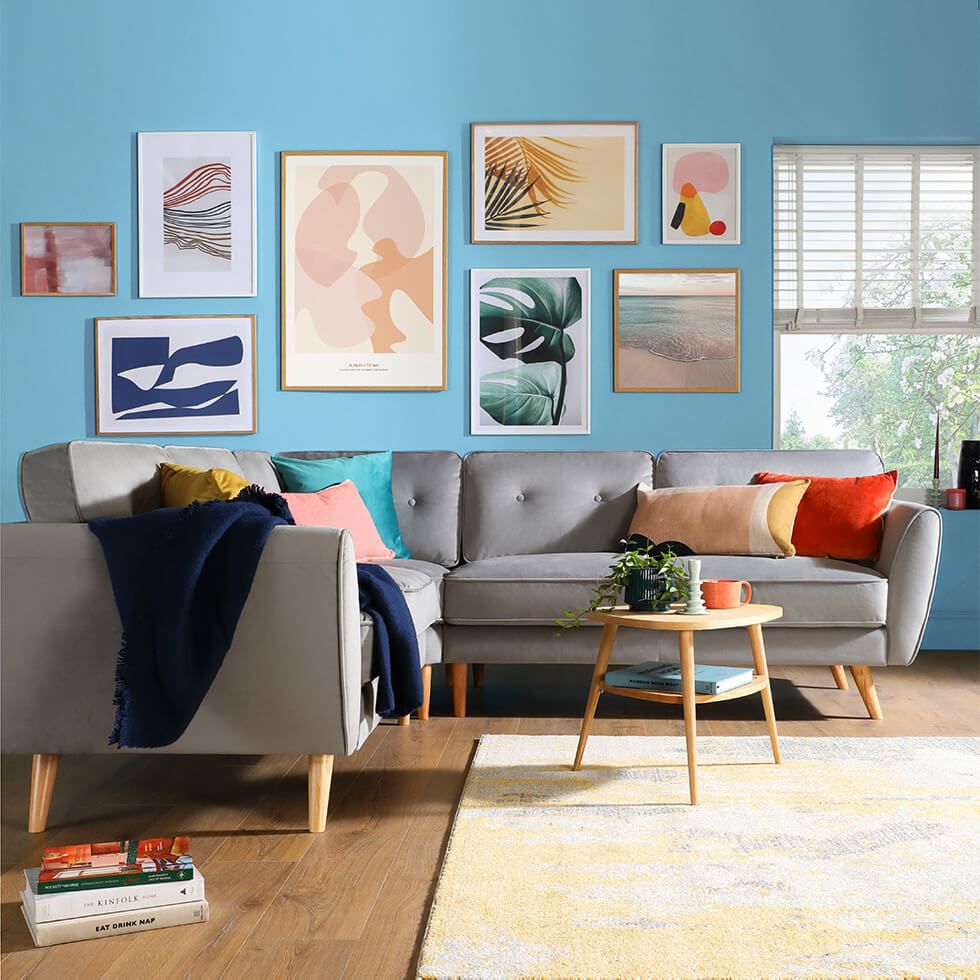 "Dopamine décor is all about your personal taste and the simple things that bring you joy," says Rebecca. "Showcase all the things you love with a gallery wall of your favourite prints or family photos. If you're using a variety of sizes, create a cohesive look with a single style of frames."

6. Layer Comfy Textures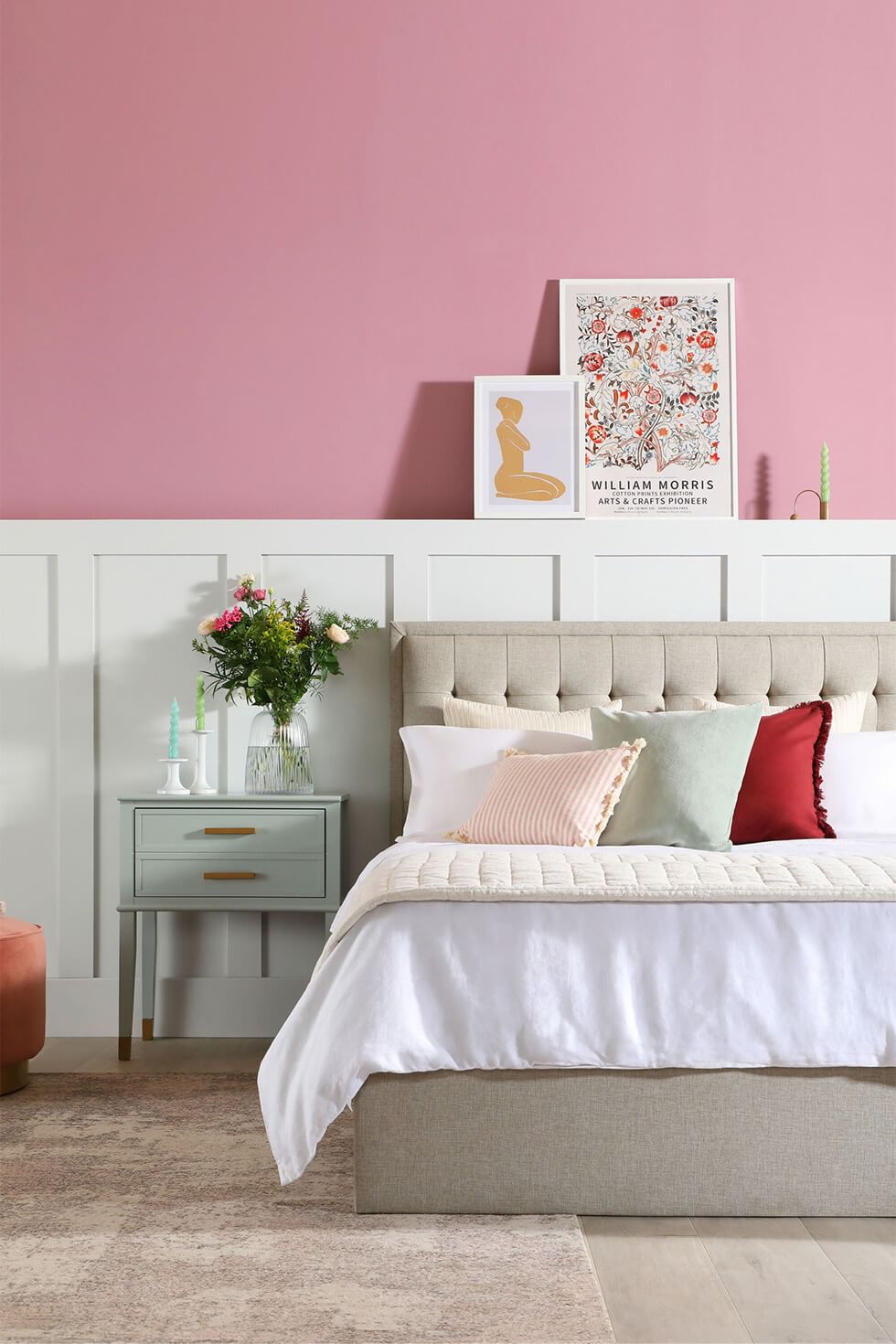 Aside from aesthetics, comfort is a key element of dopamine décorating. "Think about textures that make you feel comfortable," says Rebecca. "For instance, layer a soft and cosy fabric bed with plenty of pillows and lush, hotel style bed linen." Look for other ways to add more softness, like fresh flowers by your bedside. These little touches will make your home your happy place.
We hope these ideas inspire you to give dopamine décor a try. A trend that embraces colour and playfulness, this decorating style is all about the things that make you happy. For more inspiration, check out how to get the Tropicandi look, a trend that mixes Scandi style with bold Tropical décor.